Amongst the most popular fairs held in the land of royals – Rajasthan at Pushkar which is a beautiful small town located at the edge of the Thar Desert near Ajmer. Pushkar is widely famous for its Camel Fair which is an annual fair that held during the month of October or November. It is the most colorful fair in India that attracts tourists from all across the globe. This traditional festival of India is mainly focused on the livestock trading where traders from nearby villages bring their cattle's to trade. You will find some camels beautifully adorned and dressed with vibrant jewelry and participate in the beauty contests, parade and other activities organized in the fair.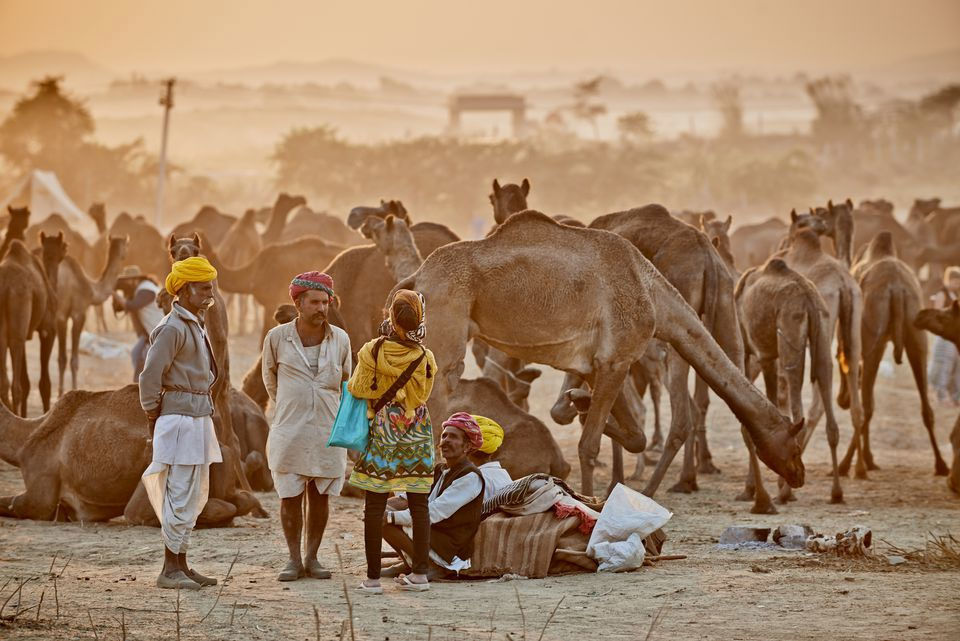 Pushkar Camel Fair is also considered as the best time to visit Pushkar in Rajasthan which attracts millions of travelers in India every year while boosting up the Indian tourism. Many camel and traditional activities are held in the first few days and then the remaining days are dedicated to some religious activities that draw pilgrims to visit Pushkar for participating.
Exploring the Camel Fair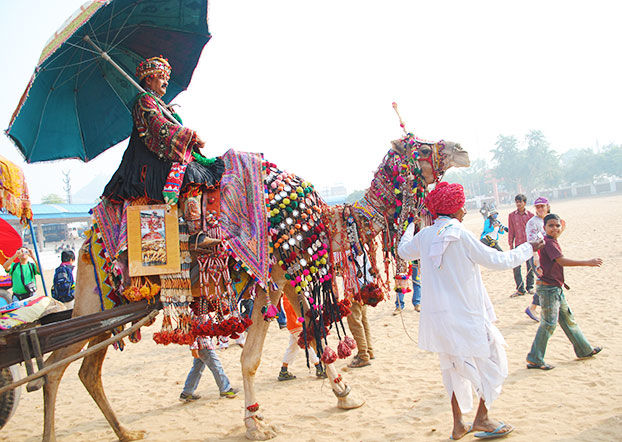 Pushkar fair is held in the month of Kartik Purnima according to the Hindu calendar that usually falls during October and November. Every year the dates of fair get changed according to the Kartik Purnima. During the event, the entire desert region and Pushkar city lit up with exciting activities that create a unique enthusiasm among the crowd. Musicians, folk dancers, magicians visit the fair to perform their skill art in a huge carnival. Besides, these acrobats and snake charmers also entertain the crowd. Tourists will also get a chance to enjoy a bumpy camel ride over the desert
Key attractions of the fair –
Camel Race
Exciting activities
Parade
Religious activities
Livestock trading
Hot-air Ballooning
Religious rituals during Pushkar Fair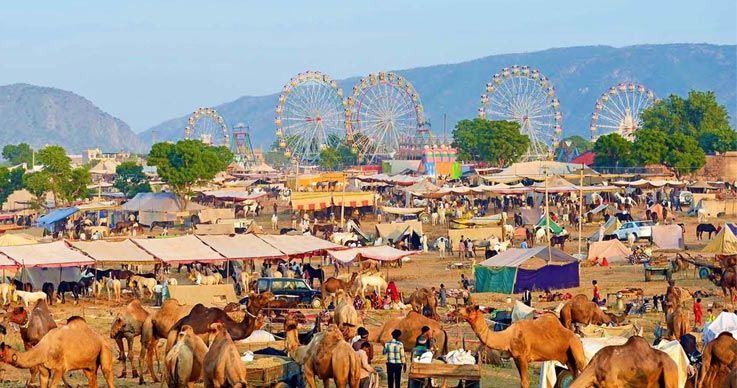 Pushkar Fair also includes some religious rituals that attract pilgrims from all over the state in abundance to take a dip into the holy water of Pushkar Lake. It is believed that taking a dip in Pushkar Lake will wash away all the sins. The time during the Pushkar Fari is considered as auspicious due to the full moon and bathing in the lake which is considered sacred and is said to receive special blessings of God. So, make your Rajasthan tour memorable for life by participating in the Pushkar Fair and getting the glimpses of cultural Rajasthan during the fair.
While planning a Rajasthan Tour Package, one must consider the dates of Pushkar fair to have a complete traditional experience in the royal state by filling the tour with color, music, and entertainments during the fair.