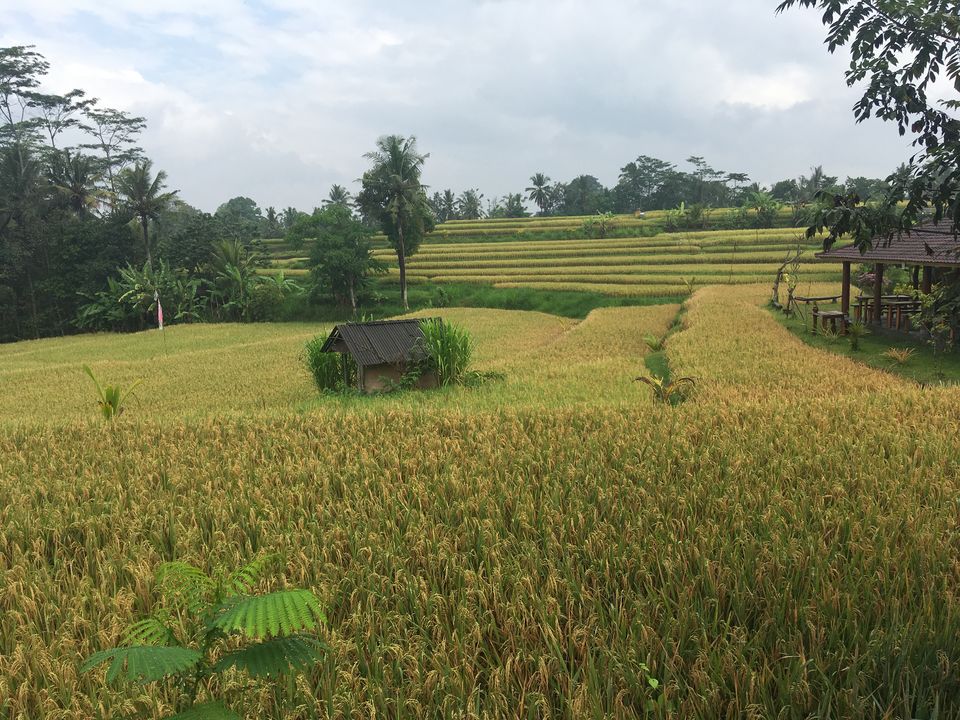 Bali, especially Ubud is still a mystical land that is stuck in the nomadic 21st century. The land of the gods is whimsical in all senses. I was surrounded among lush greenery thrown all around which was frequently broken with intricately carved idols of Hindu gods & goddesses and the grandiose entrances to traditional Balinese homes and villas. The doors in Ubud literally look like you're about to step into a piece of heaven.
The narrow roads that led me to Ubud from Denpasar were jammed and I didn't curse the traffic. The snail pace traffic let me soak in what Ubud has to offer. From beautifully crafted traditional Balinese doors, tastefully designed furniture, to colorful kites up in the air and watching the local women offer their evening prayers while they lit the incense sticks outside their homes and temples, what's not to love? You'll also never get enough of the Plumeria trees and fallen Frangipani flowers strewn on the roads. I made sure I had a flower tucked behind my ear always to blend in.
With hardly any modern buildings, Ubud's traditional architecture and decor will leave you sighing of relief as the town has still retained it's culture in art and design. Ubud can make you a hopeless romantic, make you feel spiritual, calmer and welcomed most importantly. That's exactly what I wanted when I planned a trip to Bali. The locals in Ubud are like an icing on the cake. They'll leave you amazed with their infectious hospitality and smiles. When they knew I was from India, they were most interested about two things - the gods we pray and Bollywood ofcourse.
Ubud is a breakaway from the hustle and bustle of the beach towns that Bali is otherwise known for. The country town lures you with a refreshing dollop of Balinese culture set against the backdrop of lush traditional setting. So what's not to love? During my trip, I had also visited Nusa Penida, a breathtaking island towards the southern west, Uluwattu, and Seminyak. But you do know by now which is my favorite place hands down. I've listed couple of places that I visited and loved in and around Ubud.
Tegalalang Rice Fields - Rice fields are a common sight in Bali. Tegalalang is probably one of the most photographed location in Bali and has quite a spectacular view of the fields.
Campuhan Ridge Walk - Situated in the heart of Ubud, Campuhan is a beautiful hiking trail, surrounded with lush greenery, rice fields and gorgeous villas.
Mt. Batur - Situated in the province of Kintamani, this majestic mountain is 1,717 above sea level. The trek starts as early as 3 am and you're just in time to watch the sunrise.
Bali Swing - A swing hanging between coconut trees is surely a thrilling ride with sweeping views of the jungle, a mini water fall and Ayung river.
Hindu temples - Ubud is filled with beautiful Hindu temples and do visit them if you dig rich traditional architecture. I visited the Pura Saraswati Temple and the complex is woven with a series of intricately designed doors, sculptures and had a sweeping lotus pond.
Ubud lets you appreciate the finer yet simpler things in life - nature, culture, art and design. So soak yourself in this leisure loving destination. I am definitely going back for more.