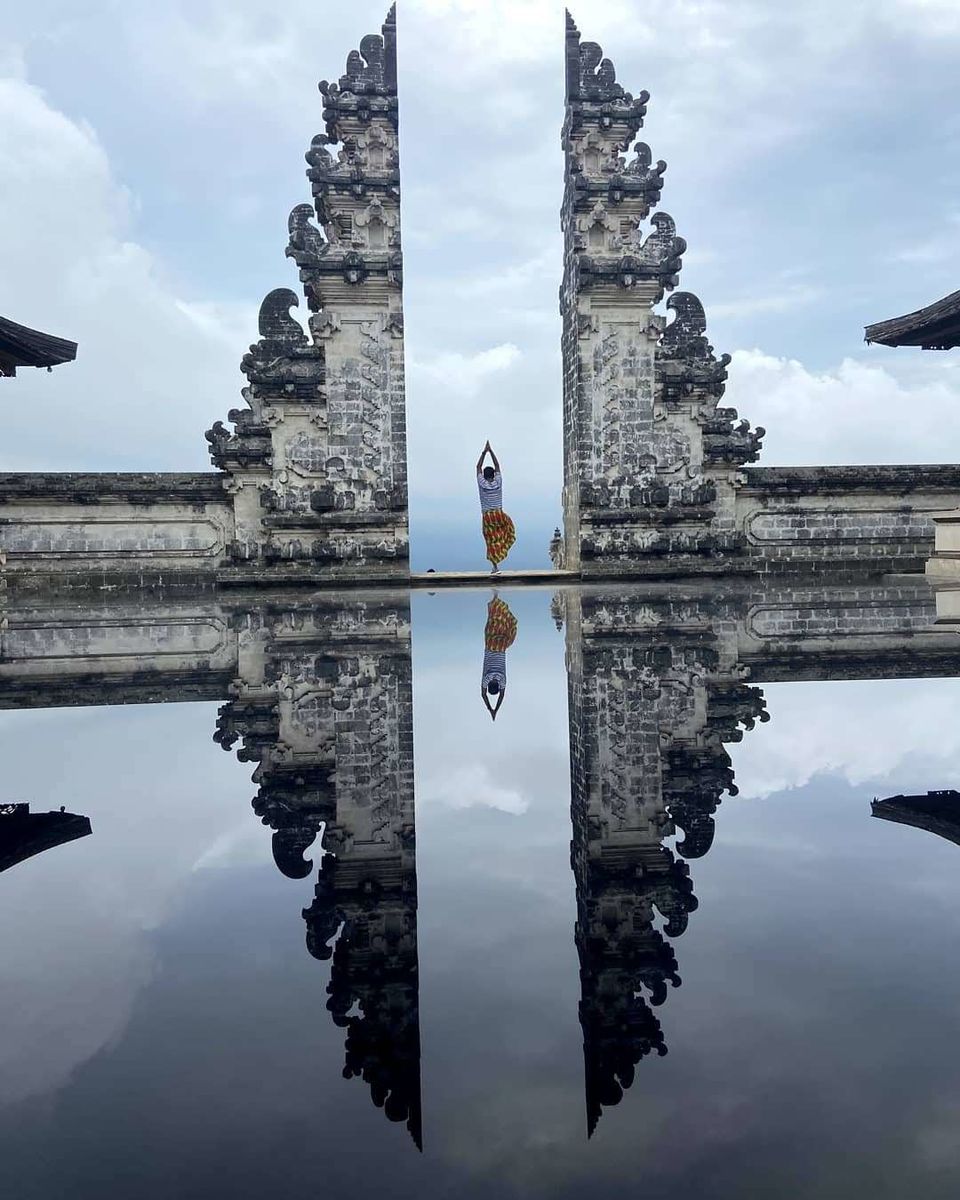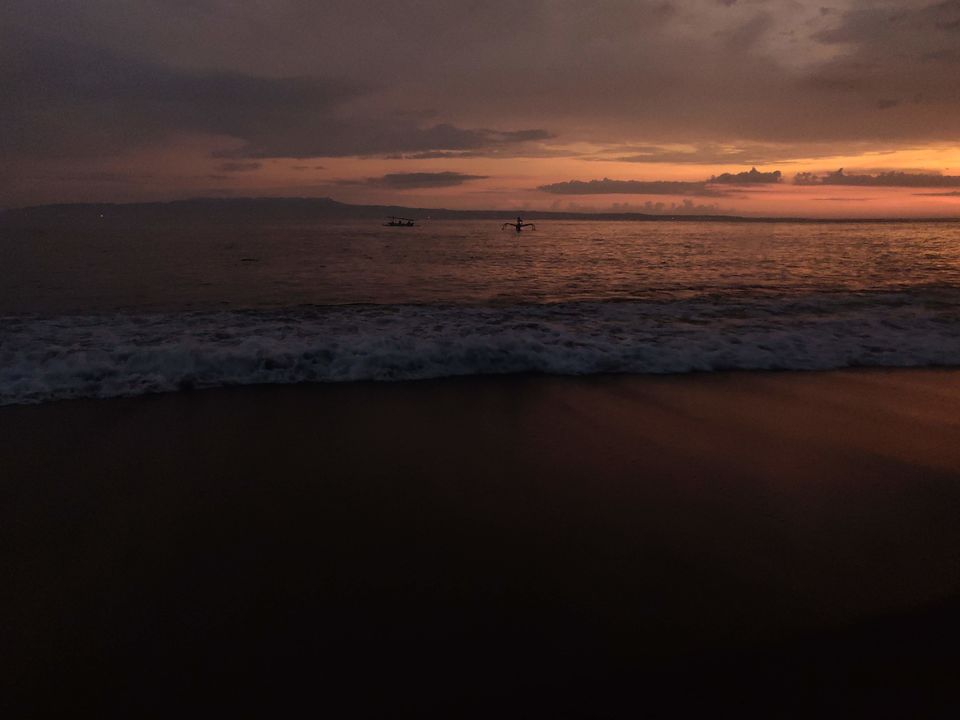 FLIGHT FROM CHENNAI - KULA LUMPUR - BALI:
I booked my flights from Chennai as the rates are much cheaper from Chennai. I took my flight from Chennai to Kula Lumpur. And a 2 hrs layover (which ideally went in running for the connecting flight as the Chennai flight got delayed by an hour).
ALL ABOUT THE FIRST DAY AT BALI:
Reached Bali around 7 pm. Luckily, i had a friend of mine who had recently travelled Bali and he knew a guy who runs a rental scooty at Bali(Denpasar) Airport. I had contacted him before leaving for bali and booked the scooty for 3 days. One piece of advice, scooty is the best option as the cost of traveling in bali reduces drastically, all because of the cost of petrol ( roughly about 40 INR/litre).
After reaching Bali airport, you need to get into a long queue for immigration, which took around an hour. Once I got out, the first thing was to get a sim. There are quite a few vendors and you can get it for 300 to 400 INR (based on the plan you choose). Then, got the IDR currency from the airport (you can withdraw using forex/ credit card). But one thing important to note here is INR currency conversion is not possible. So make sure either you have the right card or USD.
After getting the sim card and IDR currency, contacted the scooty rental guy and got the scooty. The time was already 10 pm and my hostel was around 42 km from airport in Ubud. So, first thing to-do was hop onto the scooty and make a move as i was already tired. I checked in at 11:45 and the hostel, hostel management was good(First hostel : In Da lodge)
Okay, so the hostel that i had booked was in the middle of Ubud market so all the place were easily accessible. While coming from airport I noticed that there were quite a few resto-bar. I went to one of them(resto-bar: C.P. lounge) which was around 500 m from my hostel. The place was lit AF. Seriously, it was already 1 am and it did not feel that i was that late. There was a dance floor, then some salsa was going on. And i finally had my dinner and a beer( the first best thing after traveling since morning )
Got up at 8 in the morning. After getting ready, went to have breakfast( a bowl of smoothie and lemon tea) in hostel. I started from my hostel to a place know as "Aling-Aling waterfall"
Now aling-aling waterfall is around 70 km from Ubud. Okay, so first thing that comes in mind why choose a place that is 70km away from the main city. Because, it is less crowded guys. Yes, not every tourist have this waterfall on their itinerary.
It took me around 1 and an half hour to reach the waterfall on the scooty. The roads are very good and traffic was not that bad.
I reached at the place, parked my scooty ( charges : 25k IDR). In order to visit the waterfall you will need to take a guide and it costs around 125k IDR.
The guide then takes you through a small trek ( roughly 800m). Then, the most thrilling part is about to start:
The first cliff jump that is around 8ft drop. You will get a locker to put all your necessary stuff in that and if you are not confident then better have a life-jacket. I am good at swimming, but in order to be safe i opted for life jacket. Now, you can gather all the courage to take a leap of faith (In the second attempt i went in without life jacket)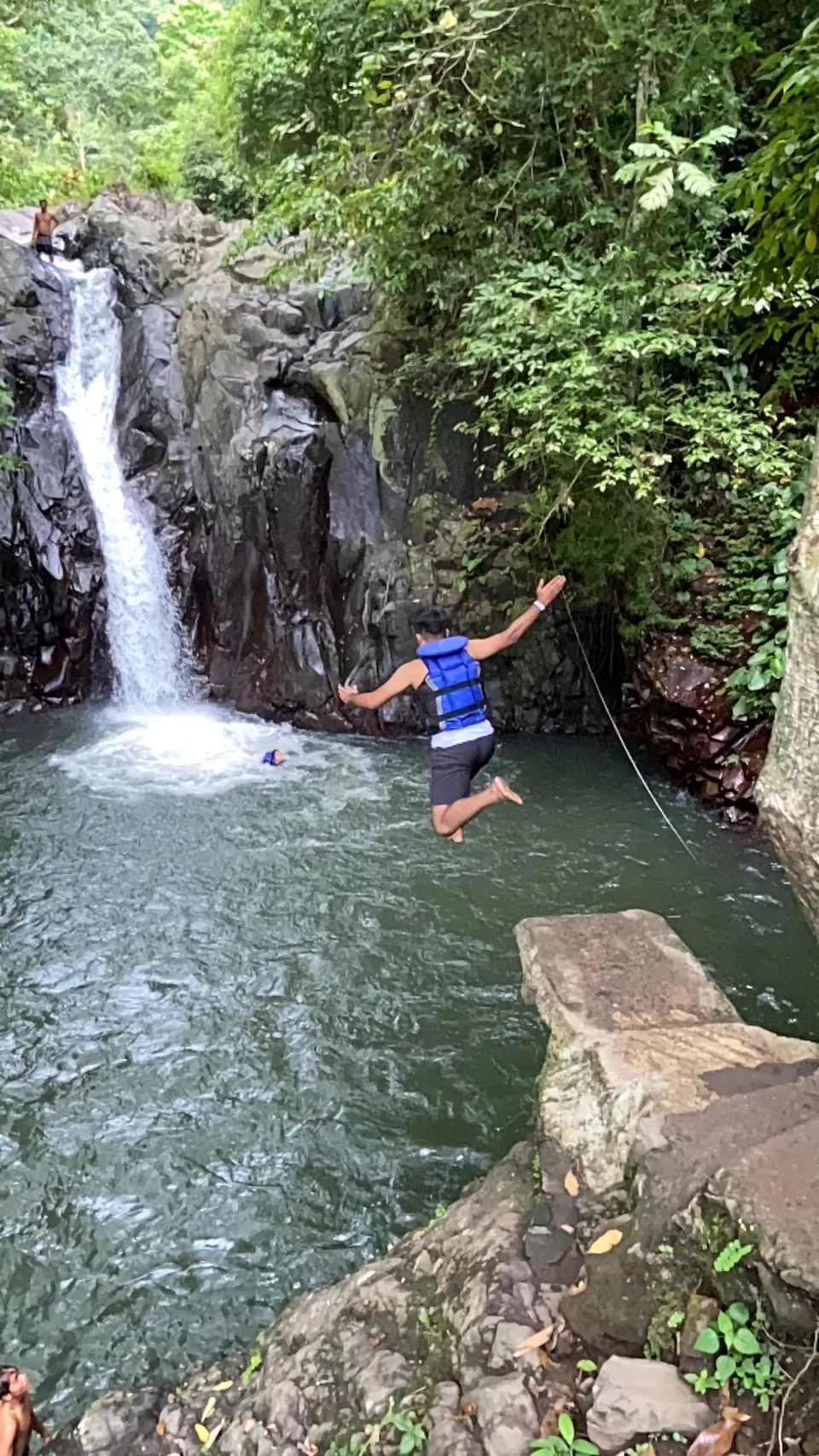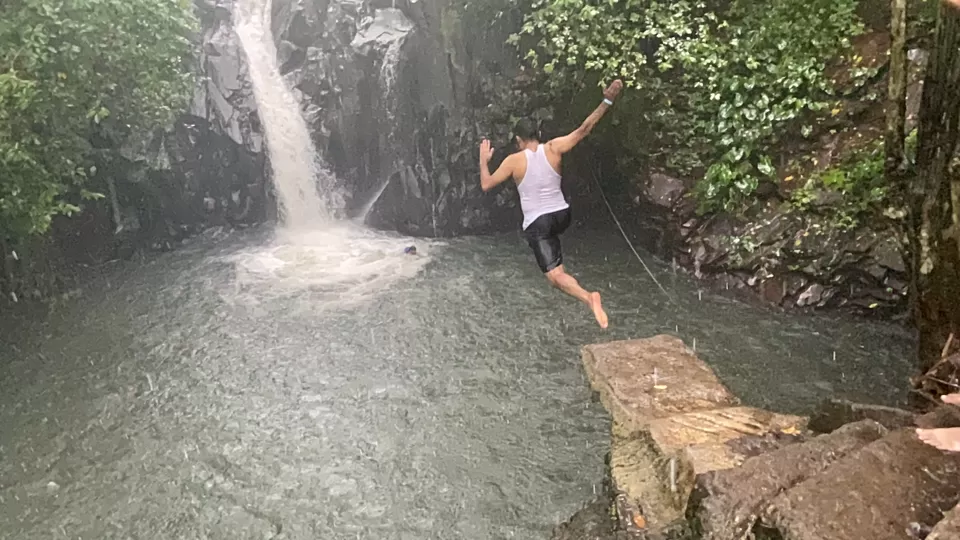 After the first crazy jump, now it was time for a 10m long natural slide ( its a waterfall to be frank) You sit at the origin of the water fall and then you go with the flow You got to gather remaining amount of courage after the previous jump. But it is worth trying it out. I was scared but after doing completing i was happy not to deny it.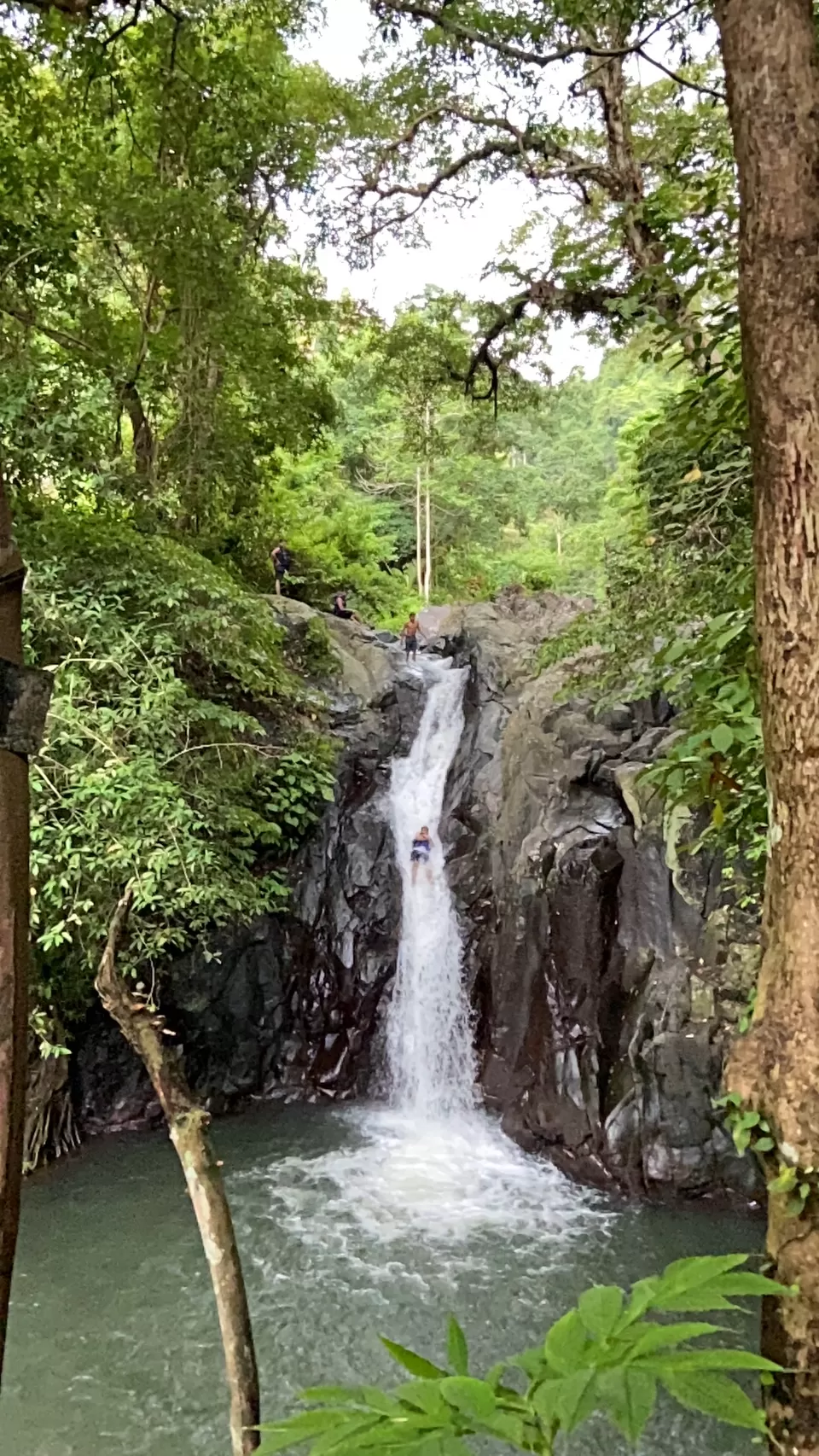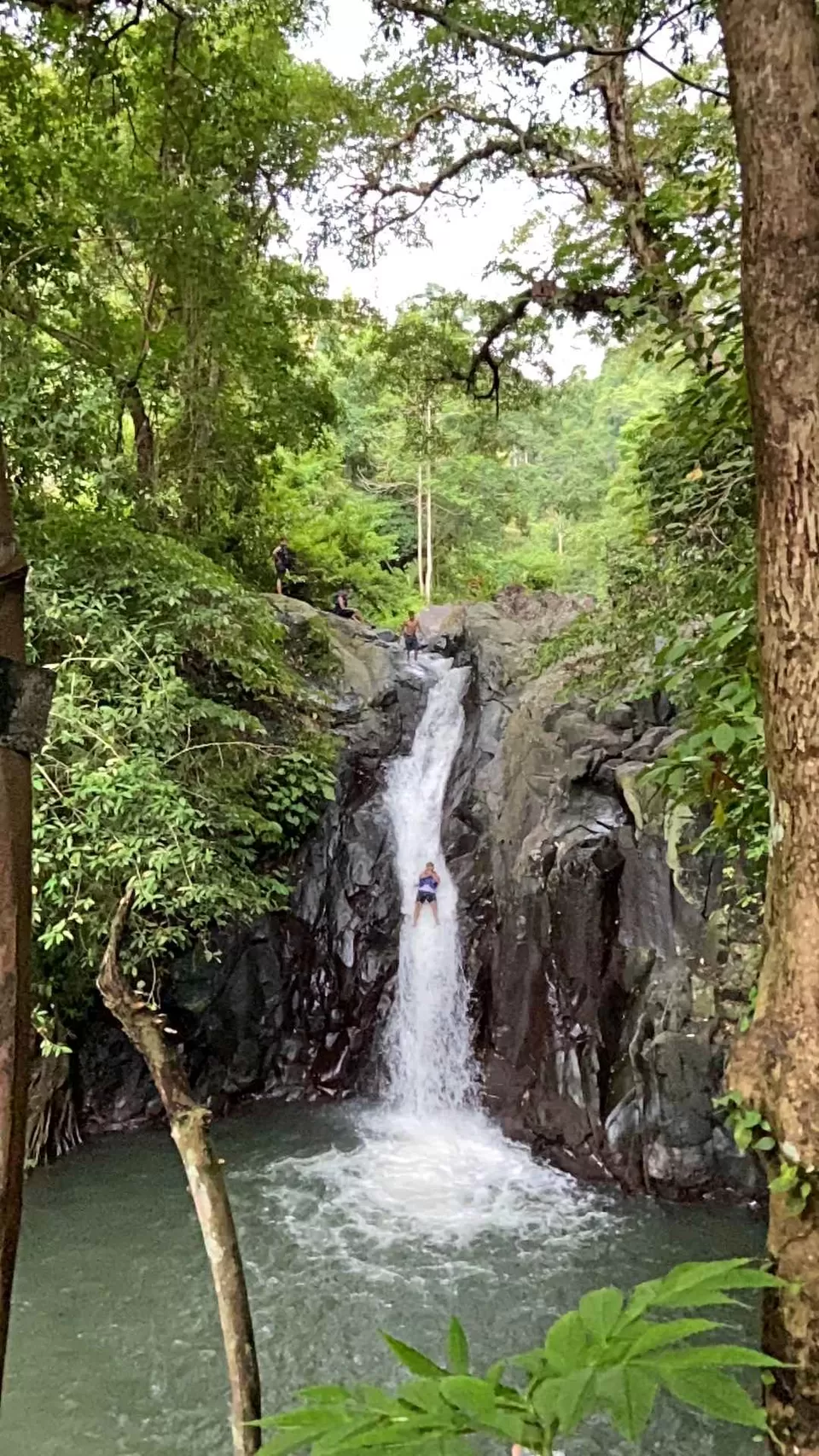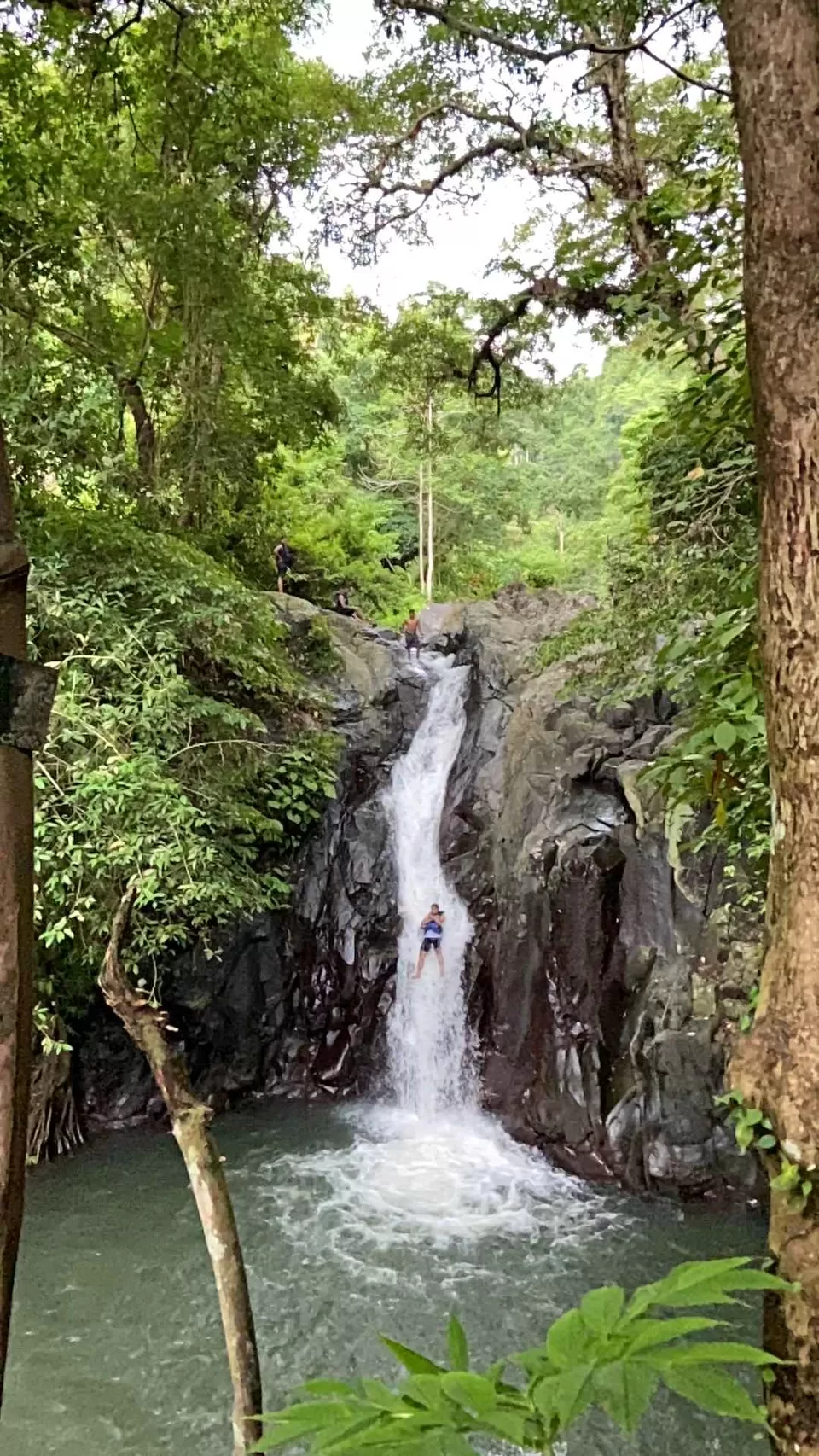 The jump and the slide had already soaked up my courage and i needed a cup of coffee. But then the guide says, "ready for the jump". I replied "that was already done right". The guide replies "The next jump is better than the first one". I thought that the first jump was good and i was confident and in my mind i was ready for the next jump. But, on seeing the height of the jump I got nervous as the height was "16 feet". Yes, when I went on the edge and saw the height, I literally was tensed whether I should do it or not. But after driving 70 km I did not want to miss the adrenaline rush. So, I went for it. The most craziest experience of my life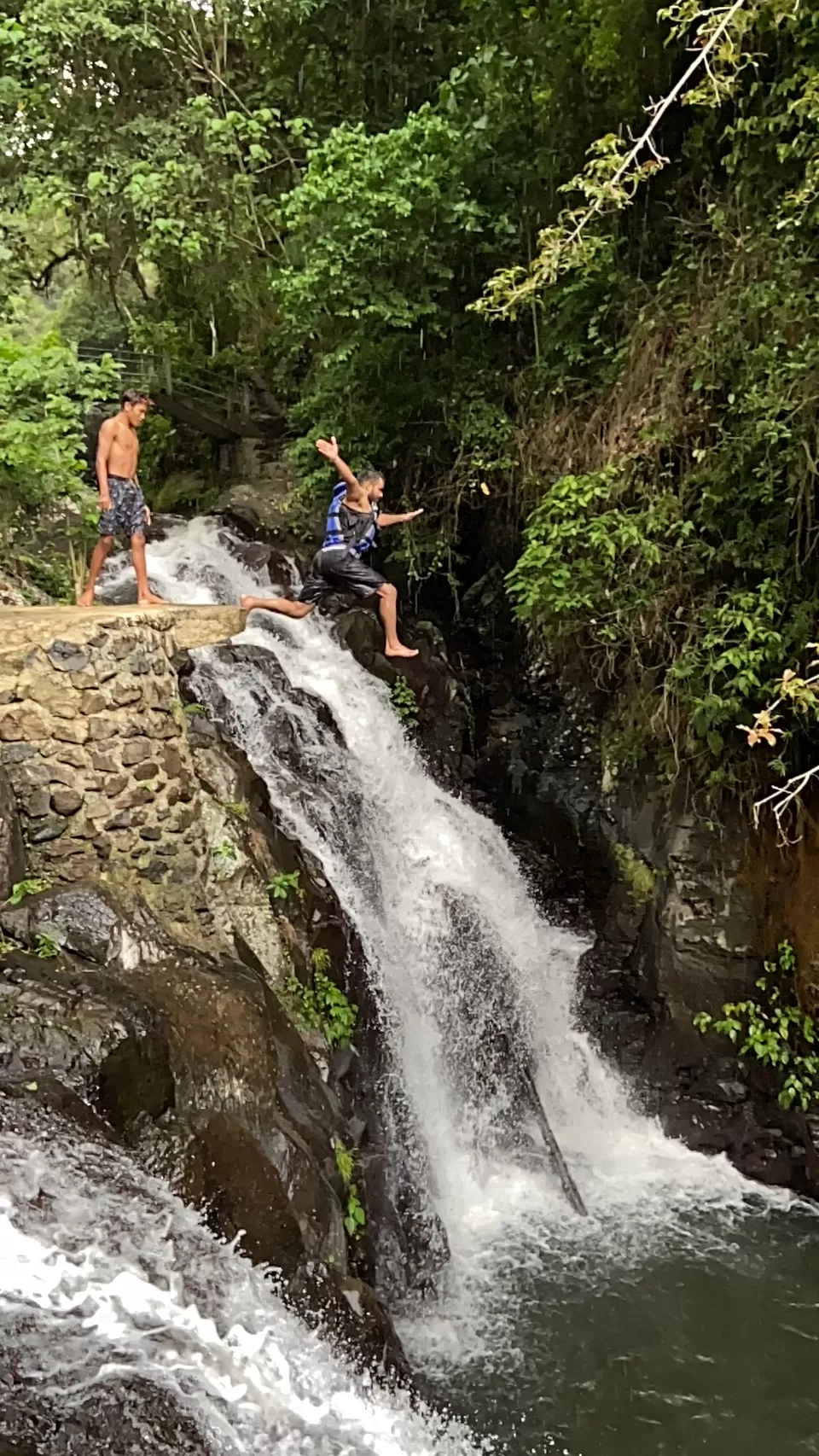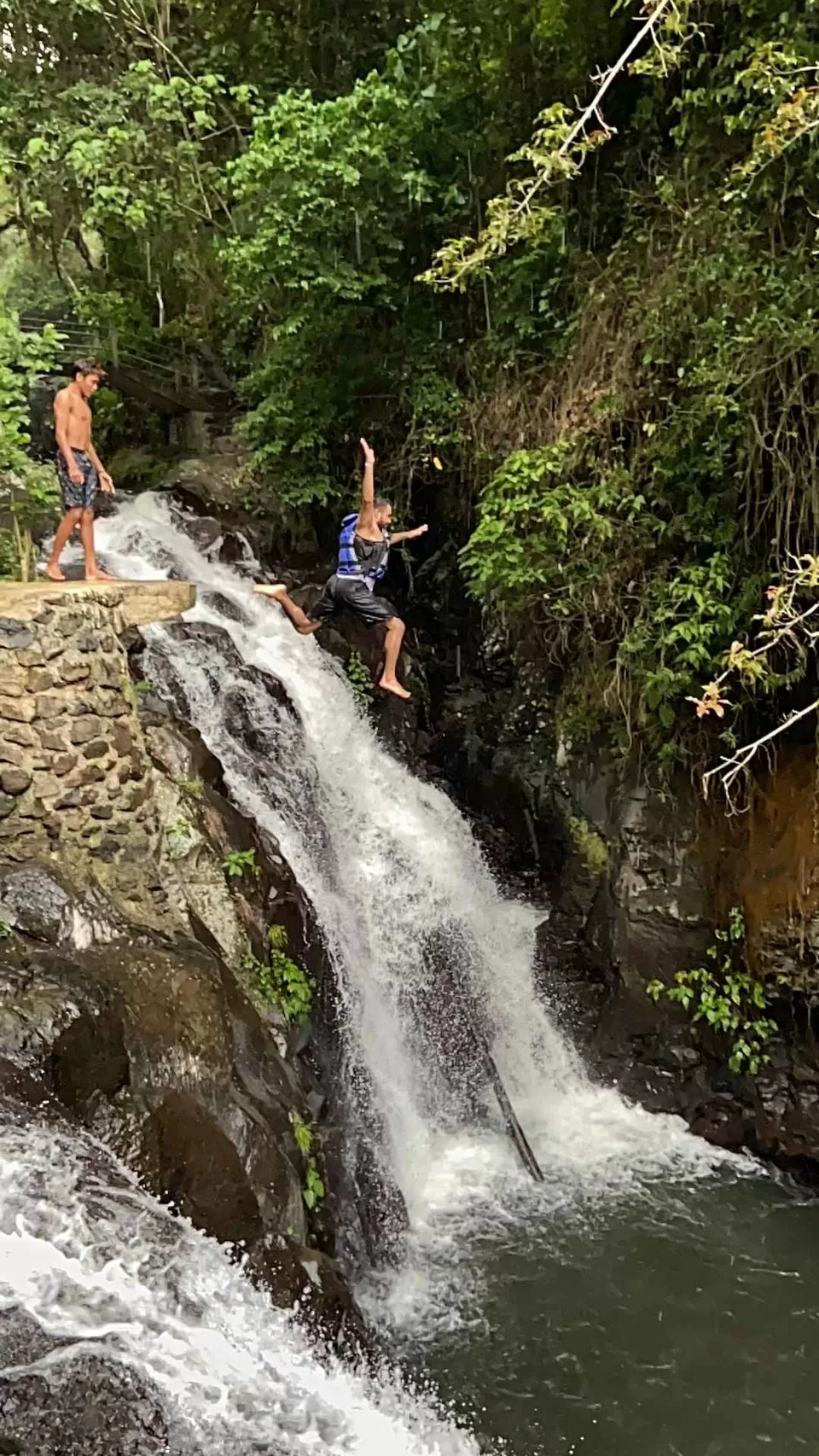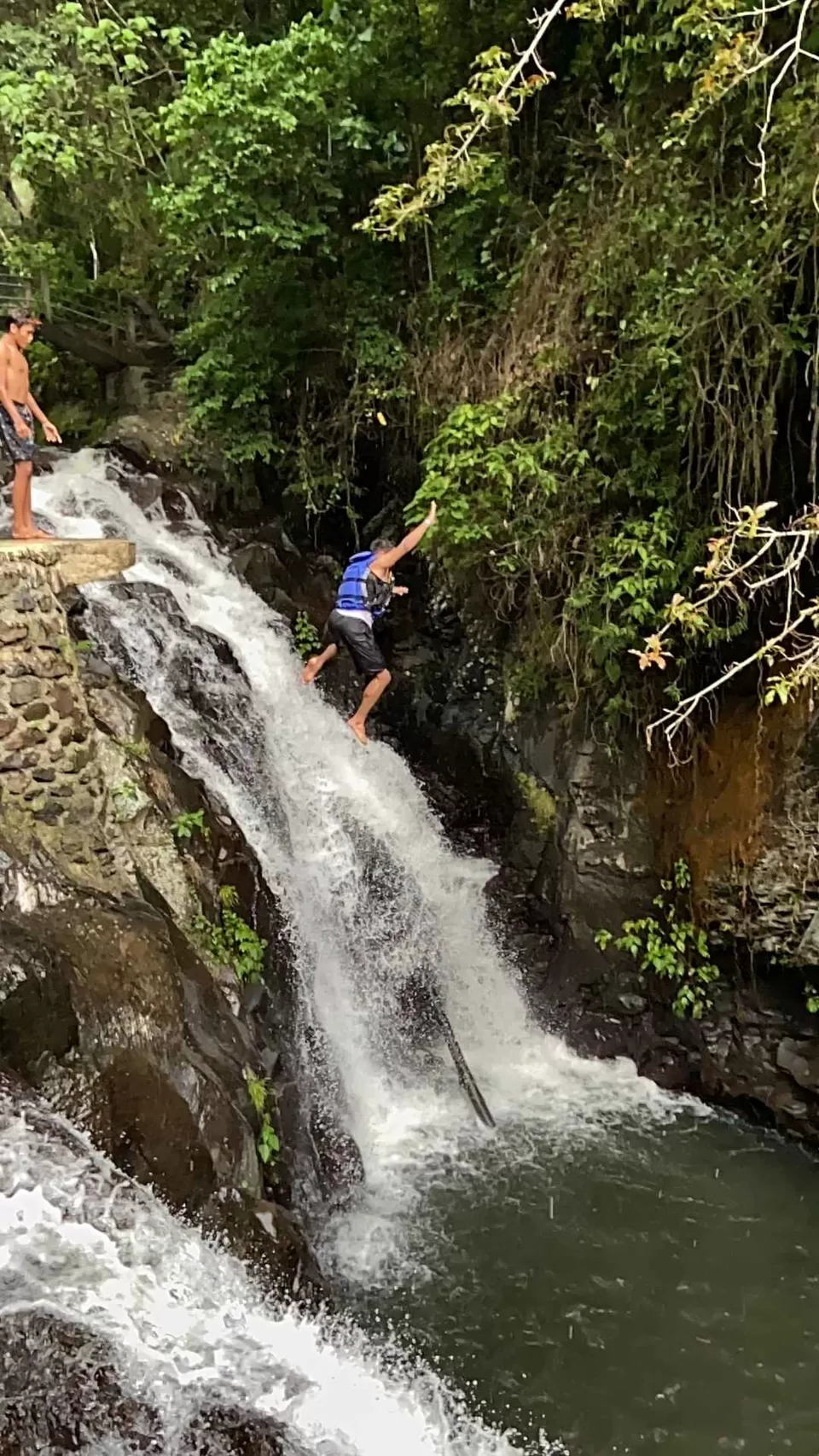 Guys, one important thing here is that, the landing in the water has to be perfect or else things might get complicated. My hands were not streamlined and they did hurt a bit after completing the jump.
There was a last jump which was 30 feet. I did not do that, as my guide suggested that, he would recommend that only to people who are a bit experienced at cliff jumping. I really did not have guts to try 30 feet jump ( but may be next time)
Then I walked back and grabbed some lunch near the waterfall (there are good restaurants near aling-aling waterfall). It took me around 2 hours to complete all the site seeing and the crazy jumps and slides. I took a rest for an hour and then at 3 pm I started my journey back to my hostel.
Reached hostel at 5 in the evening and jumped into the pool ( yeah I am getting obsessed with jumping in the water) and relaxed. Met a few people and had few beers and played cards. In the night I got ready thought of checking out night life at Ubud.
The ambience was good and grabbed food and had some drinks here. The cost of food and drinks is quite affordable (somewhere around 300 to 400 INR). After, this I went to the same place which I went on the first day.
There were people doing salsa. I did learn salsa that night. People were really friendly. After 12:30 am I went to the dance floor and went on drinking and dancing till 4 in morning.
On third day, I had booked another hostel (Ubud Tropical) which was 600 INR per night. The hostel was really good and it had a really good infinity pool surrounded with dense forest.
GATES OF HEAVEN:
There is a parking for two and four wheeler right outside the temple. At the temple I had to pay some donation to the temple (paid 10k IDR) and paid 15K IDR for the saron (which is necessary for getting into any temple in Bali). I reached the temple and the temple authorities were handing out a token. The token is the queue number for taking the photograph. In order to get the photograph, the wait time is around 1 and half hour. It is one of the most familiar temple for photographic scene.
Okay, so i dropped my luggage and started my next destination to Lempuyang Temple (famously known as GATES OF HEAVEN). I started from Ubud at 12 pm. The distance from Ubud is around 70 km. The temple is along the east cost of Bali. The travel time from Ubud to Lempuyang Temple was roughly was around 2 hours (with traffic taken into account).
SOME IMPORTANT LEARNING from this road-trip:
The roads have a step inclination, so if you are riding a two-wheeler then make sure to drive safely. And one additional heads, up when you use google maps to navigate make sure to use the route of a car. Because, on google maps it showed a wrong route and i reached a dead end and getting back to main road was tough as the net was very poor in that area.
After doing two continuous days road trips, I had planned the fourth day to be a bit laid back. I covered rice terrace in Ubud and went for some city shopping
TEGALLALANG RICE TERRACE:
The Ubud rice terrace is mainly famous for the giant swings. I took one of the swings and it was good (but no major adrenaline rush after the cliff jump). After completing the swing, I took a stroll around the rice terrace clicking some pictures and taking videos.
I started my journey back to Ubud at 5 pm. This time i was a bit unlucky there was no petrol in the scooty. So, i stopped at the shop and brought one litre petrol (Petrol is available in every small shop but a bit expensive). After, refueling my scooty stopped working after a driving for 10 km. I had to take it to the nearest petrol station and asked them to remove the fuel which i had got it from the shop (it was adulterated - i guess). After, getting fuel from the petrol station the scooty started working and i started my journey back to Ubud.
I found a couple of black-sand beaches while heading back to Ubud. Black sand beaches are quite common in bali because of the Volcanoes (though quite a few of them have been silent for quite some time now) all around the island.
After visiting the rice terrace, i planned to go back to the hostel and head to Ubud market. One heads up with respect to shopping, make sure to always bargain. The shopkeepers generally double the price of every item. After shopping for some time, I decided to get a balinese stone massage. There are couple of good massage parlor, but make sure to book an appointment before 3-4 hrs.
DAY 5:
Frequent searches leading to this page:-
Bali honeymoon package cost from India, Bali honeymoon packages with private pool, 4 days 3 nights Bali honeymoon package, best places to visit in Bali Indonesia for honeymoon