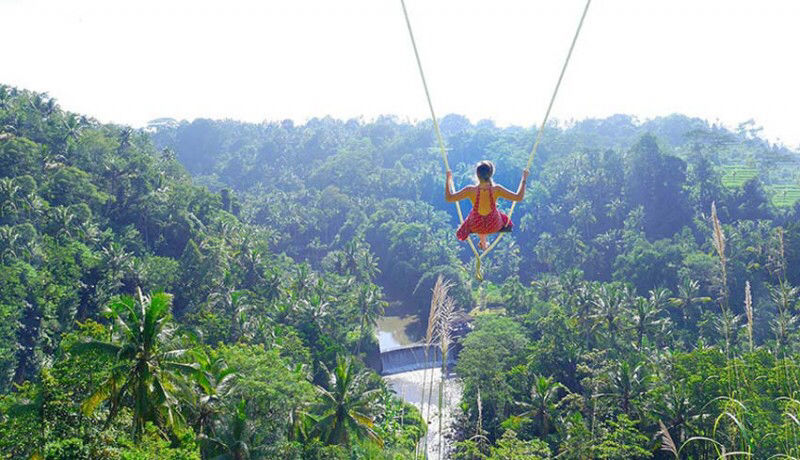 How often have you seen those 'larger-than-life' swings which has a breath taking view as a background and you thought that it's photoshopped? Well, a lot of you must be aware that it is for real and most probably it is one of the important things in your 'Bucket list'! Bali is where you should be going to tick this off from your list. Though the original and best one is in Ubud, but there are a lot of swings that have sprung up all over Bali, in last few years. An activity filled with freedom, fear, adrenaline rush and thrill of swinging high above the trees and fields, would definitely be an unforgettable experience and 'forever-to-be-remembered' pictures! And if you want that 'Instagram perfect' picture, below are the places you should be heading when in Bali...
1. Bali Swing
Bali Swing is one of the best and most popular swing in Bali, that is located in Kapubaten Bandun region
It takes 20 minutes drive from Ubud center and 1.5 hours from Kuta. This attraction opens every day from 8 am up to 5 pm. Bali swing houses numerous jungle swings ranging from 10m, 15m, 20m and 78m above ground. A treat for adrenaline junkies, each swing comes with its own unique thrill factor so choose your swing wisely. But regardless of the swing you choose, you will still be guaranteed a pretty spectacular view unlike any other—one that overlooks the river, tropical greenery and waterfall. If you're not a fan of heights but still want a beautiful photo to take away from the experience, consider one of their many 'Hanging Nests' that are scattered around the playground. Wedged between two enormous palm trees, these nest-like structures serve as look-out points but also make for good spots for photos. A ladder is positioned below it allowing guests to climb onto it and is eventually removed to make it seem—in photos—as if you were dangling in midair among the tall trees. Other attractions include the Butterfly Garden, Helicopter, Heart-shaped Rock and Huge Stone—all of which come with a magnificent view overlooking the valley as well as the canyon and waterfall.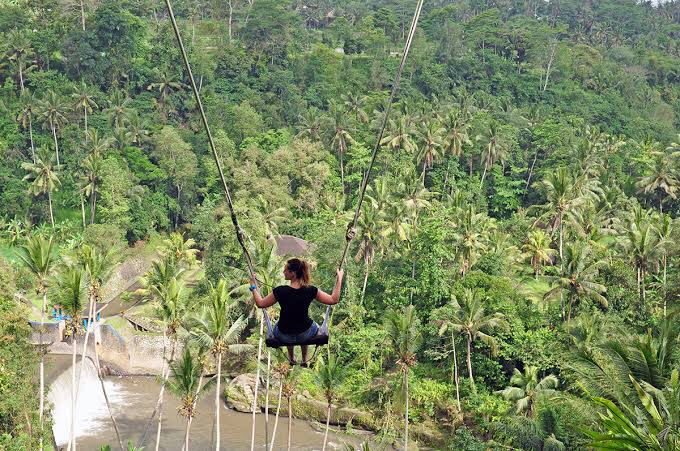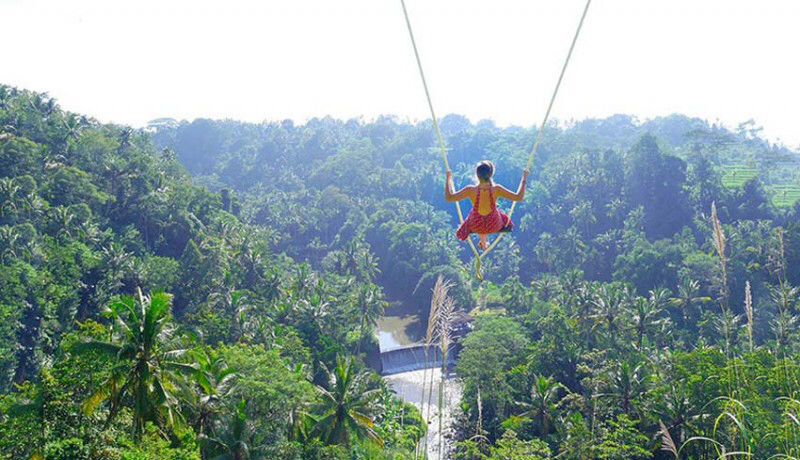 2. Ubud Swing at Zen Hideaway
Zen Hideaway is an accommodation in Ubud that is also famous for its swing that hangs between coconut trees. Approximately 30 minutes outside of Ubud, Bali, past verdant rice paddies and ornately carved stone temples, an unassuming hilly village called Bongkasa. Zen Hideaway is a perfect place if you are looking for serenity and peace, enabling you to enjoy the fresh air and view of Ubud. The swing is hanging between coconut trees, high atop a hill, which offers you spectacular experience. As well as Ayung River view, a mini waterfall, rice fields and Mount Agung makes your swing ride thrilling yet addictive.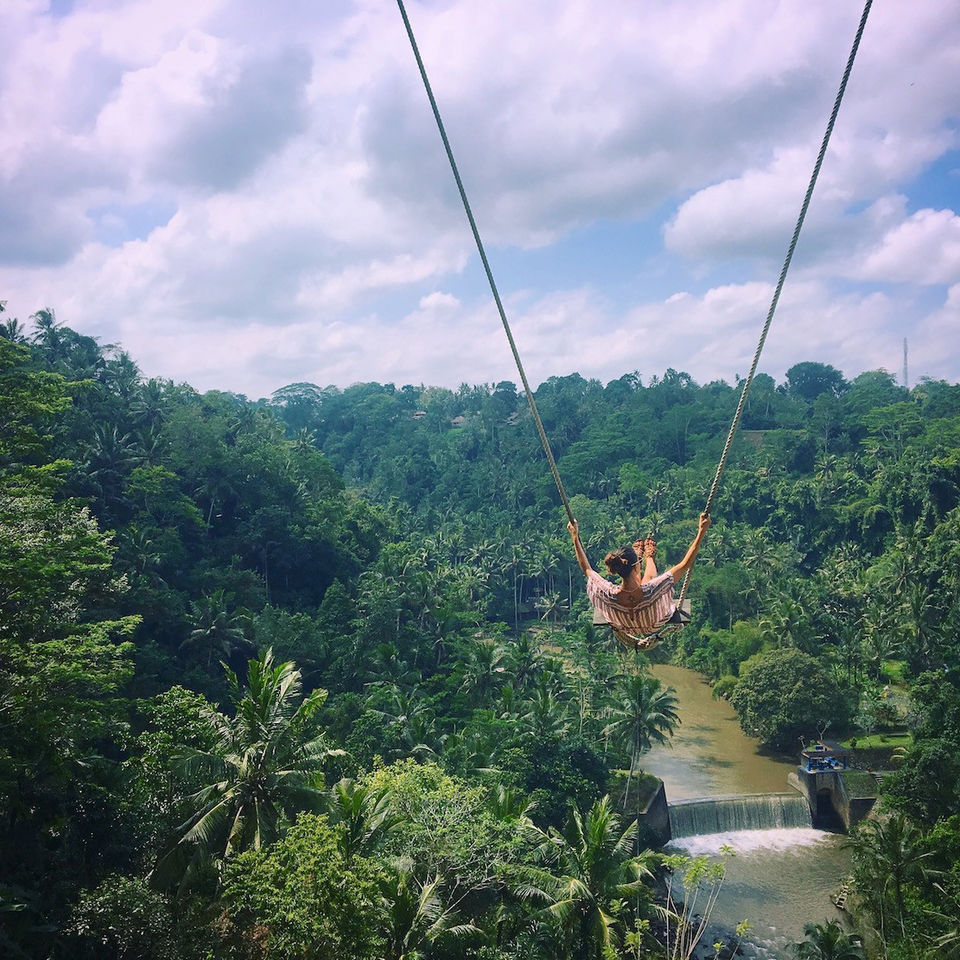 3. Swing in Love at BAS DE ATAYANA
Swing in Love at Bas De Atanaya is one of the best swing in Bali, that located in the village of Sribatu, Susut, Bangli Regency, Bali. BAS De Atayana (formerly known as I Love BAS Agrotourism) is the first agrotourism spot of Bali, and it has the concept of combining the nature with the result of plantation and agriculture. The agricultural products that are produced by BAS De Atayana includes coffee and varieties of spices along with a Swing of Love, makes BAS De Atayana unique and different from the other agrotourism places. Beside this, you will have an opportunity to walk around into the local coffee, vanilla, fruits, spices, clove plantations.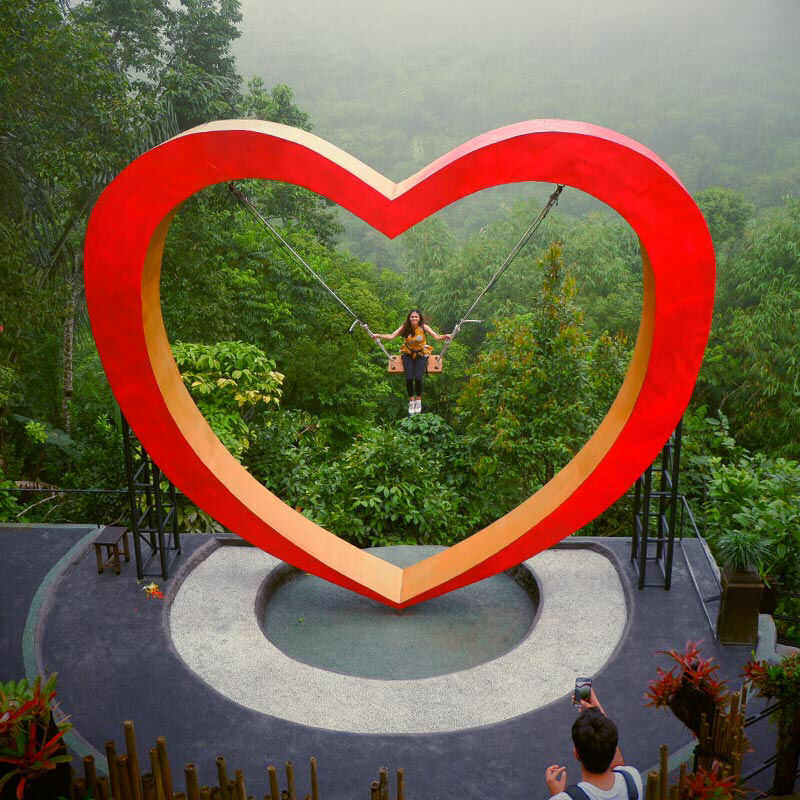 4. D'tukad River Club & Swing
D'tukad River Club & Swing is one swing in Bali has variety of facilities such as swimming pool, restaurant, bar, selfie place etc. The swing which is located just beside Balangsinga waterfall makes this swing so special and different from other swings of Bali. This place offers a breathtaking view and serene atmosphere complemented by genuine Balinese hospitality. Located in Banjar Blangsinga, it take only 30 minutes drive from Ubud center. This place open daily from 08:00 to 19:00.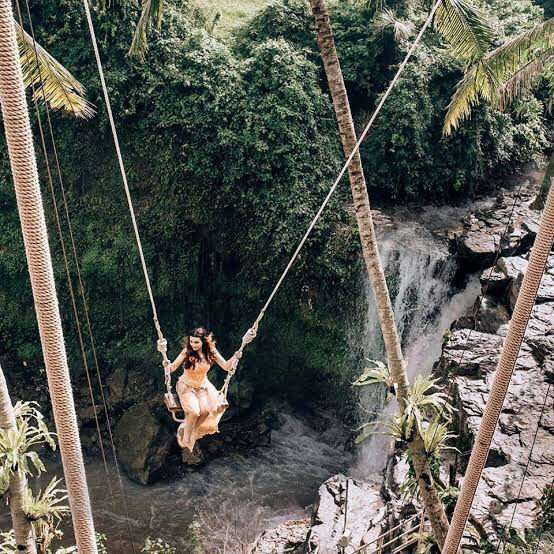 5. Uma Pakel Swing
Uma Pakel Swing is located in the village of Tegalalang, Ubud, Bali. The location is adjacent to Tegalalang Rice Terraces which is precisely located in one of the agrotourism location. This Uma Pake Swing Open Hours: from 08:00 to 19:00. After your swing ride, a photo inside a humming bird's nest is included in the package when you avail the edge swing. Above the nests is a bamboo constructed edge wherein you can see a birds eye view of Tegallang Rice Terraces.