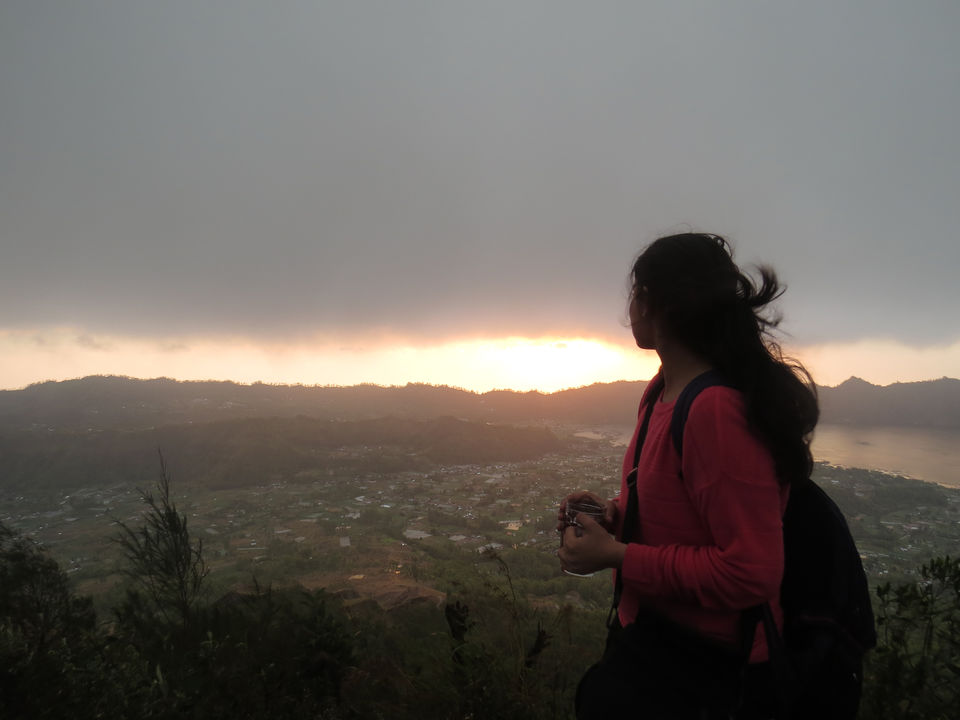 Mount Batur.
So I were in Bali for 7 days, and the most amazing and different adventure which I experienced was this one- trekking to mount batur, an active volcano in the north of the state.
The trek stated around 3:15 am (oh yes, this early), and one has to be fast in order to see the sunrise. It is a 3km trek with 2 pathways, one difficult for the brave hearted and one easy for the beginners and those not so fit as they wish they were.
We took the easy route, it was longer but that much more beautiful as well.
So we started around 3:15 with flashlights in our hands and cameras in our bagpacks.
Usually the trek companies pick you up from your respective hotels i.e. majorly in kuta or seminyak area ( around central Bali) but this means you have to travel in the car for around 2 hours before you will be able to start the trek. This could be undesirable for some people, as it was for us.
So what we did, we booked a guest house, to name 'Bitang guest house' for the day we wished to do our trek, and it was amazing! So great and beyond our expectations. We were as close to nature as we could possibly be, the skies were so clear we could make out all the constellations. Plus the rooms were very comfortable (they had only 2 rooms, so if you wish to stay there, book in advance), and we had a good sleep of about 5 hours before the trek.
So now after a good night's sleep we were ready and fresh, all set to do the trek. One more plus point of our stay (which was on the base if volcano) was that the trek started from the point of our stay itself! We didn't have to spend a minute in the car.
Now we started the trek, initial 1 km was easy, with tomato and chilli farms an both of our sides, then came a bifurcation,for the easy and the difficult path.
After that the real trek started, the uphill journey to the top.
For another 1-1:1/2 hours it's a relatively steep climb, with 2 pitstops in between to refresh yourself, drink a little water and gain your energy back. After that comes another diversion, one way is for those who are so tired that they cannot even walk more, this way you could go to a spot to see the magnificent sun rising.
And the other way, a 15 minute steep journey all the way to the summit of the volcano. The view there is unimaginable. And believe me if you came this far, reach for the summit you can do it.
We did the 15 minute journey, and now we were on the top(of the volcano as well on the top of the world).
We sat there in the chilly air in the sigh of the morning, waiting for the sun to rise, surrounded by clouds all around and a little bit of hot volcano steam. And suddenly now we see a red orangish hue appearing faraway on top of another mountain, and at this moment we realised all this hard work was worth everything in compared to the feeling we got while seeing what we were seeing at that moment. I will describe the sunrise in another article.
After the magnificent sunrise, we got to have breakfast on the top, and the thing is that the breakfast is made in the steam of the volcano. We got boiled eggs, banana sandwiches, bananas , oranges and some chocolates. Plus a hot drink, for which I chose hot chocolate which was really tasty. We savoured all this food as we were really hungry by then.
Now after the breakfast we began the downhill journey of returning back to our stations. The good thing about this is now we got to see what all paths we took, how steep were they,we get to see all the beautiful things around us- the beautiful mount batur, the grande mount abang and behind it another volcano mount agung.
At this point one may want to stop everywhere and take some photos, but you will be so tired to do so.
After 2 hours of hiking down, we reached back to our stay which was bitang guest house. On reaching there, we refreshed ourselves, and after1/2 hour of rest we went for our other destination Nusa Dua, with a little sightseeing in Ubud.
Overall, Mount Batur trek is what one would remember for a lifetime. I know I will.
-Vinamrita