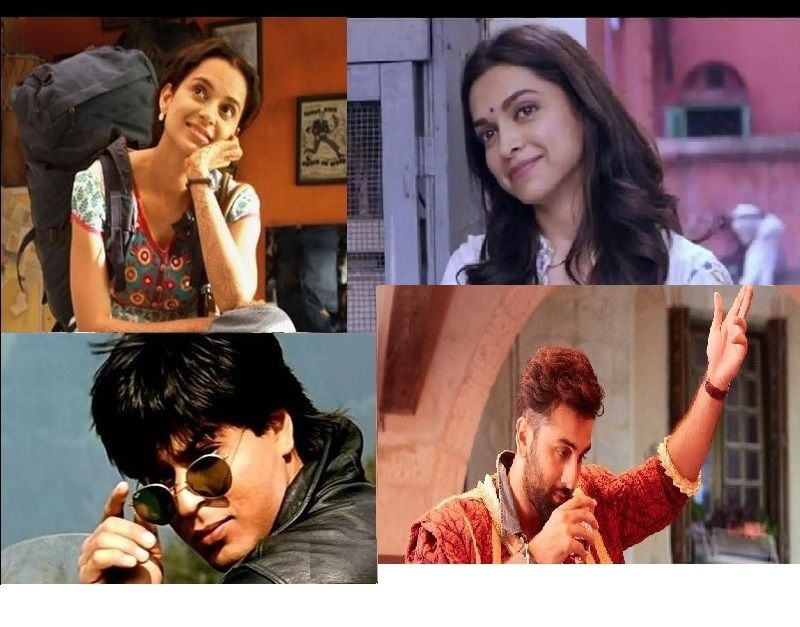 Since time immemorial, Bollywood has been the window to the travel world for young Indian hearts. Even when we were oblivious to the joys that travelling brings, these legendary movie characters were giving us valuable goals to travel and pursue life on our own terms. The larger-than-life heroes on screen became our idols as we looked up to them for guidance to escape from the monotony of everyday life.
Here's looking at some of the most relatable movie protagonists that have ever existed on the silver screen, who showed us how travelling for different reasons helps us become a better version of ourselves.
Spoiler Alert!
Bunny (Yeh Jawaani Hai Deewani)
Reason to travel: To find himself
Talking of Bollywood travel diaries and not mentioning Bunny would be blasphemous. When the most charming boy next door tells you that his boyhood dream is to go out and visit every country in the world, what do you do? You fall all the more in love with him and take his dreams for your own. Bunny effortlessly turned every movie-goer into a wannabe traveller instantly. And every single person coming out of the cinema hall could be heard repeating his iconic words from the film:
'Main udna chahta hoon, daudna chahta hoon, girna bhi chahta hoon. Bus rukna nahi chahta.'
(I want to fly, I want to run, fall even. I just don't want to stop.)
Raj (Dilwale Dulhania Le Jaayenge)
Reason to travel: To get the love of his life
Bollywood's most revered love story tells the saga of a rich brat falling in love with a desi girl while on a Euro trip. From falling in love on a trip in Europe to chasing the girl of his dreams all the way to India, Raj's journey is a travel diary hiding in plain sight. The changing backdrops signify the different stages of his budding emotions, while Raj is busy teaching us the importance of our dreams and fighting for what we believe in. Stepping into unknown lands with almost no information about her whereabouts, Raj confidently lets his firangi hair down and strides forward to fulfill his goal. Isn't this exactly what travelling is all about? Improvise and adapt!
Rani (Queen)
Reason to travel - To learn to love her own company
Rani should be credited for starting the trend of people going on solo honeymoons. Rani's decision to go solo 'coz YOLO was exactly the kind of choice that people need to make in their lives if they seek higher learning. Her first venture as a solo traveller opened her eyes and mind to a whole new world. She finds that there's no love greater than self-love. New friends and experiences along the journey make her more confident and self-sufficient. For females brought up in a conservative society such as India's, Rani is the flag bearer for promoting solo travel for women.
Piku (Piku)
Reason to travel - To help others realise their dream
Travelling with parents and their eccentricities can be quite a task. But Piku held her ground. Travelling against her will just to keep her dad company, skipping flights for a road trip because of her dad's inability to fly, continuing the trip even with drivers backing out at the last moment, Piku showed a side of travelling that no one shows. You fight the odds and you don't quit - isn't that what family does? Travelling to help her father realise his dream of spending a few days in his parental property is all of us trying to do everything in our power to please the parents when they need us the most.
Shashi (English Vinglish)
Reason to travel - To face challenges that life throws at us
Now, before you start with how she travelled only because she had to attend a wedding, think again. For a homemaker who could not speak or understand English, travelling from India to London with no guardian was a gargantuan kill and that's no overstatement. Yet she chose to move ahead and take up the challenge instead of giving up or choosing to stay back. She accepted her weakness and worked on it, turning unavoidable travel into an opportunity of a lifetime. This is how magical travelling can be, offering unforeseen challenges and the chance to better ourselves. We all face challenges in our lives on a daily basis that we wish to get rid of. The struggle is real!
Devi (Masaan)
Reason to travel - To break away from the norm
Devi was another example of how women in India are made to feel bound by a delusional sense of morality and honour almost everyday. Devi has to constantly move around and change jobs due to the stigma associated with having pre-marital sex. Yet not once does she choose to stay low or stop trying. She continues to travel to different places, hoping that some day things will change or that someone will look beyond the fake shackles of a hypocritical society. Her journey was nowhere near easy, yet giving up was never an option. The only way to move is to move forward and move forward we must.
Ved (Tamasha)

Reason to travel - To redefine himself
This movie in its entirety is an ode to self-transformation through travel. Ved, who starts off as a jovial and lively character, travels to faraway lands to adapt an unknown identity and spread the viral fever of love and hope. Eventually, life finds him, beats him black and blue, and brings him to his knees. Relatable, isn't it? Dreaming big, starting on a good note, yet finally giving up on our goals because... life! Don't like the ending? Then change it. When Ved travels back to his roots to find his lost self, he reignites the spark of life within himself and a million others watching him on-screen. That's the magic that travel brings about. It opens us to new opportunities, ways of life and possibly, the answers we're looking for. All it takes is stepping out of our comfort zones.
Bollywood has been an ever-giving school of knowledge for travellers that doesn't seem to stop anytime soon. Need more motivation? I'll just leave you with this kickass dialogue from Tamasha that gives me goosebumps every time I hear it:
'Ek bar ek hero tha. Usne bahut mehnat se padhai ki, engineering ki or fir usne naukri ki. Or fir yuhin naukri karte karte ek din mar gaya. Pasand nahi aayi ending? To badal do!'
('There lived a hero once. He studied hard, completed his engineering and then got a job. Then, one day just like that, he died, working his ass off. Don't like the ending? Then change it!')
Did we miss out any of your favourite Bollywood characters? Share in the comments below or here on Tripoto!
Need travel inspiration for the new year? Click here to go around the world in 2020!