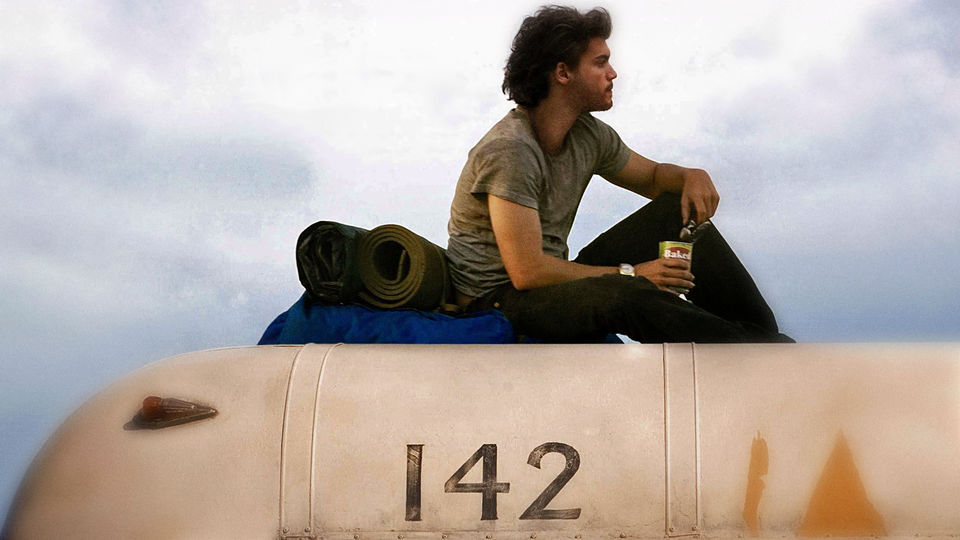 Here's a list of top 10 films, a mix of Hollywood and Bollywood, which may not be everyone's favourite but they definitely take an effort to push you out of your comfort zone and inspire you to take THAT trip of your life you've been planning for, since ages!
HOLLYWOOD
1. Thelma And Louise
The best road trip movie of the century – Thelma and Louise had to its credit 6 Academy nominations! It takes two girlfriends, a revolver and a '66 thunderbird to make an unimaginable road trip. Thelma and Louise decide to take a break from their boring daily lives and hit the roads for a two day vacation. What follows leads them to go further than they thought while they end up having the time of their lives. A film with a feminist approach, this is a definite inspiration for all ages. Somebody said get a life... so they did. It's your chance now!
Quote: "You said you 'n' me was gonna get out of town and for once just really let our hair down. Well darlin', look out 'cause my hair is comin' down!"
2. Little Miss Sunshine
Oscar winning film 'Little Miss Sunshine' is a light heart comedy showing the struggles of a dysfunctional family and how a cross country road trip helps them bond over again. The six member Hoover family takes a road trip in their VW bus from Albuquerque to the Little Miss Sunshine pageant in Redondo Beach, California, to get their young daughter into the finals of a beauty pageant! Even though she loses the pageant, the saying says it right 'The journey is more important than the destination'. Your family might just end up hiring a bus and deciding on a location after watching this film ;)
Quote: "There's two kinds of people in this world, there's winners and there's losers. Okay, you know what the difference is? Winners don't give up."
3. Into The Wild
Are you stuck on taking the most important solo trip of your life that you have been planning since an unimaginably long time? Is backpacking your whole and soul? Then 'Into The Wild' is the best thing that can happen to you before taking THE trip of your life! Christopher McCandless goes to an extent of changing his identity to Alexander Supertramp. At 24, he abandoned his life of material possessions to explore an alternate life of solitude, and ventured into a road trip throughout the United States and ended up embracing the Alaskan wilderness. The adventures and challenges he faces during the 4 months 'Into The Wild' and the fact that this film is based on a true story is enough to inspire you for life!
Quote: "When you want something in life, you just gotta reach out and grab it."
4. Wild
For all the lady travellers who are apprehensive of taking road trips alone, here's what you should do right now – Watch one of the best movies of 2014 which won Oscar and Golden Globe nominations for Reese Witherspoon in the 'best actress in a leading role' category. Imagine taking the dream hike of your life all alone and walking 1100 miles just to leave behind your past and start a new life. The various incidents Cheryl struggles her way out of and emerges a strong and independent woman is an inspiration to many. 'Wild' will make you book your next backpacking trip right away!
Quote: "I've always been someone's daughter or mother or wife. I never got to be in the driver's seat of my own life."
5. The Secret Life Of Walter Mitty
What do you do when your job is at stake? Well, Walter Mitty doesn't think twice! He just leaves on a journey around the globe which turns out to be an extraordinary adventure he never imagined. This is the perfect movie to get you out of your comfortable day dreams and turn them into actual actions in reality. Explore the beauty of life with Mitty while travelling from New York to Iceland to the Himalayas. Go get your DVD now!
Quote: "To see the world, things dangerous to come to, to see behind walls, draw closer, to find each other, and to feel. That is the purpose of life."
BOLLYWOOD
6. Dil Chahta Hai
A film that defines an entire generation, Dil Chahta Hai will always remain close to our hearts. Agree? It's a story of three childhood friends who mess things up as they enter puberty. As each of them falls in love, the perspective they have on relationships and life differ to an extent that they end up in a fight because of misunderstandings. But the cherry on the top is Akash, Sameer and Sid's road trip to Goa in a Mercedes convertible! The title song Dil Chahta Hai is enough to put your car in gear and race to Goa. So what are you waiting for?
Quote: "Ya toh dosti gehri hai ... ya yeh photo 3D hai"
7. Zindagi Na Milegi Dobara
What's with Bollywood and three best friends figuring out their life while celebrating friendship? Never mind that! We Indians love such movies. Don't we? Well, this is one of the best road trip movies which gives us a fantastic tour of Spain and its festivals. Adrenaline starts when childhood buddies Arjun, Kabir and Imraan plan Kabir's bachelor trip to Spain and decide on three different adventure plans around the country. Be it the Tomatina Festival in Bunol, Sky Diving in Seville or the Bull Run in Pamplona, get inspired every minute of the film!
Quote: "Seize the day my friend...pehle is din ko poori tarah jiyo, phir chaalis ke bare mein soochna"
8. Yeh Jawaani Hai Deewani
If you are 24 already and you haven't been to a Himalayan trek with your school friends at least once, you must reconsider your friendship! Just kidding ;) But seriously, if you haven't please watch this box office hit film and trust me you'll be in a travel agent's office in the next hour. When four school friends take time out from their busy professional lives and jump onto a train to Himachal, you just know it's going to be the best trip of your life. They say once a trekker, always a trekker. Go for it!
Quote: "Main udna chahta hu Naina, daudna chahta hu, girna bhi chahta hu,,bas rukna nahi chahta."
9. Highway
It is not always that a brutal kidnapping turns into a road trip to the Himalayas. It is not always that you wake up to see sunrises and sunsets of different cities everyday sitting in the back of a truck. It's not always that you cross four states over a few days with stops at dhabas on the highway. It's not always that you open up to your kidnapper and share your fears and save the kidnapper from the police. It's not always that you find freedom in captivity! Motivated enough?
Quote: "Tum mujhe jahan se laye ho main wahan wapas nahi jaana chahti,tum jaha mujhe le ja rahe ho main wahaan pahuchna nahi chahti par yeh raasta,yeh raasta acha hai"
10. Queen
Are you a solo female traveller and aspire to be a globe trotter? This film will give you the right amount of motivation before kick starting your journey. Rani, a traditional Delhi girl does it absolutely right when she embarks on a solo honeymoon trip to Paris and Amsterdam, after her fiancée refuses to marry her. This National Award winning film is a inspiration to many and has made female travellers overcome their fears of travelling. Exploring different cultures, making new friends, getting out of your comfort zone is what Queen teaches you best!
Quote: "Ab honeymoon pe ja aur apna yeh virzhinity ka vrat tod"