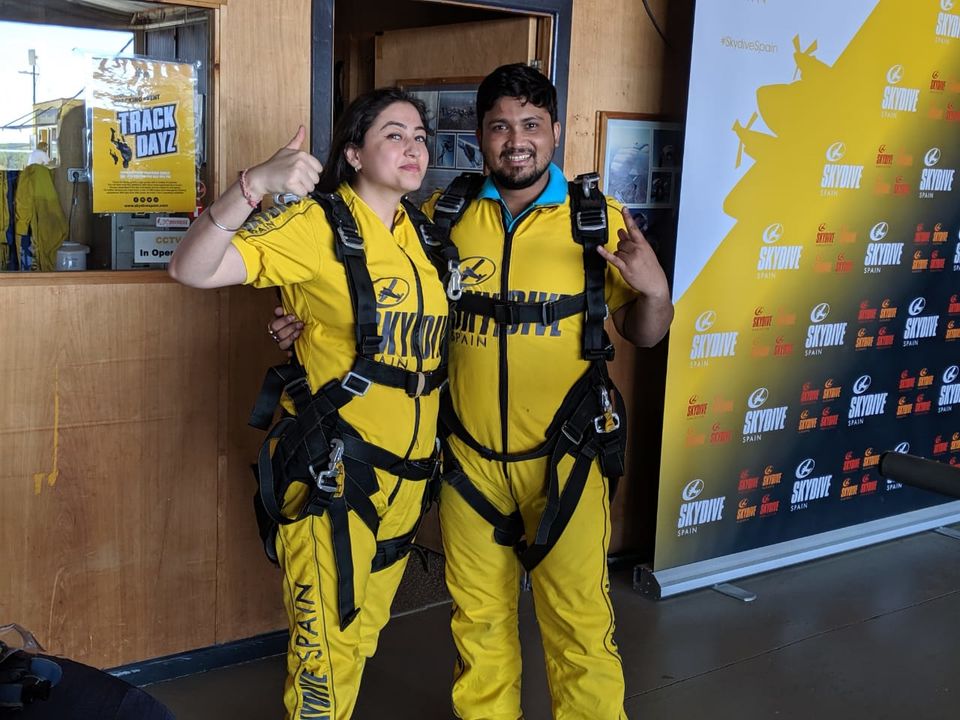 Jumping from a plane and falling in love with it was never on my bucket list. Though it always thrilled me, I never dreamt of doing it. In 2019, a cancelled trip to London made me and my husband plan a trip to Spain.
Inspired by Zindagi Na Milegi Dobara, we planned a road trip across the country.
Sky diving was out of question for me but it was first on his list and I, who has never been very adventurous in life, said yes. It took him many days to convince me but he did it. I had a preconditon though, i told him I would cancel it if i felt so.
The day before the dive, i was anxious and couldn't sleep. The drive to Skydive Spain was like a never-ending journey for me. I was ready to cancel it until i met a girl from Delhi. She shared her experience and it gave me the confidence to do it. The only thing that she was not happy about was her pictures😝
She advised me to pose during the free fall as much as i can.
So, after a breif from the instructors, i got ready for the jump.
You are suppose to wear a dungree, helmet and other safety equipment. The trainer then attaches himself with you.
I boarded the plane with my trainer and our photographer. There were over 4 solo jumpers in the plane and they would jump 4-5times a day. (To be an instructor or a solo skydiver, one has to undergo a course and complete a certain number of solo jumps)
The take off and the ascend was full of excitement and nervousness. Upon reaching height of 13,000 ft, the pilot signalles the solo jumpers. They opened the door and started jumping, leaving me awestruck.
We reaches 15,000 ft in next few minutes and it was my turn to jump. I knew there was no turning back now. So, i did as my instructor said. My photographer was trying diffuse the tension. As soon as i reached the door of the plane and took a leap of faith. I closed my eyes and the instructor jumped. When opened my eyes, we were in a free fall and the view was amazing. I could see the whole Sevilla and feel the pressure on face. I felt like a free bird and as advised by the girl, i posed. After 20 seconds, my instructor opened the parachute.
The jump last for more than 10 minutes but it gave me a memory of lifetime, an experience that cannot be expressed in words.
After touching down, I was speechless and till date, i close my eyes and visualise it as if I am still in the sky.