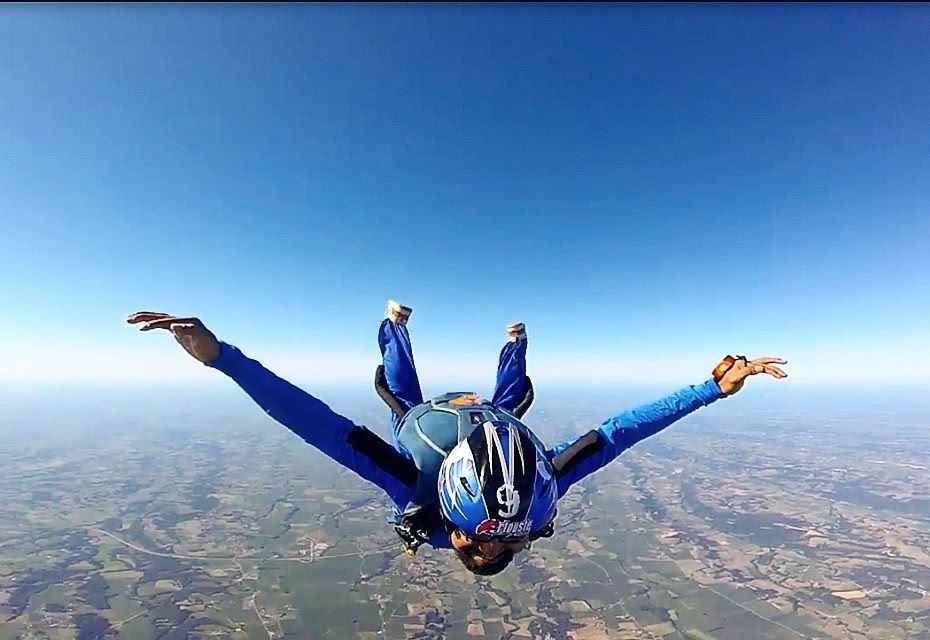 It was just another day in my usual and monotonous life. I was starting to think about where my life was going. I wanted to see places but here I was, sitting and cracking on with my keyboard, trying to deliver something which I was not keen to. It was lunch. It was my exploration time. If you had a peek at my search history, it would be titled, "skydiving in India" (which took me to the accidents,Oops! bad idea), skydiving in Dubai (too costly for one dive), skydiving abroad etc. etc. You get the point. It was during one of those searches that I came across, the skydiving tour in the south of France (in tripoto). I tried contacting tripoto but didn't get a response. Finally, I was able to contact the people who were organizing the trip (gobeepbeep). Most of the places that I had researched so far were offering, a single tandem skydive and it was just too expensive, even though this would be my first jump ever. The gobeepbeep guys were offering a solo skydiving course, at the end of which you get a license. It was for a period of a week and the cost quoted for this was 1.35L. This would include one day accommodation in Paris and a week's accommodation in the skydiving base. This would also cover the cost to and fro Paris to the skydiving bases (Pau or Arcachon) and the cost of the jump and the equipments. This definitely made sense (well, not the part where my first ever jump would be solo. Not the wisest of choice, but what the hell! Life is short anyway. If something were to happen, this would be how it does. I had accepted it). I decided to pair this trip with a trip to the other parts of France like the Alps etc where a friend would be joining me as well. And so, began the plan to finally go for it.
Pre-Trip Arrangements:
• Booking payment: In order to book a spot in the skydiving trip, I had to pay ₹10,000 (included in the cost).
• Visa application: Applying a tourist visa to France and other European countries is very easy and is mostly online. The link can be found here. All you have to do is login to your account or create one if you don't have an account. Follow the steps mentioned and choose an appointment date at the end of the application. After which, you have to turn up at your local VFS office and submit the documents and you are done (PS: sometimes there can be a long wait too). Since I applied from Bangalore, the location for the Bangalore office can be found here. I got my visa the next day, so it is very quick. The Visa application fees is ₹6500.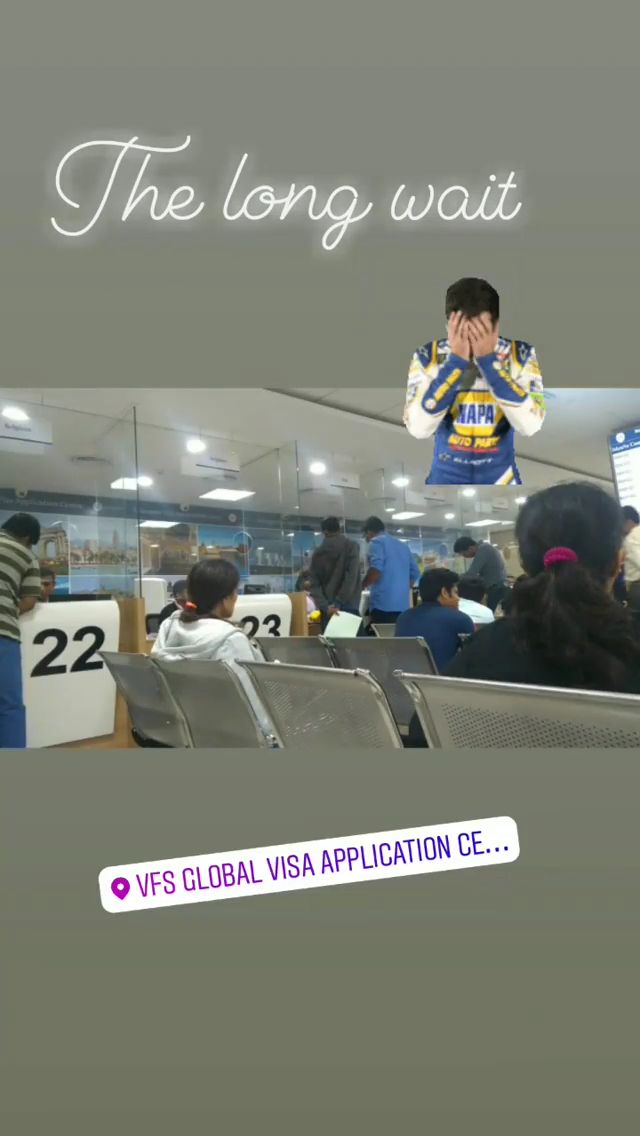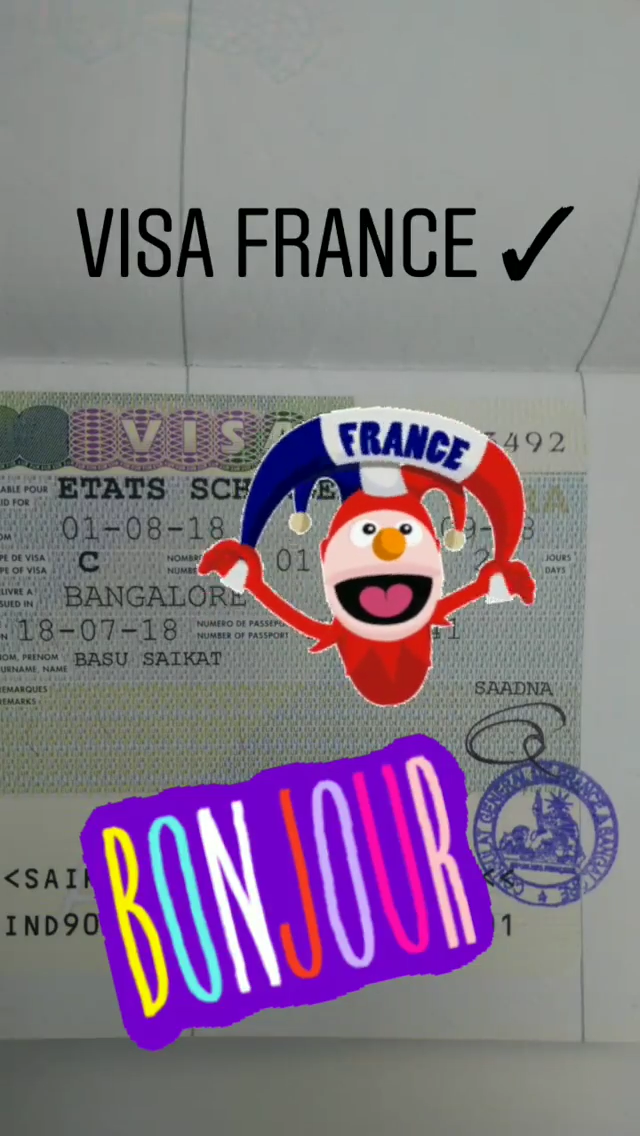 • Booking flight and accommodation: Whenever I am travelling, I make it a point that I stay in hostels. The hostel scene abroad is quite chilled. Some of the reasons to go for a hostel and not a hotel are: a) It is less expensive b) You can meet some awesome people. I had booked an early morning flight to Paris on the 10th of August, that would land me in Paris on the 10th early morning in Paris. The trip officially started from the 13th of August and I had to report to the hostel that they had booked on the 11th morning. We were leaving to the sky diving base on the 12th morning, so I had a good two days to explore the city. Also, I had a plan to train Jujitsu in one of the Gracie Barra training centres. So, two days made sense before I go on the adventure. For booking an accommodation, always use booking.com as the go to site, because you don't need to pay online and you have the option to go there and make the payment. Also, for booking the flights, there is an EMI option these days which makes sense to use, if you are embarking on a trip abroad.
• Booking travel and tourist attractions: There were certain tourist attractions that I wanted to cover in the period of two days. I didn't get a chance to go to the museums. However, I visited the Eiffel tower and took a boat cruise along the river Seine. You can book the ferry here (Cost is ₹1241). There is a get your guide app that you can install for your convenience. If you are interested and have more time at hand, then you can also choose to explore all the other tourist attractions. You can find all the details in the link above. After I finish the skydiving course, the plan was to head to Lyon, where I would meet my friend and then head to the Alps via a car. I booked a bus from the skydiving base (Pau) to Lyon-Saint Exupéry Airport using the Flixbus service. It cost me ₹3900. You can use the app for our convenience. For the price, the buses aren't comfortable, but dropped me off at the right time. The reason I chose the airport as the drop off destination was because there is a car hire service right next to the airport. The rest of the travel and stay was already booked by my friend. The details of which you can find in the next part of the story.
• Forex travel cards and currency: In bookmyforex, they do all the process online and you get the card delivered to your doorstep, which is quite convenient. However, they currently issue only Axis Bank travel cards which are not reliable. Some of the ATMs did not accept the Axis bank travel card in France, only a few of them did. Other than that, it works fine. You can also choose to get the currency of the respective country that you are travelling to your doorstep as well.
You can find a list of all the FAQs on their website. However, I have listed some of the first questions that can come to our mind while travelling:
1. Are there any charges for door delivery?
Door delivery charges may vary per city to a certain extent. In most cities, door delivery charges are as follows:
If order total is under Rs. 5000 - Not eligible for door delivery
If order total is between Rs. 5000 - Rs. 15,000, Rs. 150 door delivery charge is applied
If order total is between Rs. 15000 - Rs. 50,000, Rs. 100 door delivery charge is applied
If order total is over Rs. 50,000 - No door delivery charge will be applied
2. How long does it take you to provide doorstep delivery?
Orders received prior to 1 pm are delivered on the same business day. Any order received after 1 pm may still be delivered on the same business day but in the worst case we guarantee delivery on the next business day.
3. What documents do I need for personal / leisure travel?
Original and valid passport
Valid visa for the country of travel (except where VISA on arrival applies)
Confirmed ticket-showing travel within 60 days of taking foreign exchange
PAN (Form 60/61 in case PAN missing)
Aadhar Card
4. For how long are prepaid cards valid?
Prepaid Cards have a validity of 5 years from the date of purchase
5. What should I do if my forex card is lost or stolen abroad?
If your card is lost or stolen, you should immediately contact the Bank's Customer support helpline. The number to the same is available at the back of your card, in your forex card manual and on the banks websites. You can also send an email to the bank to report a card as lost or stolen.
Customer service executives of the Bank will immediately block your card and prevent it to be used further. You can also request the Bank's support team to arrange Emergency Cash or a Replacement card, if required. It is important to note that a lost card report will be taken only after verification of your mother's maiden name, date of birth, passport no etc.
• SIM and Internet Connection: There are a lot of options to choose from namely Orange, Lycamobile, SFR, LeFrenchmobile etc. You can read more about it here. You don't need to arrange for this before you leave. It can be picked up directly from the airport or any of the train stations. I personally chose to go for the Orange as it has a wide coverage all throughout the country.
This is basically it! Once sorted, I was all set to head out on this amazing journey solo.
(10th August, 2018)
After a ten and half hour flight, I was finally at the place that would be the source of a life changing experience. After sorting out the phone connections, I took a train to the hostel that I had booked for the 10th of August. The hostel that I had booked was called Enjoy Hostel (5 Rue Des Plantes, 14th arr., 75014 Paris, France, cost ₹2600) because of two main reasons. It was close to the Gracie Barra Jujitsu training centre and it wasn't that far away from the Eiffel tower. After checking in, I had a good meal and headed to the gym to train Jujitsu.
The people at the gym were kind enough to let me train in the gym for free knowing that I had come from India and I would be training just for that day. The two-hour long session of training was good, learnt a few nee techniques, also came to the realization that out gym at Bangalore (Institute of Jiujitsu) was at a far higher level.
So here is a funny story. After the training, I headed to the shower room and to my surprise there was one big shower hall and we were expected to shower naked. I know this is common but I wasn't expecting this to happen so early in my trip. There was this guy who was naked and talking to me in the shower like it wasn't a big deal, while me still trying to wrap my head around how to get out of the situation. It would be awkward, if I left now without taking a shower and it would be even more weird if I took a shower with my underwear on. I finally decided to take off the robe of weirdness and decided to go for it. It felt liberating to be honest on the contrary.
PRO TIP: Be prepared always!
(11th August, 2018)
Early next morning, I headed straight to St. Christopher's Inn Paris that was booked by Gobeepbeep. It is a beautiful Hostel with an amazing view of the lake. It has a balcony facing the lake, where you can sit and read book, enjoy a glass of the great beer or just sit around doing nothing. It was during one of those moments, where I met this girl reading a book. She was from the UK and was on a trip to Paris solo. We spend some time talking and headed out for a walk after a while, but not before following each other on social media. I spend the rest of the afternoon having lunch and chilling by the lake.
I headed to the Eiffel tower in the evening. It was here, where I would be taking the one hour long night cruise along the beautiful River Seine. I was finally at the Eiffel tower and seeing the marvel for the first time was a wonderful experience. After spending some time taking pictures, having some tasty banana Crêpes, it was time for the cruise ride. It was a very peaceful experience travelling along the river. There were people dancing in a group on the banks, people singing. I wanted to stop and spend some time watching them sing and dance. The cruise was good but an hour proved to be too long. I feel it's better to hire a cycle and ride along the banks.
After completing the ride, I came back to join the organizer (Harry aka Mister Beep) the founder of Gobeepbeep and the others who were joining for the solo Skydiving course. While, having a few drinks with him, he informed that we weren't going to Pau (the skydiving base we initially informed about) as the plane had broken down and couldn't be repaired on time. At this moment, I was thinking to myself, does this mean we won't be having the course or we have to wait? Because that would affect my plans that I had planned after. I was like the trip hasn't started and bad news came knocking. But he mentioned, we still would be doing the course but in a different skydiving based called Arcachon. I was relieved to hear this. Knowing that it was happening irrespective, I was in peace.
(12th August, 2018)
Next morning, we took a train from Paris to Arcachon (included in the cost). I took us about an hour and a half to reach the destination. After having a good meal, we met up with our instructor (Jean Phillipe Audhuy) who had come to pick us up with his nine-year-old daughter called Marie Lou. She was such a sweetheart.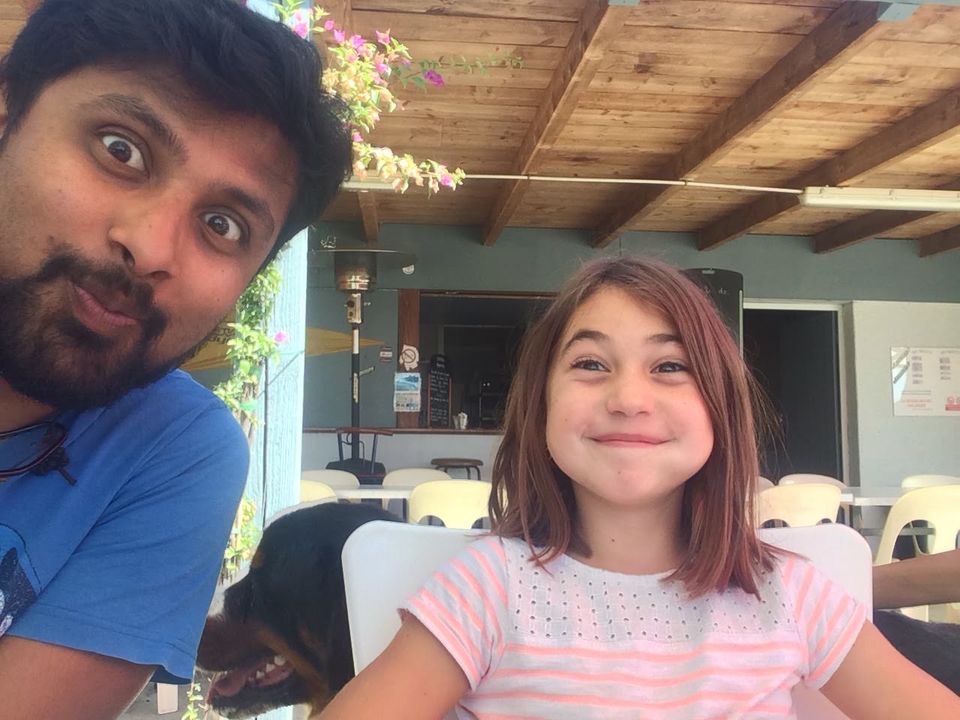 We reached Arcachon and decided to freshen up and head for a trek nearby. Unaware of the importance of the place we were going to trek, we headed out. Arcachon is the only place in the entire Europe to have the highest sand dunes, surrounded by a thick forest to the North and the sea to the East. It is one such awesome freak of nature that makes the place stunningly unique and beautiful. After admiring the place, we decided to have a game to decide who can go down a steep, slope situated to the north side and come up the fastest. It was fun sliding down the slope of the sand dunes but took an eternity for us to get back up.
In the Arcachon base camp, they had provided is with Caravans to stay, I always wondered how would it feel to have a caravan as your home. There it was! It was my home for the past to days!,
(13th August, 2018)
One of the question that was still unanswered and was lingering in my mind was, how am I supposed to open my parachute and land on my own with absolutely no experience in this field of adventure sport. Hopefully, the six-hour theory session scheduled would put this to rest. Some of the things that I learnt during this session were:
• The jump would be from a height of 16000ft
• During the free fall, you have to get into a perfectly arched position. One of the ways you can achieve this is by looking at the horizon.
• When you cross an altitude of 2500ft, you have to keep your eyes locked in onto the altimeter and get ready to open your shoot
• At an altitude of 1500-2000ft, you open your shoot. Once you have successfully opened your shoot, you take the toggles and pull it down to release the breaks. So, it is basically like driving a car. There are three positions that you have be aware of. If you pull the toggles down the parachute breaks, if the toggles are held midway, the parachute glides at a medium speed and if the toggles are held over your head, it accelerates the process of gliding down.
• You will always be dropped off the aircraft in the direction of the wind. The reason is when you are 500ft from the ground, you have to get ready to do a circuit and land in the direction opposite to the direction of the wind.
• Troubleshoot Options:
a. If your main chute fails to open, you have to cut the main chute by pulling the lever located on the right side of your chest and open the reserve chute by pulling the lever on the left side
b. If by any chance, you are physically not in a position to open the main chute, the reserve chute is programmed to open automatically at altitude of 500ft above the ground.
Pre-flight checks:
• There is a radio in the helmet that you will be provided. You have to make sure that it is working fine.
• Check if all the locks on your legs and arms are perfectly strapped that holds the parachute
• Check if the gauge that opens the reserve shoot automatically at 500ft above the ground is on
After a quick check-up by the local doctor, issuing you a certificate that you are in perfect health to do the jump and signing a few waivers, you are not all set to have the dive of your life!
The first dive was scheduled the next day. I had finished the course, it was time to put the theory into practice.
(14th August, 2018)
The next morning, I headed to the local doctor to get myself checked. It was a formality and went without any glitches. I was fit to do the dive. After signing the waivers, I was all set now. There is no turning back now (I think I must have said this to myself like a thousand times during the entire course).
The thing that I had come all the way to do and also the same thing I was procrastinating, was today! I was excited and scared too. The fear of the unknown was settling in as I was gearing up for the dive. After the pre-flight checks, it was finally time to do what I never imagined I would be doing. I would be jumping solo on my first dive!
Picture inside the plane – This is me trying to put up a brave face, while I have the balls shrunk up cold in my mouth.
All the way up, my instructor kept telling me that I had to do a namaste while I was free falling. I was like what!!! He can't be serious. I haven't yet got my head around to the nerves of doing it solo and the self-realization that there is no going back and there is only one way forward i.e to jump.
This is what happened after: The first solo Video:
To control my nerves, I would always ask my instructor at what number are we jumping. I think, the position for the first jump was fourth. Anyway, when my turn came, I was instructed to go the edge of the aircraft, while my instructor hanged out on the side of the aircraft like it was no biggie! As they were counting down, I was hesitant to let go, as you can see in the video. But then, I accepted the fear and jumped! I felt breathless for a moment and felt like someone has just pulled the ground off my feet, literally. But after 4 seconds in the jump, I felt like I was floating and started to enjoy it. The only time I felt I was falling is when I passed through the clouds. You can see me high-fiving my instructor and also pulled off the Namaste. After, reaching an altitude of 2000ft, I had to open my chute, and there I was on my own. I released the breaks by pulling the toggles as instructed. I could feel the peace and was swelled up with happiness that I was able to it. The rest of the flight, I listened to the radio instructions, enjoyed the picturesque view of the sand dunes, the forest and the sea glimmering together in unison, as I approached the 500ft mark, where I had to get ready to perform the circuit and land. The landing was smooth and I was able to land exactly at the center of the circle marked in the airfield, which they use for precision jumping.
After landing, I had to carry the shoot (there is a technique to gather the shoot, so that it's easy to lay it down at the end, this will be taught in the theory session) and lay it in the shed. The expert chute packers come in and pack the chute after.
While, I was sharing the story of my first jump, my instructor came and asked me to get ready for the second jump. I wasn't ready and had not yet gotten over the feeling of my first jump, but at this point I had learnt that you can never be prepared for something like this and accepted what he said. I moved on to gear up for my second dive.
I was all set and ready. Boarded the flimsy aircraft and was on my way to the second jump. According to the Accelerated Free Fall (AFF) course, two divers were supposed to accompany me for the jump. However, my instructor said, he was confident that I would be able to do it without the second. Even though I had already done my first jump and knew how it would feel, I was still shit scared. So, I ask my position and get ready to jump. This is what happened next:
I jumped in a similar manner as I had done in my first dive. However, when the instructor felt, I was holding my position good and it was time to let me go, to observe how good I can handle myself, I messed it up and ended up falling with my back to the ground. Now, till this point what no one had mentioned was that, it was completely normal to fall on your back. I being the novice diver, panicked and felt this is how I die. Time had slowed down (I only heard people saying it till then. I was feeling it now).
This is my end and how badly it's going to hurt when I fall to the ground at that speed. Not that I am going to feel much. I guess I would be dead before I could even feel that. I could see my instructor a few meters above me and could see my death. However, that is one great thing that I learnt about the human mind that day. We are so built to adjust our response to any life threatening situation that we act involuntarily to prevent that from happening. I did the same, I adjusted my body posture and came back to the normal face first arched position with my instructor to my side. I breathed a sigh of relief. I was sure that, I will live to tell the tale. I was so sure that I am going to discontinue the rest of the dives after such a terrifying experience. I landed perfectly, handed the parachute in the hanger and sat by a corner reflecting on what had just unfolded.
There was an experienced diver passing by and he saw me sitting alone and asked me what had happened. After, I shared my story, he burst out in laughter saying, that's it?! He said, we all had such experiences when we started, "Look at me now, I am going to complete my thousand jumps today." "We all go through this and the important thing is not to quit and get over the fear. One day you are going to look back at this and smile. You'll be proud that you were able to get over your fear, so go ahead and complete the rest of the dives."
Since there weren't any dives scheduled for that day, we ended up smoking up at his trailer with him sharing some of his own good and bad experiences in the past.
I learnt a lot of things that day. I learnt that fear is just a manifestation of our human mind. We can either choose to give in and quit or choose to trudge ahead and achieve a greater mental calibre. I learnt how, small adversities shouldn't hold us back from being who you are. Life is so much bigger than this, isn't it!
Later that evening, we decided we'll head back to the next skydiving base in Pau.
This was the picture taken before we headed out.
(15th August, 2018)
We had already settled in the new base. It was bigger but less scenic than the base in Arcachon. This was the place where I would be finishing the rest of the dives. The feeling in all of the dives was pretty much similar apart from the few surprises which my instructor would throw in like, on the third jump he said, I will have to do a front flip and jump out of the plane, in the fourth he said, I will have to do a back flip and jump out of the plane. Since there was the issue of balance in my case, we decided to do normal jumps in the next two. Here are the videos of my 3rd, 4th, 5th and 6th dive, which I completed to gain an amateur solo skydiver license.
Here is how my 3rd dive went:
I was able to complete three dives in a day owing to the perfect weather. I wasn't working out but had such good sleep during the nights. A sense of an achievement and also mentally fatigued from all those jumps! It takes a lot out of you to be in the zone and focus in such an extreme situation.
(16th August, 2018)
The weather wasn't in our favor during the first half of the day. I was starting to wonder if I would be able to complete the course today. I have to be honest, I was a little relieved thinking that the jumps might not happen today. I needed a day to relax. But, the clouds cleared and the jumps were in place. My instructor told me to get ready for my final jump. He said, we'll do a normal jump with no stunts but I will try not to hold you along the way down. We shook on it and headed for the jump. This is how I finished my last and final jump, thereby completing the course. The landing was much better than the jump. I was able to land exactly at the center of the circle marked in the field.
Even though the dives weren't perfect, I was over the moon having being able to complete all the six dives. From a totally imaginative near death experience to be able to complete all the dives, feels like an accomplishment. I guess, nothing is Impossible.
The next two days didn't go unutilized. I learnt how to pack a parachute. I ended up packing a single parachute in two days and not perfectly.
This was the end of what was a journey, I will savor for the rest of my life.
In my next post, I will be talking about the next leg of the adventure with my friend from the UK and in the lap of the Alps.
You can find more about my stories @saikatbjj on instagram.
Keep travelling and making memories. That is the real treasure.