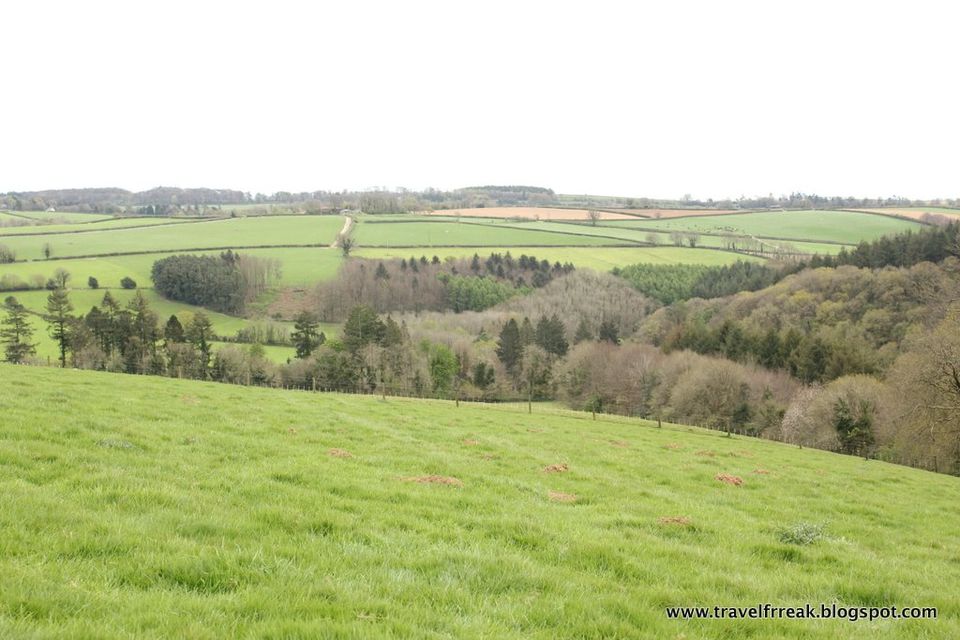 For details and photos, check - http://travelfrreak.blogspot.com/2017/12/the-dramatic-landscape-of-dartmoor.html
This year, I spent the long Easter weekend in Dartmoor National Park in Devon. I had heard a lot about Devon from friends, so I just booked the accommodation and car, and was all set to go. I did not do any research on what to expect or do there, just trusting so many reviews I had heard about the place.
And very soon I was mind-blown by what I experienced. With no plan in mind, everything happened as it did, and it was perfect! The landscape and the feeling you get from being there is out of this world. I loved my stay there and Devon has now been added to my favourite destinations list in the UK ????.
My itinerary on the trip was quite simple:
Day 1: Drive to Dartmoor National Park from London; stop at Castle Drogo and walk to Fingle Gorge; stop at Lustleigh village; dinner at Warren House Inn; drive till Buckland Abbey; stay at Cider HouseDay 2: Explore Buckland Abbey; 'Red' walk in the Abbey grounds; dinner in Buckland Monachorum village at Drake Manor innDay 3: Drive to Widecombe in the Moor (a market village); trek part of the Two Moors Way trail; dinner in Milton Coombe village, at Who Would Have Thought It innDay 4: Drive to Postbridge village; walk up Bellever Tor; drive back to London
Day 1: London -> Castle Drogo -> Fingle Gorge -> Lustleigh -> Warren House -> Buckland Abbey Inn -> Cider House
On the Friday morning, I left quite early from London and started the drive towards Dartmoor. I took the M4 up to Bristol and then the M5 route towards Devon, mostly driving on the motorway. Even though it should have taken me 4 hours, it actually took me about 6 hours. But the drive by itself was enjoyable, especially as soon as you leave London when it very quickly turns into the lush green and open countryside.
It was Easter weekend, so spring was just starting out and the weather was getting better but not there yet. But the plants were almost there - there was a lot of bright green on both sides as soon as I left the city. The grass was fluorescent green and the trees in all hues from light to dark green. There were also lot of yellow flowers all along the route, almost like the sarson ke khet in India ????. And I crossed so many of those countryside views of houses built next to streams and surrounded by mountains that the long drive did not feel too boring.
The roads as expected on a long weekend were all full of cars. Everyone was driving fast, in fact above the speed limit too, at 80km/hr. Initially at least it was all moving, but as soon as I got out of the city, there were loads of traffic jams as everyone was off somewhere. It was also very difficult to drive and cruise control as the traffic was never very predictable. The weather had started out sunny but turned cold, cloudy and overcast soon after. But the interesting views outside made the drive pleasant and refreshing.
My first stop within Dartmoor National Park was closer to the North East side entrance near Exeter, at the Castle Drogo. The drive towards the Castle was my first experience of driving in Dartmoor and how tough it could be. The road to the Castle was so narrow and there were hedges of up to 10 feet on both sides, that I had to be very very slow and careful in driving. Driving in the Park is definitely not for the faint hearted. It also made me realize that its not a good idea to drive in the Park at night, with the narrow roads and the high hedges on both sides!
The Castle was not actually an old castle, in fact it was a modern version of a castle built by a rich businessman. So I missed going inside and instead, went for a short 2 hour trek towards Finkle Gorge. The path goes down from the Castle towards Finkle Bridge, with views of the hills on the other side, all the way down to the Teign river and then comes back up to the castle through a roundabout route. It was a fun trek with pleasant views of the gorge below.
While going down, I walked on one side of the hills, with wide-angle views of the hills across, and the river calmly flowing down below. The trees there did not have too many leaves, still dry from the winters but the grass was already very green. At the bottom of the trek, there was a picturesque inn located right next to the river where a lot of people had driven directly and were having a nice afternoon tea. It had got a bit dark too by this time, so I turned around to go back towards the Castle, taking a roundabout route.
The way back was along the river for some time, and then turned left up the mountain to come back to where my car was parked. On the way, there was an old turbine house on the right, and an old bridge to cross the river. I also walked around a very pretty house on the way, which I still remember vividly. It was an old farmhouse in white, with a thatched hay roof and a bright garden with multicoloured flowers already blooming - one of the most cost and picturesque homes I saw in the Park.
Anyways after this pleasant trek, I left the Castle around 4 and then started driving towards Buckland Abbey, which was all across the Dartmoor park. It was a long and enjoyable drive. There are loads of fascinating villages in the area, and driving through them was a pleasure.
I stopped at one of the villages, Lustleigh, but found it quite empty. It didn't feel as fascinating as some of the other villages I had driven through, and there were too many cars parked on the road too. It looks like all the tourists leave quite early and so by the evening, there was no one left walking around! I tried to have dinner at the local pub - Cleaves but turned out it was all booked out! That was quite a big surprise for me, to have no place for dinner in this small village in the middle of nowhere ????. But that is UK on a long weekend for you!
The drive as I had mentioned was through such narrow paths and villages, that it required a lot of concentration all the time. And on both sides would be either wild landscape, moors or farms with sheep (with black faces!), horses and other animals. And I also for the first time (after reading in countless English classics about moors) realised what moors really are - vast and empty hills, till wherever the eye can see, with only a little bit of grass growing on them! Now the descriptions from Great Expectations and Tess of D'urbevilles make sense. Even though in spring it was all quite bright, I can imagine the moors becoming very depressing during the dark and gloomy days of winter.
While driving towards Buckland Abbey, I drove past an inn in the middle of nowhere, on top of a hill, called the Warren House Inn. It felt so quaint, a single small building located right in the middle of the moors that I had to stop there to explore it, and maybe even have dinner ????. And then I slowly realised it has such an old history, that it was worth stopping at. It was built in 1850s and even though it is far away from civilisation, people have been coming here regularly, even in the winters and snow time. It has so many stories about it, of the fire there burning continuously since the 1850s, of being cut off for 12 weeks due to snow, of being the loneliest inn on the moor and so on... In fact, there is even a book written about it. You can read some of its history on its website - the Warren House Inn.
After having dinner at the loneliest inn in the moors, I drove towards my bnb near Buckland Abbey - the Cider House. It was located near the town of Yelverton which is outside of the moors. It was a lovely little town too but I never got a chance to explore it.
I reached my accommodation while it was still light. The Abbey was closed by then, and the Cider House turned out to be a lovely little old stone house located in the gardens of the Abbey. The view outside of the Abbey gardens was striking and I kept looking outside from my room for most of the evening. The hosts were very very friendly and helpful and shared a lot of details about the areas around. After the long day of driving and walks, I called it an early evening and slept off soon enough.
Day 2: Buckland Abbey -> Tea at Grange restaurant ->'Red' walk in the Abbey grounds -> Buckland Monachorum village, Drake Manor inn
The next day, I woke up a bit late and decided not to drive back to Dartmoor but spend the day exploring the Abbey and its grounds. The weather kept shifting from warm to cold and rainy, so it was a good idea to keep it relaxed. The first thing I figured out that day was that this abbey was Buckland, and not Buckfast which I had been calling it till then ????. The Buckfast Abbey is also located in Dartmoor but on the Eastern side of the park and was a much older and bigger Abbey.
After figuring this out, I walked towards the Abbey which was located right next to Cider House. The Abbey and its grounds have enough to keep you occupied for some time. There were loads of people there, spending the day in and around the compound. It started out as a sunny day and the Abbey and its grounds looked captivating from the outside. It had a large estate, with a barn, a flower garden and a kitchen garden all located right next to it and open to explore. The gardens had been planted with colourful flowers which were just blooming at that time. And its grounds had many different walks within the estate.
It had a long history too - of about 800 years old. It was built by monks but then bought by Francis Drake who converted it into his home. Francis Drake belonged to the nearby Devon town of Plymouth and is a well known historical figure in English history. He rose from a local boy, sailed around the earth and defeated (and looted) many Spanish armadas to bring riches and gifts for the Queen.
There are loads of stories and legends about him and the house had now been converted into a museum dedicated to Francis Drake and his stories from the Elizabethan age. It also includes displays of his ship and how it would have worked to take him around the world, of how a kitchen and dining room from Elizabethan times would have worked (a la Downton Abbey) and some displays of Francis Drake's belongings. I did find the Abbey a bit overhyped, but given it was free entrance, did not mind it much.
There were some cafes and restaurants within the Abbey, so I had tea at the Grange restaurant. After a quick stop there, I went for one of the walks in the grounds, the red one. It was a circular walk in the woods with stunning views of the hills across the valley, of the farms and grasslands across, sheep grazing in their closed areas and a river flowing deep in the valley below. This area was located between two rivers, the river Tavy and the river Tamar, one of which I could see on the walk. I also took one of the best photos of the trip on this walk itself.
I did not encounter too many people on my walk, and it was very calming and peaceful to walk through the woods. I also came across some of the bluebells filled areas with the first set of flowers just blooming. When I came back, I checked online and in summer, this area gets covered with the blue flowers everywhere you see - in fact I could already imagine how amazing it would look once they all bloom fully.
And then I walked through the Cider House gardens, coming back to Cider House and enjoying the setting sun from the living room. It felt like a totally relaxed countryside evening, living like the English do ????.
For dinner, I walked to the nearest village which was about 20 minutes away - Buckland Monachorum. The village was small and quite cute in itself, with its very own church and history and of course a pub (as every village in the UK does!). The church was called the St Andrews Church and dated back to the 1200s. The Church had a posting about Israel and how what was happening to them was wrong. Reading that, I realised that the world beyond the educated cities is always a very different world.
I then walked to the local pub, the Drake Manor Inn but the restaurant was all booked, and so I had to eat at the bar! The whole ambience was very cosy and there were lot of the local residents there already at 630 pm, eating and chatting away loudly! I had a dinner of chicken wings with onion bhaji and mango chutney! I was quite impressed by the combination, and that too finding Indian food components is a middle-of-nowhere pub like this! The food was average though, but the ambience totally fun. And funnily enough, the book I was reading at that time also included parts of Buckfast Abbey in it, what a coincidence:).
The walk back home was through the same narrow hedged roads which are so typical of the Park. Even walking through them felt claustrophobic, I still can't imagine how two cars would drive and cross regularly in so sparse a space. Also there was no phone signal in this area, either in the pub or the walk back. That 20 mins walk back made me feel I had come back to a different time altogether. Walking from one village to another through narrow lanes, with no phone or GPS to guide you - I am sure there would be such descriptions in countless old classics.
On the way, the sky turned into different hues of pink and red. There were many white and yellow flowers on the side grass. I also caught a view of the abbey compound in a 'new light', a group of grand buildings in the middle of the grounds, twinkling away. This is how it must have been 100s of years ago, right?
While walking back to the Cider House, I also could see a far off village next to a lake with twinkling lights. I never figured out what village that was but it looked mesmerising from so far off. Back at the Cider house by 9 pm it felt early and late at same time! Early because it was just 9 pm and by city time, that was always too early to have finished dinner. But all around, the lights had shut down and everyone had gone to sleep. And so in keeping with my environs, I also called it an early night.
Day 3: Widecombe in the Moor (a market village) -> Two Moors Way trail -> Milton Coombe village, Who Would Have Thought It inn
My third day in the park turned out to be much more active and satisfying than the previous day. And I think it was also the day I fell in love with Dartmoor. There are many picturesque villages in the Park where you can go to explore them, buy wares at the local stores, eat at the local inn and go for walks around. There were loads of museums and similar activities to do around too. I however chose to go for one of the trails and be as close to nature as possible.
After a heavy breakfast, I left for the moorland in the morning and drove to the village of Widecombe in the Moor. My neighbours at the Cider House had gone there the previous day and were raving about it, so I thought might as well go and checkout the place. The drive till there was through the moorlands, crossing villages and farms on the way. Quite close to entering the park is the town of Princetown which has a huge stone prison. A prison doesn't sound a very happy place but if you are in prison, I don't think there would be more picturesque places to stay!
The drive till the village had stunning vistas at every turn and you could stop anywhere and have a walk or a picnic. It is desolate bare moorland sometimes, and sometimes green. Streams somewhere and small little villages elsewhere. But very dramatic at every turn. And there were loads of wild ponies running in the wild everywhere. Its a very difficult thing to explain, the views you see and feelings you experience when being close to nature so raw and wild. And the drives in Dartmoor were as much fun as the stops themselves.
The last stretch to Widecombe was through a very narrow road. There were so many cars on the road and I kept getting stuck in the narrow roads, with everyone trying to figure out how to get out! Once in the village, it was nice to walk around. There were a couple of stone houses, and a St Pancras church in the main area. I then walked down to the Rumblestone inn next to the river, which was about 5 mins away. It was a nice place to sit but it was too crowded with the tourists. So I walked back to the village centre and then started to walk up the trail to the Two Moors Way.
You first have to walk towards the next village and then take a detour up the hill, and keep walking till it meets the Two Moors Way which is a multi-day trail across the park. The views once up there were breathtaking - of green meadows with ponies; of deep valleys and undulating hills; of moorland dotted with houses and so all. And then the trail keeps going on all up and down the hills, from one to another and so on.
There are many small landmarks on the way as you keep walking. And there were loads of people with maps who I encountered on the way too. There was a stone beacon (called Hamels Down) and then a barrow and then cross - all made of stone and standing strong on top of the hills. As I walked on, I also encountered many tors, which are dramatic stone structures built naturally on the very top of the hills. And then I reached an iron age settlement, which apparently are very common in Dartmoor. This one was called the Grimespound, and had rocks arranged in multiple wall structures all around.
The whole vegetation kept changing from one to another - from green fields to nothing at all. All around you is so desolate, with just shrubs and bogs all around, with strong winds, till wherever you can see. No civilisation, just raw nature. The weather also had suddenly turned cold and overcast. It felt so alone, so dramatic, so lost! It almost became misty and desolate. Almost scary! This felt so much like the books I had read of the moors. I almost started feeling as if I had come to a different century altogether, in one of those books. And at one point it also got a bit tough to find my way. I think I was lost, even with a map in my hand! All the grass and the hills looked all the same... Thankfully there were a few other people I met and we kept on walking to find our way.
Finally the Sun also came out and I started going down towards what felt like civilisation - the village of Ashworthy. And when I saw the Ashworthy Manor, it felt better at once. I soon reached the meadows with the sheep and the ponies and slowly came out from the moor world to the normal world. Once there, I started walking towards the village of Widecombe, when a lady driving on that road asked me if I wanted a lift. I took it anyways, and she was travelling with her son and daughter who had got lost on the same trail as me ????. We shared our lost stories on the way and they finally dropped me to my car in the village parking lot.
The whole walk was about 3 hours and I totally loved it. It was a bit tough, a bit easy; a bit fun and a bit scary! While coming back it felt amazing! I think it was this moment when I realised how much I had enjoyed being in Dartmoor. I think Devon is now my second favourite place in UK, after Scotland. It's a perfect place for a weekend out, go for a few walks, cycle, enjoy the countryside and enjoy its majestic and dramatic views. I hope to come here again soon, and many more times...
After the trek, I started driving back towards Cider House and stopped on the way at the village of Postbridge as it appeared so magnetic. It was right on the road back, next to a small stream flowing peacefully with yellow flowers dotting its bank. I stopped there for a bit, deciding to come there again the next day.
The drives in the Park were all so very interesting. With spectacular views at every turn, narrow roads to maneovur and nature to enjoy. I saw a lot of people cycling rather than driving which seems fun and more adventurous. The Speed limit in the park was only 40 kmph (also called the Moor Care driving within the Park) which was quite rigorously implemented and for good measure. And there were many farms on the way too, in between the bare moors.
Even though the day had been decently sunny and warm, by 6 or so, it had got very cold and you don't want to be out anymore! It would have been a bit better if I had gloves. The day had already been so long but still, by the time I came back to Cider House, it was still light. This time I decided to go to the village on the other side of the Abbey for dinner - Milton Combe. And the pub's name was Who Would Have Thought It. This pub had opened very recently, was again next to the village church and was full with people chatting and catching up with their neighbours. I had a nice dinner and again went off to sleep at an early countryside hour.
Day 4: Postbridge village -> Bellever Tor -> London
On my last day in Devon, I had planned to visit the English Riviera - the villages of Torquay, Brixham, Babbacombe and Paignton - which are located on the sea in Devon and apparently worth visiting. However, I was so impressed with Dartmoor, that I wanted to spend some more time in the Park itself. I changed my itinerary and drove back into the Park to do some more trails before I leave. And since I had to drive back to London, I kept it a light day too.
This time, I drove a bit through the town of Yelverton and found it quite flat, with ponies, sheep and golfing next to streams. It was quite in contrast to its more undulating Park. It might be a good place to come and stay too. Anyways once in the Park. I randomly stopped at a place just to walk up to one of the Tors (there are loads of them everyone in the Park).
On the way there was a wild pony who started moving towards me. To be honest I would have run away from him but one of the families nearby walked towards it and started patting its neck! So even I tried the same and found it very cool, but I must say, I was very much scared of doing that. The ponies here are wild and walk around in the open, but are still quite friendly with strangers and let them pet them! I found this quite interesting and tried it even when coming back from the Tor, The walk up was nice and short. While going up, I noticed the beautiful bluebell flowers just coming out as spring was arriving. But I also realised, it gets cold and windy very quickly, the moment you are out on the Moor, away from the comfort of the car.
There were many other villages to visit in Devon, Moretonhampstead, Tavistock, Bovey Tracey, Chagford, Okehampton and so on. But I decided to keep it simple and drove to the Postbridge village of the previous day. And then went for a small trek to the Bellever Tor.
There was a very pretty path leading up to the tor. It was a 2.5 miles walk through green woods, with coniferous trees and lots of moss and lichens all around. And then I came to a clear path leading up the Bellever Tor, with ponies lazily grazing on the sides. Once up the tor, it felt like quite a stark landscape. Huge straight rocks, shaped by centuries of winds, standing guard atop hilltops, like sentinels of the woods. There is something very mystical about these structures which I am sure has been mentioned in some or the other literature over the years.
Coming back was like a relaxed walk in the park, and I passed through the Bellever village and then a dense forest. The forest was lovely, and I think not natural. Then I ran into a river which had trout and people were fishing. On this trail too, I lost my directions but then got onto the right but longer path. And then again, I took a lift for the walk back to the road. It took me about 2.5 hours to go round this trail and I enjoyed it thoroughly. I also then figured out that Dartmoor is part of of the Duchy of Cornwall, so it is owned by Prince Charles and you need to buy a license if you want to fish in any of its rivers ????.
After finishing this trek, it was time to head back to London. I started driving back and almost felt bad leaving the place. I found it similar but then very different than a lot of the places I have visited in the UK. As I have said many times in this blog article already, I found it a very dramatic and stark landscape, something interesting and scary at the same time.
The Park was very convenient to navigate and explore. There were loads of signs of villages, enough parking spaces for cars and overall well setup. A definite place to come back again.
I had recently read a story on why Cornwall became a separate country - when the Romans took over the UK, they were unable to get through Dartmoor. And so the original inhabitants of UK, the Picts crossed Dartmoor, went over to Cornwall and stayed there forever. That is one of the reasons why they like to consider themselves a separate country and don't like the English at all. And now having been to Dartmoor, I can see why the Romans may not have been able to cross it. It can be so strong, so desolate at times, that crossing it is not for the fainthearted!
The drive back to London was fine, I encountered a bit of traffic but not too much. This time I drove through small roads through Andover. It was beautiful to drive through the sunny and green countryside. And this time there was actually a lot of sarson on the way. The drive took 5 hours, though returning the car once within London took a further 1 hour ????. And so it was, my trip to Dartmoor, till the next time am back in Devon...
Cider House is amazing. Its one of the best places I have stayed, in terms of rooms, decor, location, service, everything! The rooms in Cider House are few but very well done up. Even the rooms I was in actually were 3 separate rooms with a beautiful window to enjoy the views outside. And the common living room was so cosily setup, again with impressive views of the garden outside. It was so well done up that you don't feel like spoiling anything, in the room or the common areas:). The hosts were very friendly, it was easy to walk up the nearby villages for dinner and a great place to stay if you didn't want to go out. A definite recommend.