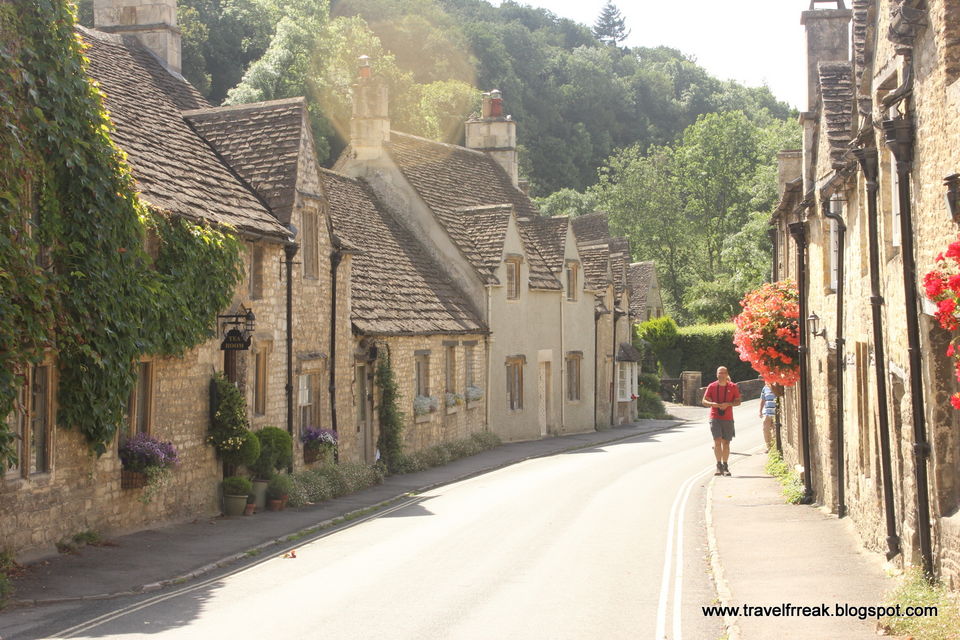 For details and photos, check - http://travelfrreak.blogspot.com/2016/08/an-english-countryside-weekend-bath-and.html
P.S. This will be a photo heavy article thanks to the sunny English weekend:)
I spent a recent summer and sunny weekend enjoying a leisurely pace of life in the English countryside. We drove to Bath, where we had tea at the Pump Room, relaxed at the Thermae Bath Spa and experienced the English summer life. And the next day, we drove across a couple of Cotswold villages, soaking in the beauty. It was a very relaxed weekend with more walking in the sun than driving, and just perfect for a weekend getaway from London.
Now that I have (finally!) got my UK driving license, I can more easily visit the UK countryside. It has been on the cards for a long time but not much happened till last weekend:). We finally found a sunny weekend to get out of London and visit the town of Bath and the villages of Cotswold, both of which are less than 2 hours away. Both places are amazing, as I know from my previous visits there. But the experience gets even better if you are lucky to get the British summer:). As we did that weekend!
It started out with being very tough to rent a car - it looked like everyone was renting that weekend and the only cars available were either too huge or lot more expensive than normal. Anyways we finally found something which worked and off we went, Saturday morning. The drive was usual - sunny and warm, all the way on the M4. We crossed the town of Bath to get to the village of Saltford where our Airbnb was located. It was quite a lucky find - reasonably priced and barely 10 mins drive from Bath. We were staying with a couple in their newly setup house on a fancy street with a pretty view outside! It was a sign of how the next two days would be - warm, pretty and relaxing:)!
There was a park and ride option from our village into the city which was quite comfortable - you can park your car outside town for free, and hop onto a bus to the city centre, to avoid the hassle of parking and driving in the crowded city. We however didn't do that and took our car in. Parking wasn't too expensive, about £8 for 12 hours.
Once we got to the Bath town centre, we don't know how the rest of the day went. Everything had become beautiful and slow and relaxing in the hot sun, which was a welcome change from London. For one the town was not really huge. You could get to any place in the City Centre within 20 mins. And then there were loads of people around, just walking around on a day off. The whole setting was perfect to unwind!
The whole of Bath seems to be built of the same brown stone. All buildings are similar and look well maintained and rich. The main City Centre is very small - it comprises of the Roman Baths, Pump Room, Bath Abbey and loads of boutique shops and cafes. On one end is the Avon river and a couple of green spaces. And then all around the City Centre are houses up along the green hills looking all pretty and smug sitting there among the greenery. The undulating landscape provides Bath with a stylishness not seen in a lot of the other towns on UK. Also it seems like there are no industries and companies in Bath. Its mostly older people on the verge of retirement who come and settle in Bath. Hence the whole idyllic vibe.
We first walked towards the Royal Crescent which is a crescent shaped building with gated access, wide roads and a huge garden in front - Victoria gardens. I haven't figured out why this place is so sought after, its pretty that's all. Anyways we had the local Marshfield Farm Icecream here (sourced from the local farms) and thereafter we went to the City Centre area where we hung out till very late in the evening.
We started with the Roman Baths which are remnants of the time the Romans were in UK. The Baths contain the original hot water springs frequented by the Romans and Celts, as well as the remains of an ancient Roman temple. I have already been to the Baths, so I did not go inside. Instead I walked around the town, just taking in the sights and experiences.
First I went to the Bath Abbey, which was like any other church. Next to it is a square where all day artists come and entertain the numerous tourists sitting around. I sat there for sometime listening to an artist playing the guitar. We also walked a bit around the river Avon, with the Parade Gardens full of sunbathers and people on both sides of the river ambling along.
After the walk around, we went to the Pump Room which was the "Gossip Room" in the times of Jane Austen. It is located right next to the Roman Baths and is open for food all day. There was a band of three playing live music the whole time. Within the Pump Room, you can also taste the water from the Springs through a fountain. The water was warm and I hope clean:).
You can have lunch there in the afternoon or tea till evening, which is am impressive meal by itself. We went in for an afternoon tea (£22) which included multiple tea options, scones, pastries and the likes. Having tea, I could almost imagine the world of Jane Austen, idyllic and gossipy...
And then came the highpoint of the whole trip for me - the visit to the Thermae Bath Spa. It was the first time I had visited such a huge spa and I was very impressed. The Thermae Welcome Package costs £37 and gives you access to two of their spring pools and the steam rooms for 2 hours. And it was totally worth it. One, the quality of the spa was amazing - very clean, convenient and luxurious. And the amenities were amazing. When I got in, I had expected to be out in less than the 2 hours. But I could have stayed in for much longer for sure. A totally worth it experience.
There were about 4-5 floors with a lot of options. You can start at the underground level where you have the Minerva pool with a jacuzzi and lazy river to enjoy the warm spring waters coming in. The second floor has four huge steam rooms with 4 different scents - lemon and ginger, lotus flower, sandalwood and elderflower, all with very different qualities. It was very relaxing to just sit there and you had to be conscious to get out before you became totally relaxed!
And then on the top most floor was another pool with water from the second spring. This pool also had a jacuzzi as well as an open roof. Swimming in warm waters in the open sky, with the sun setting on one side and the skyline of Bath all around, surrounded by the little hills with houses peeping through them, sea gulls flying above you and warm water jets around you! It was total luxury and I found it an amazing place to spend the evening...
After I got out of the spa, I did not feel like doing anything at all. By this time, the crowds of the day had also gone away, and the town looked quieter and slimmer:). It felt nice to see it in all its splendour and beauty, without people blocking the view:).
After some more lazing around, we went out looking for dinner and it turned out all the popular places we knew of were already booked! Anyways we had got lazy by then and when we saw a nice Thai restaurant (Salathai) next to the river, we stopped looking and had a nice and spicy meal to end the day.
We had had a busy day and I had never realised Bath had so much to offer. There were a couple of other activities too which we did not get time to experience, like Bath walking tours, Jane Austen tours, visit to Jane Austen centre, boating in the river and visit to a couple of museums. Some other day maybe...!
The next morning when we woke up, it looked like a rainy and cloudy day and we did not feel like getting up at all. Anyways, after a quick breakfast at our Airbnb we left for Cotswold expecting it to be a rainy and cloudy day but things turned around in the afternoon. And we again had a glorious, sunny and warm day to enjoy the yellow villages of Cotswold.
Cotswold is the name of a large area in the North-West of London which is made up of picturesque villages made of yellow stones and still continuing some of their life like they used to lead it many years ago. Its proximity to London makes it a popular getaway location and the high number of golf courses, resorts and spas are proof of that.
I have been to Cotswold twice, always to the same village of Bourton-on-the-Water and this time we drove to different villages. The drives were all picturesque, through roads covered with green trees, yellow fields with cut crops, moors and green hills dotted with sheep and cows, driving through small yellow villages and inns and pubs on the way - the typical UK countryside. We drove to around 4-5 villages on the way, all similar in some and unsimilar in other ways.
Our first stop was the village of Castle Combe, a small little village with limited road access but one of the prettiest we saw during the day. We walked next to the river, along the houses, to the church, the local garden, the local hotel and the local golf course- just taking in the village ambience. There is not much to write about to be honest, just what we felt. Its a nice place to just sit and read a book. And very convenient too - there was even a parking lot in this small village!
On our way to the next village, we got stuck in a traffic jam in the village of Sherston! And this was the jam - there were about 5-6 old English carriages which had been hired by the local club of old people, to dress up on the day and take the carriage from one village to another one far off and have a party! They were lucky with the weather that their costume clothes were not wet and humid! Also, this made us realise how much free time and money people have in the developed world. Imagine people in Indian villages ever being able to do this?
After this pretty sight, our next stop was the National Arboretum of Westonwirt - a huge parkland filled with trees from across the world. To be honest, I was not even keen to visit it, thinking - what could be interesting about a collection of trees? But I must say, I was very very wrong! The place was amazing - with trees from across the world set out so beautifully that we totally loved it.
And as we were walking around, checking out the names of the trees, we were able to put a picture to a lot of trees which we had heard of but never seen before. Cedar, Oak, Spruce, Fir, Beech, Chestnut and so on - all tree names we had read but never seen. It was a learning experience for me, to know more about trees as such and learn to name them. And strange as it may sound, I would recommend this place to anyone who is keen on learning. Or has children. Its good to see the real world rather than just read about it in books. We spent two hours there and easily could have spent some more. And apparently it gets even prettier in fall when the trees start changing colours. I am definitely going back to the Arboretum soon.
After the two hour walk in the Arboretum, we tried looking for a place to eat in Westonwirt but turned out the village was only a couple of houses and an elite school and golf club:). It had nothing on offer to eat for mere tourists:).
So we drove towards the third village of Tetbury which was a lot bigger than the others we had visited. It had been a market town for local wool produce for many years and hence always had a lot more money than neighbouring villages. We had lunch at the first restaurant we came across, called the Zucchini Bar. They has a very eclectic decoration, with a small little garden outside on the backside. The food was nothing much to write about but the ambience definitely was:).
After lunch we idled around in the village and walked into the central marketplace which was about 400 years old! And we ended up buying lot of stuff - sheepskin shoes, sheepskin rugs and other stuff which though available in London looks more authentic buying in the village;-). They also had a Highgrove shop, selling produce from Prince Charles house in the Cotswold called Highgrove. Defintely a market place:).
We then walked into the old St Mary's Parish Church which also apparently had a history and a tour of its own:). It was an old church which was rebuilt in the 1700s with the bricks of the older one. So the bricks must be at least 500-600 years old! Apparently at some point, the government had started charging citizens rent for using the church and so a new church was built in town which had started getting more visitors. But this one picked up when the rent rule was removed and is still important.
We walked around the church and there were lots of gravestones from the 1500s and 1600s all around. I felt its nice to have a long history at the same place. Imagine seeing the place of your great-great-great-...-great grandfather and mother. Wouldn't that be a different feeling? Of course its not possible in India as we don't bury our ancestors. Following the Gita's message of breaking all attachments after death I guess:).
Our next and last stop was the village of Bibury which was a big disappointment! I had seen its name in lists of 30 prettiest villages in Europe and so on. Looks like everyone had read that:). There were three tourist buses already in the village when we reached there. And turns out the picturesque street was a row of 10 houses where there were at least 100 people:(. So neither did it feel pretty nor could we even get a good picture of the place.
I did see the potential though - there was a pretty Swan hotel next to a well landscaped trout farm. And a row of the yellow houses with a small little stream running through the greens. And the Arlington Row will pretty little houses. But I think it was the crowds which spoilt it all for me.
Anyways after this low point, we drove back to London, which instead of the 2 hours it should have taken took us 3 hours as everyone was returning back. But the calmness and pure oxygen of the weekend stayed a lot longer:). I don't think I am going back to these places soon, but would definitely recommend to anyone looking to experience the relaxed side of UK life!