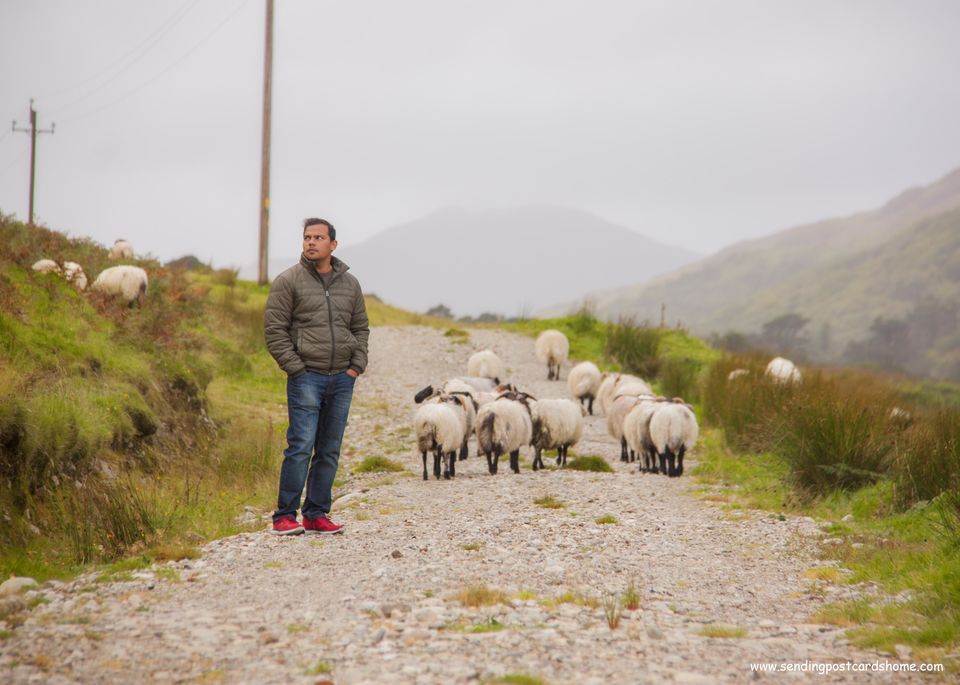 For us Indians, an Europe trip would imply visiting London, Paris and Rome and we would call it done without even considering a visit to the other tiny gems Europe has to offer. Ireland is a tiny country and is smaller than Karnataka in size. It offers the most gorgeous panoramas that you would ever see in your lifetime. This country is one of those gems that should be on everyone's list!
Now Connemara National Park is one of those offbeat locations in Ireland that would make you fall in love with nature, travel and life all over again. Situated in the west of Ireland in County Galway, this National Park comprises of scenic mountains, expanses of bogs, heaths, grasslands and woodlands. You would have a time of your life in this little corner of the world, without even realising it. Read on for a complete itinerary and suggestions.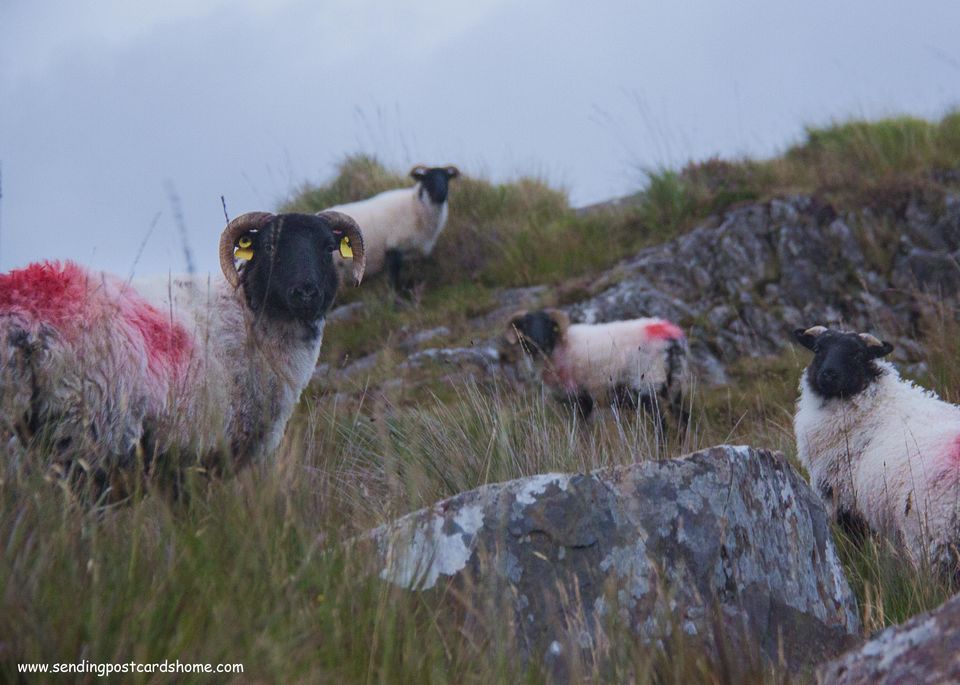 Spend your time driving to the National Park. Remember that it's not just the destination but also the journey that will make you fall in love with the country. Every turn, every bend leading to the national park is breathtaking. There are a couple of small lakes in the national park that add to the charm of the place. The lakes by the road are extremely picturesque to make us stop a couple of times to take photos and wonder at nature's marvels.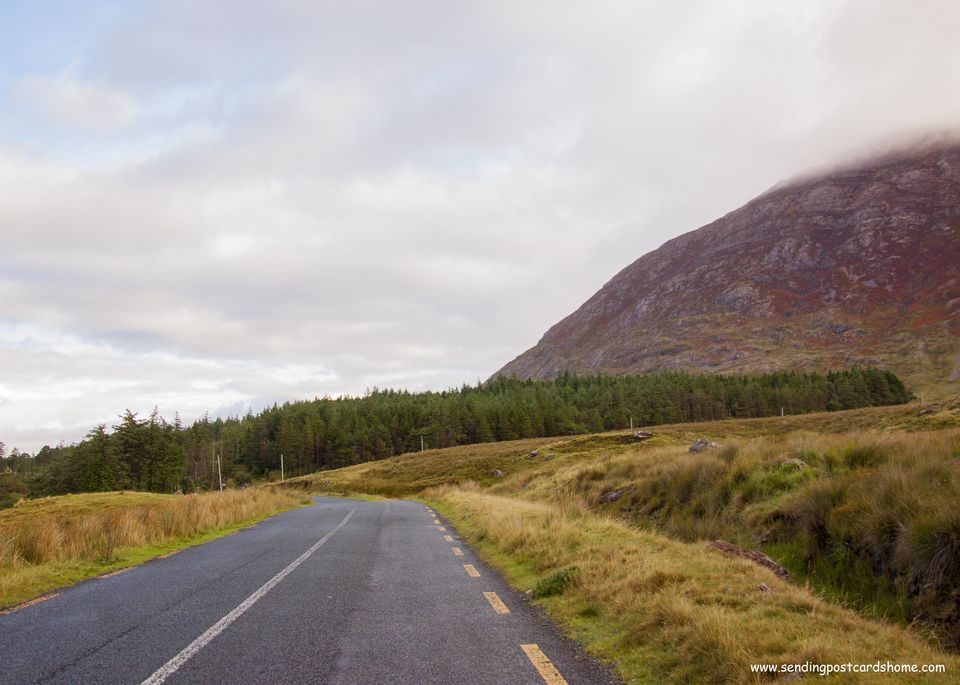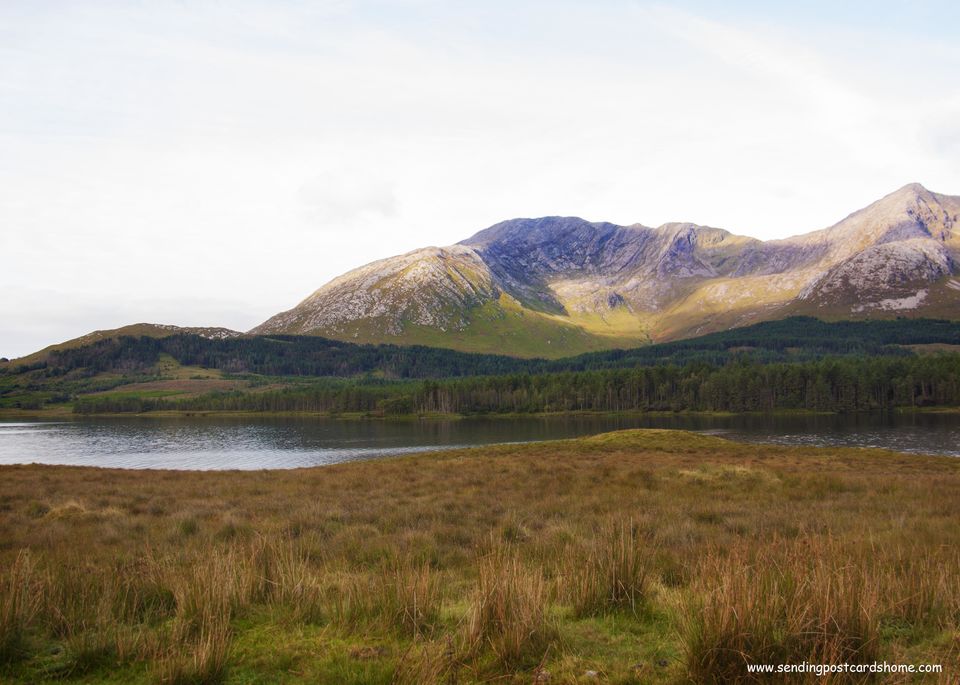 Once you reach your lodge, spend the rest of your day exploring around and just walking in the country side. Let us warn you that this would be nothing like you have seen before.
Spend your second day exploring the Connemara National Park. There are 4 trails at the national park where you can either walk around or hike up the hill based on your interest and fitness level. We ended up hiking the most difficult trail to the top of the diamond hill. The trails are well maintained and covered with stones or wooden planks throughout. As we kept progressing towards the top, the beautiful landscape of the national park kept revealing itself. We kept stopping every few meters to take photos of the beautiful panoramas. I probably have a million photos in my camera of our hike. The view from the top was even better and I just sat there for a good amount of time soaking in everything. What made the view worth even more was the effort it took to hike all the way up.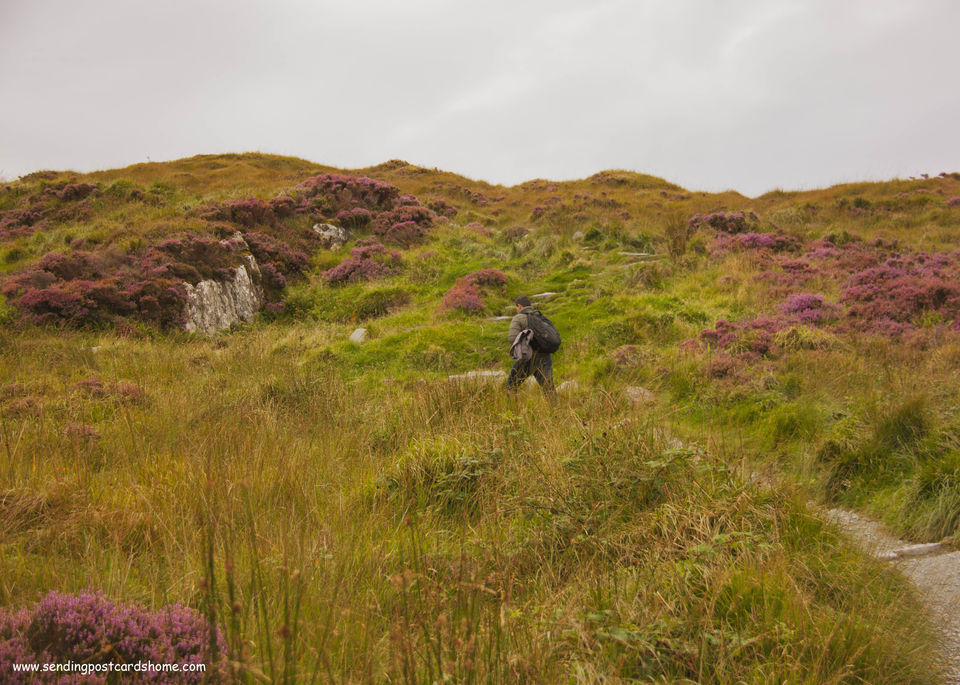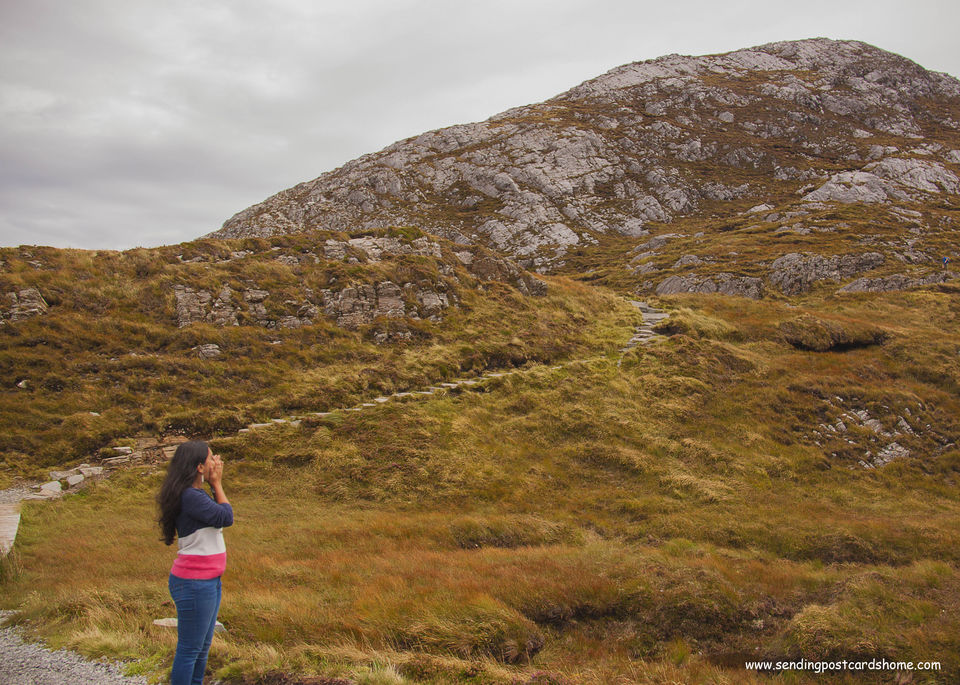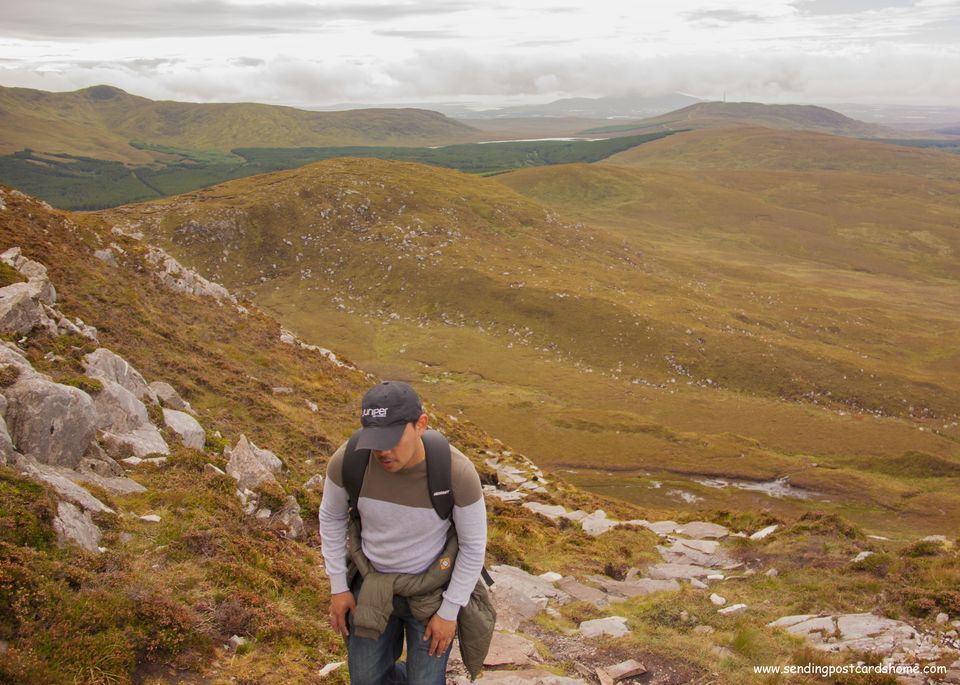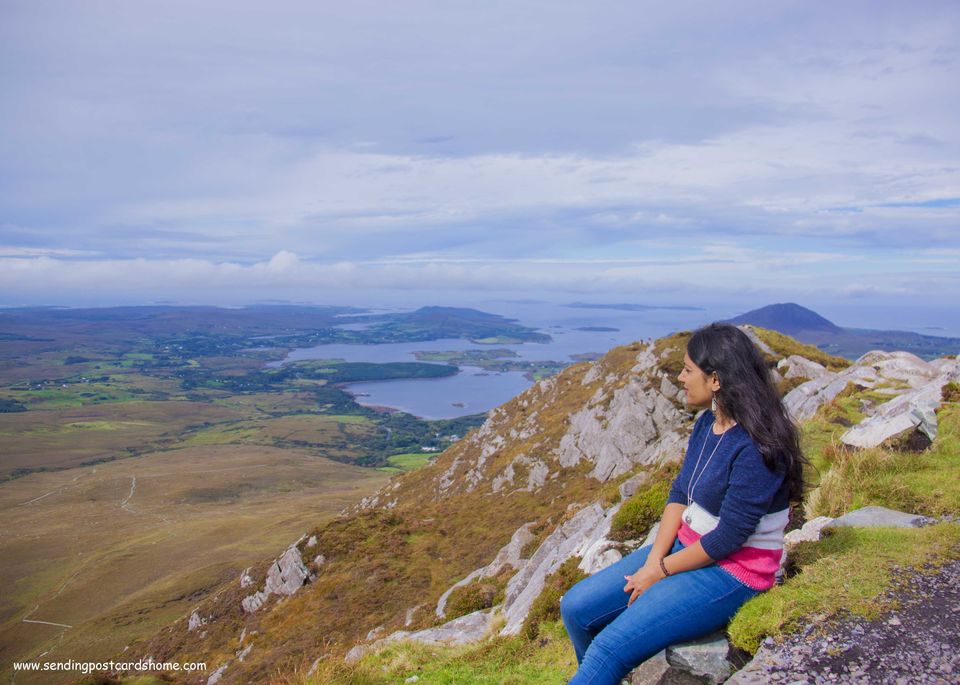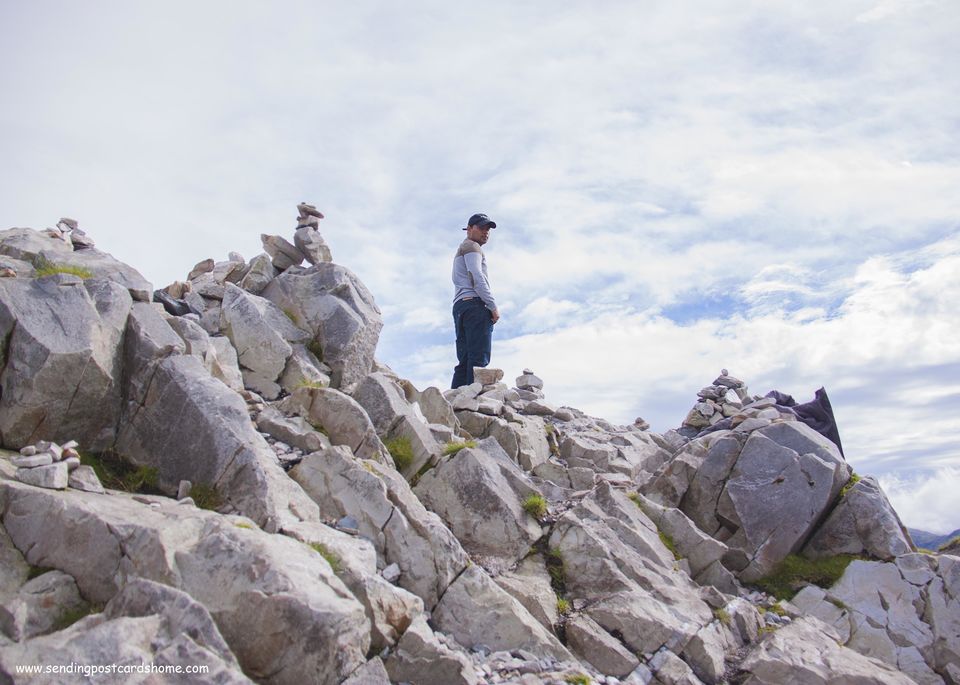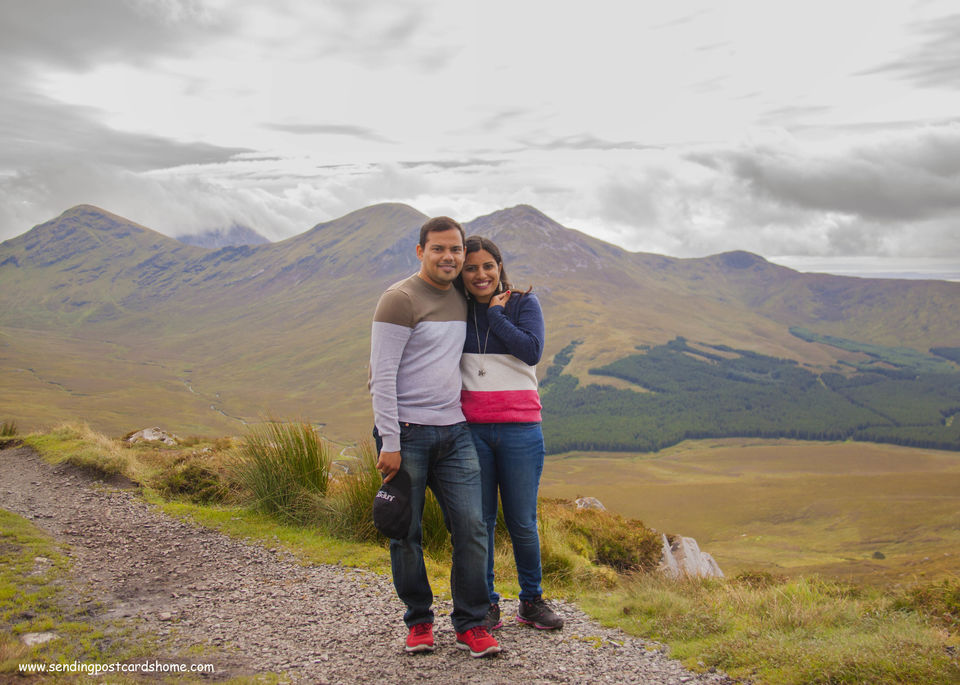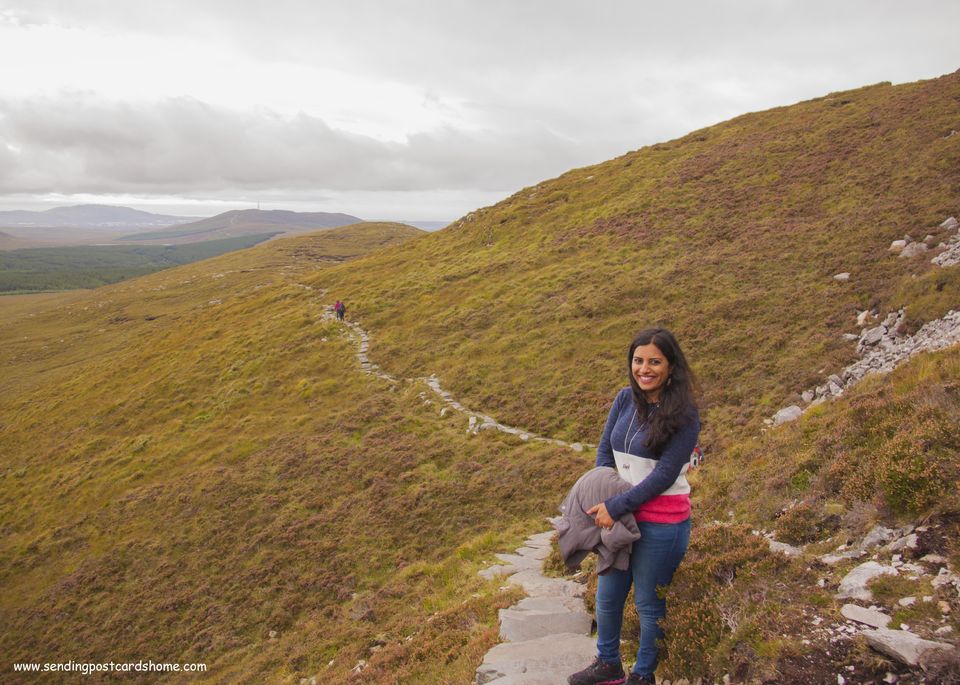 Once you are done with the hike, visit the Kylemore Abbey. The Abbey is really beautiful, nestled amongst the trees and hill. A very picturesque spot for any tourist. Even if you decide not to go inside, don't forget to take photos with the Abbey in background. It would be worth it.
You can either decide to leave for your next destination after this visit or spend an extra day at the national park.
Reaching There
Unfortunately there is no proper bus/train connectivity to this destination and you have to drive. You can either rent a car in Dublin and drive all the way to Galway and then the National Park, or you can take a bus till Galway and rent a car from there. We chose to do the later and that way got to spend some time in Galway as well. Indian tourists can rent and drive in Ireland on Indian driving license but an International Driving License will be more helpful. Car rentals are very cheap and you can probably get a car for 30 euros / day with your credit card.
Where to Stay
Also let me talk a little bit about the lodge we stayed in, because the experience was just too good. The owners of the lodge are shepherds since past 4 generations. It is mainly looked after by an old (about 80 years) fit lady who spoilt us with a lavish breakfast of eggs, bread, juice, fruits, coffee / tea every morning. Her son-in-law was telling us that the building is older than Kylemore Abbey and explained us how they do sheep farming. The location is perfect. There is not a single house around. In the front there is this beautiful huge private lake and at the back are the mountains. They are living a dream of an urban person and they don't even realise that. Every morning we woke up to the sound of sheep bleating. The view from the windows were probably the best thing to wake up to. In the evening we went for a leisure walk outside the lodge amongst the sheep. The walk was so relaxing and we enjoyed chasing the sheep. The sheep are probably the most scared creatures on earth. Little sound and run for their lives. And then they turn back to check if the world is in order again or they need to run a bit more to save themselves! The charges per night for the room in the lodge are 60 euros.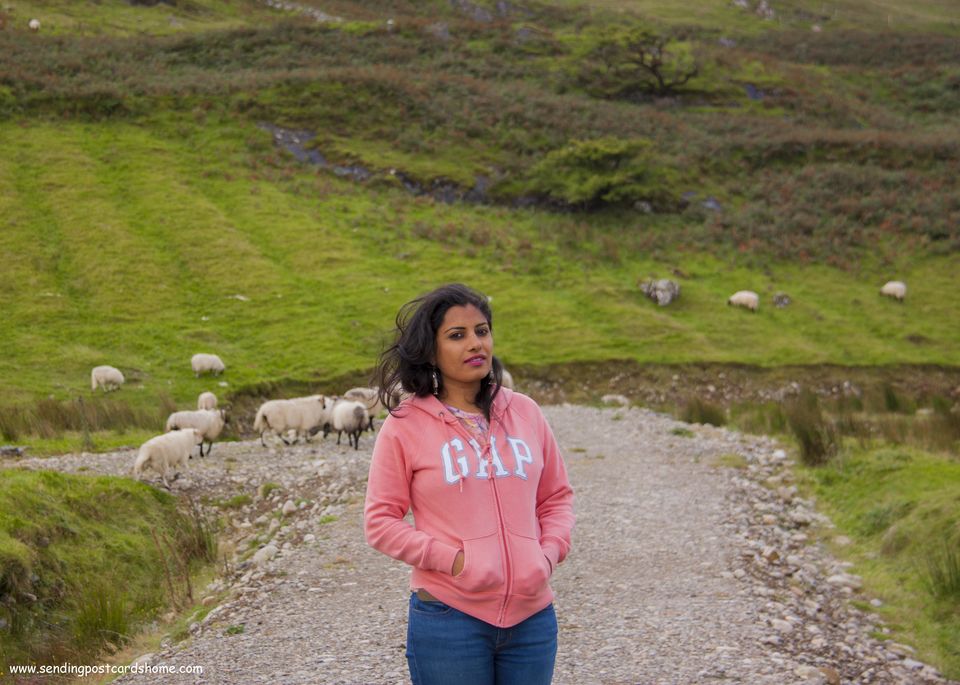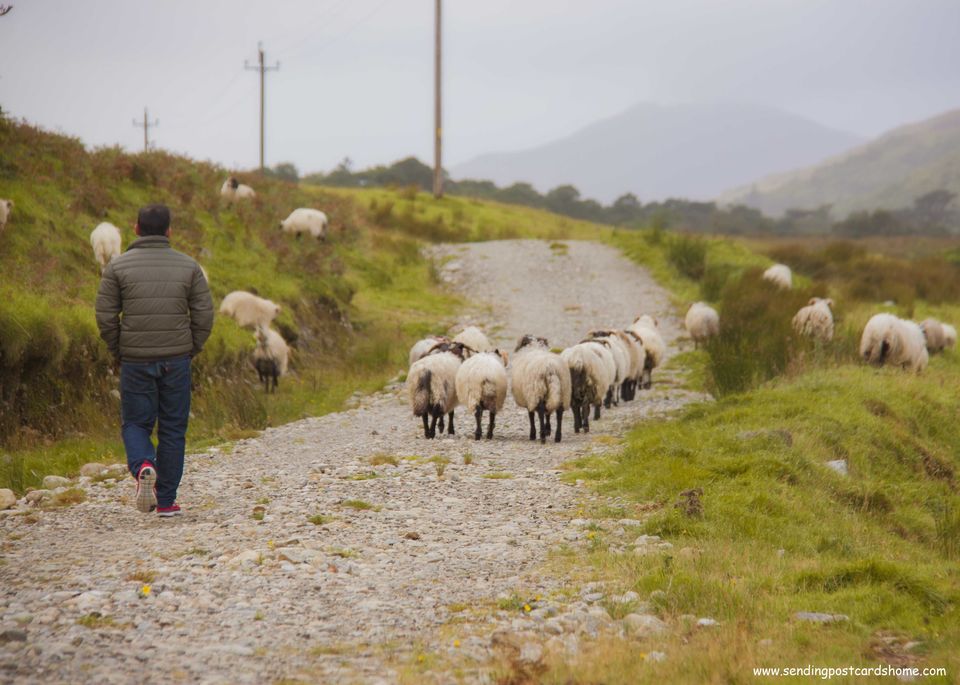 Where to Eat
There is a small town called Letterfrack close to the Kylemore Lodge and Kylemore Abbey. To our surprise there was an Indian café even in this secluded place. I must say – people really love Indian food here in Ireland. The food was pretty good and we ended up having both our dinners there. Don't forget to spend some time in a small Irish pub called Molly's and enjoy some late night Irish music because when you are in Ireland, you have to visit an Irish pub! Food is not that expensive as well, and a dish would cost anywhere between 8-12 euros.
Check out our blog for more such amazing travel itineraries: Sending Postcards Home
Check out our Instagram account for breathtaking travel photos.