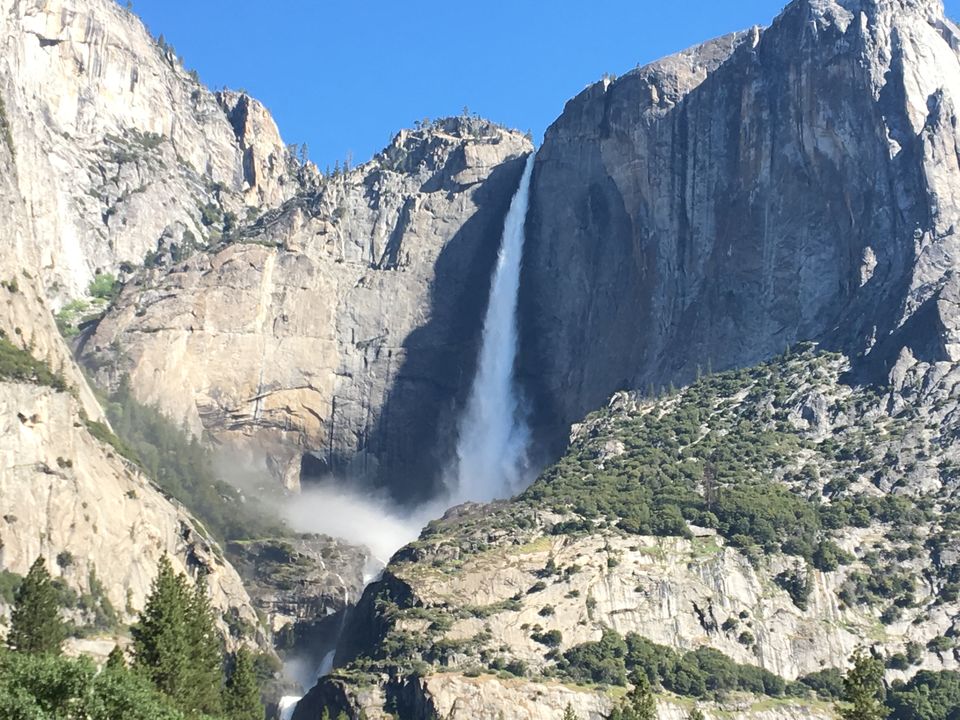 If you are in San Francisco, USA and you love nature and Who Don't then Yosemite National Park is a must visit place for you. Yosemite has so much to offer you,such as Hiking, Camping, Backpacking, Rock Climbing. Yosemite is internationally recognized for its granite cliffs, waterfalls, clear streams, giant sequoia groves, lakes, mountains, glaciers, and biological diversity.
May to August is a peak season for Yosemite National Park, so if you want to stay inside National Park, you have to book them in advance. Me and my friends were there in May end of this year (2017), and we stayed outside the National Park in an Airbnb Home. That house was also pretty awesome with all the amenities, although we were there only at our sleep time. After visiting some of the famous points in San Francisco like The Golden Gate Bridge and Lombard Street, we headed towards the point where we have to spend our night before the day of our hike in Yosemite National Park.
Early morning we were all ready for a good hiking day. After driving around an Hour and a half we entered into the Yosemite National Park. We have spotted the first spectacular views of Yosemite Valley after crossing a Tunnel, maybe this is the reason that point is popularly known as Tunnel View. From here you can just see a glimpse of how vast Yosemite Valley is. You can also see a waterfall at a distant.
There are many different trails which you can hike in Yosemite. As we were on a day Hike, we decided to go to the Top of Nevada Falls. When we entered the Park, Parking was almost full, sorry not almost, parking was completely full. So driving from one parking to another for like an hour or so, we parked the Car somewhere in the shade of a tree. And from this point we started to walk. And we walked for a while when we reach the point from where actual hike started. The trail begins at Happy Isle parking area in Yosemite National Park. At the start you get a board having name of all trails with their miles.
We chose the mist trail which is shorter but more intense having steep rocky stairs. You need to be careful while walking through there. The first hike was till the Vernal Falls, as we were reaching near to the fall, I was getting amazed by its beauty, I have never seen any waterfall from so close. As you go more and more closer to Vernal Falls, the water splash coming with the wind get you wet. After climbing a little more we reached at the start of the Vernal Fall. We sat there for a bit to let our clothes dry. After taking some rest we were ready for the second part of our hike, that to reach Nevada Falls.
Trail to Nevada Fall was not very crowded. We found only a few people while climbing. The Climb was really steep and little slippery because of the small stones. There were many points from where you can appreciate nature's beauty. Big Mountains, surrounded by trees, you can see how water is making its way to reach the ground. Around 3:30 we were at the top of Nevada Falls. We were really happy looking down that we climbed so much that day. From Nevada Falls you can see the Half Dome, where you have to climb through cables. We had already hiked enough for the day. We may have been able to do that if we started a little early. After resting there for a little while, Clicking pictures of the beautiful scenic nature, we started descending. This time we took the John Muir trail. Mist trail reconnects John Muir trail at Nevada Falls. It's a bit longer, but it's less steep, less rocky and less dangerous. At one point we passed through a way where the water was falling from mountains and there was no way to keep you dry, even our shoes got wet. Around 6, we reached the point from where we started with our tired body but happy mind.
Things to Note when you are hiking:
1. Keep enough water with you because you won't get water in your way.
2. Wear comfortable shoes as path is rocky and steep.
3. Wear Sunscreen.
4. Keep energy bars to charge you as the climb will take lots of your energy.
Happy Travelling!