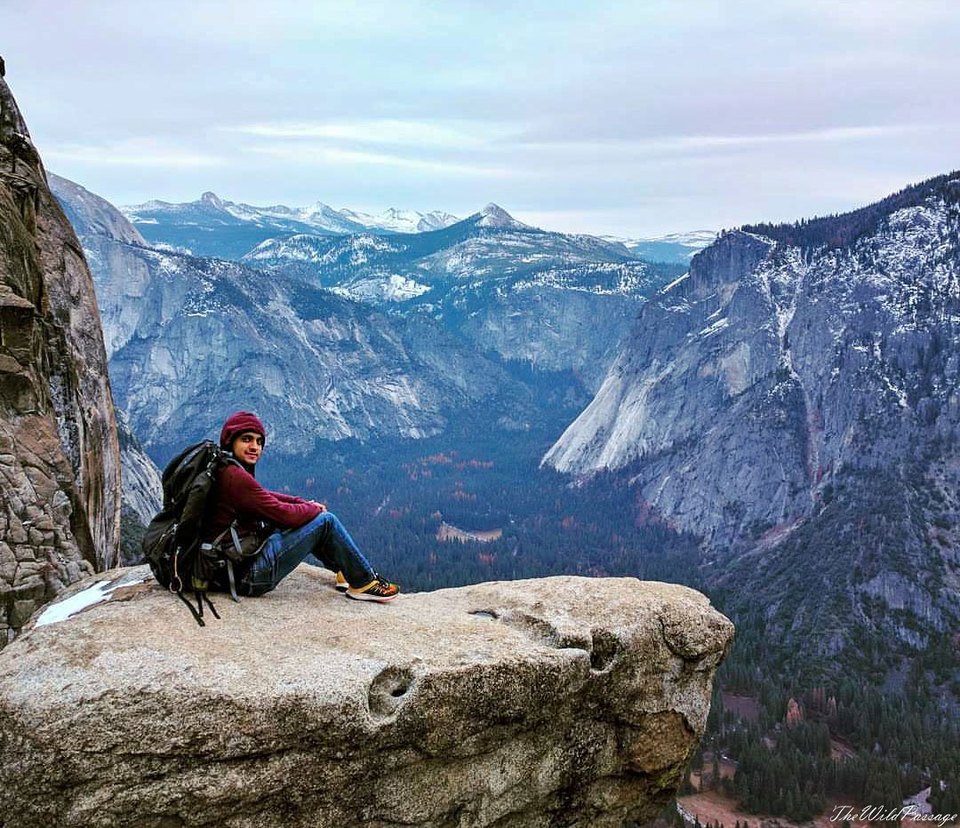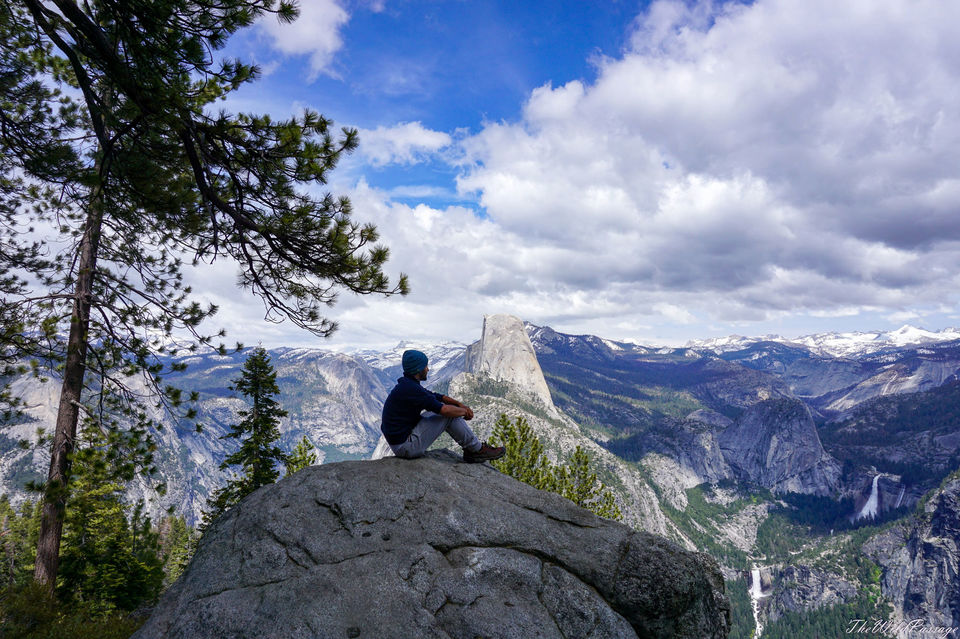 That was my reaction when I caught the first glance of the Yosemite valley and the soaring granite cliffs.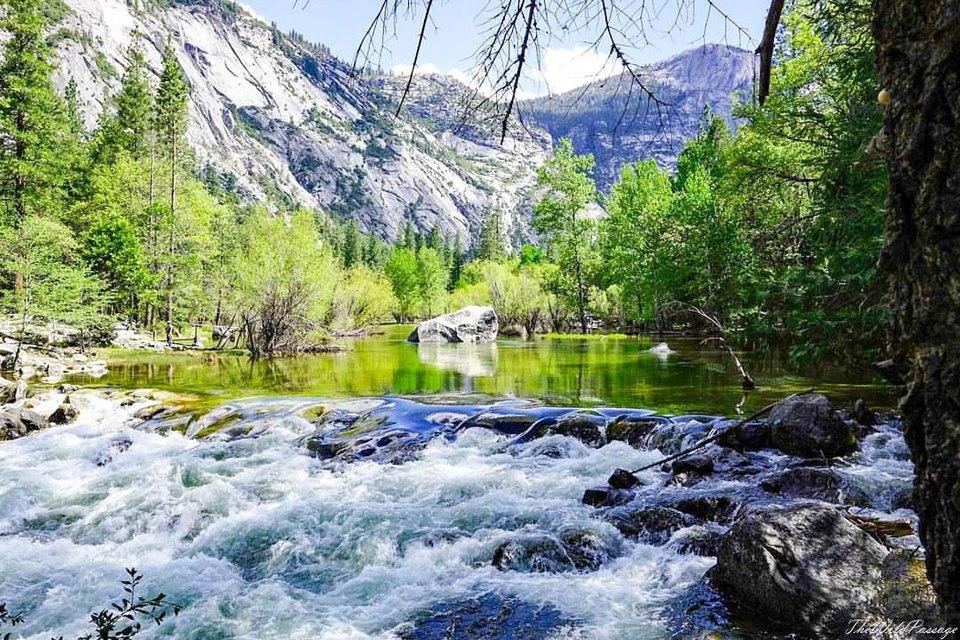 Since then, I have been to Yosemite National Park four times and it never ceases to amaze me with its incredible natural beauty. With its vertical granite cliffs, giant sequoia trees, thundering waterfalls, majestic meadows, deep valleys and a vast wilderness, one lifetime is not enough to explore 1,200 miles of Yosemite National Park.
It is a mecca for hikers and climbers and the few times I have been there, I was fortunate enough to scale to some of the best views in the country.
This time, the plan was to hike Half Dome and after successfully securing a permit, I was pumped.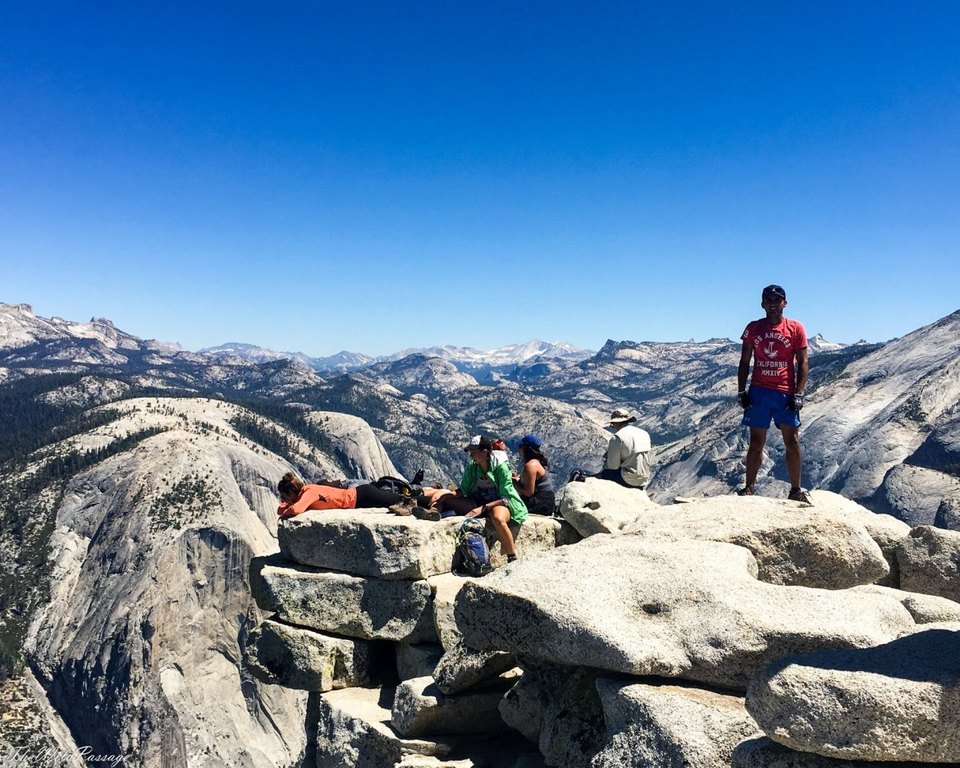 1. HALF DOME
Half Dome is a well-known rock formation famous for its distinctive shape, one side being perfectly flat whereas the other three sides are round and smooth.
Hiking to the top of half dome is considered to be one of the most strenuous Yosemite day hikes. It includes climbing last 400 feet with the aid of attached metal ropes. As is the case with arduous hikes or climbs, this hike rewards you with stunning views of Yosemite valley, Vernal Falls, Nevada Falls, Half Dome and the Sierra Nevada Mountain range.
Getting to Yosemite National Park from San Francisco
A couple of new and old friends and I left San Francisco at 4 PM hoping to reach the hostel in Mariposa by 8 PM but God! Was I being optimistic or what. We had no idea what was in store for us.
After couple of hours on the road, we came to know that the wildfire in the area has gotten worse. Most roads/ highways were closed and there was no mobile network.
After our best guess, we started driving while the land around us was turning gold and the smoke was rising from the trees into the dark sky. After driving for couple of hours, we reached a dead end where the police officers helped us with the correct route to Mariposa. It was already 10 PM.
After driving on the route to Mariposa for an hour and ending up at another road closure, we stopped at a 24×7 diner and called our hostel. Unfortunately, they told us that they did not have electricity, would be evacuating in an hour because of the wildfire scare. Also, the roads to get there were all closed. So here we were, back to square one with no idea where to go. Stuck in the middle of nowhere with no network on a moonless dark night and everything burning around us.
While looking at Google maps, I saw that Yosemite National Park was not too far and it might make sense to directly go there.
At that moment, Lily said, "Let's go back to San Francisco. It doesn't look like we are gonna make it there for Half Dome. It's already been eight hours. I don't feel good about it."
Suddenly, I felt a wave of terror pass through me and that particular thought made me more nervous and scared than the wildfire. I didn't want to go back, I wanted to try my best to do Half Dome. Without replying to her, I kept looking at Google maps, and eventually, I did find a route with the help of Jeff. Although, it was not the shortest route but it had the best chance of getting us to Yosemite National Park.
Jeff took the wheel. It was already past midnight when we decided to go to Yosemite National Park after confirming the route with the cops. We were on our way and fortunately, the route led us directly to Yosemite National Park at 3 AM barely enough time to take a nap.
The morning light
After taking a quick nap in the car, we headed to the trailhead. The excitement of hiking Half Dome easily overpowered all the tiredness and we started the hike with the first light of the early morning falling on the surrounding granite cliffs.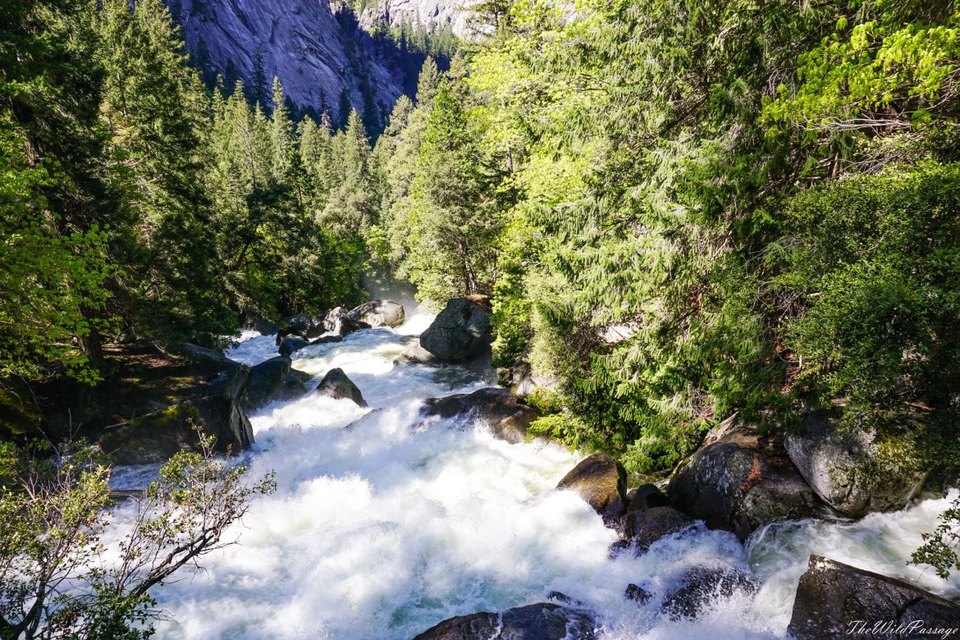 Vernal Falls lookout Bridge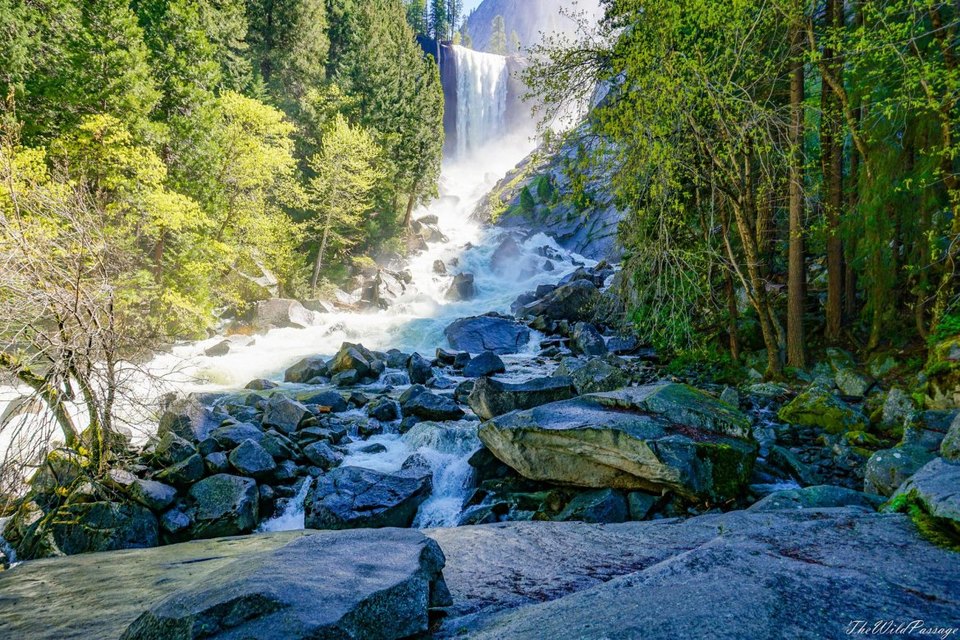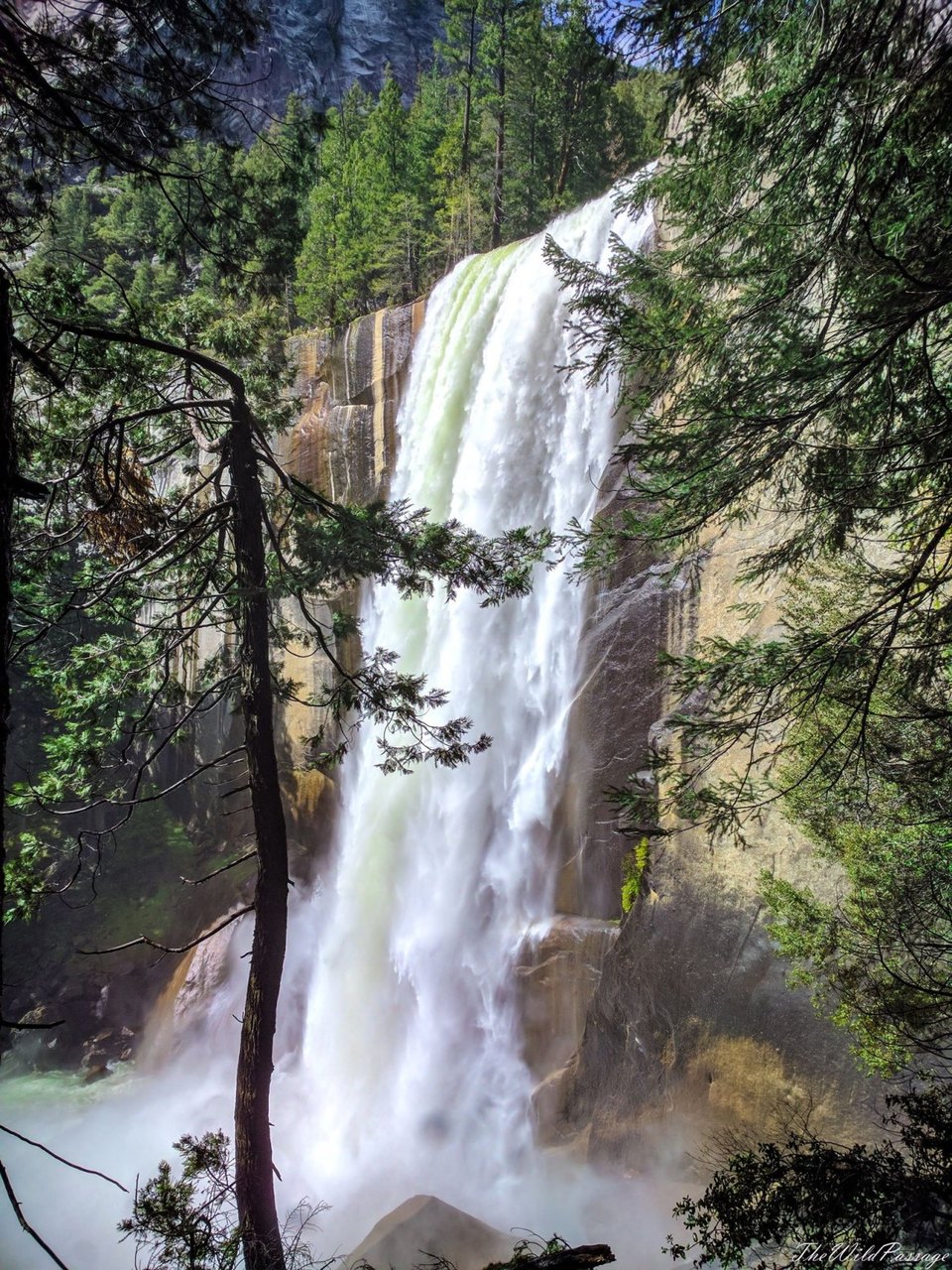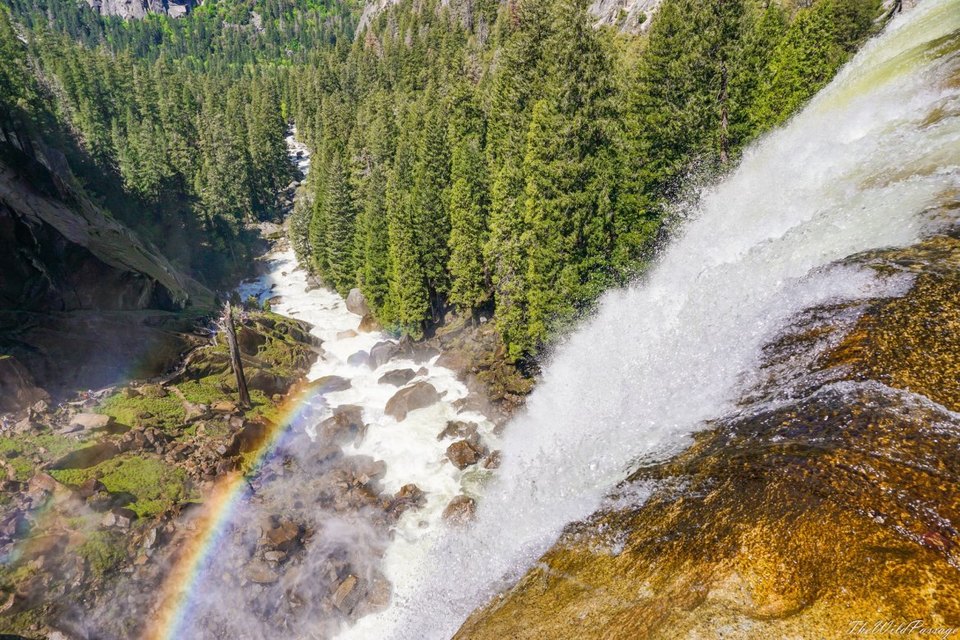 Top of Vernal Falls
There was a mystical combination of serenity and joy all around with a cool breeze blowing against our faces. Since it was early summer and thanks to the heavy snowfall Yosemite had in the winters, the waterfalls and rivers were intense, brimming with life and energy and could be heard anywhere in the park.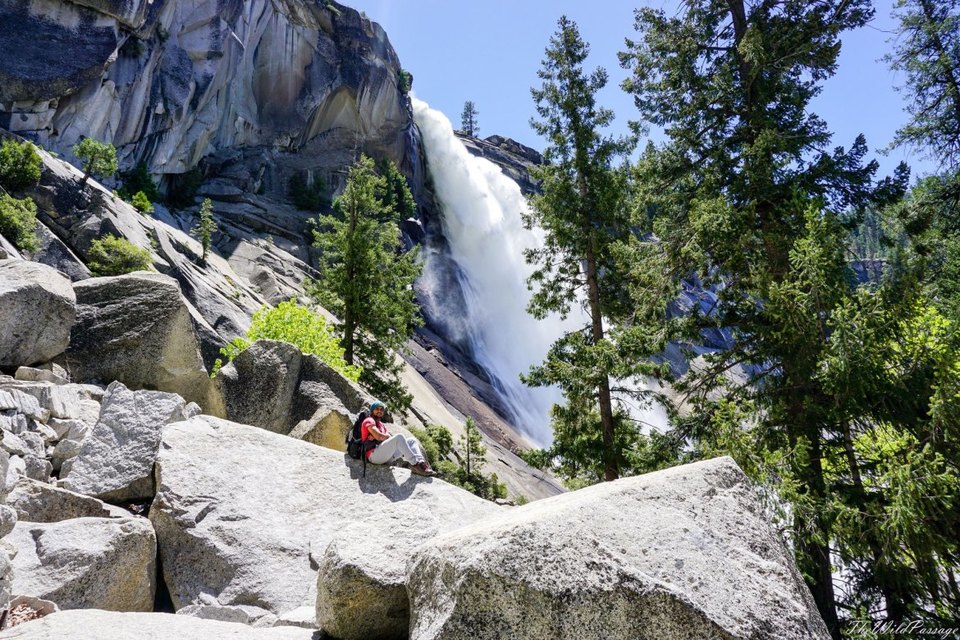 Had to take lot of breaks, that's Nevada Falls in the background.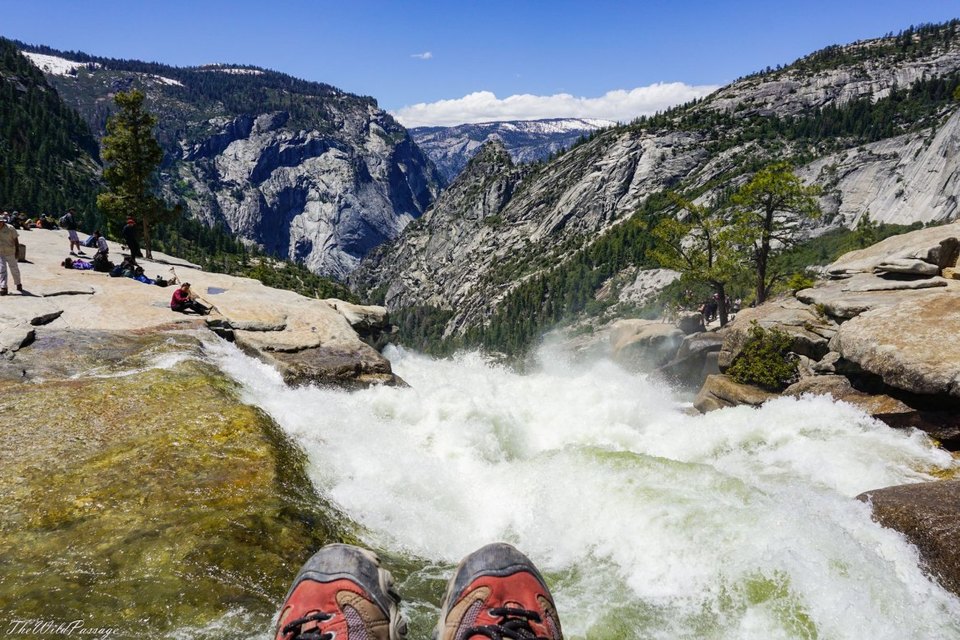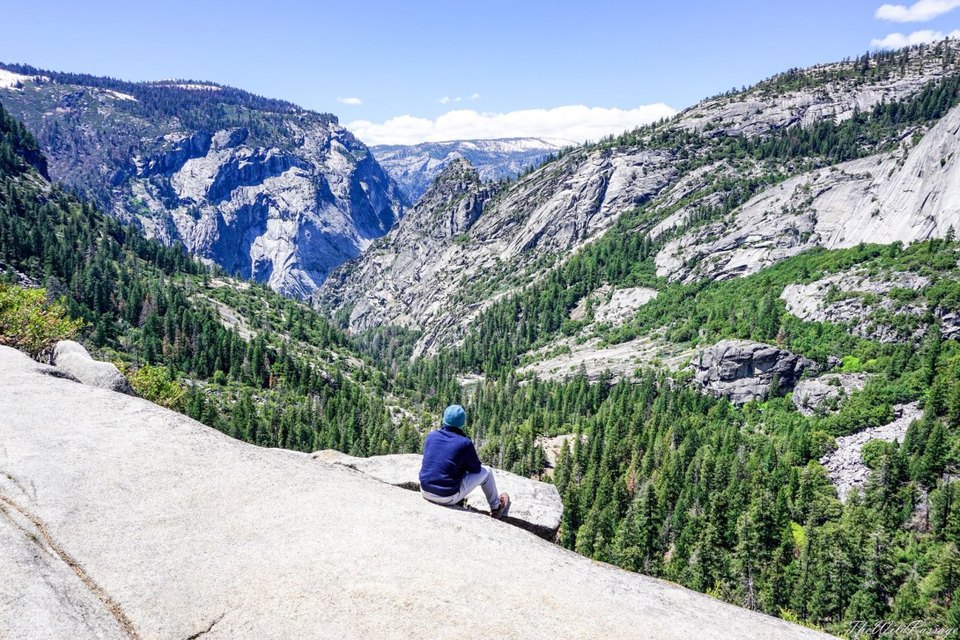 Next to the Nevada Falls Vernal Falls and the Mist Trail
Although the start of the hike was well-paved, it was constantly uphill. But that was easy to forget when you could feel the granite cliffs on the left and a thundering river with the backdrop of snow covered cliffs on the right.
And before we knew it, we were standing at the bridge looking at VERNAL FALLS falling more than 300 feet with all its might eventually pounding the rocks and making its way under our feet. There were restrooms and drinking water next to the bridge.
We continued on the MIST TRAIL to get closer to the falls, reached a series of steep and wet stairs with the entire view of the gushing falls. After an unexpected shower and shivering from cold, we reached a perfect spot to witness the falls. There was something very enchanting about the waterfalls, especially the music it created as it made its way through the forest swerving around the rocks. I could sit there forever and listen to its melody. Only if I could!
After climbing more stairs, we reached the top of the VERNAL FALLS to get another vista of the falls. The colorful rainbow was happily shielding the cascade, spreading peace and equanimity to everyone around it. The flowing river, cool breeze, birds chirping, godly granite cliffs and the warm sunshine was creating a perfect harmony.
Nevada Falls
We continued on the trail with river flowing on our left and different rock formations on our right. In some time, we reached a place where there was no shade and we were super glad that we started early which saved us from the scorching noon sun. Still, the steep steps didn't seem to end but the views of the valley, the high mountains, the thundering waterfall and the desire to get to the top of Half Dome kept us going.
After struggling for sometime and taking breaks to rest, we reached a T-point. On left, the trail goes to Half Dome and on the right, a short hike takes to Nevada Falls. We decided to take a detour to check out the falls and then continue towards Half Dome.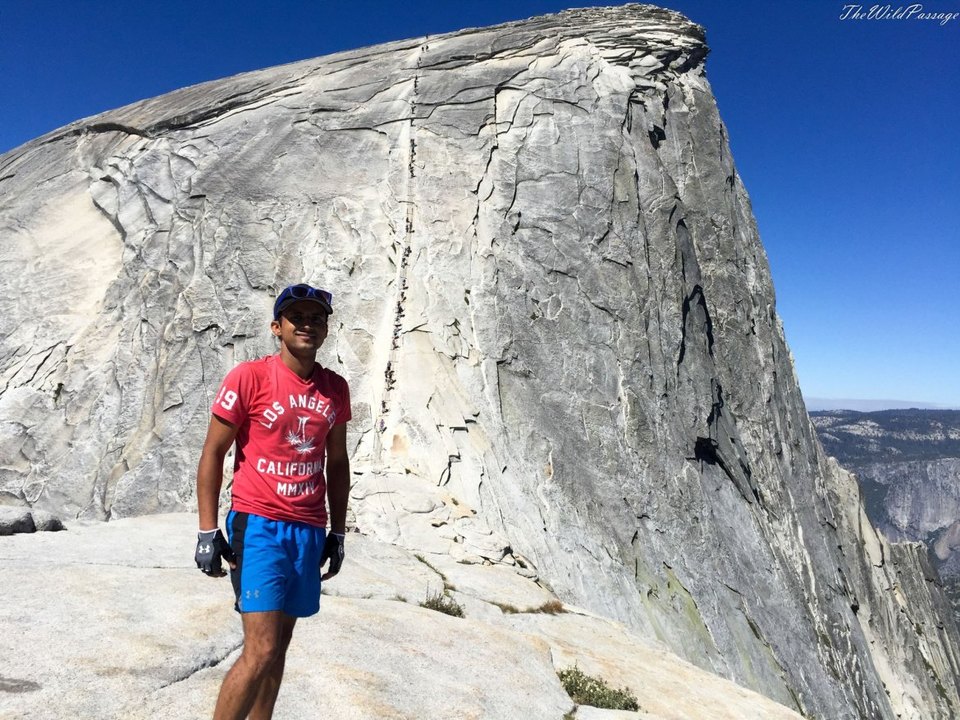 Before climbing the Half Dome ropes
After reaching Nevada Falls,there is a footbridge which crosses the Merced river over the falls where one can experience jaw-dropping views of the falls, the valley and the granite cliffs.
There is something magical about places like these as they suck all the negative energy and everyone around you is jolly which makes you realize that world is not a bad place after all.
Little Yosemite Valley
From Nevada Falls, it was an easy hike for around a mile via Little Yosemite Campground with the river flowing and the tall sequoia trees. After few switchbacks through the forest, we reached above the treeline. With Half Dome on the right and the valley on the left, we took steep stairs carved into the rock to get to Half Dome.
Suddenly, a voice came from behind me. "Guys!!", yelled Nikita. I turned around to see Nikita panicking with tears dripping from her eyes onto her sweaty tanned face. Lily and Jeff were ahead and couldn't hear her. The fear of heights and nothing to hold onto on this steep and slippery granite cliff made her anxious and nervous. Her legs were shaking and she froze.
"I can't do this. I am turning back."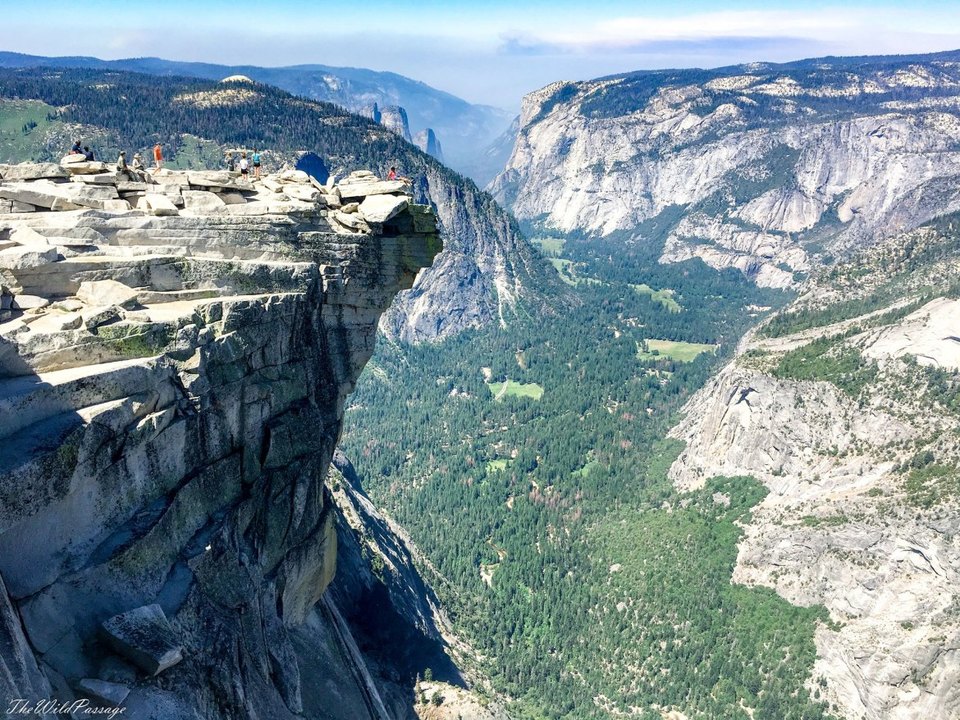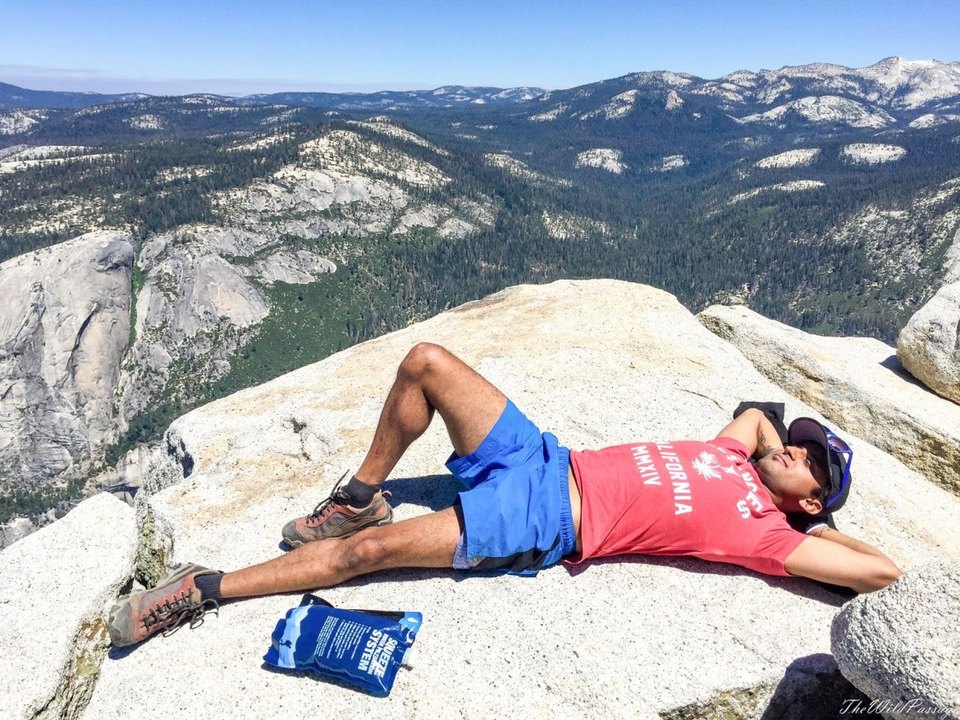 Can I BE more relaxed!
"Ofcourse, you can. Take a deep breath and calm down. Be slow."
I held out my hand and we slowly made our way to the metal cables.
Bring your permit : The cables are only up from Memorial day to Columbus day. To hike the last section with metal cables, you need a permit. Do not forget it. Also, bring a government issued ID card. Hike is strenuous : You will gain around 5000 feet in elevation and the round trip is around 16 miles. It is extremely strenuous. You need to be physically fit and/or mentally strong to do the hike. Know when to turn back : Nothing is more important than your life. Around 20 people have died doing the Half Dome hike. If you think you won't be able to do it, there is no shame turning back. Half dome is not going anywhere and neither are you. Train more and come back later! Bring Hiking shoes : Trust me on this, having good hiking shoes will make the hike a lot easier. Start early : To avoid the heat and the sun exposure while going up, start early. There are sections where there is no shade and the direct sun can make the hike more difficult than it already is. Carry lots of water and electrolytes : Keep yourself hydrated and maintain your sugar levels. It will help in avoiding cramps. Carry at least 4 litres of water per person. Sunscreen : Well, you know why! Gloves : You will need it to climb the ropes unless you want blisters on your hands. There are gloves at the bottom of the ropes but it is suggested to bring your own. Trailhead : The happy isles bridge is around 0.5 miles from the Half Dome village. The Mist trail starts next to the bridge. You can park your cars at the Yosemite Valley trailhead parking. Keep track of the weather : The weather can change quickly, so make sure you are not on Half dome if it is raining or cloudy. It can get slippery, windy and the lightning has killed people in the past. Half Dome
After reaching Half Dome, we had 400 feet to climb using attached metal cables. It was steeper than I thought and was more scared than I thought I would be at the start of the hike.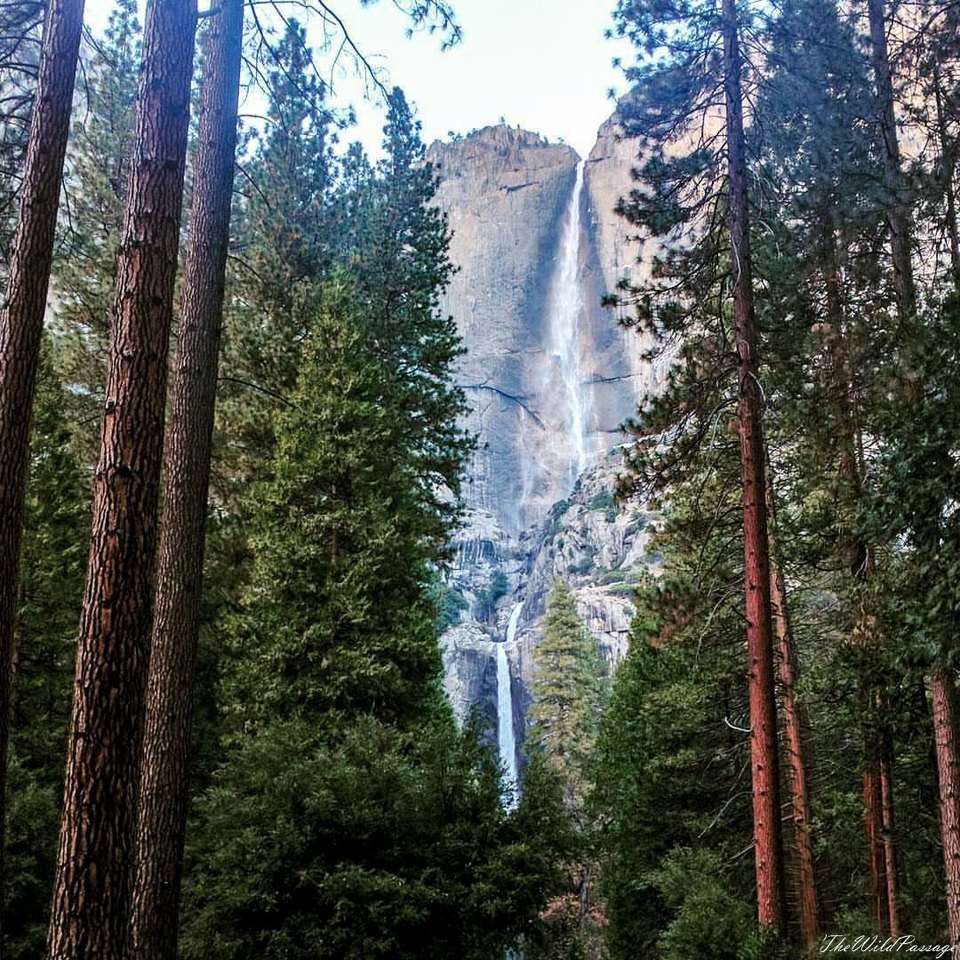 The top of Upper Yosemite Falls
I started to take one step at a time and my fear slowly went away but at halfway, I got cramps, fell on my butt on the wooden support (Thankfully, I was holding the ropes.) and my heart started pounding. I started massaging my legs and drank water.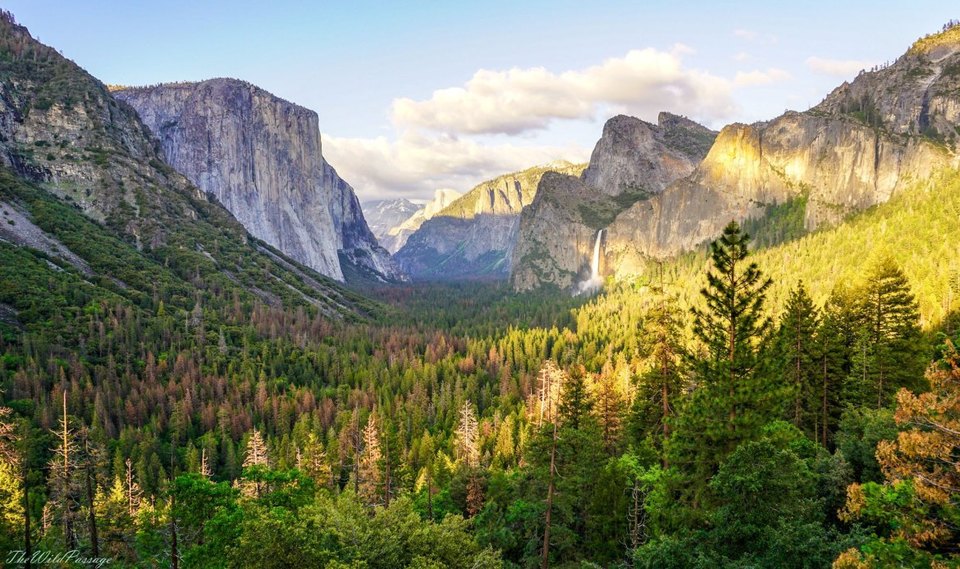 The Tunnel Viewpoint
"Add this to the water.", came a voice from behind me.
The lady behind me passed a packet of electrolyte powder.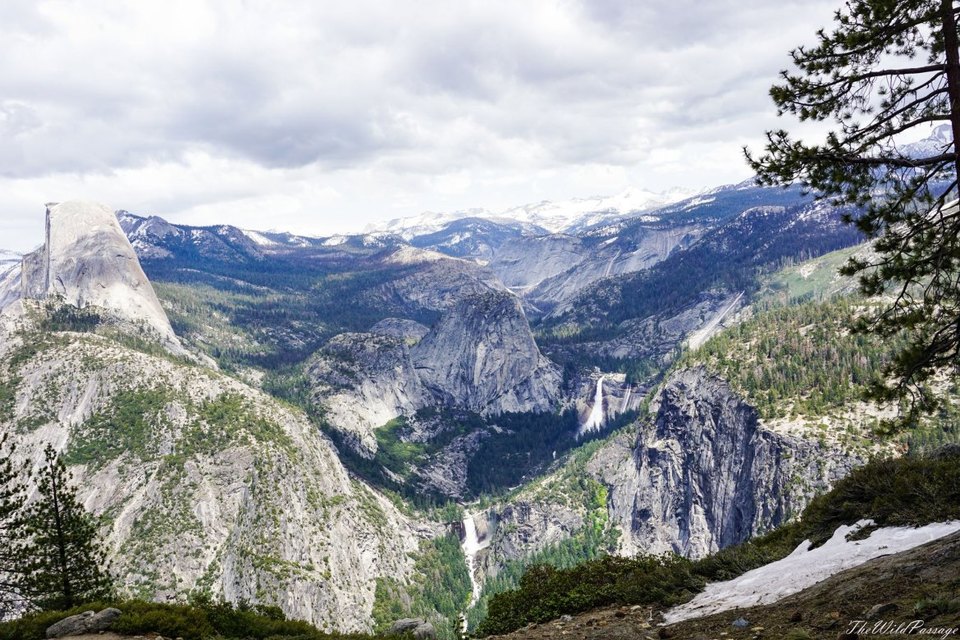 Glacier Point
I had to sit there for five minutes which crowded the metal cables and I was in pain.
"Can I really do this? Should I turn back?", I thought to myself.
Suddenly a voice came from within, "Are you kidding me? You are almost there. You will regret it so much if you turn back now and you know how much you hate regret."
I sat there, sipping on my electrolyte drink and chewing on the Cliff Bar. Eventually, the cramps went away at least for the time being. I got up and started to make my way to the top one step at a time. It's always one step at a time.
Eventually, I did manage to reach the top of Half dome which was a large and flat area. The feeling of self-satisfaction after getting there, the panoramic views of the valley and the high Sierras made the wildfire, cramps, and the struggle to get there worth it. If I had to do it again knowing what all I have to go through to get here, I would still do it in a heartbeat.
Getting back down
Although getting down is not good for the knees but was still significantly easier than the hike up. Once at the top of Nevada falls, there were two routes : continue on the Mist trail (the same trail I used to come up) or the Muir trail which was 1.5 miles longer but less steep and provides a different but a spectacular view of the Nevada Falls, Half Dome and the valley. Taking the Muir trail and before I knew it, I was on the valley floor, taking a shuttle to the village and treating myself with beer and hot burgers.
Top Tips:
2. Upper Yosemite Falls
Yosemite falls is one of the major attractions and it takes a short hike to get to the base of the falls which falls more than 2,400 feet.
Also, hiking to the top of these falls is another adventure in itself. It is a demanding 5.8 mile long (to and fro) hike and with endless stair climbing and it will surely test your fitness. But once you get to the top, you will be standing above the tallest waterfall in North America with views of the falls, snow-capped mountains, half dome on the left and Yosemite valley before you.
3. Tunnel Viewpoint
I have spent hours if not days sitting at the Tunnel viewpoint looking at the breathtaking glacier-carved valley with magical waterfalls falling from the soaring granite cliffs.
On the left, there is the 3000 ft majestic El Capitan and on the right, there is silky Bridalveil Falls falling onto the green-carpeted valley. At the far end is another Yosemite National Park's major attraction, Half Dome. It is views like these which makes me wonder whether humans can ever match with nature's creations.
4. Glacier Point
I am going to vote to make driving up to the Glacier Point illegal because views as spectacular as Glacier point deserves a struggle from us to get there. Until it becomes illegal, Glacier point cannot be missed if you go there in Summer (the road is closed in Winters). It is by far one of the best views at Yosemite National Park with Yosemite Falls (the tallest waterfall in North America), Vernal and Nevada Falls, iconic Half Dome, Yosemite Valley, unreal snow-capped granite cliffs and the Sierra mountains as far as the eyes could see.
There is also a 4 mile trail which begins near the base of Sentinel Rock to hike to the Glacier Point. Glacier Point has parking, restrooms and a snack stand.
There is so much to explore in this natural wonder. Indeed, one lifetime is not enough but we might as well try our best.