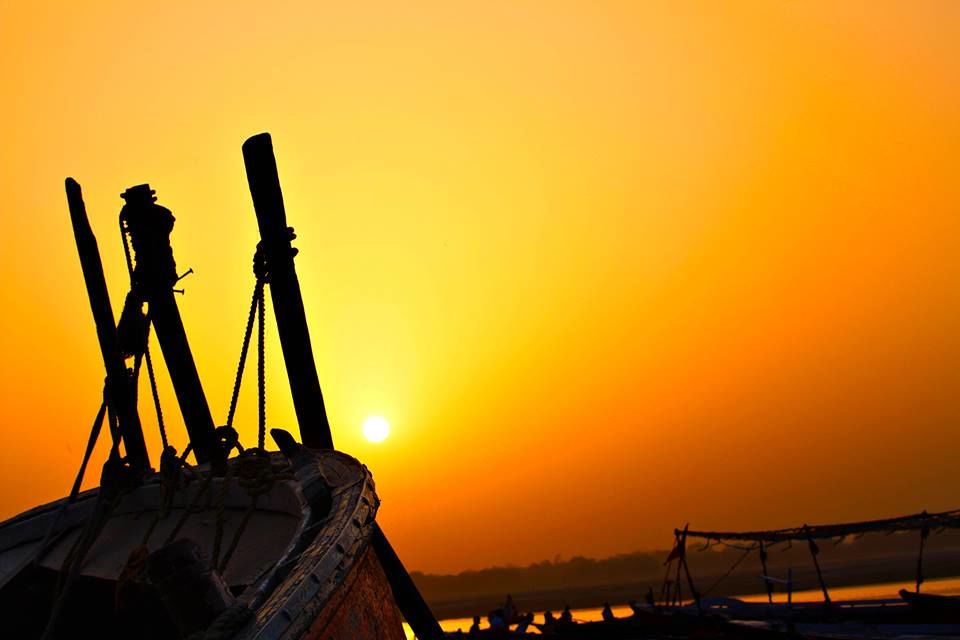 From the BANKS OF Holy GANGES
Varanasi is the holy city and its one of the inhabited cities in the world. City is located in the banks of Ganges in Uttar pradesh. Its a holy place for Hindus and also known as Banaras. People came here to pray and wash out all their sins in the holy river Ganges.
Its a must visit place in India if you like a spiritual atmosphere. Varanasi always creates a spiritual vibe in you and when you leave I am sure you definitely will have beautiful memories and experiences from Varanasi.
Varanasi is a very crowded place. Unlike other places; early morning itself you can see crowded streets and ghats. And you can see different colors of life around you.
I visited Varanasi in one of my solo backpacking. I stayed in HOSTALE ; its one of the best backpacking hostel in Varanasi and its located near Assi ghat. My advice to backpackers is to stay always closer to the ghats to feel that spiritual vibe.
Main attraction of Varanasi is Ganga aarti. Daily early morning and evening after sunset ganga aarti ceremony is happening . Its a ceremony of doing pooja (worship) to holy Ganges river. Brahmin priests are doing this ceremony using prayer bells, incense sticks, prayer lamps and with music about Ganges river. In Dashaswamedh ghat we can see the biggest and beautiful aarti. The atmosphere with rings from prayer bells, fragrance from incense sticks, lights from the lamps totally the vibe definitely give us a spiritual strength. People can watch this ceremony from steps of ghats, boats in the Ganges or roof tops of nearby shops. Attending Ganga aarti is an extraordinary experience.
Another thing you can enjoy in Varanasi is to do boat ride through the Ganges river. Specially in the morning you can experience an amazing sunrise view from the ghats. Boat rides are costly if you don't have the skill of bargaining. I did a morning boat ride from Assi ghat to Dashaswamedh ghat with another backpackers so we shared the expenses; better way is to share ride with other travelers.
Morning walk through the ghats is one of the best thing you can do in Varanasi . After boat ride i walked through the ghats. I saw different kind of faces, cultures, colors all in a single place; in a bank of a single river. Its a good opportunity to feel the depth of Varanasi while walking . I saw devotees are bathing and doing prayers in Ganges, I saw sadhus smoking weed, a group of Sanskrit students praying , flower sellers, tour guides searching for their new business , people doing cremation in ghats, local children playing cricket in the steps of ghats,tea sellers, foreign tourists, people doing hair cutting from local barbers in the steps.
Varanasi is famous for Aghori Sadhus. The Aghoris are Shaivites, ascetic sadhus devoted to Shiva. They often live in or near cremation sites, covering themselves in ashes of the dead, and use bones to make bowls and jewelry. Devotees believe that aghories have supernatural powers . They eat human flesh ,they find purity in filthiness. They have long hair and beard. I took some photographs; frankly most of them don't like to get photographed. I took pics without their knowledge. In Harishchandra ghat and Manikarnika ghat i saw cremation. The Varanasi ghats considered one of the auspicious place for Hindus for this ritual.
Varanasi have so lot of small alleys. Real Varanasi lives inside the alleys which looks different than any other place found on our planet. Narrow alleys, beautiful temples and shrines, monasteries, old buildings, cultural and religious diversity, all the major old markets, real Varanasi-food, people, cows and bulls…all is found inside the alleys which are not possible to visit by any vehicle. Varanasi people do all of their business inside the alleys. Varanasi is famous for varieties of lassy. Alleys and streets are always crowded. Varanasi have lot of graffiti works in streets and ghats. Its a favorite place for artists.
Everyone one have a reason to visit a place. May be you also have a reason to visit Varanasi. Explore and live life. Definitely Varanasi will give you lot of beautiful moments and memories.