I can't believe that I have visited to one of the most wonderful cities in India. Varanasi is known as the holy city of India, the city of Lord Shiva Kashi Vishwanath temple and is also one of the oldest cities in the world.
A lot of people come to Varanasi from all over the world for spiritual experience or just to see this place, it's beautiful beyond words. There are different kinds of things you can do in the city, especially exploring its amazing temples.
The City has more than 88 Ghats (a series of steps leading down to a body of water) leading to the Ganges. They use them for performing ceremonies most of the time, and a lot of them are also used as cremation sites. Most of the Ghats here in Varanasi are built after 1700AD and a lot of Indian people take bath in the holy river.
Early morning, the alleys of old Varanasi gleam with last night's rain. One path just wide enough for two men to walk abreast leads past shops down to the holy river Ganges.
It's barely sunrise, but the alleys are already in chaos. Men jostle women, women jostle fat bullocks, bullocks narrowly avoid stepping on children. Everything is for sale – small bottles of holy Ganges water, larger bottles of branded mineral water, tiny figurines of the Lord Shiva, whose town this is. Tourists, almost invariably wearing colourful harem pants, brush shoulders with locals.
The storeowners watch the activity with lax interest, slurping tooth-rottingly sweet chai out of thimble-sized cups. When asked for directions they come to life, putting away the tea and describing the path with energetic and firm gestures. This may be the city where Hindus come to find enlightenment, but it is easy to lose your way.
Lines of Indian pilgrims walk barefoot through the alleys, drawn by occasional glimpses of the holy river. At last, the alleys fall away, and the sluggish green river appears, smooth as a sheet of glass. From here the view extends to the distant eastern bank, hazed with brown dust. This year, the monsoon rains have been below average, and the Ganges lies low and tame between the banks.
I Was ready with two plans (PlanA & B) to ensure all feasibility option for successful completion of the trip.
Plan A: Thane to Ujjan at Mahakaleswar(MP)-Khandwa at Omkareshwar(MP) Varanasi at Vishwanath(UP) Deogarh at Baijnath temple (Jharkhand)- Aurangabad-Grishneshwar(Maharashtra) for 10days Plan by train &Bus Journey.
Plan B: Thane to Varanasi- Deogarh –Varanasi -Thane.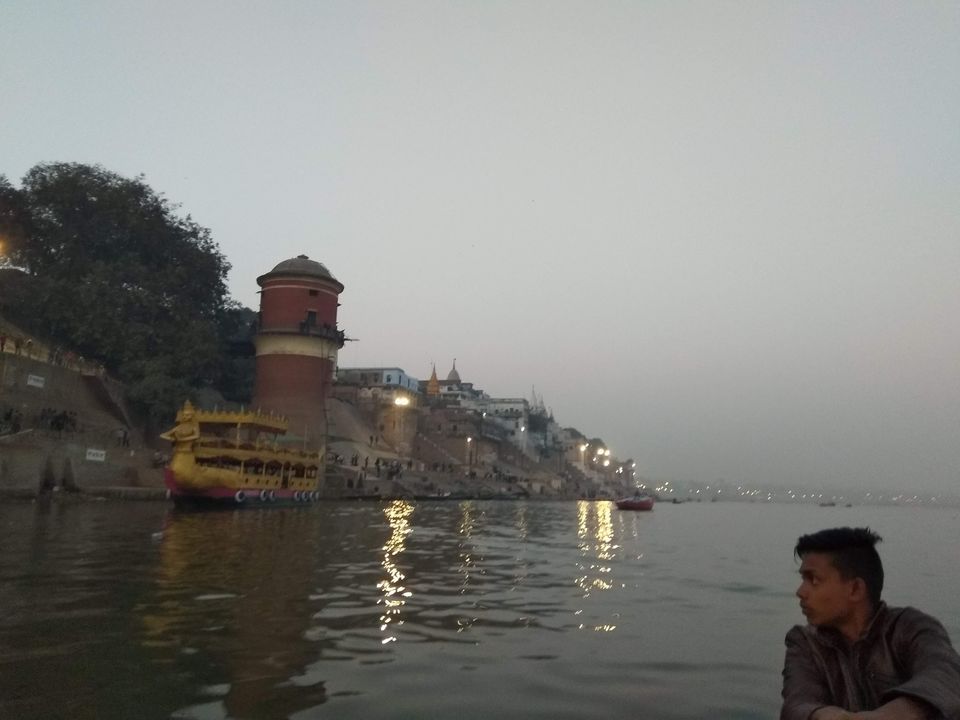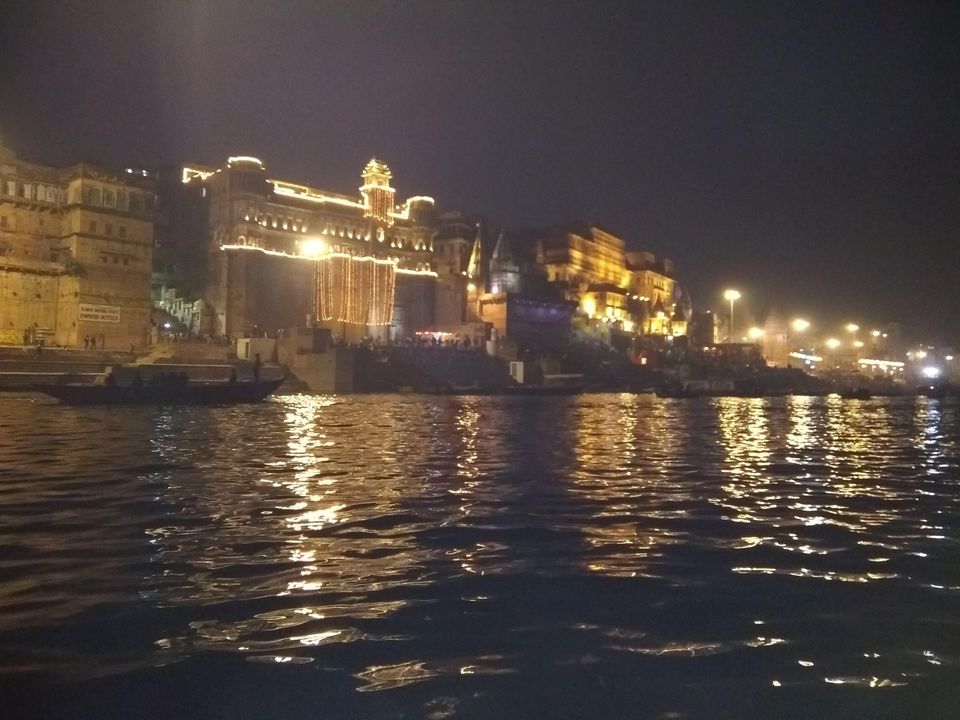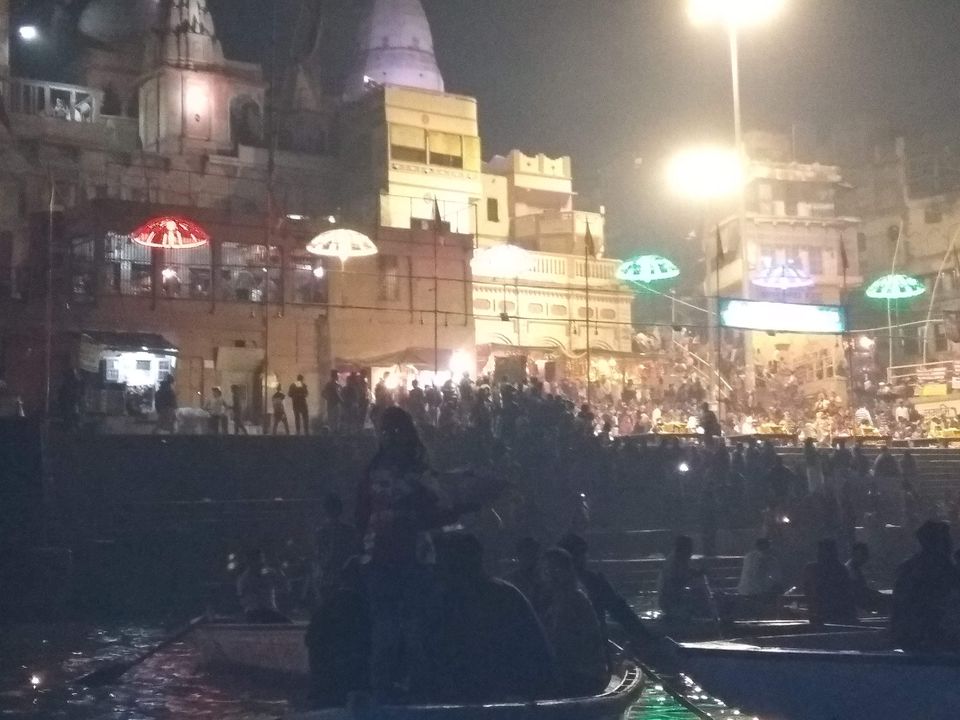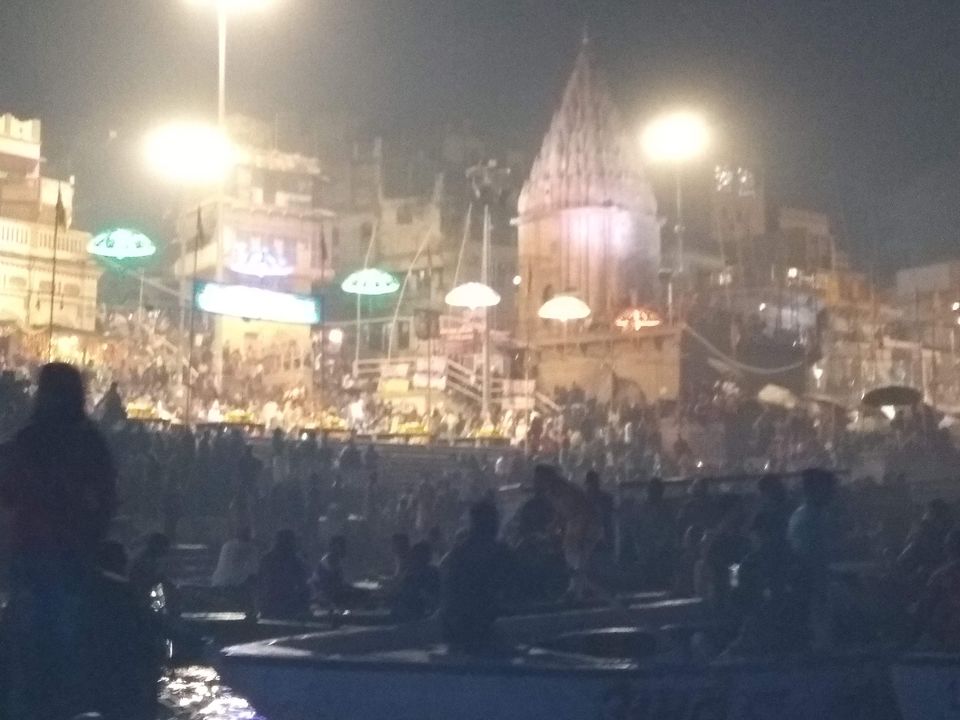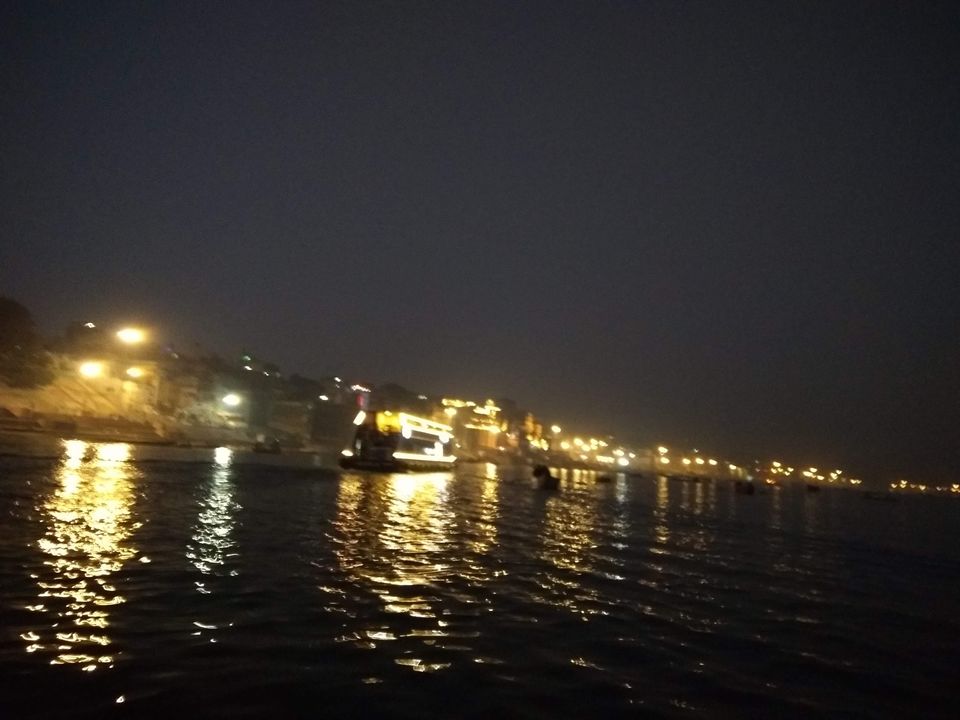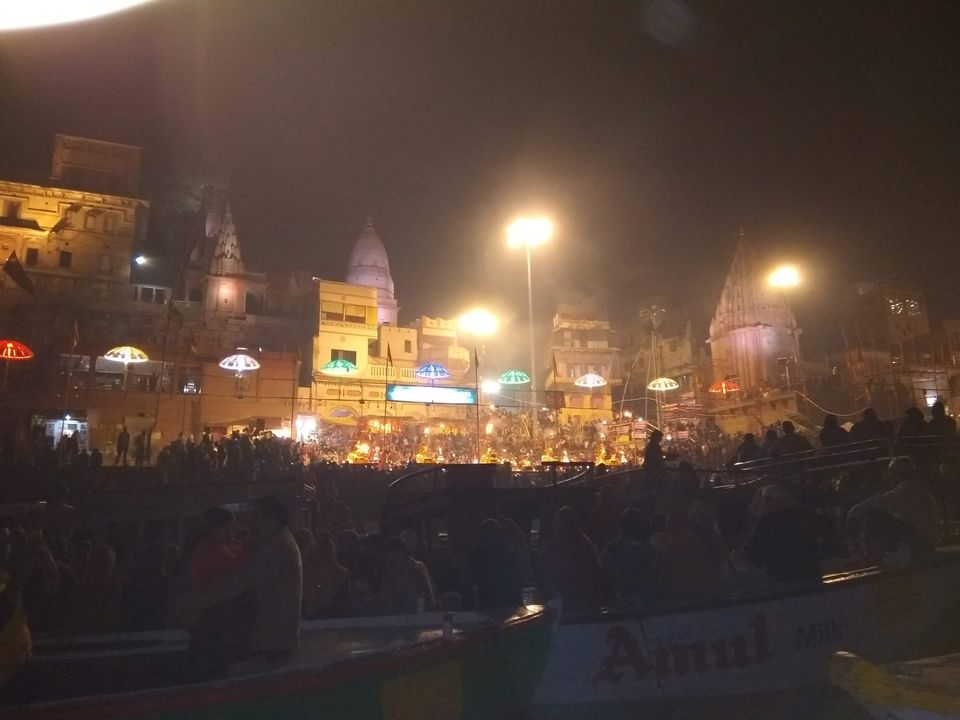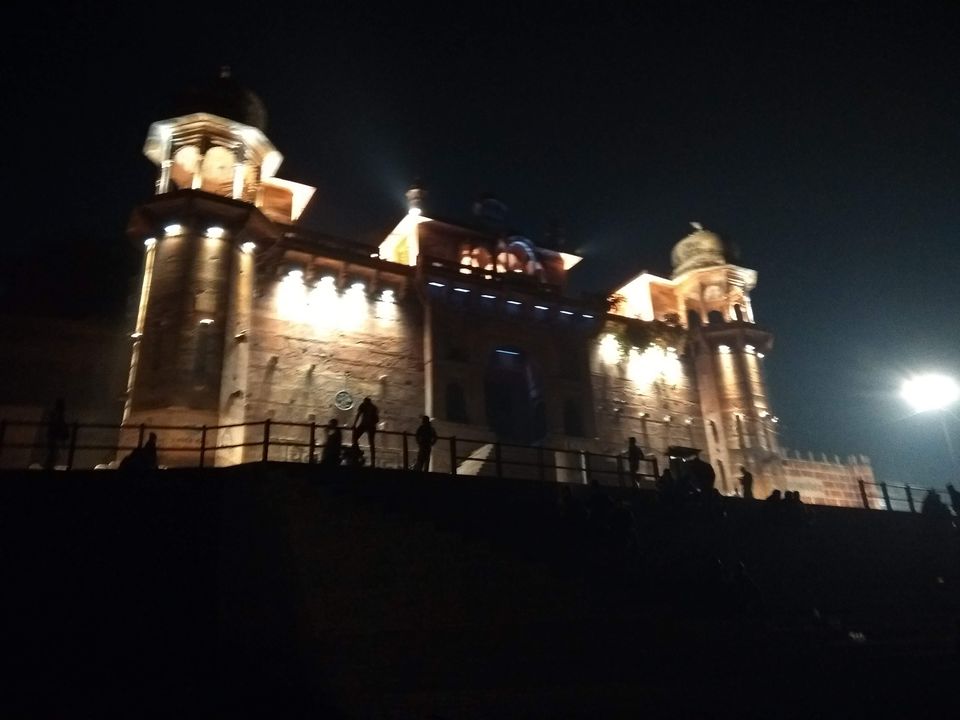 22nd Dec 2018: Reached Thane Railway station direct train to Varanasi (Train# 11093 MAHANAGARI EXP Thane to BSB Varanasi starts at12:10am
23rd Dec 2018: Reached Varanasi to will be reaching at 04:40 pm I was pleasantly to see lovely place took auto gone to Roadhouse hostel near to assi(80) ghat all my formality is completed in hostel then I meet my roommate Rashmi from Delhi, Cherie from Canada we all went to boating in river ganga and also saw Ganga Arati very closely today, the temperature was in single digit. It was full moon night on ganga river and close breeze. We saw all 80 Ghats with different names, out of which two ghats(Harishchandra Ghat and Manikanth) are for cremation.
Manikarnika Ghat: It is believed that a dead human's soul finds salvation (moksha), when cremated here. Lord Shiva along with Parvati came to Kashi before Vishnu to grant him his wish. Vishnu dug a kund (well) on the bank of Ganga for the bath of the couple. When Lord Shiva was bathing a Mani (Jewel) from his earring fell into the kund, hence the name Manikarnika, The ear jewel from lord Shiva fell down while he was dancing angrily, which fell on the earth and thus Manikarnika Ghat formed.
On the same day we had dinner in one of the famous Shiva restaurant, then moved to hostel overnight. We met a new person Rahul Singh from New Delhi he was one of the backpackers who visited Varanasi several times. We had a good time at Roadhouse Hostel's terrace. We discussed about city's places, temple darshan, bhang lassi, and Aghori.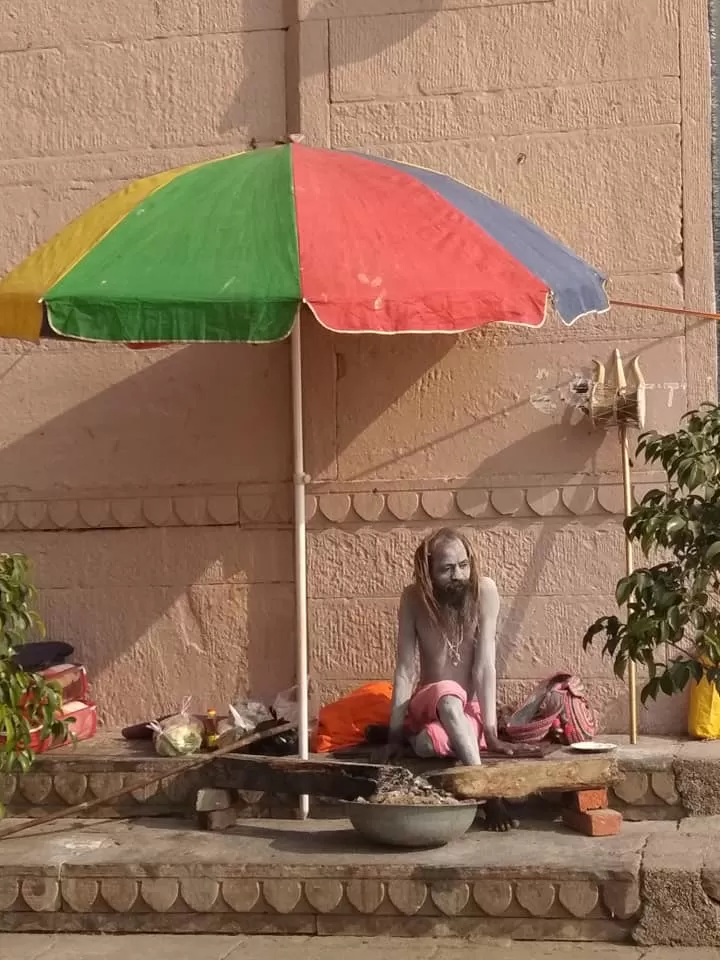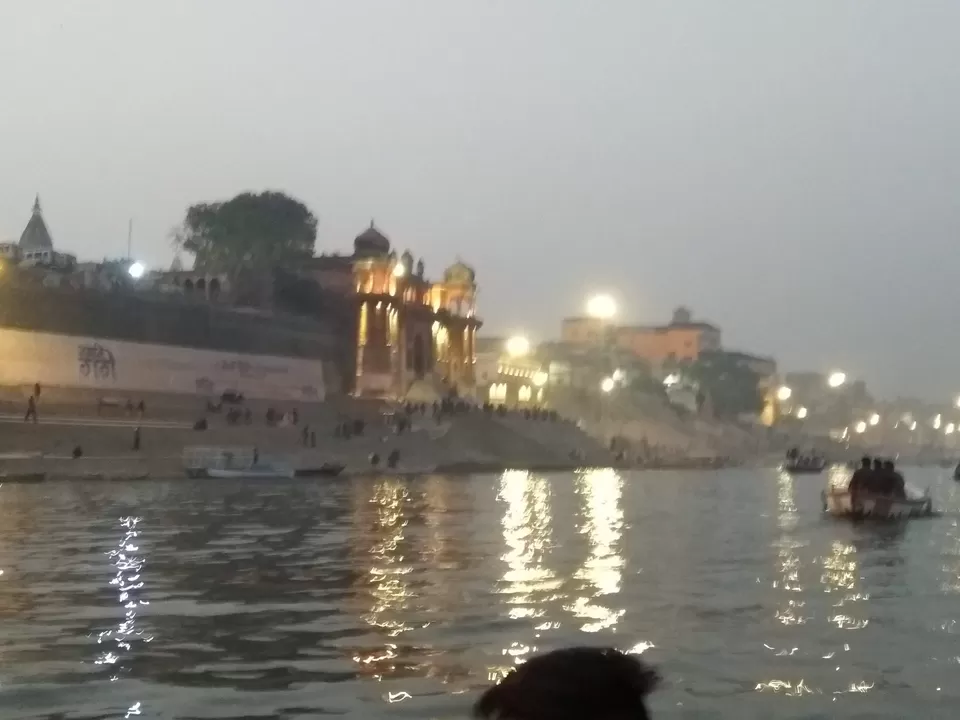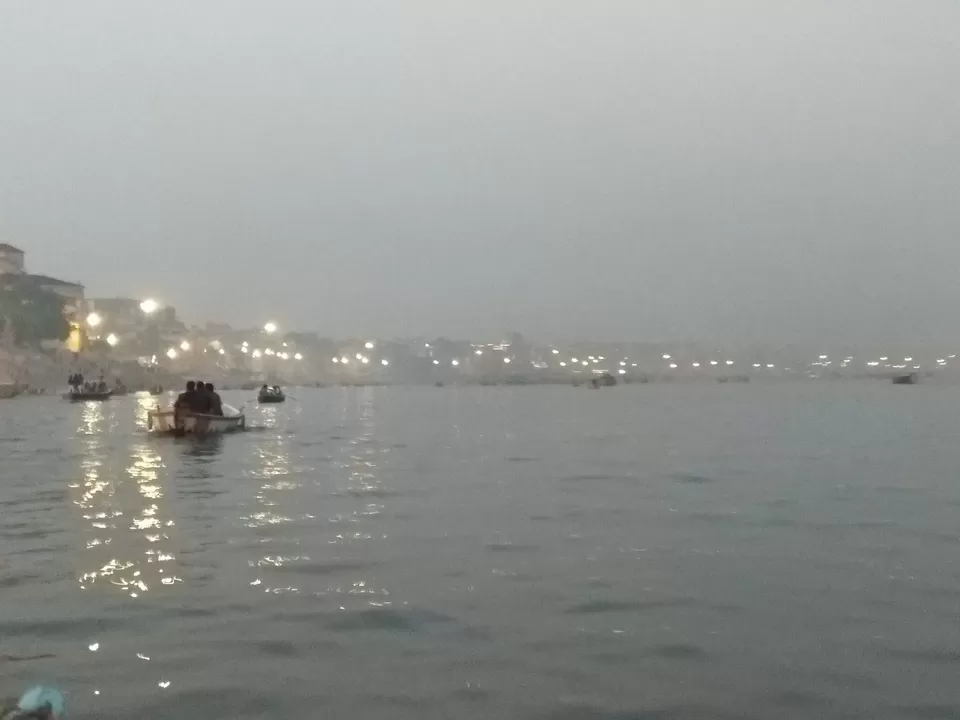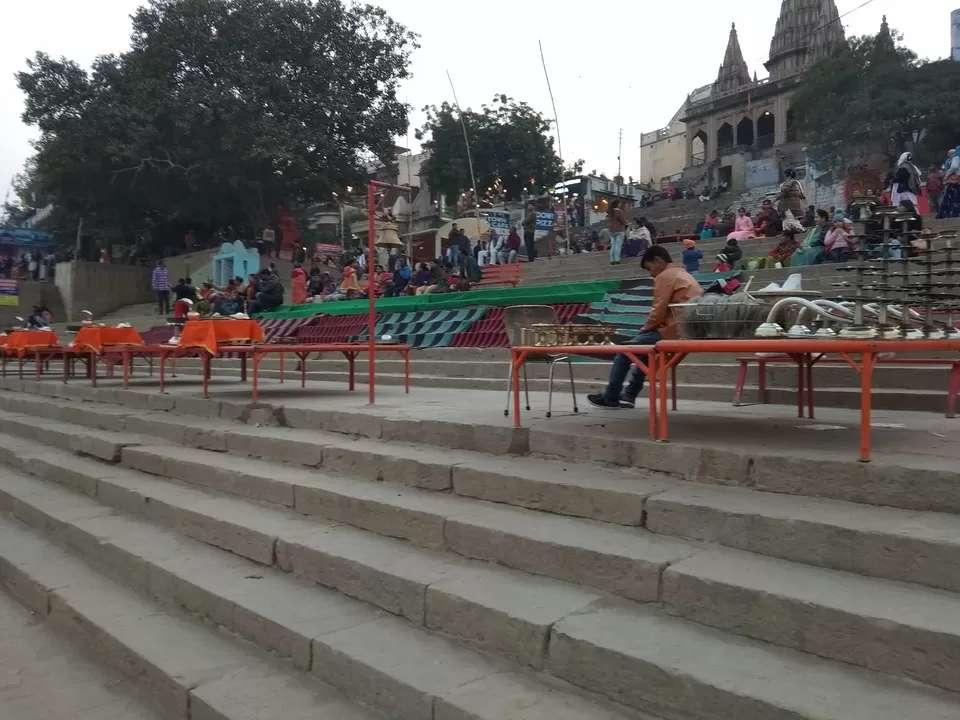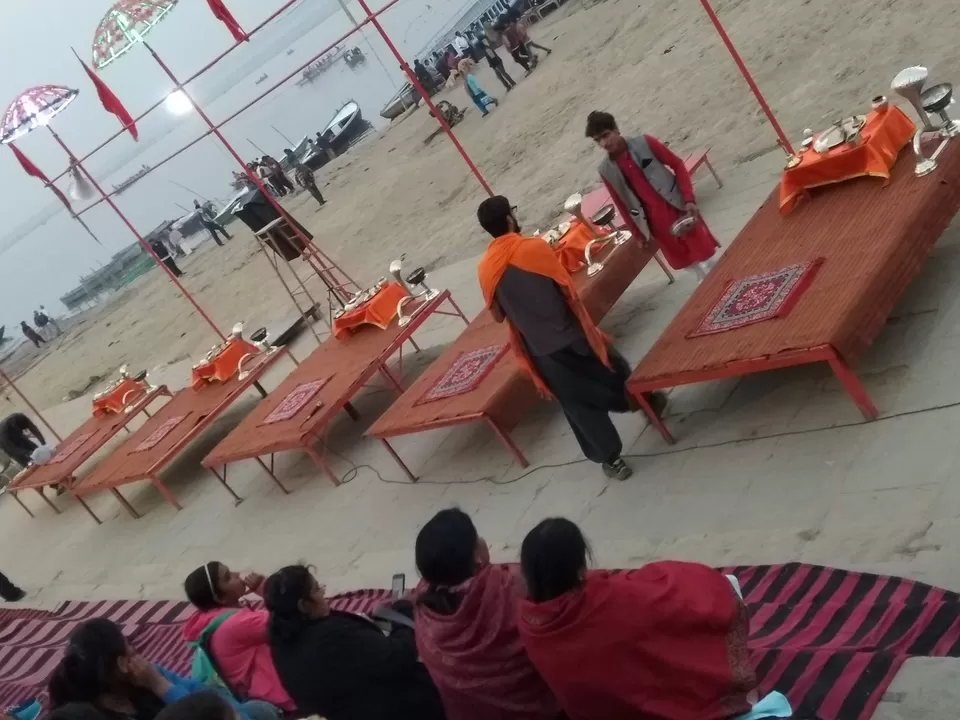 24th Dec 2018 (Monday) early morning 6am we started our walk through assi ghat vie Khasi Vishnwanth temple, it is 2.5Km from Ghat route. I would suggest everyone to take a walk through ghat route towards the temple for best views:
beautiful sunrise,
 Ganga river darshan,
Pilgrims taking holy dips& offering prayers
Swarms of devotees can be seen on the Ghats offering prayers to the rising sun
 The boating ride through different Ghats and close to the banks of Ganges
Noise and cheeriness even during 6 in the morning.
Sadhu doing Pranayama& Yogic breathing exercise
Deep in thoughts………
Women folk getting ready for Ganga puja at Tulsi ghat
Sadhus offering prayers to Surya @ Harishchandra ghat.
You will also see outstanding heritage buildings along the ghat. Dhashwamedha ghat this is the main ghat.
As you get a lot of opportunities to click the photograph, you can capture the life on Ghats. Morning/Dawn is the best time for taking photograph.
It was Monday on the way to Khasi vishnwanth temple huge crossed with length queue followed by different routes towards to temple. Fortunately we had a friend (Cherie) from Canada (a foreigner can go directly for darshan without any queue). It took us 30mins to complete the darshan post which we had various types of street food for breakfast. Later we went to drink Bhang Lassi.
(Guys I would suggest everyone if you planning to take Bhang Lassi, don't plan anything for rest of day. It will kill your entire day and pls take lots of water for the day to detox your body.)
On the same day we could not go anywhere as we were at hostel taking res. Bhang affected us very badly.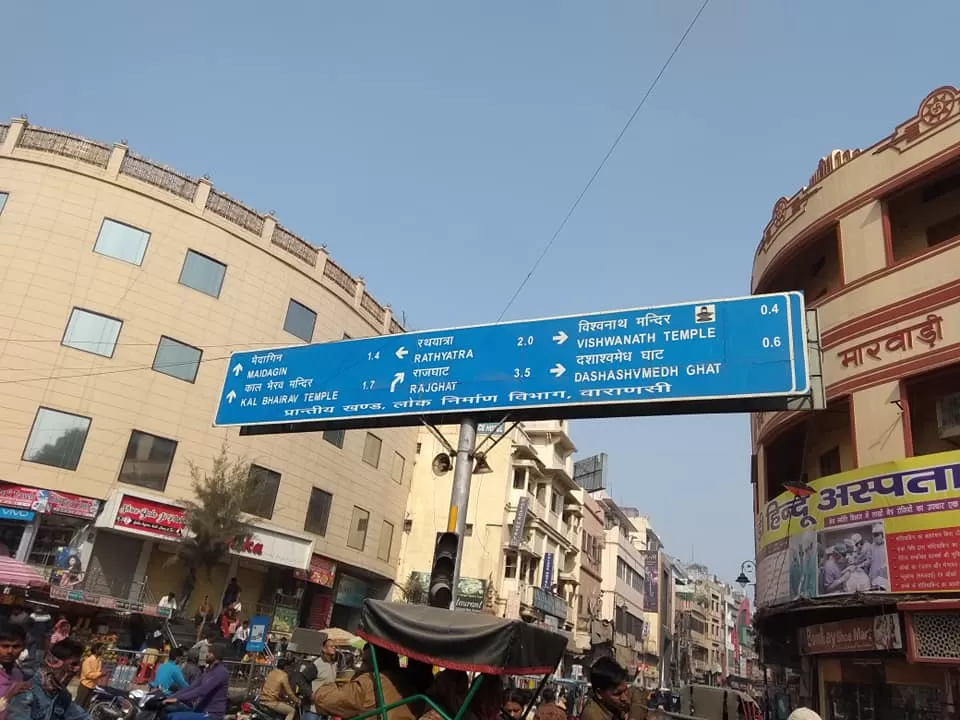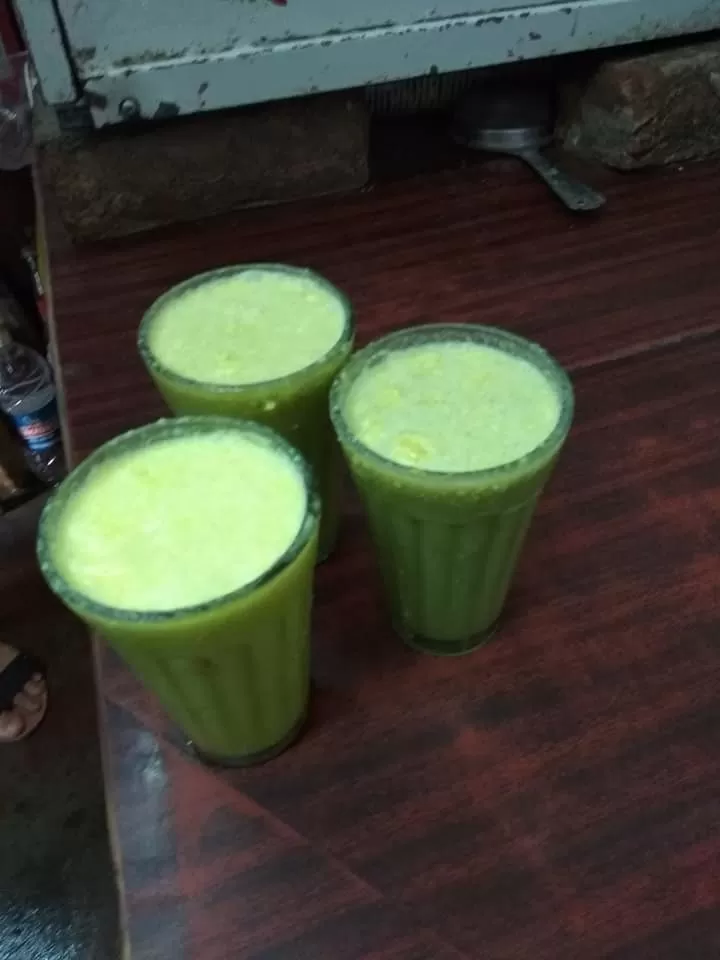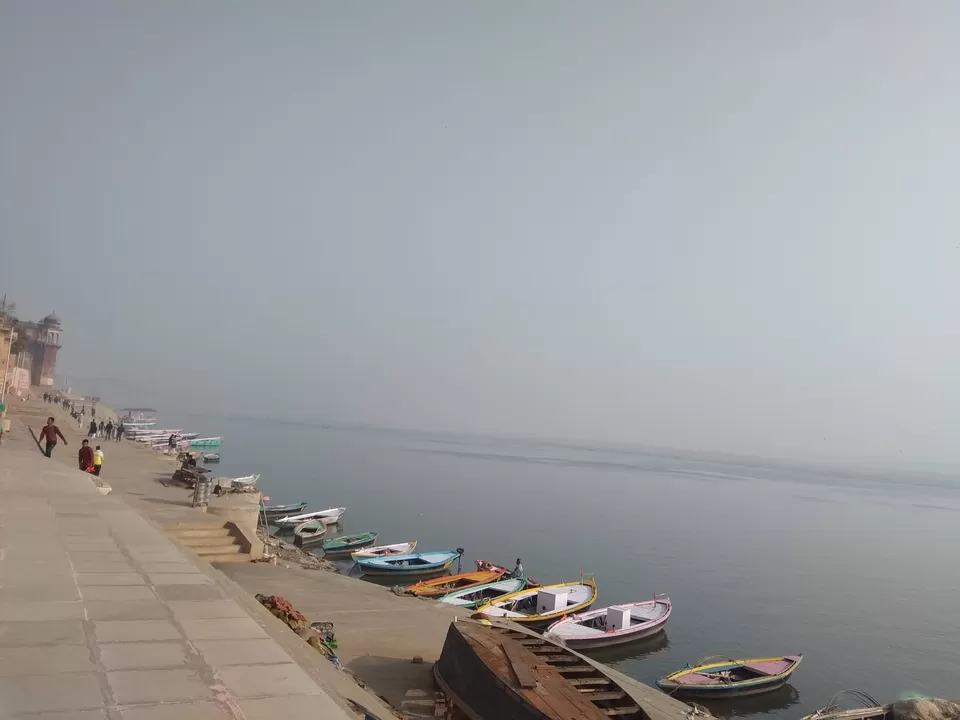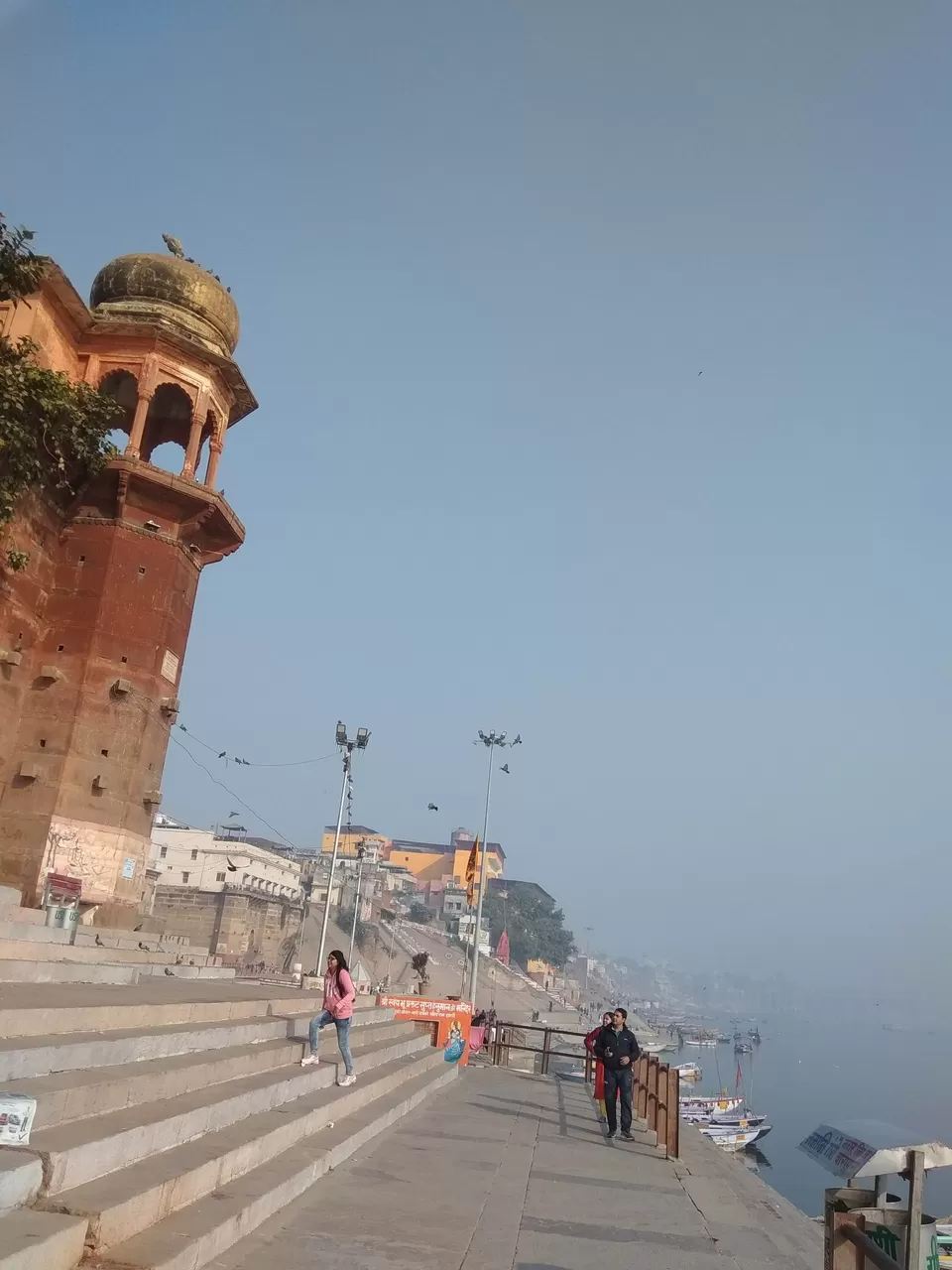 25th Dec 2018: As it was Christmas, we celebrated along with Cherie at New Bread of Life Bakery & Restaurant. Once the cake was cut, we started exploring the old Varanasi city. In an evening we visited Ganga ghat, an amazing place with a lot of young crowd and energy. Today Rashmi and Rahul left to delhi by evening bus. Me & Cherie were roaming near Ganga ghat.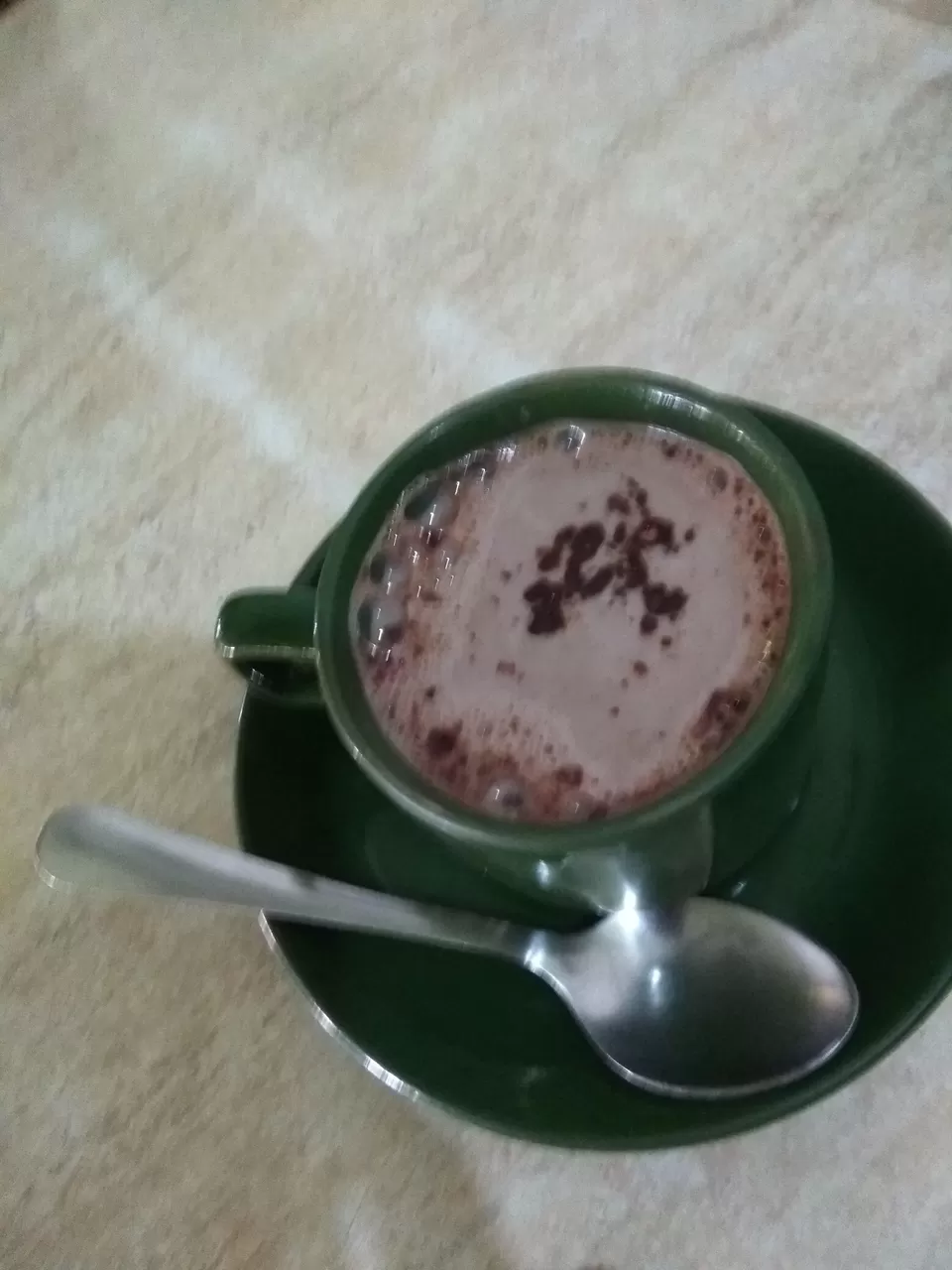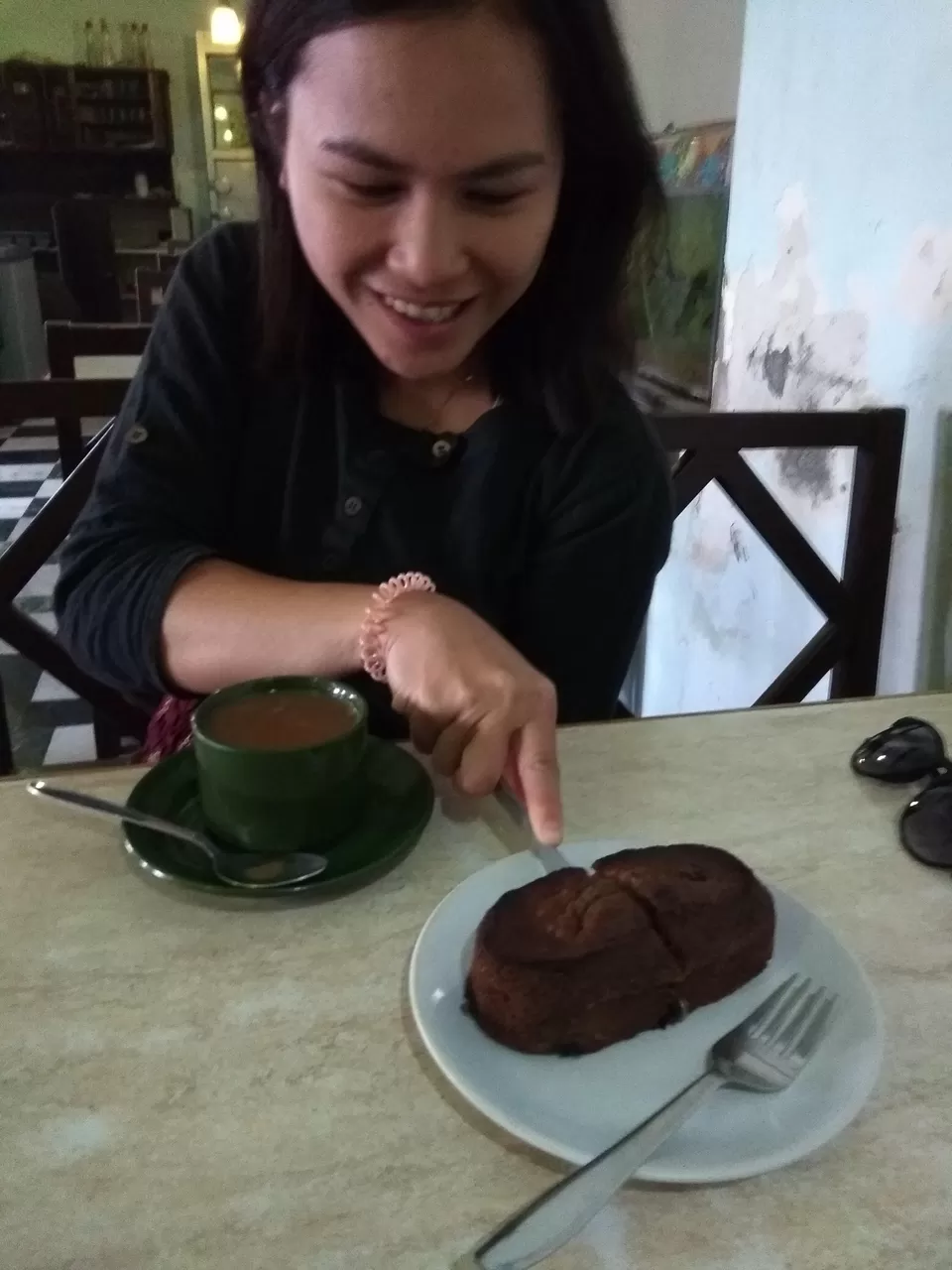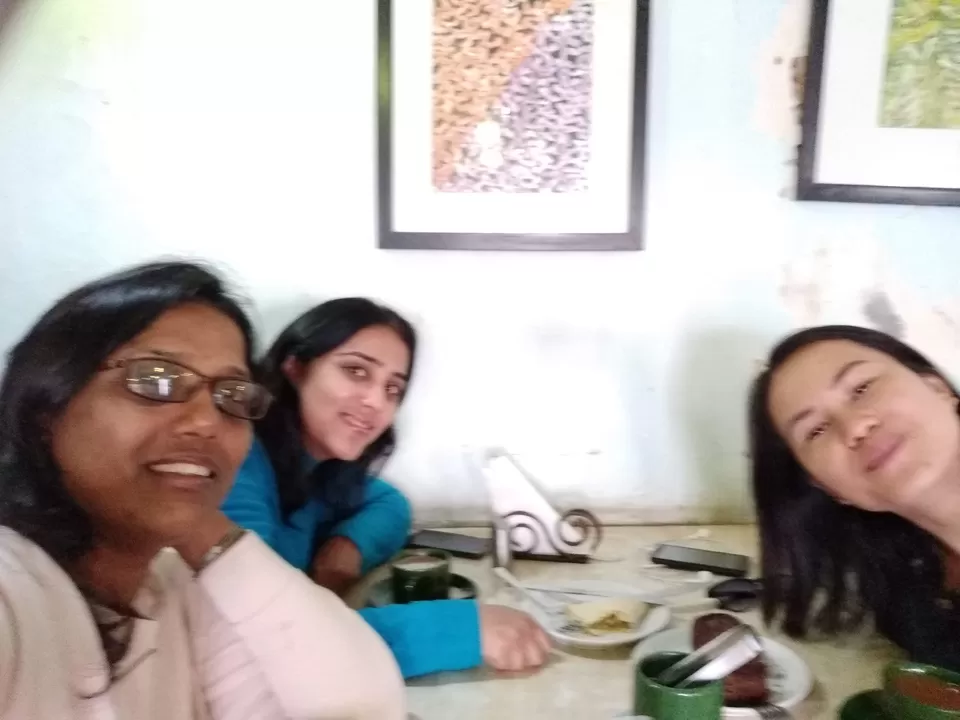 26th Dec 2018: I have gone for one more darshan before leaving this place, we had to check out from hostel and moving to next destination, Cherie was leaving for Jaipur by bus and I was leaving jasidih junction by train. It was an overnight journey train (Amritsar to Howrah express 13050) this train got delayed by 3hours because of cold and fog temperature is single digit.
27th Dec 2018: When the train is passing through forest area at 9am I have decided to come back to Varanasi immediately once the darshan is complete this is place is around 5km away it was interiors area full of forest to complete baidyanath dham way from 10kms. Apart from me there were three more families in my coach. One of the families asked me to join them (they are of 4member Head of the family is Mr &Mrs Sunil Sharma and younger son and daughter) they were coming from (Chandairghar to jasidih and back to Varanasi ).Reached jasidih junction by 10am, we did not stay anywhere, we hired a local auto to reach Baijnath temple and visited local place till 5pm. We directly went to Baijnath temple I, Uncle & Aunty dropping our language in auto along with his son is taking care of our language. It took 15mins to complete the darshan once we back his son and daughter went for same every place we did the same. Bijnath is a very old place and nothing is available surrounding all the way we have move to other direction to see next place in that area (Trikuta Parvata, Ramakrishna Mission Vidyapith, & Maa Kali Mandir) by 5pm we finished back to railway station our train at 8pm towards to Varanasi. It was nice day meet new people & good family members. Next day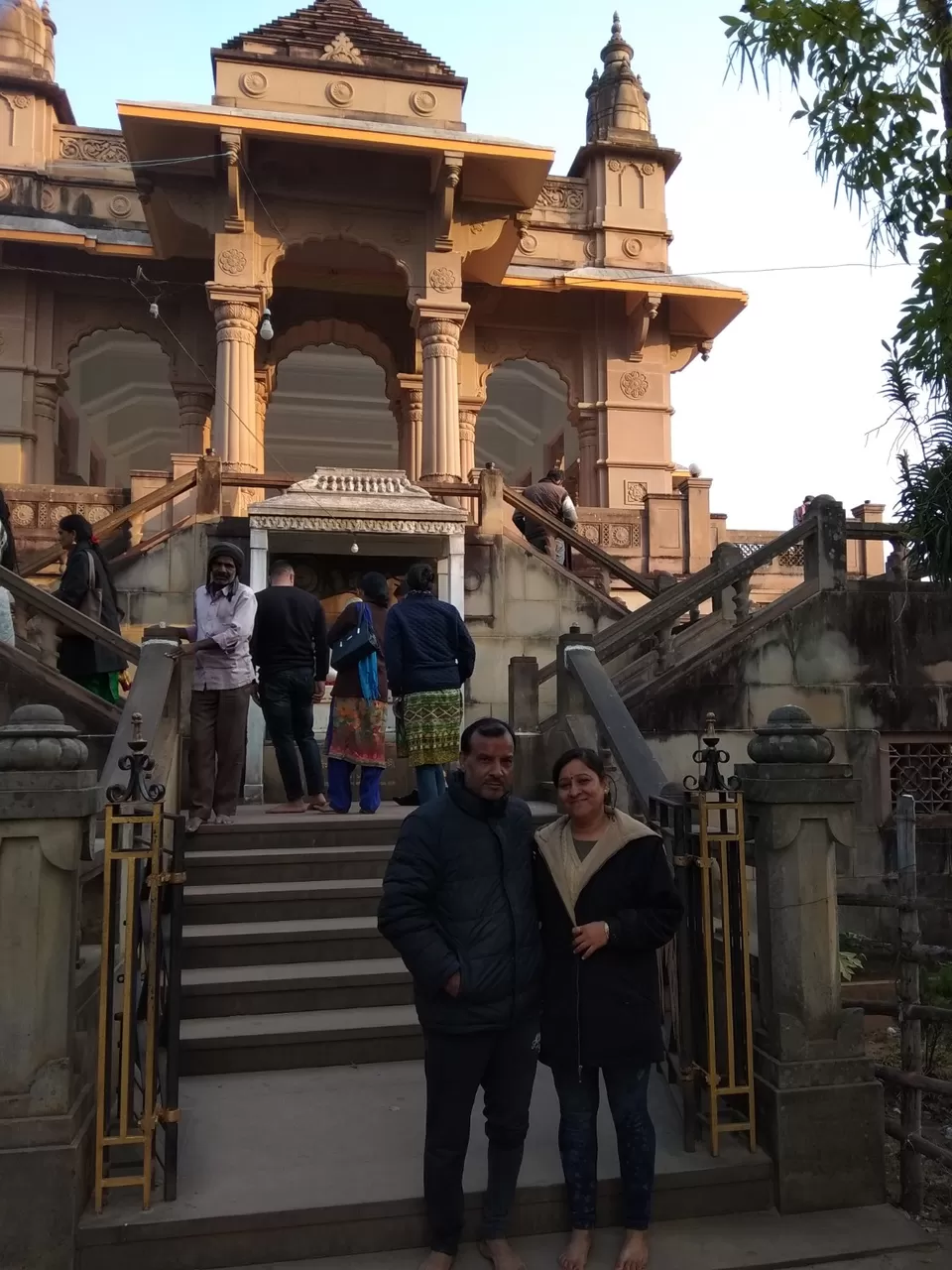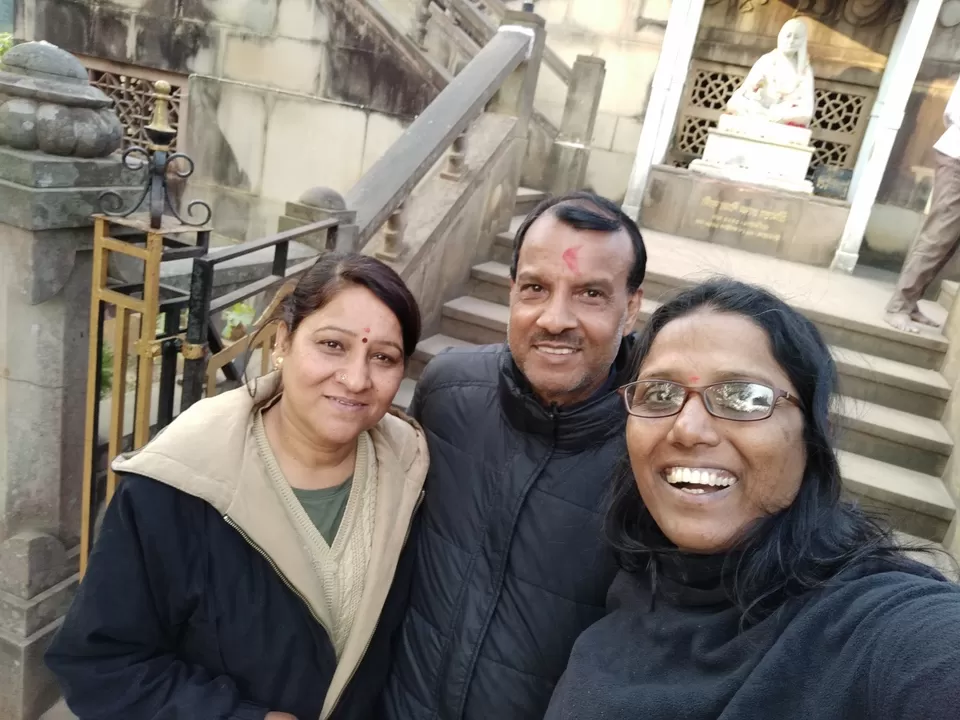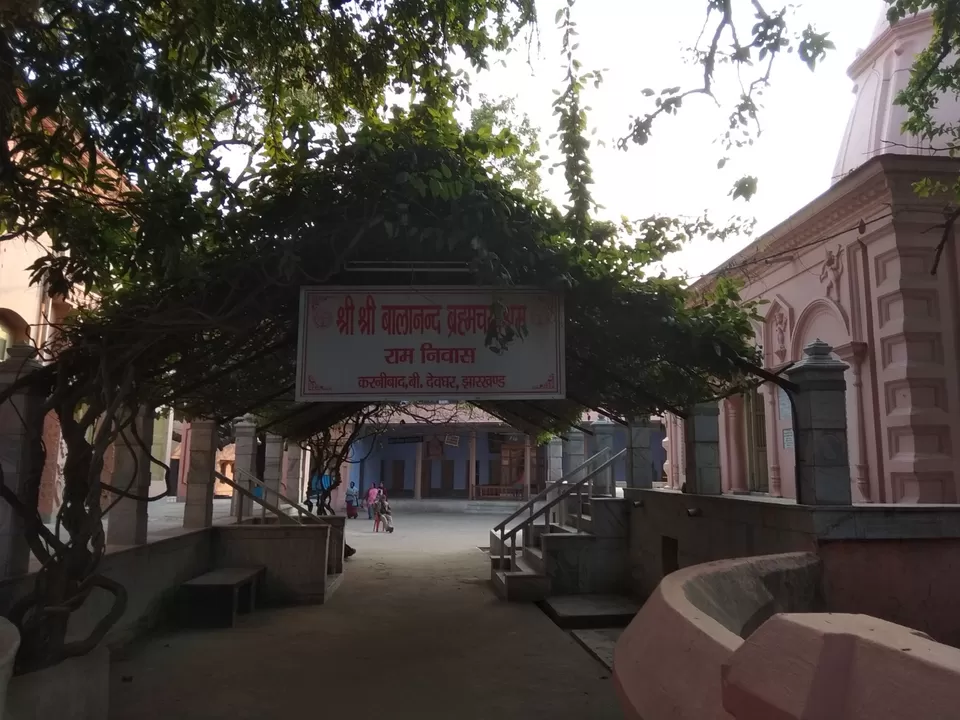 28th Dec 2018: Reached Varanasi by 10am and moved to Road house hostel stay and went to Allahabad for Prayagraj very famous for Triveni Sangam, "three-river confluence", original name – Prayag, "place of sacrifice or offering" – which lies at the sangam (confluence) of the Ganga, Yamuna and Sarasvati rivers a propitious place to conduct sacrifices. It plays a central role in Hindu scriptures. This place is getting ready for "Maha Kumbh Mela" once holy dips completed took bus back to Varanasi stayed at hostel for till 29th Dec 2018.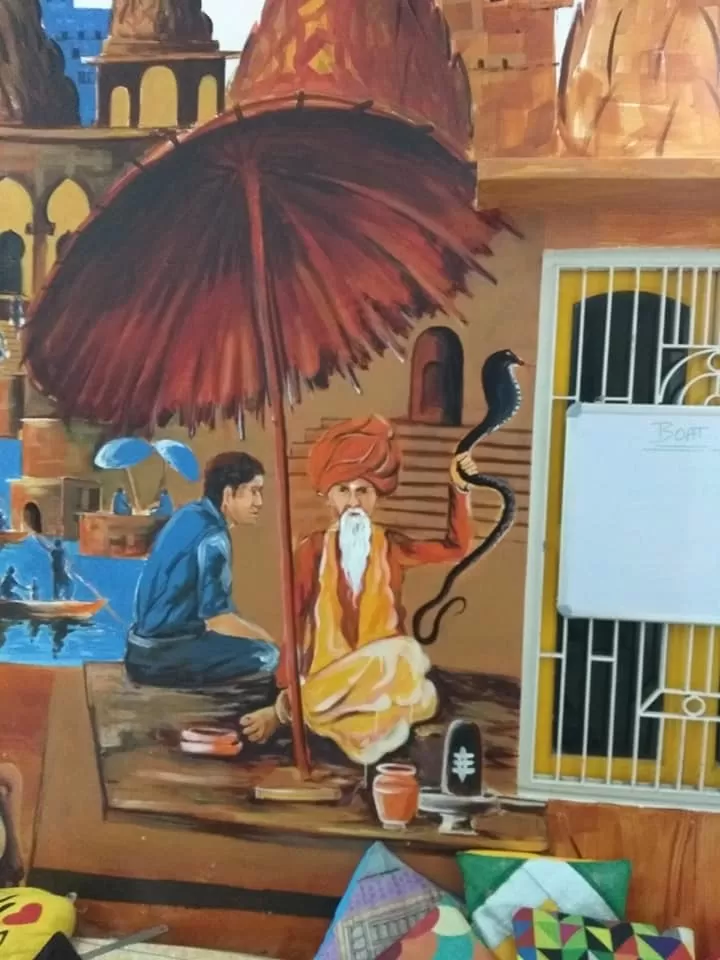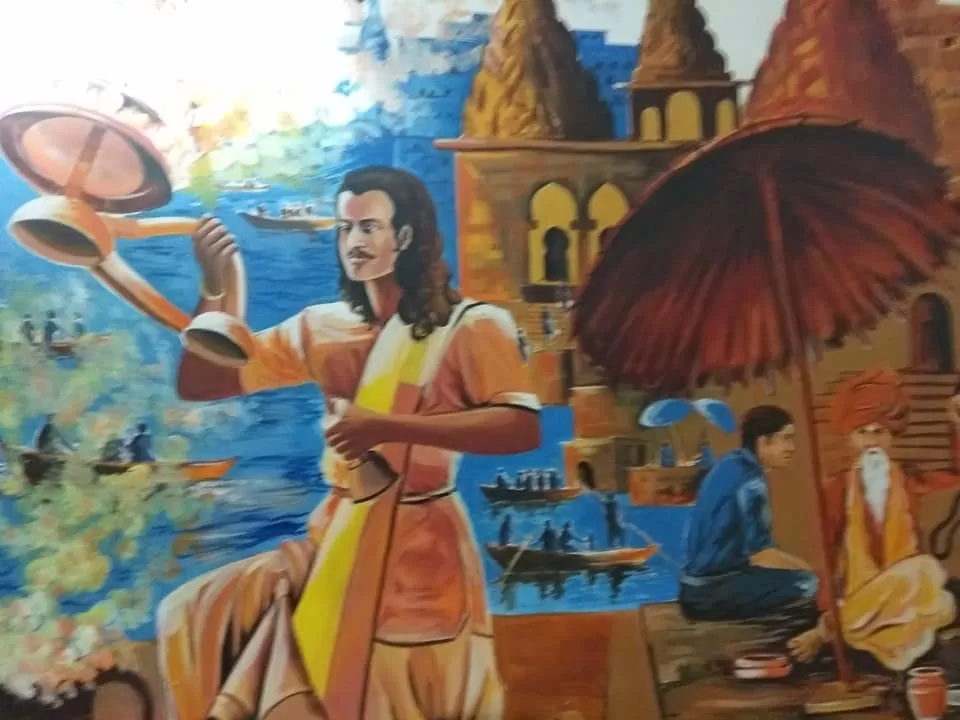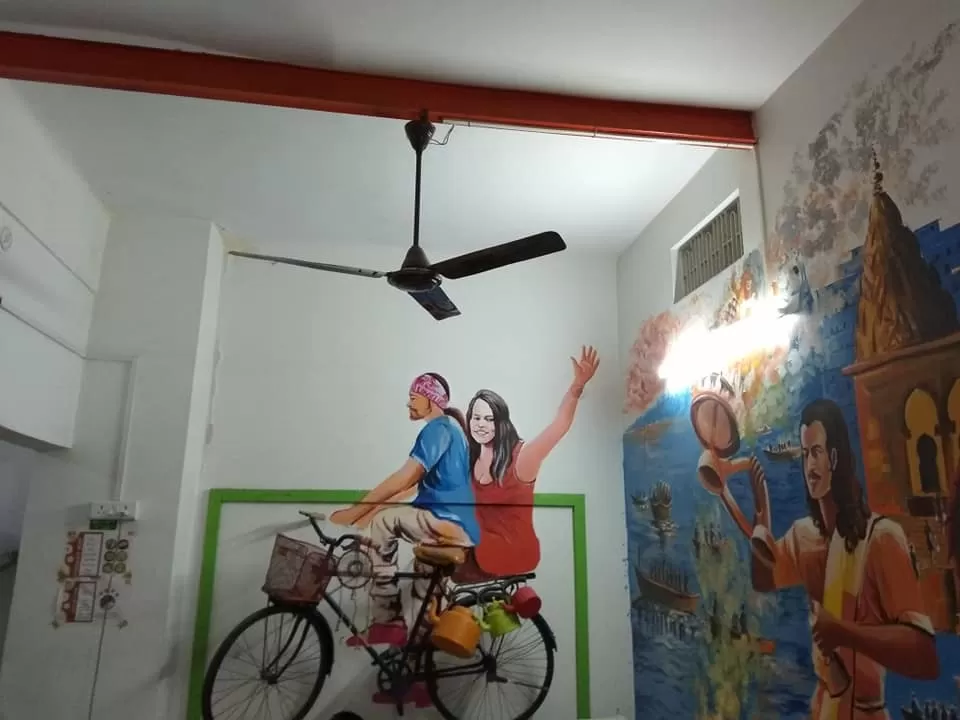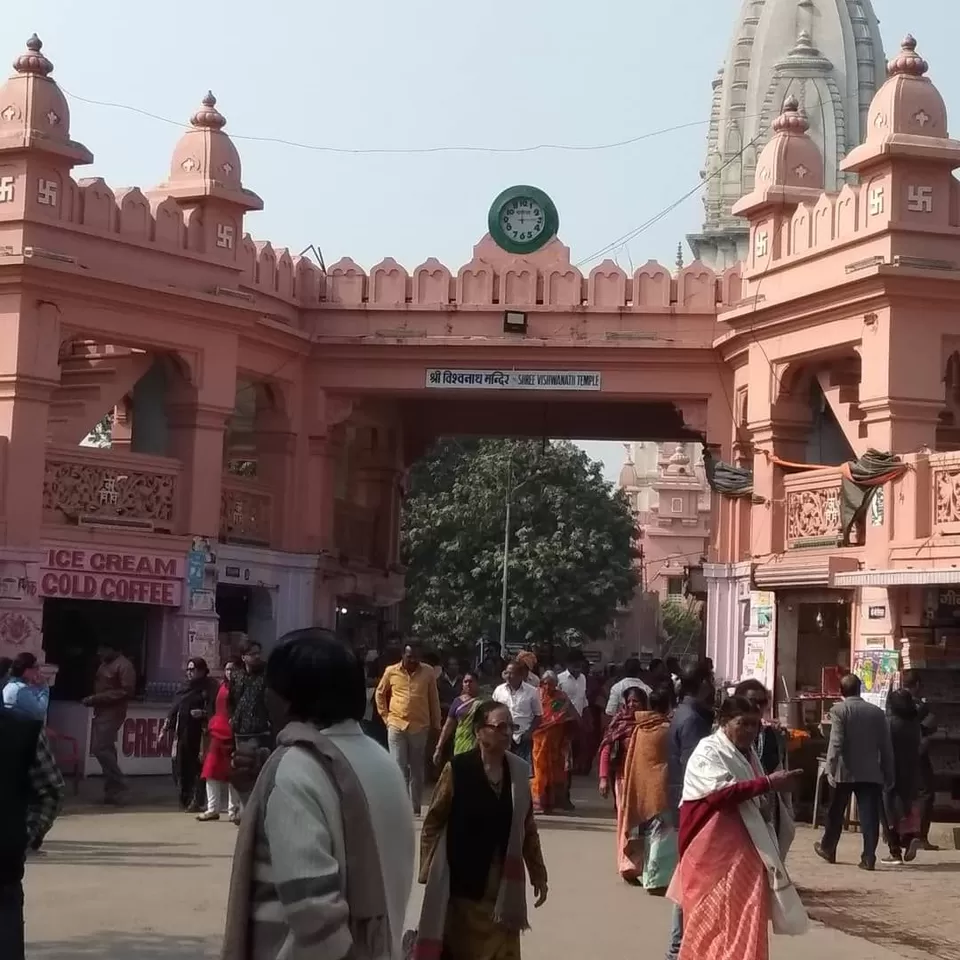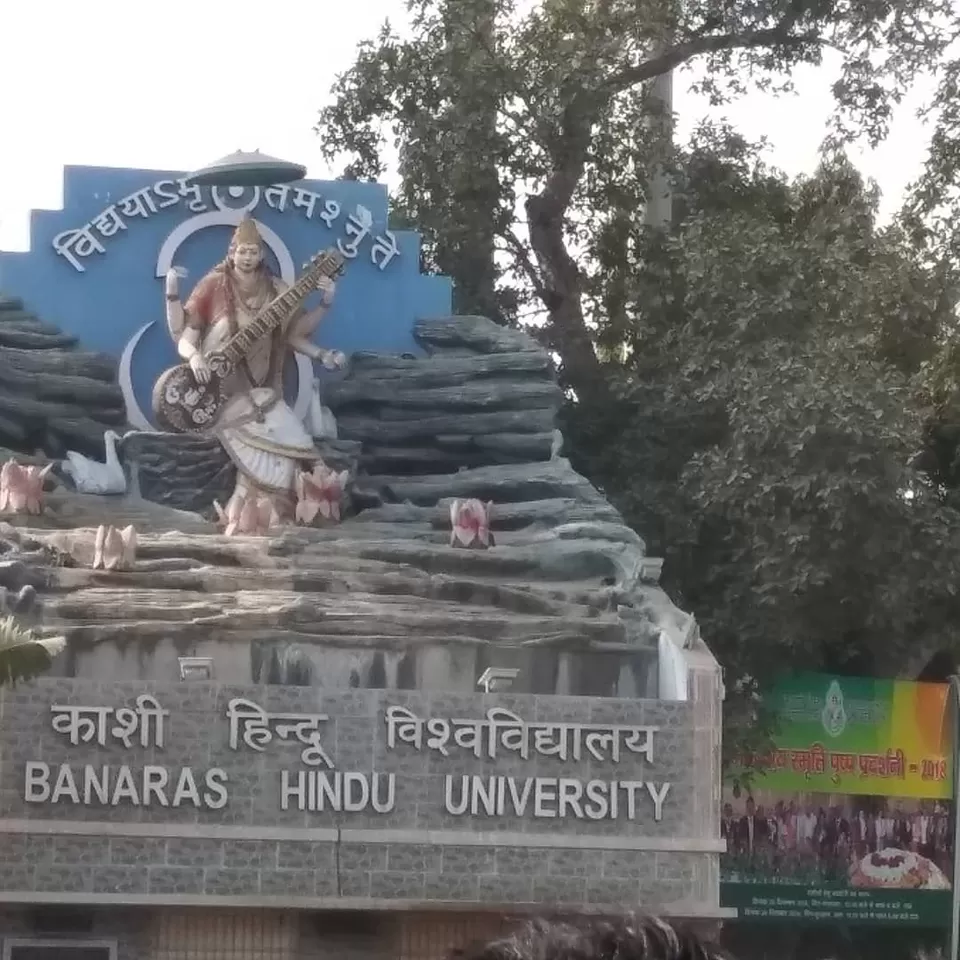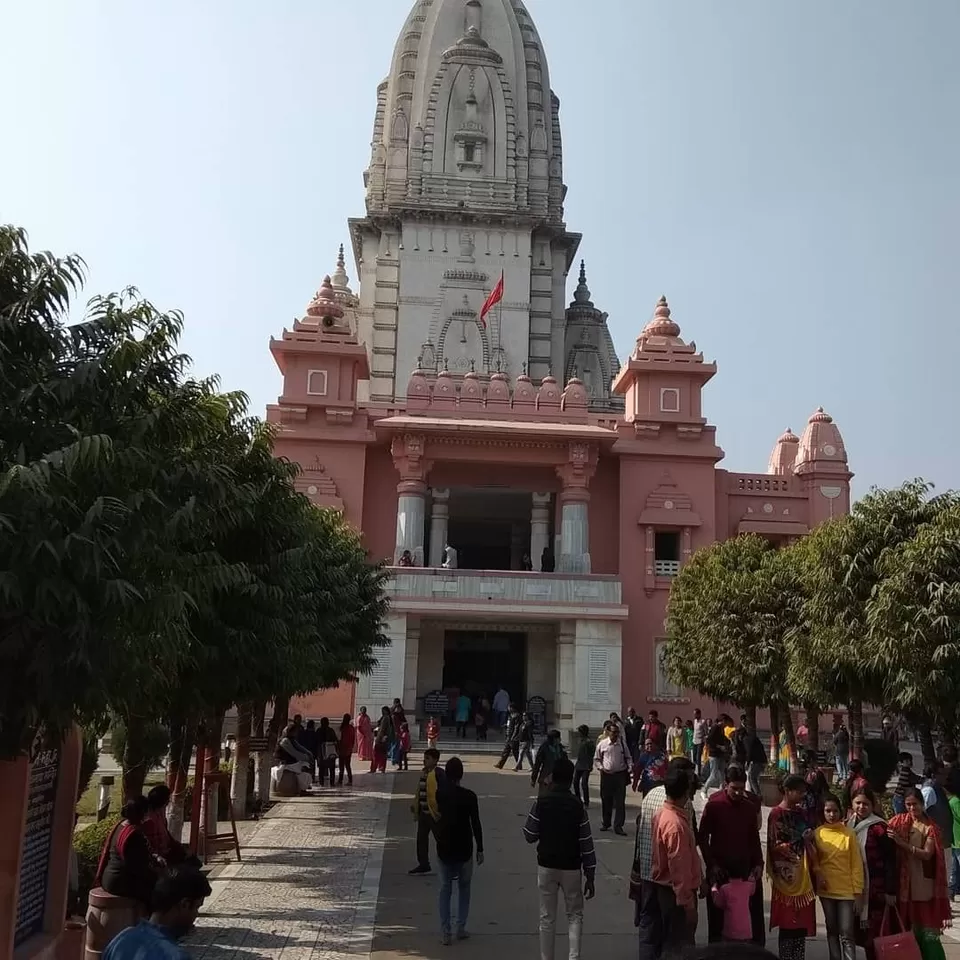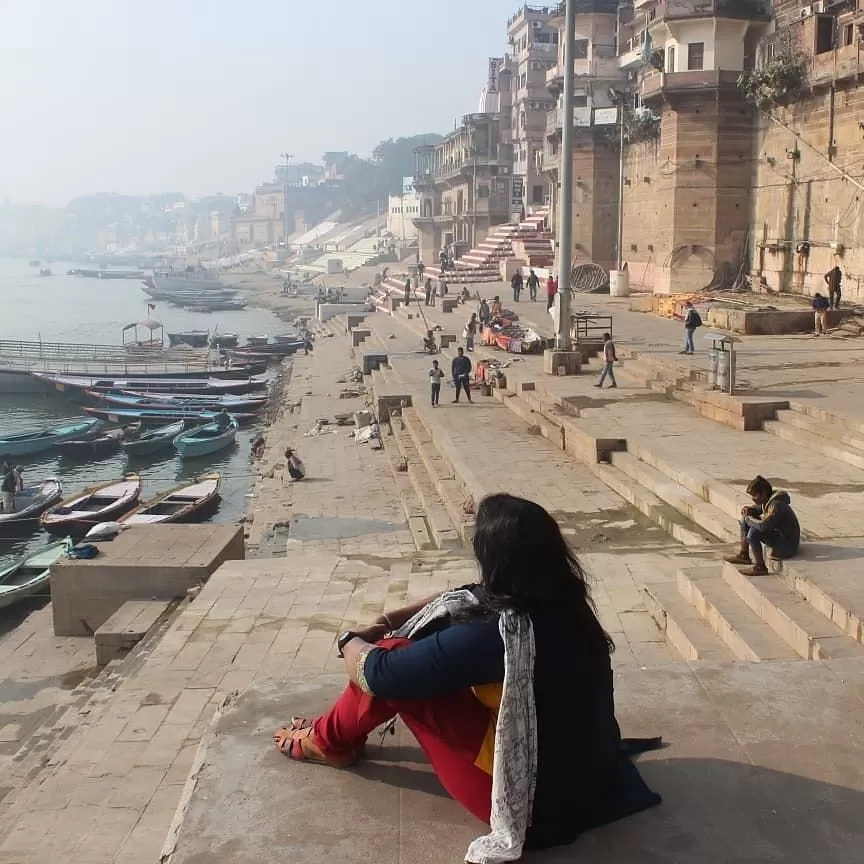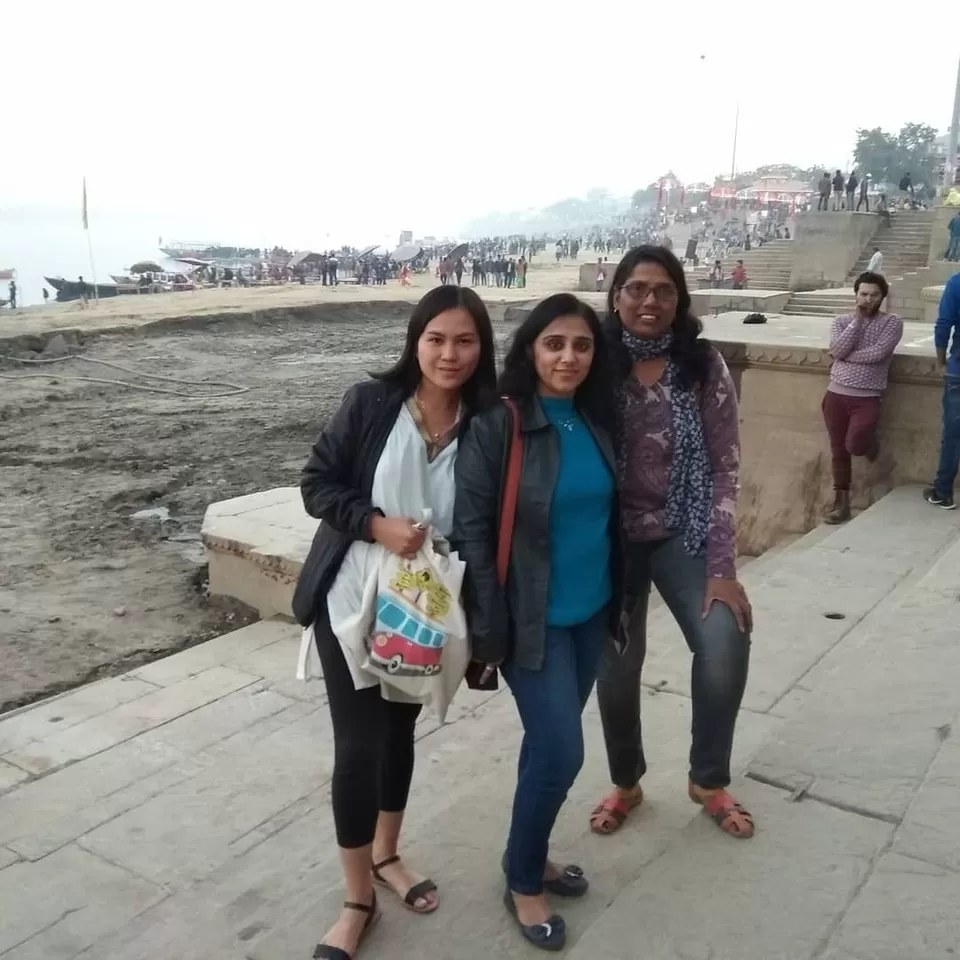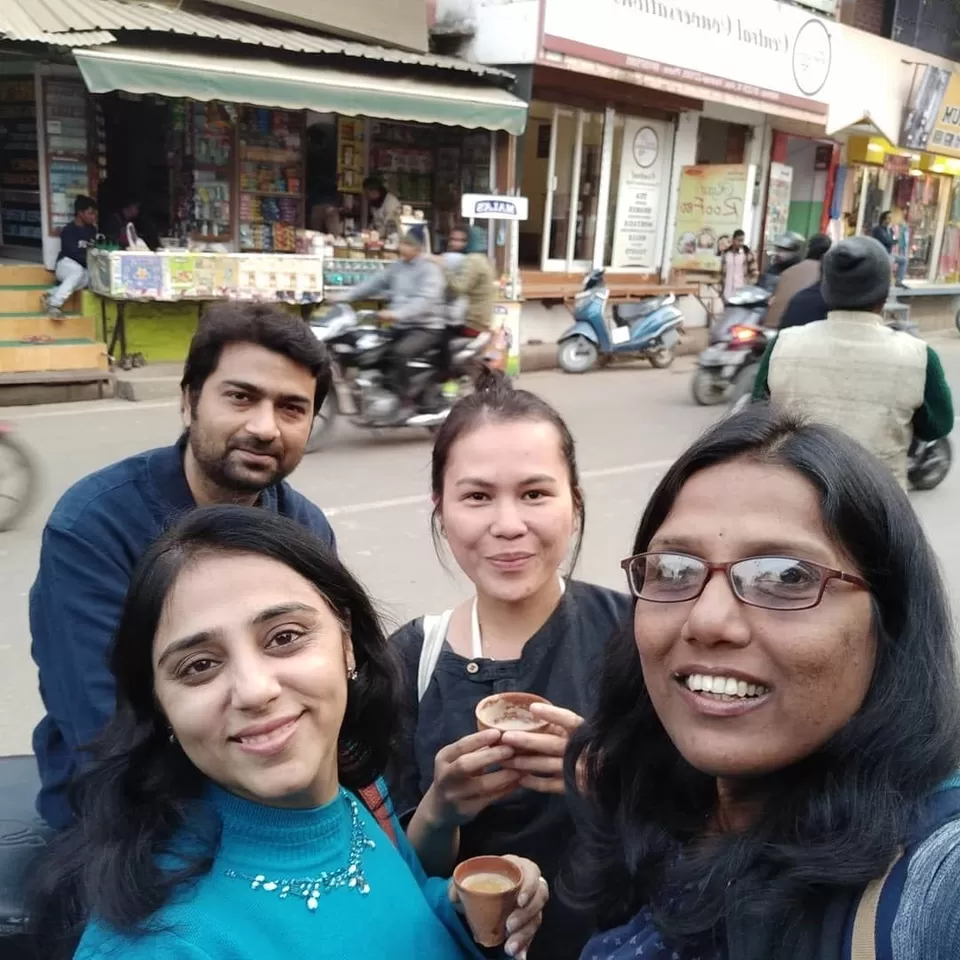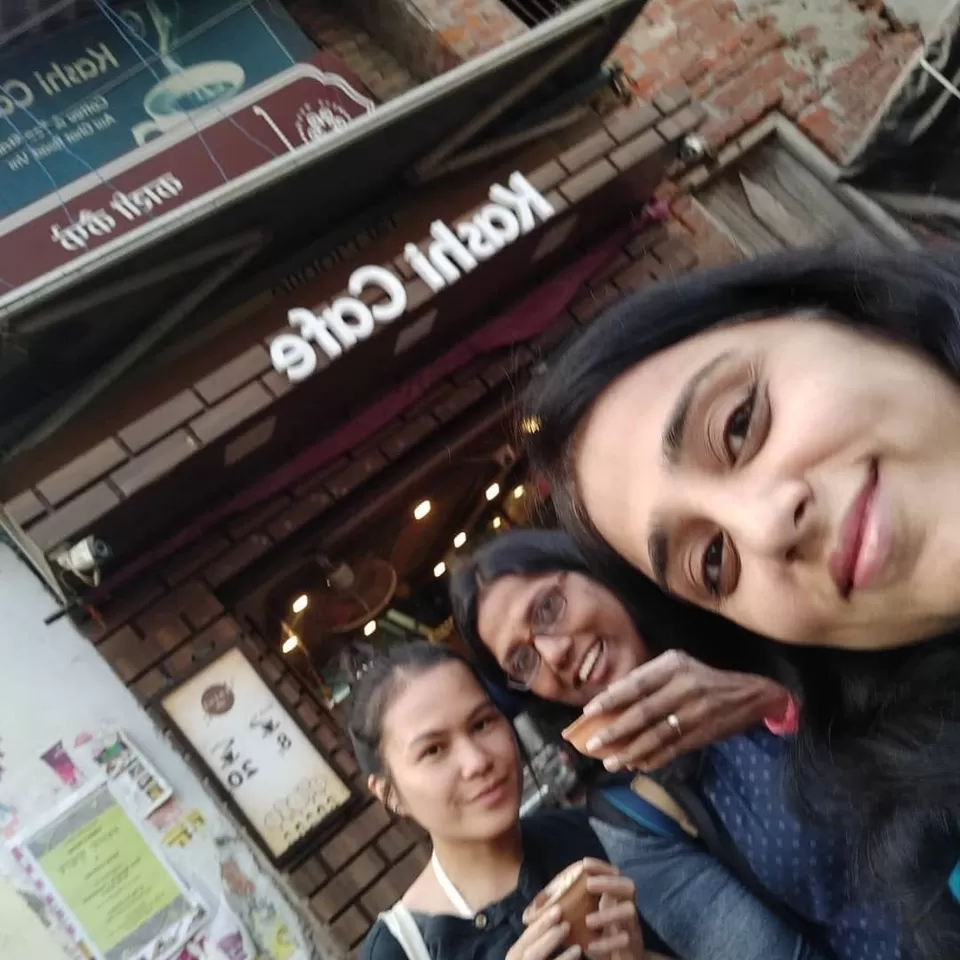 30th Dec 2018: Check out from Hostel and moved to railway station towards to Mumbai for New year celebration train Mahanagari EXP 11094 started at 11:20 from Varanasi
31st Dec 2018 : Reach Thane by 12:30Pm …..
Hence I started my journey as solo but I meet few other traveller to visit
Meeting new people will become a daily occurrence and that will quickly teach you never to settle for less. You will establish your tribe, a mixture of old friends and new. Initially you'll let all kinds of weird and wonderful people into your life but you'll quickly learn to be discerning about who sticks around.
Varanasi is one of the nice place I have ever enjoyed. I recommend all traveller to explore this place, hence it is a holy city but I can beat you will enjoy.