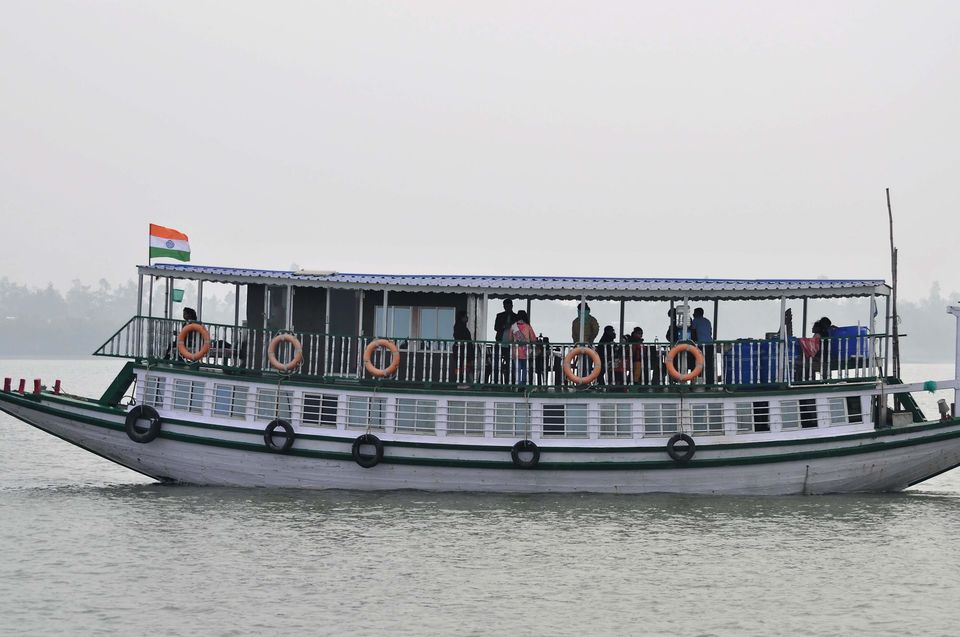 Sunderbans: the southernmost tip of Bengal is famous for many reasons – this UNESCO world heritage site is known for its dense mangroves, the largest delta, interwoven network of channels and tributaries, local folklores, one of the four biodiversity hotspots in India, and of course the home of the majestic Royal Bengal tiger, locally known as Dokhin Rai.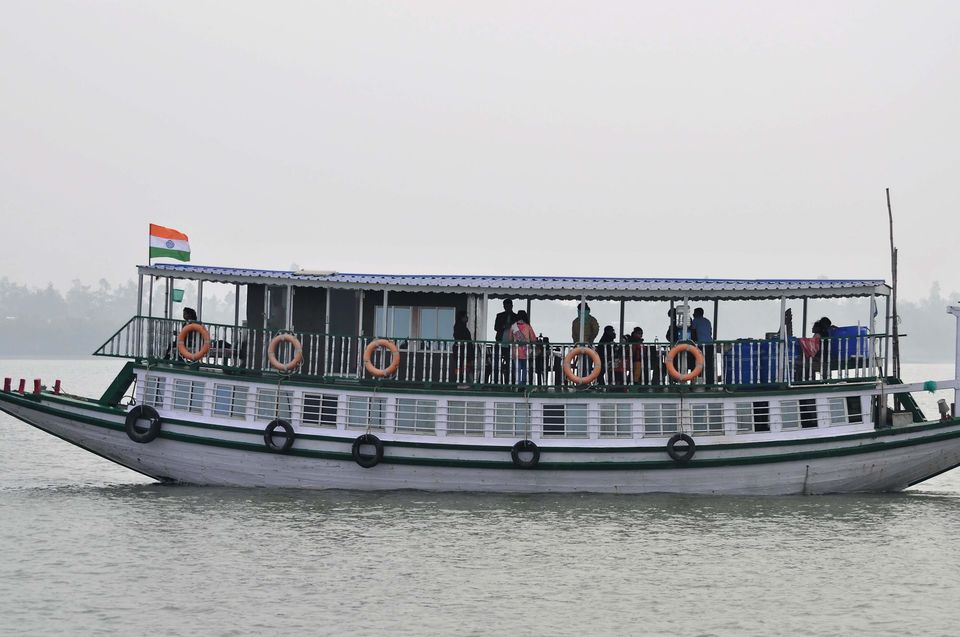 A trip to Sunderban has been there in our bucket list for a long time and finally, we were able to visit this magnificent place this winter. There are many tour operators who offer tour packages for Sunderban along with the ones managed by the West Bengal Government tourism department. We chose a private tour operator for our trip and we were bowled over by their arrangements of the entire trip.
Best Time to visit Sunderban
We knew that December would be a peak period for visiting Sunderban because the weather remains pretty cool and of course the year-end holidays. Since we were traveling with our parents and daughter, we ensured that all our reservations were done well ahead of time.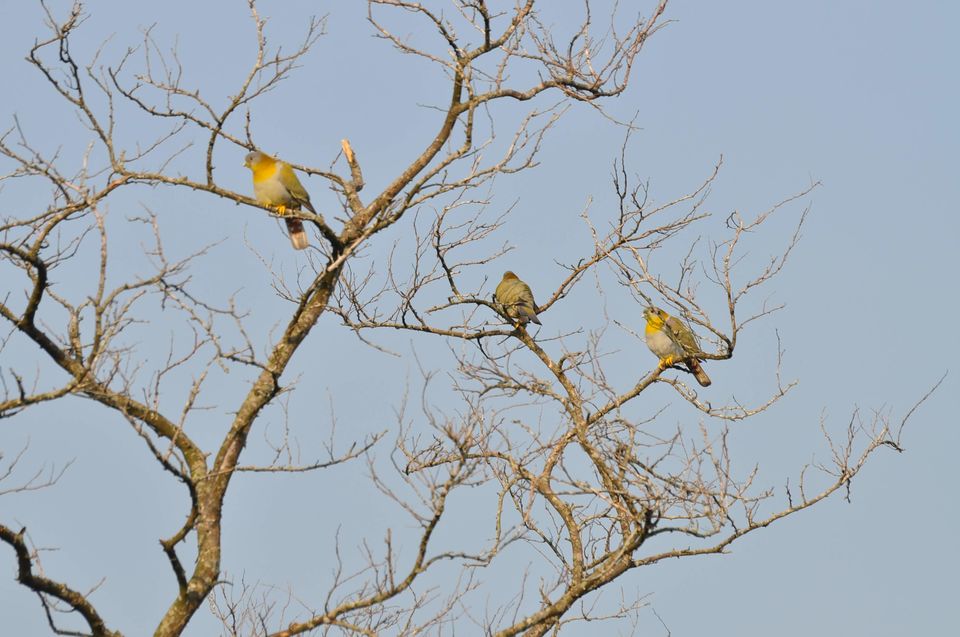 Day 1
We took a good three hours bus ride up to Godkhali. From here we were transferred to a ferry that took us to our destination – an island named Satjelia. Sunderban has over 100 islands, Satjelia being one of them. We avoided staying in popular islands like Sajnekhali or Goshaba because these islands are usually overcrowded during this time of the year.
It took us around two hours on the ferry to reach our island. Food was served on the ferry so that we could enjoy the serenity wholeheartedly. Since ferry is the only way to move around in Sunderban, all the ferries are equipped with basic toilet facilities (just in case you're wondering what to do amidst water in case you need to relieve yourself)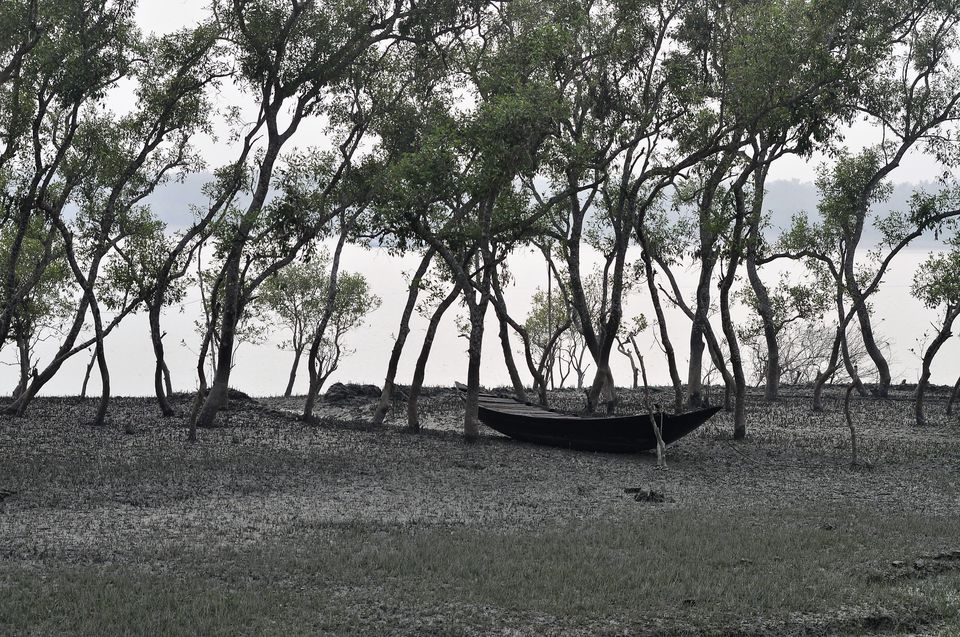 Our stay at Satjelia island
Satjelia is a beautiful island that tucks in a small village known as the Sukumari village. We stayed in an eco-village which is beautifully done keeping in mind the natural surroundings. After finishing our lunch, our tour guide took us for a village walk. The island was affected badly during the recent cyclone Aila and Bulbul and traces of the damages could be seen on the island. In the evening we went for a boat ride – witnessing the sunset in the backdrop. The calm and quite water, the dense forest and the chirping of the birds – made the whole surrounding peaceful and relaxing. Our boatman, a local in his mid-50s, told us about the livelihood of the people of Sunderban and stories that are seldom spoken of. He told us about the honey collectors and the fishermen and how they worship "Bonobibi or Bonodebi" the local goddess of the jungle before going in the forest irrespective of their religion. The locals believe that Bonobibi will save them from tiger attacks in the jungle.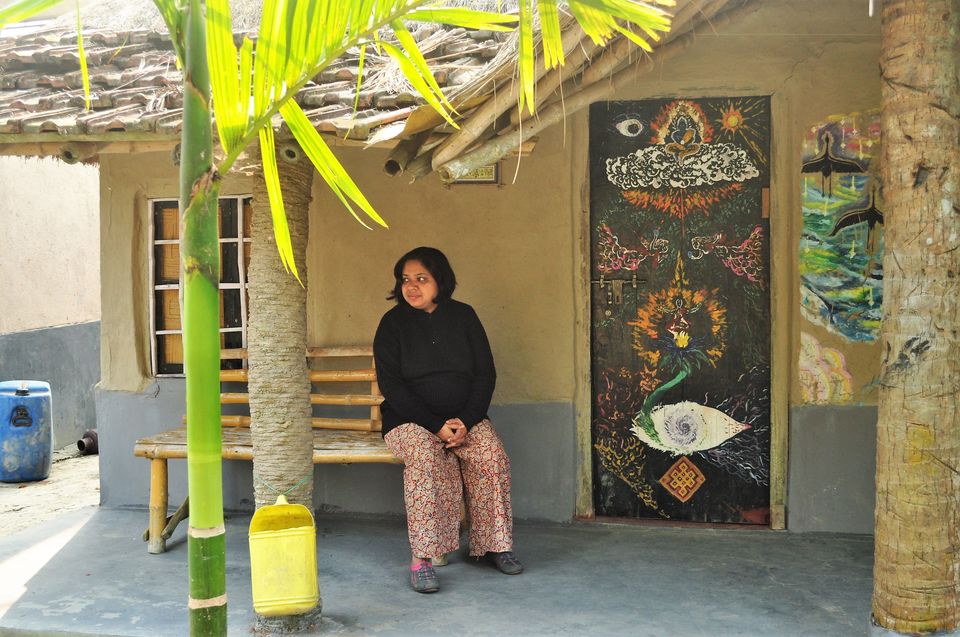 Local folklore that will give goose bumps
Tiger attacks are common in Sunderban villages – so much so that hardly there is any family that is spared from tiger attacks. He told us how the tiger could swim and attack the boats in the water, how the tigers check the water depth by dipping its tail in the water, and many such stories that will give you goose bumps.
We returned to our mud huts later in the evening – tired and exhausted but a heart filled with pure joy. After a sumptuous authentic Bengali meal cooked by the local women of the village, we retired in our respective mud huts.
Day 2: A day amidst mangroves
The next day, we started early, clad in warm clothes and fingers crossed to spot the Royal Bengal Tiger. As we rode through the water, I could see the mangroves and their breathing roots (pneumatophore) that I once studied in my biology class. Our guide also showed us the famous "Kakra" tree that has bright red flowers resembling crab or Kakra in Bengali. The tree is also known for viviparous germination where the seeds germinate while still attached to the parent tree.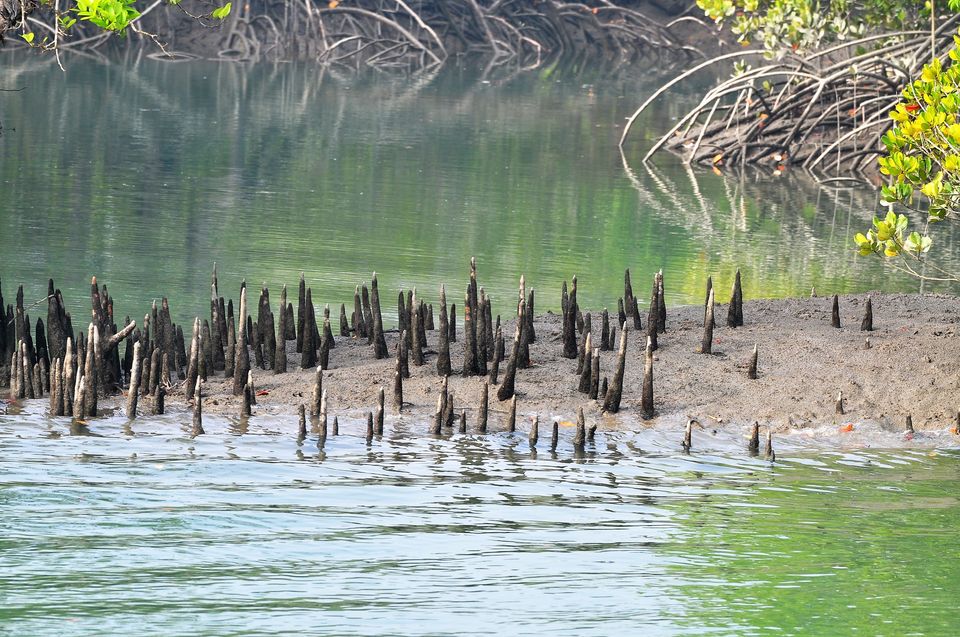 Our first halt was at the Dobanki watchtower. At the entrance of the watchtower, we saw a temple of Bonobibi. Our guide told us the story of Bonobibi there which goes like this:
Story of Bonobibi
Dukhe and his mother used to reside on an island in Sunderban. They were very poor and made their living by begging in the village. One day, Dukhe's uncle Dhona asked Dukhe's mother that he wants to take Dukhe for honey collection along with him. Dukhe can earn a lot of money and they won't be poor anymore. Dukhe's mom didn't accept the offer initially, but Dukhe somehow convinced his mother. All of them set for the honey collection expedition in the dense forest of Sunderban. But after spending many days, they were not able to collect any honey. That night Dhona saw Dokhin Rai in his dream. He said that I will give you all the honey and wax of the forest, but I need Dukhe in return. Although he didn't agree, Dukhe's uncle finally gave up and agreed to his proposal. The next day, they went to the Kedokhali island and after collecting all the honey, Dhona sent Dukhe in the forest to collect some firewood. When Dukhe went, Dhona and his men left the island leaving behind Dukhe. When Dukhe came back he realized that his uncle has abandoned him in the forest. He remembered his mother told him once to pray to Bonobibi whenever in trouble. He started praying to Bonobibi. Meanwhile, as Dokhin Rai started approaching to attack Dukhe, Bonobibi and her brother appeared before them and saved Dukhe from Dokhin Rai. Dukhe returned safely to his mother and that's how the villagers at Sunderban started worshipping Bonobibi or Bonodebi. Even today the villagers worship the forest goddess before going in the forest for honey collection or fishing in the river. They strongly believe that the goddess will save them from Dokhin Rai, just the way she saved Dukhe.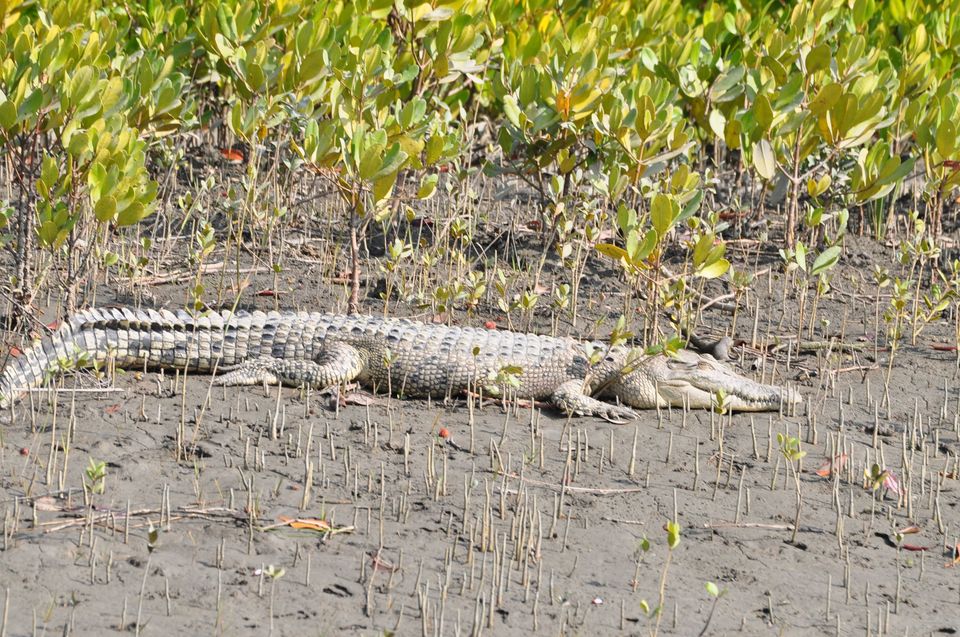 With this intriguing story in our head, we entered the watchtower. I could spot a few birds and a couple of deer from this watchtower. Our next halt was at the Sudhanyakhali watchtower. While on our way, I spotted a four-legged that appeared to be a leopard. However, our guide told us that there is no leopard in Sunderban, and the possibilities are that it could be a fishing cat! Which is even rarer than spotting a royal Bengal tiger!
At Sudhanyakhali watchtower we spotted a few migratory birds and a monitor lizard. After spending some time here, we headed back to our village. En route, we spotted two crocs – one being an albino!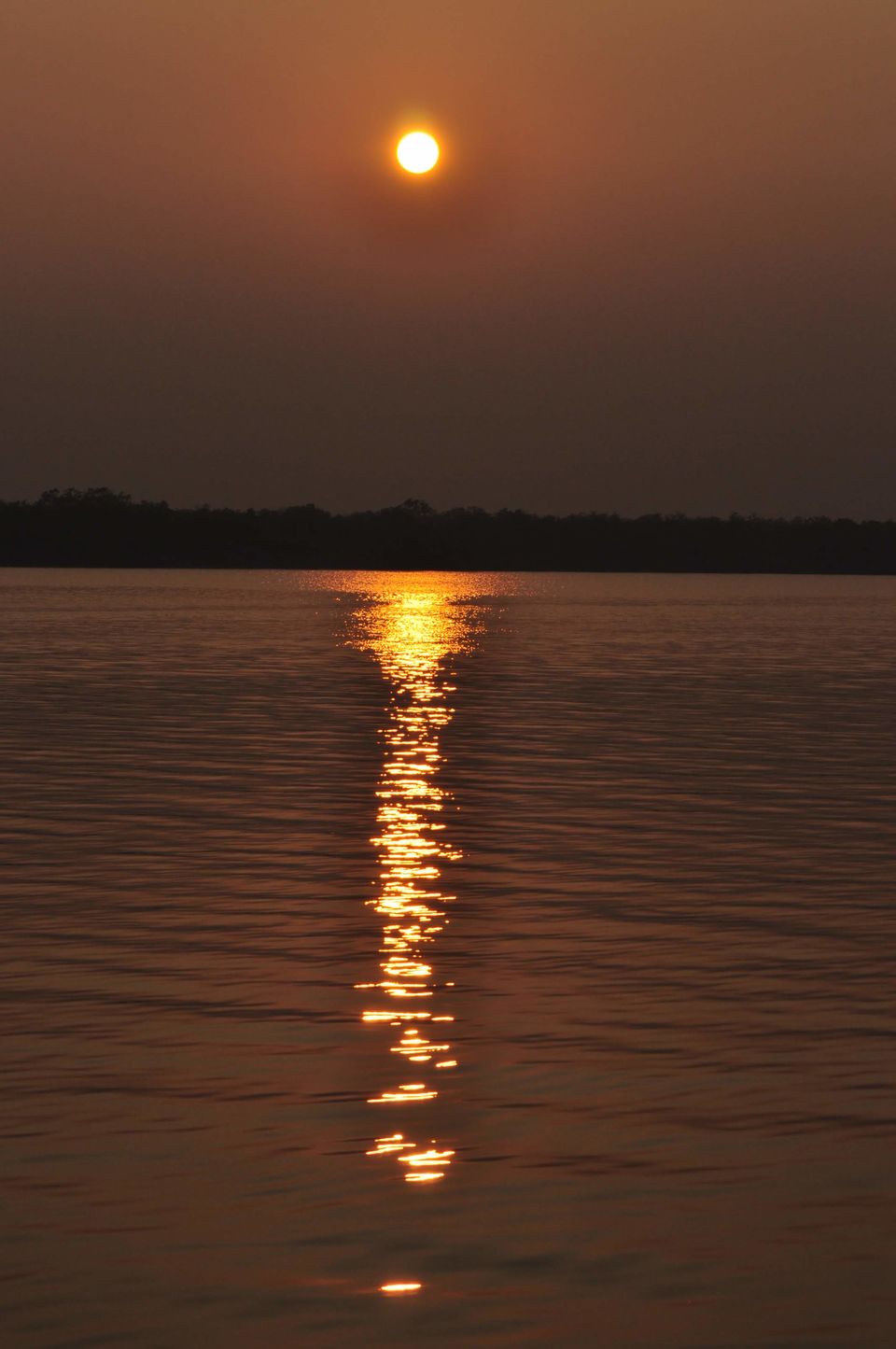 We couldn't spot Dokhin Rai, but we indeed had a memorable day spent. In the evening we spent our time watching local musicians perform while we unwind ourselves leisurely chatting with our fellow travellers.
Day 3
The next day morning we spent some time roaming around in the village before we took our ferry and then a bus ride to come back to Kolkata with a lot of memories filled in our heart.