The Sundarbans, largest mangrove forest in the world, is a region of absolute beauty, shrouded with lush green flora, river-riddled marshy region, man-eating tigers and thrill of offbeat adventure. It has the honor of being a UNESCO World Heritage Site & a Biosphere Reserve.
It is adjoined by two of the most densely populated countries in the world –India and Bangladesh , yet it remains far-flung, forbidding and largely desolated by people.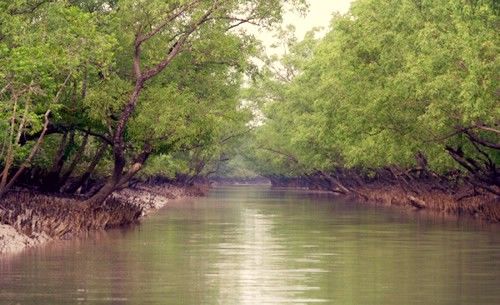 Why the Sundarbans
The Sundarbans has the largest single population of tigers in the world. It is the star attraction of Royal Bengal tigers. It is a habitat of around 320 magnificent creatures.
Though it is difficult to spot a Royal Bengal Tiger, merely sitting on the deck of your boat as you sail through thick mangrove forests, exploring the hidden secrets of the Sundarbans is an unforgettably awesome experience.
Lets Sail through the Sundarbans ( 1N | 2D itinerary )

How to reach
By Rail:
Local trains regularly run between Canning and Sealdah (South) and take an hour and a half. Local vans are also available from Canning to Godhkhali Jetty, where the boat journey to the The Sundarbans starts from.
By Road:
A well-laid network of roadways connects the Sundarbans to Kolkata, 110 km away.
By Waterway
The waterways are also favorable and can take you to your destination in a very short span of time.
A number of tour companies operate out of Kolkata, and most trips include transport to and from the city. Backpackers (www.tourdesundarbans.com) and Sundarban Tiger Camp (www.sunderbantigercamp.com) are both recommended, and tours with them can be booked online. Expect to pay around Rs4000 to Rs5000 per person for a two-day, one-night trip.

Getting around
The best time to visit the reserve is between November and March. Entry is restricted throughout the monsoon months.
I would suggest take a Houseboat from Kolkata which achors in the middle of the river in the night. It can easily accomodate 10-12 people.

Boats are allowed to sail from 8:30 hrs to 16:00 hrs every day.
There are good chances that you may find Royal Bengal Tiger crossing narrow channels in the night.
Start your trip early morning from Kolkata to Godkhali. It is around 3hrs drive. Godkhali serves as the only path leading to the village of Gosaba.