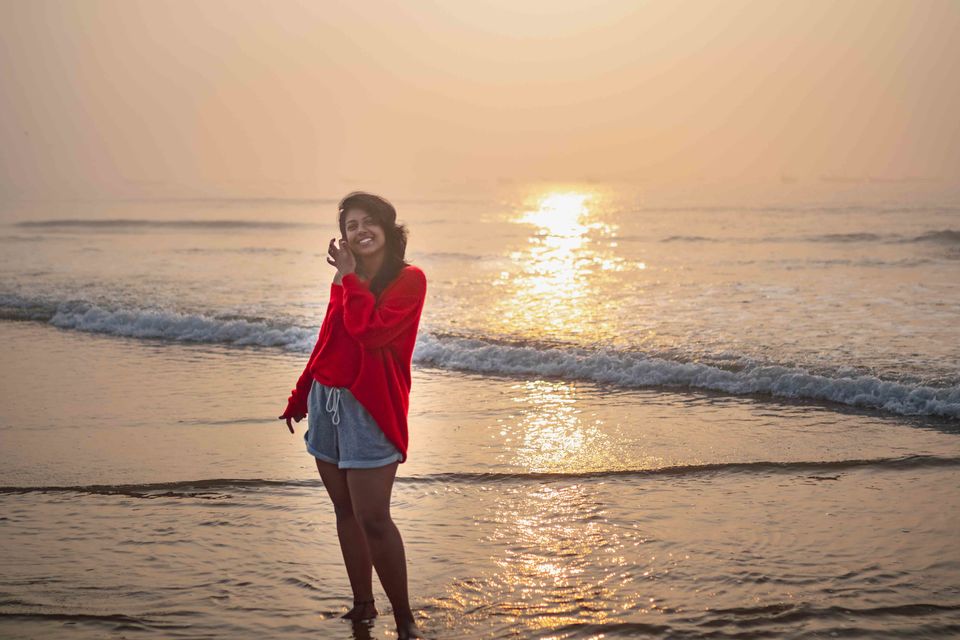 Chirala, was also known as Kshirapuri is a town in Prakasam district of the Indian state of Andhra Pradesh. It's on the coastal side of Andhra Pradesh. A popular weekend getaway for people in Hyderabad. Probably the closest beach and the only beach on this side. Its the same coastline which stretches towards Chennai and as mom says "just keep walking along the shore and you'll reach Chennai in no time". Probably some other day mom!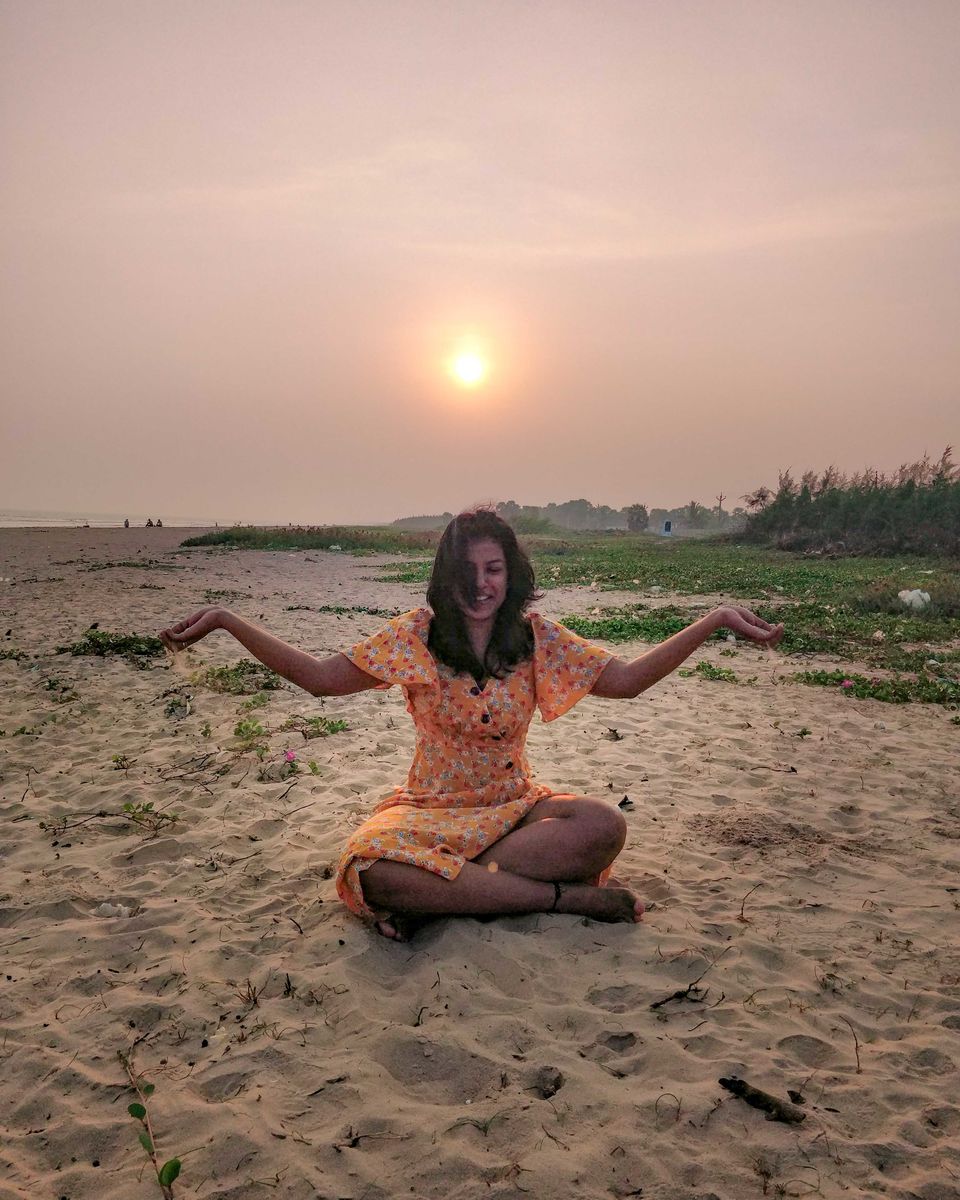 My whole family, actually the whole extended family had planned to meet there at a family friend's beach shack/farmhouse. We all were together after almost 3 years!. It was a full house plus my grandparents were staying at an Uncle's place as the place was so jam-packed and obviously, I and my brother aren't tiny anymore to be put in a corner so that four can fit on a bed.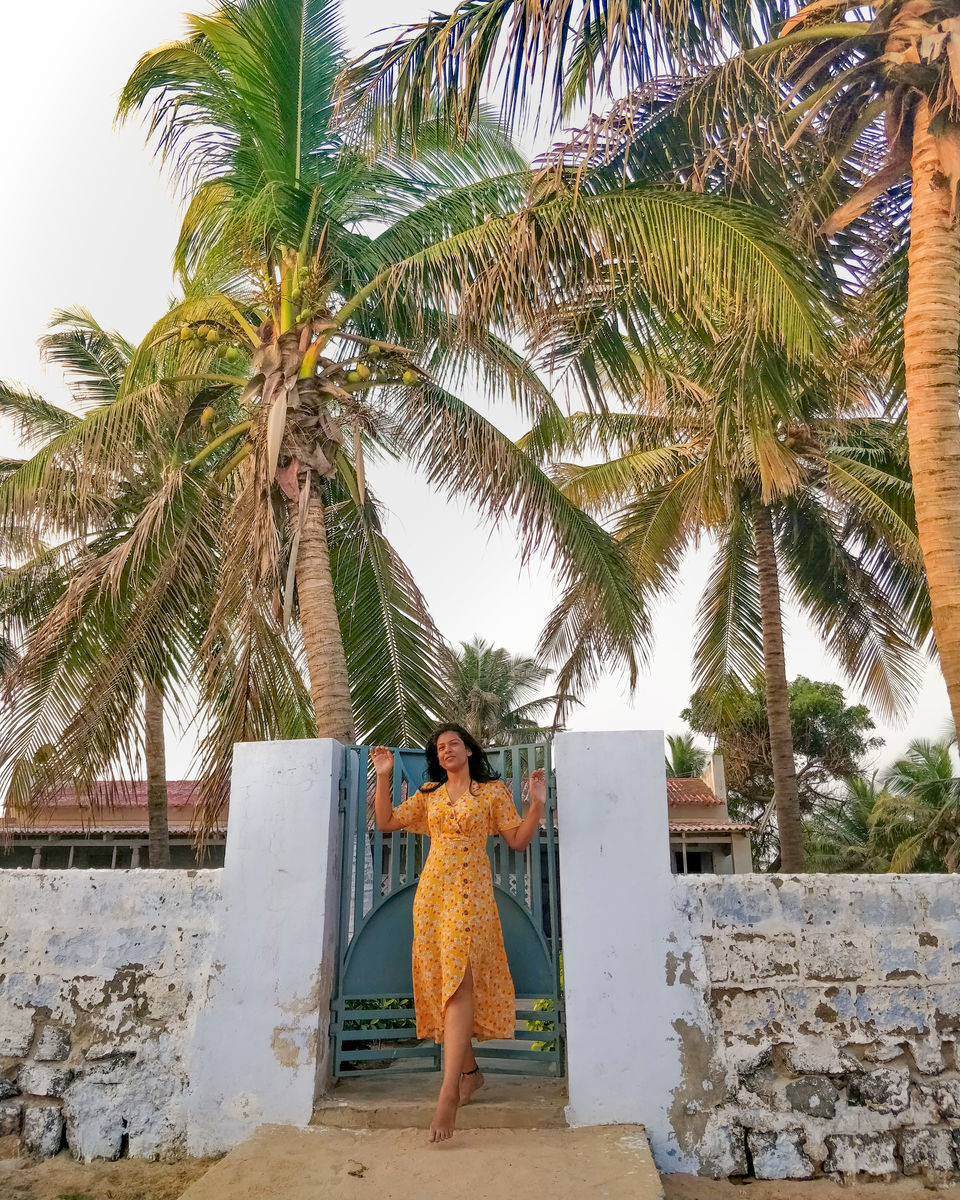 All I wanted to do for the 4 days was see the sunrise, eat, walk by the beach, play in the sand like a kid, see the fishermen go to their boats anchored in the sea (and then go catch fish to sell), occasionally get a picture clicked, see the sunset, count the stars ( kidding! Requires a lot of patience), feel the cool sea breeze, and then go to sleep.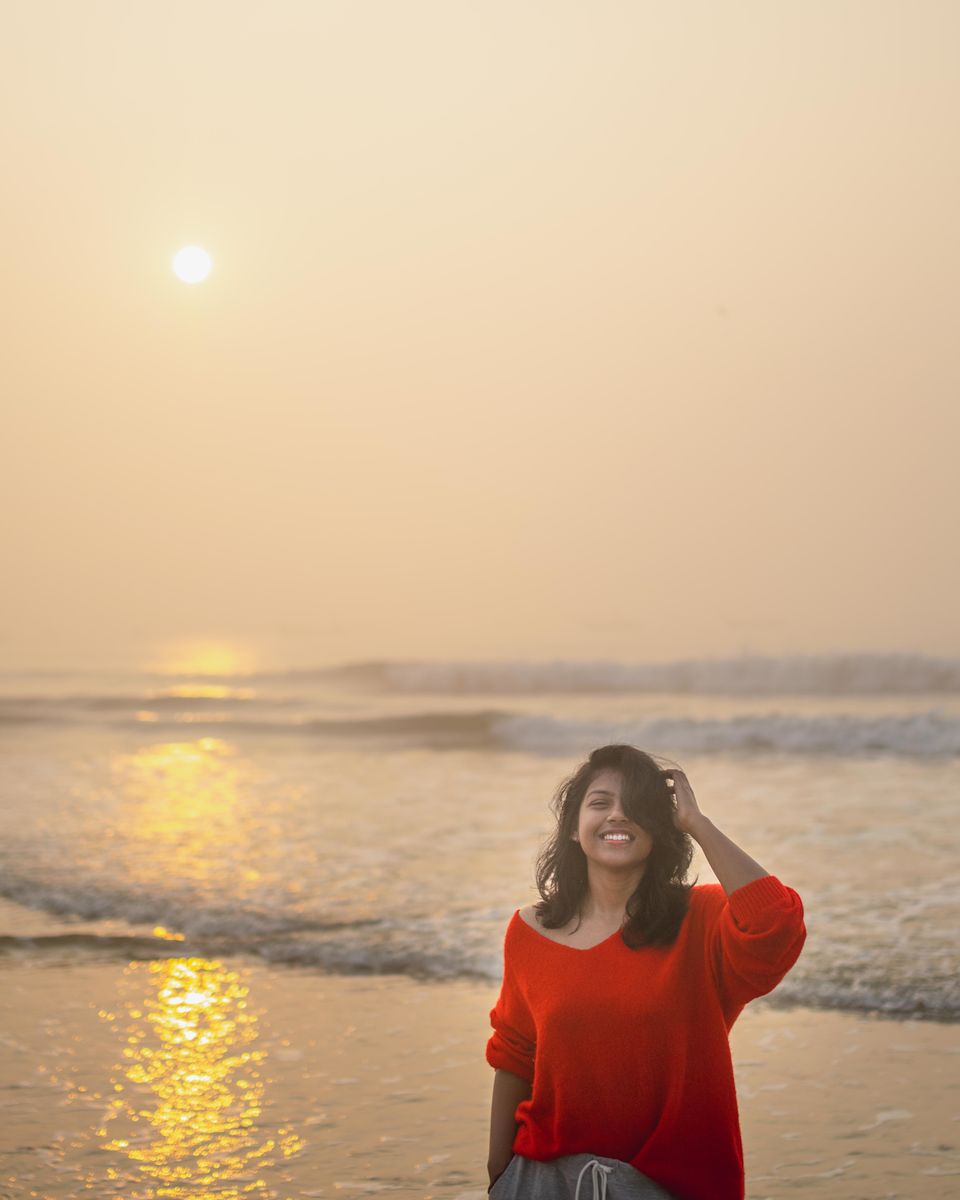 And that's all I thought was really possible out here. That's when my mom, reminiscing her younger days and her marriage told us that she had bought her marriage saree, the "main saree" from this small coastal town. I din't believe her. That's because all through the drive down to this place I could only see small kirana shops or dry fish stalls near the sea (you can die of their smell if you know what I'm talking about). No clothing shops, no saree shops not even a single one. And guess what, just then a man entered the garden premises and handed a card for his handloom shop and also showed us some pictures. Now, we had some proof for the above fact.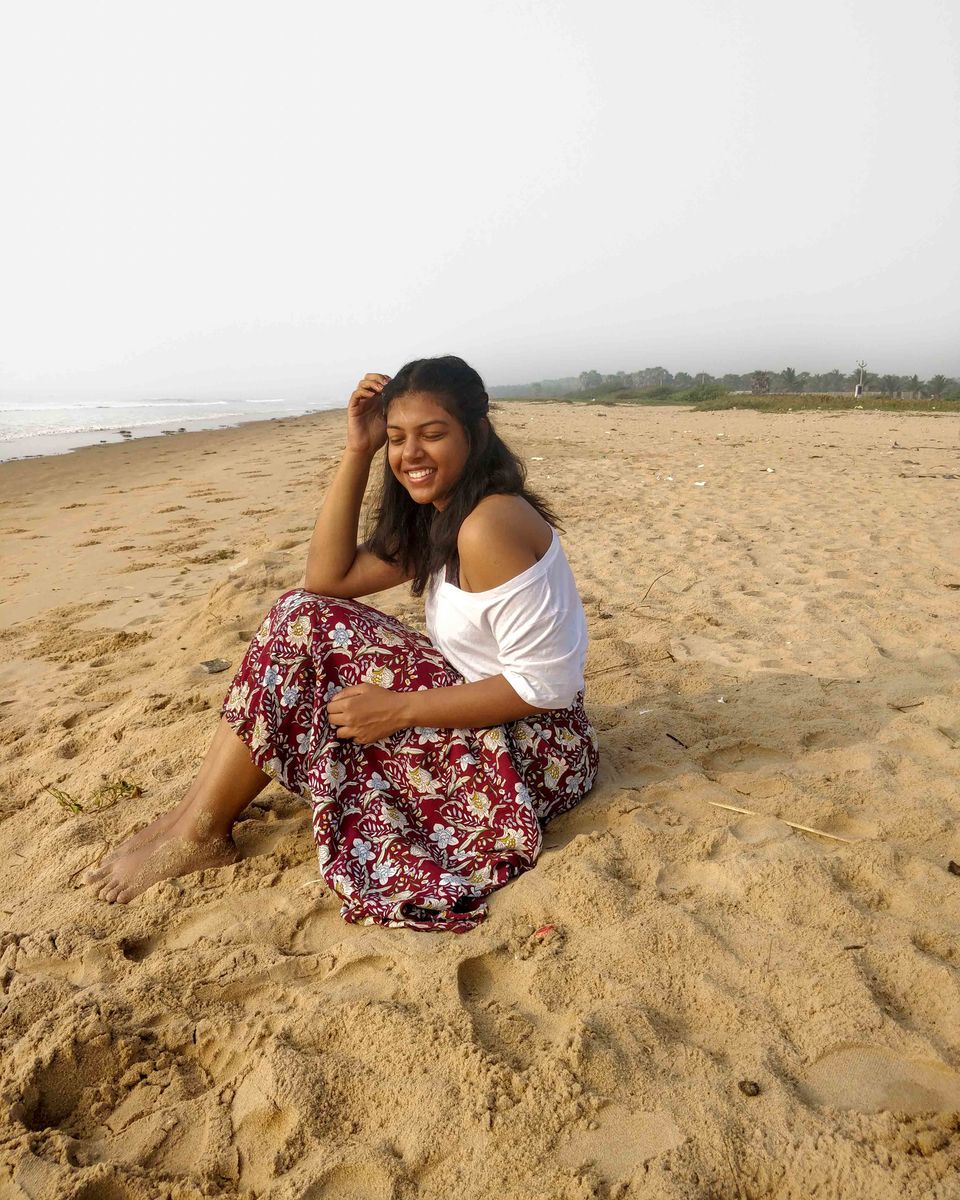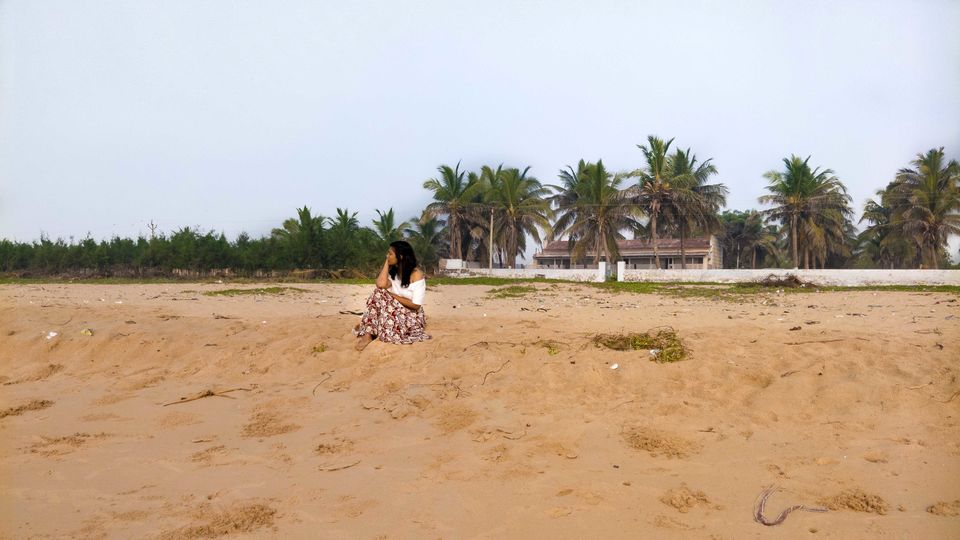 Turns out Chirala is actually more famous for the handlooms and all types of south-Indian sarees possible than the beach itself. Every year ladies, mostly from Vijayawada and Guntur (nearby districts) come here to buy sarees from the wholesale shops in town. Most of the Marriage saree shopping is done from here. I guess that's one of the reasons my mom also bought her saree from here.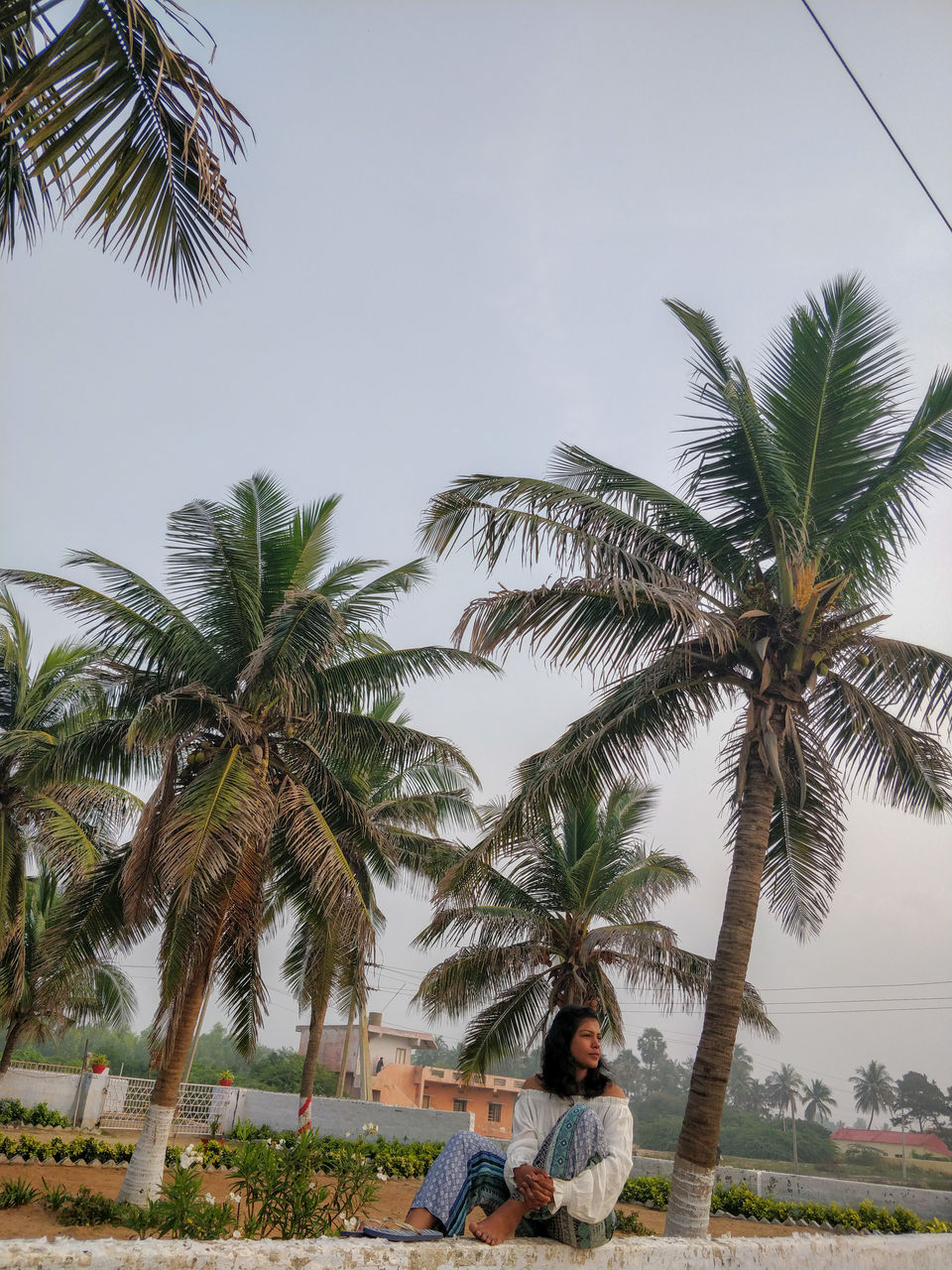 Even when you enter the actual town, you'll have no particular clue about the shops. That's because these wholesalers sell sarees out of their homes. You really need to know someone to reach them. Fortunately, our family friends did!.
This was absolute, out of the blue new information and on top of it were even told that there are a lot of workshops and out of the house hand made saree weavers in the town whom we could visit. So ,we decided to skip the usual basking in the glory of the beach and sun ritual and headed to meet the weavers.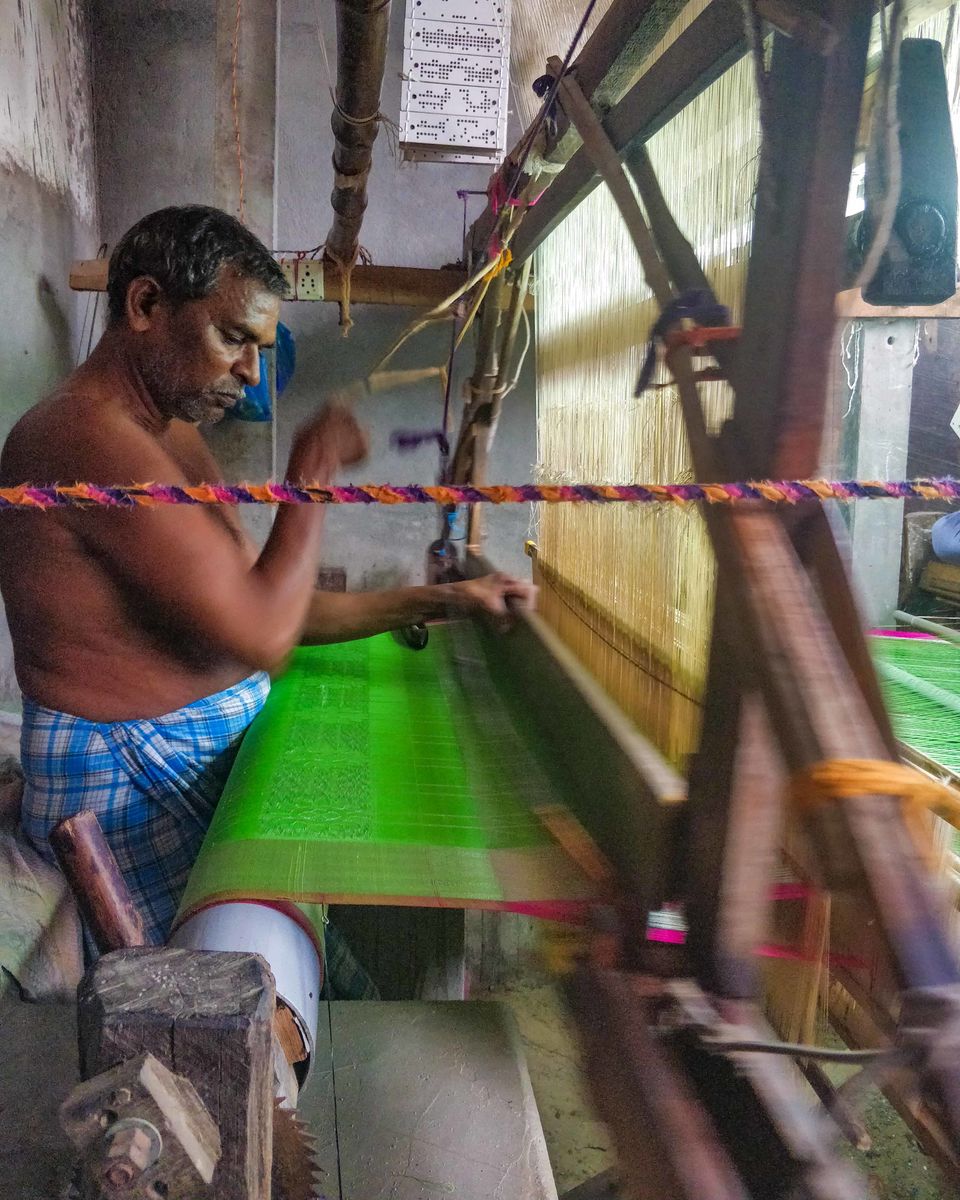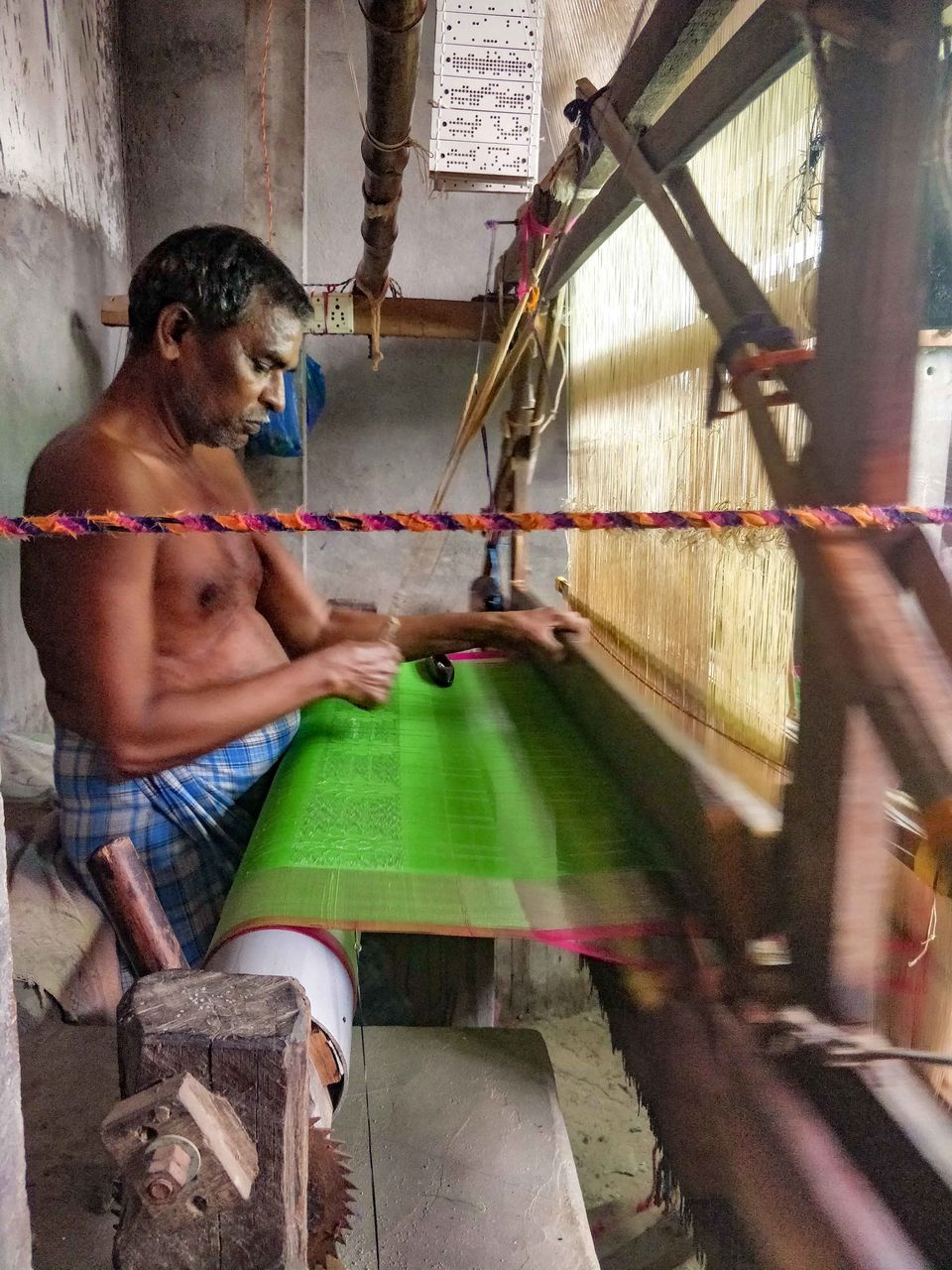 So, we were there inside one of the weavers house , in the front room which would take the role of a drawing room in the common scenario. But instead of chairs and a centre table, there was a almost a 2 feet hole dug in the ground, actually not dug but the house itself was constructed with the opening. It serves as the place for the weaver to half sit and then work on the giant, multi thread, 6 feet in height, a machine which literally sounded like a factory motor while in motion.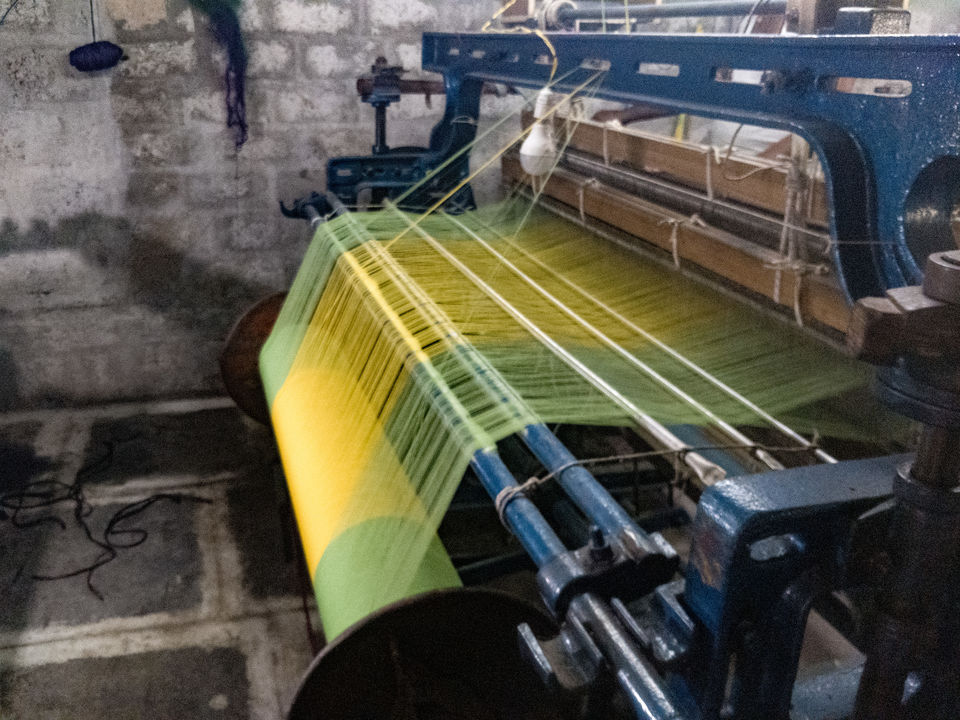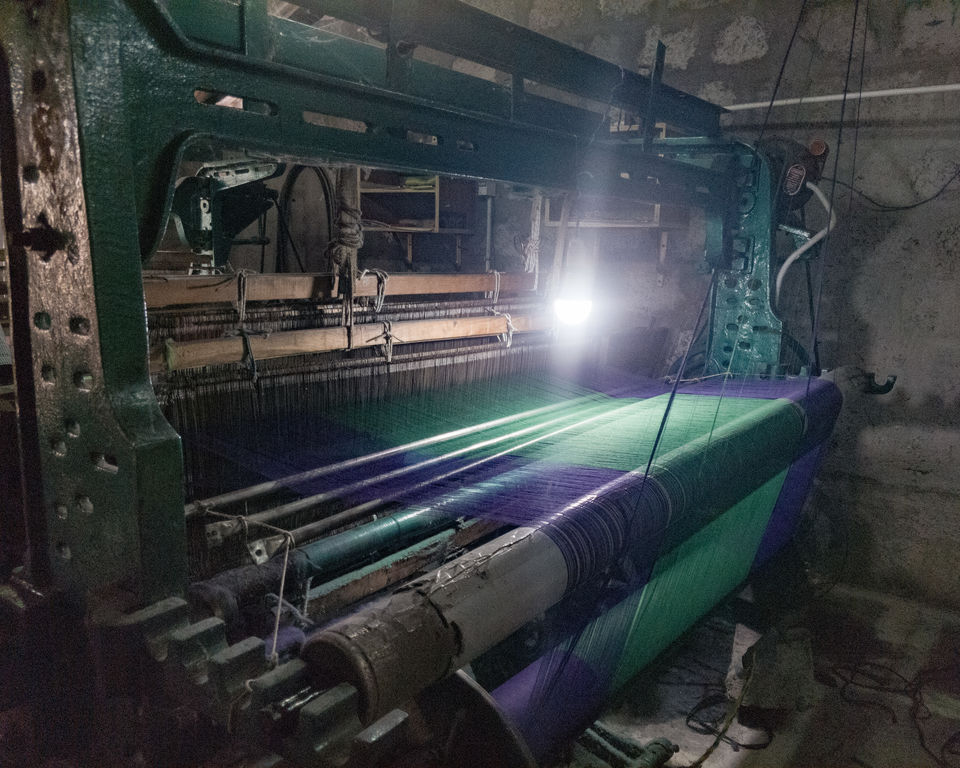 Seeing us the person took a halt from his routine of working on a single saree for straight 12 hrs. Yes! It takes a simple handmade Pattu saree or a silk saree (South Indian sarees) about 12 hrs straight to be made. That is excluding one hour break for lunch.
He was working on an order for which he was getting paid around 5k for 4 sarees (that is 48 hrs of work). All the material, design, threads everything is supplied by the wholesalers itself. The process starting from getting the plain white threads dyed (there are local dyers also in the town). Then the threads for around 5 sarees at length are tightly tied from one side to another and then divided into sets of 4-5 threads to then transfer them onto the machine for weaving.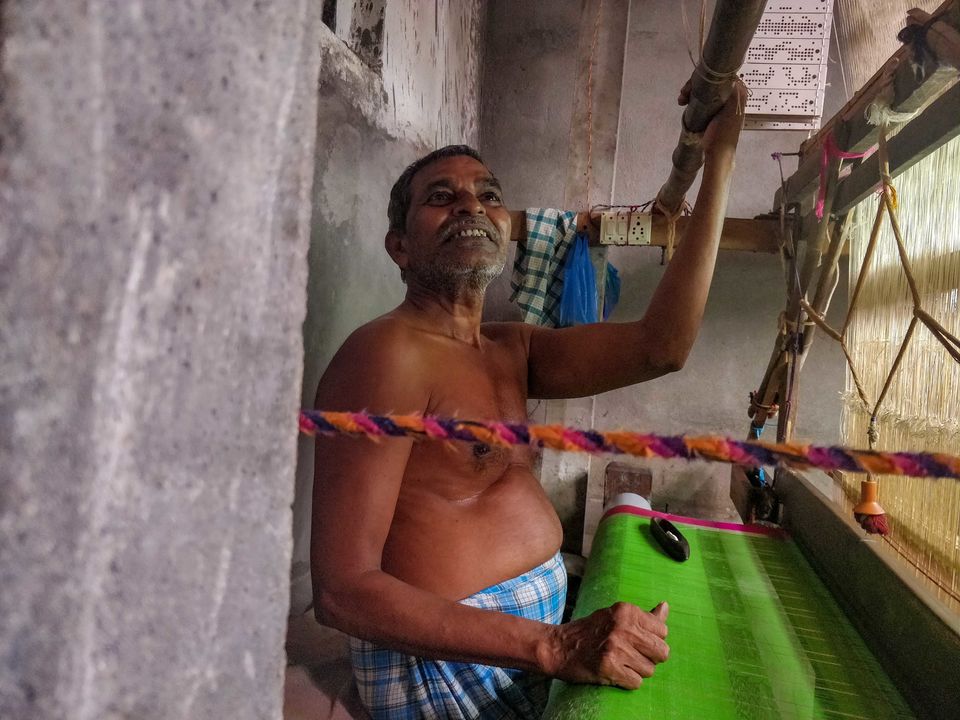 The process of handweaving a saree is really monotonous and tideous and what I felt was the most difficult part is when you have to keep a count of 4 or 5 and then horizontally pass the gold or silver thread ( Zari, depending on the design) from one side to another. You really can't take a chance to make a mistake here as the whole pattern on the saree depends on that count.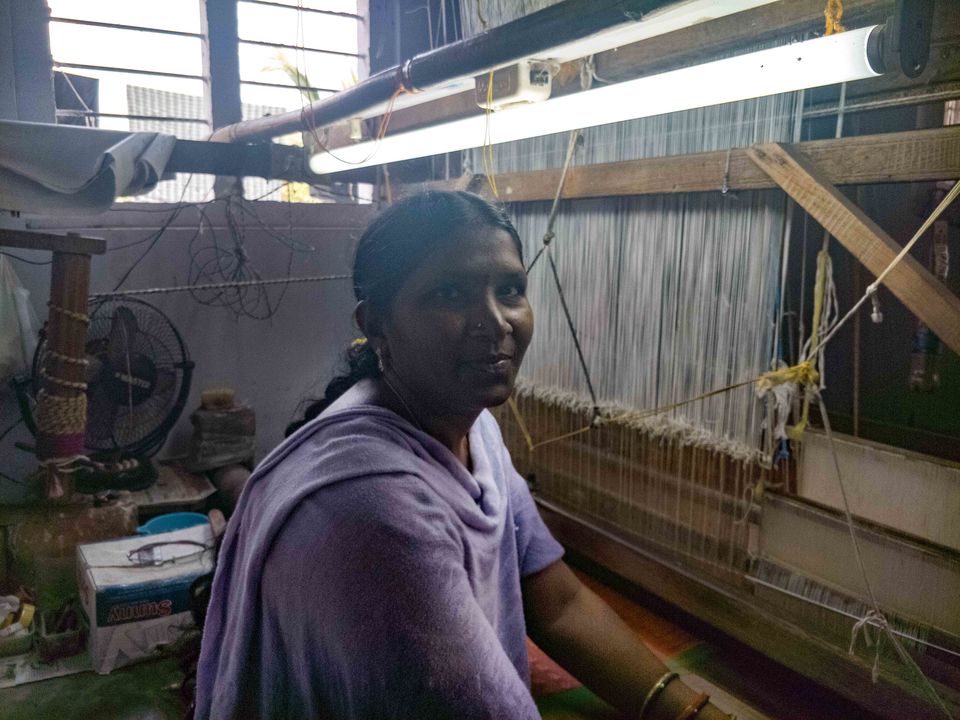 It was almost like I was looking at a rainbow which I could touch and also which had black color!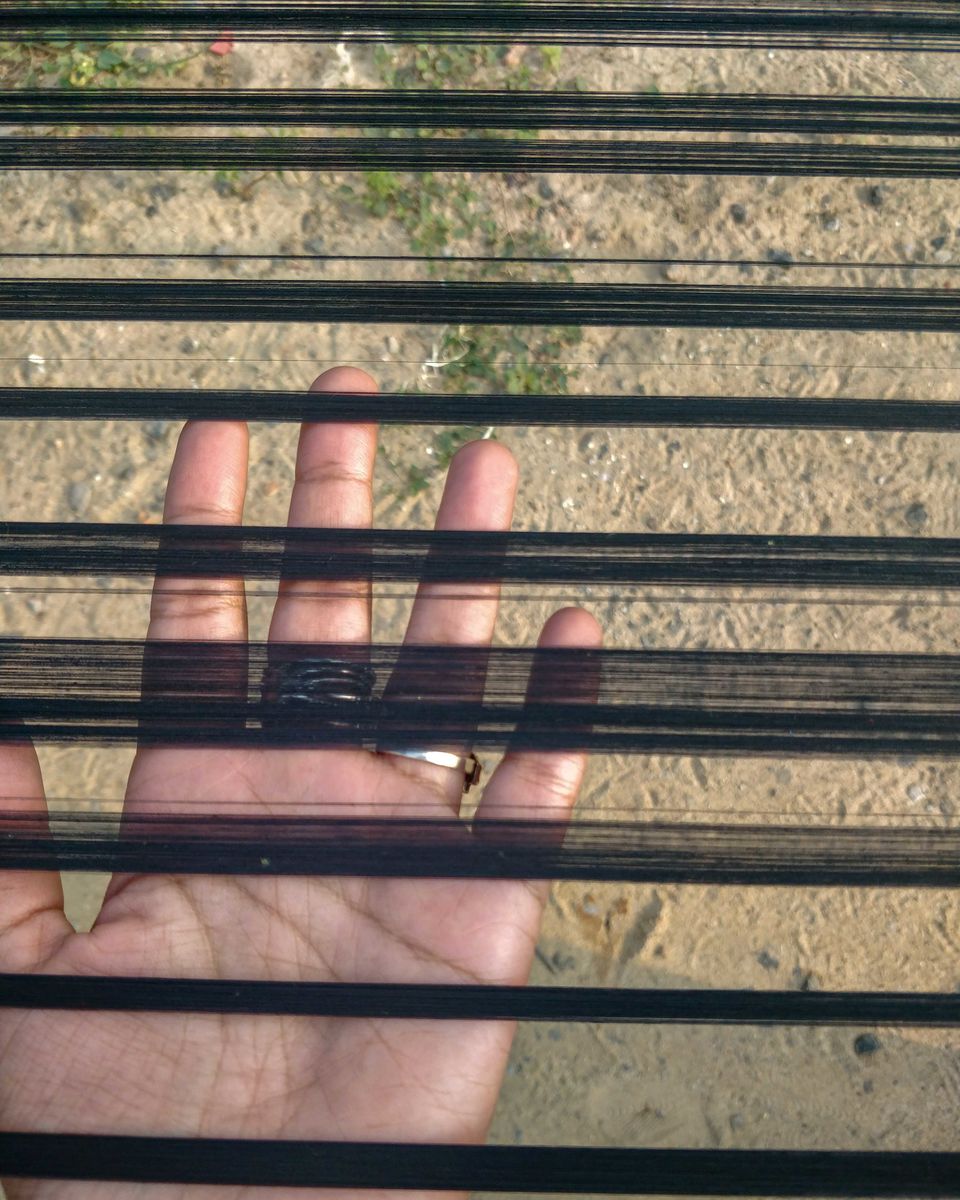 We even went to a neighboring house where a lady was weaving another saree which was of a higher range for which she gets 4k for one saree.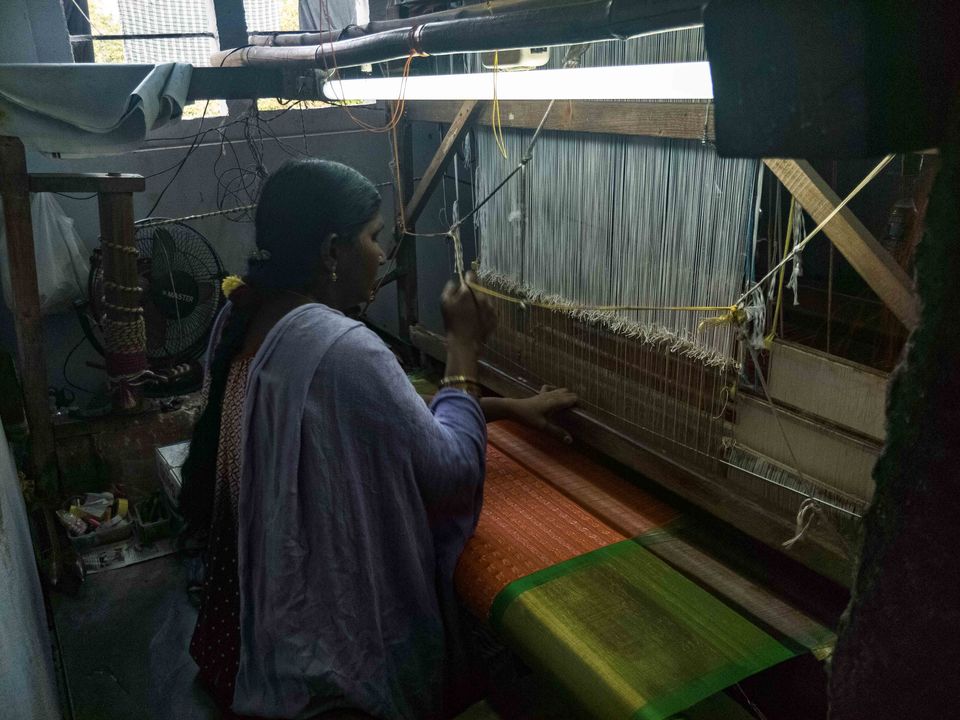 After we had interacted with the weavers, it was time to do the actual shopping. Isn't that expected when there is a group of 5 married ladies around you and they just know how costly the sarees get in the cities. It was in the wholesaler's shop that I got to know that a saree which he was selling for around Rs 1800 costs about 4k or 5k in the cities(That's a big big difference!!)
I guess now I understand why everybody comes to Chirala for marriage shopping!.
What next, mum, aunties and grand mom shopped for some- "this is so cheap, the same will be 5 times the cost in the city and will not get something like this" kind of sarees. Finally, when that got over I was relieved, at least I'd get to go home. I was really hungry!
At the end, all I'd like to say is that Chirala, you really were more than I had expected. Would be coming back to you soon (Will have to, now my mom knows how cheap the sarees are there and she'll take me along!!!!)