I had been to Shantipur last year somewhere in February to meet the grieving family after I lost my cousin brother. I wanted to write a blog then about the wonderful people we met that day, who were complete strangers and went out of the way to find my cousin's house for us. My state of mind did not permit, perhaps.
We did not have his recent address. The only thing we told people there, near the station was his name and where he came from – And that he is no more. The sensitivity and priority people showed to this incident and their eagerness to assist because we traveled over 90 kms to meet the family - restores faith in humanity.
Universe conspires. Human's inherent good nature was what we experienced that day.
That day, we had reached Shantipur at 1:30 PM and finally met the family in the evening around 4 PM. Everyone we spoke to - my cousin's old house neighbors, his land lord where he lived before, his friend who he chatted with occasionally, even the auto rickshaw owners, ladies who were having their afternoon walk after lunch – each one of them went out of the way to assist us, made calls from their own phones to their contacts to provide us more details about the place where we could possibly find his house. The auto guy waited for us to bring us back safely to the station all for just INR 200.
I wanted to visit Shantipur during happier times. So after visiting Habibpur ISKCON last Saturday, we took a train to Shantipur which is just two stations away.
As we waited for the train, I spoke to a lady who happened to be a weaver. We spoke for quite some time, exchanged names, phone numbers and it was great to hear real stories from the horse's mouth – how they get paid, how Sarees are designed, how materials are supplied to them, how the finished products get delivered, the time they take to complete one saree and the entire nine yards of getting a saree done.
After we reached Shantipur, we took a Toto (INR 20) to the weaver's home. For the first time in my life, I will be buying Sarees straight from the weaver.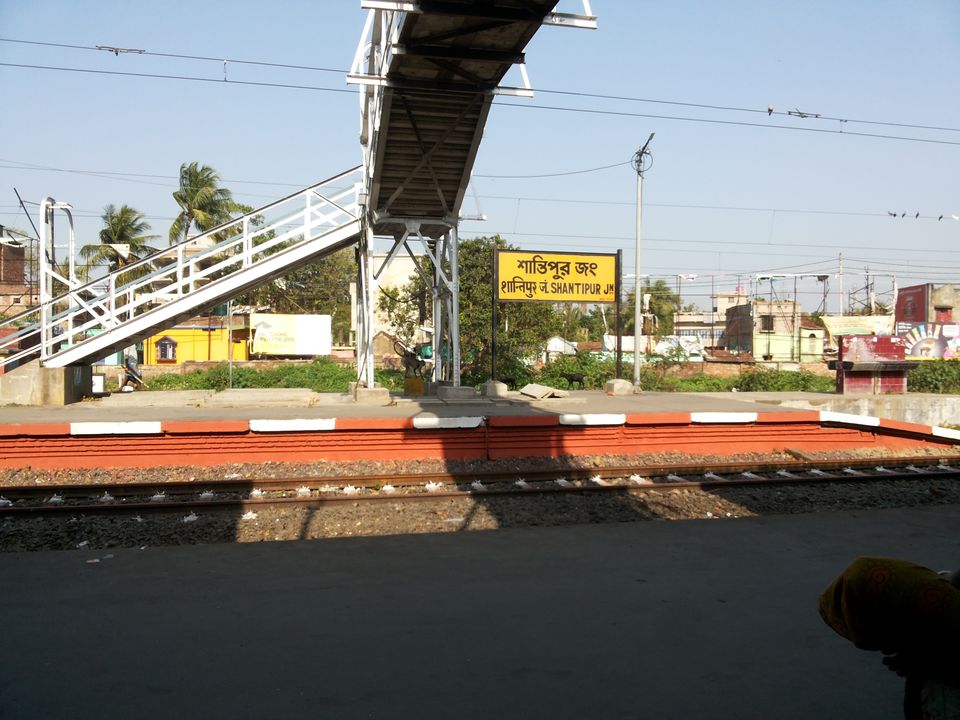 The weaver's whole family is involved in business – selling, billing, packing, folding, drying, taking calls, delivering material to waiting customers in the station and at home. One boy was there for vacation and even he was found looking for sarees to show customers and assist the family – Absolute simpletons making an honest living.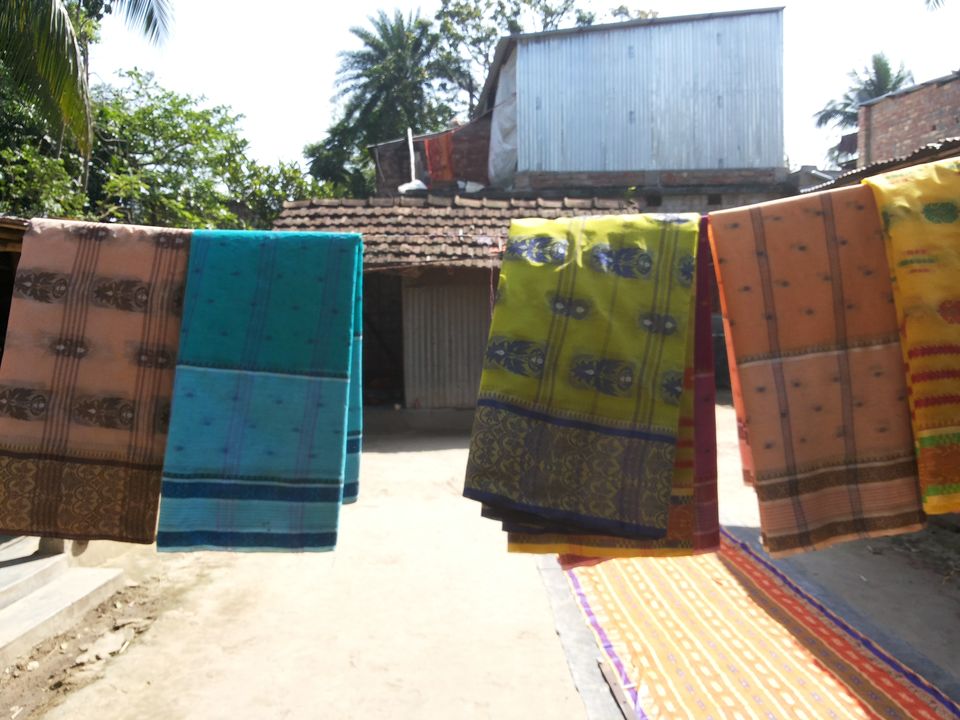 It was heart wrenching to see a couple dry the Sarees in that scorching heat – how hard they work for each Saree. I will not have the heart to bargain after that, but frankly I had already paid for my collection by then and except for three costly Sarees for which some discount was given, I paid for the rest exactly what the seller asked for. I did not waste a minute negotiating there.
I managed a saree Boutique in Bangalore for over five and half years - About Sarees, I am never out of practice. I am very much aware about the trends and I was absolutely sure I was getting a fairly good deal. Seeking any more discount would reflect pure petty mindedness - squeezing the weaver's profit to nothing.
We picked 16 Sarees and it was an amazing collection – As it was for a friend, I am unable to upload those images here.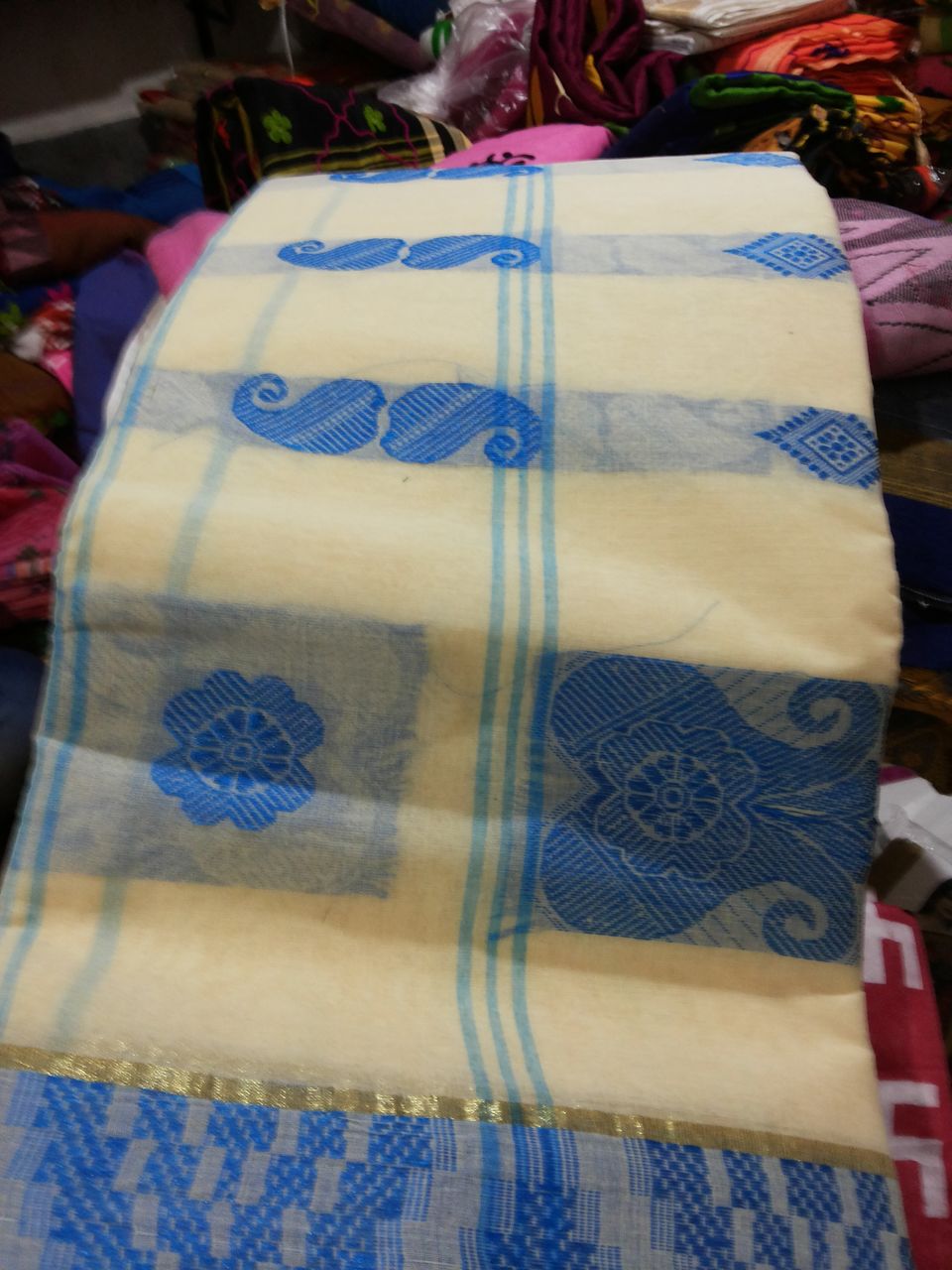 We told the young lad who was showing us the collection several times to go and have his lunch because he looked tired doing this since morning – Customers first attitude. It sent us to a guilt trip, so we wrapped our purchase as fast as we could.
I was supposed to visit another supplier that day but opted not to as we will not be able to carry any more stuff.
The only challenge was getting a Toto outside the weaver's home to reach Shantipur Station. The weaver's family tried to call a Toto driver they knew however he wasn't in the vicinity of their residence. We had to walk through the village for roughly fifteen minutes before we got a Magic Van (INR 10)
As we walked, on the way we asked a young girl where we can get Toto, she immediately was ready to take her cycle out and go with us to show the road till the Toto stand. Did I not tell you this before? This place is full of awesome people.
The common sound that you get to hear as you walk the lanes in Shantipur, particularly the area where we were walking, is the constant sound of clicking – weavers at work on their machines. Next time I go there, I am going to click one such weaver in action.
Others probably notice the bustling town of Shantipur in Nadia district of West Bengal, India – What my traveler mind noticed is the predictable routine of their lives – day in day out – where life, living and livelihood are kind of blurred.
Shantipur is just 92 kilometers from Sealdah. Both Shantipur and Fulia are popular, not as tourist spots, but for Bengal Hand loom saree weaving centers- quite famous not just in Bengal, but all over India.
The hand looms here typically weave Shantipur, Tangail, soft jamdaani and yarns can be cotton, silk or tussar. The lady I was speaking to, who called herself Padma was telling me, there is one type of thread that cost INR 5000 per kilogram.
This trip to Shantipur was not at all about shopping or purchase or Sarees - It was just to experience the warmth of people again.
Originally Published Here
Frequent Searches Leading To This Page:-
weavers in west bengal, shantipur in west bengal, shantipur bengal sarees, shantipur in kolkata, where is shantipur in west bengal