'You look beautiful in a saree today!', said the girl in the breakfast counter. She collected our breakfast coupons every day but we never spoke until that day. It was August 15th and our third day in Stockholm in Sweden. As it was Independence day back here in India, I felt it right to celebrate and represent my country by wearing a saree.
All thanks to the saree I wore, the girl opened up and spoke at length about her. She was a Bangladeshi who came to Stockholm for studying her Masters in Computer. She was so happy while taking to us which could be seen though her gleaming eyes from behind her broad and thick glasses. She lamented on how she couldn't adapt to the food here and that she lost 10 kg in just 6 months!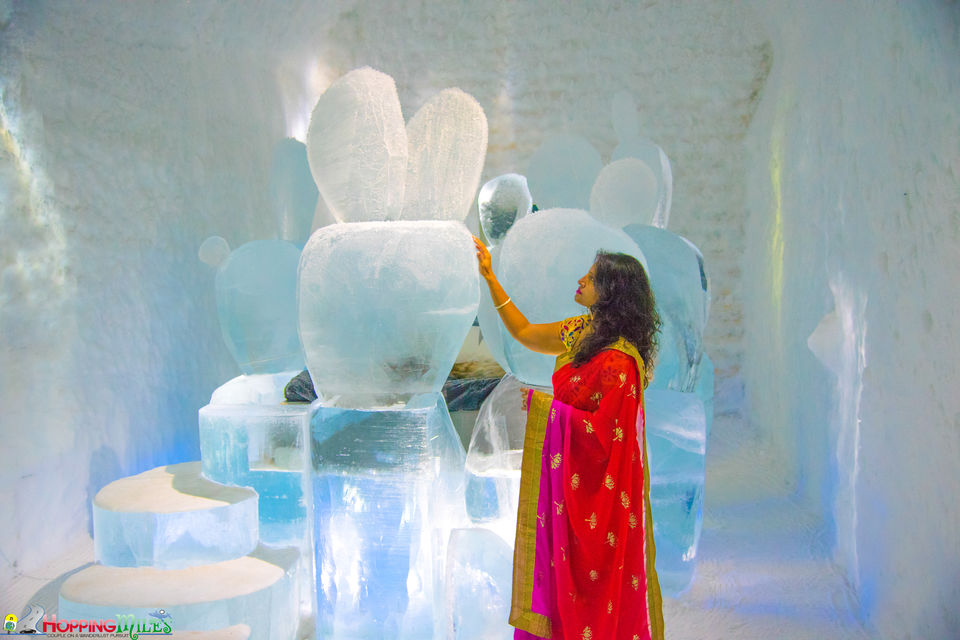 This was just the beginning. I had many such lovely encounters with total strangers throughout my holiday and the one that made them talk to me was the fact that I was wearing a saree!
So, when people at Tripoto stumbled upon my saree pictures on a holiday abroad, they asked to share my experiences. So here I am, sharing my 2 cents on why and how I felt wearing a saree on my holiday.
First off, why did I wear a saree on my holiday abroad?
C'mon, who wears a saree while on a holiday, especially to a foreign country? The women of current generation, including me, have restricted draping sarees only to family functions, festivals and to religious places. Unlike most of our mothers and mother-in-law who adorn a saree 24/7 and even sleep in a saree. Wearing a saree was a part of their up-bringing and they are so comfortable in it that they don't feel it as a daunting task like the generation of millennials do!
So the story goes like this - last year we (my husband and I) planned a Europe trip for a family of 12 including a toddler about which you can read here. The trip was amazing and we all had a great time. There were a lot of preparations that went on for that trip. Major one being SHOPPING! My sister and I had shopped for tens of thousands to look fab and modern.
-Did we get any eyeballs rolling?
NO!!
-Then who got the limelight?
It was my mother-in-law!
-Why??
That's because she wore a saree!!
There was no single day in our 16 day trip which went without her being complimented. Often, we used to run into people who wanted to click pictures with her in a saree. They used to tell how they love India, if they have already been here or tell us how they badly want to come to India if they haven't yet.
Be it the Russian women group who raved about India when we were in Bosnia or the Romanian couple who shared with us that they visit India every year for 1 month while we climbed the old city walls of Dubrovnik, Croatia. All these and many more encounters happened when they saw my mother-in-law in a saree and exclaimed 'India!' which made us turn our heads. That somewhere touched me and I decided to wear a saree on my next trip abroad :)
Wearing a saree on an abroad trip, what so special about it?
So, I wore a saree in my trip to Sweden and Iceland this year. What was so special about it? Actually nothing.
There are many Indian women who wear sarees while on a holiday or meetings abroad as a power dressing. Those would usually be our moms, mom-in-law or aunts. Off late, they too are mostly getting a little modernized and have shifted to salwars or kurtas. So, now-a-days, it's rare to find women who still wear sarees on their vacations. But when they are, they will be usually called or treated as old-fashioned or traditional types. And who will treat them so? It is our own people and not by foreigners. In fact, foreigners love it when they see a woman in saree. Don't believe me? Then ask your mom or aunt who wore saree to their US/Europe trip. They will surely tell how people clicked photos with them!
So, I decided to wear saree this time for my Sweden and Iceland trip at least for a few days throughout my vacation. While my peers and friends flaunted shorts and skirts in their holiday pictures, I had to make up my mind to brave the comments of our people who laugh off thinking, 'Look, she's wearing a saree on her holiday!' Instead, I did this with pride and I am happy with it.
How was the reaction of people while I was on my vacation?
As I mentioned earlier, people abroad love to talk with Indian people. And one of the way in which they recognize an Indian woman is when she wears a saree. My first ever encounter with a stranger was in at the breakfast counter in the hotel where we stayed in Sweden, about which you have already read in the opening paragraph of this article.
Later during the same day, I walked down the Queens Street in Stockholm as the sun went down. I wanted to take some shots of the Stockholm skyline. I took a pause and clicked some pics of the street and suddenly, I hear someone speaking in Hindi as they exclaimed 'Madamji!' That was a Pakistani couple who was chilling out in a café with some Swedish Fika (coffee) and wanted me to take a photo of them in my camera. They invited me and my husband for a cuppa but we politely declined as the sun was about to set and I would miss the shots of skyline in the golden hour. But, not before they asked us from which part of India we were from and we told 'Bengaluru' and the man told 'Oh, Bengal – Ganguly' and I said, ' No, Bengaluru - Bangalore – Rahul Dravid' :)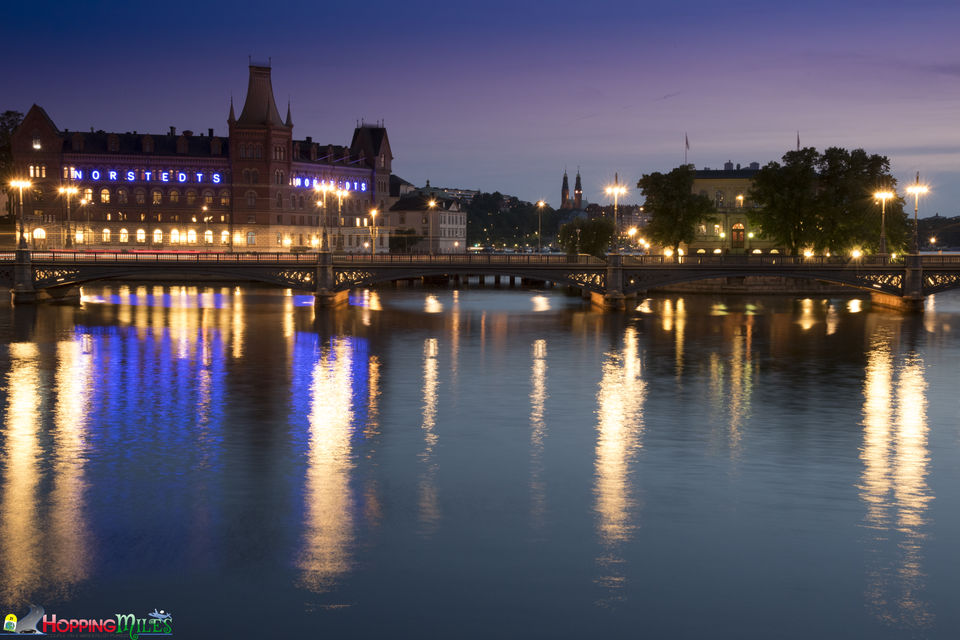 There were many more such incidents in Sweden - the guy at the ticket counter in Vikinglav Museum, the elderly folks in Jukkasjärvi and so on.
In Iceland too, I met some really lovely people who couldn't just stop praising India. And the surprising thing was that, most of them who voluntarily started a conversation with me seemed to have visited a fairly larger portion of India and would fondly share their memories of Indian vacation!
While an Australian lady I met in 'Þingvellir National Park', Iceland told how she loved Mysore and remembered Bangalore as the 'City full of Gardens and greenery'. The French couple I met in 'DC3 plane crash site' in Vik, confessed that they loved their 10 day trip to Kerala and they would love to come back to explore some more of India one day.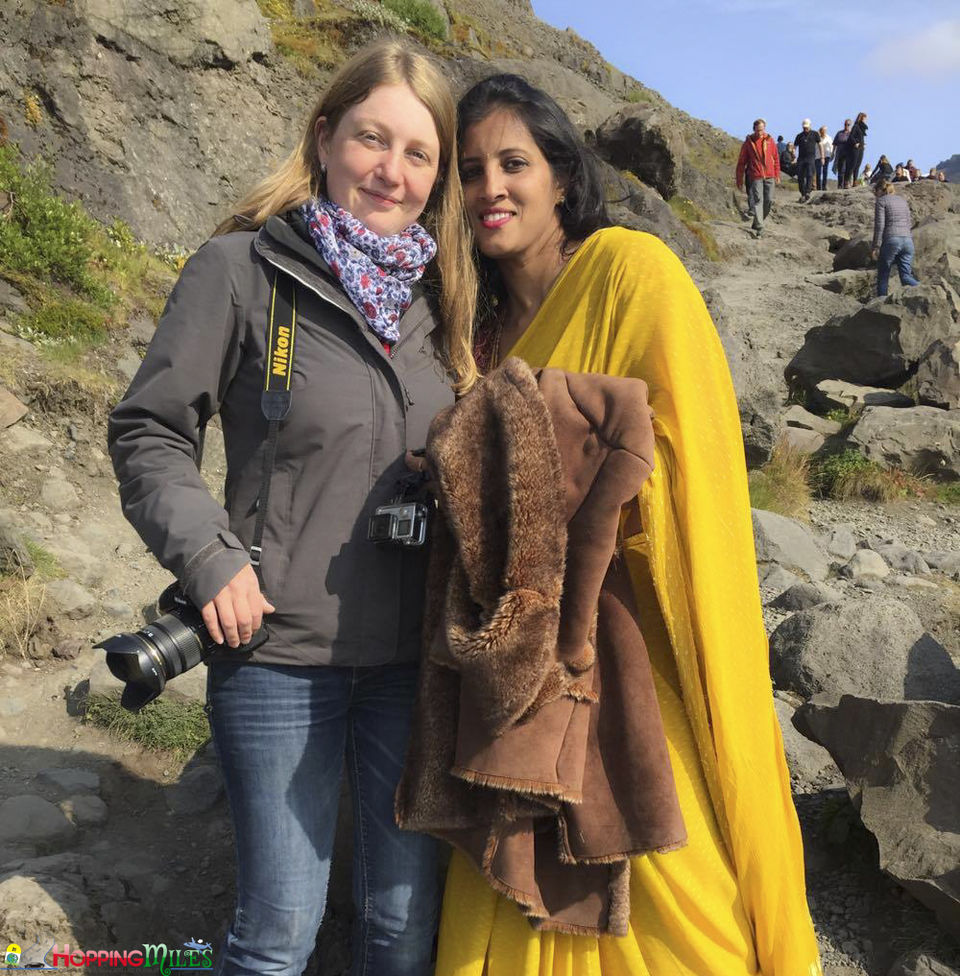 Another German couple in 'Svínafellsjökull glacier' raved about their North India trip and the man remembered how some folks he worked with in IT were from Bangalore, India. In Arnarstapi, two friends from Vancouver, Canada explained how they were surprised with people in India when people approached them to click pictures of themselves with the blonde ladies. They laughed off saying, 'Maybe it's the colour of our hair!'
While these were some lengthy conversations with strangers, I usually had at least a couple of people say, 'Beautiful!' or 'Pretty!' and needless to say, I was on cloud nine :) What a modern dress couldn't do, an Indian saree did :)
How did the people react back home?
I don't really know if someone laughed off at my attempt. But, all I heard from my Facebook posts with all the likes and comments were nothing but good. I shared some of my vacation pics in some girls only Facebook groups and those received more than 1.3k likes and 200 comments in both the groups in a day and still counting! I am really overwhelmed by the response and has just reassured me that my decision was a right one :)
When I shared my pics in a girls only Facebook group: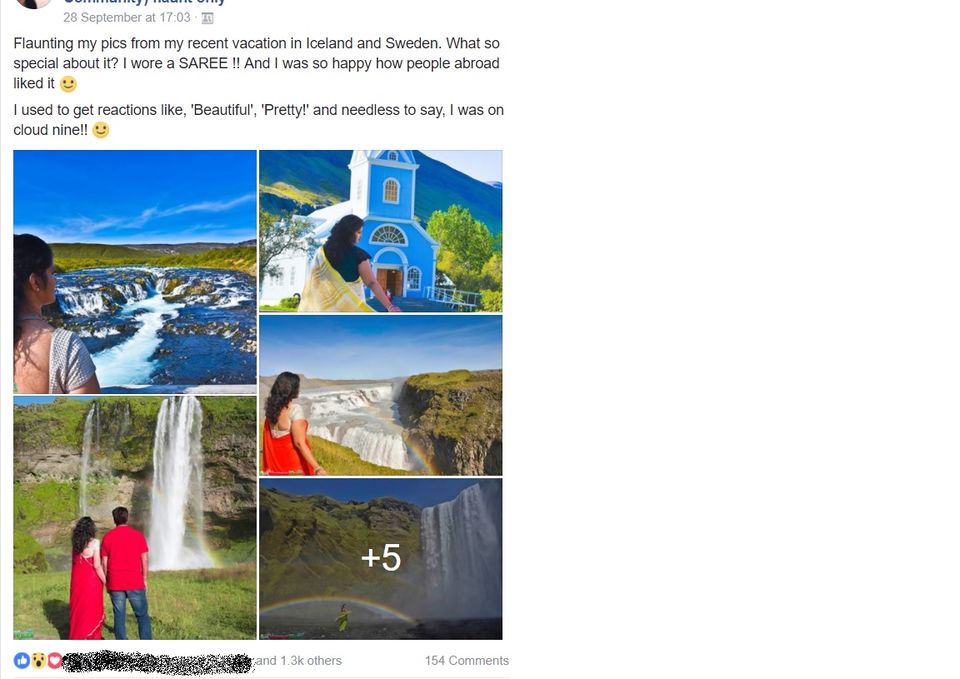 In another girls group: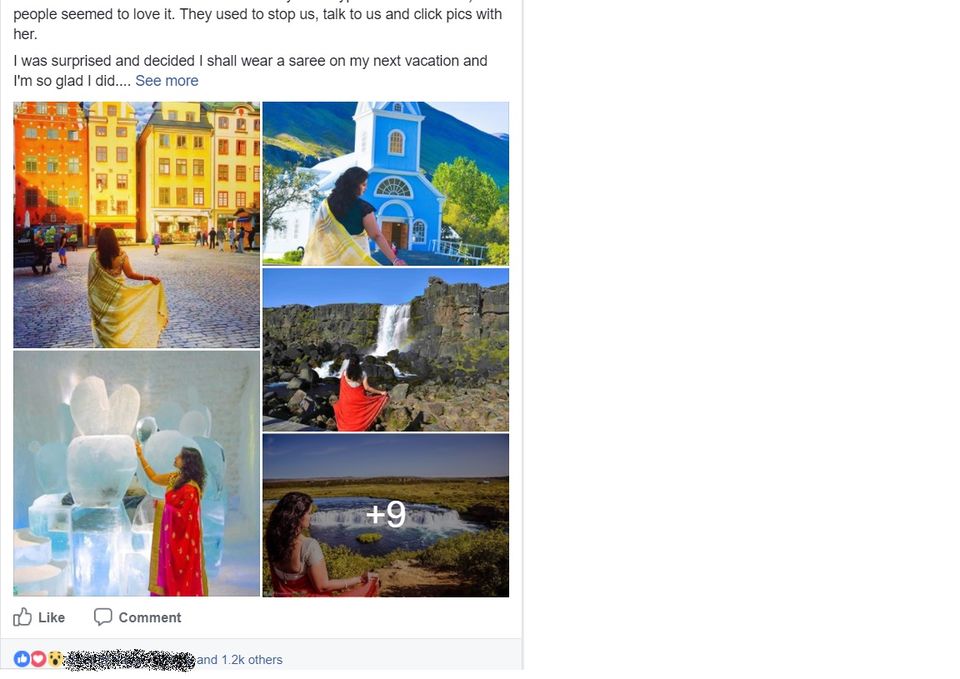 How did I feel?
Well, as I told, I was on cloud nine! As a person who loves to travel not only for the sake of seeing the places and tick them off the list but as a person who would love to interact with people of various ethos and learn things while travelling - this was an eye-opening experience. Trust me, for the shy person I am, I would have really not sparked off the conversation with a stranger. But, when they made the first move, I was all ears :)
Will I do it again?
This time, the number of sarees I packed in my suitcase outweighed the number of jeans I took with me. And how glad I am with that decision. Coming back home, I thought, if I hadn't worn saree, I would not have had so many interactions with absolute strangers nor I would have so many stories to tell!
And Yes, I will definitely do this again! I shall make it a point to wear sarees at least on a few days in my future trips :) Will you??
For more pictures of my Iceland trip, visit this link - 90 pics that will put Iceland in your bucket list
Follow me on Instagram here or on Facebook here for more updates :)
Frequent Searches Leading To This Page:-
saree wearing countries, my husband wear my saree, my husband wear saree, foreigners wearing indian clothes, foreigners wearing saree