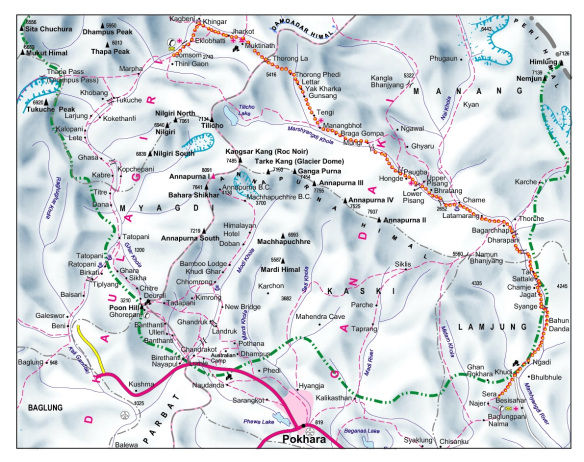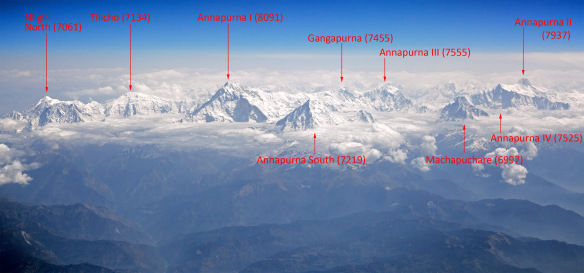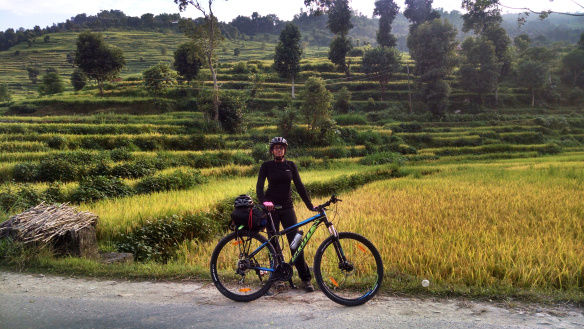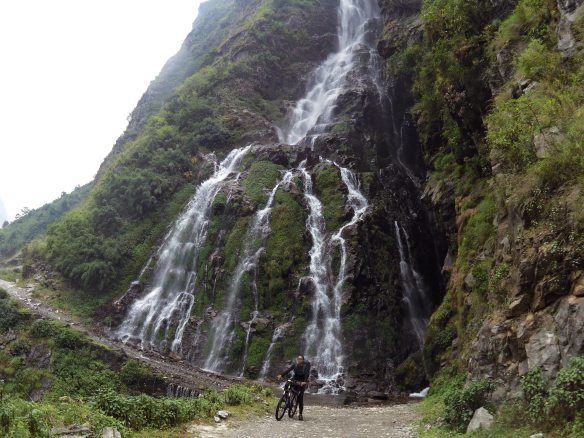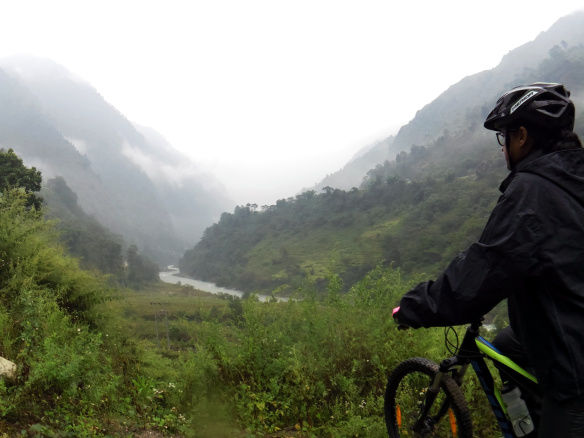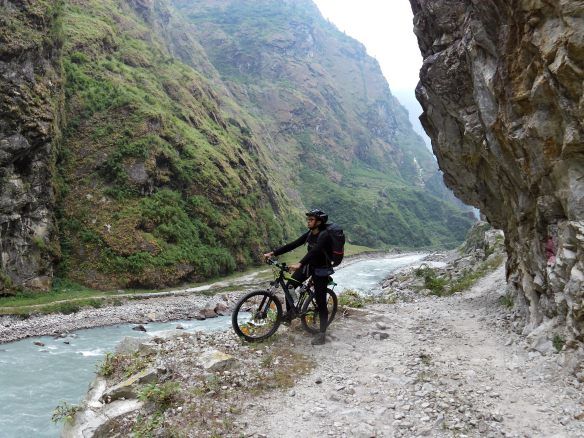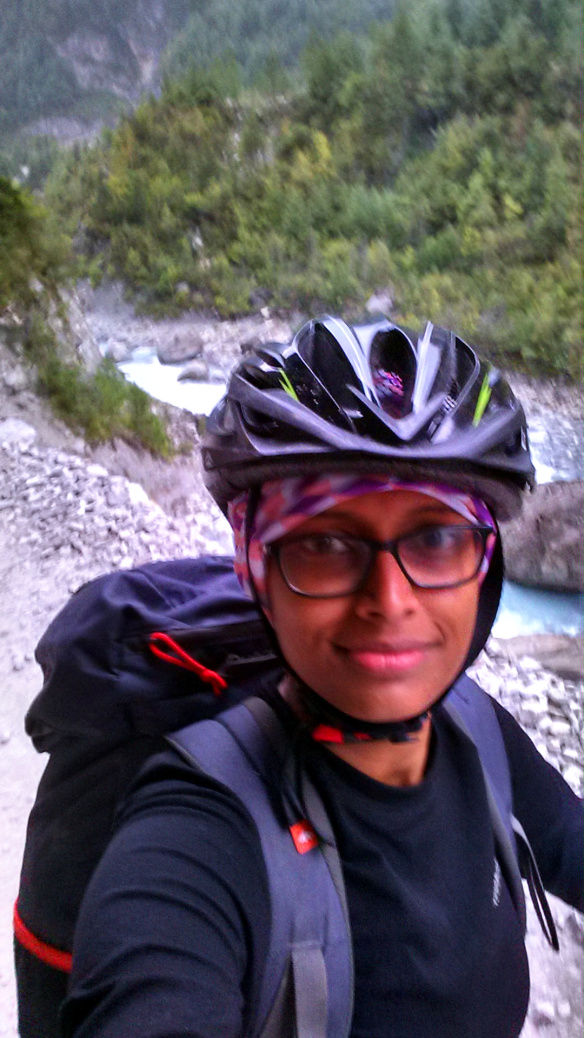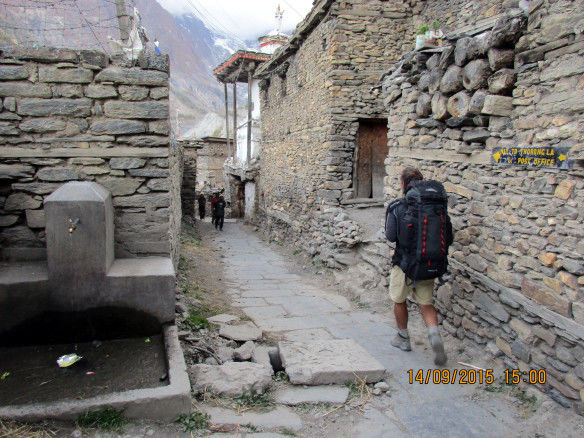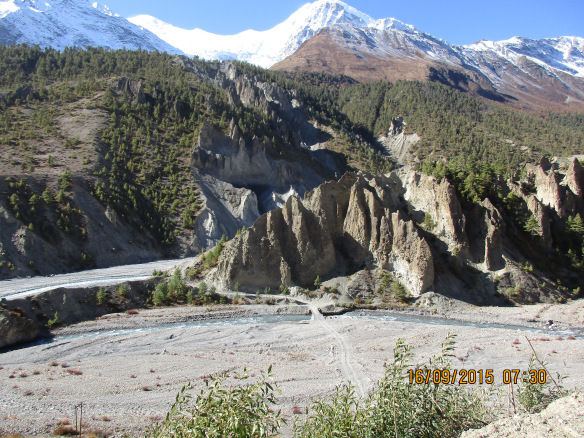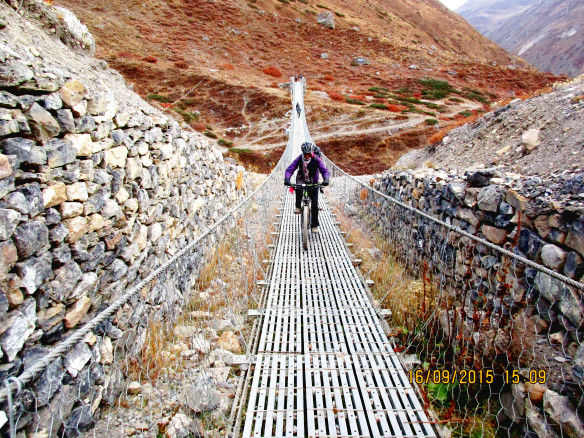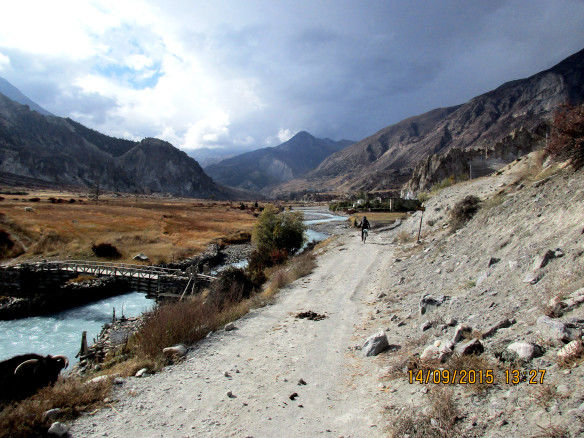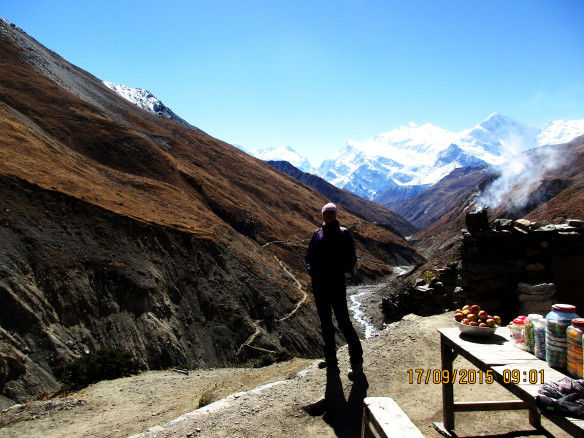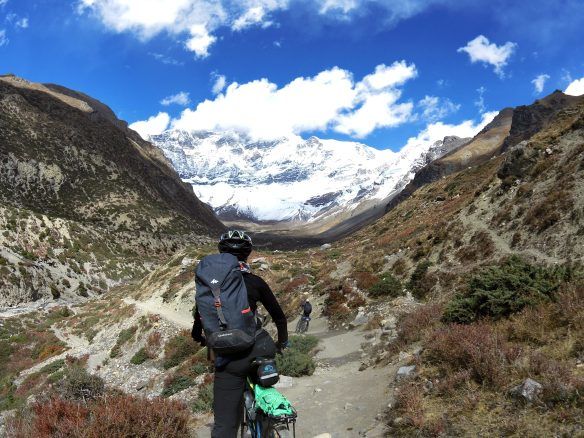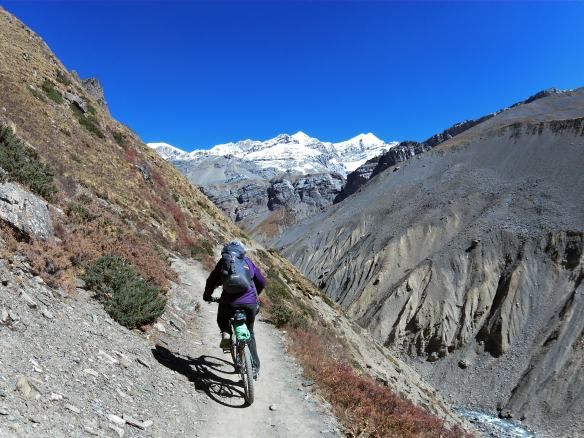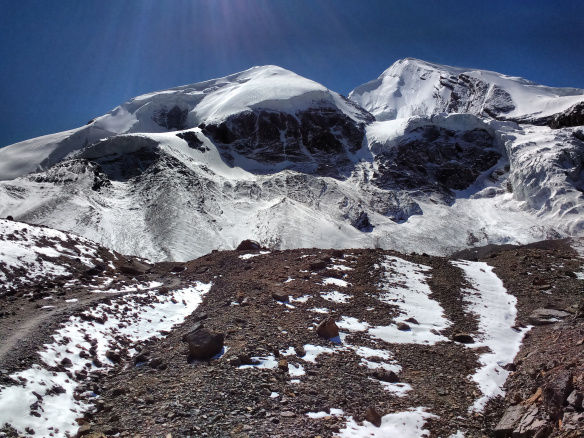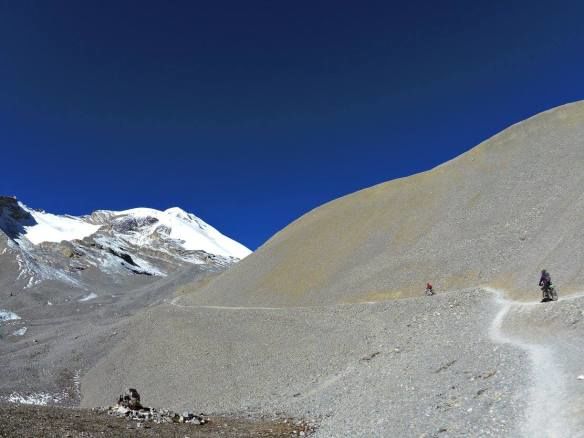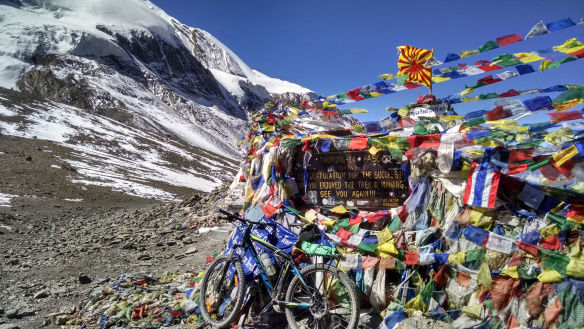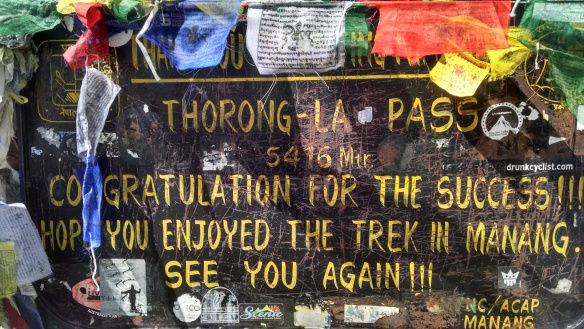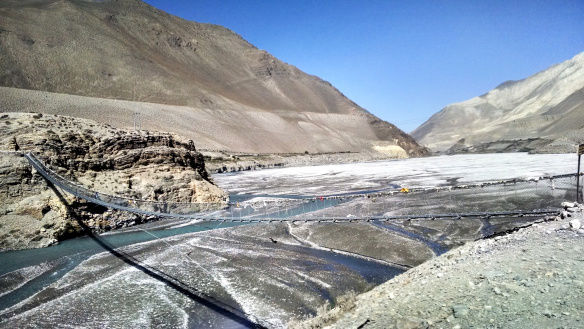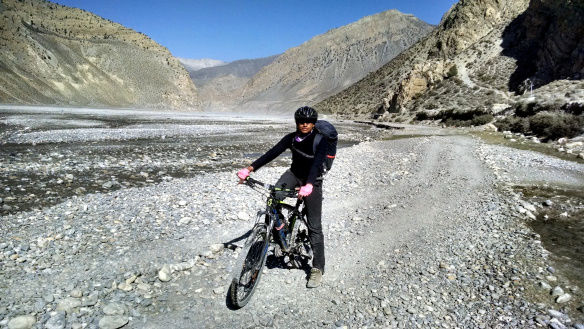 This October, I crossed a big item off my bucket list by doing the Annapurna Circuit Trek on a mountain bike. It was a lifetime experience and taking my MTB along only made it more challenging and memorable.
A small introduction on the place: Annapurna is a range of mountains in the Himalayas, all scaling up till ~8000 m. The Annapurna circuit trek goes counter clock-wise around this beautiful range. This is considered as one of the best treks in the world.  The scenery is outstanding with a variety of terrains from the lower 800m dense green forests to the snow capped peaks at the Thorang la pass at 5416m.
A small account of my itinerary and experiences along the circuit:
Day 1 – Kathmandu
After reaching Kathmandu at about 3pm on 9th oct, 2015, we assembled our cycles and rushed to get the TIMS and ACAP cards from the tourism board. We spent the night there at Kathmandu and took an early morning bus the next day to Besisahar.

Day 2 – Besisahar
Since we didnt get a night bus from Kathmandu, we had to sacrifice one day in a bus ride to Besisahar. It was difficult especially carrying four cycles in the overcrowded buses. After a day-long bus journey, we ended up in Sundar bazar, about 15kms before Besisahar. From there we biked till Besishar and stayed at an amazing Tibetian hotel. The dinner was yummy Dal Bhat and excellent service. Dal Bhatt is the staple food in Nepal and available throughout the circuit. It is a simple, delicious and healthy meal.
Day 3 – Besisahar (820m) to Ram bazaar (1130m)
We started early from Besishar, the official start of the Annapurna Circuit. A muddy jeep track starts from the northern end of Besisahar, which runs along the banks of the beautiful Marshyangdi river. About a couple of hours after we started, Gautham's front wheel started giving trouble. Eventually the wheel got bent and we lost about 5 hours of precious time trying to fix it. Finally, the mechanic said nothing could be done and he had to continue with the bent wheel throughout the circuit. This delay also cumulatively changed the plan for each we had made.
By late noon we started pedaling trying to cover as much ground before nightfall. It started raining heavily at around 6pm, by 7:30pm we called it a day and decided to stay a cozy place in Ram Bazaar.
Day 4 – Ram bazaar (1130m) to Bagarchap (2160m)
The monsoon hadn't ended in Nepal by the start of October. Throughout this day we were riding enjoying the peaking mountains and pouring showers… Marshyangdi river was at its full flow, gushing through the valley below us. It was a breathtaking view. There were numerous water falls formed due to the recent rains and crossing each one was a cyclist's thrill.
Day 5 – Bagarchap (2160m) to Dhukur Pokhari (3240m)
It was another day of exciting ride. The terrain kept changing slowly from the lower lands to slightly elevated forests. The terrain kept rolling with continuous ascends and descends.
Day 6 – Dhukur Pokhari (3240m) to Khangsar (3740m)
Another energy filled day with great sights and clean mountainous air. We crossed by Manang, a major town in the middle of the circuit. It is also a tourist attraction and a great place to do shopping.
Day 7 – Acclimitization day at Khangsar
Tilicho lake is one of the highest lakes in the world and I heard the trek is a to-do for all adventure seekers. We left our bikes in Khangsar and set forward to do the trek. Halfway through one of my team guys came down with acute altitude sickness and already i had a headache. So we were forced to get back to Khangsar. Never underestimate the importance of acclimatizing. We spent whole of this day on this small trek and resting at Khangsar for the rest of the time. It was a good decision, after this day my headache disappeared
Day 8 – Khangsar (3740) to Letdar (4200)
After giving up the attempt to climb to the Tilicho lake, we headed towards the pass. The effect of thin air was much felt on this day. Panting and gasping I made it to Letdar, where a sweet couple invited us to stay for the night. There is no electricity in this part of the circuit until the pass. Since one of the members in my team was still suffering from altitude sickness symptoms, we decided to take it slow from here until the pass.
Day 9 – Letdar (4200m) to High camp (4850m)
Another day of gasp and pant… We had lunch at base camp, a beautiful restaurant with delicious food.
Day 10 – High camp (4850m) – Thorang La (5416) – Mukthinath (3800m)
This was the big day. A final ascent to the Thorag La Pass at 5416m. We had an early breakfast at the high camp and began our ascend by 6am. It was still dark and my fingers were numb with cold. Slowly I started moving up the mountains. The effect of high altitude was highly felt during this ascend. I had take a break every 20 steps to catch my breadth. Pushing the cycle along with me in this condition was only exhilarating.
There is a small tea shop halfway towards the pass. After that its a series of small uphills until you reach the pass. Reaching the pass was the my "high moment" of the entire trip.
The descend from the Thorang La Pass to Mukthinath is a killer on the knees, its a steep slope with a lot of altitude loss. Luckily I had my cycle and was able to ride down most of the parts. After reaching Mukthinath I wanted to take a break and enjoy the end of a big day with a beer and food. Hotel Bob Marley is a famous joint there, we spent the night listening to Reggae and sipping beer. Yak meat pizza filled my taste buds and a rewarding end to a killer day.
Day 11 – Mukthinath (3800) to Jomsom (2720)
Jomsom is major town in the circuit and has an airport. This was also the end for my 10days long ride. The ride from Mukthinath to Jomsom was very enjoyable with great views and rolling terrains. The ride was downhill throughout with strong head winds, strong enough to push me off the cycle. The terrain totally changed here, and the Kali Gandaki river begins here. From Jomsom there are lots of buses to Pokhara and Beni. I took an early morning bus from Jomsom to Beni and from there to India border.
Some noteable points, if you are planning to do a trip to the Annapurna
1. Its not necessary to cycle along the route. It is actually more trekker friendly (I had to carry/push my cycle at many place) and the time gained by cycling is not much.
2. There are tea-houses throughout the route, so no worry on camping. Every few hours you will be crossing a village.
3. The food prices keep increasing as you go up in altitude. On an average 1000-1500 NPR per person should be sufficient for a day.
4. Accomodation is very cheap, mostly 100-200NPR per room. Some places they let you stay for free if you eat dinner/breakfast there.
5. Dal Bhat is the most common food there, it is rich in carb, proteins and filling too.
6. Do not underestimate the importance of acclimitization, it is a good practice to ascend a little extra in the evening, come back and sleep at a relatively lower altitude.
7. The trails are very clear and well marked, it is easy to do without a guide.
8. It is possible to get a Nepali N-Cell simcard at Kathmandu. The call rate to India is about 3NPR/min. You need to provide a passport size photograph and a copy of you passport.
This trip was originally published on Ethnic Mutt