Starting point: Thorang Phedi (4450 m)
Ending point: Muktinath (3800 m)
Date: 21st Oct 2019
Distance covered: 17 km
The day when I cross the mighty Thorang La (5400 m)
I couldn't sleep the previous night because Kajol (trek mate) was suffering from a mild headache. She didn't eat well and had vomiting sensations too. I tried my best to check on her after every 2 hours at night. We finally got out of the room at 07:30 am but I had dropped the idea of hiking up to the pass. I was planning to stay back for a day and do the trek the next day after her recovery. I went to bed again and at around 08:00 am she asked me to go alone if I want to since she knew that I have to do the Annapurna base camp trek and the Mardi Himal base camp trek just after the Annapurna circuit.
She seemed very confident to me and after talking to the hotel owner we decided that it will be completely fine for Kajol to stay back and she could hike up the next day.
I was pretty confused as it was too late for me to start, all the people left Thorang phedi as late as 06:00 am in the morning, which meant that I would hardly see a soul till the pass. I gave it a thought, asked Kajol twice about the decision and then I left Thorang Phedi at 08:00 am.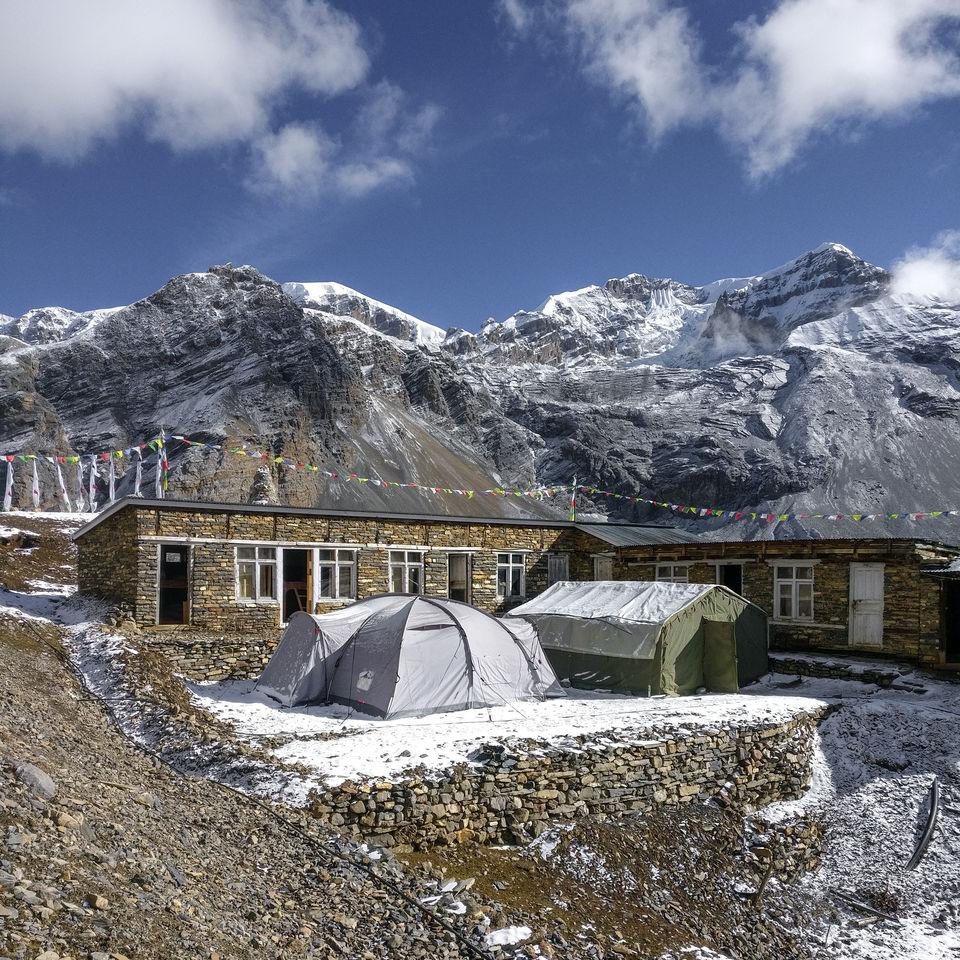 Picture 1/10
The weather was very clear. It was bright and sunny. I could not see any cloud near the sun nor on top of the high mountains. The pass was at a distance of 5 Km from Thorang Phedi. I started hiking up planning to do the pass without any breaks. I reached the high camp in less than 50 minutes and I was constantly looking up at the sky. The sun should keep shining, because if the clouds cover the sun and they sink it then becomes really cold at high altitudes and a situation of a whiteout may further slow you down.
Picture 2/10
I was vlogging and clicking pictures from the point of view of the video log that I am going to post on YouTube soon. I did not stay at the High camp and I was really happy to see lots of snow. It was the second time that I could walk on the trail covered with snow. The altitude was rising and you could feel that the air was getting thinner but it was all fun as it was only me and the trail and no one else.
Picture 3/10
The moment you cross the High camp (4850 m) you see an array of mountain peaks namely; Mount Chulu and other peaks from the massif, Jinang, Purpung Himal and many more. I was blessed with a clear weather and I was able to see the peaks without a cloud covering their peaks.
Picture 4/10
I was trying to walk at a slow and steady pace so as to conserve energy since I had to skip breakfast. To my utter surprise I met Ron Brabson, a 64 year old man from the States cycling up the classic Annapurna circuit. We had met on Day 02 in the guest house in Timang village. I sat near him for 10-15 minutes, shared few words and then started walking ahead after wishing him good luck. He is the person who inspired me the most on the whole circuit. I wish to do the Annapurna circuit again on a cycle.
Picture 5/10
There is one more point over the High camp way before the Thorang la where you could stop for a small break. I was glad to meet Julien from Britain and another guy from Poland who was returning back after climbing the Chulu peak (6059 m) expedition. This is what I liked about the circuit, you get to meet so many people from across the globe. You get inspire and at times you inspire others to do things you love the most.
Picture 6/10
After hiking for 3 hours and 30 minutes I was finally standing strong at Thorang La (5400 m). I was fit as a fiddle and after clicking a couple of pictures I started the steep descend towards Muktinath. I was genuinely missing Kajol at the pass and I prayed that she gets through the pass without any problems.
There is a small tea shop near the pass where you can drink some hot tea to keep your body warm.
Picture 7/10
The descend to Muktinath (3800 m) is easy but it is too long and tiring. I would recommend carrying trekking poles with you, they will be really helpful on this section of the trail. There will be no shops or tea houses on this descend until Charabu (4230 m) which houses 3-4 guest houses. If you reach here little late then you can even stay here or if you are really early then you can take a lunch break and start off for Muktinath.
Picture 8/10
Muktinath is a town named after lord Vishnu sacred to both Hindus and Buddhists. The Thorang la connects Manang valley with the Mustang valley. The term 'Muktinath' translates to 'place of liberation'.
Picture 9/10
I was both happy and sad after reaching Muktinath. I was sad because the trek came to an end and I was happy because I got to go to the Annapurna base camp trek after this where I could see the mighty Annapurna (8091 m) from up close.
One could see several mountain peaks from the Muktinath town itself. It is one of the most beautiful towns of the circuit for sure.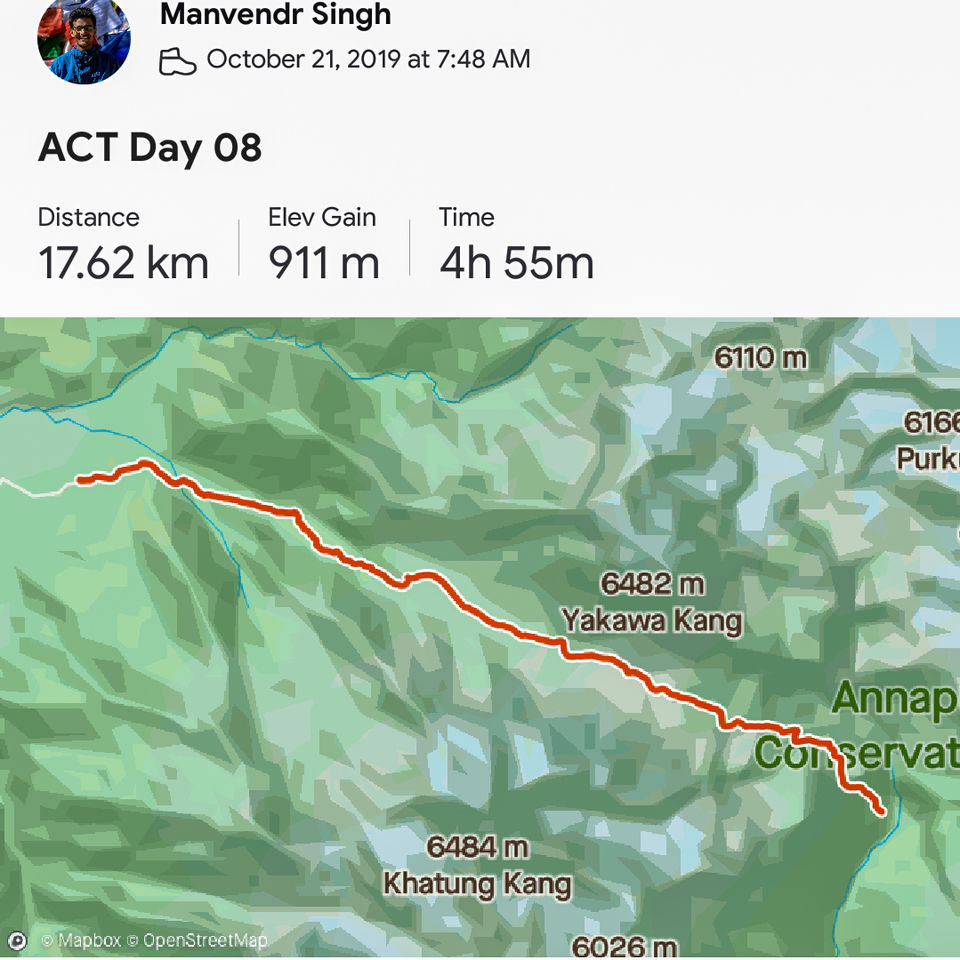 Picture 10/10
Finally, strava would get some rest for a day now before it starts recording again the trail to the Annapurna Base camp.
.
The classic Annapurna circuit used to start from Besisahar (820 m) and ends at NayaPul (1070 m). However, I decided to do the trek till Muktinath only because the other side of the trail is being completely converted into a road full of dust. There are people still, who walk from Muktinath to Nayapul but in my opinion, the real charm of the classic annapurna circuit now lies in hiking till Jomsom at max. I skipped the Muktinath to Tatopani section (80 km on road). I took a bus from Muktinath that dropped me at Tatopani and I started my trek to the Poon Hill, the Annapurna base camp, Machapuchare base camp and the Mardi Himal base camp one after the other.
.
Do read the travel story on each of these treks.