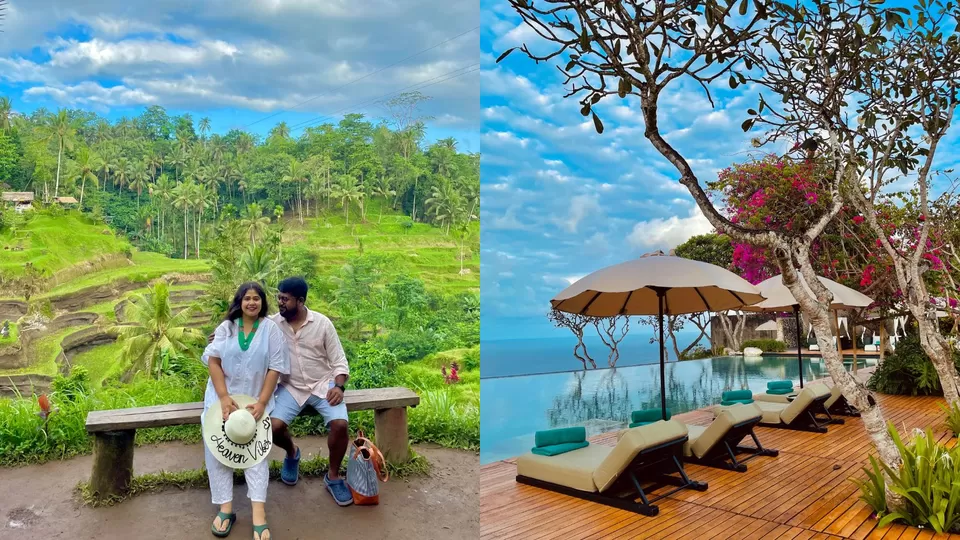 Blue sky, crystal clear sapphire waters, peppy beaches, white sand and lush greenery – yes you get the gist. Bali is overdone but for good, very good reason It is one of the most beautiful places on earth, and overdone because this slice of paradise is surprisingly affordable.
Without further ado, let me take you through this extensive Bali guide with four stops, the first one in Seminyak, the second in Nusa Lembongan , the third in Ubud, and the last leg of your trip in Uluwatu, the southernmost tip of Bali. This Bali itinerary gives you a detailed guide of where to stay and how to get around. Let me remind you, this is not a budget travel guide, but a honeymoon guide for an extensive 10-day vacation. Ready? Let's go.
Flights:
First things first, book a flight that allows you check-in luggage. Most flights to Bali these days are operated by Air Asia and these have a strict baggage restriction, allowing you only a 7-kg cabin luggage with a small handbag. What a joke! But you're on your honeymoon and the wifey needs to fit her wardrobe and multiple shoes for those gorgeous shots against the gorgeous backdrops. It will get a little pricier but it is better than dragging your luggage through a layover airport. I booked through Singapore Airlines, which allowed me 2 cabin luggage and a check-in bag worth 25 kg per person. That's a good deal.
Hotels:
Take care of your accommodations beforehand, obviously. I mean, you won't get a visa without booked accommodations against every date of your stay. Book your hotels with breakfast included, preferably with dinner too. Pro tip for the honeymoon couple, get yourself a beachfront hotel or a resort and always reserve the best two for the first and last legs of your trip. At Seminyak, Double Six Luxury Hotel is a fantastic option for a couple, simply because of its gorgeous location, its outstanding pool and the fantabulous restaurants and the spa service.
To be honest, I did not want to move to the next location. At Nusa Lembongan and Ubud, I opted for mid-range hotels because the view would make up for everything! You can also do the same or may differ slightly. Your first choice could be a mid-range hotel, the second could be a budget-friendly option, and the third one must be a luxurious one because when at Bali and on a honeymoon, make the best of every occasion. I chose my last stay at Uluwatu at the fanciest place I could, the Bulgari Resort.
My stays:
Double Six Luxury Hotel, Seminyak:
Being a beachfront hotel, Double Six gifted us some of the best sunsets of my life. It's not even a minute-walk to the beach. It took 30 seconds to reach the beach from my room, where Double Six has their own beach spot, with lounge chairs, umbrellas, a towel boy and running water to clean the sand off you. Aaah, the dream, right! To be honest, I did not expect this. The room was unbelievably large, the pool enormous and the bathroom was just perfect for a couple celebrating their anniversary in style. Did I mention that the vodka-infused welcome drink was the best I have ever had till date?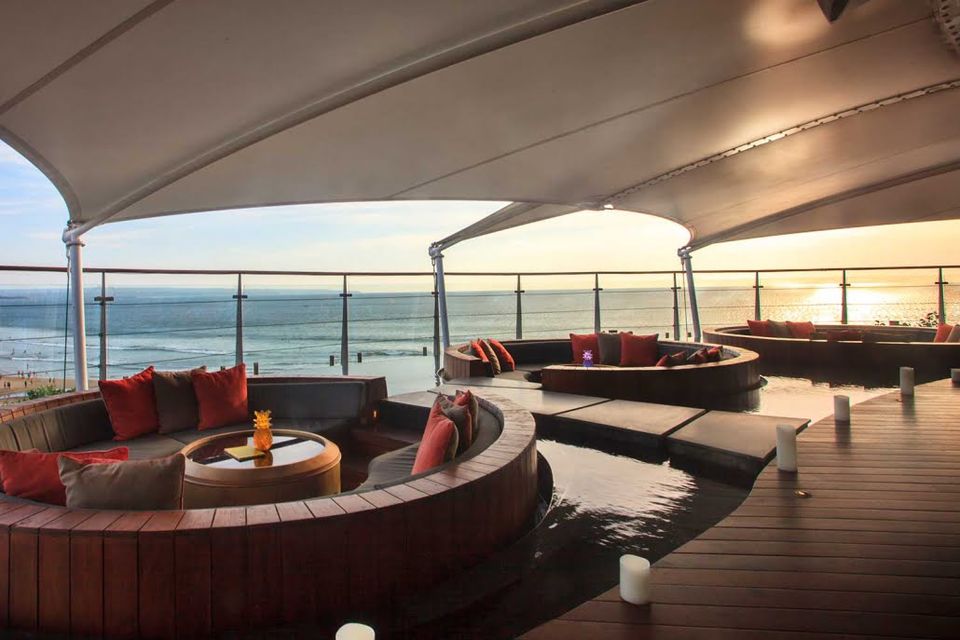 Mahagiri Resort, Nusa Lembongan:
Nusa Penida and Nusa Lembongan will keep you in a rustic setting, with less luxury indoors, but it will make up with the view. You can view the volcano in Bali from the Mahagiri Resort in Nusa Lembongan across the sea. I could spend all my day and evening just lounging on the beach chair with the sand sand at my feet, some cold Bintang beer and a hot pizza straight out of the oven, looking at the sea and the volcano at the distance.
Ulun Ubud, Ubud:
Overlooking a lush hillside strewn down facing a charming wall of green vegetations, Ulun Ubud was just outside the heart of Ubud. My room, which was a modern-Balinese style suite had a magnificent view of the Campuhan river valley, terraced rice fields, and the majestic Mount Agung. But if I have to mention a con, it was the never-ending flight of stairs and the limited breakfast options.
Bulgari Resort, Uluwatu:
Since the Bulgari Resort by the name itself is pretty high on the budget, I reserved a one-night escapade to this dreamy and indulgent property, overlooking a sparkling blue Indian Ocean from atop a cliff. Being at Uluwatu, the southernmost tip of Bali, Bulgari Resort Bali is located 150 above sea level with an inclinator that goes straight to the virgin beach where you can enjoy the most private time, secluded, and be at one with nature and the roaring waves. With an infinity swimming pool overlooking the ocean, a 24-hour personal butler service, adorned with Balinese décor juxtaposed with a striking Italian setting, I could not get enough of it.
Spa Treatment:
Never forget to book yourself a spa at Bali. Go for a couple's message and book a traditional Balinese therapy with a soft to medium pressure technique. My suggestion is, go for 2 spa treatments – one after you land and one at the fag end of your trip, before you fly out. If you're at Seminyak or the Legian area, go for the Aqua Perla Spa at Double Six Hotel, Seminyak. You will be surprised to see how relaxed and energised you can feel at the same time. At Uluwatu, if you want it to be your final destination, you could very well experience the heaven and the stars and come back on planet Earth with Bulgari's spa treatment. But for this, you need to stay at this extravagant resort.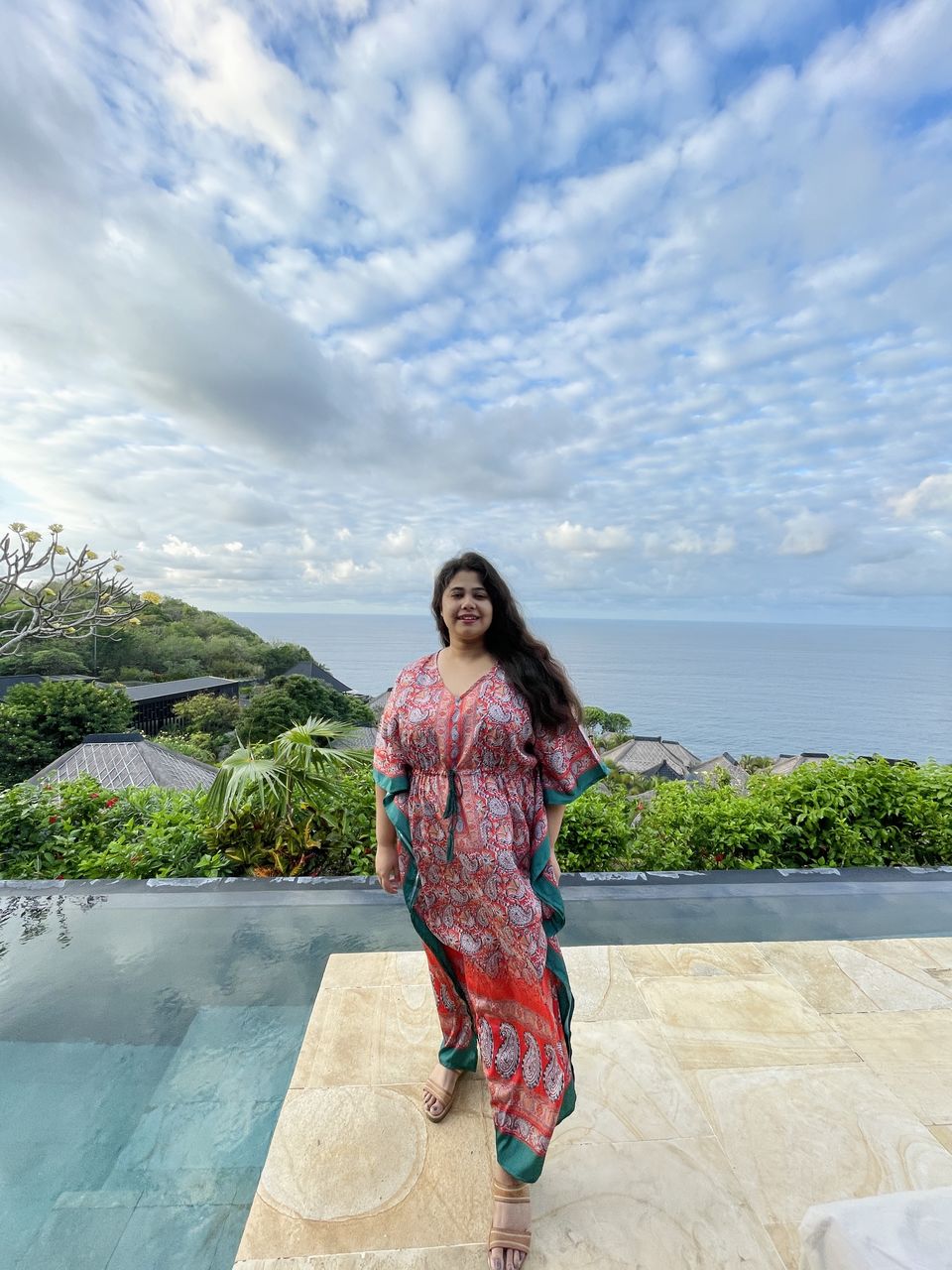 After a long day sightseeing on day one and then some beach activities later, my body could use a gentle message and Double Six's Aqua Perla Spa came to my recue. They gave us the most sensational treatment with their traditional Balinese message, starting with a relaxing foot ritual and ending with a head message. Doesn't reading about it already make you relaxed? Wait till you experience it!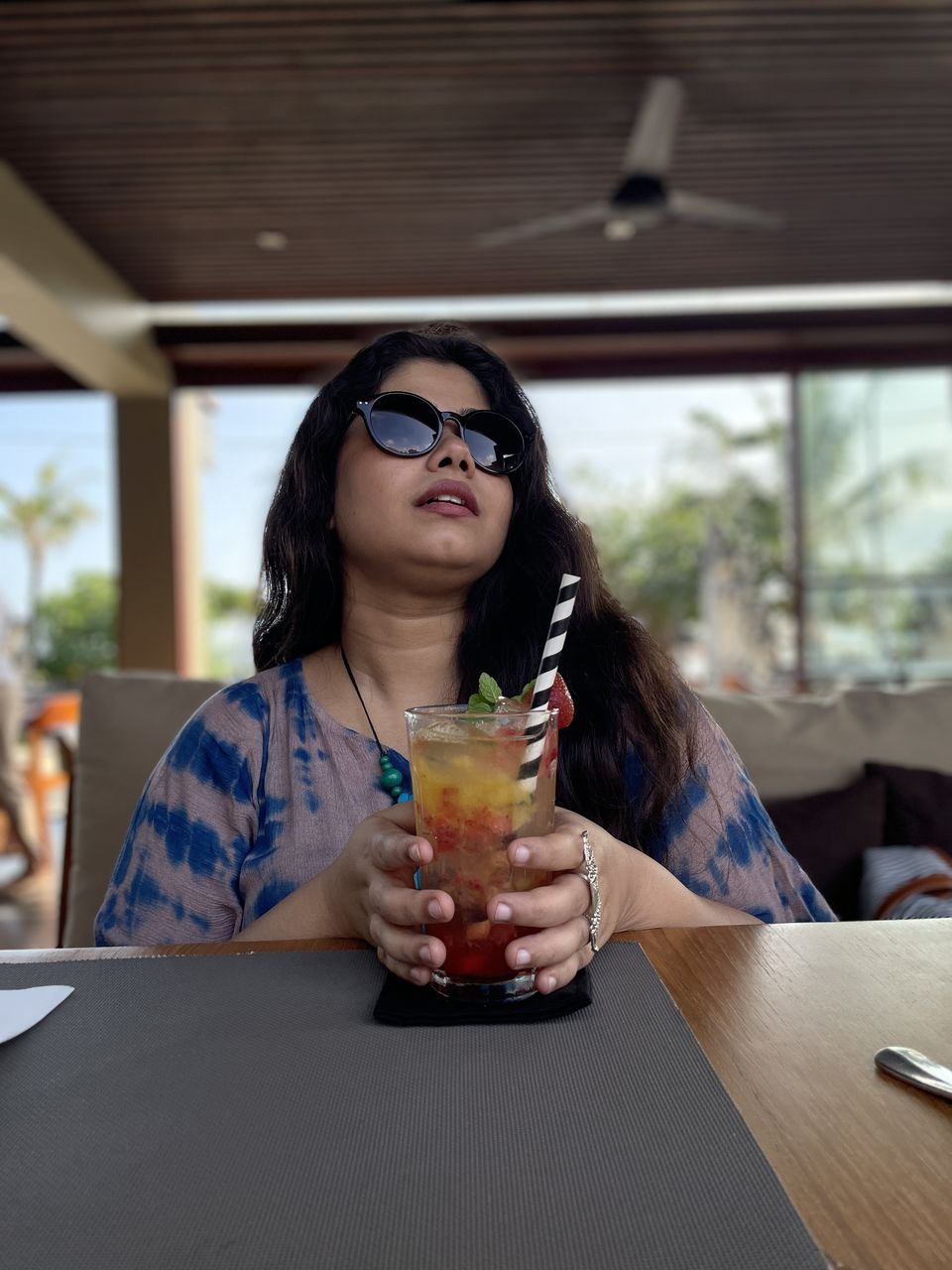 At Uluwatu, the sensation was different. As we walked to the treatment "shrine", we were indulged in a foot message that swept my mundane thoughts away from the world. I could actually hear the dramatic waves of the Indian Ocean crash against the cliff atop which the resort stands. The Bulgari Spa at Uluwatu feels like an isolated paradise, 500 feet above the ocean. As a couple, we opted for the luxurious Romantic Harmony Ritual, a 150-minute message The spearmint and aloe exfoliating polish had me drifting to another time and place while the aromatherapy massage, which detoxifyed and cleansed my body, made me feel light and clean in an otherworldly way.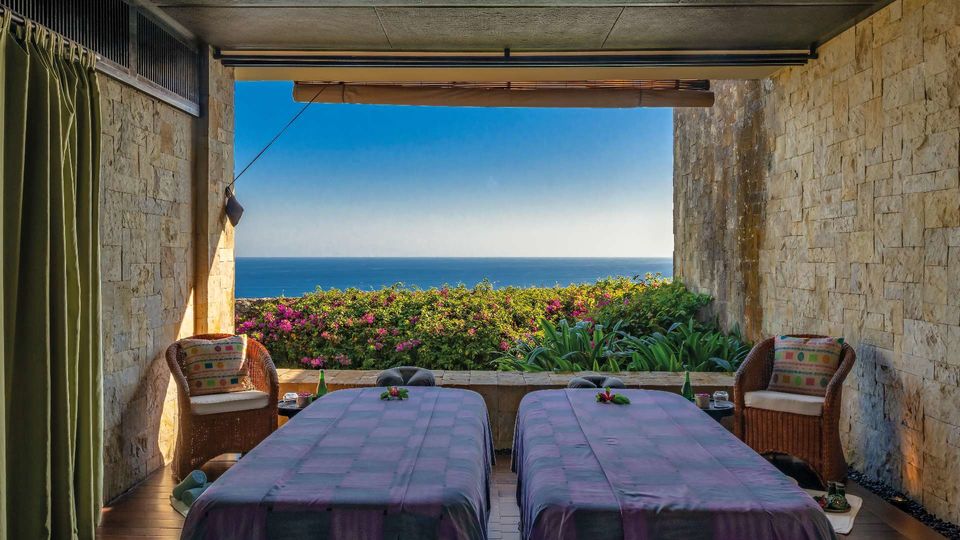 Getting around:
For tourists, especially for the honeymoon couple looking for a more relaxed commute options, Grab and Gojek and good app services you can opt for, which are the Balinese versions of Uber and Ola. You can rent scooters and motorbikes for INR 380 per day, but that is only good for getting around the town or area you are at. For transfers from airport to hotels, hotels to harbour, and to commute from one area to other, I relied on a super amazing service which was suggested to me by the concierge at Double Six, when I had emailed them from home before reaching. He asked me to contact trippybali.com and gave me a number.
Trippy Bali and their service
At first, I was hoping it was for arranging ourselves a car ride for the transfers. But to my utter surprise, they actually asked me about my stays and the areas I type of holiday I had in mind. They tailored us a beautiful itinerary, which completely respected our time and places that we had in mind. Plus, Trippy Bali gave us two fantastic drivers who took us around Bali in the most gracious, generous and kind manner. Trippy Bali also takes care of your passes and entry tickets so you don't have to mind these trivial processes on your dreamy honeymoon. And there was a bonus, what I didn't know is that Trippy Bali arranges a professional photoshoot with drone to all the locations you choose to go. You can contact them at this number +62 81237549652 and email Trippy Bali at support@trippybali.com, they will arrange for a superb vacation for you.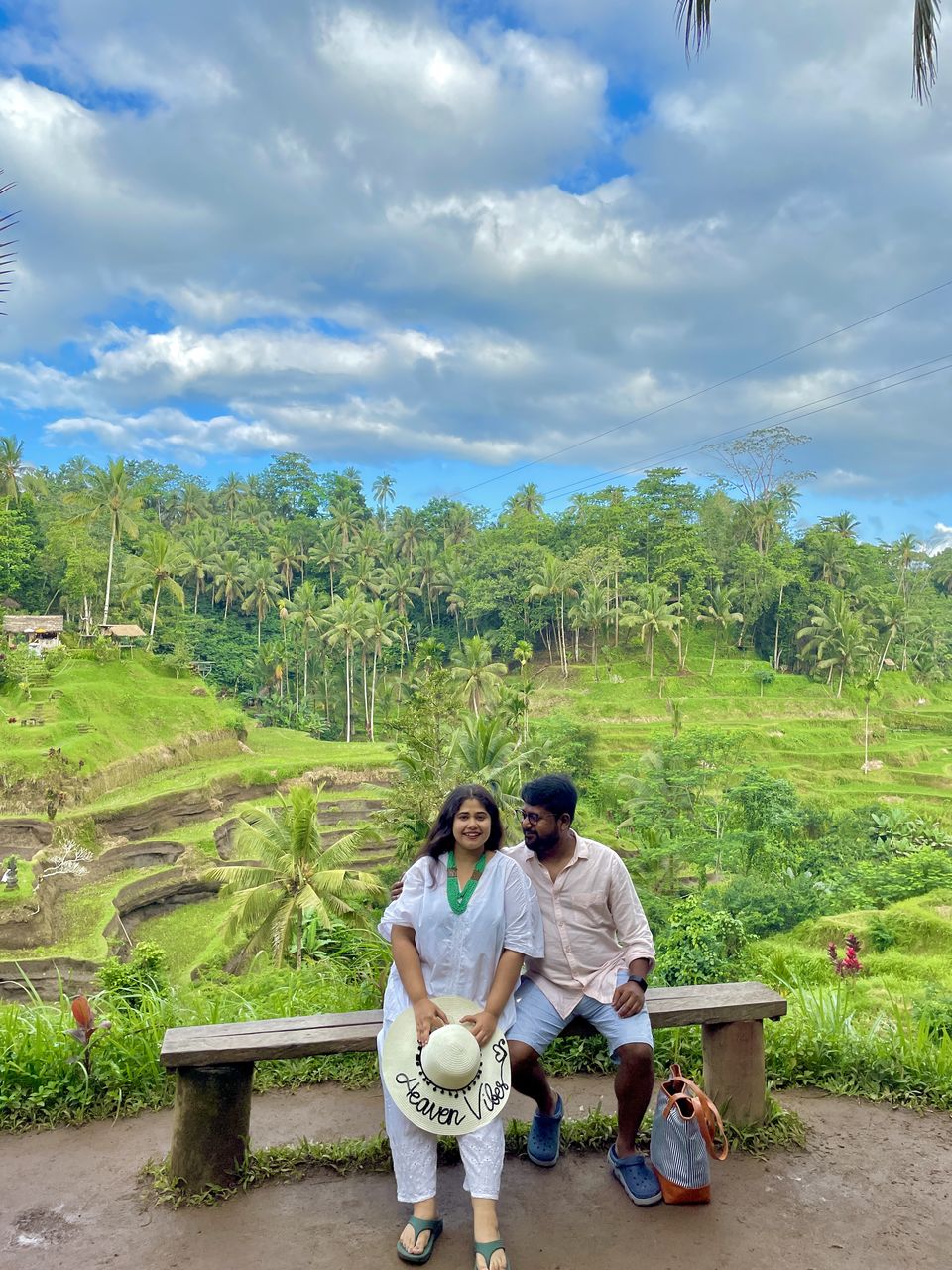 I got to know later from Made, the amazing chauffeur, that Trippy Bali offers a wide range of travel services that can tailor-made and customized to suit travel needs of different people. They arrange group tours, corporate events, leisure and business travel, even destination weddings and adventure trips. The best thing is, Trippy Bali has packages that include hotels and restaurants, which takes care of everything sans the flight, and if you want to opt for the day tours, that's also something they do really well. Which means, they cover all your needs of hotels, taxi rides, itinerary, transport upon arrival/departure, pickups and drop-offs and sightseeing. But since I went for a customized one, I cannot recommend that enough!
Here's a detailed itinerary for your ease. Thank me later!
1. Reach Bali and check-in. Relax for the rest of the day.
1. Ulun Danu Beratan Temple, on the shores of Lake Beratan in the mountains near Bedugul.
2. The iconic Handara Gate in the Bedugul highlands. Handara Gate is one of the most Instagrammable spot on the island of Bali.
3. Enjoy a spa treatment at the hotel.
1. Enjoy a beach day in the morning followed by a relaxing pool time.
2. Uluwatu Temple (or Pura Luhur Uluwatu), built at the edge of a 70-meter-high cliff above the Indian ocean. It is one of the top places to go for sunset delights and magnificent view of the Indian Ocean.
3. Watch the Kecak dance performance at the Uluwatu temple at sunset.
1. After checkout from hotel, transfer to Sanur Harbour. Take the boat to Nusa Lembongan.
2. Upon arrival in Nusa Lembongan, the Fast boat ground handler will be transfer you to your hotel.
3. Enjoy leisure time or ride around Lembongan on a scooty.
1. Take a day trip to Nusa Penida and enjoy a snorkelling day
2. Enjoy the sunset at the beach
1. Enjoy kayaking through the mangroves
2. Explore Nusa Ceninghan and Nusa Lembongan on a scooter
1. Checkout from hotel and take the boat to Sanur Harbour
2. Take the car and head towards Tirta Gangga, a lush garden with water fountains and stone sculptures, a perfect place for some gorgeous photos
3. End the day with the Tukad Cepung Waterfall, hidden between the rocks and a perfect place for Instagram shots
4. Check-in to your hotel in Ubud
1. Keep the day relaxed and visit the Tegalalang Rice Terrace, which offers a magnificent and amazing view of rice terrace set on a cliff. These stunning rice terraces are a part of the Cultural Landscape of Bali Province and is a UNESCO World Heritage Site.
2. Head back to the Ubud area and visit the Ubud Art Market for some amazing shopping and to appreciate Balinese craftsmanship
1. Transfer to Uluwatu
2. Enjoy a relaxing spa
1. Check-out and transfer to Ngurahrai Denpasar Airport, Bali
A picture-perfect honeymoon at one of the most spectacular backdrops of the world, Bali is a dream come true for anyone who's been there, and an aspiration for anyone who's not. Don't think twice. Go get yourself a that postcard honeymoon.