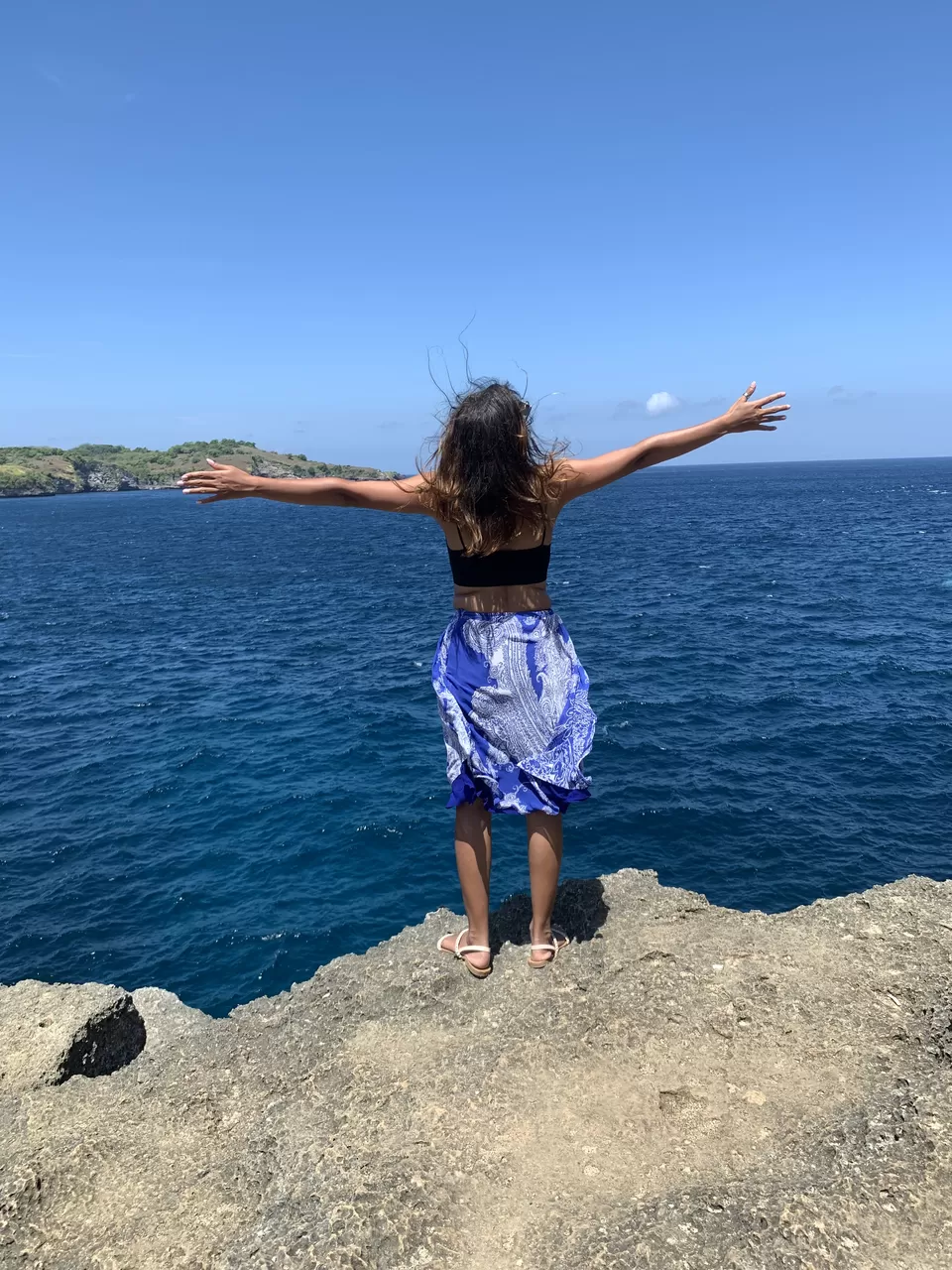 Bali has it all - beach bars to impressive waterfalls, adjacent to luscious paddy fields, ancient temples to volcanoes, and tropical islands to world-famous surf spots.
Going to Bali feels like going on a never-ending adventure. There is so much to see and experience on this magnificent island paradise that even a month is less to explore! The best time to visit Bali is between April & September. Avoid the monsoon period which falls between November & March. For cheap flight tickets, book 2-3 months in advance. Our tickets cost us around 35k INR.
Bali is an incredible destination for all kinds of travelers. Whether you're a solo female traveler or a group of friends/family. So for those of you who think that Bali is only for honeymooners, it's time to throw that notion out of the window!
Things you should know before visiting Bali-
1. Visa - You can get your visa on arrival
2. Language - The main languages spoken in Bali are Indonesian and Balinese but people do understand and speak English a little
3. Currency - The most acceptable currency is the Indonesian Rupiah but some places like big cafes and hotels do accept dollars.
4. Credit Cards and ATMs - There are plenty of ATMs in Bali's main cities. As long as you're not eating at local 'warung' restaurants, you can pay with your credit card, but cash is preferred. VISA and Mastercard are preferred.
6-day detailed itinerary of Bali
2 Days - Kuta/Seminyak
2 Days - Ubud
2 Days - Nusa Penida
Day 1
As soon as you reach Ngurah Rai International Airport, get your Visa from Immigration. It will cost 35$ (2783 INR). It is advisable to buy travel insurance and download the app PeduliLindungi (It's like India's Aarogya Setu app) before landing in Bali.
You can take the Pre-paid airport taxi to reach your hotel. Their charges are sensible than the random Taxiwalas. Hotels and Airbnb are easy to find in Kuta and Seminyak. We booked Eden Hotel in Kuta (booking.com), a very decent hotel with a pool and all the basic amenities at a perfect location. (near to popular bars and clubs). Take a rest after a long flight and enjoy your evening either by exploring the streets of Kuta or going to the nearest beach.
Day 2
Time to explore South Bali. The best way to explore Bali is by bike. Rent a motorbike and it will cost you around 70k-100k IDR a day (400-500 INR). But if you are not a confident rider then download the app Gojek and order a bike/cab to travel. It's cheaper than taking other cabs. Don't get your currency exchanged at the airport because their charges are very high. You can easily find money exchanger shops in the city. We got it exchanged at BNI bank, their conversion charges are less than any other local shops. Now we are all set so let's start...
- Nyang Nyang Beach - It is the cleanest, most beautiful, remote, and secluded white sand beach on the southernmost coast of Bali.
- Karang Boma Cliff - This is just around the corner from Nyang Nyang Beach, it's not a popular place but a good sunset spot. The view from the cliff is breathtaking.
- Uluwatu temple - It is a Balinese Hindu sea temple located in Uluwatu. It is most famous tourist sights because of its impressive cliffs, sunset views, and traditional Balinese 'Kecak' fire dance. The entrance fee to the temple is 50k IDR (268 INR) and 10k IDR (54 INR) for parking. Spend the evening at Uluwatu watching the Kecak dance which starts from 6 pm to 7 pm
- Suluban Beach - It is a real exotic beach known as a surfer's paradise. If you are a sunset lover then stay here to witness beautiful and mesmerizing sunset. You need to pay 5k IDR (27 INR) for the parking.
- Motel Mexicola - After a tiring day's excursion head towards Motel Mexicola to party and chill. It is one of the best party places you can find in Kuta which stays open till 1 am.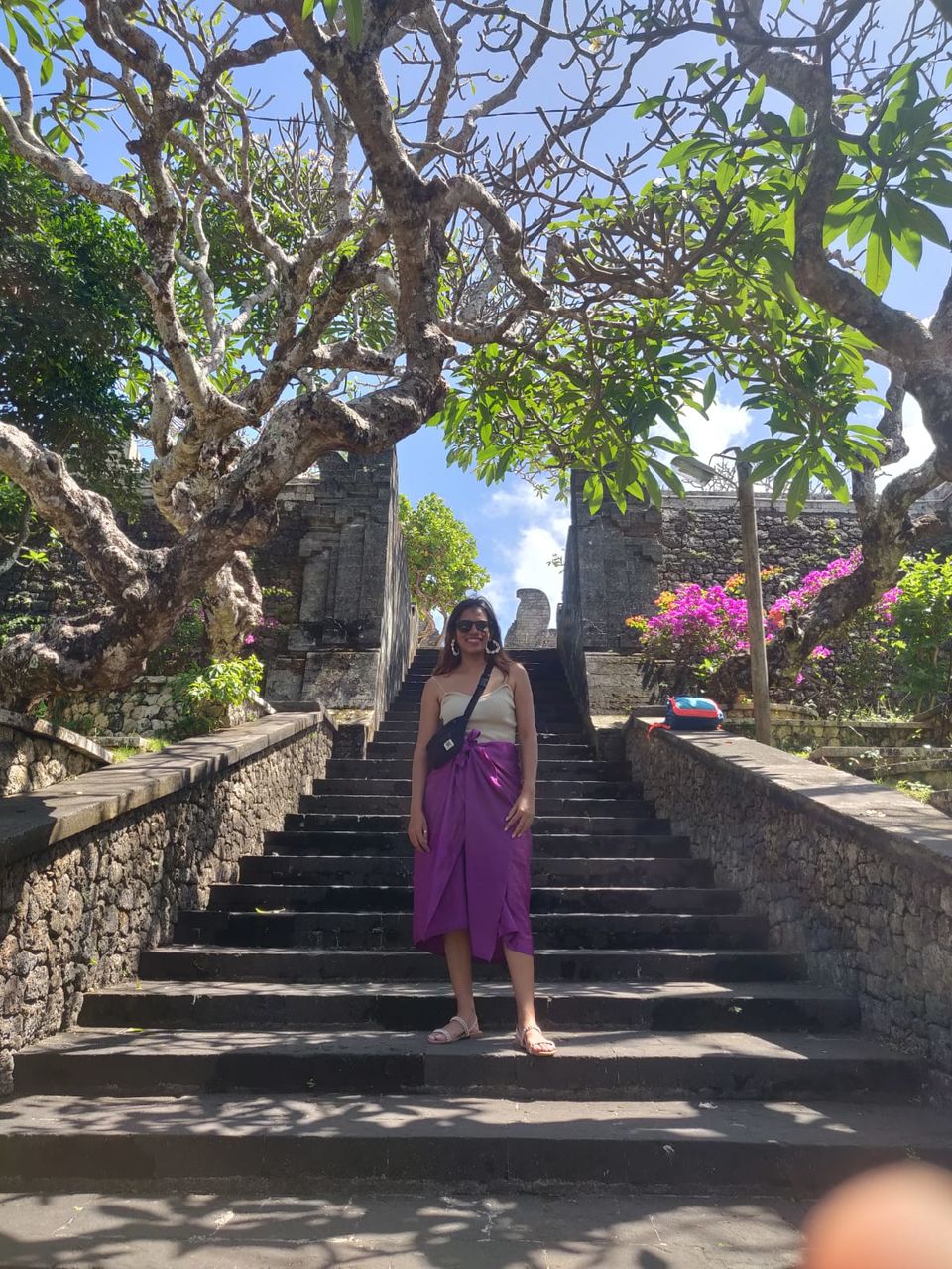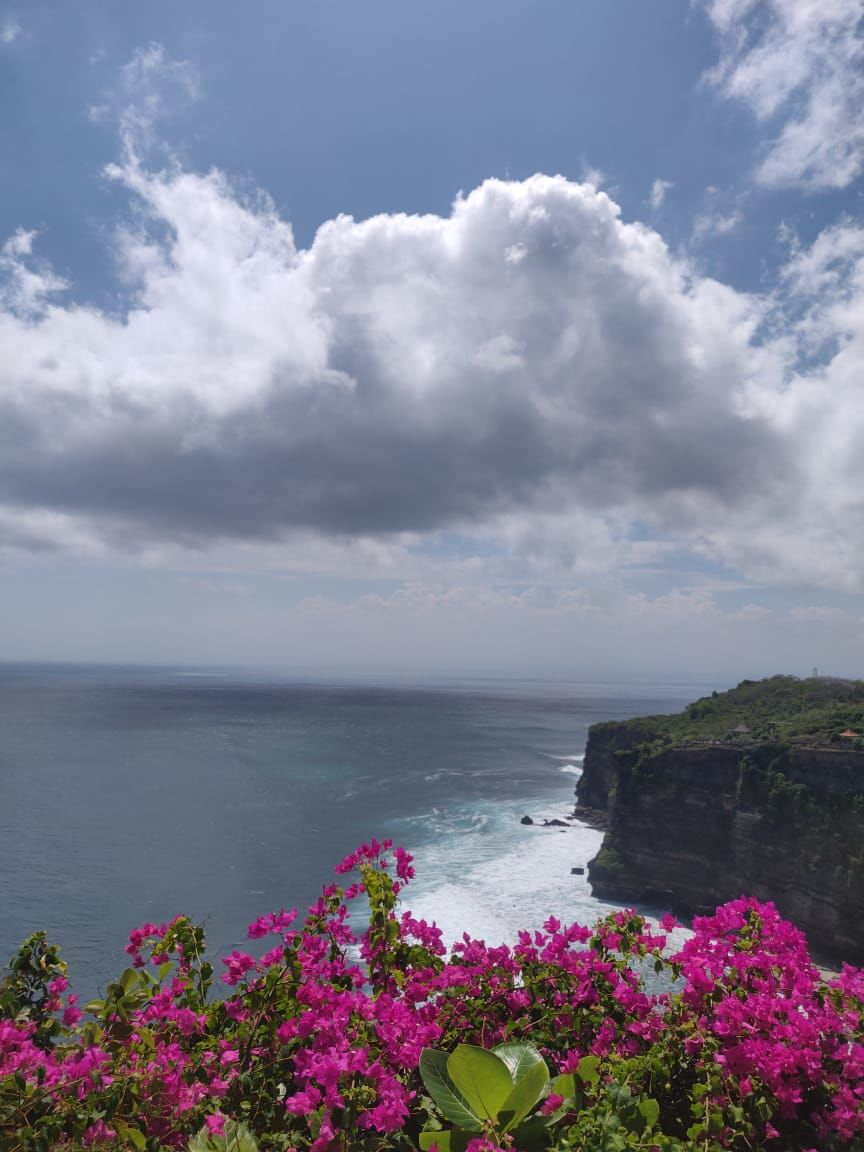 Day 3
Ubud is known as a center for traditional crafts, dance and Bali's artisanal traditions and spiritual life. Ubud is surrounded by rainforest and terraced rice paddies, dotted with Hindu temples and shrines, which are among Bali's most famous landscapes.
Book a cab or if you love to drive amidst lush green fields then rent a bike.
- Pura Penataran Agung Lempuyang- Let's start with East Bali. This is a Balinese Hindu temple one of the most hyped places for 'gates of heaven' pictures located on the slope of Mount Lempuyang in Karangasem. To the parking spot you can drive in your vehicle and from there they take you up in a bus which costs 45k IDR (240 INR) and another 55k IDR (300 INR) for the temple entrance fee.
- Lahangan Sweet - Do not miss this place. I repeat DO NOT. It is one of Bali's newest attractions boasting an epic viewpoint that treats you to the best far-reaching views of Mount Agung. You can visit this place after visiting Lempuyang if you don't want to get the picture or if there is a long queue for the picture ahead of you then you can visit in the meantime. It's a matter of 45 mins hardly. The entrance fee is 30K (160 INR).
- Tirta Gangga - Tirta Gangga is a former royal palace in eastern Bali and is named after the sacred river Ganges in Hinduism. There is a pond full of gold fishes. You can buy fish food to feed them for 5k IDR (27 INR). The entrance fee is 50k IDR (267 INR).
- Besakih Temple - It's a thousand-year-old temple. It is known as the 'Mother Temple of Bali' and is considered to be the biggest and holiest of Bali temples. The temple entrance fee is 50k IDR (267 INR).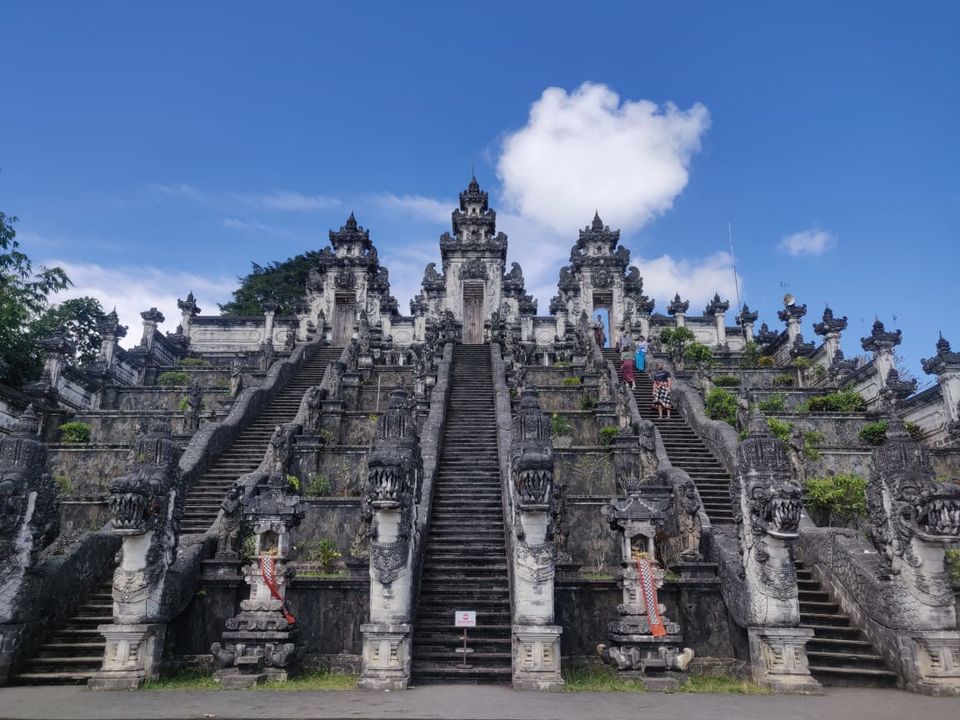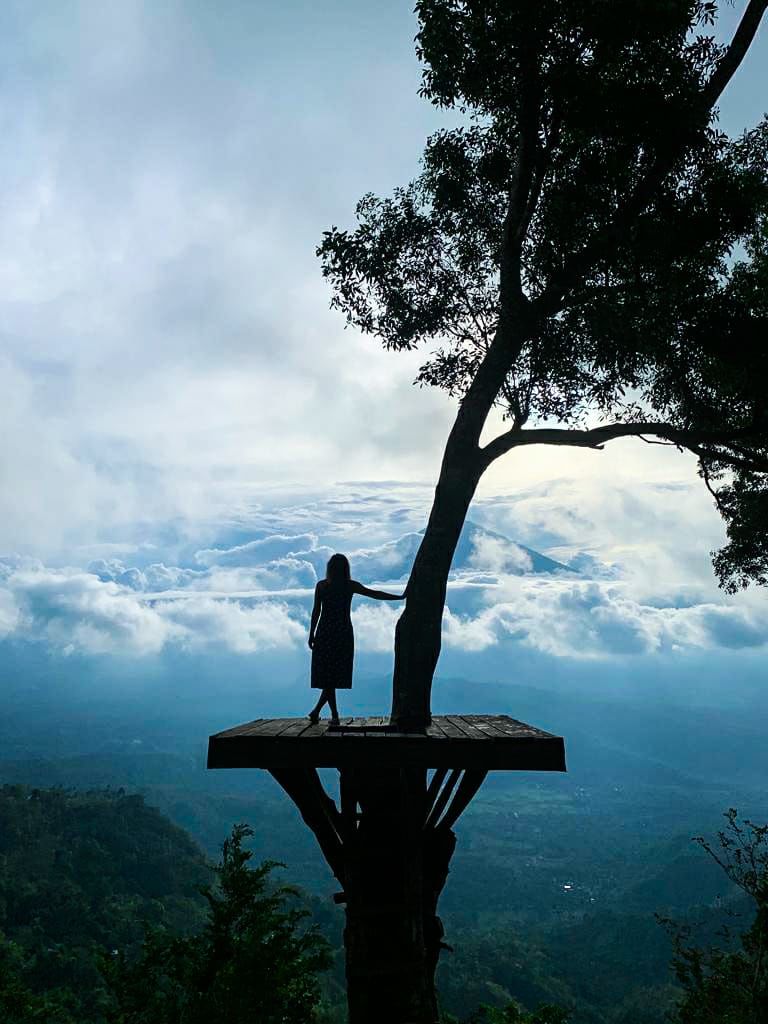 Day 4
If you love trekking and want to hike on an active volcano then definitely go for the Mt. Batur sunrise trek. Many local companies organize this trek. We booked our hike with Kintamani Activities and paid 35$ pp. It included pickup and drop from our hotel, a local guide, water, a flashlight, breakfast at the top, a coffee plantation visit and a hot spring. Believe me, it's worth the price. If you want to go for the trek then you can contact Aditya (the organizer) at +62 877-6142-3589.
- Bali Swing - There are many swing places amidst rice terrace fields in Ubud. We went to Alas Harum Swing. The entrance fee is 50k IDR. And then there are different types of swing which you can choose from along with dress and photographer (optional). The costs for all the swings are different. It costed us around 5,50,000 IDR (3000 INR) with swing+dress+photgrapher. It may look kiddish but it's one hell of an experience. So do go for it. You can walk around the rice terrace field and can also go to the coffee plantation.
- Sacred Monkey Forest - It is a sanctuary and natural habitat of the Balinese long-tailed macaque. The entrance fee is 80k IDR (428 INR). You can get selfies with monkeys here.
- Kanto Lampo Waterfall - This waterfall is a must on your bucket list. It is a beautiful, photogenic multi-tier waterfall surrounded by pure untouched jungle. The entrance fee is 20k IDR (107 INR).
- Tegenungan Waterfall - Another beautiful waterfall in Bali. Its entrance fee is also 20k IDR (107 INR).
There is so much to see in Ubud so if you can stay in Ubud for 1 more day then you can also visit Kanto Lampo Waterfall, Tegenungan Waterfall, Tukad cepung waterfall, Bayan Ancient Tree, Banyumala Waterfall, Twin lake view, Ulun Danu Beratan Temple.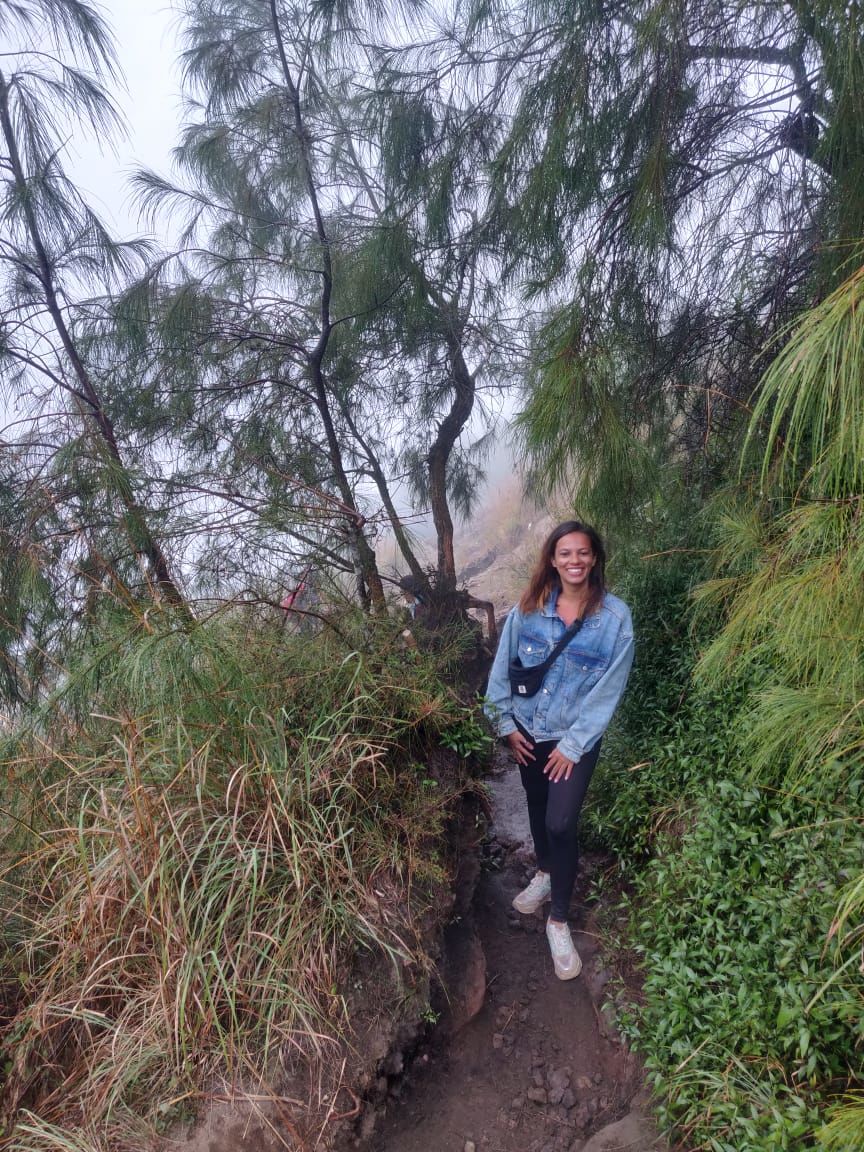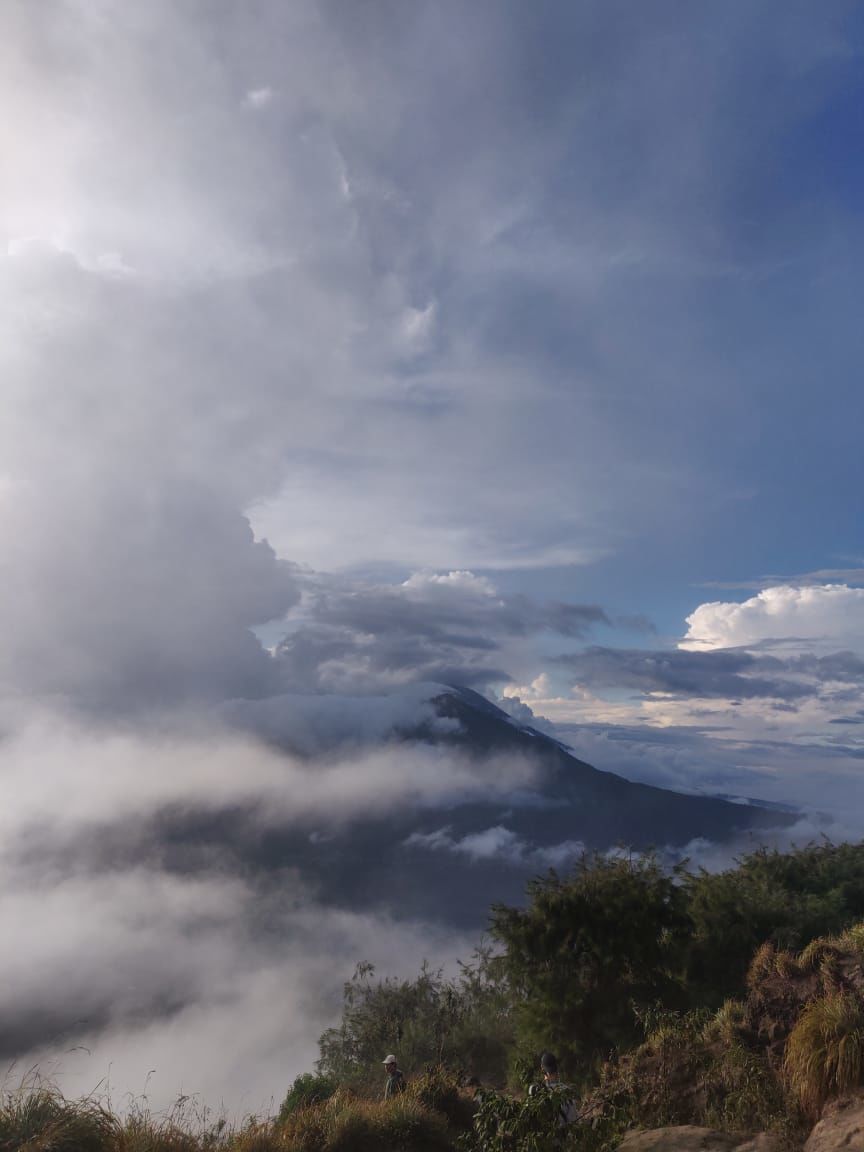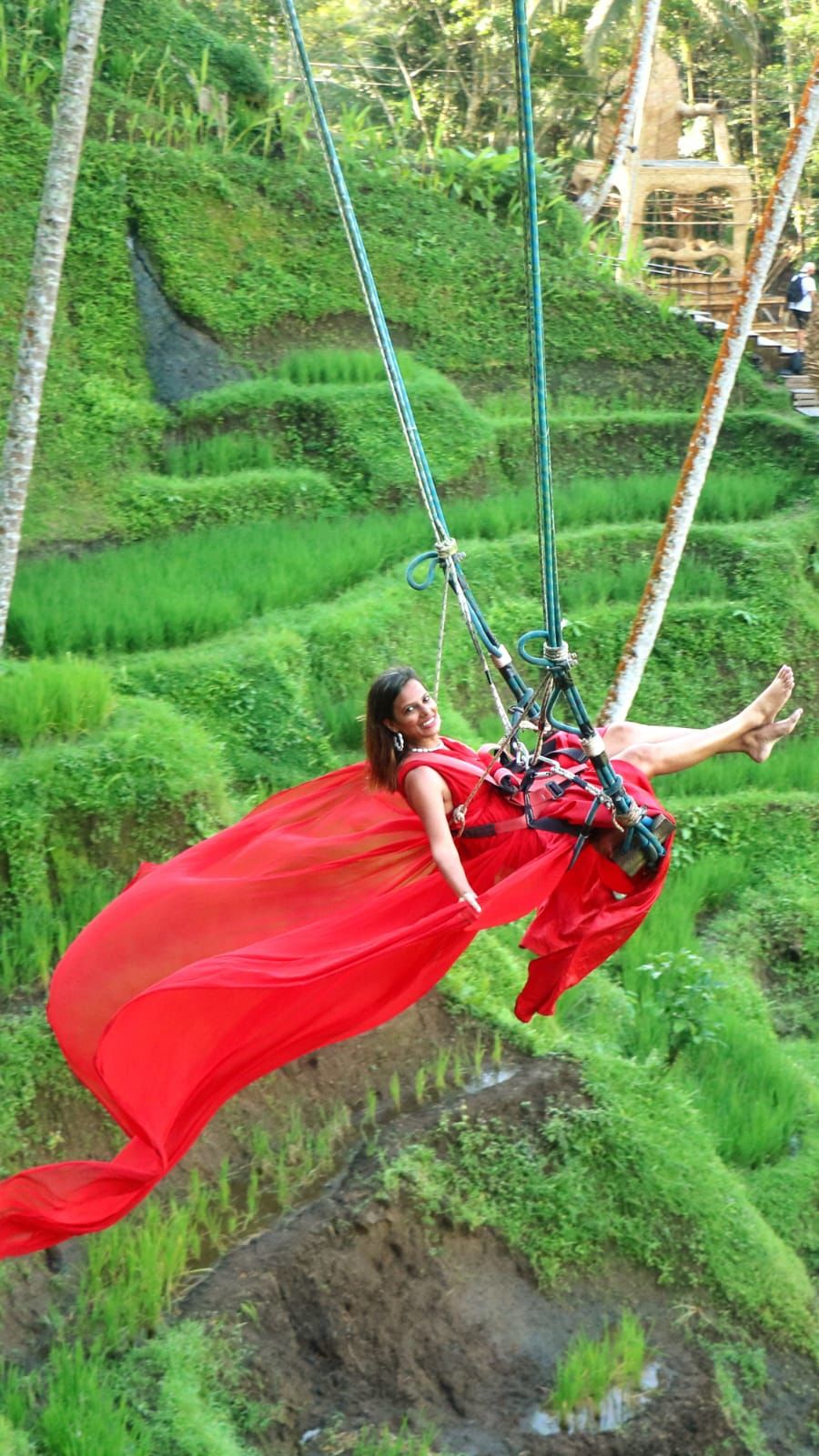 Day 5
Nusa Penida - Now it's time for an Island visit. Do not miss going to this beautiful island. Nusa Penida is the biggest of the three Nusa Islands just off from mainland Bali. To reach there you need to take a ferry from Sanur. The ferry leaves multiple times per day from Sanur. You can book your tickets online as well as from the port ticket counters. We booked our ticket from Angel Billabong, you can easily find their ticket counter at the port. The ticket costs 150k IDR (One way) | 300k IDR (1600 INR) (Return). It's better to book the return together to avoid the last-minute hassle. Take the first ferry at 8:30 am from Sanur and the last ferry at 4:20 pm from Nusa Penida.
You can rent a bike from the port or you can also ask your Airbnb/hotel to arrange it. They have different prices for different bikes but do get the NMax bike if you love driving. It cost us 250k IDR (1337 INR) for 2 days but you can always bargain. Also, you will have to pay the Island price of 25k IDR (133 INR) to explore the island. We had booked the Jona Bungalow from Airbnb. It's a beautiful property and the host is a very jolly and helpful fellow. It is at a perfect distance from the port and most of the tourist places.
Diamond Beach - This beach is a little far so it's better to visit on the first day. The parking charge here is 5k IDR (26 INR). It's a very beautiful beach but the way down to the beach is very steep and difficult but it's worth it.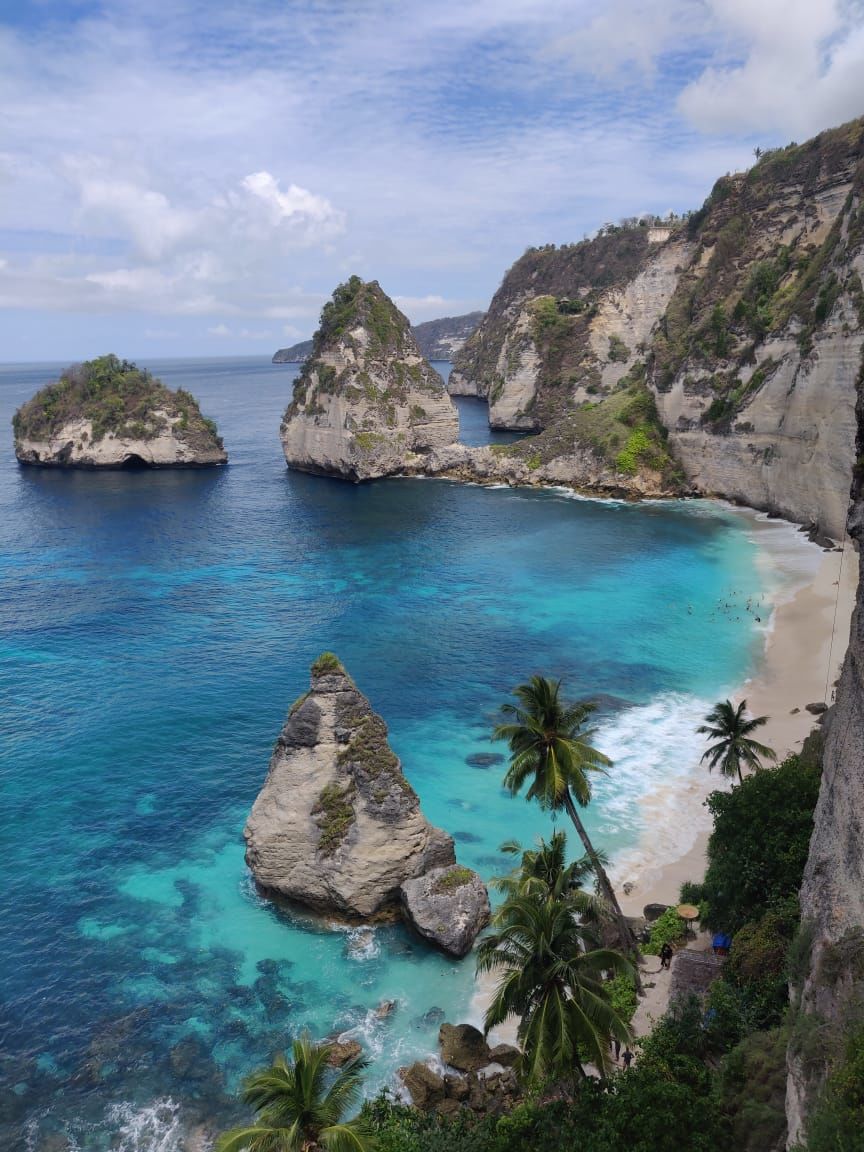 Day 6
Kelingking Beach - It is one of the most scenic beaches and arguably the most photogenic spot. The cliff forms in the shape of a Tyrannosaurus Rex. You can go down to the beach, but it's a hard way because of the steep stairs. Either you can go down or here is a great little tip for enjoying Kelingking Secret Point Beach from a unique angle. Instead of hiking down the stairs, head to the right along the cliffs. There is a worn path along the cliff edge where you can find multiple epic viewpoints, with arguably a better look at the beach than the hike. The parking fee here is also 5k IDR (26 INR).
Angel Billabong & Broken Beach - Angel Billabong Beach is a Natural Rock Lagoon with a beautiful scenic seascape. Whereas Broken Beach is an incredible little bay that has an arch leading out into the ocean. It has to be seen to be believed! The parking fee here is also 5k IDR (26 INR).
Two days are enough for exploring the island but if you want to do snorkeling then stay for one more day and spot some magical local manta rays and other fishes.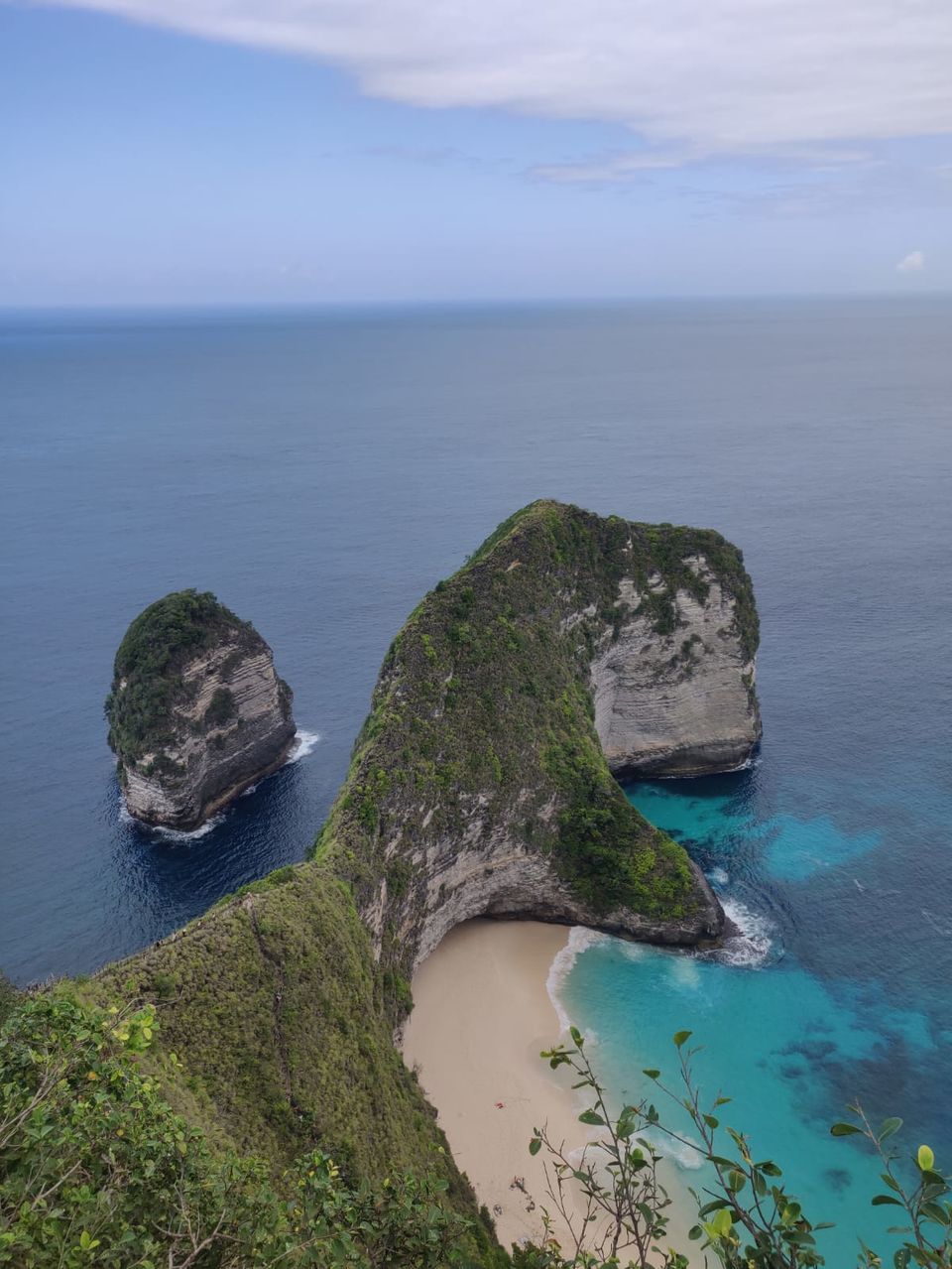 This is just a gist of places that we explored in 6 days but the island has so much more to offer! So do take your time and visit Bali.