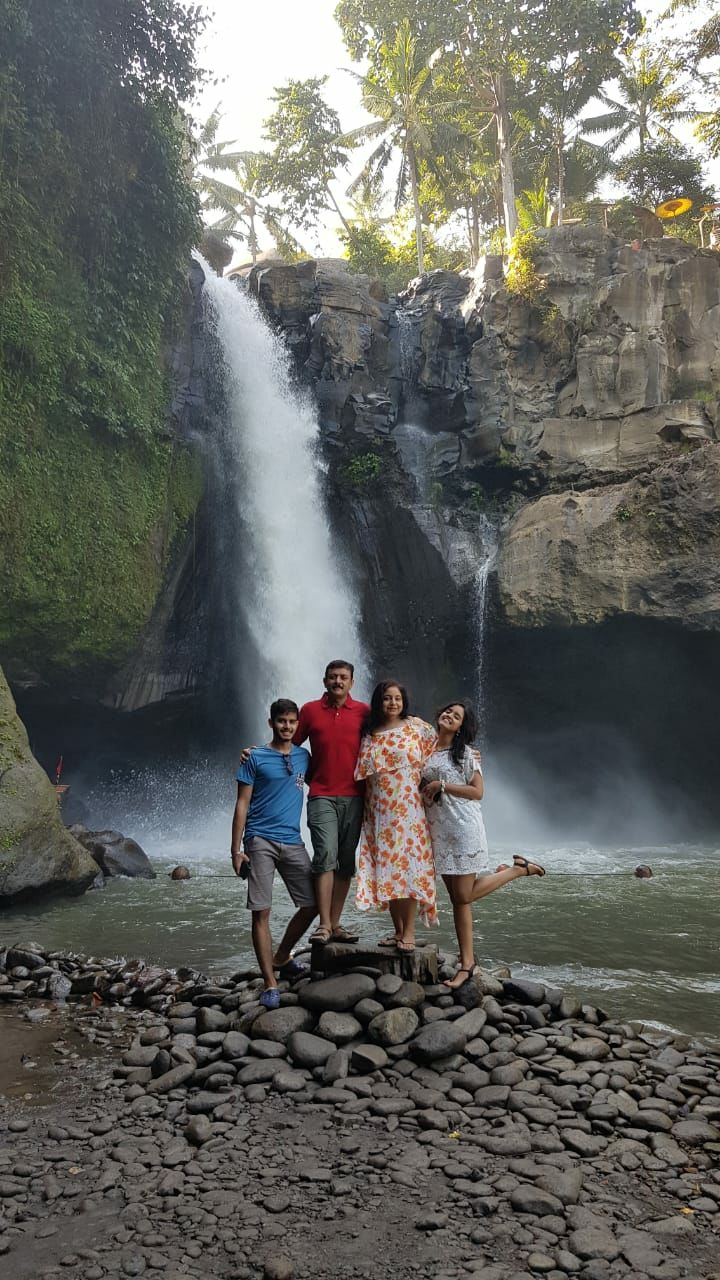 As and when you grow up, you realise how difficult it is to plan a trip with your entire family, especially when everyone lives in a different city and is busy with their own schedule.
It was after a long planning and consistent attempts of planning this trip, we finally managed to go for this 5 day trip to Bali
Though we did not have a very long stay and we could not cover all the landmark spots. But we still managed to have a super amazing trip.
We covered Kuta, Ubud, Canggu and Nusa Lemongan.
Places one must visit:
1. Uluwatu temple (Near Kuta and Seminyak)
2. Uluwatu beach
3. Lempuyang temple + Tirthaganga temple + Virgin beach (2 hours from Kuta/Uluwatu/ Canggu/ Ubud)
4. Luwak coffee plantation
5. Rice terrace in Ubud
6. Tengugang waterfall near Ubud
Cafes/Clubs for evening and nightlife
I recommend to spend the evening seeing the sunset and then heading to a club for sheesha or to shake a leg.
A few cafes to enjoy a beautiful sunset:
1. Jimbaran Bay
2. La Brissa
A few other cafes one could try
1. Mexicola
2. The rock bar
3. Potato head beach Club
4. Old man's club (Canggu)
Stay:
Since I went with family and we needed proper rooms. So it made more sense to book an airbnb
The quality of hotels and the villas as wayyyyyy better than that in India.
Each of the Airbnb had complimentary breakfast, swimming pool and superb assistance.
Belangan beach villa - Kuta
San Ayu Villa - Ubud (this also had a jacuzzi for each room❤)
Aston beach resort - Canggu (HIGHLY RECOMMENDED)
Wina Holiday Villa - Kuta
Try and book your accommodations is advance for better deals.
Food:
Veg food (without egg) will be difficult to get
Either carry cup noodles with you or go to the Mini Marts located every 100 mtrs and stock up with bread, jam, spreads etc.
SHOPPING:
Shop from my street side markets everywhere, don't go to proper shops. They will be expensive. BARGAIN! BARGAIN! BARGAIN!
They bargain up to 1/3 of the price.
Krishna Store in Ubud is the one stop shop for all the gifts you want to buy
SCUBA DIVING:
The best place for diving is in Nusa Penida or Nusa Lembongan island.
I did my dive with Lembongan Dive Adventure and had an ammmaaaziiibg experience. My instructors Anzo and Asif were absolute ❤. They were so patient, so encouraging, so friendly. I felt so safe all through out my dive because of them.
TRAVEL:
You can use scooters and bikes while traveling within the city. It will cost you about 70k rupiyah for a day.
However I would recommend to use cabs or rent a taxi while traveling from one city to another.
Because you need an international license to drive there. Inside the city the police doesn't check, but if you reach the highways then you might get caught.
TIPS:
1. Plan your trip at least 2-3 months in advance.
2. Plan your trip for at least 10 days. Anything less than that will definitely leave you with regret.
3. Take care of your visa in advance if you have a transit through Malaysia especially. YES YOU DO NEED A VISA IN ADVANCE WHILE GOING TO BALI
4. Do go for a dive at least once.
5. Do NOT miss Nusa Penida (3 days) or Gili island (2 days) at any cost.