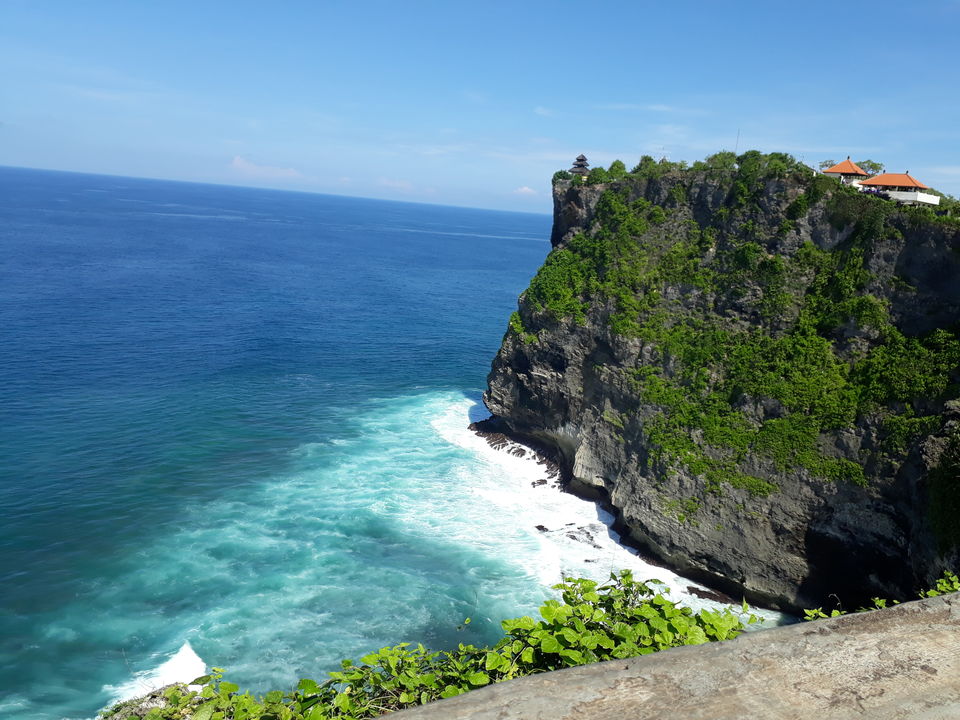 Its just been few weeks since we are back from Bali and we cant help but miss it so badly! We have been totally mesmerized by its beauty and also the kindhearted people.
A week was too less to explore and unravel the beautiful Bali, but we tried our best to explore the best possible places.
If you are in Bali, you definitely have to hire the scootsy which is like our Indian Scooty to travel and explore the different localities. Its the best and cheapest mode of transport if you want to explore the remotest corners and the hidden places in Bali. We paid around 250,000 IDR (approx. INR 1100) for 5 days for Scootsy which is pretty much a great deal.
TIP: Please dont act like a typical Indian tourist and hire a car just because you dont want to get tanned ???? Whats the fun in travelling around in a car, you will get stuck in traffic and cant go and park near the beaches too!
We had a gala time travelling around on a scootsy all 5 days, long and far exploring the town, google maps being our best friend.
Disadvantages: Damaged bums and swollen back. But a good night sleep cures it all
So here is the travel itinerary we sketched, changed, revised and ultimately finalised on these few places only on the day we had to travel (Being Spontaneous :P):
Day 1:
We landed in Bali around 3 pm and took us about an hour to reach our Hotel. We were very tired and sleepy but still very excited for our journey to unfold ahead!
We freshened up and around 5 pm, we decided to walk upto the nearest beach, Double Six Beach. We were hungry too and couldnt wait to pounce on the local cuisine. We definitely under-estimated the distance of the beach from our Hotel, because it took u a good 20 mins walk to reach the beach only to be welcomed by drizzles. The precious sunset that we came for was nowhere to be seen..phew!
We didnt let that dampen our mood and we decided to satiate our hunger pangs at a local Warung near Double Six Beach. The food was beyond yummy, we must have eaten as if we have been starving for days!! We also finally tasted the popular Bintang beer..Cheers! On our way back, we enquired about car and scooter rentals and finalized on a scooter which we decided to pick up the next morning.
We were back at the hotel room and decided to call the day off a bit early since we had been travelling so much and we had to up early for the next day :)
Day 2:
We had been toying with the idea whether to go to Ubud on our 2nd day or to visit nearby places. Since we had a long tiring journey the previous day, we decided to visit nearby places on the 2nd day.
Plan for 2nd day: The very popular Tanah Lot Temple and less popular Taman Ayun temple
We were staying in Kuta, so it took us about 40 minutes to reach Taman Ayun temple and around 20 mins more from there to reach Tanah lot Temple.
Taman Ayun Temple:
Taman Ayun Temple is a landmark in the village of Mengwi, Badung regency, located 17km northwest of Denpasar. This temple complex boasts magnificent traditional architectural features throughout its courtyards and enclosures as well as expansive garden landscapes comprised of lotus and fish ponds.
It is a bit less commercialized unlike the very popular Tanah Lot which is flooded with people all over. A very beautiful and tranquil place. You are welcomed at the entrance with a beautiful lake and a lush green garden with fountains around. If you walk a bit further, you are welcomed by the magnificient Stone carved Arch.
The temple's three grounds denote the three cosmological levels known to Balinese Hinduism, namely the world of man, the realm of gods and deities, and the topmost divine level. The name 'Taman Ayun' translates as 'beautiful garden'. The vast encircling pools were once royal recreational places for the palace maids who would sail small canoes. Now the pools and ponds are fenced and visitors are denied entrance.
We loved this place since we felt the peace and calmness that it brought along. The rustic charm that it had was a icing on the cake!
Opening Hours: 9.00 am to 4.00 pm, Entrance fees: 20,000 IDR
Tanah Lot Temple: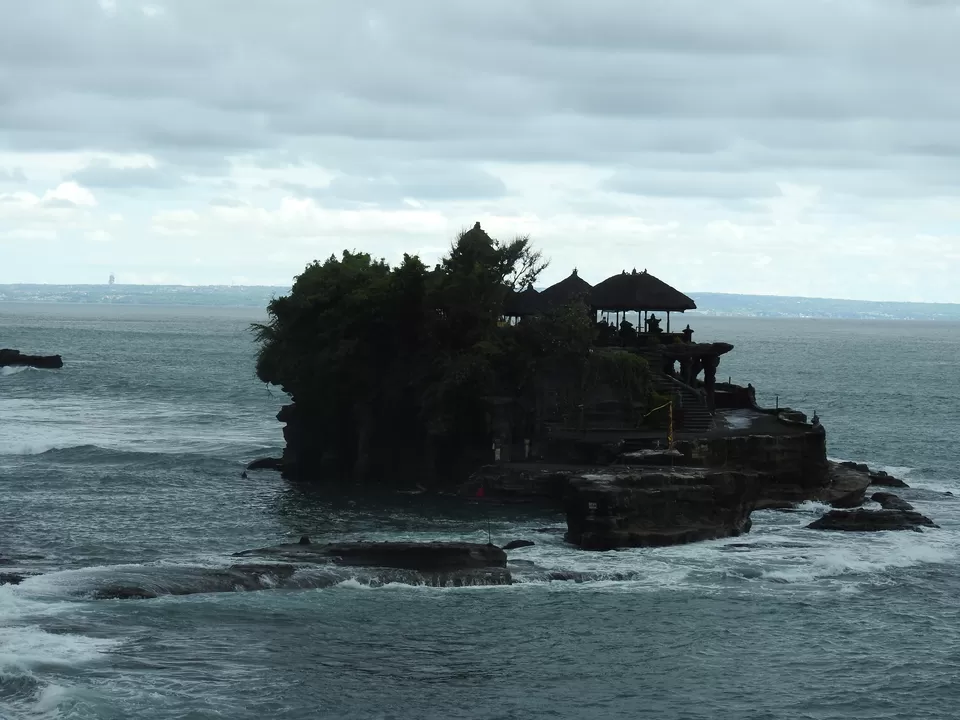 Tanah Lot Temple is one of Bali's most important landmarks, famed for its unique offshore setting and sunset backdrops. An ancient Hindu shrine perched on top of an outcrop amidst constantly crashing waves; Tanah Lot Temple is simply among Bali's not-to-be-missed icons.
The temple is located in the Beraban village of the Tabanan regency, an approximate 20km northwest of Kuta, and is included on most tours to Bali's western and central regions.
We were totally mesmerized by the beauty of Tanah Lot temple. The journey towards the temple is even more beautiful than the final destination. The view is breath-taking and there is a little Cave-hole in the sea that is so picturesque, almost made us want to go dive into the sea. We just couldnt stop clicking pictures at this place!!
Visiting this place is a a bit expensive compared to other places owing to its huge popularity world-wide. You can also catch the famous Kecak Dance at the Sunset here.
Opening hours: 07:00 am – 7.00 pm, Entrance fees: 60,000 IDR
It was a rainy evening, we decided to stop by at one of a local warung which had a very beautiful view, it was a nice break for us!We were drenched by the time we reached back to our hotel. Thankfully it didnt rain when we were at the temples :) We decided to have dinner nearby to our hotel. This time we tried the Javanese food ❤ and it was so delicious!!! we ended the day with the yummy black rice pudding. The next day was going to be a LONG journey, so we had to get a good night's sleep.
Day 3:
We were praying that it shouldn't rain since we had to go a long way on the scootsy and it looks like God answered our prayers, it was a rather sunny day in Ubud :)
UBUD
Ubud is in many ways is Bali's cultural heart. It's in the cool mountains,it is about 1 hrs 45 minutes drive from Kuta. This traditional country town is home to one of Bali's royal families. You can even visit the majestic palace in the centre of town. Ubud is also well known as a flourishing crafts centre. The Ubud Art Market is very popular for the very creative things the local artisans sell.
Our first destination in Ubud was Tegelangan Rice Terraces.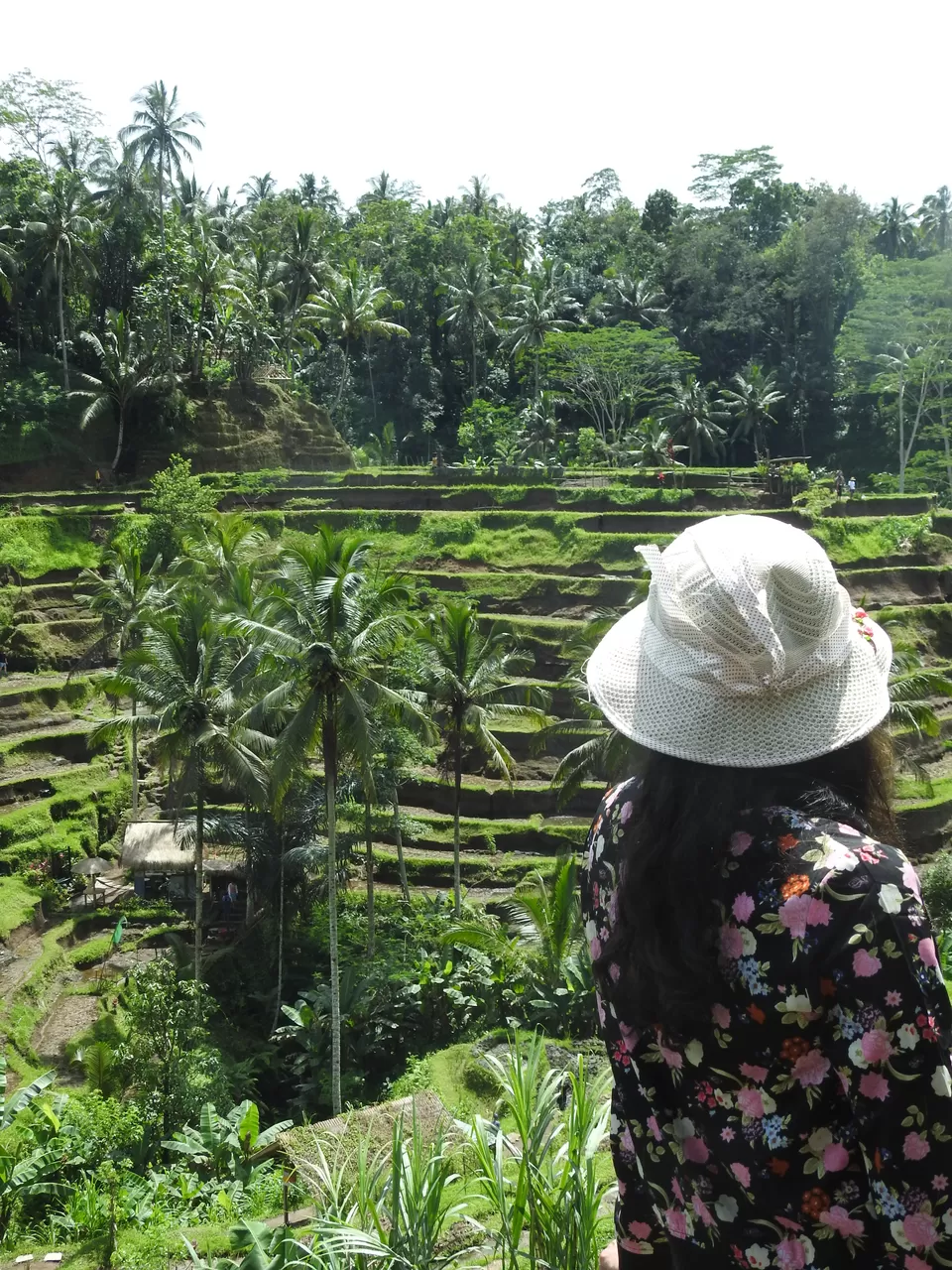 You can see these lush green rice terraces even from the road. You are allowed to and wander inside those rice terraces if you wish to. They are a beautiful sight to the eyes but definitely not something we found extra-ordinary since we have seen similar ones even in India ????
Opening hours: 7 am to 7 pm , No entrance fee if you see it from the top ????
Our next destination was Ubud Royal Palace also known as Puri Saren Agung.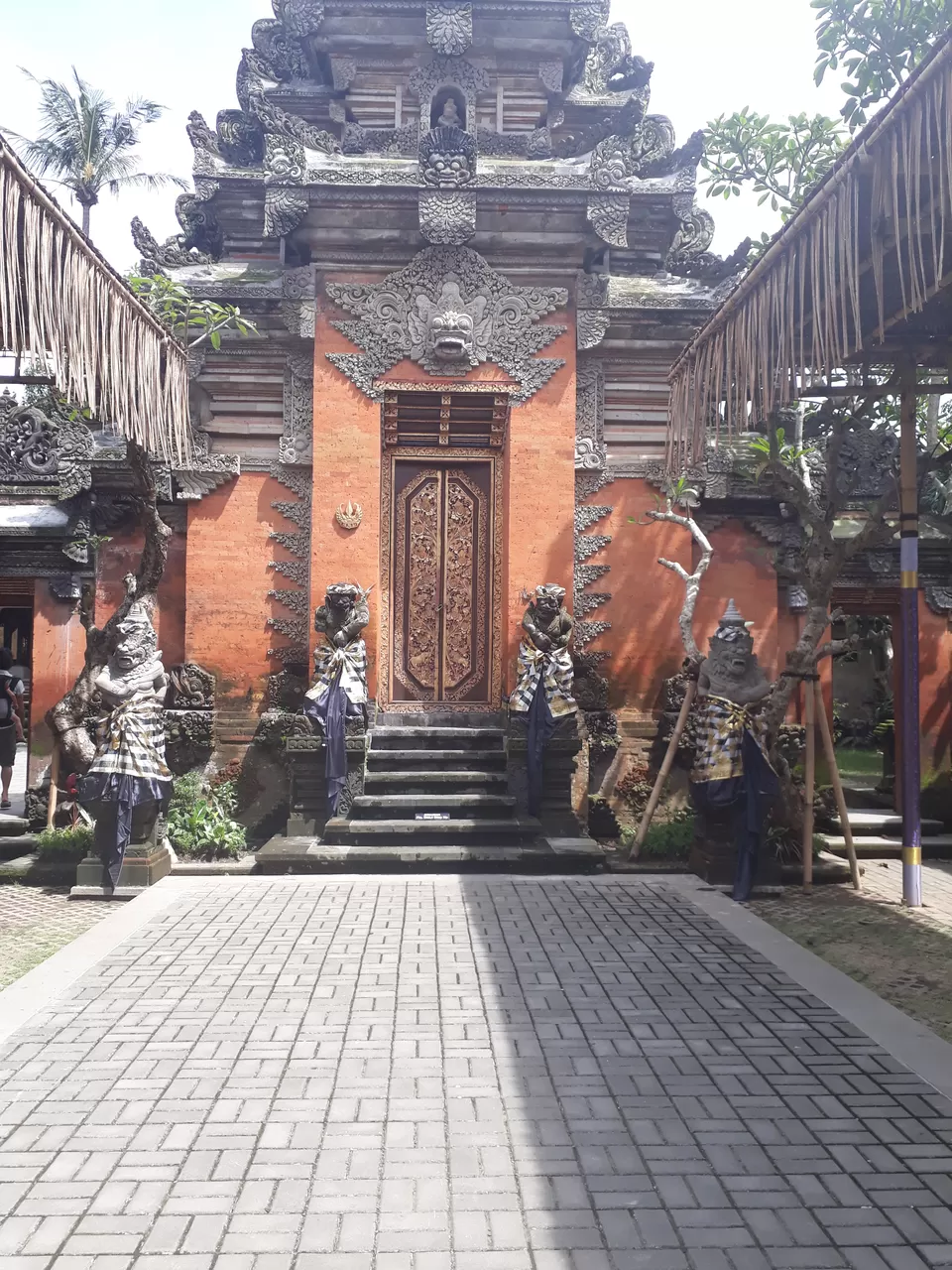 The Ubud Royal Palace is one of the most prominent places in Ubud. The palace can also be regarded as the focal landmark of Ubud. It has well-preserved Balinese architecture and charming garden settings, and is best known among lovers of Balinese arts as one of the main sites to view dramatic evening dance performances. It is definitely a convenient stopover, as it is strategically the focal point of Ubud, with the Ubud Art Market, various local and international restaurants close-by.
We found this place less crowded and preferred to visit this over the Monkey Forest which was definitely not on our list!
Opening hours: 8 am to 7 pm, No entrance fee
Next Stop: Satria Agrowisata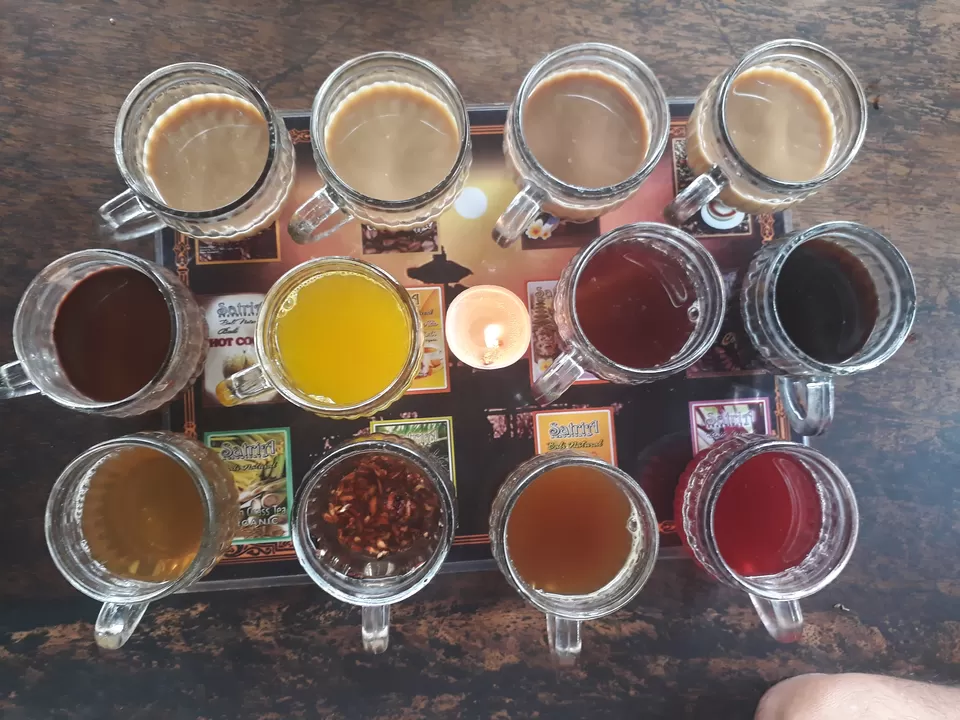 I have already talked about this in my previous blog. Rather than visiting the very popular Luwak Coffee Plantations, we decided to go visit this not so known yet so awesome Coffee plantations. This was definitely an amazing find for us! And the prized catch: No entrance fee at all, you are just expected to buy some coffee from their shop, which I am sure you will if you are a coffee lover! The Bali Cat Poppachino – the famous poop coffee, we were given a tour of the coffee plantations. They showed us how they roast the coffee beans found in the poop of the Civet Cat and how its processed. It was a very nice experience and definitely a different one for its POOP coffee!! :P
It was again a gruelling 1 hr 45 minutes journey back to Kuta, and our back was aching and the bums were burning due to long hours of sitting on the Scooty. Inspite of breaks, it does take a toll on your back and the bums! But its all worth in the end :D
We ended our day with a nice candle light dinner near Legian Beach at a local warung relishing on the yummy Bebek Betutu and Nasi Goreng.
We were so satisfied with our day's visit and food, we must have slept so nicely that day!
Day 4:
We had decided the very famous Uluwatu Temple as our first destination for the day.
Uluwatu Temple, or Pura Luhur Uluwatu, one of six key temples believed to be Bali's spiritual pillars, is renowned for its magnificent location, perched on top of a steep cliff approximately 70 metres above sea level. This temple boasts of a splendid sunset backdrop just like that of Tanah Lot Temple. Pura Luhur Uluwatu is definitely one of the top places on the island to go to for sunset delights, with direct views overlooking the beautiful Indian Ocean and daily Kecak dance performances. Balinese architecture, traditionally-designed gateways, and ancient sculptures add to Uluwatu Temple's appeal
You need to wear the traditional Sarong to enter this temple. The only nuisance in this temple are the Monkeys who steal your glares..so be careful!! We had a very close experience of the same. While we were engrossed in taking a selfie, one of the monkeys nicely put a hand on my husband's shoulder and tried to snatch his Raybans!!! My loud screams must have scared him away, and we couldn't stop laughing after that! LOL! :P the Monkeys are full of swagger :D
The view from the cliff side is so panaromic, it took our breaths away. The colour of the ocean and the beautiful cliff side temple, what a beauty!! Uluwatu temple is definitely a great place to visit! ???? Best time to visit the temple will be just before Sunset.
Opening hours: 09.00 am to 6.00 pm Entrance fee: 30,000 IDR, Parking fee: 5,00 IDR
Our next stop was Pandawa beach, which was the best and priceless find of our entire trip. We just found this beach randomly on google maps and decided to explore it. Our main focus was to avoid the crowd and have a place to chill and relax.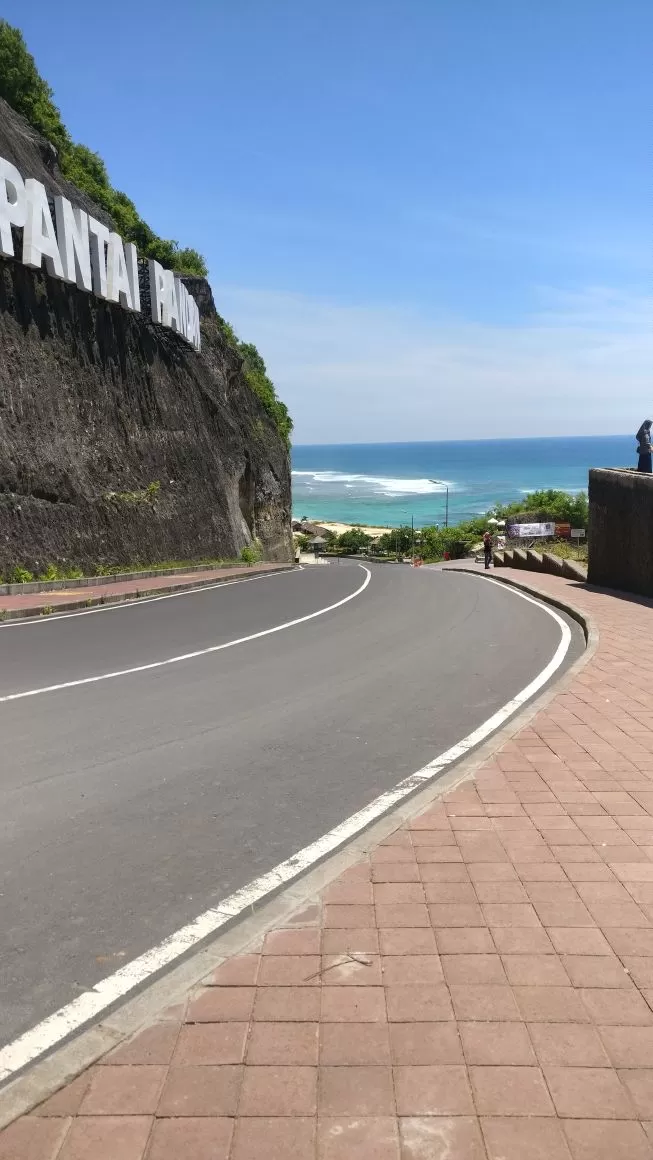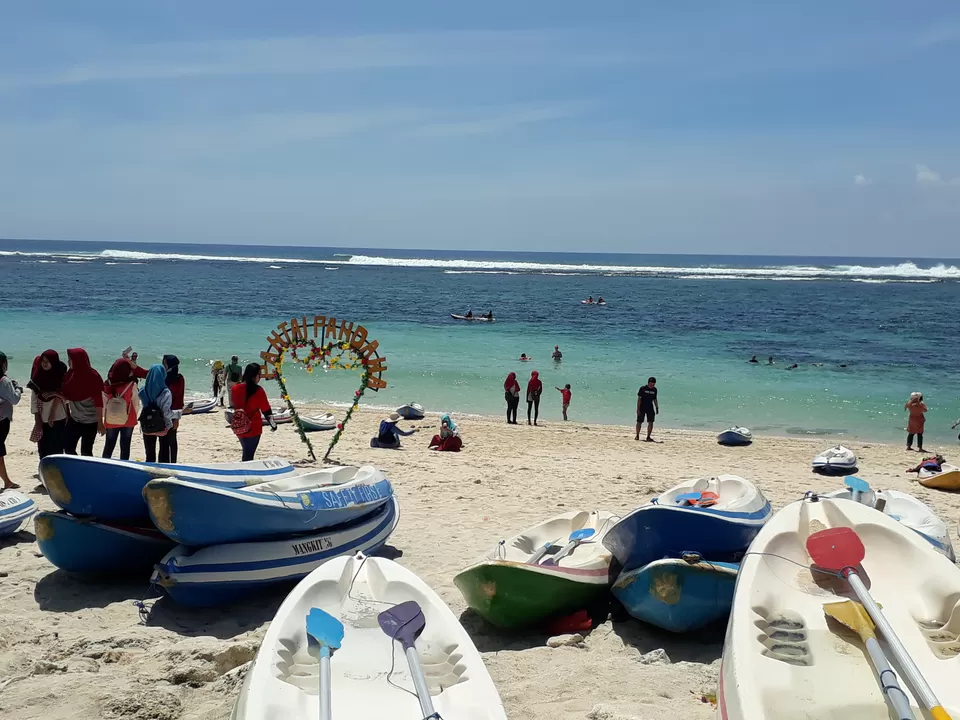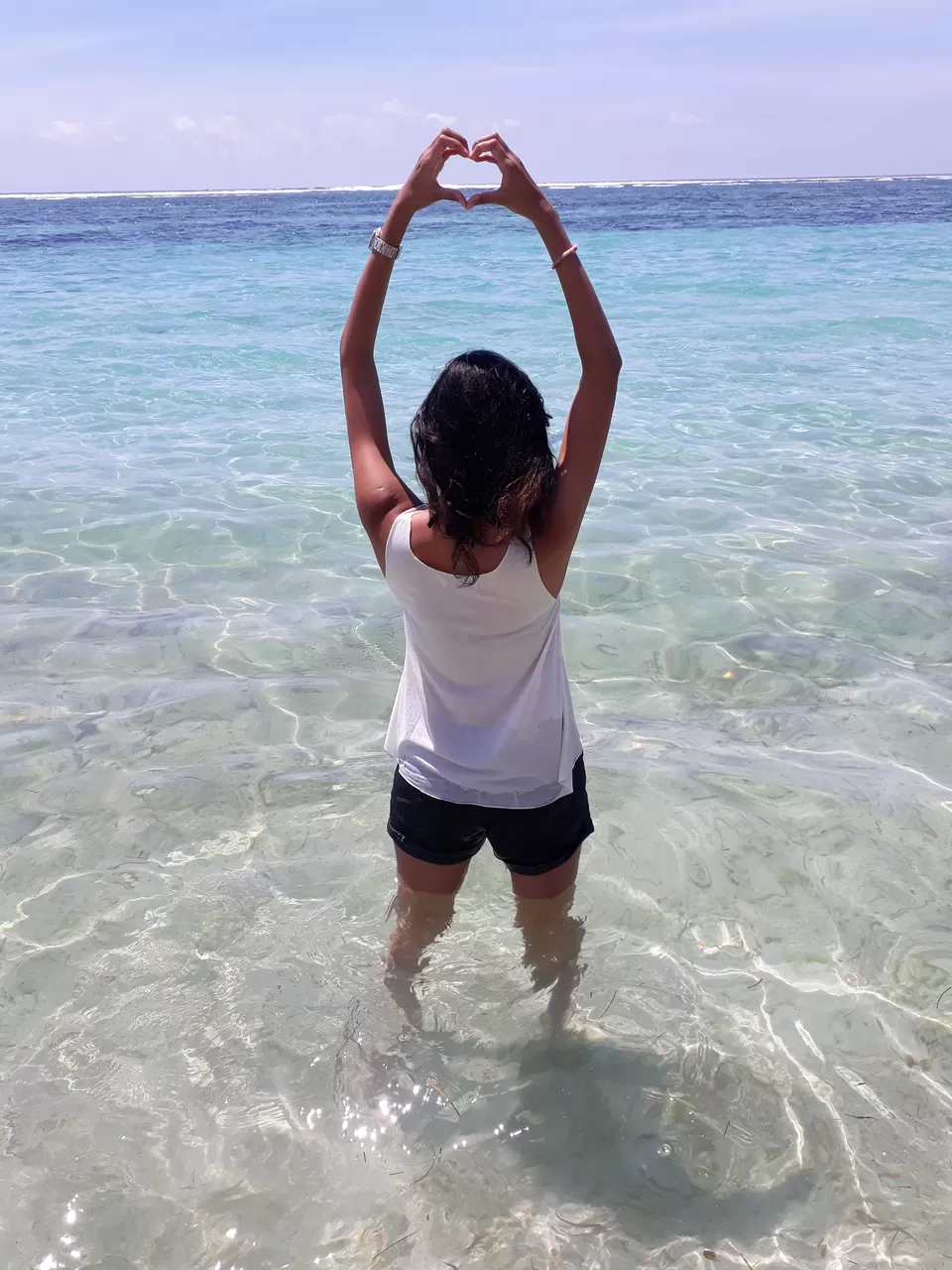 Pandawa beach is much beyond words. Its very well maintained. You would hardly see any Indians on this beach. Mostly visited by Australians and Malaysians who are frequent visitors in Bali, you wont find much of a crowd on this beach. The turquoise blue and green colour of the water totally took us back the memory lanes of Krabi. This beach can easily give a tough competition to Phi Phi Beach or any of the Krabi beaches.
Pandawa Beach, locally referred to as 'Pantai Pandawa', is a great addition to Bali's collection of gorgeous beaches, located on Bali's southern Bukit Peninsula. It is definitely a hidden gem ❤
Besides its impressive natural sea panorama of white sand, blue sky and surf, Pandawa Beach is also best known for its impressive terrain and manmade limestone features that serve as a one-of-a-kind welcome into this coastal area. Huge cliffs were cut through tomake way for its winding and smooth asphalt roads which lead down to the beach.
The bend that goes down to this beach is the most picturesque one showing the stretch of beach against the back drop of the stone carved Pandawa statues.
We had chilled coconut water at one of the shops where we interacted with the person who was so happy to know we are from India. This beach was earlier known as "secret Beach" as it wasn't very known to people until 2012 when it was publicly opened.
Entrance Fee: IDR 15,000 IDR
Our next stop was the most popular "Nusa Dua", most popular tourist destination, even more so for the Honeymooners. The name 'Nusa Dua' is after the two small islands on its eastern shoreline. It consists of all the top luxurious resorts like Hilton, Conrad, Grand Hyatt etc. Very very crowded beach and hugely populated by the foreginers who have come for all the water-sport activities. Nusa Dua is immensely popular for all the watersports activities which are for no reason expensive! We can easily do them in India at a lower price :) We must have wandered for almost 1 hour to find the entrance to the beach, ultimately to know that its owned only by all the resorts who have their private entries! We found one such entry where there were shacks and asked if we can go to the beach from here, to which the man said yes, but we only have water sports here. The beach is nothing to go "WOW". Its very much similar to the beaches in Krabi. Since we have already been to Bali, it didn't attract us at all. In fact, the big crowd and the dirty beach was big turn-off!
If you want to really relax and enjoy the true beauty of a Beach and its surroundings, head to Pandawa Beach, a gem of a place! ❤
We came back by around 5 pm, headed back to hotel, decided to relax a while before heading out at a local warung near Legian beach for a candle light dinner <3
Day 5:
This was going to be our last day for travelling around since the next day we were flying back home ???? We had decided at the start of the trip to atleast see one waterfall in Bali. Bali has number of scenic waterfalls and since it was raining on and off, it would be a treat to watch! We finally decided to visit the "Tegenungan Waterfalls". We were aware how hugely popular this one was and we would definitely have a huge crowd, but still we wanted to visit it anyways. We had read that to reach the waterfalls, we have to do a lot of walking and hiking, so we were all set with our sports shoes and best attire, ready to conquer the waterfalls ????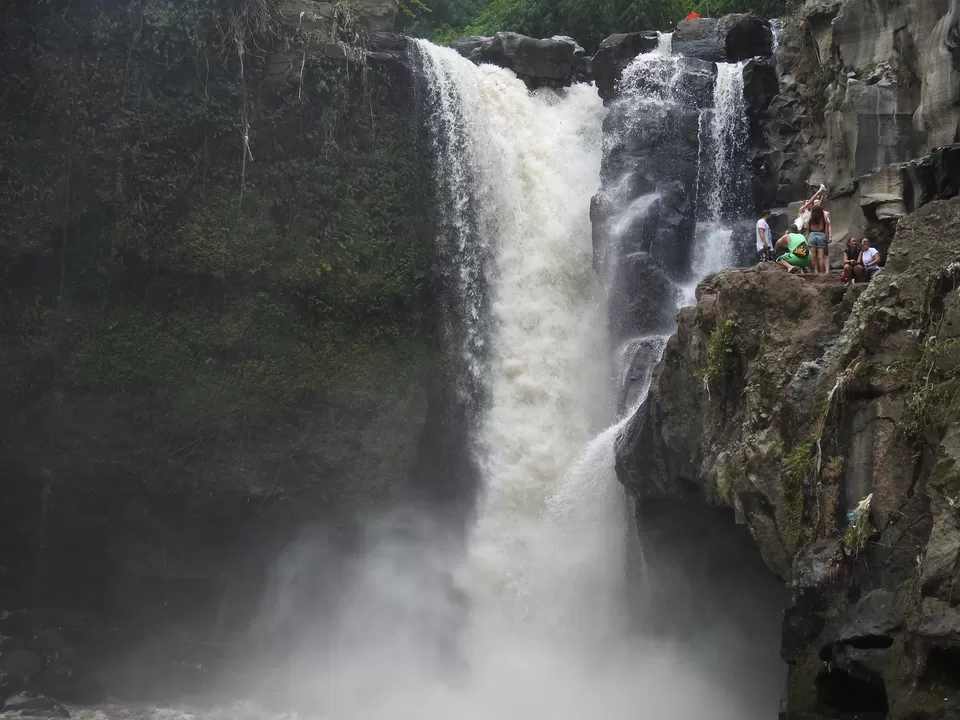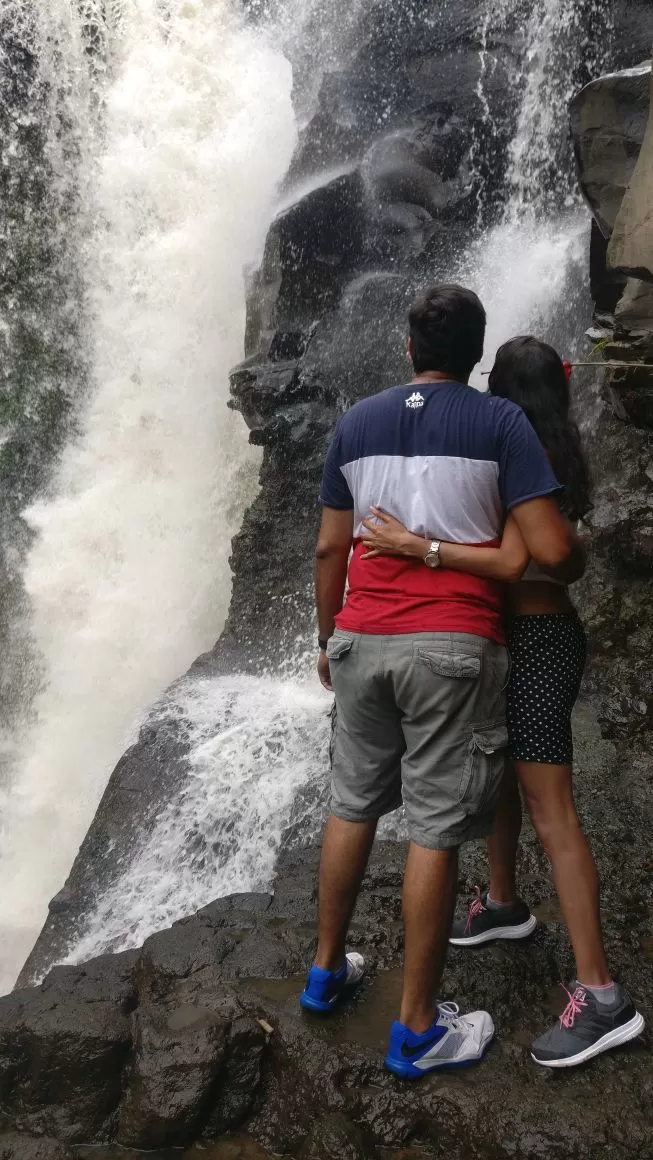 Tegenungan Waterfalls is about 40 minutes from Kuta. Google Maps was our best buddy when we were travelling. We totally relied on it to take us to our destinations. And that day we were hugely thankful to Google Maps, because it saved us a lot of time and efforts!!! Let me tell you how.. :D
We reached the Entry at Tegenungan Waterfalls, where we took the entry ticket which was IDR 10,000 each. There were about 100 steps to reach the waterfall. We were highly amazed since we hardly saw any cars parked near the entry, nor could we see many people around. We thought maybe today is our "lucky" day. Well it indeed was our lucky day, since we were at the top of the waterfall, just the place we wanted to be <3. And this entrance was from the other Village. There are basically 2 entrances to this waterfall, and both the entrances are in different villages. The other entrance was the "touristy" entrance (Entrance fee: IDR 15,000) where there is a hike of about 1-1.5 hour down to reach the base of the waterfall and then again walk up on the stairs to reach the top of the waterfall, where you have to pay IDR 10,000 for the other village. To our luck and thanks to google Maps, we had entered from the top which meant no hiking and no crowd…the best thing ever! :D
Since it had rained in the morning, the waterfall was gushing with water, so picturesque ❤ We had the waterfall to ourselves with just a few more people. We enjoyed the waterfall to our heart's content..and then walked up to the base which was a staircase that goes down besides the waterfall! We could see a huge crowd on the other side who were walking down to the base. We clicked a few pics at the base, but nothing could beat the amazing view of the waterfall from the top ❤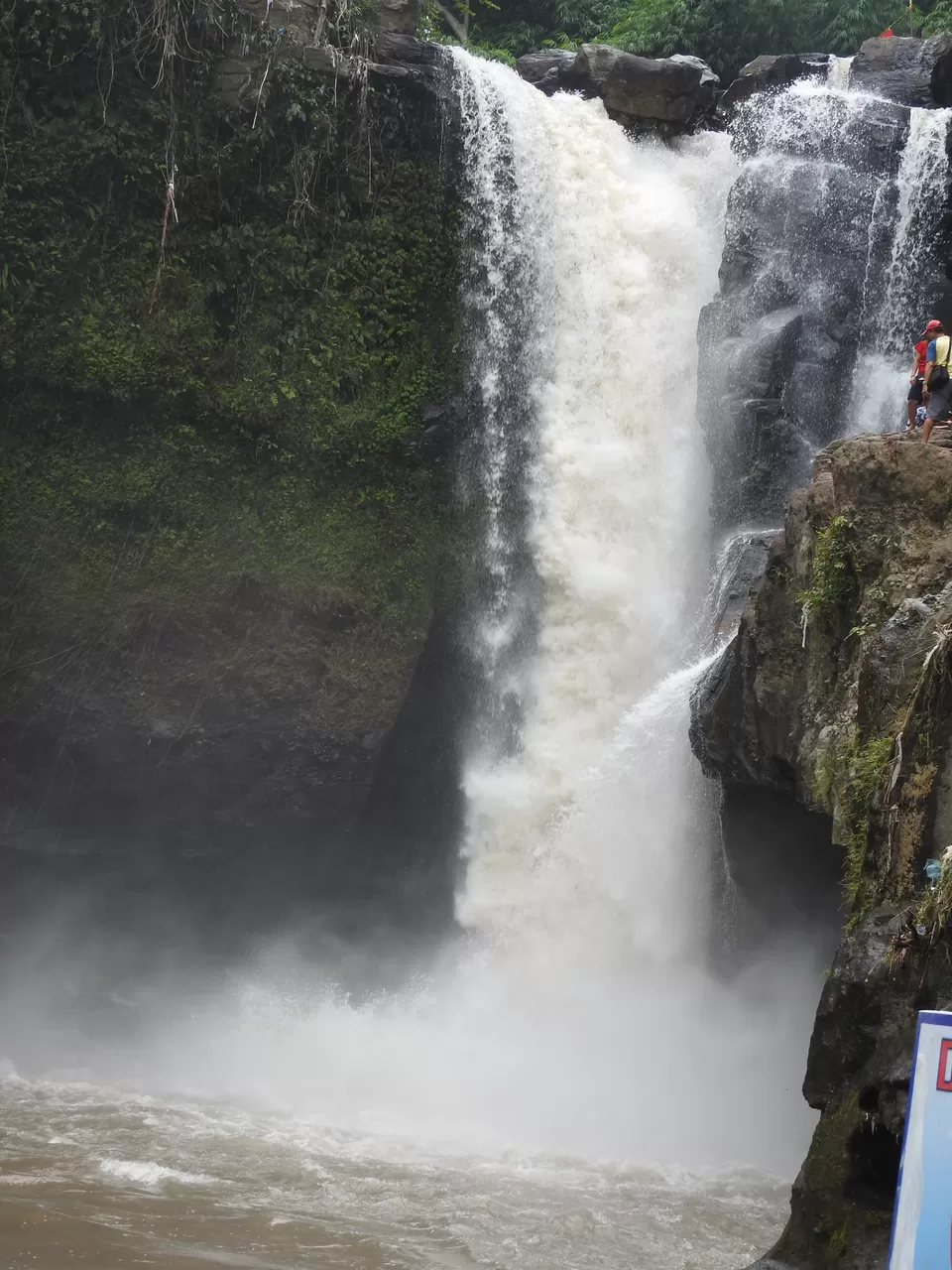 We enjoyed the waterfalls for about 1.5 hours and then headed back to our hotel. We had lunch at a local eatery, again some delicious Bali food! We realized this is our last day and how much we will be missing this delicious Balinese food :(:(
After resting for a while, we headed to the Kuta Beach for a nice stroll and to watch the sunset for one last time before we headed home ???? We had dinner at one of the top-rated warungs near Kuta Beach.
It was now time to pack our bags and say our last goodbyes to Bali.
One week is definitely too less to enjoy Bali, but nevertheless we thoroughly enjoyed and relished every bit of its culture and cuisine.
We would love to visit again..next time a different nuance and a different side of Bali and also Jakarta :)
Adios till then..will come back soon with another interesting blog :D
Yours truly,
Wandering Soul
Frequent searches leading to this page:-
Bali tour package from India, Top places to visit in Bali for honeymoon, Bali Indonesia tour package, Bali Indonesia package tour with airfare, Bali tour package for couple, Bali honeymoon package, Bali honeymoon package cost