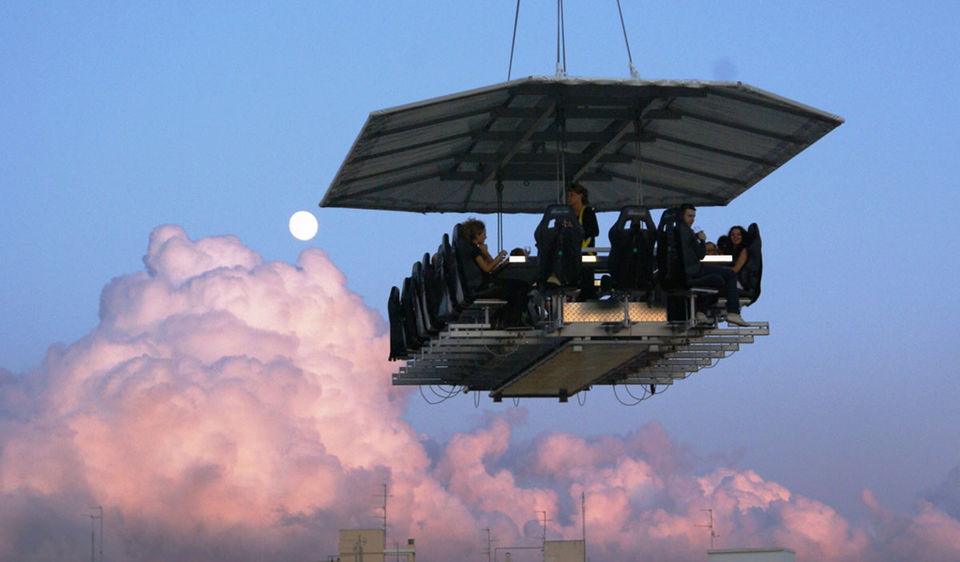 One of the world's most unusual and adventurous dining experiences has come to Bengaluru and we couldn't be more excited. Fly Dining has flown to the IT capital of India to lift all the foodies up.
To add a dab of adventure and adrenaline to your dining experience, they fly you 120 feet above the ground. The hanging restaurant supported by one crane hosts 22 people around the table and one staff of 4 people at its center.
For all the thrill lovers, this will certainly be another excuse to head to Bengaluru. Imagine yourself up above in the sky, having delicious food served on your table while beholding the advanced architecture and skyscrapers of the city.
Can anything ever match the unusual dreamlike experience? Well, no wonder Fly Dining has been labeled as one of the world's top 10 most unusual dining places and experiences by Forbes Magazine.
Get ready for a dinner, a meeting, a happy hour in the midst of the sky, suspended in the clouds.
What Is Fly Dining
Spread across the world, Fly Dining hosts dinner in the sky to offer the most adventure gourmet experience ever. Not only dinner but they offer lunch, games, events, entertainment, press conferences and talk show in the air. Suspended 50 meters from the ground, you can do anything around a table "in the sky, in the air."
Type Of Events
As it goes 'the sky has no limits' and Fly Dinning certainly knows how to expand. Despite its name, Fly Dining is not limited to only dinners. They also organise Dinner, Lunch, Breakfast , Meeting With Clients, VIP Seats For A Game Show, Press Conference, VIP Treatment For Guest, Birthday Party, Engagement Announcement, Anniversary Dinner, Christmas Party, Wedding Celebration, New Year's Eve Dinner,Formula 1 Grand Prix, Golf Tournament, Product Launch, Concert, Fashion Show, Opening Celebration, Road Show, Promotion, Exhibition, Talk Show, Convention, Publicity Stunt, Press Release, Live TV/Radio Broadcast, Interview, Business Function, Corporate Event, Business Meeting, Charity Fundraise and what not.
Minimum age
Age no bar at Fly Dining but height certainly is! They entertain anyone with minimum height 135 cm to be able to secure everyone safely in their seats.
Cost
For Weekdays
• Lunch in the sky price Per Person: ₹8,756
• Tea in the sky price Per Person: ₹8,020
• Dinner in the sky price Per Person: ₹10,228
For Weekends

• Lunch in the sky price Per Person: ₹10,228
• Tea in the sky price Per Person: ₹8,761
• Dinner in the sky price Per Person: ₹11,707
Where
House of Life, Nagawara, Near Manyata Tech Park, Bengaluru
Your trip to Bengaluru will certainly be more thrilling this time. Have you ever been to Bengaluru? Share your experience with Tripoto community here.
Frequent searches leading to this page:-
hanging restaurant bangalore, sky dining in bangalore, cost of fly dining in bangalore