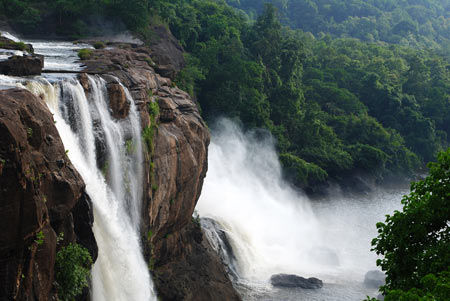 The sight of water pouring off the side of a high stone shelf and falling into a rocky bed beneath can be awe-inspiring. Waterfalls are a pure world of ecstasy, rigidness, subtleness and beauty. For all those who live in Bangalore or around, here is a list of ten most amazing and spectacular waterfalls within a reachable range of Bangalore.
1. Hogenakkal Falls, Dharmapuri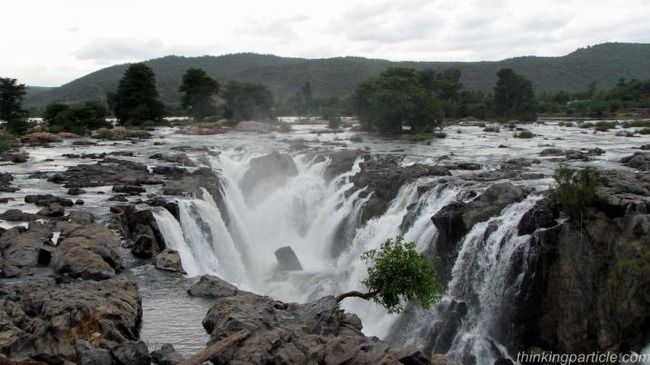 Known as the 'Niagara of India', Hogenakkal Falls are located in the Dharmapuri District of Tamil Nadu. Situated on the river Kaveri, it is one of the most best waterfalls near Bangalore for a day's trip.
Distance from Bangalore: 180 kms
Nearest railway station: Salem, 53 kms from here
How to reach: Visitors have to drive for 3 hours on the Malur-Hosur-Adiyamankottai road to reach this waterfall. Nearest railway station is Adiyamankottai.
Best Time to visit: Post monsoons.
Must Do: Boating is one of the main attractions of the area and is allowed during the dry-season when the boats can withstand the energy of waterfalls.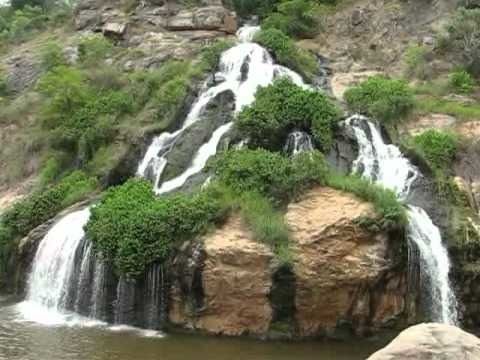 Fed by river Arkavati, Chunchi falls is en route to Mekedatu and Sangama, it is the amongst the most scenic falls near Bangalore. Sangama is a place where 3 rivers join and flow through Mekedatu's a rocky valley.
Distance from Bangalore: 83 kms
How to reach: You can take your own transport since public transport is circumscribed. It takes about 2 to 3 hours to reach this waterfall. The closest railway station to Chunchi Falls is Kanakapura.
Best Time to Visit: Post monsoons and winter
3. Shivanasamudram Falls, Mandya

Kaveri river flows through stony terrain of the deccan plateau and drops off as the Shivanasamudram Falls.The river further diverges into two beautiful waterfalls – Barachukki and Gaganchukki, making this waterfall near Bangalore a reachable holiday getaway.
Fact: Visitors can also enjoy a coracle ride over the splashing waves of the water at the bottom of the falls.
Distance from Bangalore: 120 kms
Nearest base station: Mysore; 68 kms from here
How to reach: It is a 3hr drive from Bangalore and is best reached via the Kanakapura main road or NH209.
Best Time to Visit: The months of July to October are the best to visit this waterfall.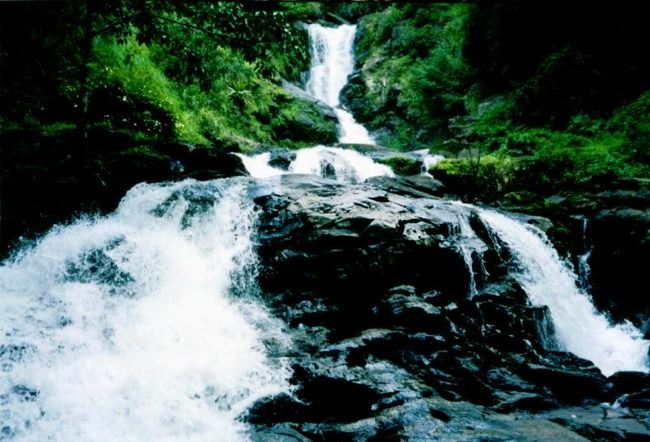 Iruppu waterfall is one of Coorg's major tourist attractions. The Lakshmana-tirtha river descends into a water fall known as the Iruppu Falls and takes a 60 meter dive down the river amidst the lushy green mountain.
Fact: This place is said to possess the power to cleanse one's sins and is visited by thousands of devotees on Shivaratri day.
Distance from Bangalore: 247 km
Nearest base station: Mysore; 108 kms from here
How to Reach Iruppu Falls: It is located at about 260 kilometres from Bangalore. The route is Bangalore-Mysore-Gonikoppa-Iruppu. Nearest railway station is Thalassery, Kerala which is located about 58 kms from the Iruppu falls.
Best time to visit: During monsoons and winter.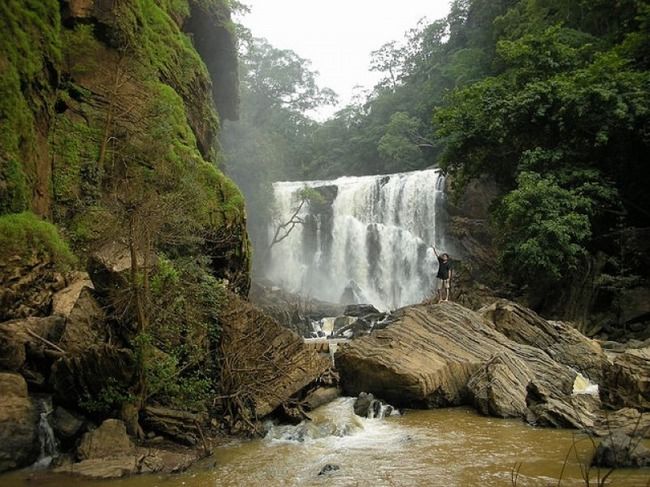 The feature of this weekend getaway is the waterfalls which is formed by thin jets of water which spurts down from the height of 90 meters. This is a perfect one day weekend getaway choice to many tourists from Bangalore.
Distance from Bangalore: 43 kms
Nearest railway station: Bangalore
How to Reach: Muthyala Maduvu Falls is a charming picnic spot. One hour's drive (about 40 kms) from Bangalore near Anekal. It's in the periphery of Bannerghatta National Park.
Best time to visit: During monsoon i.e. August to November
6. Balmuri Edmuri Waterfalls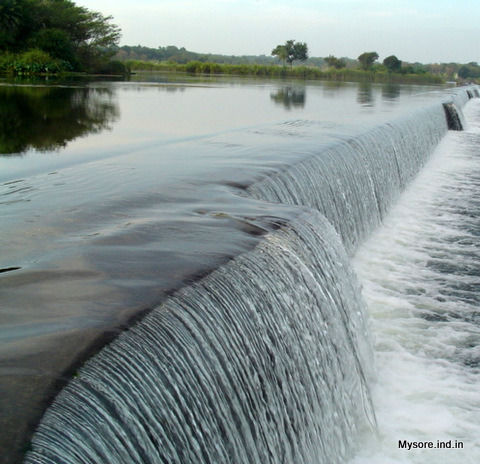 Balmuri and Edmuri Waterfalls are situated at a distance of about 3 km from Mysore city on the way to KRS dam. Balmuri and Edmuri Waterfalls are not real waterfalls. A steep rocky slope of about 6 feet on the path of River Kaveri creates the impression of Balmuri Waterfalls.
Fact: Balmuri falls is a popular film shooting spot and Edumuri falls is a famous for swimming.
Distance from Bangalore: 175 kms
Nearest Railway Station: Mysore; 15 Kms from Mysore railway station
How to reach: About 8 km before KRS dam, take right turn at Belagola and the Balmuri falls is 3 Km from here.
Best Time to visit: June to february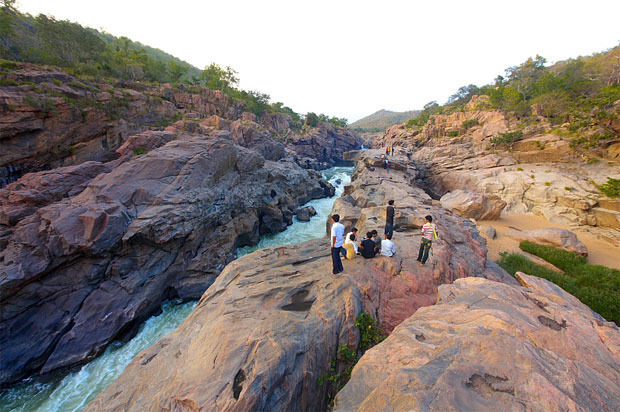 Mekedatu means goat's leap in Kannada. River Kaveri flows into a deep and narrow ravine, so narrow that a goat could leap over it and this is how it derived its name. Mekedatu is a gorgeous rocky place with water falls from river Kaveri. The confluence of rivers Arkavathi and Kaveri can be seen here.
Distance from Bangalore: 93kms
How to reach: People travelling from Bangalore have to reach Kanakapura either directly or via Ramanagaram. Take left side deviation at Kanakapura (ask any local person for direction). Well marked boards are present in the entire route till one reaches Mekedatu. Mekedatu is 35kms from Kanakapura and the road is good. Tourists who come from Ramanagaram and Mysore can come to Sathanur instead of Kanakapura. The advantage of this route is, one can visit Gali Bore fishing camp. From Sathanur Mekedatu is 23kms and Gali bore fishing camp is 36kms.
Best season to visit: November to February.
Must Do: Explore the cascades of Mekedatu Falls as you commence on an exciting cycling tour amidst the nature.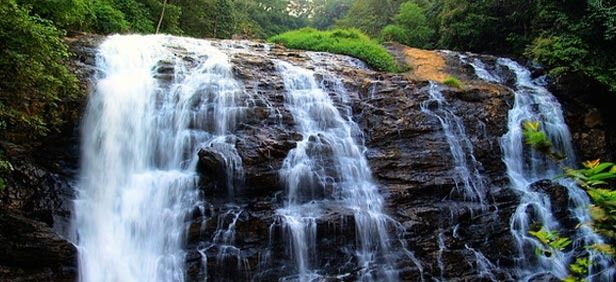 Situated near Madikeri, Abbey falls is one of the most popular attractions in the lush greenery of Coorg. The picturesque view of the fall midst a private coffee plantation will surely leave you beauty-bound and also provide you with few Nikon moments. The waterfall comes down from a height of 70 feet and provides a beautiful view. You will also find a hanging bridge there through which the view of the waterfalls will be a sight to always remember.
Distance from Bangalore: 270 kms
Nearest Bus Station: Madikeri, 7 kms from here
How to reach: This falls is around 7 km from Madikeri town. One can take a bus or hire a jeep or cab to reach here.
Commonly Visited From: Madikeri Bus Station
Best Time to visit: During monsoon or September to January is the beat season to visit.
Must try: Trekking at Nature stay and Brahmagiri Trek.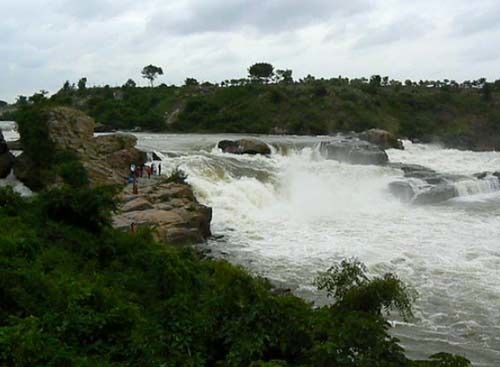 Chunchanakatte Falls is part of the river Kaveri, Krishnaraja Nagar taluk of Mysore district. Kodanda Rama Temple, which upholds a mythological importance is situated on its bank and is a major attraction amongst tourists. Apart from the beautiful green lust, the hydro power plant on this waterfall gives it as significance recognition.
Fact: It is believed that Goddess Sita took a bath in this holy waters at Dhanuskoti thus rendering a tumeric shade to the water till date.
Distance from Bangalore: 145kms
Nearest Railway Station: Mysore; 55 kms from here
How to reach: The waterfall can be reached by taking a diversion at Krishnarajanagar on the Mysore – Hassan highway.
Best Time to visit: October to March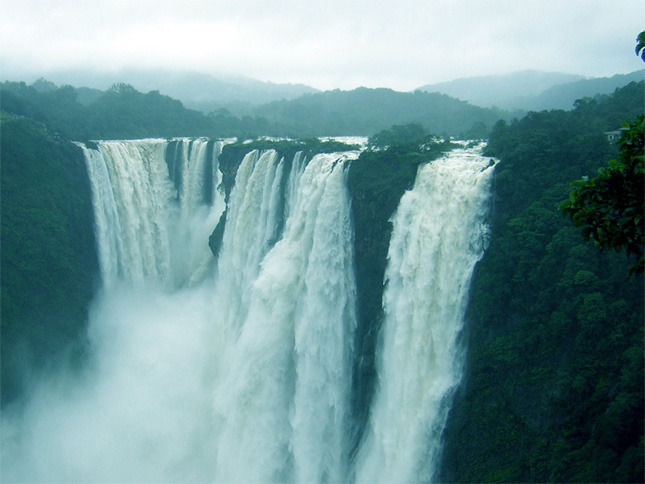 Created by the Sharavathi River falling from a height of 253 m (830 ft), making Jog Falls the second-highest plunge waterfall in India. It is called by alternative names of Gersoppa Falls and Jogada Gundi. Four cascades, known as Raja, Rani, Rover and Rocket merge to form the huge waterfall on the Sharavathi river. Watkins Platform is one of the more popular points to view the falls. The area near the falls is suitable for trekking. Jog Waterfalls are one of the most beautiful counted waterfalls in India.
Distance from Bangalore: Approximately 375 kms
Nearest Railway Station: Sagar, 28kms from here.
How to reach: It is well connected by roads. Private buses ply frequently to Jogfalls from Sagar.
Best Time to visit: August to January
Tip: The backwaters of the Sharavati Wildlife Sanctuary provide excellent opportunities for water sports.
Live some beautiful days with these beautiful waterfalls around Bangalore and share your immortal experience with us!
Frequent searches leading to this page:-
water places near bangalore, waterfalls near me, falls near bangalore, falls in karnataka near bangalore, falls near bangalore to visit