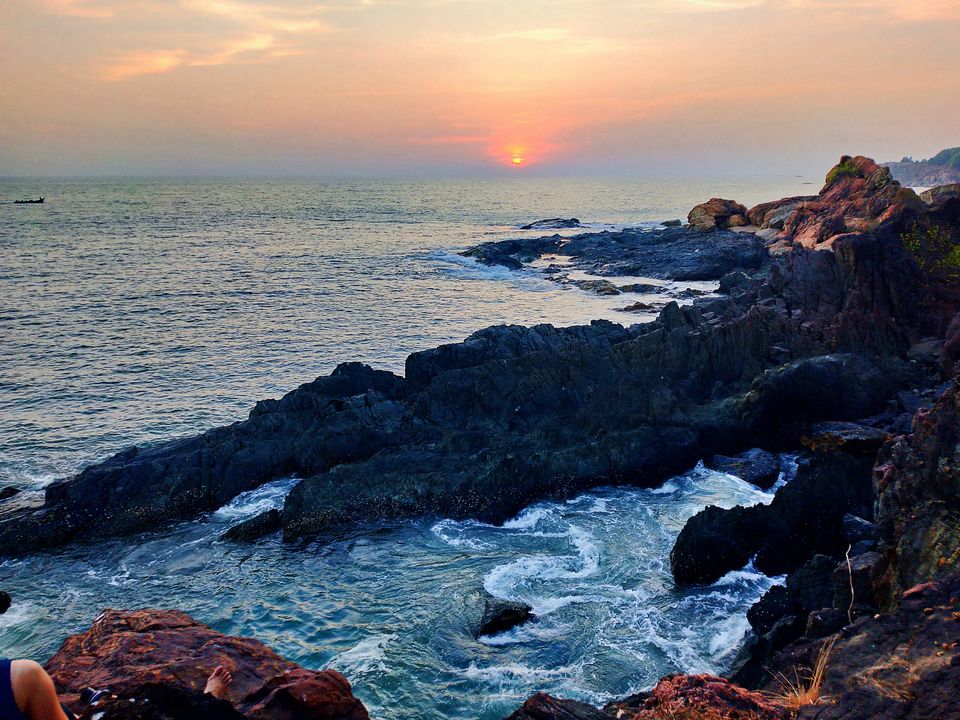 Before you start reading, please follow me on Instagram to checkout my latest activities: @gypsyonvoyage
The winter period was about to end in the southern region of India, I was craving to go to a beach destination before summer started. I had 3 days off at work & I just wanted to relax and chill on this trip, I was in no mood to plan a restless trip. So, the destination that seemed perfect for the mood was 'Gokarna'.
Gokarna, a small town in the North Karnataka region, is home to a 4th Century - CE Hindu temple which is dedicated to Lord Shiva and many devotees come here around the year for Darshan. Besides this famous temple, Gokarna is famous for its clean beaches and it meets the motto of 'Atithi Devo Bhava' as it hosts a lot of travelers from all over the world because of its peaceful and holy vibes.
I was traveling to Gokarna with my friends whom I met at my workplace. There are many bus operators which provide direct bus service from Bangalore to Gokarna. We reserved our seats online for both ways in advance, however, we didn't book any room in advance. So, we had to find a place to stay after reaching there. We boarded the bus at around 8 pm from Bangalore and traveled nearby 500 km overnight which took us about 12 hrs to reach Gokarna.
The bus reached Gokarna by 8'o clock in the morning. The town has few small eateries which cater nice South Indian breakfast. We began walking towards Kudle Beach and found a place named Pai Restaurant in the market. We had our breakfast there, I would especially suggest Banana Bun at this place. After finishing breakfast, we directly walked to Kudle Beach and started finding a place to stay. Kudle Beach is filled with a lot of cafes, which also provide huts to stay on their backside. After hunting for about half an hour, we found this place called Umamaheshwara Cafe in the middle of the beach. We checked in by around 11 o' clock and were full of energy to hit the water without losing another single minute.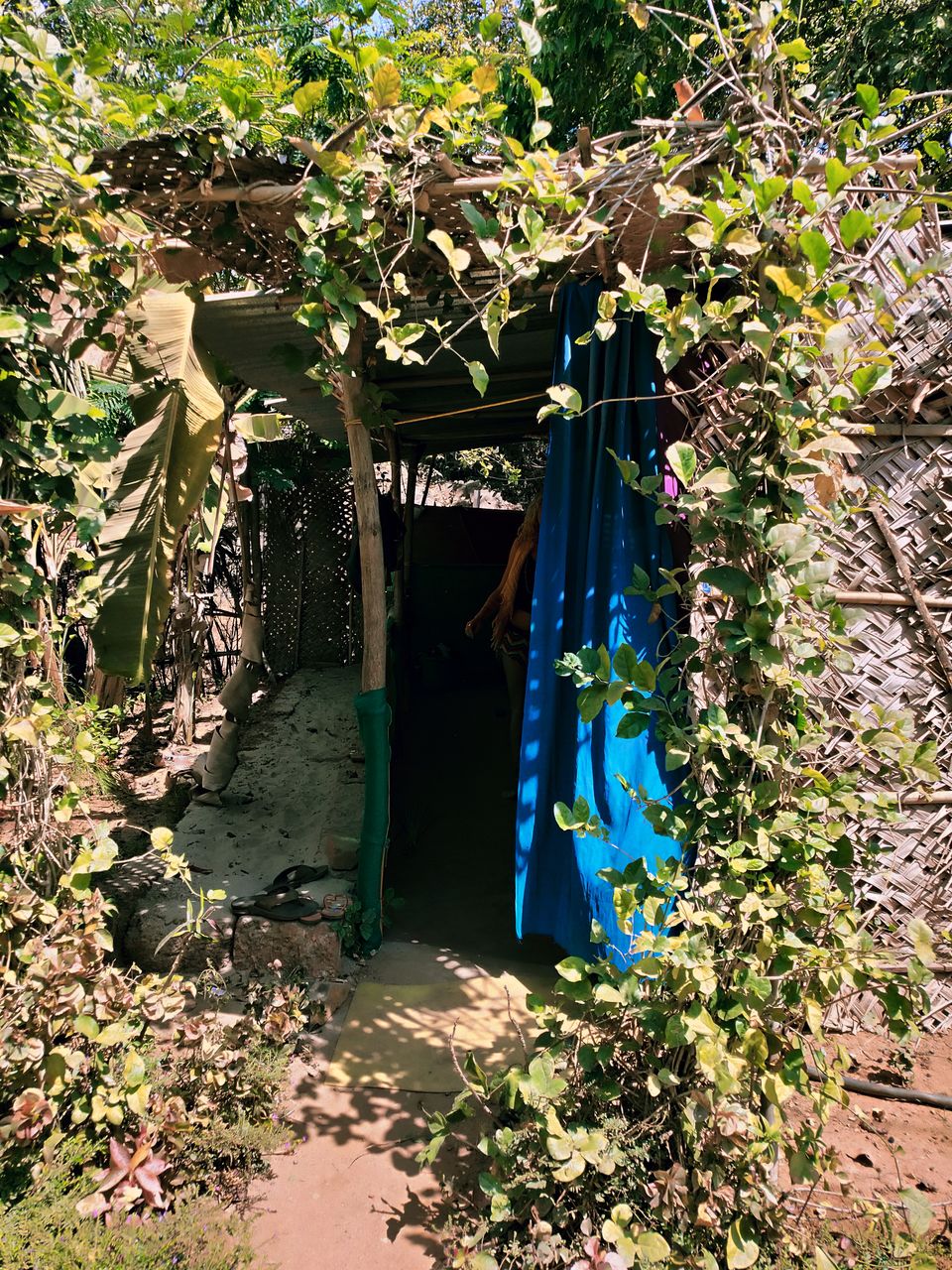 Kudle Beach, surrounded by small hill, is home to mostly all the travelers because it has most stay options among all beaches there. The beach was filled with a lot of foreigners who were bathing in the sea & laying in the sand for a sunbath. We too joined all the travelers there in sea bathing. The water was moderately clean, good enough to bath there. We enjoyed the sea bathing for about an hour and then we ran towards our room directly for a quick shower. After that, we went to this place called Sunshine Cafe on the beach itself for lunch. The food was horrible there, so I'll not suggest this place to eat.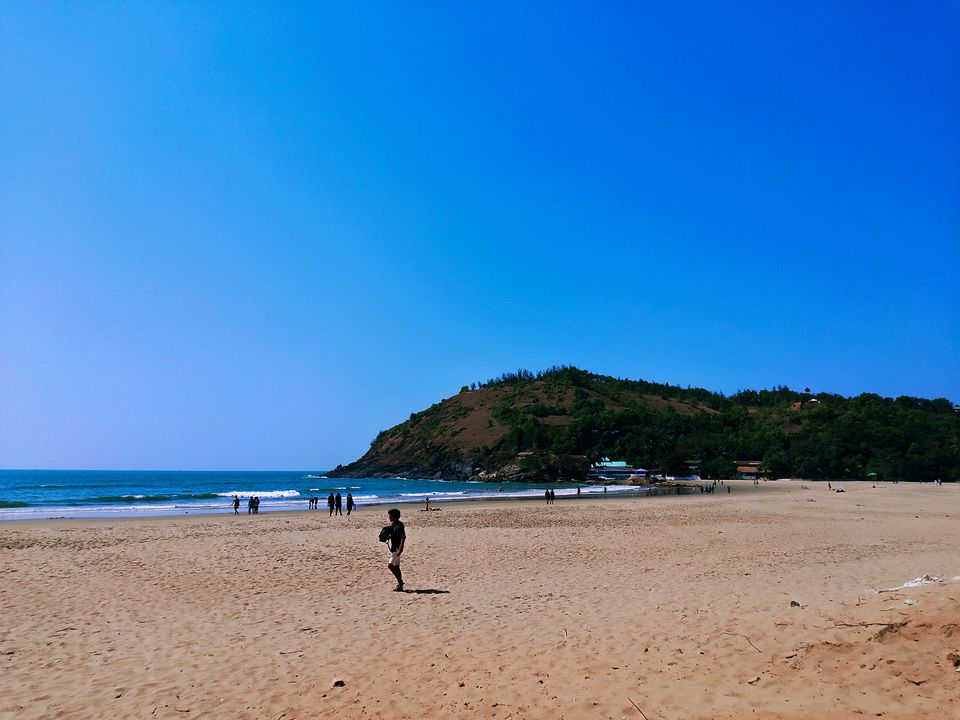 After lunch, we took some rest & then began hiking towards Om Beach in the evening around 4 pm. Om Beach is nearby 1 km from Kudle Beach by walk. There's a stairway at the left end of the beach which connects to the road and then one has to cross the road and walk straight through the rocks to find the trail to Om Beach. This name came after the shape of the beach. When seen from the aerial view, the beach looks like an ॐ.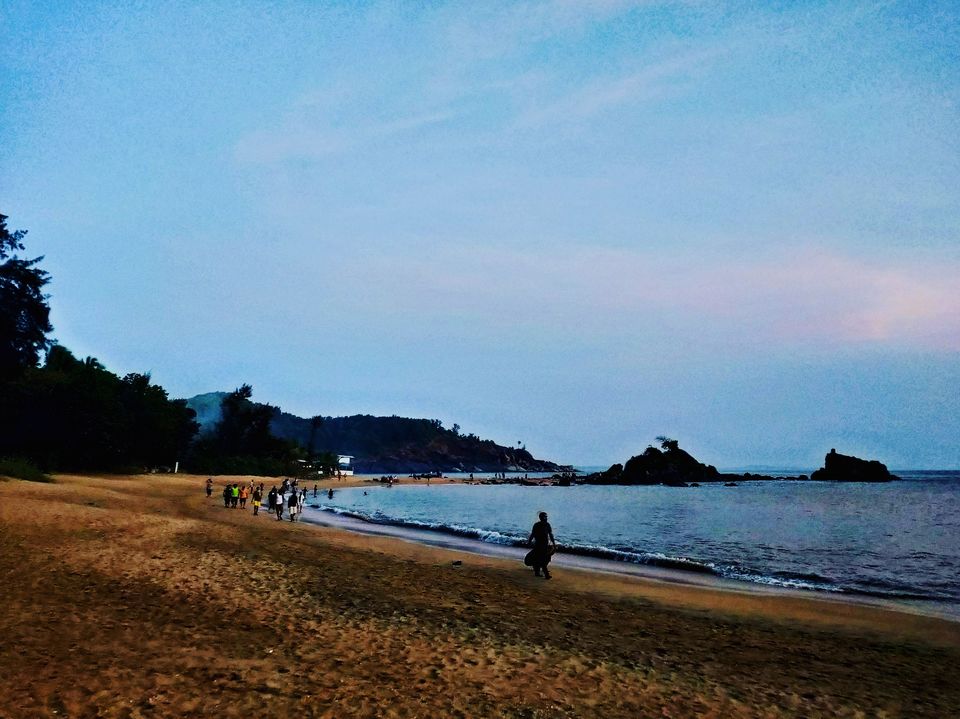 We had a long walk on the beach, relished the wonderful sunset which was as stunning as it could be. We sat down and cherished those moments in peace when the sun was setting, the sea was calm, the birds could be heard chirping and everything seemed complete. After the sun dived into the sea, we made ourselves comfortable on a balcony side table on the first floor at the Namaste Cafe. The food was very tasty there and the sound of sea waves, cool breeze, nice music were like the cherry on the cake.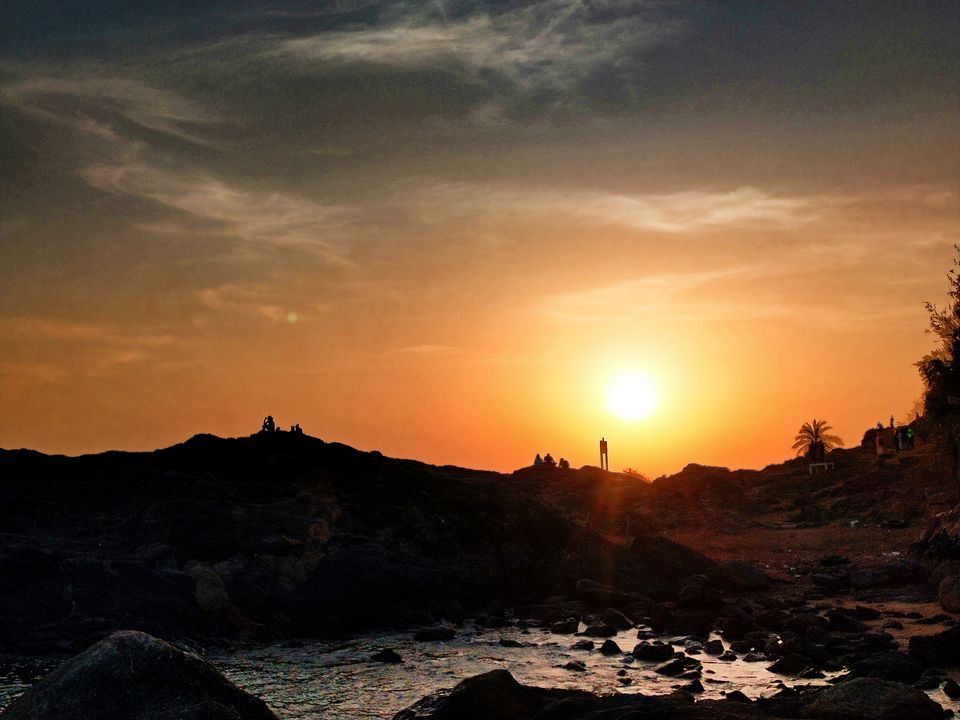 After dinner, we walked back to Kudle Beach, by this time all cafes at Kudle Beach were lit up & the beach looked stunning. We had some funny conversations, made ourselves comfortable in the sand, turned on the music & enjoyed stargazing. After this wonderful evening, we called it a night & headed back to our room.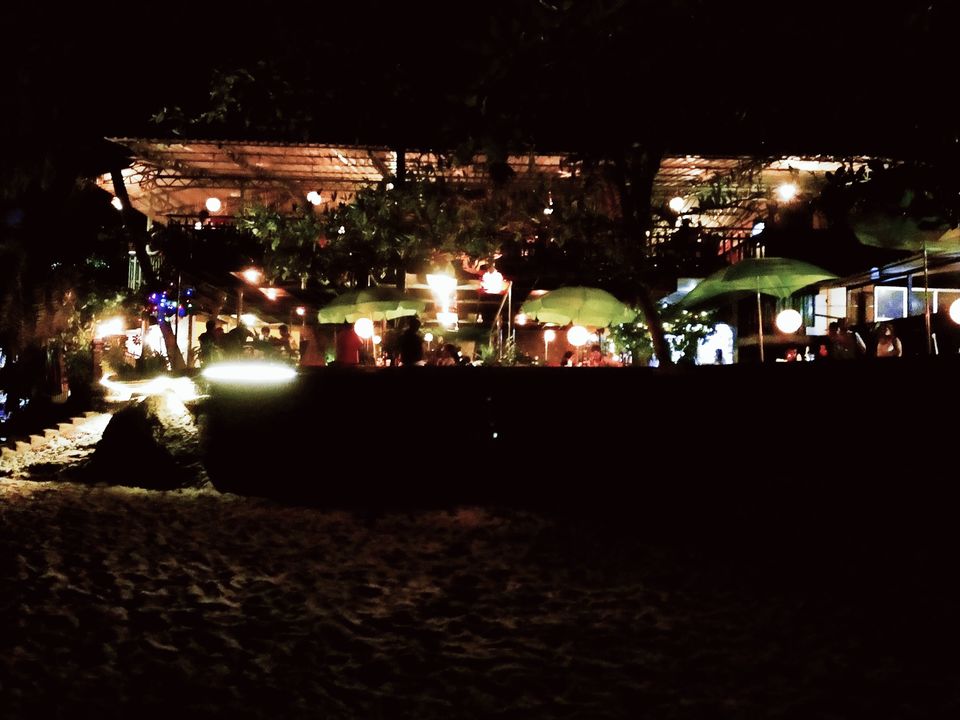 I woke up early in the morning, my friends were still sleeping. I freshened up and went for a walk on the beach, people were involved in morning activities like yoga, jogging, meditation, etc. The sun was rising, I waked my friends up because we had a plan to trek from Kudle beach to Paradise Beach & I wanted to complete the trek before noon. There's another option to go to Paradise Beach by boat from Om Beach, but we preferred trekking. The trek is nearby 4 km one side & it is an easy trek with mesmerizing views on the way.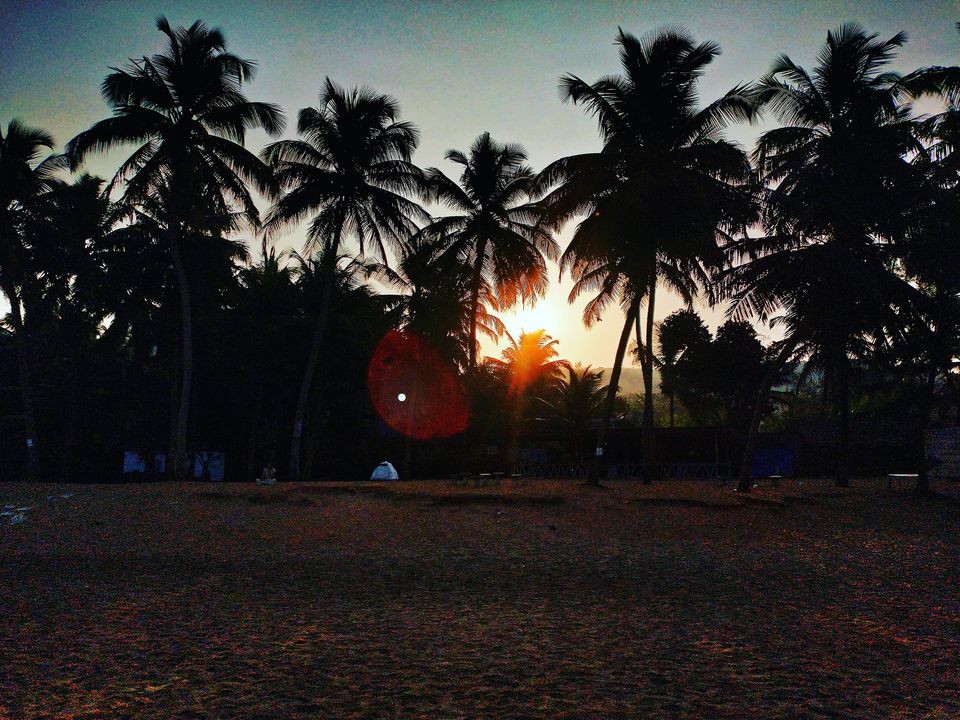 We started from Kudle Beach to Om Beach, the same which we hiked last day, then we had some light breakfast at Om Beach & started for Paradise Beach. One has to walk down the Om Beach to the extreme left end & the trail for Paradise Beach starts from there, it is a narrow trail through the Forest which is very beautiful. The trail leads to Half Moon Beach & then advances to Paradise Beach. We reached Paradise Beach in about 2 hrs in total. Paradise Beach was filled with camping tents & few local vendors were selling water bottles, coco water, pineapple, etc. there.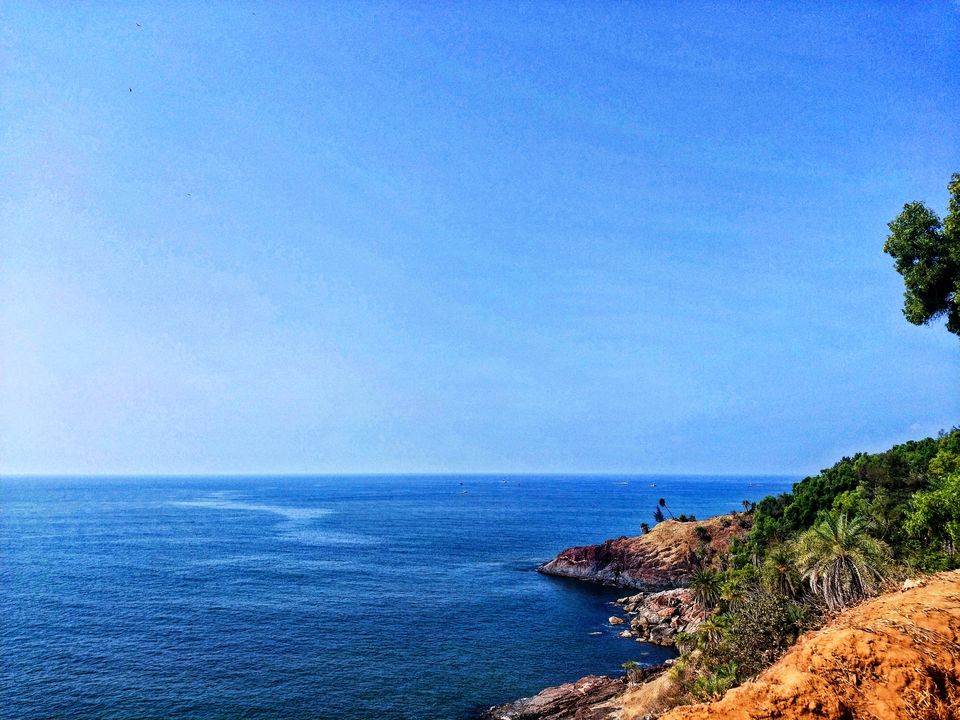 Paradise Beach is one of the most beautiful beaches I've been to, the water is crystal clear & we couldn't resist myself from going into the water as soon as we reached there. We had the sea bath for about an hour, then came out and sat down for a sunbath. There was no facility of the shower, so we just dried up in the sun & took a ride in the boat back to Om Beach. The boat guy did show us the lighthouse on the way & it was standing tall on a hill left to the Paradise Beach.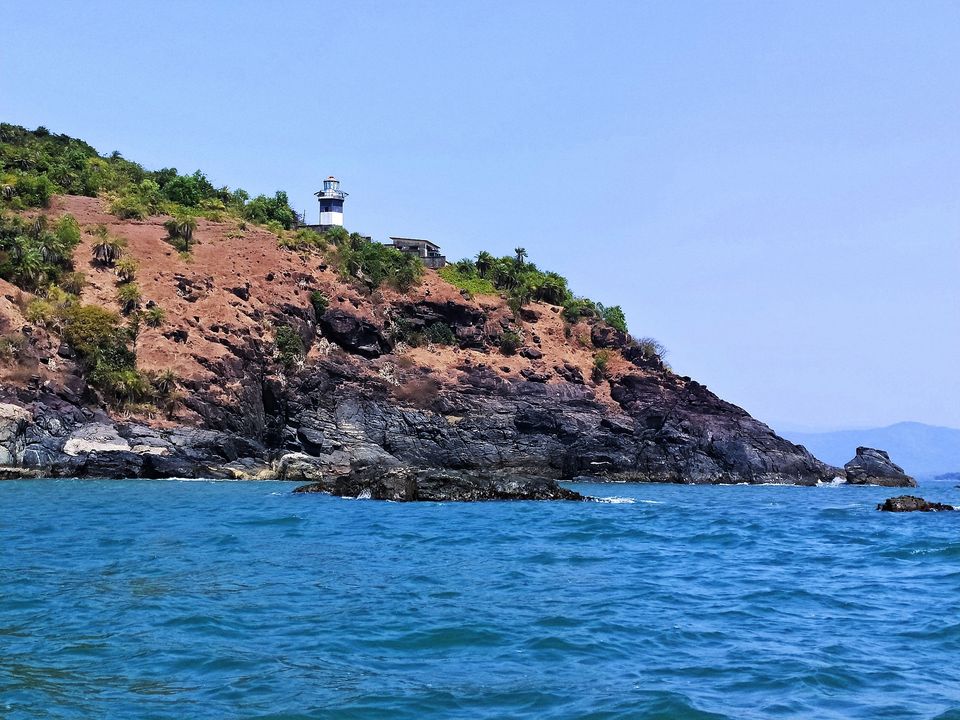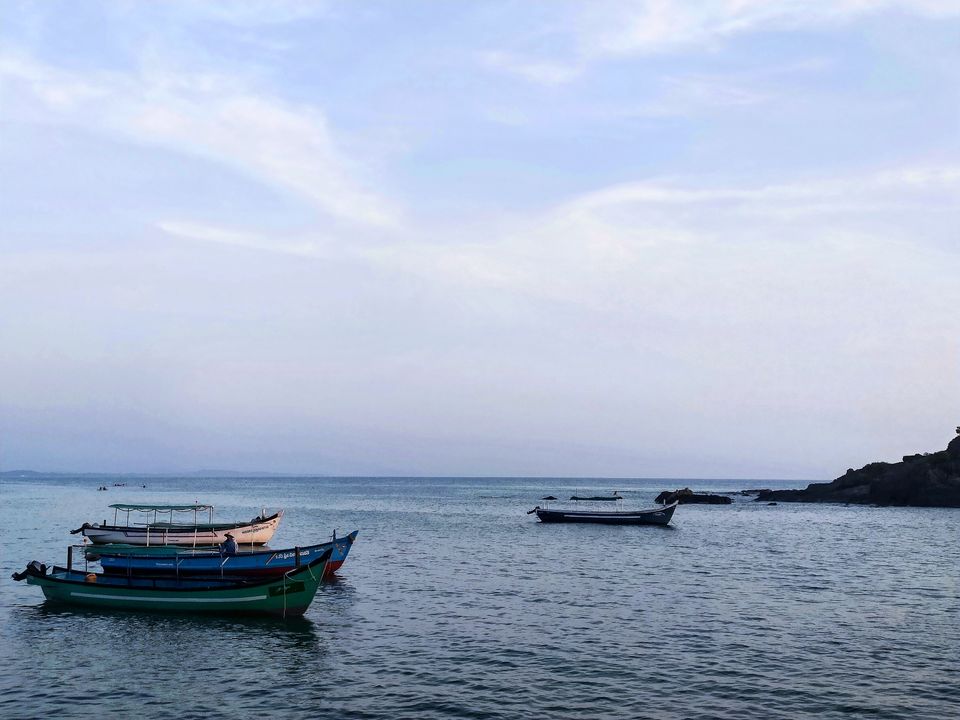 We reached Om beach in about 20 mins & we marched directly to the Namaste Cafe. We headed to the first floor & relaxed there for a few minutes before ordering the food. We had a delicious lunch there & we sat there for about 3 hrs, I enjoyed reading my book & then we came back to Kudle Beach before sunset.
During that time of the evening, Kudle Beach was packed with a lot of foreigners. Few were singing, few were playing & to my surprise, few were sitting with small stalls on the beach selling stuff like snacks, stickers, herbs, artifacts, etc. Some of them were showing off their skills like juggling, fire dance, etc. That was the most amazing time of that trip, the atmosphere around me was totally different, I could feel it & I never wanted it to stop. As the sun started setting, all the stalls were shutting down & every person was in his/her own mood there.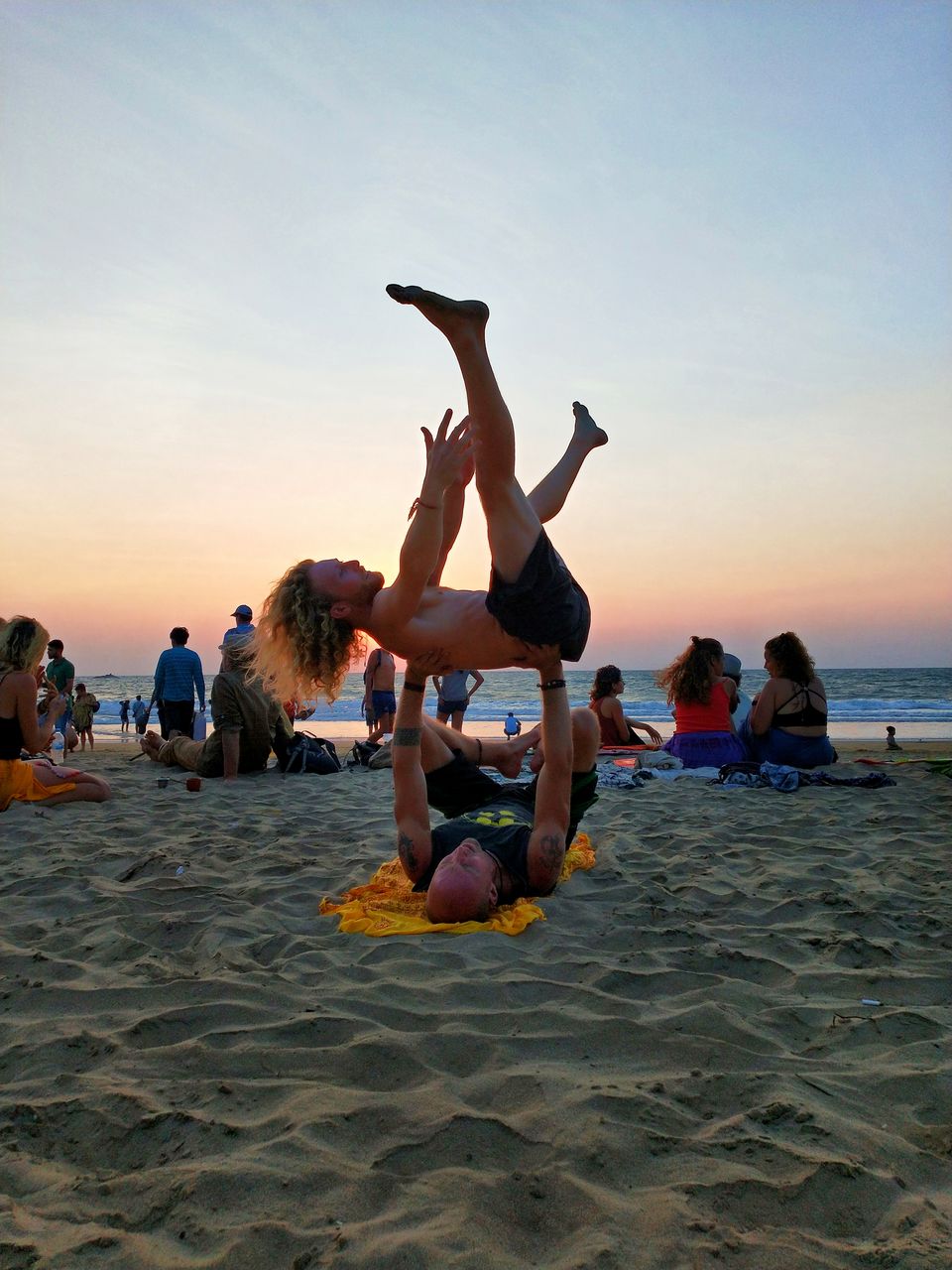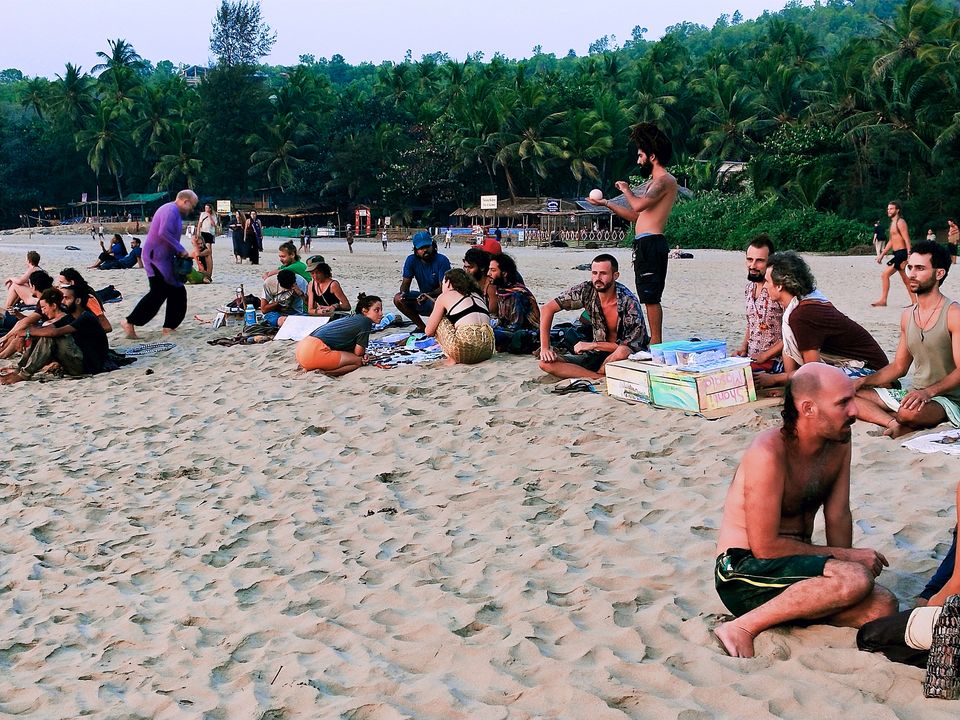 We started feeling hungry by that time, so we started checking out the places to eat there. We found a place named La Sangria Pizzeria on the beach for dinner. The food was okayish, good enough to eat & satisfy your taste buds. Post dinner, we came back to the most happening spot of the beach.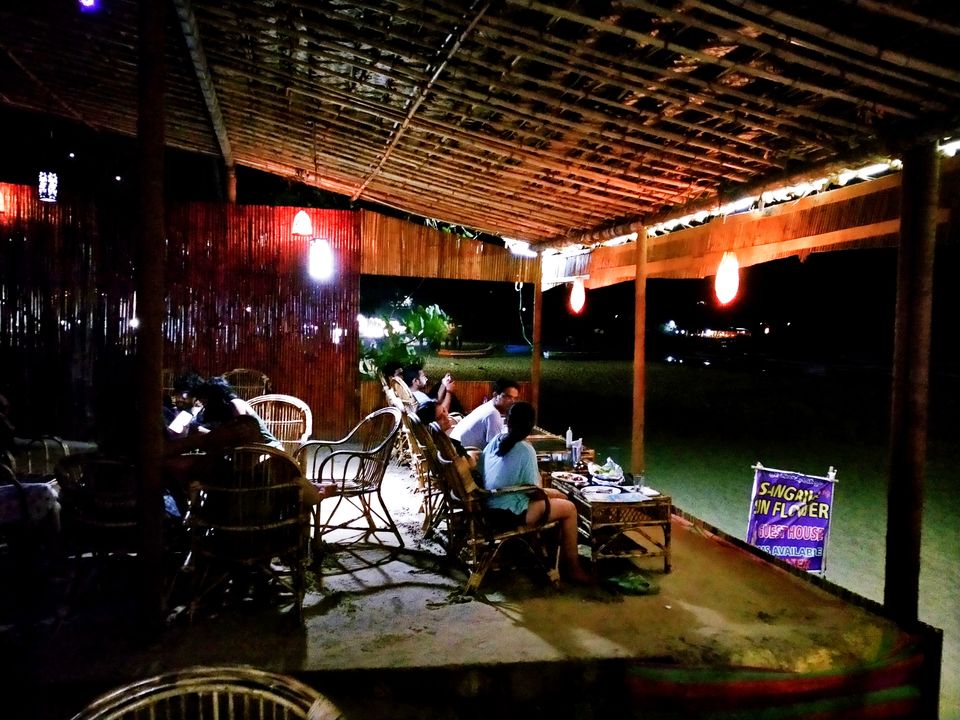 Seeing those people, I too developed this urge of doing something new & I ended up doing the light painting using the Expert mode of my phone camera for the first time. We enjoyed the evening till post-midnight, sitting in the sand, being kissed by the cool breeze every other minute. I went to sleep that night because my body needed rest but I was definitely filled with positive vibes & positive energy.
Since we were too tired, we woke up quite late on this day. I was sitting on the porch of my room. The French guy who was living next to me was also sitting there, we started having chat & I got to know that he was the person who was performing juggling last evening. We had chat about our lives & shared our experience with each other. Since he was living there for more days than I was, I asked him if he knew another good cafe to hang out there. He told us that the cafe where we were staying in is one of the best here & it was a hot spot for many foreigners. He was surprised to know that we were living there for the past two days & we never hung out there.
We checked out of our rooms and came out to the cafe, kept our backpacks in a corner and ordered some food. This place was filled with people talking about karma, talking about peace and all that stuff. One guy suddenly came into the middle & did a handstand for about 15 seconds and that was awesome. Post lunch, we played carrom, took some rest before we started walking back to the town. We relaxed there for many hours because we had no place to stay & we had already been to all the places we wanted to go.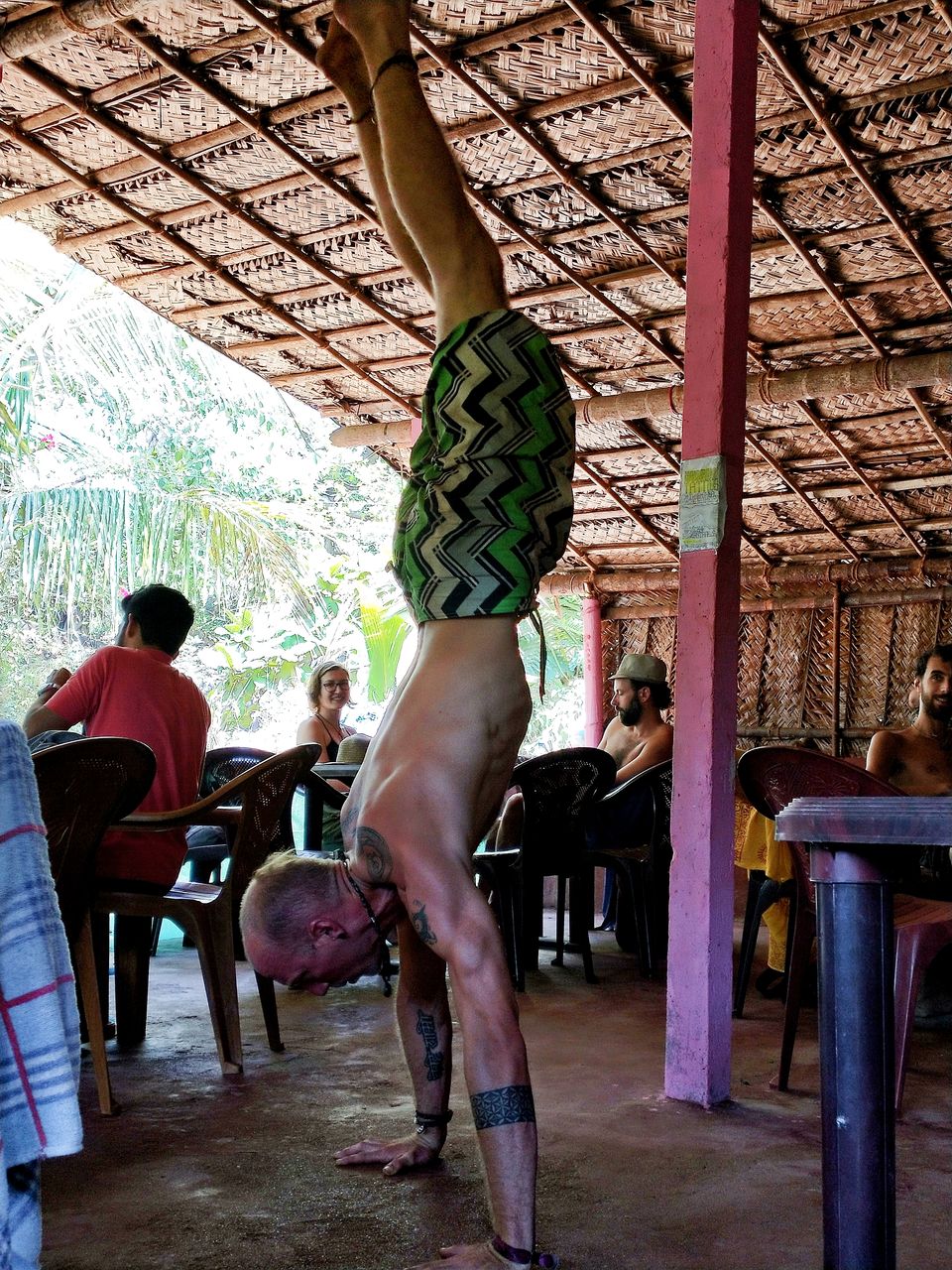 Around 4 pm, we stood with our backpacks & started back to the town. On the way up to the road to the main town, I met a Spanish couple, they were also walking to the town. They came to Gokarna on that same day & were about to stay there for 10 days before flying to Dubai. I was enjoying chatting with them, listening about their life.
We reached the main town in another couple of minutes, they had to buy some daily needs items, we had to go for Darshan in the Shiva Temple. So, we bid adieu to each other & went our own ways. This was the festive day of Mahashivratri, so there was a long queue for Darshan, we too joined the queue and started walking chanting 'Har Har Mahadev' with full energy. After Darshan, we started walking towards Bus Stand. We ate some snacks on the way & boarded the bus back to Bangalore.
When I planned for Gokarna, I planned for it thinking of it as an ordinary beach destination. But, as I was leaving, I knew that I was wrong, Gokarna is not just another ordinary beach destination, it was much more than that. Go and experience yourself.
Please follow me on Instagram to checkout my latest activities: @gypsyonvoyage