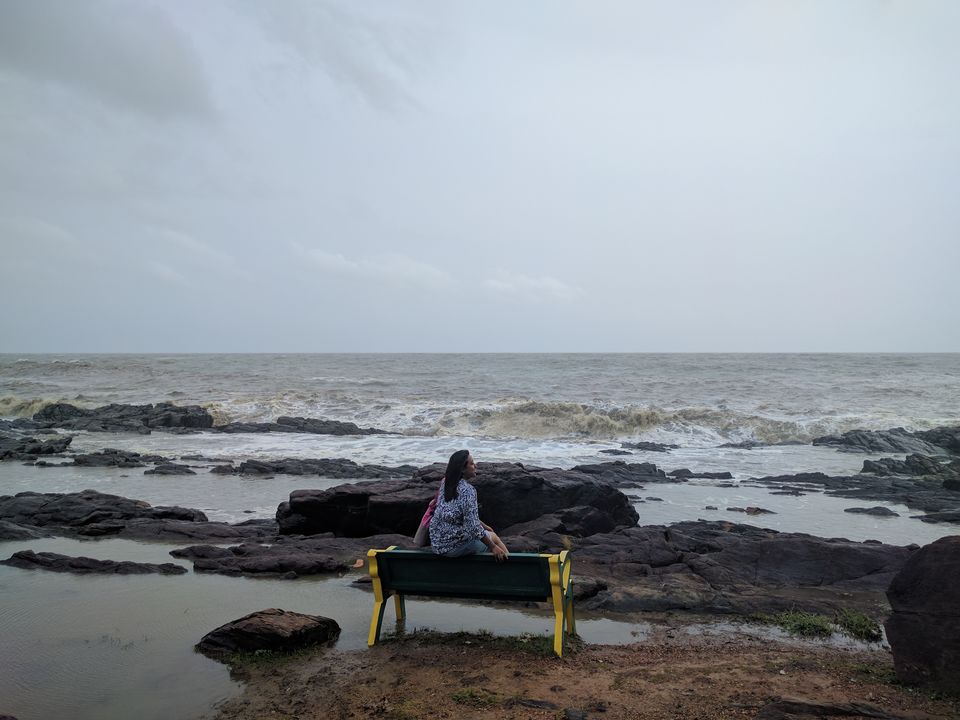 Thalassophile (n)- A lover of the sea, someone who loves the sea/ocean.
I love using new words as much as I love exploring new places and in case you are a Thalassophile (please bear with me), Gokarna is a perfect place your you.
It was our (me and my 2 more girl friends) last jaunt post doing Coorg and Hampi. After experiencing monsoon in Coorg and our splendid history and architecture in Hampi, we decided to end our vacation by being a beach bum in Gokarna. (Check out my blog on Coorg and Hampi for the complete information on these amazing destinations).
So, coming back to Gokarna, which incidentally means 'Cow's Ear' is a small pilgrimage destination for Hindus on the Arabian sea in Karnataka, India. This shares the shoreline from Goa and is far less explored and much more raw if we compare it to its cousin-Goa.
This is a the land of wilderness, spectacular skies, bluest oceans and the tallest palm trees!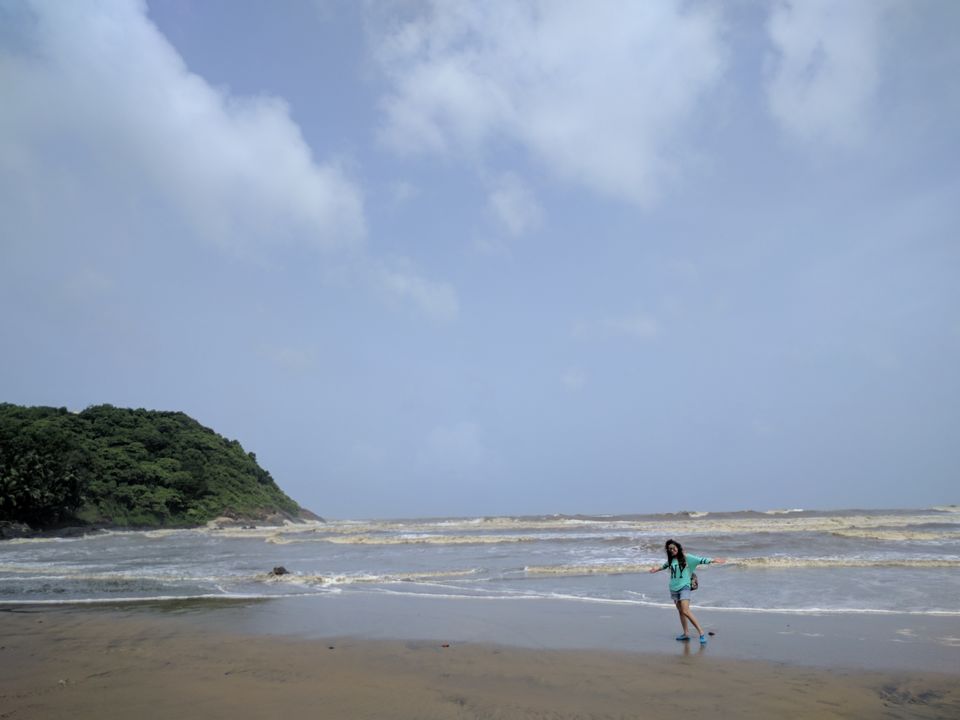 How to get here:
There are local buses easily available from Bangalore and Mangalore and other popular places like Coorg. Nearest airport is Goa and only 150 kms from Goa town, Panaji.
We took a taxi from Hampi to Gokarna which is 300 kms away and took us 6 hours as there was no direct bus from Hampi. We started at 6:00 in the morning and by 12:30pm, we had our first glimpse of the surreal beach of Gokarna. The drive was gorgeous with trees lined highway. This was such a perfect way to experience western ghats and one of my best road journeys. With filter coffee and vada breaks, cold wind and drizzle- I definitely recommend a drive!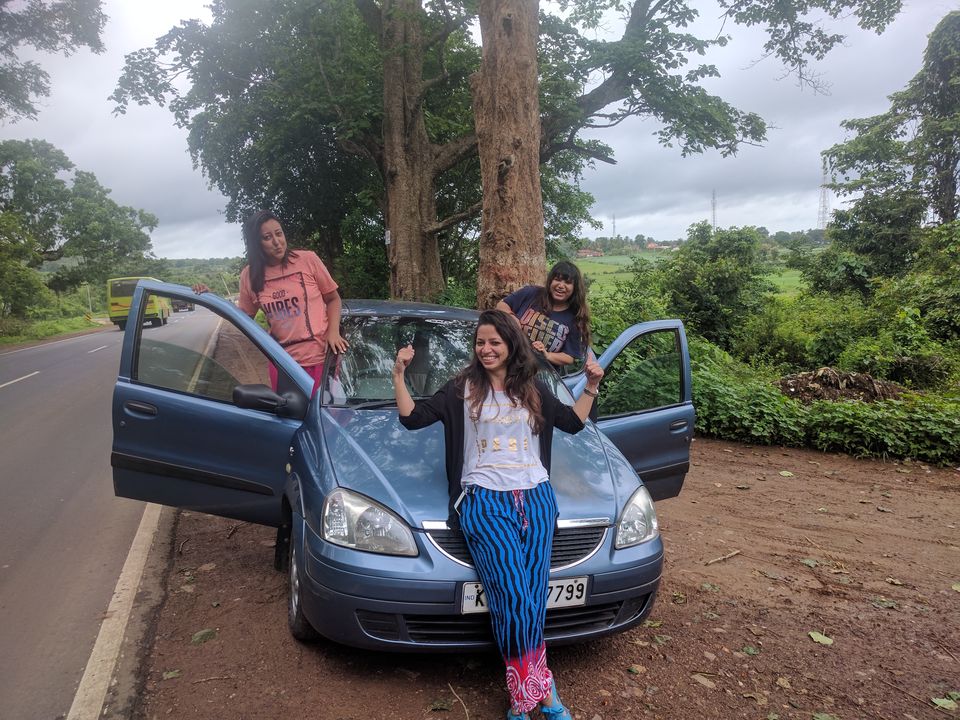 Stay at Gokarna:
We stayed at Gokarna International Beach resort which we booked by randomly walking in that place after checking its trip advisor reviews. Since, we went during monsoon, which is an off season and hence, most of the properties were empty. We got one room with an extra bed at Rs 1050. It is an insane price for this property which has a big rooms, balcony overlooking Kudle Beach (Arabian sea) and an amazing pool. Cons include a terrible entry which was almost a hike and no room service. However, a small cafe made it up for it. I definitely recommend this place for non-fussy travelers and beach lovers!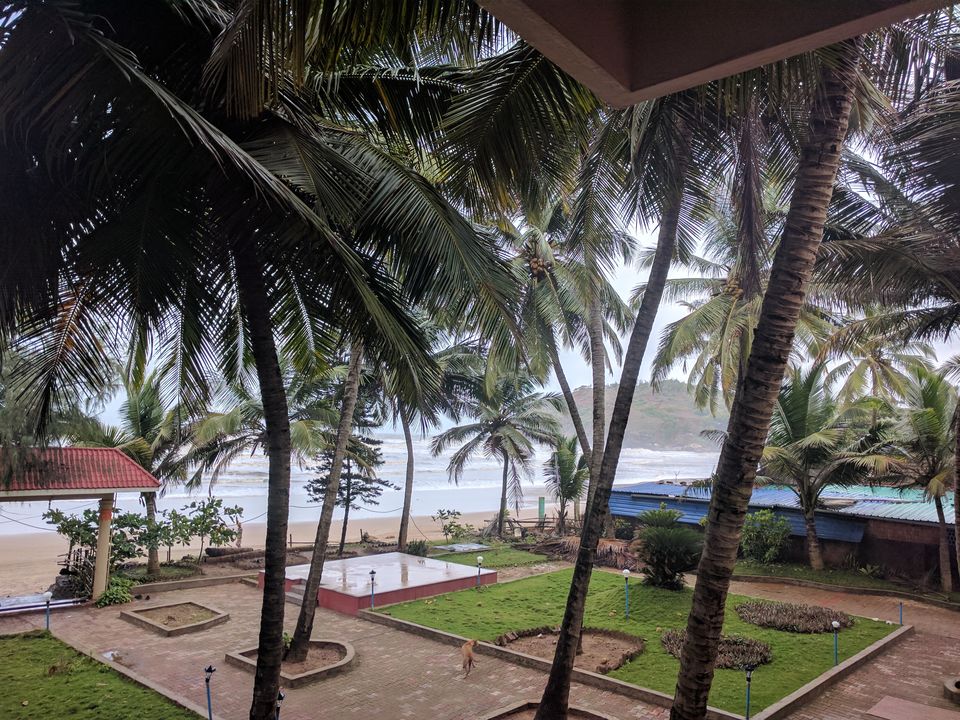 You can alternatively stay at hosts of Spa resorts, most popular being Namaste cafe resort. Gokarna, is actually a town with two souls- one a bustling market place with temples and where locals stay and is reserved and the other side is where the tourists stay near the popular beaches- Om beach and Kudle beach.
To-Do at Gokarna:
1. B.E.A.C.H- Best Escape Anyone Can Have. Gokarna has 5 main beaches- Kudle beach, Om beach, Gokarna beach, Paradise beach and Half moon beach. Kudle beach is most popular with shacks lined up next to it. Om beach as the name suggests is in the shape of Om and is walking distance from Kudle beach. Gokarna beach is the town beach mostly thronged by locals and is not that popular with tourists because of the crowd.
Your resort should ideally be next to Kudle or Om beach- explore that and then walk to the next one. When we went in August, it was raining and the waves were right up to the resort and the cafe. All shacks were closed and yet I will not suggest, Not going in the monsoon. The sky was gorgeous and the ocean was wild, loud and insistent.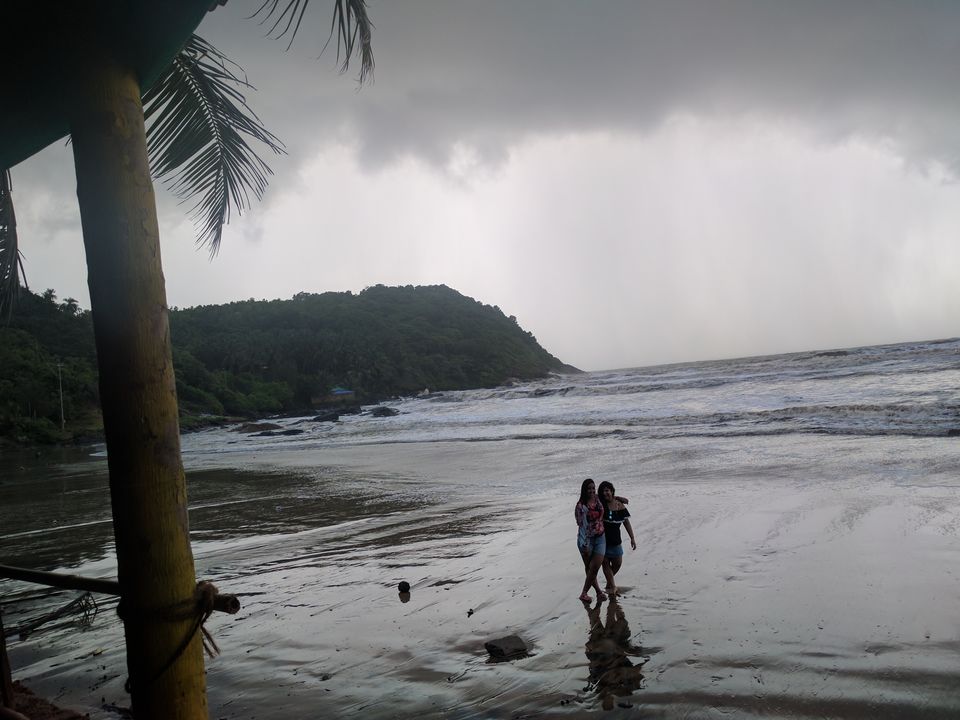 2. Be a foodie
With a known paradise for backpackers across the world, the place offers delicious food-seafood, continental, Israelis and Mexican. Definitely try the Namaste cafe upstairs area for a great view and amazing pastas.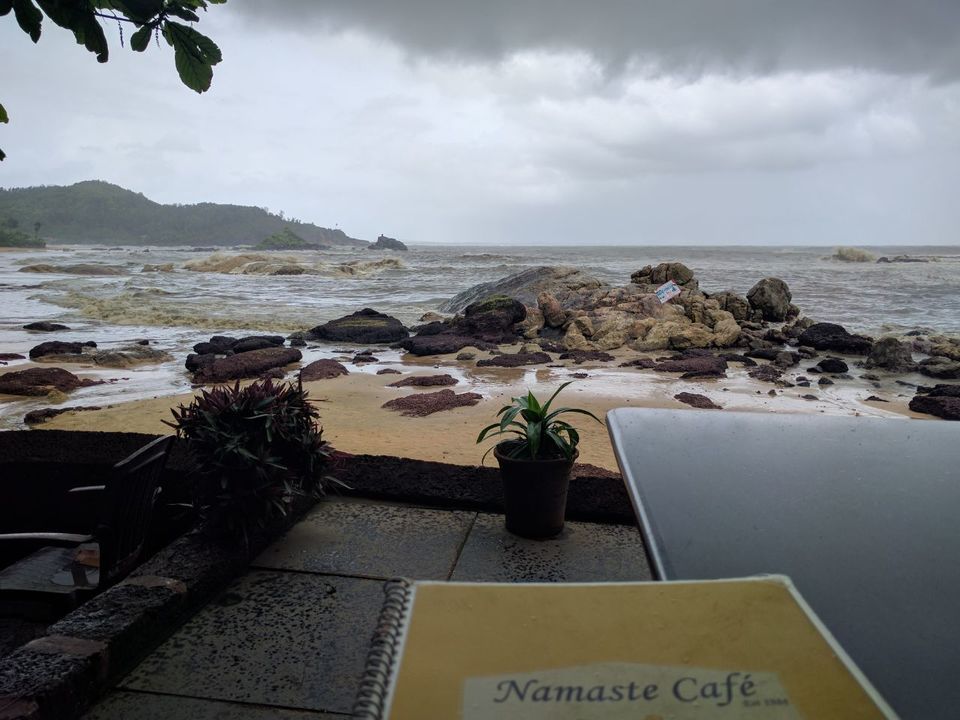 3. Visit the temples and enjoy the town
Shop for knick knacks, take a walk at the town beach-Gokarna beach and visit the Shiva temples. Wear comfortable clothes to avoid being stared at as the town is quite reserved.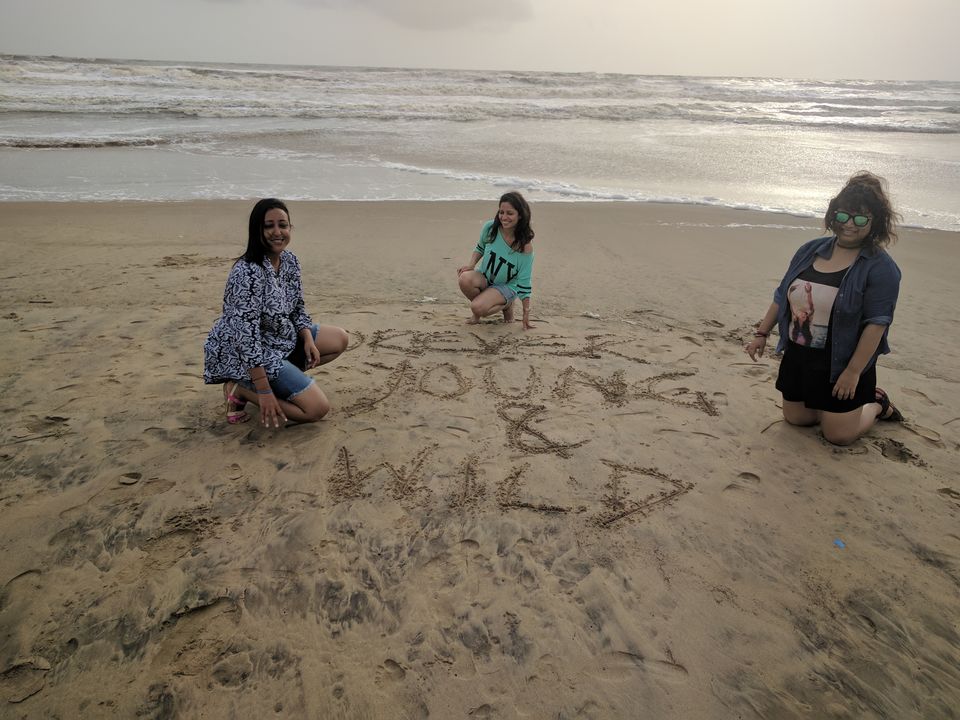 4. Do nothing
You can of course do treks to Paradise beach which you can reach from the forest or do morning yoga at the beach but we preferred to laze around, dip in the pool and enjoy the wild. This is a lazy place and a sleeping town. At monsoons, especially, when the season is off, you will not see lot of foreigners, shacks would be inside and you will end up marveling at how unruly sea can be. You may ask-why pool when you have the beach- because, you are not allowed to go in beach because of really high tides- though we still managed to soak our feet when the tides were low-but the beaches here during monsoons are not for fainthearted.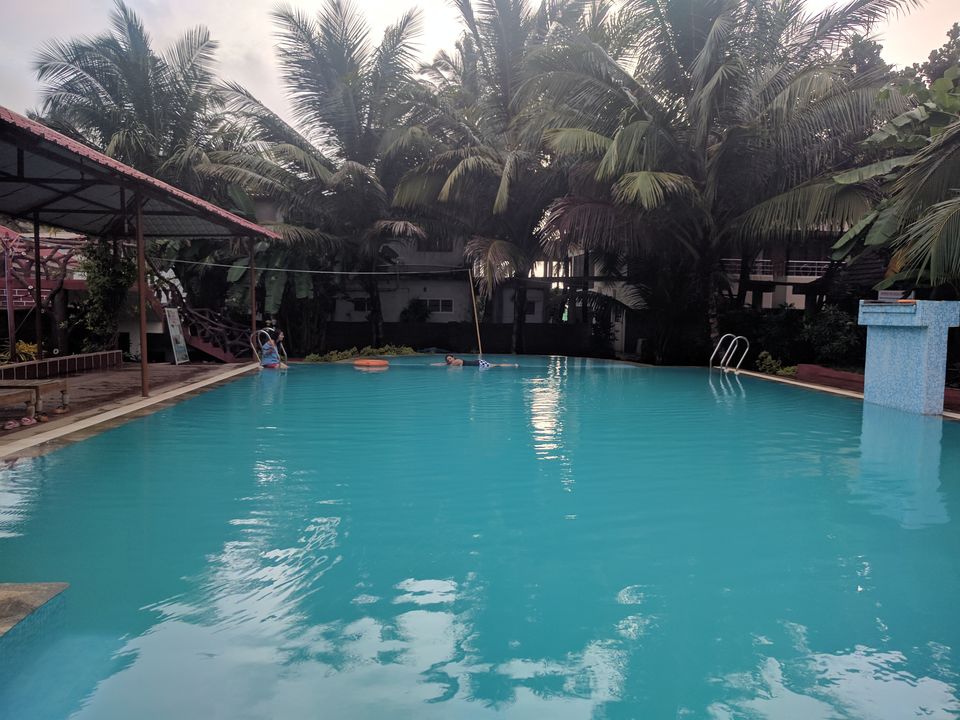 5. Photography
This place is perfect for photography- if you want to capture the star studded sky, colors of the sea or greens-the place is too clean(not polluted) and still quite raw that you will love your captures.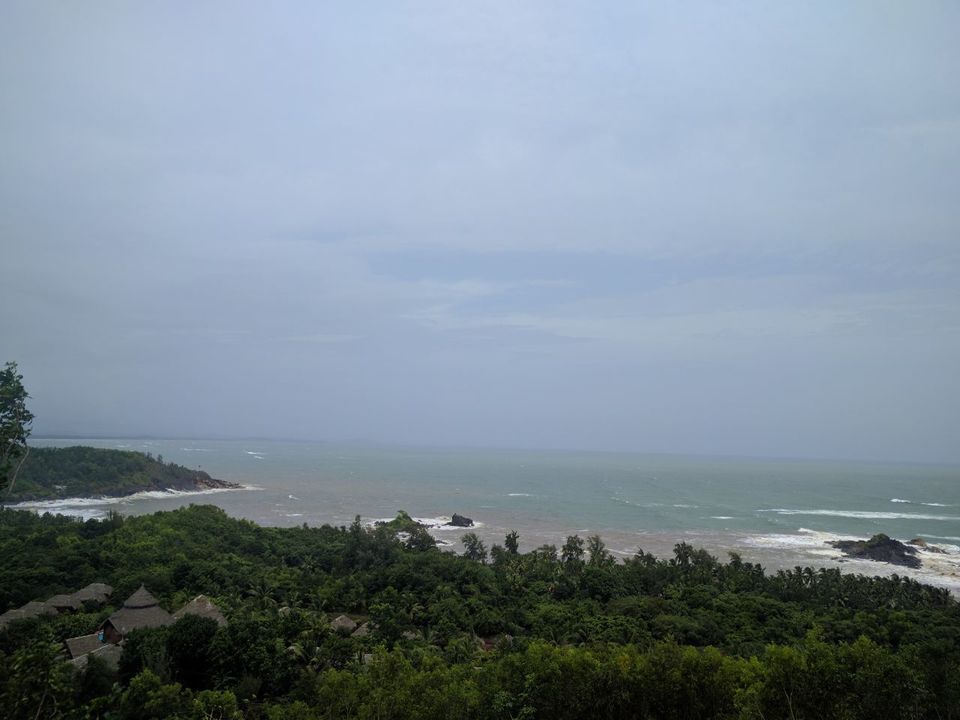 Gokarna is a place where beach is not in the background like maybe in Goa, where you party and enjoy and lie in the beach in the evenings. This place is only about beaches and spirituality. Remember this and you will not be disappointed.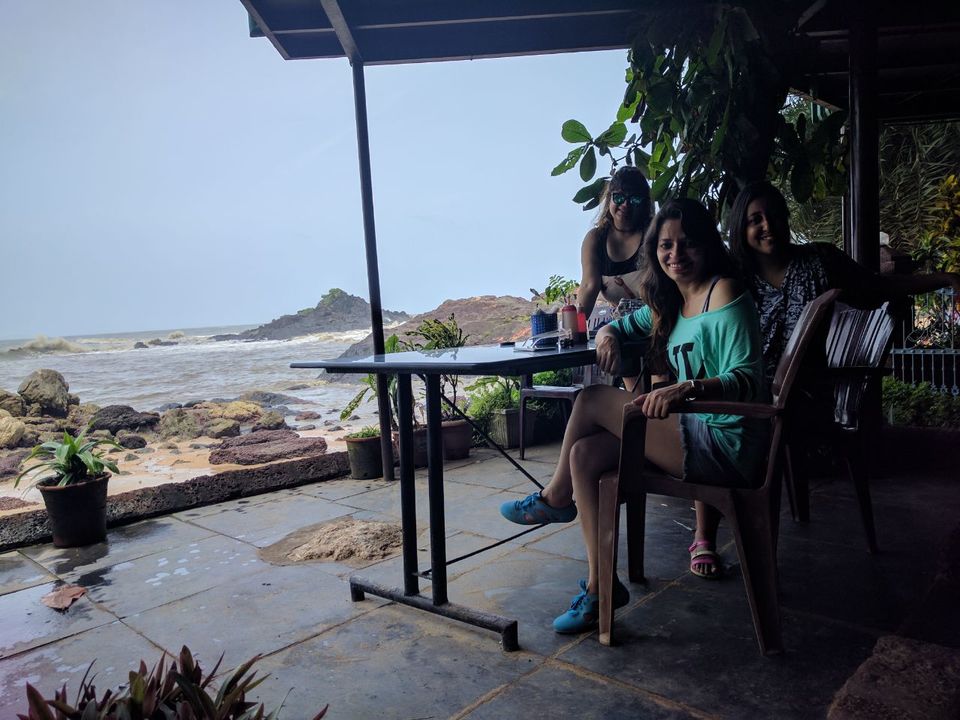 Some tips:
1. Off season means really low prices, beautiful sea however it also means no tourists, no shacks and you may not enter the sea most of the time because of high tides- we were happy to be here off season, however, best season for this place is September to April.
2. Carry your beach Kit. It includes a water resistant bag, flip flops, sun screen , a sarong and some bug repellent!
3. Carry enough cash here as most of the places do not accept card and atm is in the other side of town.
4. The place can be quite humid also during the day, so drink enough water and enjoy the outdoors with some precaution. You will get some beer everywhere, in case, you are particular about your brands, carry your own booze.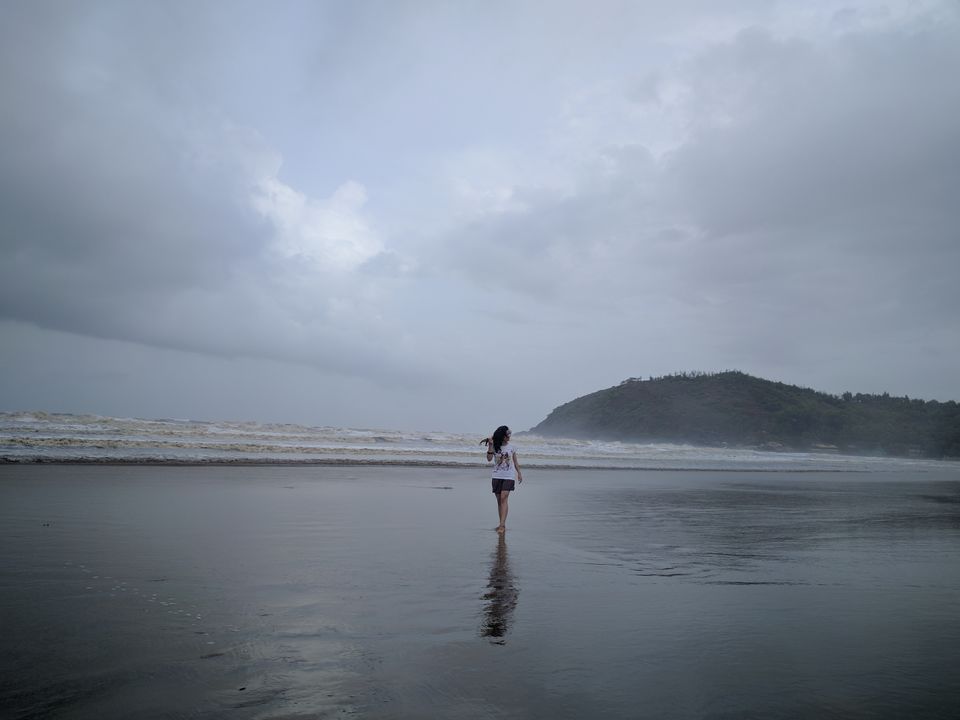 Have fun, dear Thalassophiles.