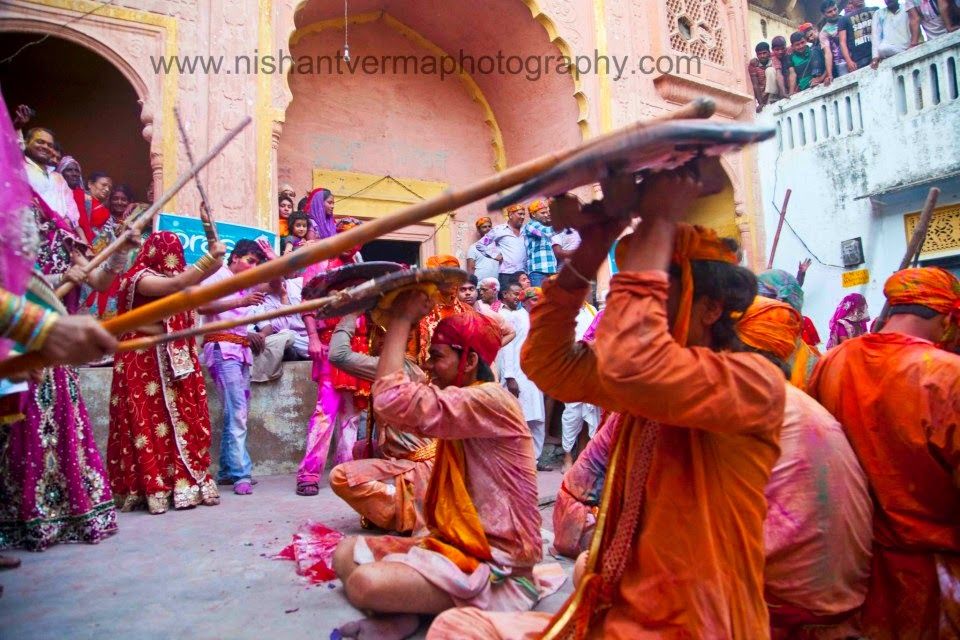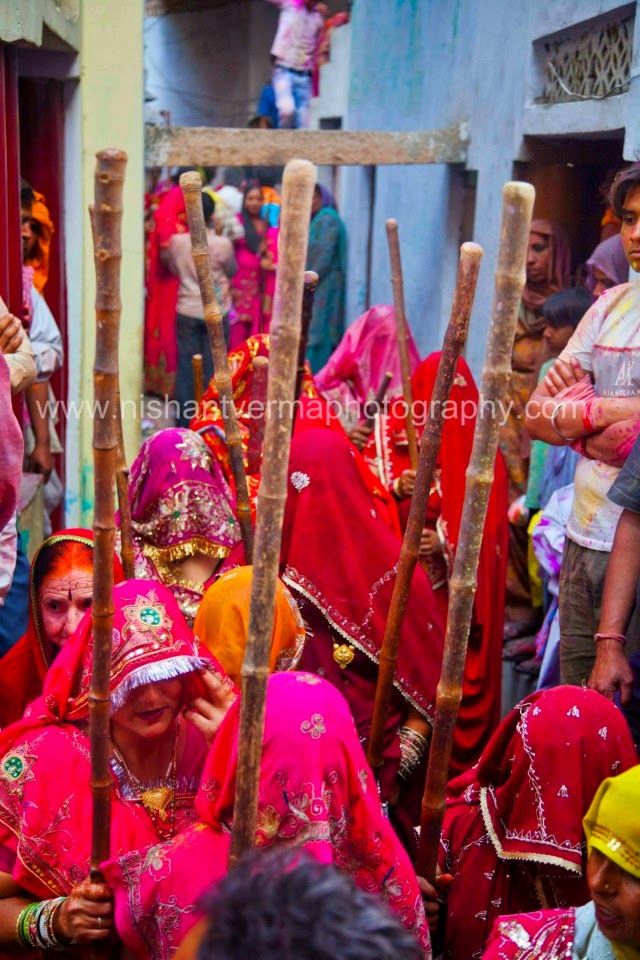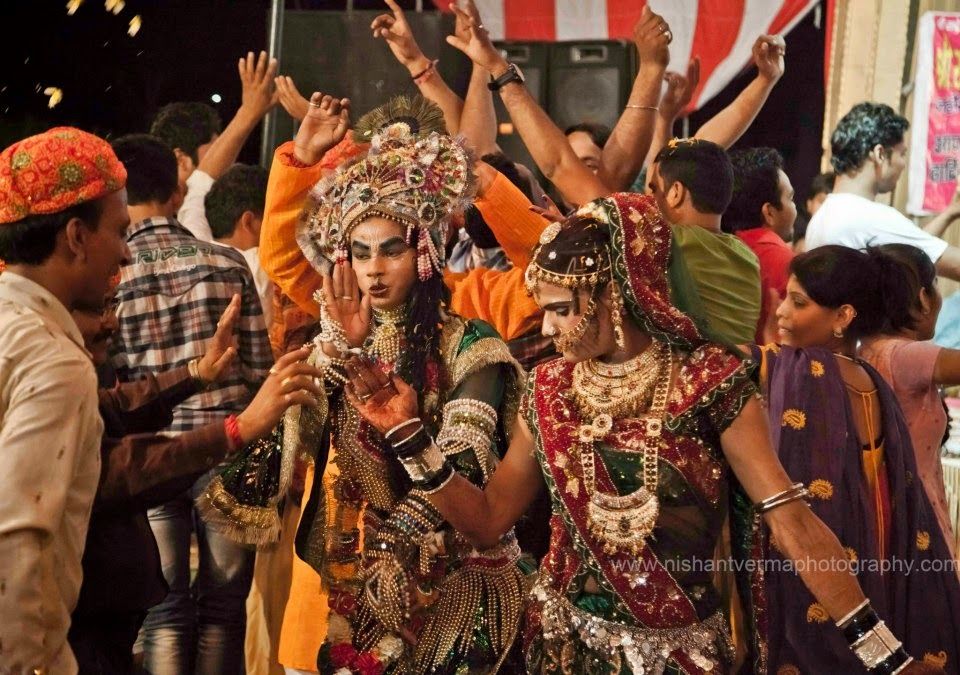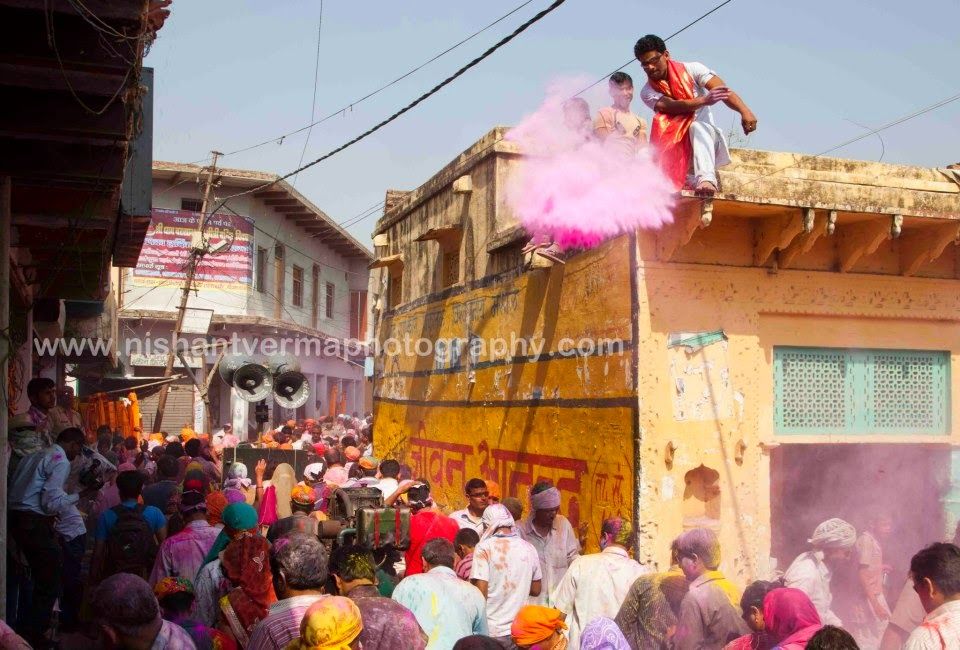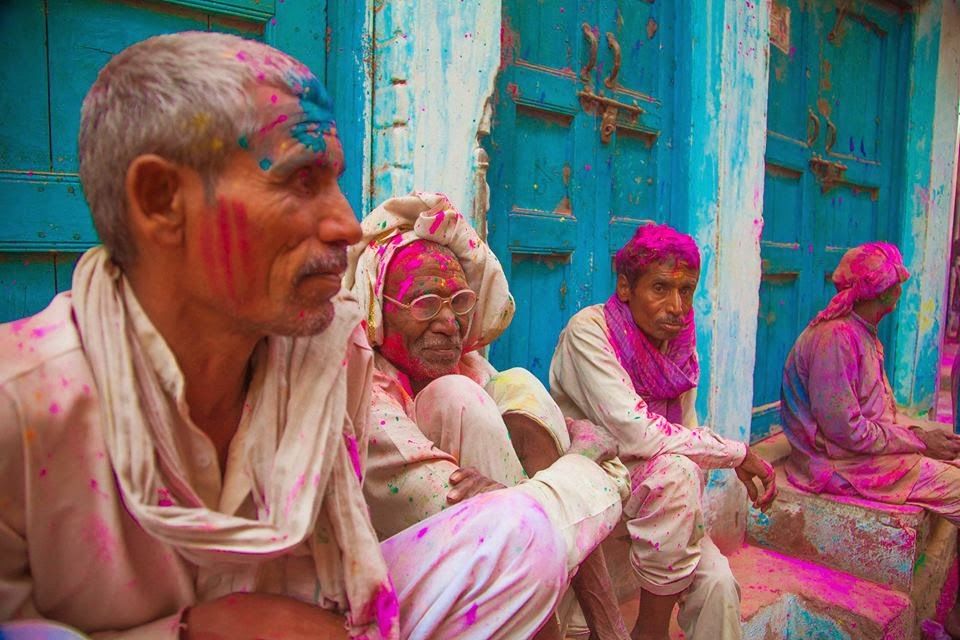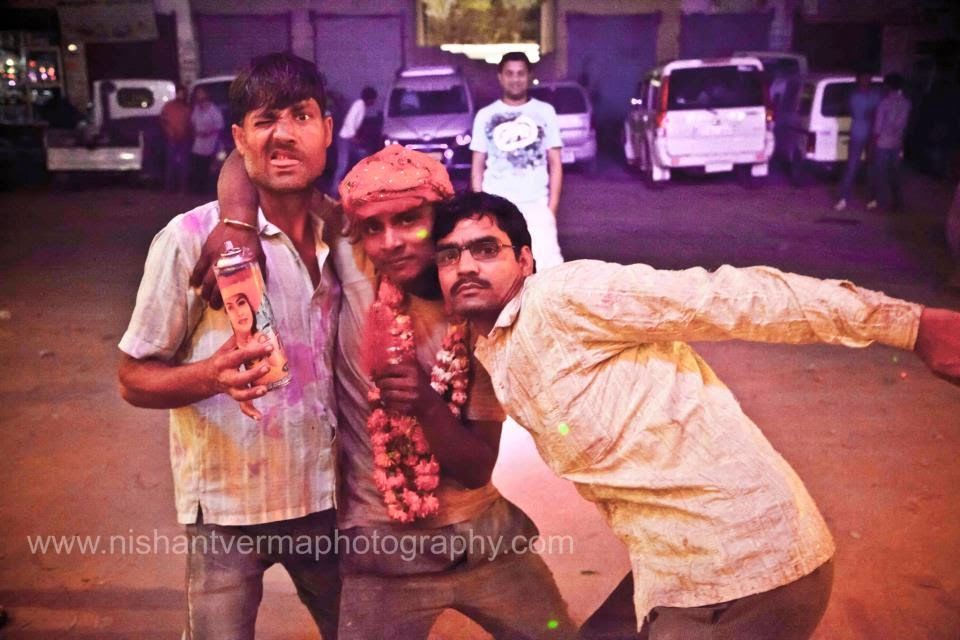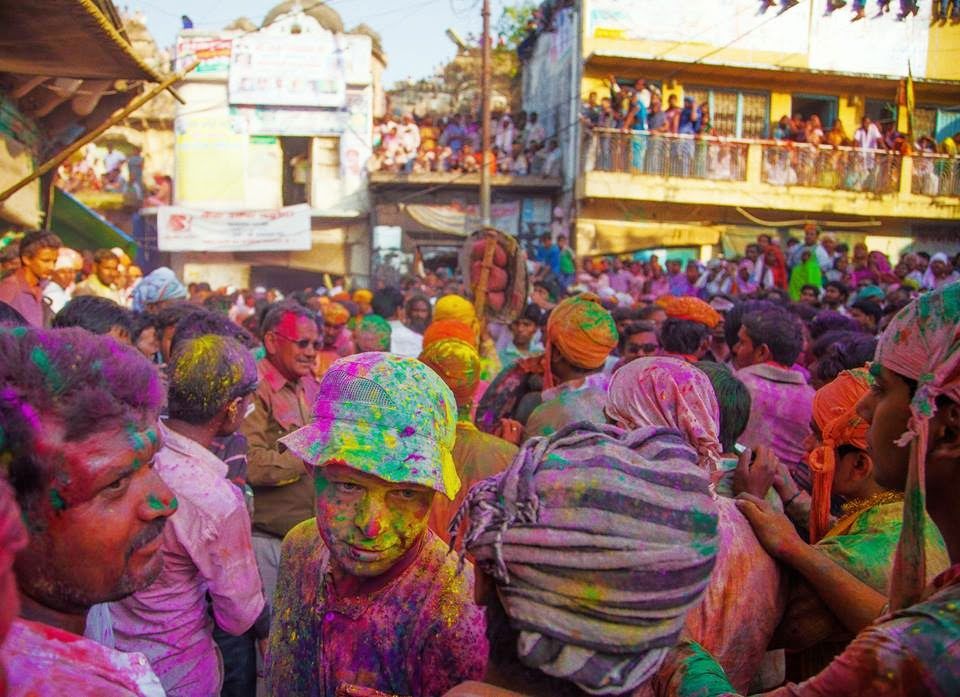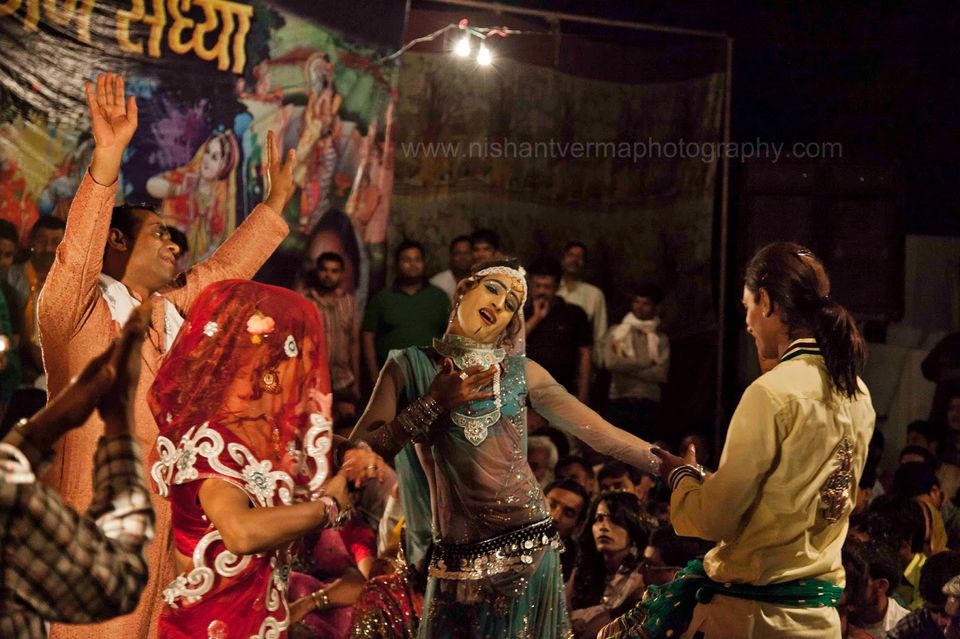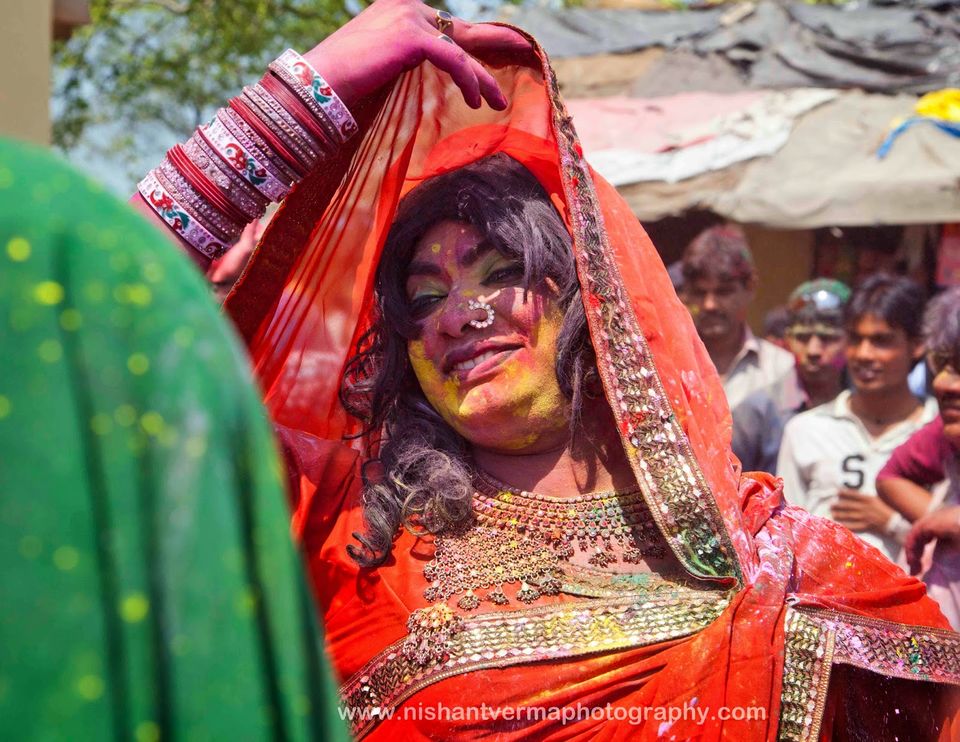 During the Holi season, Barsana is one of the most colorful treat in India... a very overwhelming place with such a beautiful history of lathmaar holi (Lath means stick used for beating; maar = to hit). As the name suggests, the holi is about hitting with a lathi (stick).
When Lord Krishna use to come to Barsana from his village Nandgaon, Uttar Pradesh to tease Shri Radha Rani Ji and the Gopis (girls of Barsana) . The gopi(s) used to beat Shri Krishna by the laathis (sticks). Since then, Men from Nandgaon come to Radha Rani (Barsana !!) dressed as Krishna and the Ladies of Barsana welcomes them with the sticks.
As soon as you enter the village of Barsana, you will see many cross-dressers, dressed as Radha and Krishna, various pandals having musical and dance rendition of Krishna Raasleela.
Drunk Men and holi are synonyms of each other these days. So you will find many people walking zig zag somehow managing to balance themselves and some are not lucky enough to hold on to their balance and could be seen lying anywhere on the road or even in drains.
Barsana , Nadgaon and Vrindavan Holi collectively has a huge caliber of becoming one of the biggest International Tourist attraction in India. The authorities must create the necessary infrastructure, star rated hotels , Roads, Train / Air connectivity and publicize this event globally with the incredible India campaign. Already Reuters and many international photojournalists has widely covered this event. A better publicity can definitely benefit the tourism industry and the locales.
Local administration must make sure about the safety and security of the visitors as the streets become really shady post the sunset and and the only people seen on the roads are Drunk Men a, Sex Workers and Eunuchs.
Like every place in India, there are some Dos and Donts of visiting Barsana (specially Photographers) Dos
Make your bookings well in advance, if you plan to stay in Barsana and Nandgaon.
Carry sunglasses to cover your eyes, and a face-mask if you have breathing problem or any allergy, since the colour gets mixed with the air and causes irritation and uneasiness in breathing,
Make sure , your backpack is waterproof and you have your camera well protected. A good waterproof housing is suggested. You can also make your camera waterproof for minor sprinkling of water and colours (videos available on youtube).
Carry a first-aid kit
Carry Drinking water but drink it when you are away from the crowd, as dust and other suspended particles in the air can cause irritation or infection.
Try to carry your own food (for foreign tourists) due to sensitive stomach. Indians have comparatively good immune system so you can feel free to eat anything.
Take the whole round of the mountain on which the Radha Rani Temple is situated.
If possible, travel in groups.
Donts
For your own safety, don't get over friendly with locals. Do your thing and get going with the next destination.
Ladies, carry a pepper spray for your own safety. It is just a suggestion for traveling alone anywhere in India.
Follow the instructions given by the authorities and there are many One-way paths. specially for Indian visitors, don't go in the wrong direction and avoid making it a stampede kind of situation.
Don't use Chemical based colours as it may harm others and even your own skin.
Don't eat anything which is offered by the strangers. Community based free food is an exception and risk free.