Holi also known as the festival of colors is a spring festival celebrated on Falgun Purnima which occurs around the month of March. It is the second most widely celebrated festival of India after Diwali. Originally a festival to celebrate good harvests and fertility of the land, Holi is now a symbolic commemmoration of a legend from Hindu Mythology. It is said that Krishna being jealous of Radha's fair complexion threw colours on her to even the score. This exuberant festival is associated with the immortal love of Krishna and Radha. This festival also celebrates the victory of good over evil. According to one belief, the festival celebrates the killing of Holika, the sister of Hrinyakashyapu.
Holi is an amalgamation of hundreds of happy people, great weather, and vibrant colors. Young people around the world are personally exposed to Holi as Indian Student associations organize celebrations at their Universities. It is during this festival that thousands of travellers from around the world flock towards India and enjoy their India Tours.
Backed by the famous legends about Holika Dahan and Radha-Krishna, you cannot exactly say which region of the nation celebrates the best Holi. The best places to celebrate Holi in India really depend on what kind of experience you want to have. See which of these places, with totally different Holi festival celebrations, appeal to you the most.
1. Lathmar Holi, Barsana and Nandgaon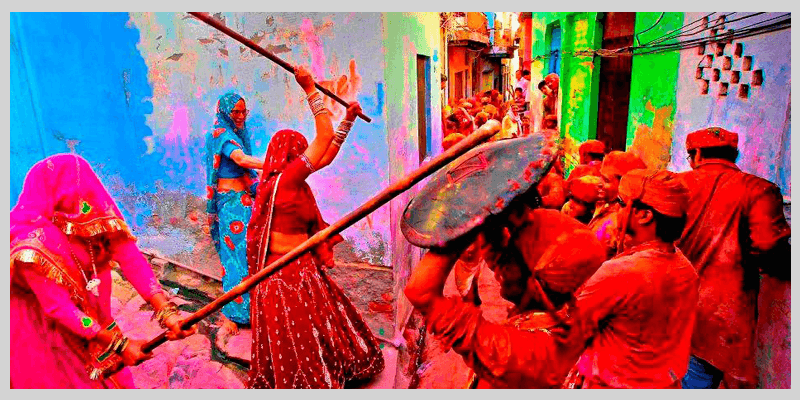 Barsana is the birthplace of Krishna's beloved Radha and Nandgaon is Krishna's birthplace. The women from Barsana beat the men from Nandgaon, who come with the intent of teasing them. The two day celebrations of Lathmar Holi are a unique experience. In the first day men from Krishna's village, Nandgaon travel to Barsana to tease the women there. The women chase men and hitting them with sticks, hence the name Lathmar Holi. Men are allowed to protect themselves with shields. The second day women from Barsana go to Nandgaon to play Holi with men of Nandgaon.
The main celebrations at Barsana, take place at the Ladliji temple, dedicated to Sri Radha Rani. Its unique celebration style is famous over nation wide. It is an old tradition of Barsana and people from other cities and towns come here to witness it.
2. Braj ki Holi, Mathura and Vrindavan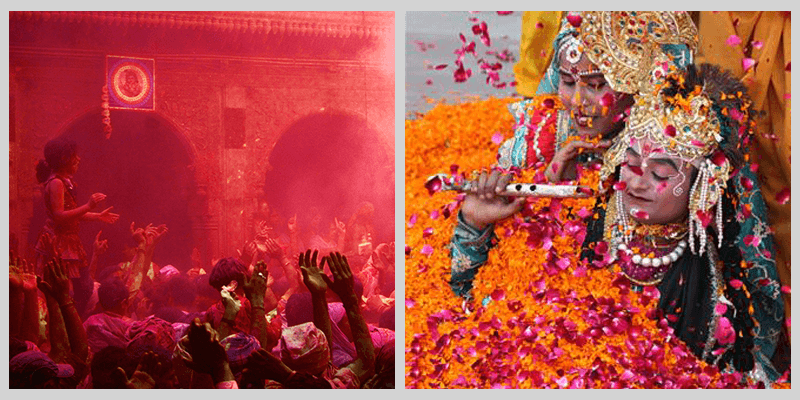 It is believed that Lord Krishna and Radha spent their childhood in the Braj region around Mathura and Vrindavan. There are two kinds of holi played during this season of colours. One happens where people throw buckets full of flowers on one another amidst loud chants of Radhe Radhe. The other one takes place just a day before Holi. On this day, the well-known Krishna Leela or Raas Leela, which is the dramatisation of Krishna's courtship with the beautiful Radha. The temple opens up its doors to all visitors to come and play Holi with the lord himself. On Holi, the best place to catch the throwing of colors in Mathura is Dwarkadheesh Temple.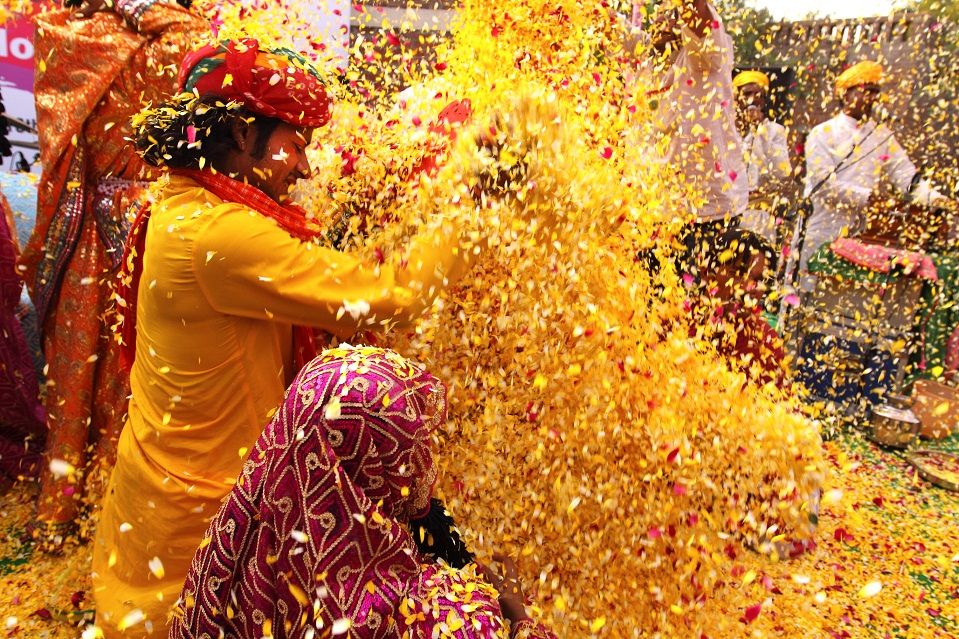 Mathura engaged itself in the celebration of Holi festival 40 days before the main day of the Holi festival. The joy and enthusiasm of Holi festival can be seen in the Banke-Bihari Temple in Vrindavan that host a week long Holi celebration ceremonies.
3. Basanta Utsav, Shantiniketan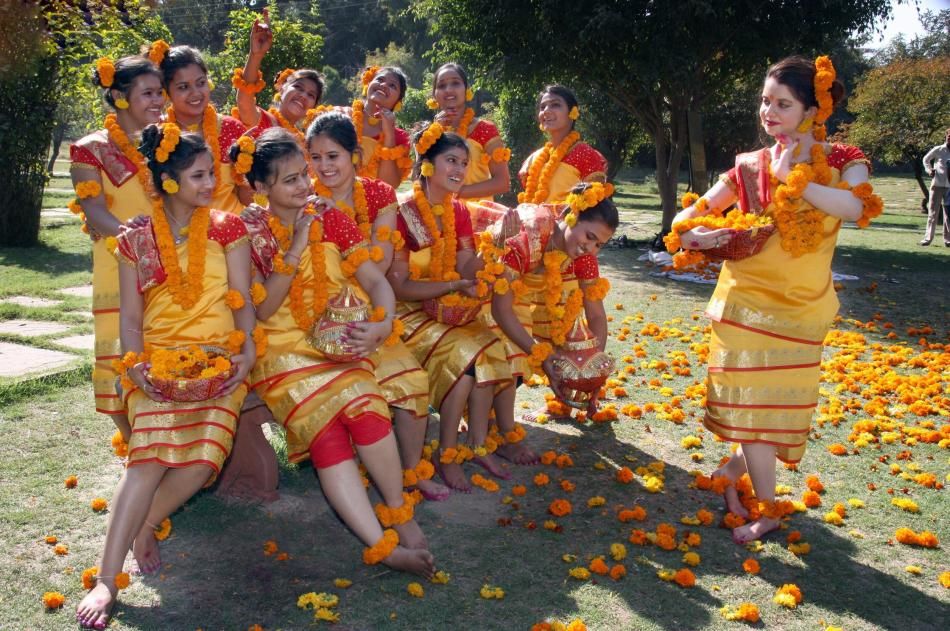 The Holi festival is celebrated as Basanta Utsav or Spring Festival in Shantiniketan, West Bengal. This festival was started as an annual event by famous Bengali poet and Nobel Laureate Rabindranath Tagore in his Vishva Bharati University at Shantiniketan.
During this Basant Utsav/ holi students here in Shantiniketan dressed up in different spring colors and organize a huge cultural and musical program along with traditional dances on Tagore's poems. This is followed by the usual throwing of colors. Basanta Utsav has become a cherished part of Bengali history and culture, and it attracts numerous foreign tourists.
4. Folk Holi, Purulia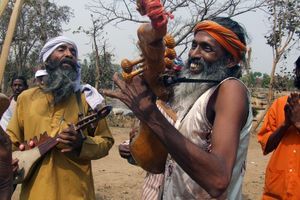 A three day Basanta Utsav folk festival takes place in the Purulia district of West Bengal. It runs in the lead up to Holi and on the actual day. You'll get to sing and play Holi with the locals, as well as enjoy a wide variety of unique folk art. This includes the remarkable Chau dance, Darbari Jhumur, Natua dance, and songs of West Bengal's wandering Baul musicians. Vilagers organize the festival as a way of helping sustain themselves.
5. Kumaon Ki Holi, Kumaon Region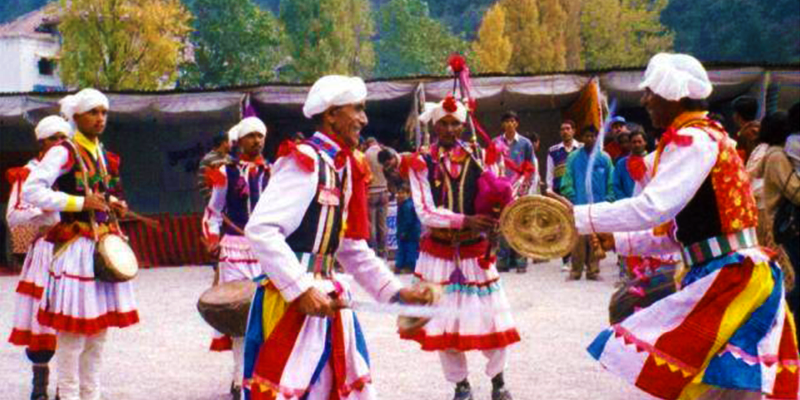 Holi is special to this region as the celebration begins from the month of Paush or winters here. The culturally rich Kumaon soaks itself in to the ambiance of colour and sings to its heart's content.
The Kumaoni Holi is broadly of three types – Baithaki (sitting), Khadi Holi (standing) and Mahila Holi. In the Baithaki Holi, devotees sing classical ragas to appease Lord Krishna. Mahila Holi is also similar to Baithaki Holi, the only difference being here the gatherings comprise of women only. Khadi Holi refers to the gathering of townspeople who come to sing in unison. The townspeople usually wear a white shirt called a kurta, trousers called churidars, and a cap called Gandhi cap. Often instruments accompany the singing.
Kumauni Holi has characteristics which are very different from Holi celebrations anywhere in the country.
To Be Continued...........
Must See - 10 Best Places To Celebrate Holi In India (Final Part)
This post was originally published on Travel With Jha.
Frequent searches leading to this page:-
best places to celebrate holi in india, best place to celebrate holi in india 2020, best place to celebrate holi in delhi, places in india where holi is not celebrated, best place to celebrate holi in mumbai