The festival of colors, Holi is one of the most colorful and crazy festival of India. In Mathura and Vrindavan one can witness the craziest celebration of colours and devotion.
If you want to celebrate a different holi and want joy and devotion at its best. You should celebrate holi in the sacred cities of Mathura and Vrindavan.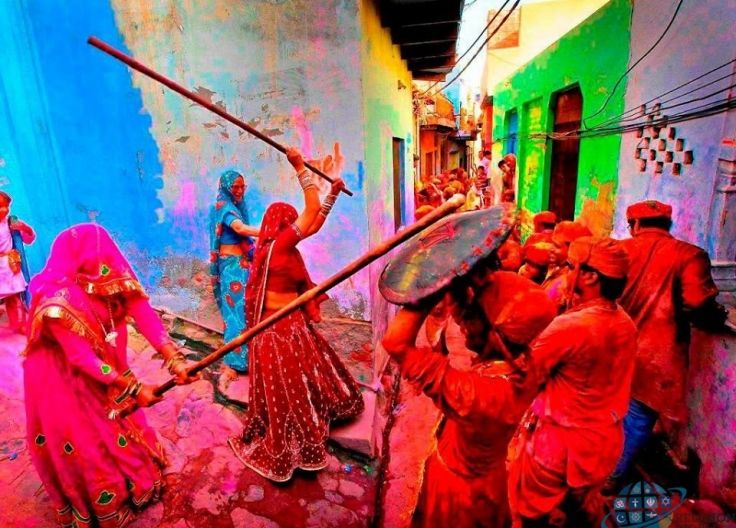 The region consisting Mathura, vrindavan, nandagaon and barsana (Radha was from barsana) is called Braj.
Mathura and vrindavan both cities are known for their connection to Hindu Lord Krishna. In Mathura Sri Krishna was born and in Vrindavan he was raised and played with his friends in the meadows of vrindavan.
Reason behind Braj ki Holi:
There is an old mythical legend about braj ki holi. Krishna used to throw colours at Radha because she was fair and Krishna was black and to balance the color Krishna used to throw colors and his friends used to throw colours at other Gopis and all the girls being annoyed by this used to drive away the boys with a stick or Lathi.
This became a tradition and the men visit the Barsana and their wives beat them with the sticks or lathis while the men wear large pagadis/turbans and carry cloth shield.
Men tries to protect them with all the protective gears, Some men also dress as women to avoid being beaten. The celebration is so joyful and heart warming that people forget their daily struggles for a few time and also the divide among different classes or groups is also forgotten at that time.
If you are planning to cover the entire chain of events of holi celebration in Mathura, then you need to plan at least 5-6 days minimum before HOLI to witness the grand celebrations at different locations of Braj:
Laddoo holi [11 march 2022]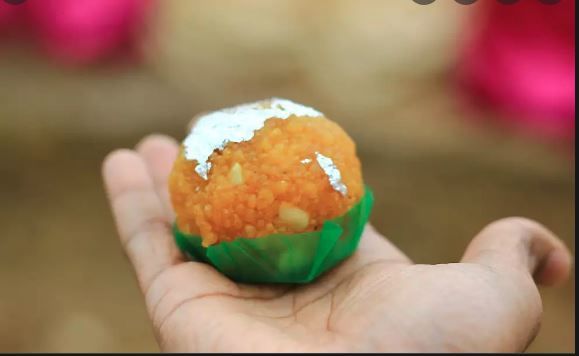 In the village of barsana, It is played mainly in the premises of Radha Rani Temple. The priest of the temple throws laddoos (Indian sweet) on the people, just for the fun sake. In this celebration a massive quantity of laddoos being thrown at each other. The real fun also involves the rough playing with color and maybe water occasionally.
Latthmar Holi: Barsana [12 march 2022]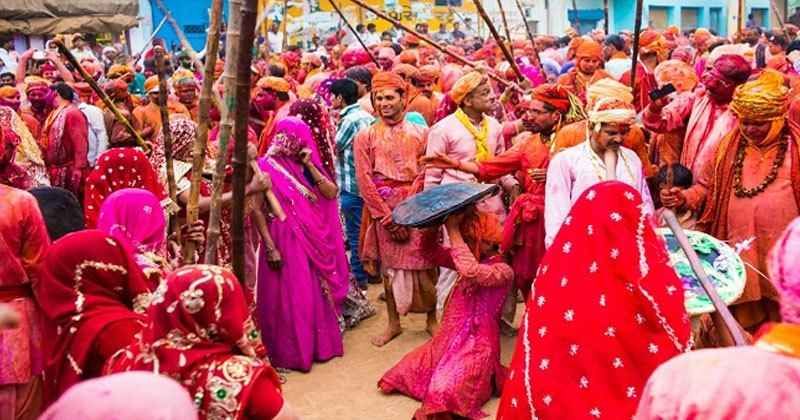 Latthmar holi is celebrated with the most of the craziness , It is one of the most unique style of Holi celebration in India. According to myth Krishna and his friends used to come and tease with colors the Radha and Gopikas (Radha's friends), being annoyed all the girls hurl and beat the Boys with sticks.
This is one of the most exciting events for the tourists and the Photographers around the world.
Samaj Celebration at Sirji Temple & Nandgaon holi [13 march 2022]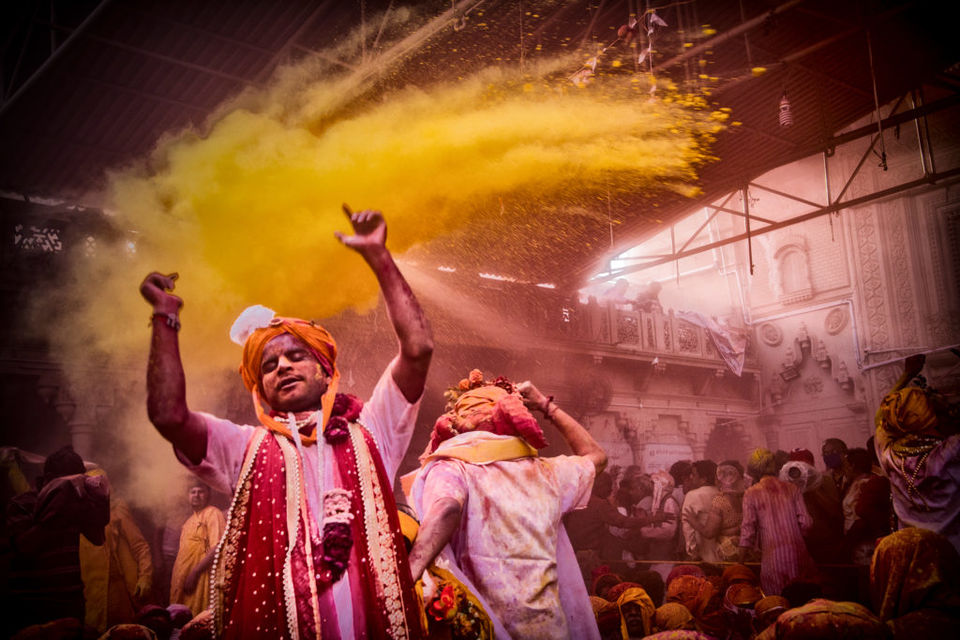 Reaching early to Nandgaon is a good idea, If you want to do some photography sort of thing & ensure that my camera gear/ phone was well protected.
Nandgaon is about 50kms from Vrindavan, It can take you nearly 1.5 hrs to reach there. Police already barricade the area to cordon off the mass gathering of vehicles to avoid traffic jams. So, you may need to walk about 1.5 km to get inside the actual temple premise.
kids will be ready to attack you with their little pichkaris (color gun) and gulal (powder colors). It is best to surrender to them, with a polite request to be gentle. For Female travelers it is a little bit of advice, do not argue or resist them just let them put color on you gently. Once you will enter the temple there will be a huge celebration with a mass gathering here and there.
Phoolowali Holi, Banke Bihari Temple [14 March 2022]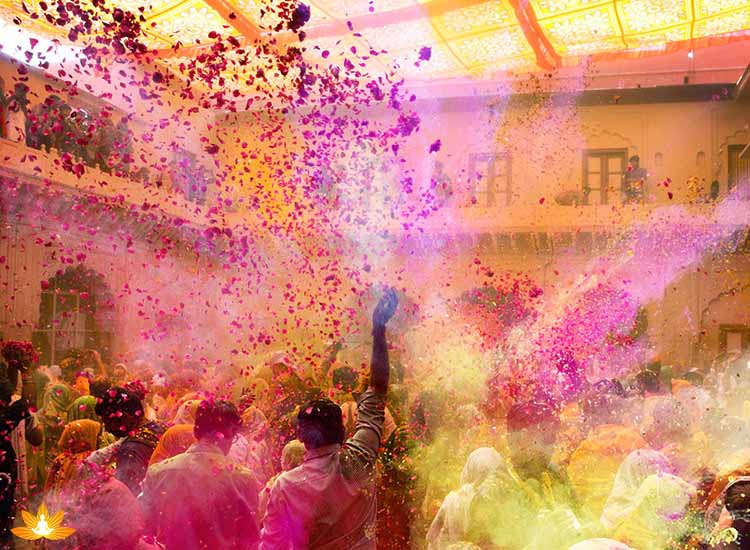 Phoolonwali holi(Flower holi) is celebrated in Vrindavan with flowers and without colours. It is a unique way of celebrating. While at Holi is celebrated with dry colours or gulaal, but it's lovely to see the celebration with flowers.
Phoolonwali Holi in Vrindavan is celebrated on the Ekadashi before Holi at the Benke Bihari temple in Vrindavan. The gates of the temple open at around 4.00 pm and the Flowers' Holi start right after that. This one takes place for about 15 - 20 minutes not longer like other celebrations. In this event the temple priests throw flowers at the devotees from the temple.
Since this takes place for such a short time, you can miss it easily.
To take photographs, you need to be at the temple right at 4.00 pm and enter the temple as soon as the door opens.
Widow's holi & Gokul holi: Vrindavan [16 march 2022]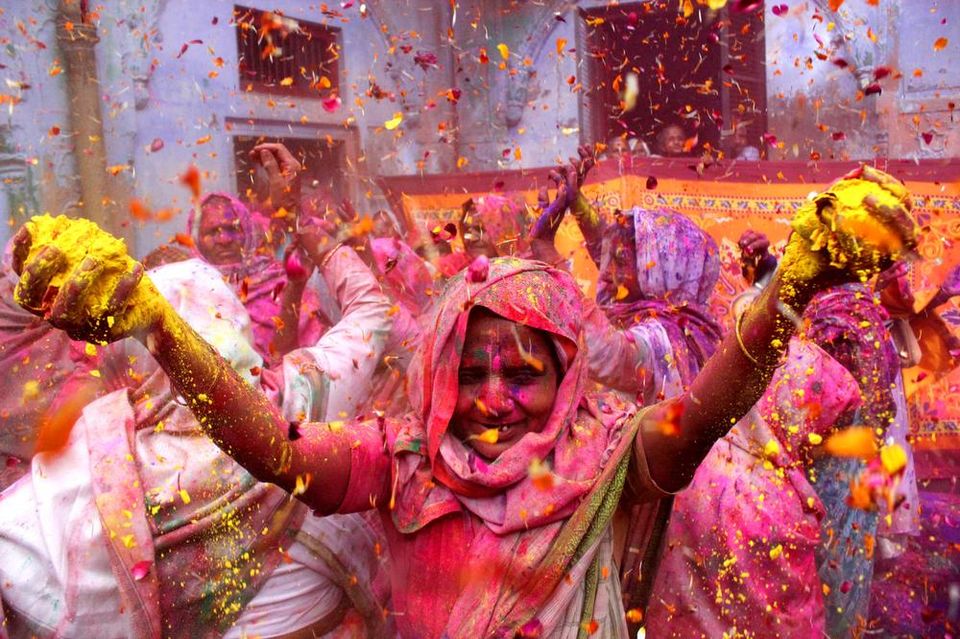 This is a really special event where age old stereotypes of not embracing the colors for widows is broken. Earlier the widows were not allowed to play with colours but this revolutionary initiative begun by in 2013.
with the initiative of newfound NGOs and other aided help, these women celebrate Holi without any prejudice.
Holika dahan [ 18 march 2022]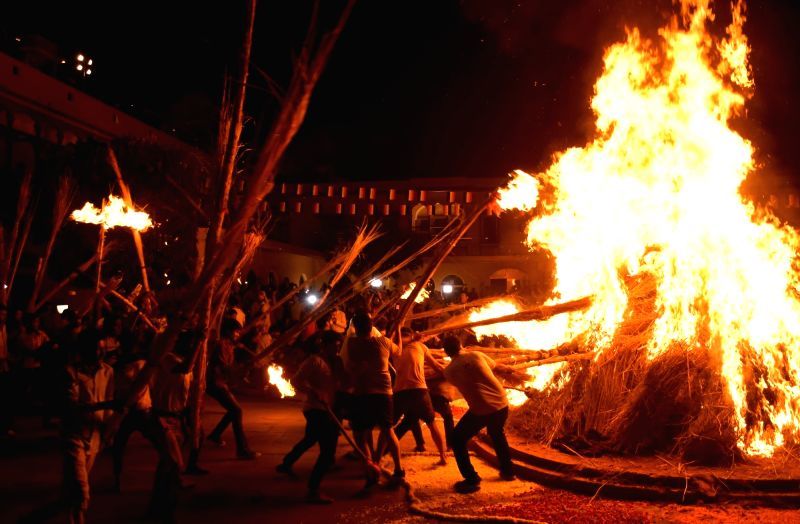 The procession begins In the afternoon, at around 2.00 pm a huge and colourful Holi procession starts from Vishram Ghat in Mathura and goes around the town and return to the same place. As the procession keeps moving, people sprinkle colours on each other, sing songs and have bhang laced thandai.
A few vehicles are decorated with flowers also taken around in the procession. Children are dressed as Radha and Krishna.
The largest effigy of Holika is burnt at the Holi gate. The processions takes place in the evening before the main holi.
Holi celebration in Mathura [ 19 march 2022]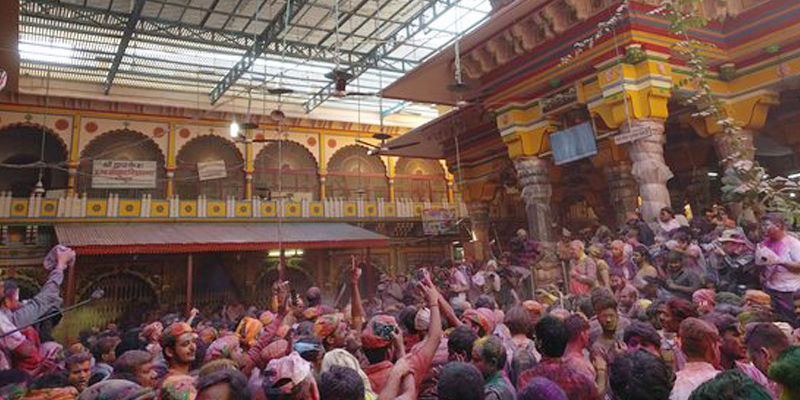 On the main day of holi, Grand celebration takes place at the Dwarkadheesh temple in Mathura.
The gates of the temple opens at 10.00 am, People reach there before the opening time. If you reach early you can see the great procession at the Yamuna ghats and the priests preparing bhang.
Most of the participants are the men and children women mostly stay absent from the event but the women who come for travel plays too. Women are advised to come with their male companion to avoid mis-happening because situation may get out of control.
How to reach Mathura:
To be a part of the holi celebration you can try any travel options , because the place is well connected through every means of travel
By Air:
The closest International airport is Agra airport which is the closest airport from Mathura and is about 60 km from Mathura.
You can also reach through Delhi airport. Where you can hire cab for a ride to Mathura which is about 170 kms from Delhi.
By Road:
The whole pilgrimage of Braj is well connected with roads. You can book a taxi/hire self- drive car to reach Mathura.
Now car hire option is also available for you. You can hire online with Ogonn
By Rail:
The closest railway is in Mathura and it is well connected with rail network.
Things to do:
Delicious street food & other items:
Try the mind bombing street food of Braj. Chaat, Samosa, Kachori are the famous snacks. |Getting the taste of Makhan-Mishri outside any of the major temples is must.
Shopping in Braj:
You will find many antique pieces in the markets of Mathura and Vrindavan like Handmade jewellery, idols and accessories. In Mathura, most favourite shopping hubs are Holy gate, Lal Bazaar and Krishna nagar Market.
Visit ancient temples:
You can find number of ancient and beautifully crafted temples in Mathura. Like Sri Krishna janmbhoomi, Rangji mandir, Madan mohan mandir, Pagal baba mandir and more.
Break the taboo at Pagal baba mandir:
Age old taboo of restricting widows of colors is broken every holi in Pagal baba mandir. Participate in this event and show support.
This event of celebration will leave marks of colorful spots on your heart which will become a pleasant memory for rest time.
Wish you a greatly happening and joyful holi celebrations!