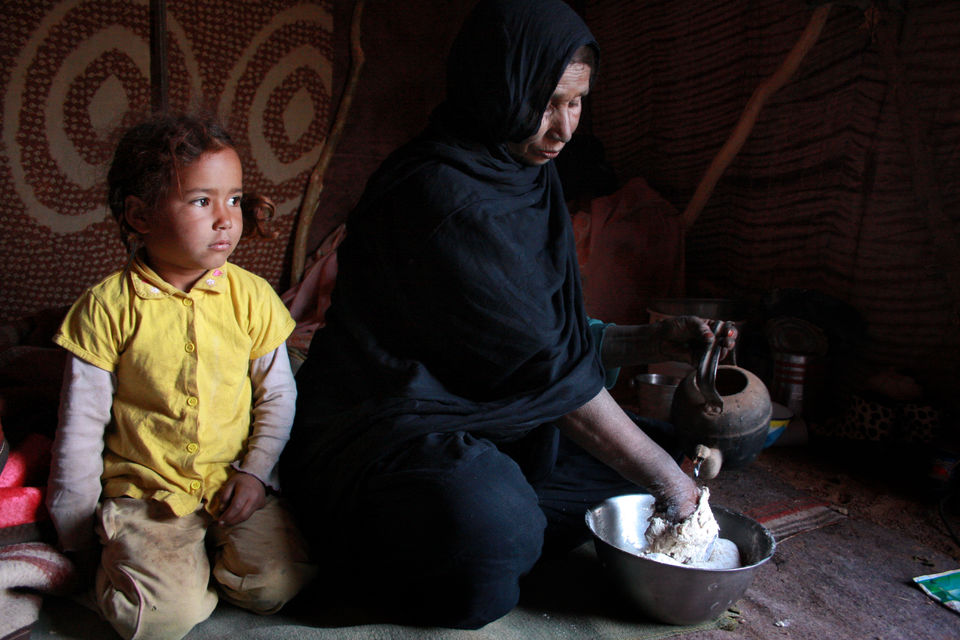 India is a land of mystique and religious diversity. With so many traditions flowing through an ever-growing nation, some Indian rituals have gained a worldwide following while others stand out for raising some eyebrows. I have handpicked 7 such rituals that people across India follow, hoping to bring good luck to their children. I let you be the judge and decide for yourselves if it's a 'Sure, Go!' or a 'No! No!'
1. Baby Tossing:
Where: Parts of Maharashtra and Karnataka
Carry your newborn and give it a humble toss. Sounds fun? But wait till you find out that the baby is in fact, dropped over a height of whopping 50 feet from the top of a temple (or shrine, in some cases). It is the father who takes pride in doing this deed while the rest of the family waits below to catch the poor fellow in a spread-out sheet or blanket. Talk about starting your life on a high note!
2. Burying Children In Sand:
Where: Gulbarga, Karnataka
People in Gulbarga believe that burying physically disabled children in sand up to their neck on the day of a solar eclipse helps children get rid of disabilities and other problems. Though scientists warn against this practice, people continue to stand with their beliefs. Children are often left in their sand pits for up to six hours during this ritual. And I'm assuming this one runs deep in their families.
3. Female genital mutilation:
Where: Mumbai, Maharashtra
The Bohra community, a sub section of the Shia group of Muslims, particularly practices this ritual on girls aged six or seven. FMG is carried out by non-professionals and without any regard for safety measures or hygiene of the girls involved. The community refers to this part as 'Immoral skin', which causes one to sin and thus, finds it mandatory for girls to get rid of it early in their lives. Needless to say, the girls experience excruciating pain. No puns for this one.
4. Bathing a newborn with boiling milk (Karaha Pujan)
Where: Rural Parts of India
In this one, father carries his newborn to a temple and in front of a cheering crowd of family members and priests, dips those tiny legs in a bowl of boiling hot milk. This is followed by echoes of chants and praises. The father then pours the hot liquid on his baby's body and then some over his own body. People believe this pleases the gods and purifies the newborn's soul. 'Hot' or 'Not' - you decide.
5. Karnavedha:
Where: Brahmin Families Across The Country
This Hindu tradition is essentially an ear piercing ceremony for newly born boys and girls. It takes place on the 12th or 13th day from the day of the birth and might still be performed when the baby is 3 to 6 months old or later in the third or fifth year of the child. People believe this act wards off evil spirits and also stimulates an important acupuncture point. This takes baby care to a 'hole' new level!
6. Rolling in Cow Manure:

Where: Betul, MP
India is world renowned for its love for cows. These villagers at Betul must be strong contributors to this with their favourite ritual of letting their newborns roll in a large chunk of cow dung. Yes, you read that right! The villagers believe this brings good luck and a healthy life to their children. This ritual takes place a day after Diwali. Not sure about good luck, but I hope the kids get a good and thorough bath for the next couple of weeks after this.
7. Dipping into boiling water
Where: Bijapur, Karnataka
It's Karnataka again. Do you see a pattern here? Karnataka seems hell bent to make their kids rough and tough by giving them a hard start of life. Now, here we have fathers dipping their 3-month old babies in boiling hot water inside a temple. Though the infant is immediately pulled out, they are known to suffer severe burns on the body. The miracle is, however, they tend to recover completely very soon. Villagers believe this brings a healthy life for the child and the ritual has been followed for several years. Now that's how you teach your kids how to handle being in hot waters!
-O-
Some call these rituals weird, others call it faith. What's your take on this? Mention in the comments below.