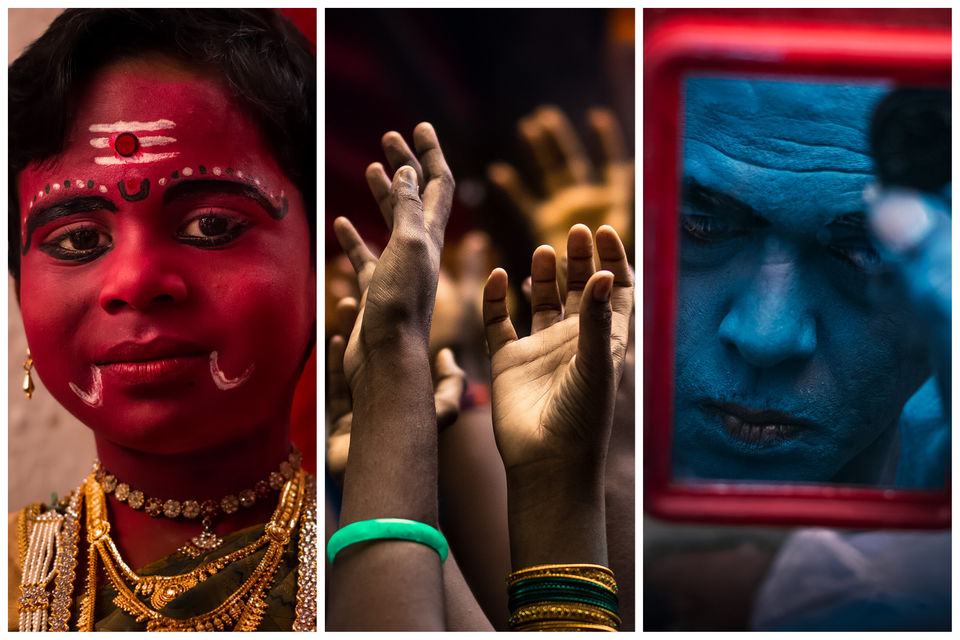 India is full of festivals, and some of these stem from ancient rituals, religious beliefs or cultural heritages. Back in February 2020, I got the opportunity to document Shivaratri, as celebrated in a village called Kaveripattinam in Tamil Nadu. Kavripattinam is situated in the Krishnagiri district, a few hours drive from Bangalore.
Mahashivratri is a Hindu festival celebrated to honour Lord Shiva. The Tamil community has a way to celebrate it across the world in a certain manner.
Disclaimer : Some of you might find a few images a little graphic. Please be aware before you scroll down.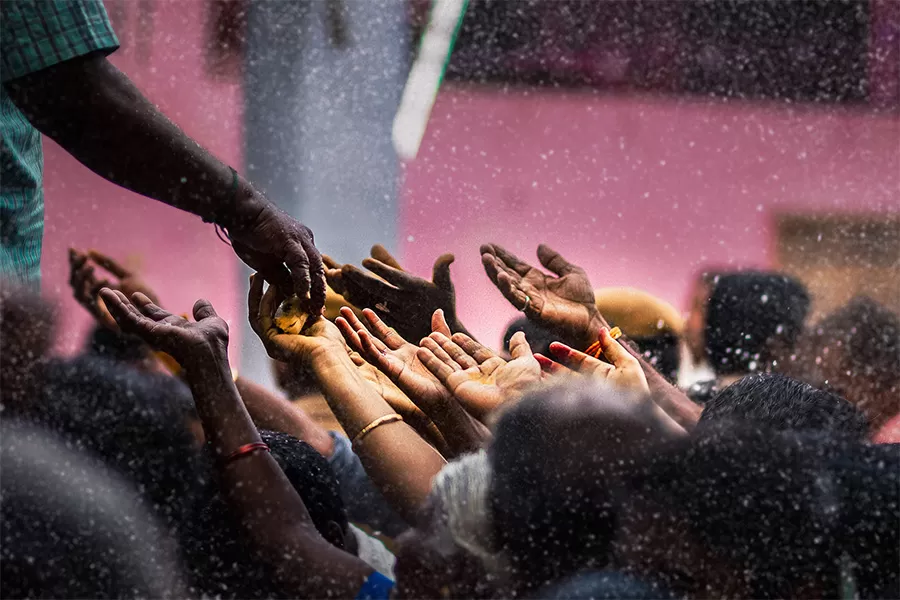 The villagers gathered in a long queue near the temple of Angalamman (a strong deity worshipped in the Tamil community across the world). The festival was locally known as 'Mayana Soora Thiruvizha'. On that day, the deity was taken out in a chariot for a procession around the village.
A very interesting part of this festival was the process of 'Kalaikam', personification of the Goddess Kali, by painting faces. I experienced the hour long process by the locals, including children, where they painted their faces meticulously and transformed themselves.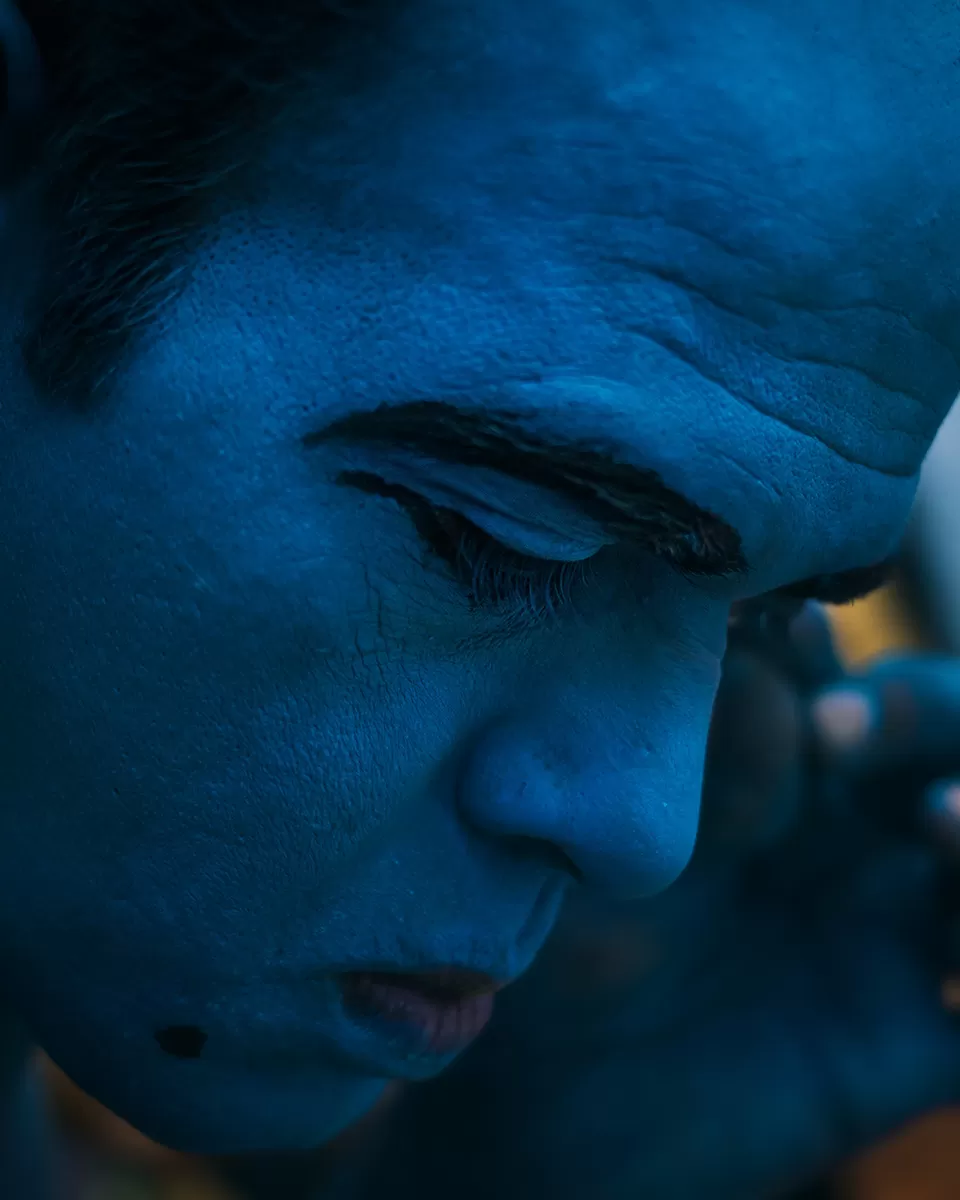 The dedication with which they were doing this painting told me about their deep faith in this. When we document such festivals, it is important to respect the people and their belief.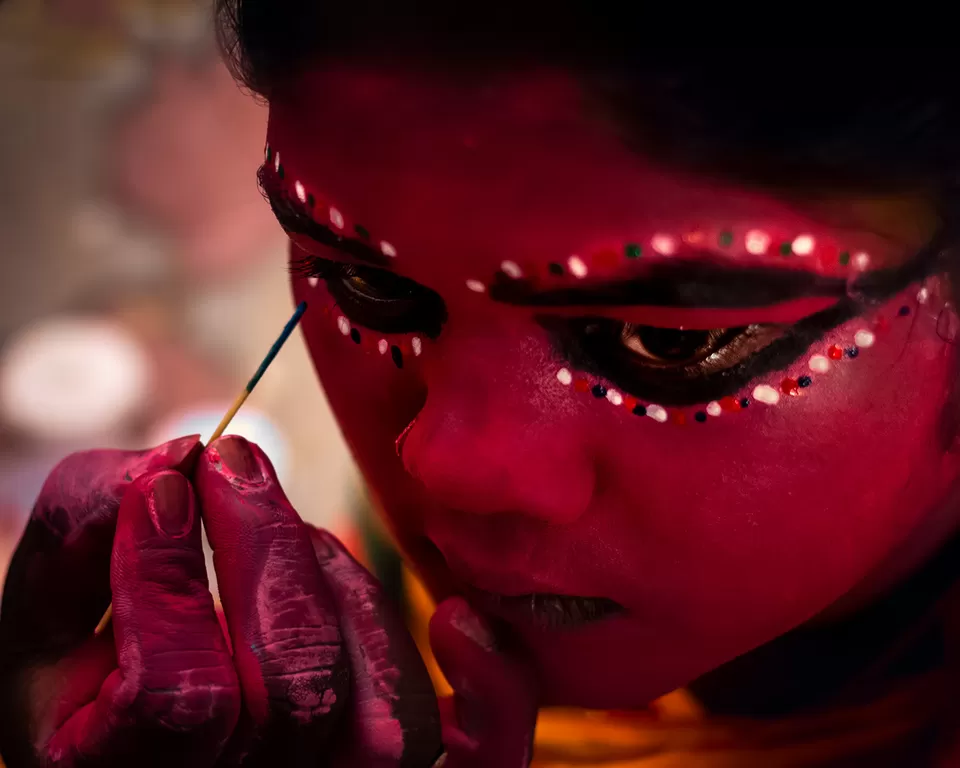 It was fascinating to observe it sitting right there. The faces changed in a major manner.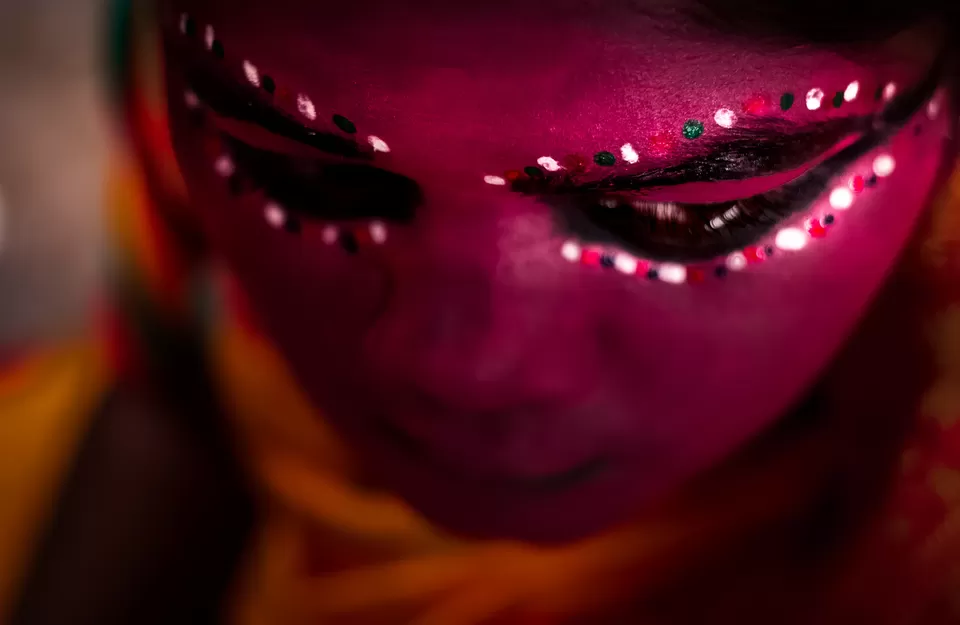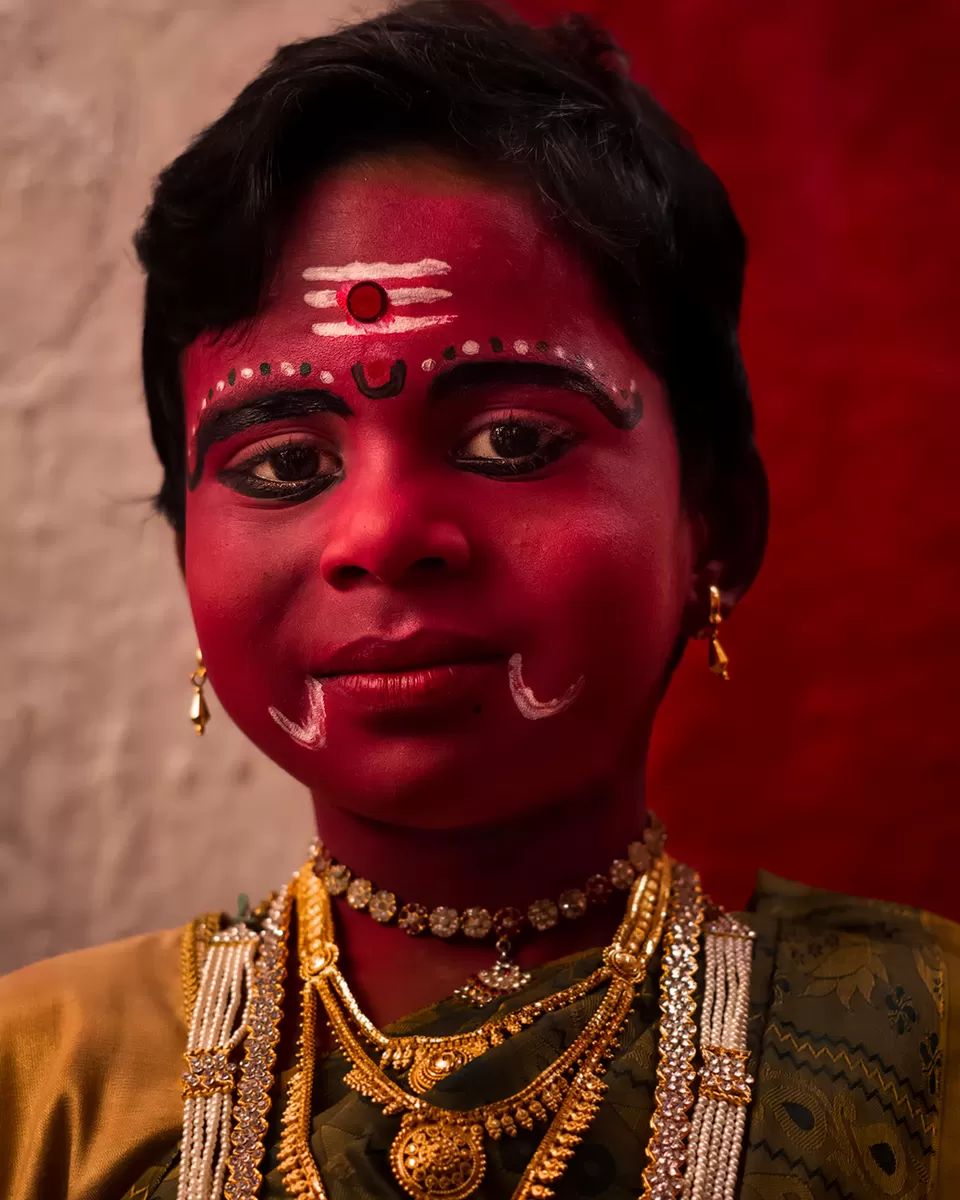 This kid does it every year, and she was a darling to chat with.
After travelling to many countries and experiencing a lot of cultures, I have realised that, faith is personal. One might want to debate and discuss on the motivation behind carrying out any ritual, but every action has a story behind the same. For example, the locals on Shivarati here believed in displaying their devotion by having various parts of them pierced by metal spear, hooks or even knife.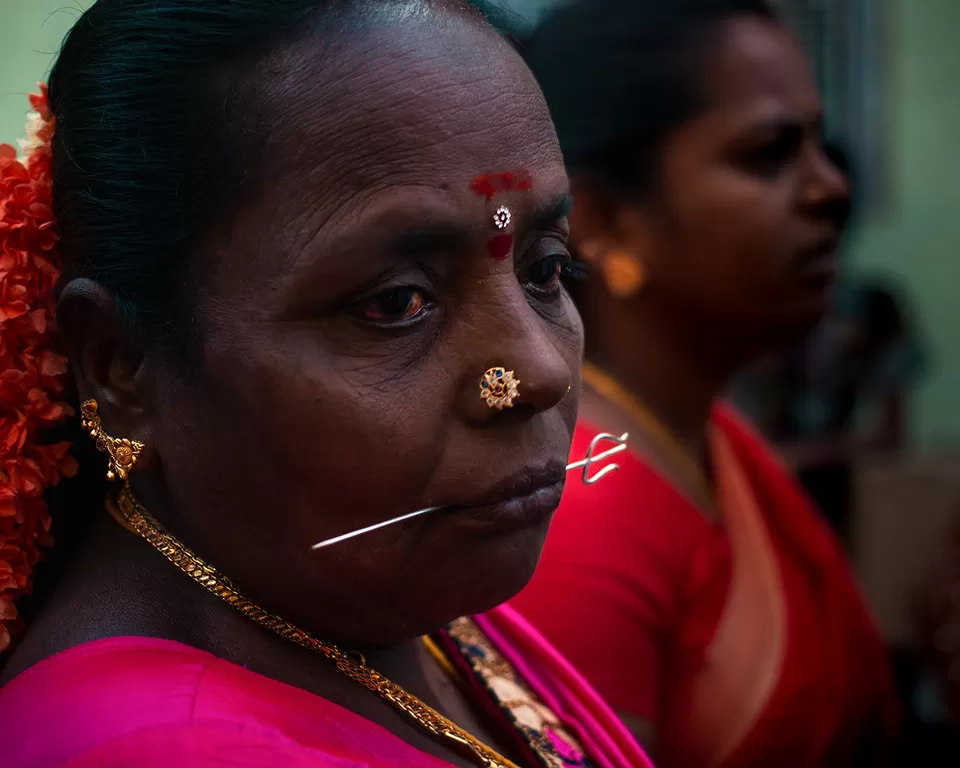 A lot of locals did not do that, so it was clearly a choice. They used certain antiseptic mechanism, and I myself witnessed a lot of them taking the spear out with the help of a few people. I observed that they were fine after that, and great precaution was taken to ensure nobody faced anything harmful.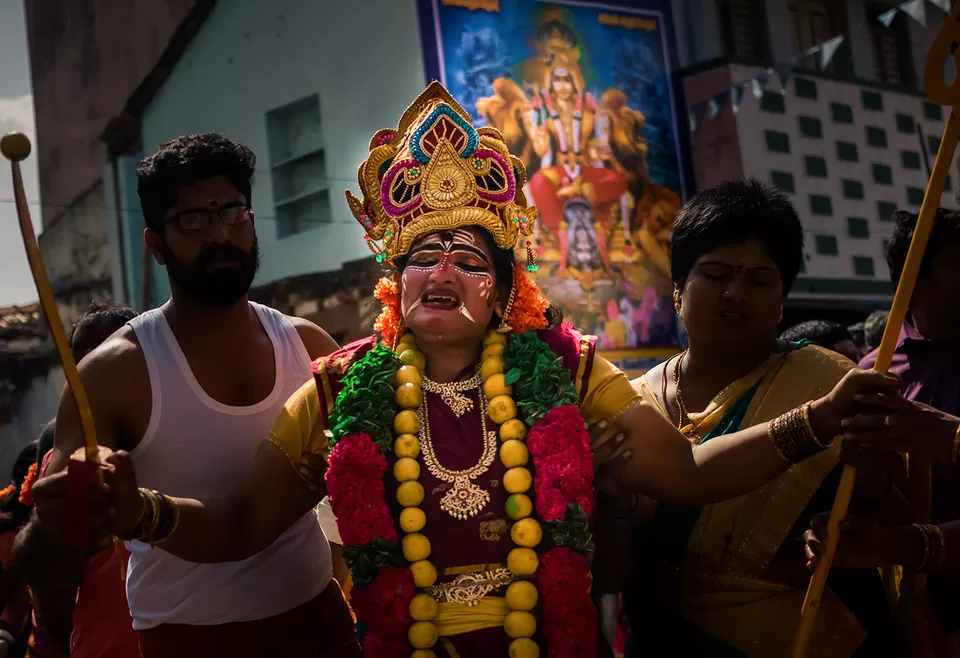 The procession included people who felt being closer to the God , and looked enchanted.
Travelling always gives us the opportunity to understand the cultural behaviours, including religion, of a place. As a travel content creator, sometimes I believe in going beyond only beautiful landscapes and architectures and dive deeper into such fascinating experiences.
I left Kaveripattinam with this profound thought. You can reach there by travelling to Krishnagiri. It's important to reach very early in the morning or a night before, as the festival starts as early as 6.30 am in the morning.