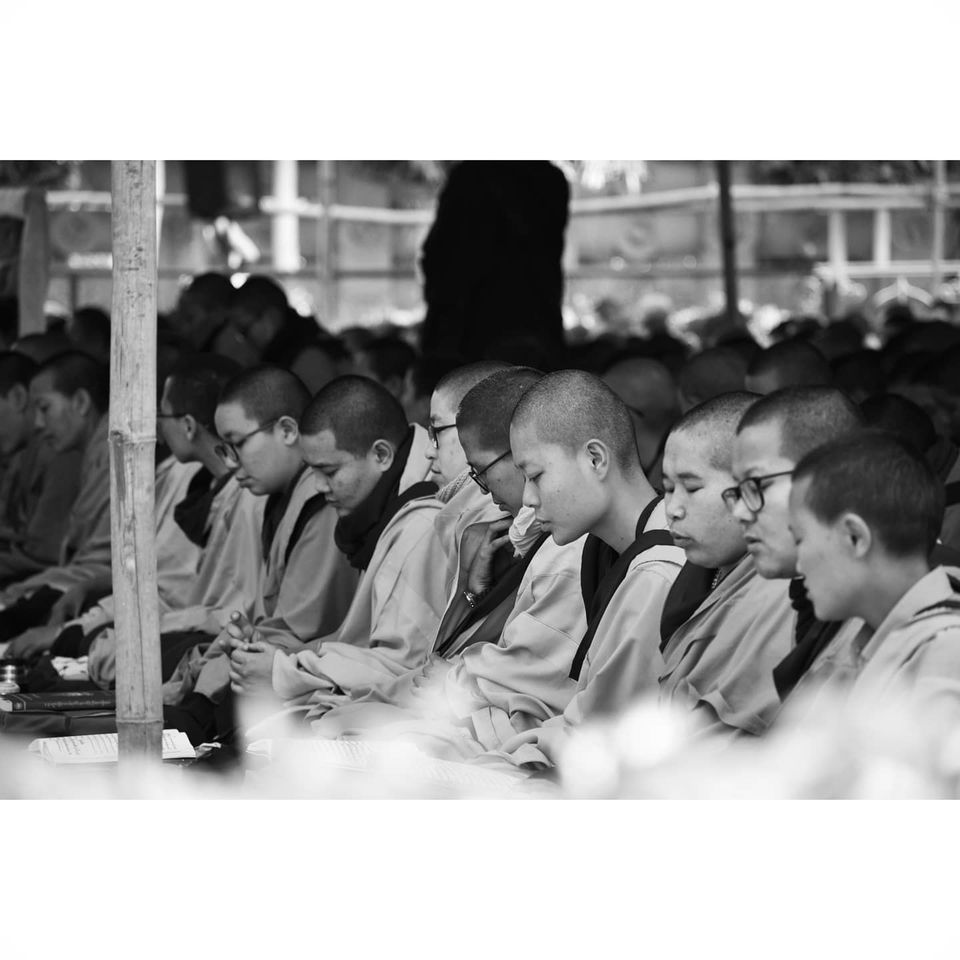 Ever since I was a child, stories of Lord Buddha fascinated me. Reading about his teachings and journey to enlightenment made me feel at peace. Moving to IIM Ranchi for my highers presented me an opportunity to trace back the origins of the religion right back door and see the place where it all began - Bodhgaya.
Where to stay?
Reaching Bodhgaya a day prior and checking in a hotel helped us get a tight sleep before we started our journey the next day early morning. There are various options available for stay. I'd advise that you take a hotel near the City center/Mahabodhi temple, which would make it easy to explore around.
Bodhgaya is a small town that primarily has various Buddhist Temples to explore. The main attraction is of course, the famous 'Mahabodhi Temple' (meaning literally: Great Awakening Temple) built around Bodhi tree where as the legends say is the site where Lord Buddha attained enlightenment.
On a rented EV auto rickshaw, we started our journey of the day. Temples in Bodhgaya are built by governments/communities from various Buddhist nations.
A newly built temple is showcasing stunning architecture and a pristine statue of Lord Buddha.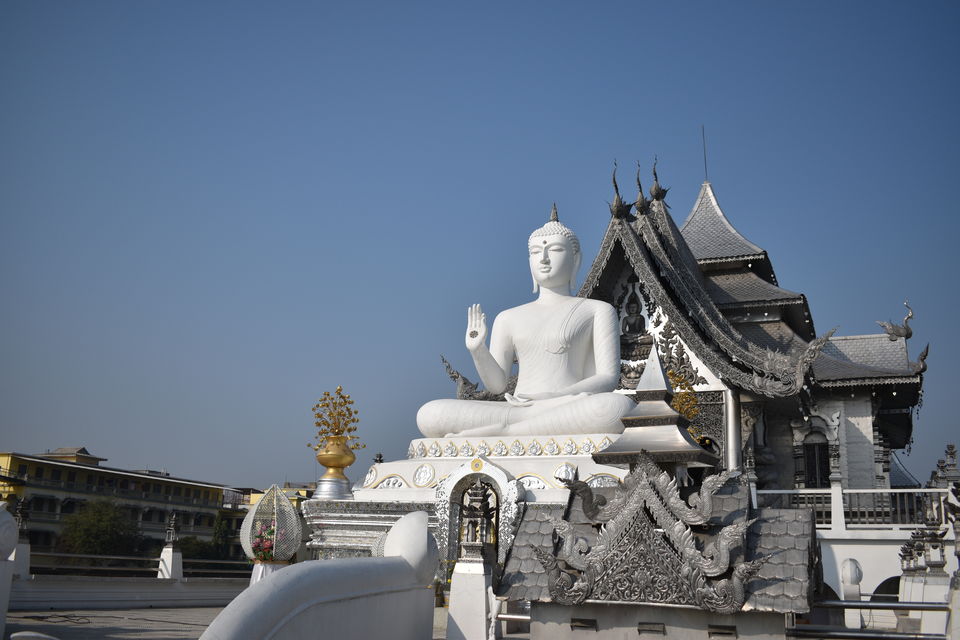 This pompous statue of Buddha meditating on a lotus stands 82 feet tall. Believed to be the tallest Buddha statue in India, it was inaugurated by the 14th Dalai Lama. If you are visiting in the evening, you can stroll around the gardens and relax here.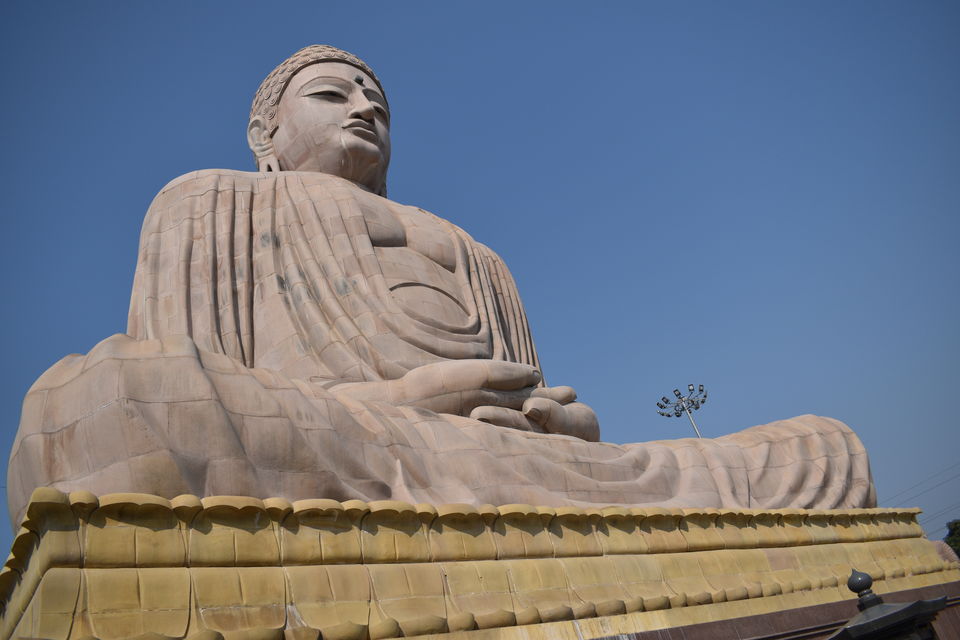 Temples - Japan | Thailand
Pictures from the temples built by Japan and Thailand. The Japanese temple showcases Buddha in a golden statue with a rather simple built design.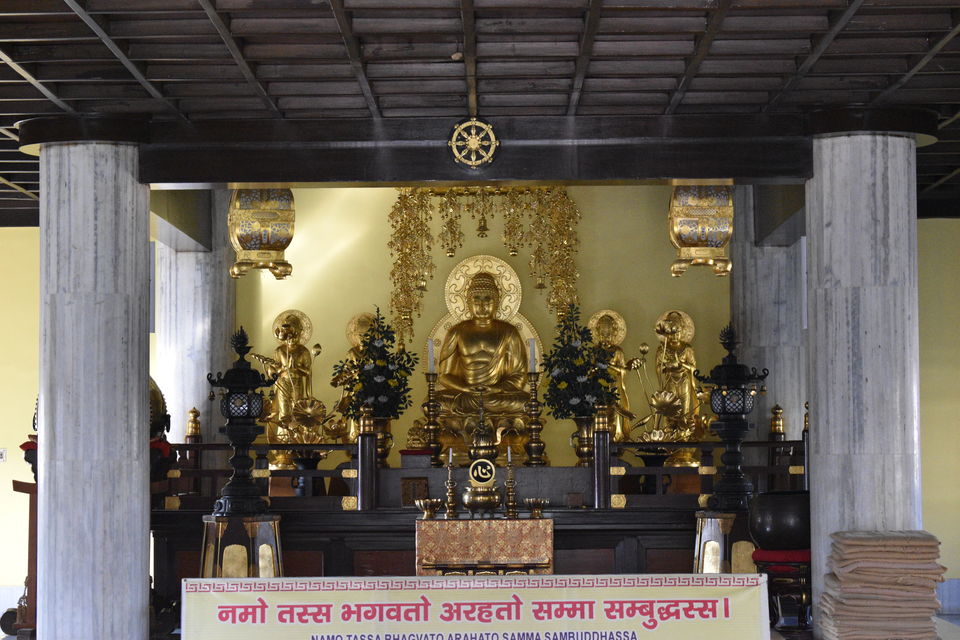 The Thai temple exudes more colors and delicate designs on the walls and temple roofs. The architecture is similar to the other temples but its art is what sets it apart. Notice the offerings made to the Lord in multiple vessels.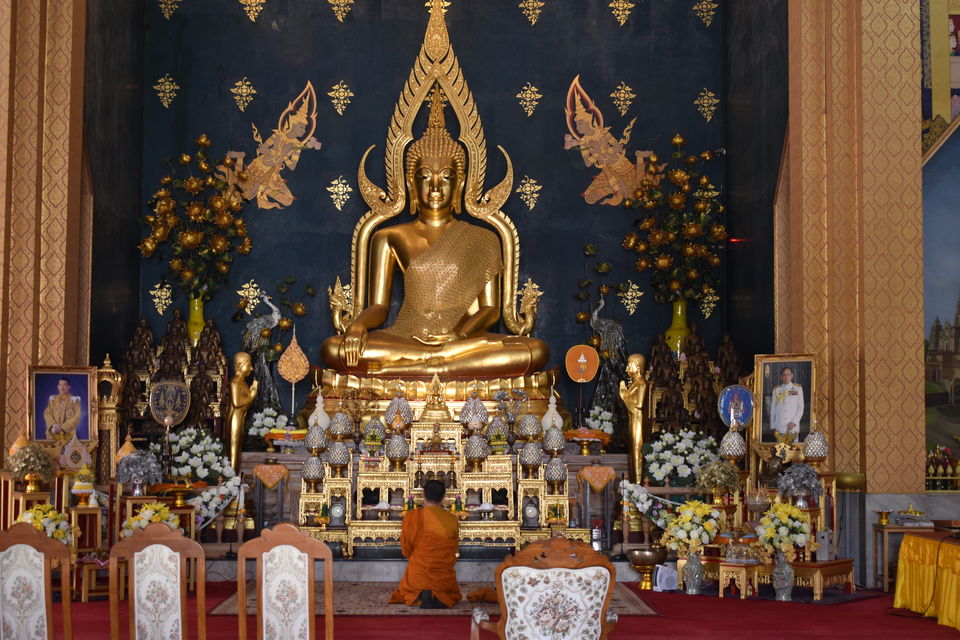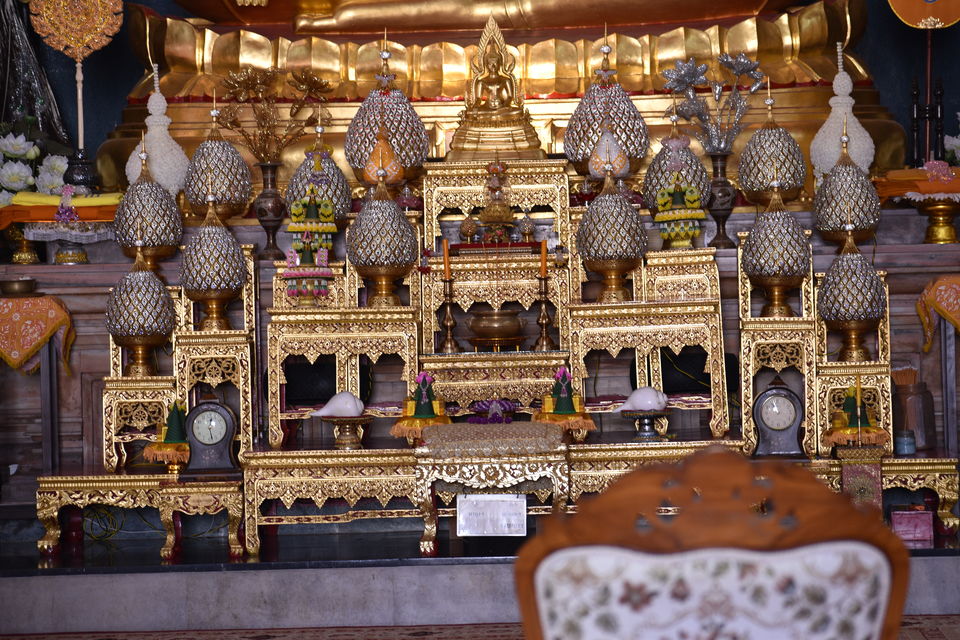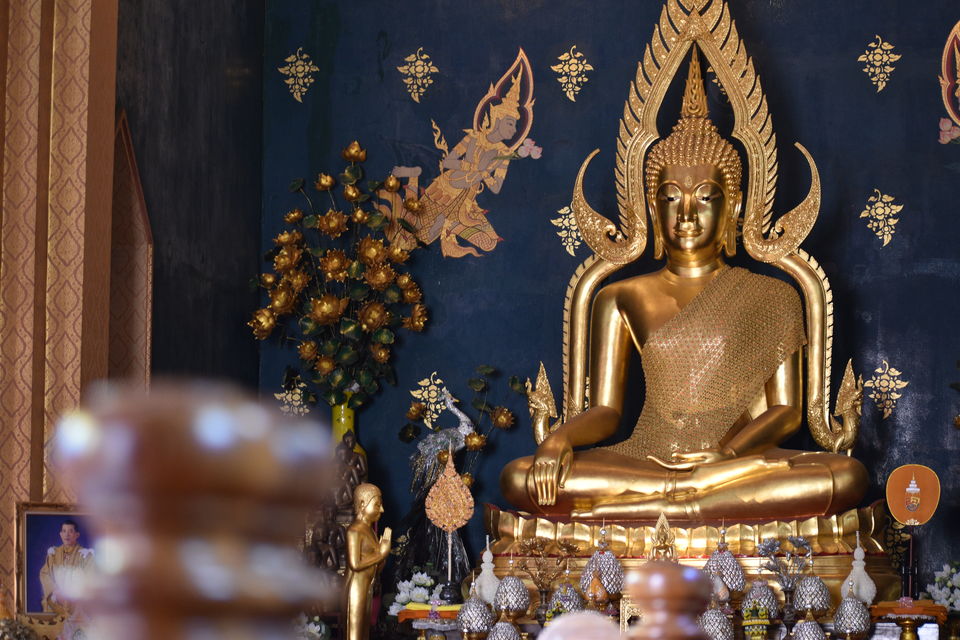 This temple is surrounded by a monastery where monks pray and live. We encountered various other monasteries in BG where one could see the living quarters, kitchen area, gardens and prayer halls for the monks. We noticed that temples inside the monastery are have comparatively more decoration, offerings and space for prayer. When you visit please don't rush. Absorb the silence around you and take ample time observing the interiors.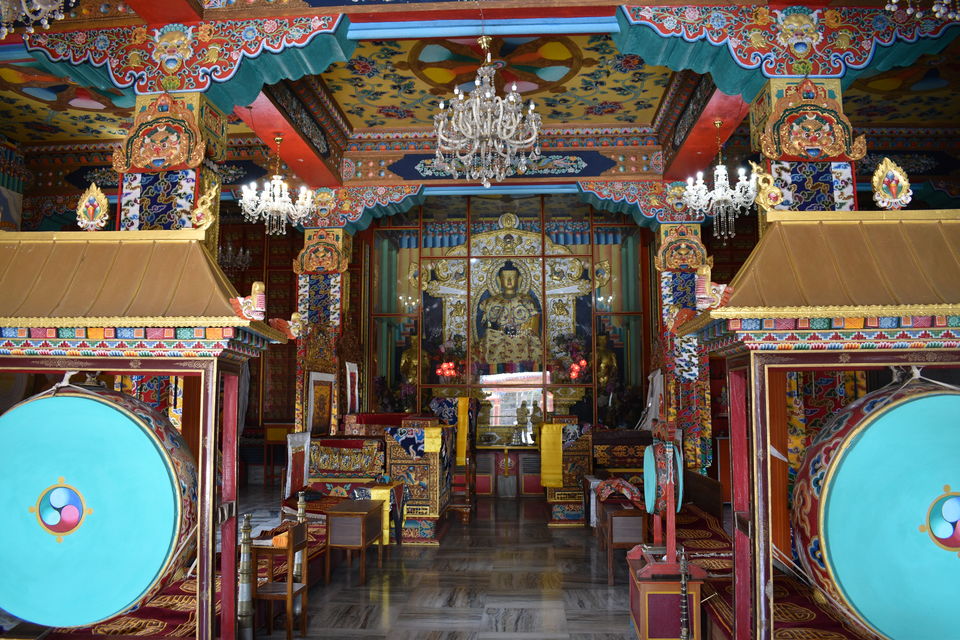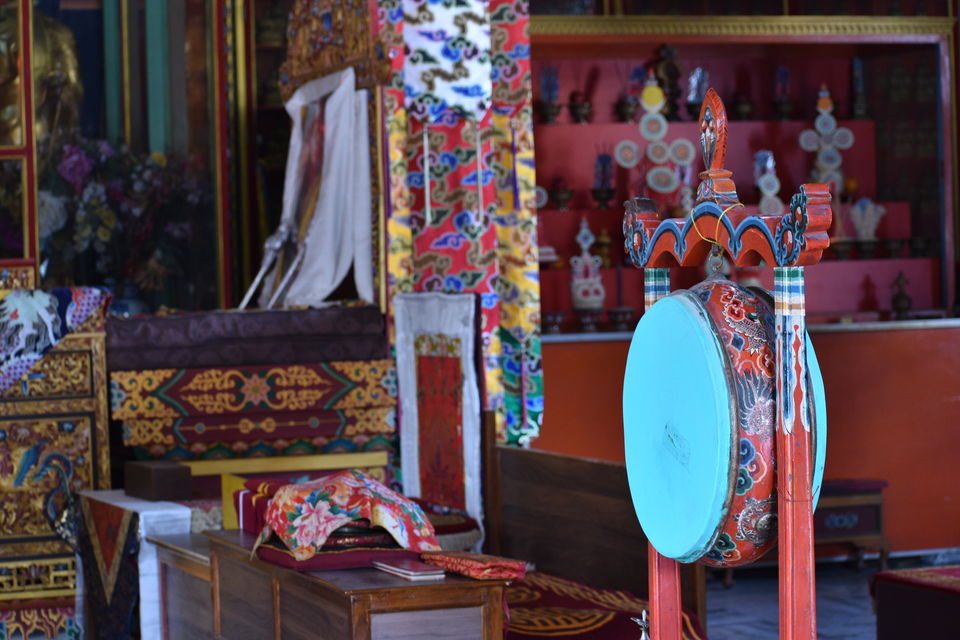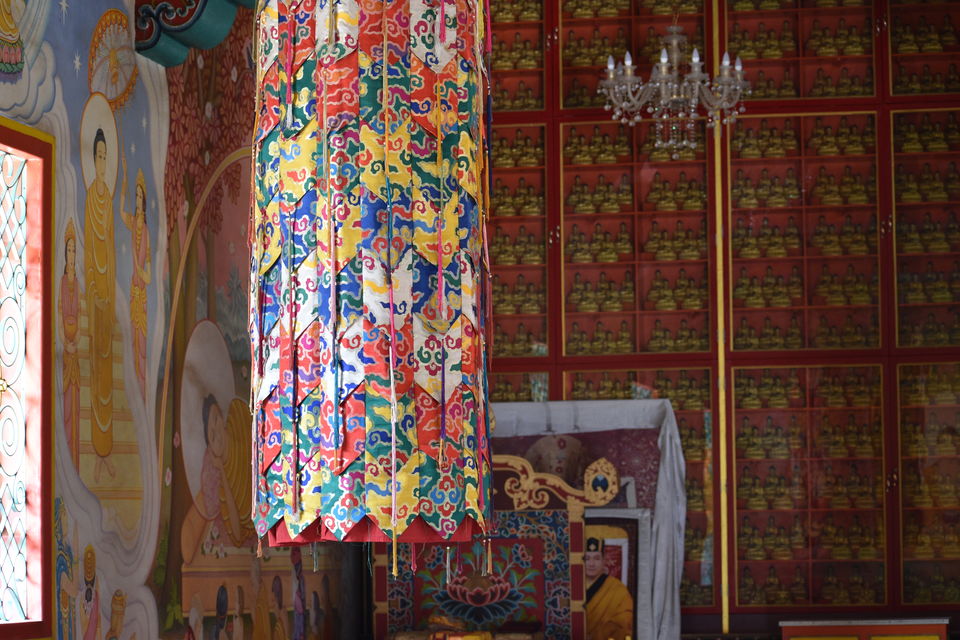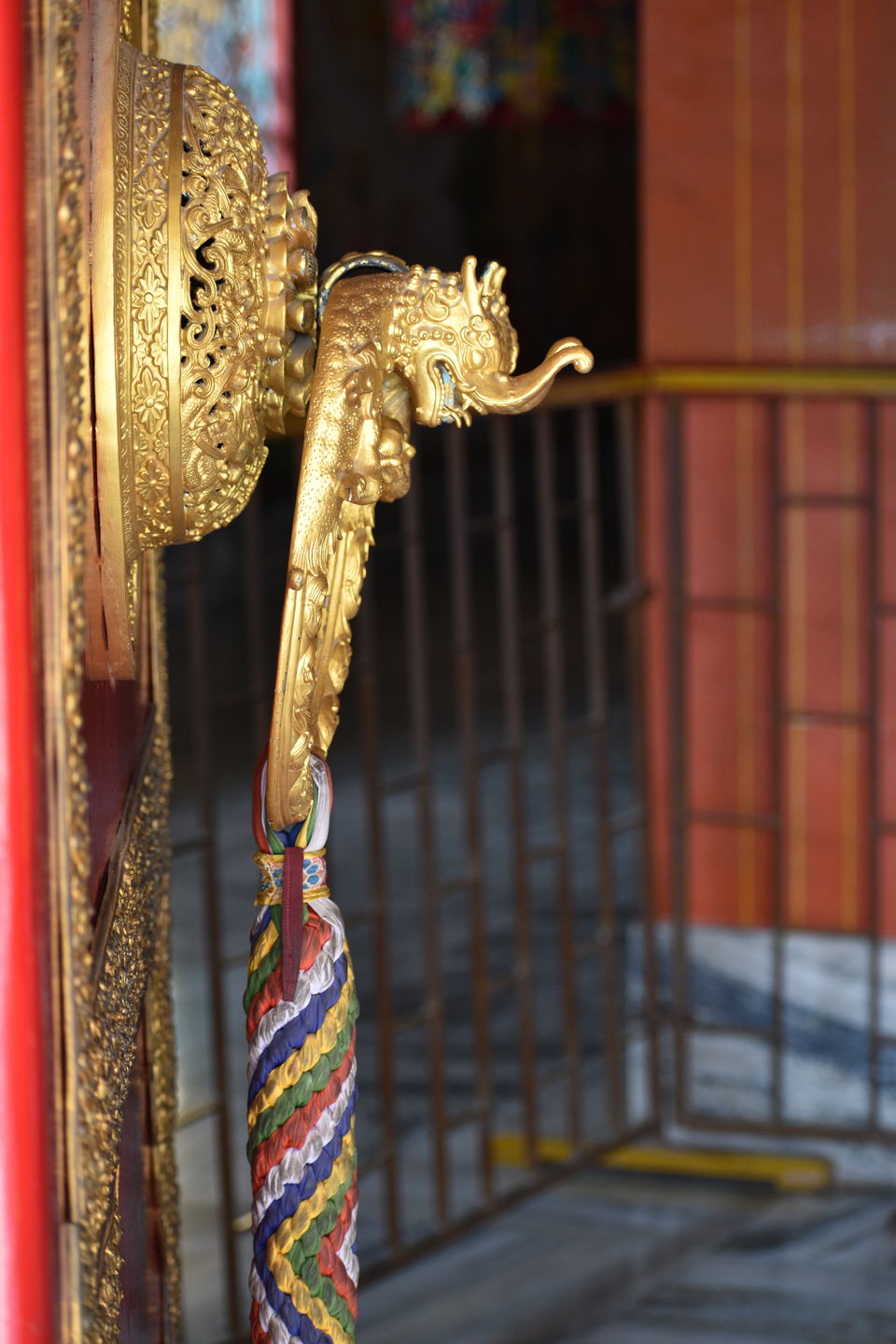 As we moved to Mahabodhi Temple (UNESCO World Heritage Site), we realised there was a more than usual hustle around in the complex. The streets were decorated with flags and flowers. The majority of the people were monks in red robes or foreign tourists coming to this pilgrimage. We were told that the 31st Nyingma Monlam Chenmo festival (prayer for world peace) was going on, which saw monks in thousands chanting prayers. We were lucky to visit the temple at such an auspicious time of the year.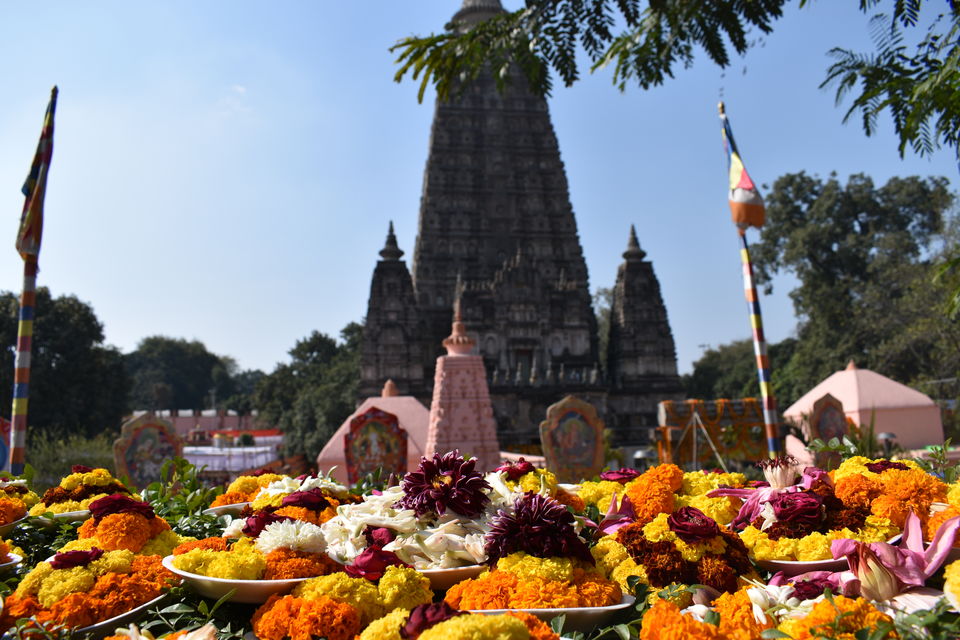 Post praying at the main temple, completing a round of the temple complex is considered holy. As we walked around the complex there were rows of monks from has come from various countries praying in the compound with a the rhythm of drums. Thousands of monks chanting prayers created a soothing vibration in the temple compound where one could witness some of the most beautiful human emotions. Apart from the monks, there were also lines of devotees who were chanting the prayers.
The sight as we entered the compound was majestic. There was surrounding positive energy in the complex. We captured the shots from a DSLR (Note: Mobiles phones are not allowed in the temple complex)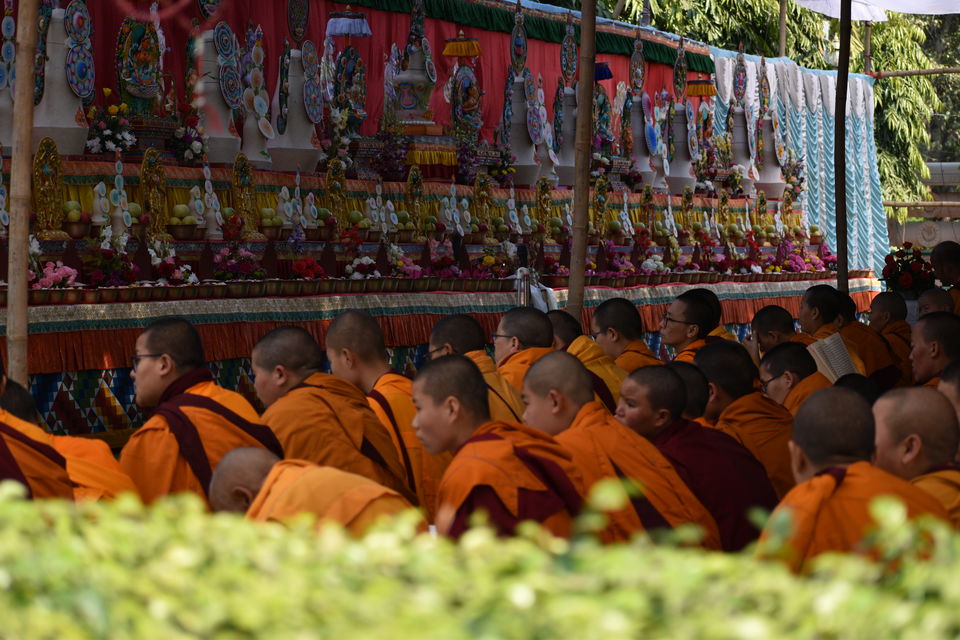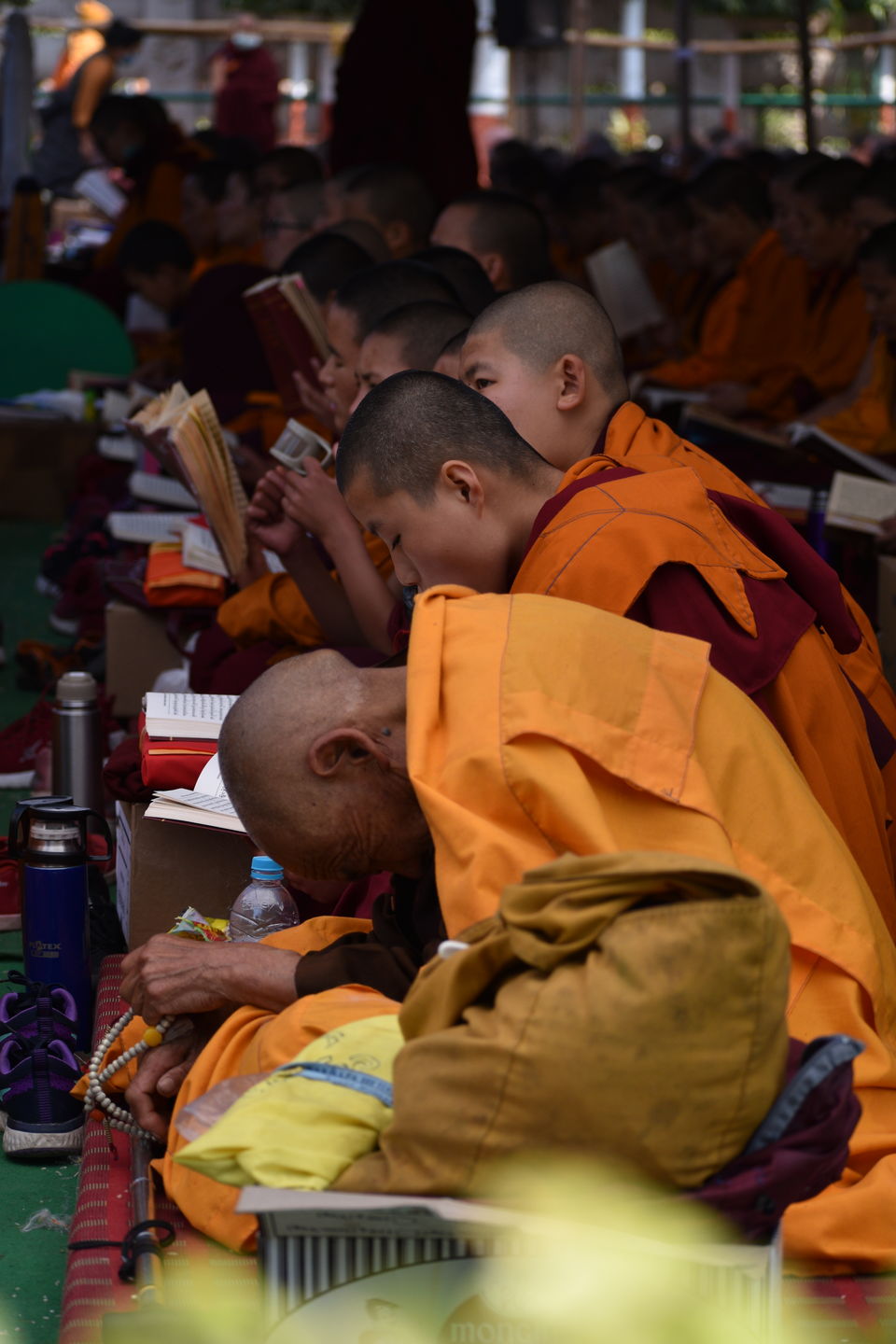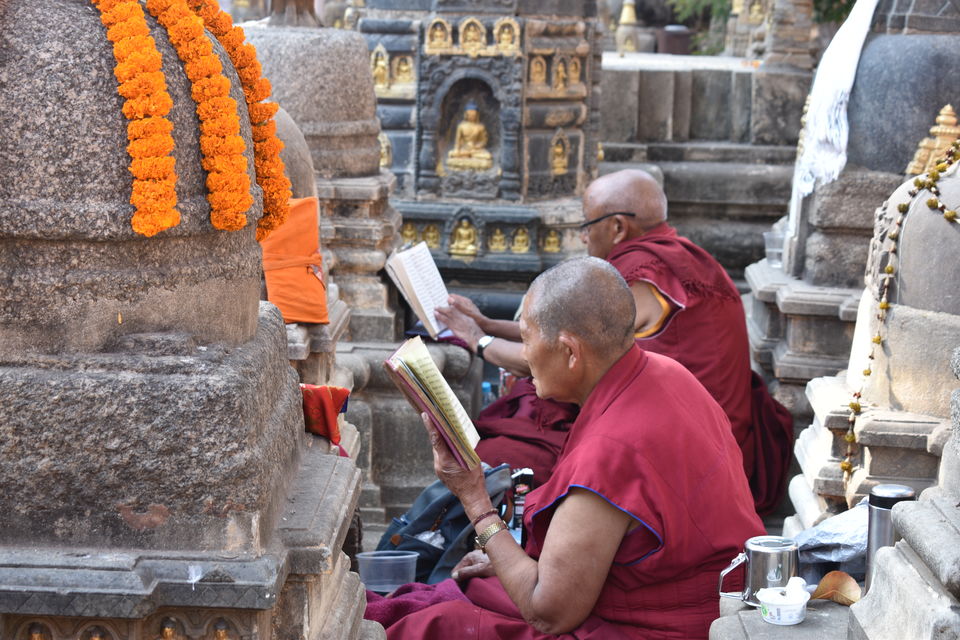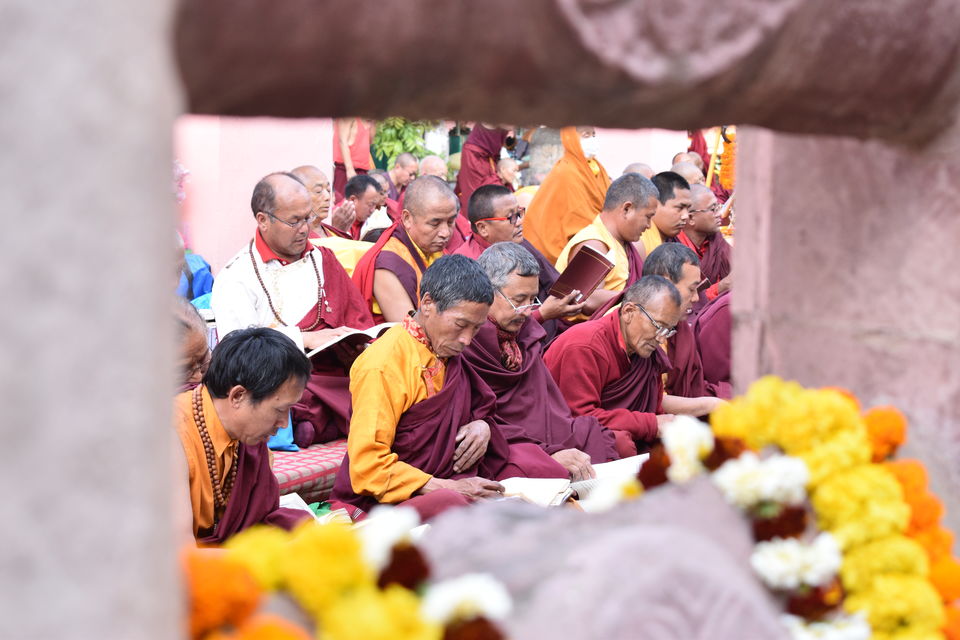 Pictures showing the decorations made for the festival in the temple complex. Murals of Buddha on curtain drapes, flower hangings, paper flags, tied-up prayer clothes, structures made of utensils all contributed their part in enhancing the beauty of the Abode of God.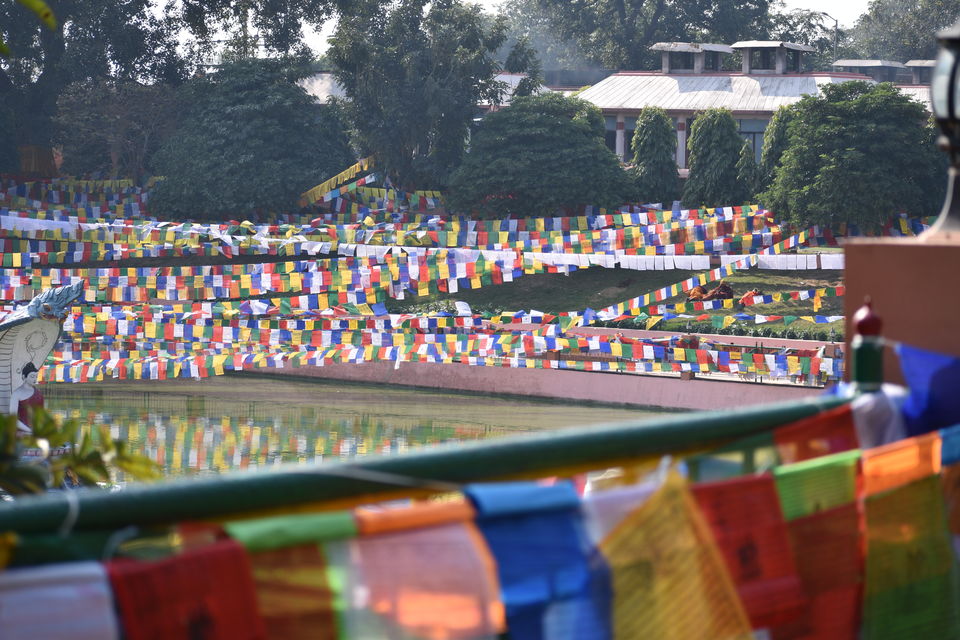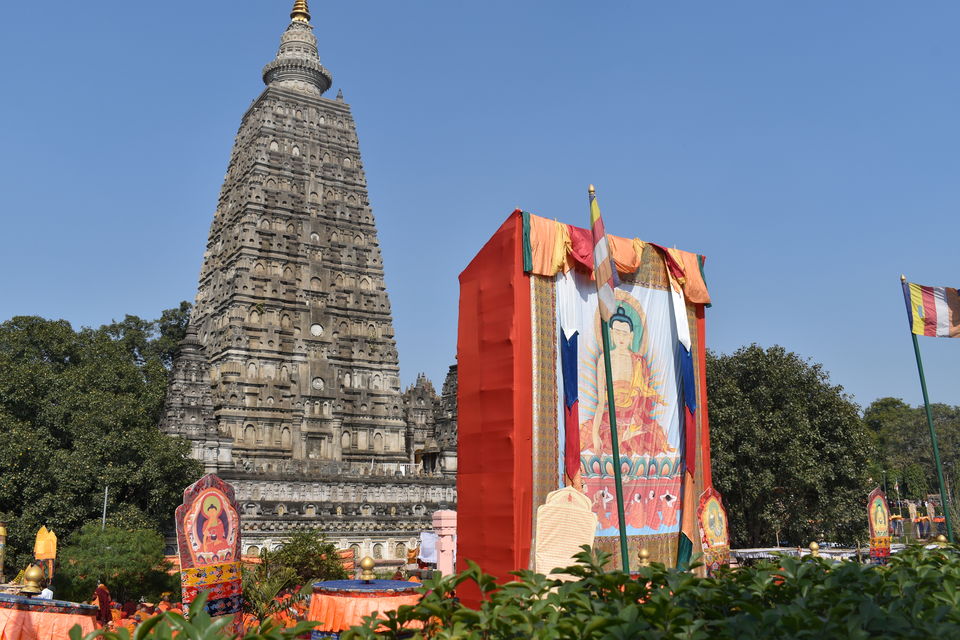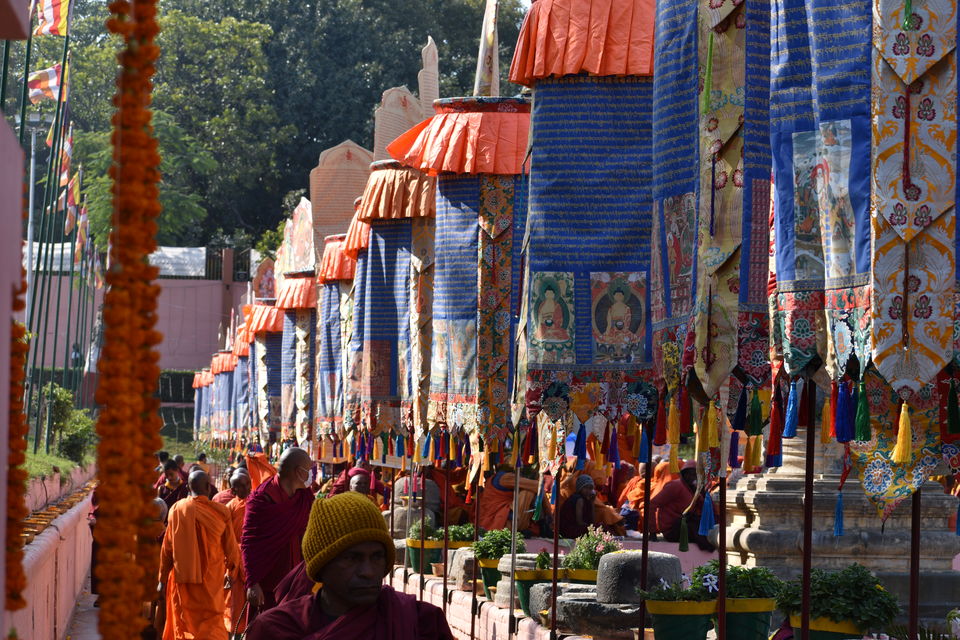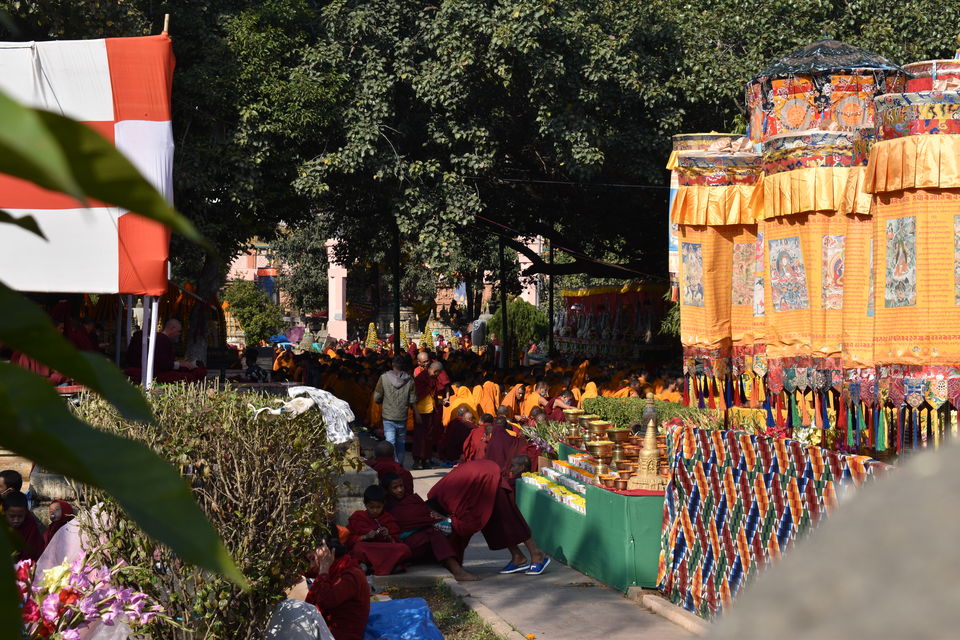 I would recommend that you spend some time sitting in the temple compound or the park adjacent to it.
What else to do?
The city has small road side markets where you can shop. There are artifacts, small idols, miniatures, decorative materials, ornaments which you can collect take back as souvenirs to home.
Where to eat?
Mahabodhi Temple is considered as the holiest Buddhism site and attracts devotees from all over the world. This translates into availability of authentic Thai, Vietnamese, Tibetan restaurants among others. We opted for a small Thai place run by a Thai Lady who didn't even speak English. Along with the menu, there were pictures of delicacies stuck on the wall which one could point at to order a dish (useful for someone like me who had troubles pronouncing the names and didn't recognize any dish). We had some salad and noodles dipped in (I don't what kind) soup. The food was delicious and served in a traditional bowl with chopsticks.
I would highly recommend the travelers to try such food joints because seldom you get authentic food in variety prepared by chefs who are nationals of the respective countries in Indian cities.
We finished day one by visiting Vishnu Pada as our last destination. This temple is located along the Falgu River, marked by a what is believed to be the footprint of Lord Vishnu known as Dharmasila, incised into a block of basalt.
Final Comments
Bodhgaya is laid back small town which has a lot to offer. Somewhere it was disheartening to see not many Indian travelers. I feel amidst the popular destinations, Bodhgaya is a lost case. People deem it a religious trip ideal for a family trip but I visited it along with my friend and thoroughly enjoyed the journey. If you are someone who travels solo and likes to click I am sure you will not be disappointed.
Also, it is a holy place, so in case you go please respect others who are there to pray, don't be loud and adhere to not clicking pictures wherever there's an explicit mention.
From Bodhgaya we took off to Rajgir and Nalanda which I cover in the next parts of my blog.