Day 1
It's been two years and two months since we went on vacation, thanks to Covid. Hence, we decided for a week-long break from home, work and the city. With the dreadful summer scorching us in Delhi/NCR, beaches were out of the scene making the mountains an obvious choice. And we really really love them.
Out of 6 destinations that were shortlisted, Bir-Billing was finalized. And here how we did it.
On the evening of May 7th, we boarded a HRTC bus from ISBT. We had booked tickets online earlier as that's the way I prefer. The bus was ok, ride smooth and the journey uneventful. We reached Bir around 7.30 in the morning. Our contact person from Omya Forest Camp had asked us to get down at the second last stop that was Bir road. Within 5 mins of our getting off, Kuldeep ji reached to pick us up.
As we climbed into the car and introductions were made, he told us about Omya Forest Camp. I got to know about this property right here in Tripoto and booked the package too.
The drive took us through a small village as the camp is located in a village away from the town. It took us almost 15 minutes to reach there being 8 kms away from the Chauntra bus stand.
We were welcomed by the staff and shown to our camp and the first look was awesome.
Breakfast was served 20 minutes later. As we were dead tired, good food drove us to sleep.
Lunch was simple and delicious under the trees with natural air being our AC.
Once the sun went down a bit, we went for a walk to Machiyal. It's a natural pond made out of river water where fishes are fed and worshipped. The chef cum guide accompanied us while regaling us with local stories, and other information.
It was a refreshing walk, through verdant fields, uneven path ending with the cool water pond. The fishes loved the flour balls we threw at them.
After spending almost two hours, we returned to the camp. It started raining soon but Chetan made it special for us by offering got and crispy fritters. What else does one need on a rainy evening.
Dinner was again simple and delicious and our tired and happy spirit called it a day soon after.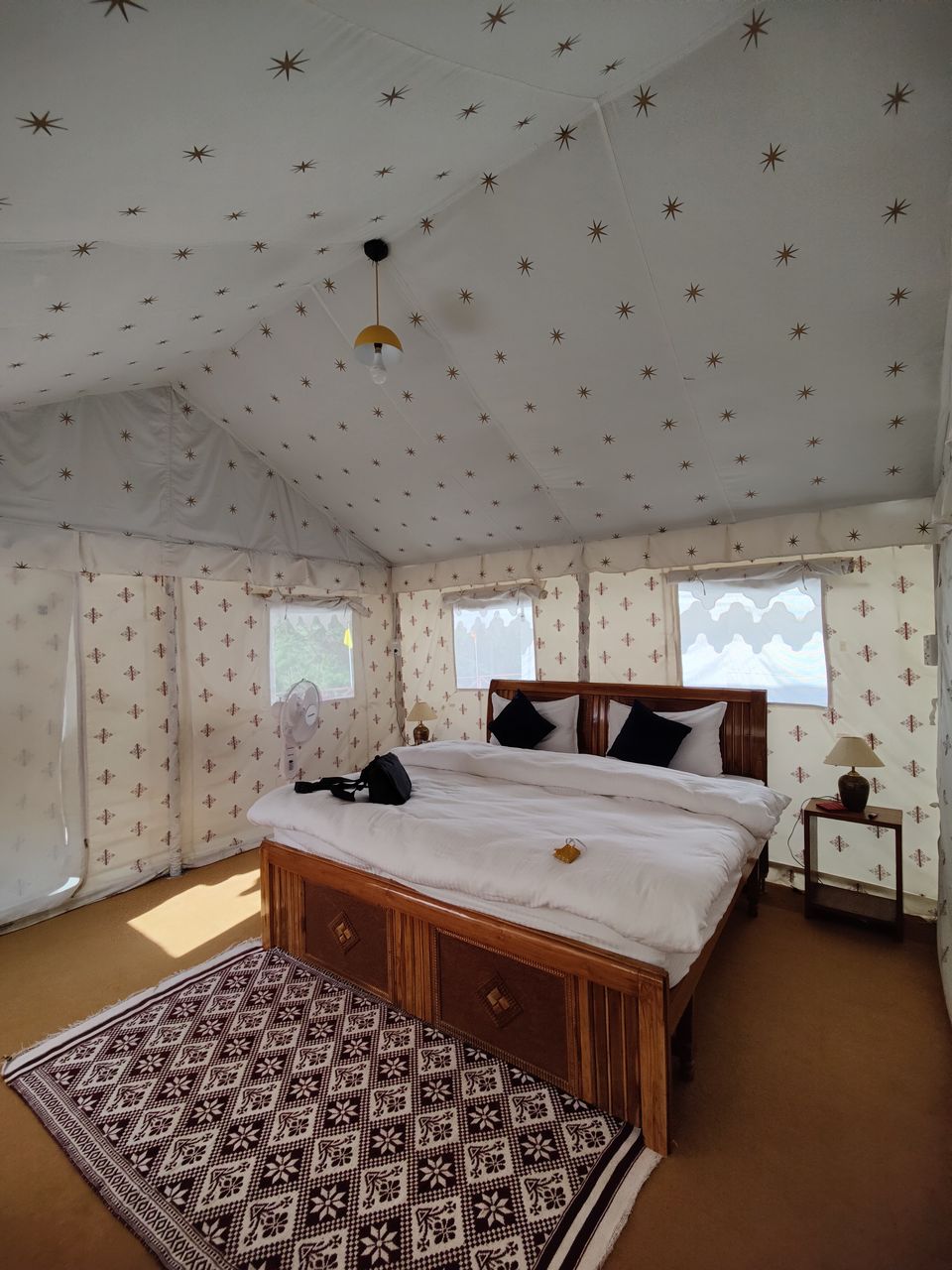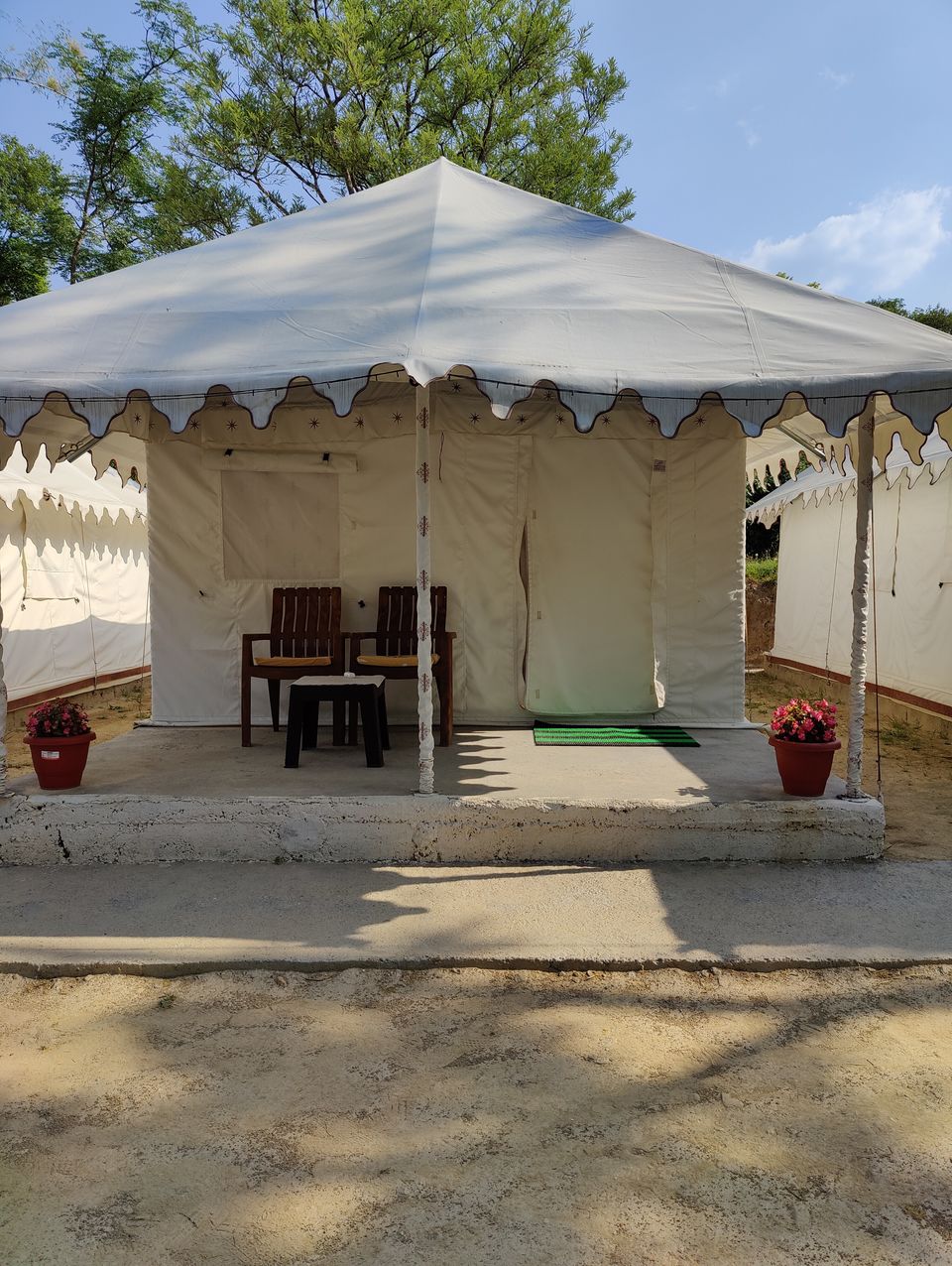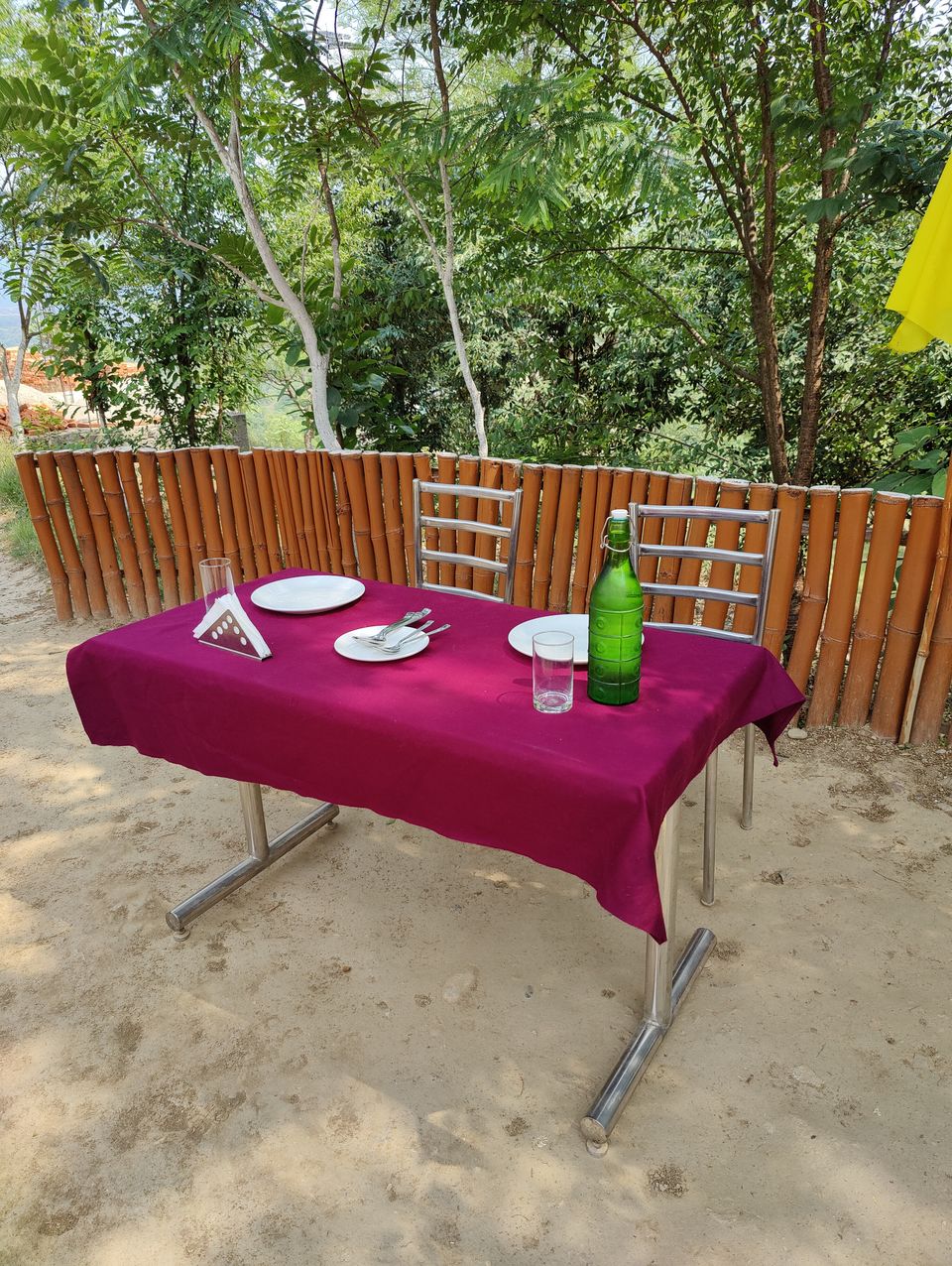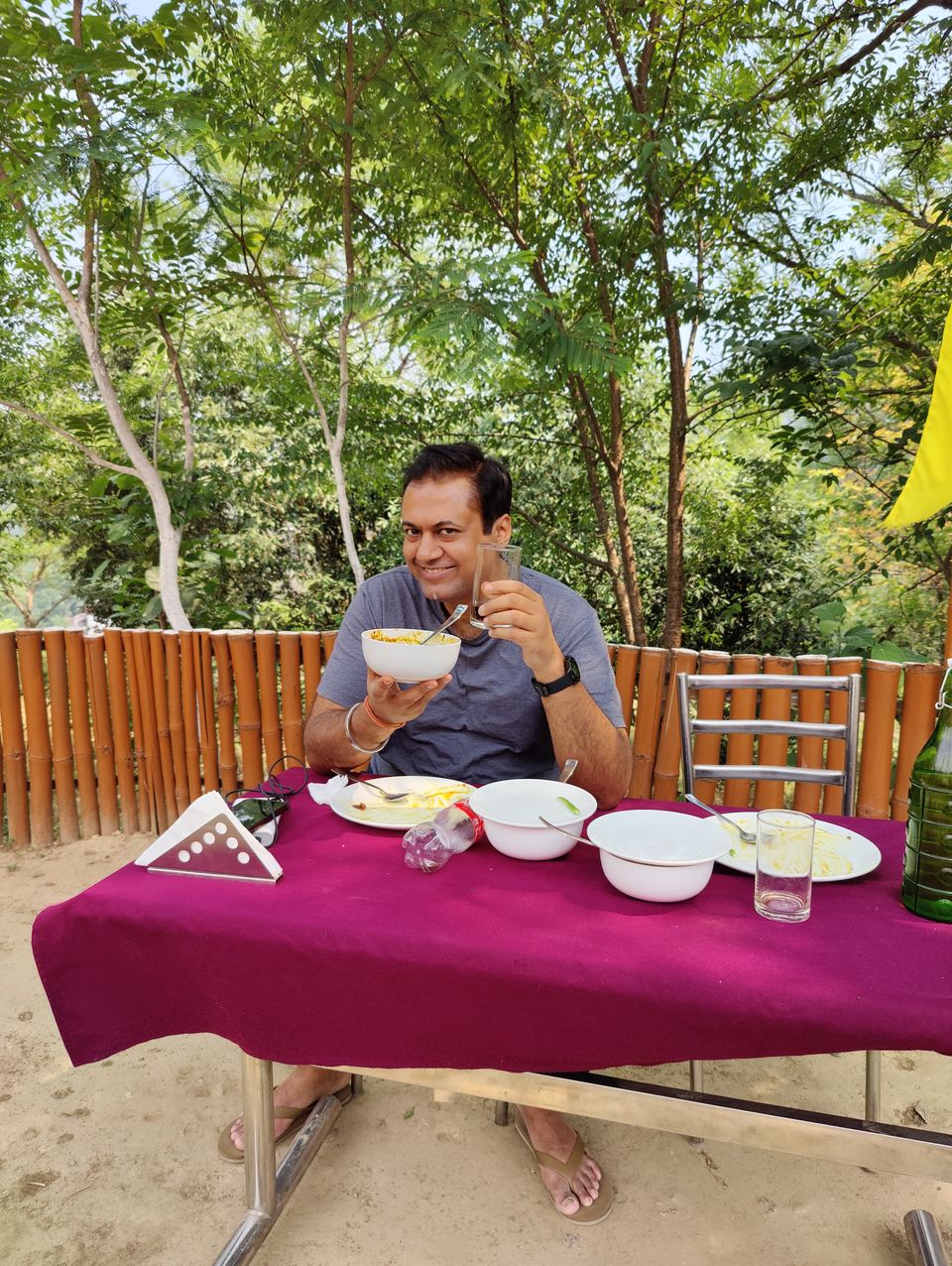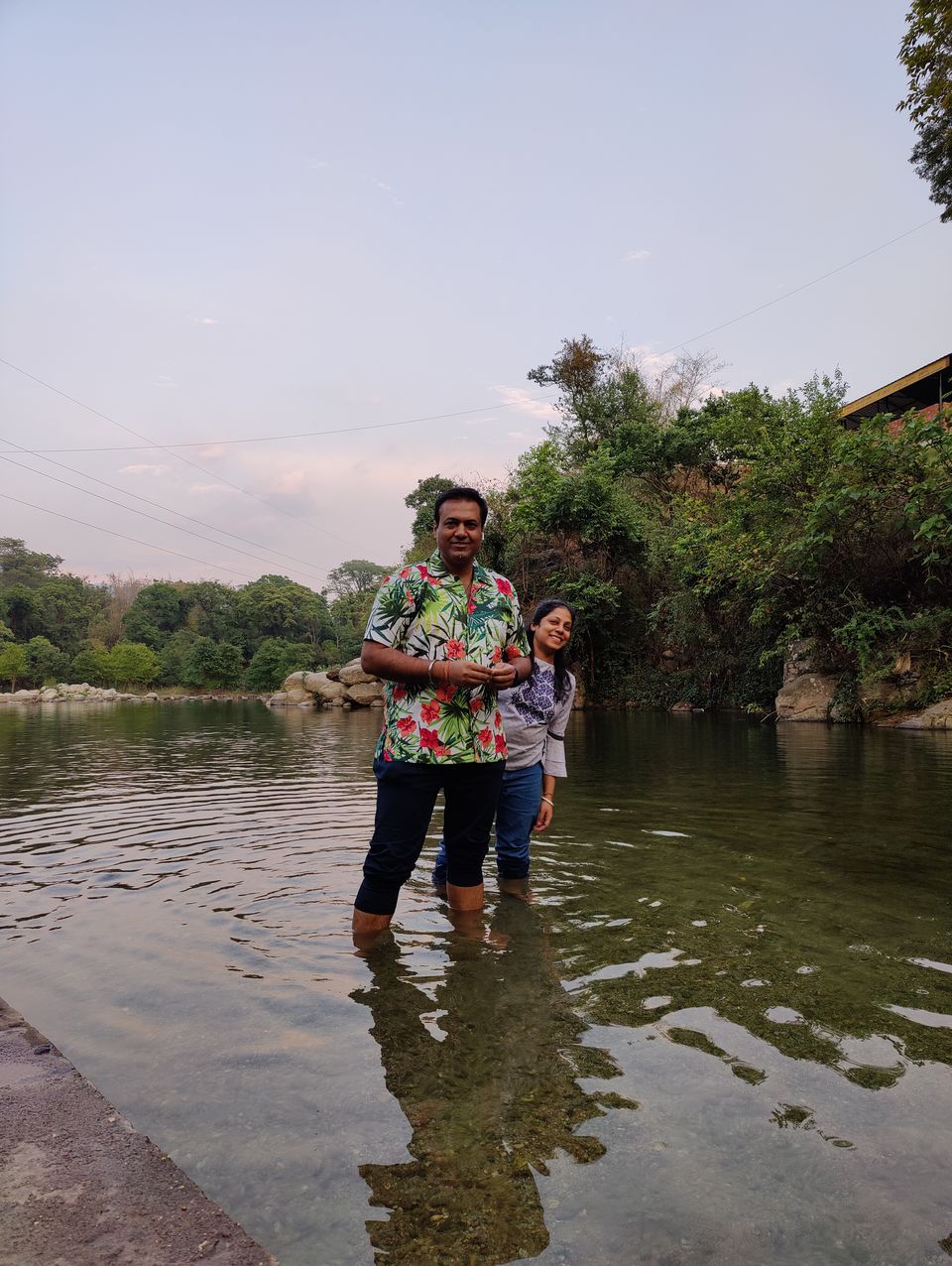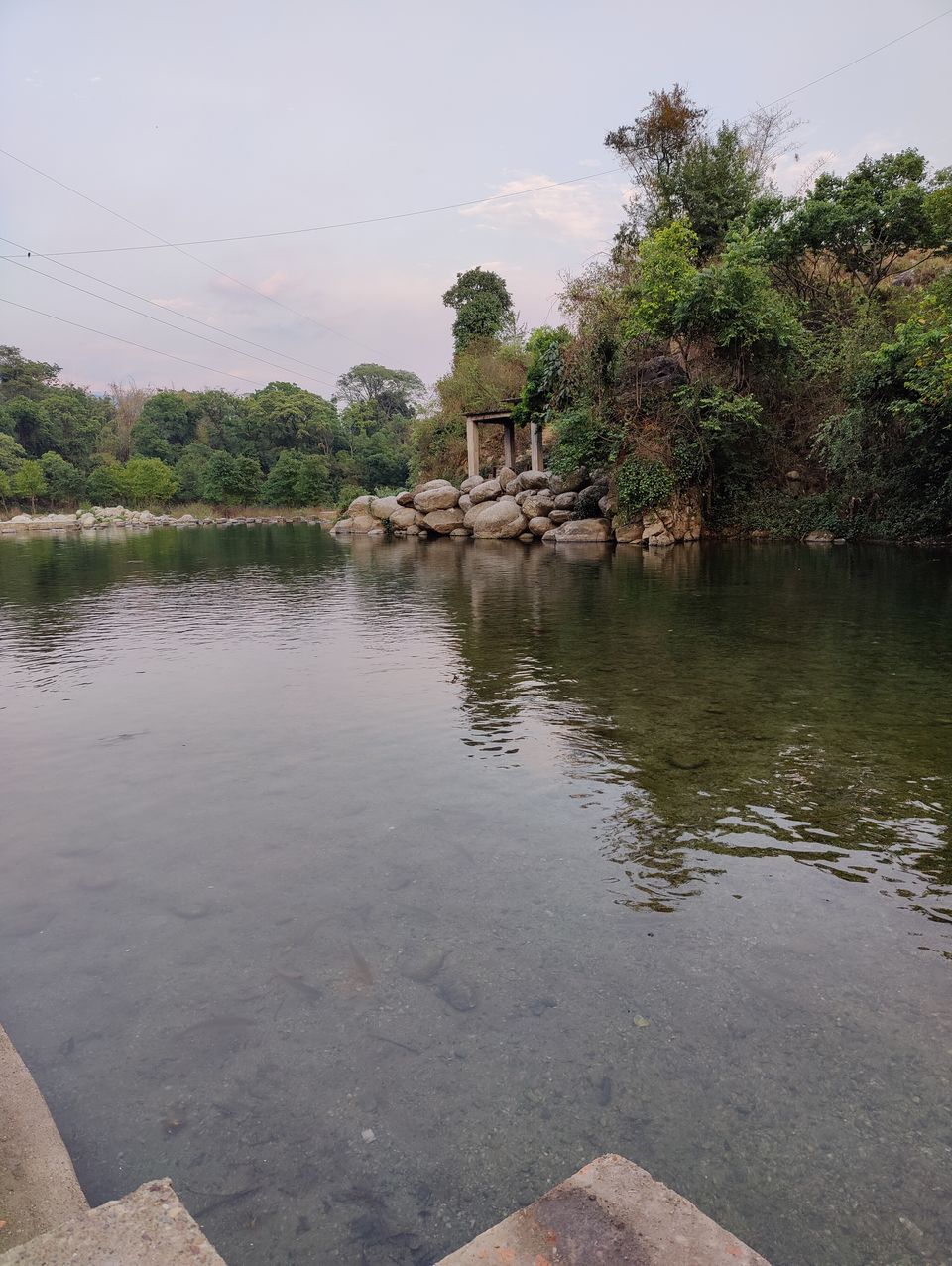 Day 2
If in Bir how can paragliding be behind? So, after a sound sleep and hearty breakfast we started for the landing site accompanied by Anil ji, our guide for the day.
The sight of so many gliders sweeping down was exhilarating. But waqt ke.pehle khushi nahin manani chahiye. The pilots informed us that it was too windy to take the flight. It will be a risk as the information has come down from the authority that controls the paragliding activity in Bir.
We were told to return the next day and much earlier than today, like 7 am!!!
Anil ji understood our disappointment and reassured us for next day. He told us about a waterfall nearby which is very beautiful and requires a little walk. Please note little walk. He drove us to a point and parked the car as from there the walk starts. And what a walk it was. Totally uneven path, sometimes so narrow that it allows only one person to pass, steep, the sun was making it tougher and after a certain point we had to go downhill. OMGGG. I slipped quite a few times and at a point was feeling really scared. Suddenly Anil ji spotted a local guide sitting idly 20 feet towards the bottom. On calling out, he joined us helping me climb down. After few more curves, we finally reached the bottom to a gorgeous sight. Silvery gushes of icy cold water flowing out, toppling the stones and boulders and finding its way downstream. Few people were sitting waiting for tea and maggi. We thought that's it. Nice. But no picture abhi baaki hai mere dost.
Our new guide Suresh told us we have to move up through the water to reach the waterfall. Please note through the water.
There began the actual adventure. Walking through the icy freezing water, climbing huge boulders, stepping on slippery stones, doing every possible balancing act to move ahead. There were five stretches in total with the last two completely evil, but then absolute amazement and affirmation that nothing can be more beautiful than the nature. We were totally stupefied at the sight of the majestic Gunehar waterfall whose powerful sound had reached us since we had started on the trek. It was blissful. I washed my face with that refreshing water multiple times.
Believe me the walk back to the maggi point was equally spine chilling. After a tea break of 10 minutes, we started our journey back.
After almost 45 mins, we were back in the car while going up we had taken an hour and little more.
Anil ji took us for lunch as arranged by Omya Forest Camp at a nice little place called Gliders Inn. As we got down to eat, it started raining and it went on and on. We started back for the camp as nothing else was possible in the rains. But Anil ji was kind enough to take us to the Dzongsar Khyentse Chöki Lodrö College of Dialectics. It is one of the most reputed monastic college of Tibetan Buddhism in the world. A sprawling campus with different complex built around the main structure. A well manicured garden of pine trees and vibrant flowers. As entry is barred inside the premises, we simply sat on the stairs, took some pics and left.
After reaching the camp, we simply took it easy. In the evening we went for a walk. At night there was a family gathering as it was Kuldeep Ji's wife's birthday. We were introduced to everyone as if we were the chief guests, but it felt really sweet.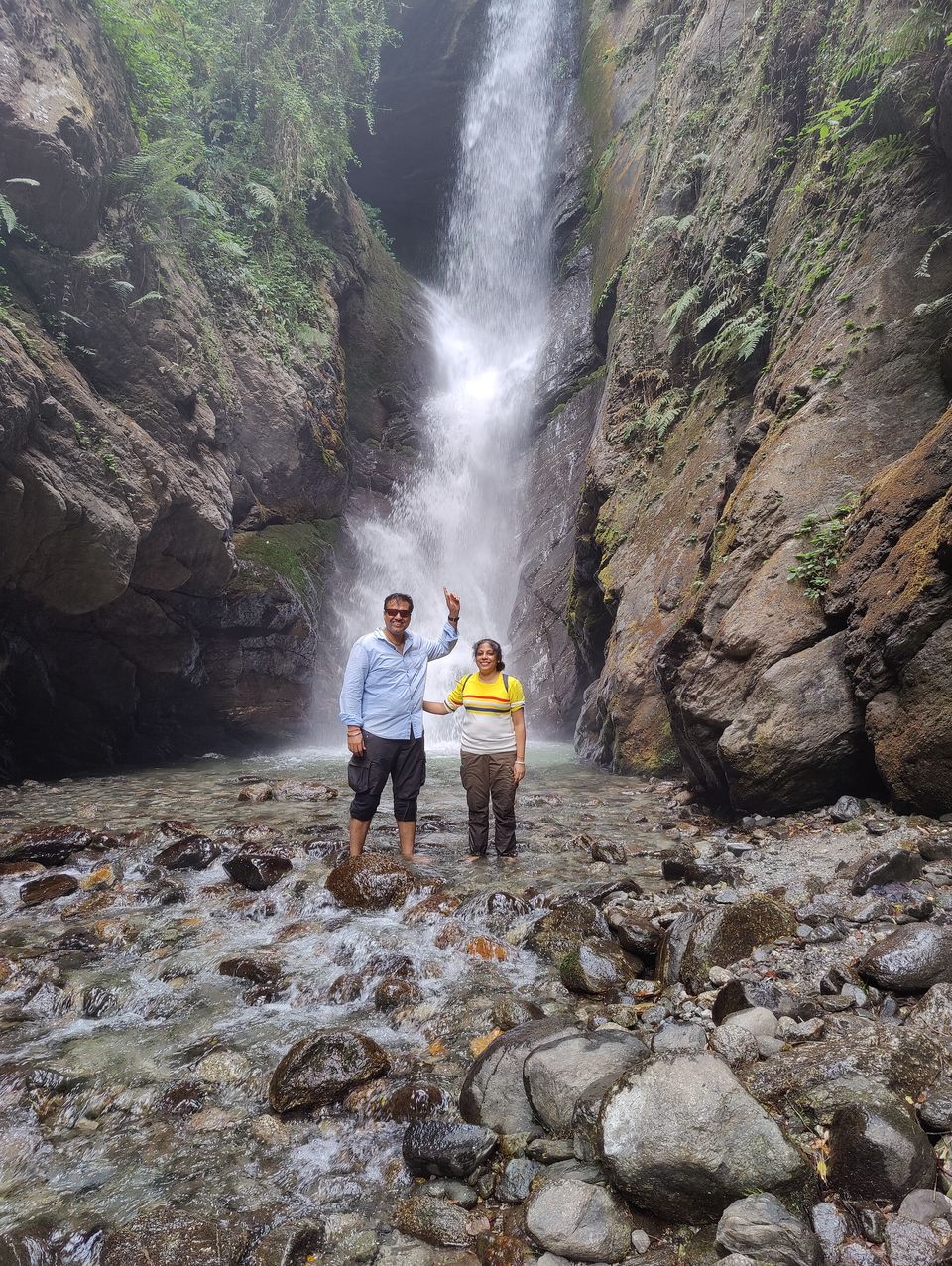 Day 3
At 7.15 am we were at the landing site. From there accompanied by our expert pilots, we started for the take off site located in Billing almost 18 kms away. The road is not smooth and I had butterflies in my stomach. While I have done parasailing earlier but still this would be much higher than that.
At the take off sight, we were geared up with harnesses, helmets and handed over the goPro. Prayas (my husband) went first and in few moments he just became a tiny speck in the sky.
Then it was me. The passenger is supposed to run along the slope till the take off and I was repeatedly instructed for the same but at the actual time, I lifted my legs before reaching the end point.
The moment I was airborne, I forgot everything. It seemed I could touch the sky, uff what a view, what a feeling. I just don't have the right words to express that feeling. My pilot made some moves to make me experience more exciting. As I shrieked half with fun and half with fear, I thanked the elements for being there for us.
We had a smooth landing where a photographer was clicking our pics and Prayas was already waiting for me. We left after profusely thanking our pilots.
After a delicious breakfast, we packed our bags and left Omya Forest Camp. We had booked another stay in a homestay near the market to be able to explore the town on our own. After checking in at the Sunset Point Homestay, we left to explore the town. After 5-7 minutes of walk, it started pouring. We were following Google maps as it took us through village alleys and paths. The rain pounded on forcing us to take refuge in the cafe of Zostel. We decided to have lunch at the Northern Cafe and waited for the rain to slow down. The moment it did, we started again and after walking for 15 minutes, we reached the place in the middle of field. Built like a traditional wood and mud house in the hills, the cafe seemed cosy and cheerful.
After finishing our meal and spending some time chatting with another couple, we left. We roamed the market, visiting the private bus stand, and clicking photos. After a moment I was unable to walk, so we hailed a taxi. As we were planning to visit Barot Valley also, we generally checked with the cab driver and he agreed at an amount that was reasonable.
At the homestay, we had tea and ordered chicken and roti for dinner.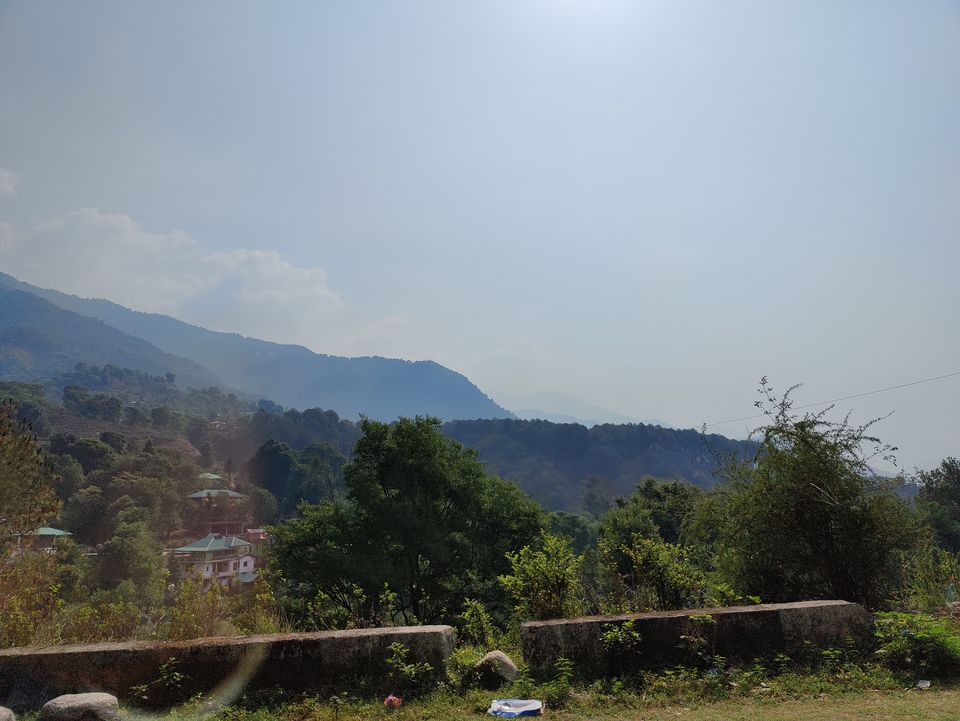 Day 4
We started for Barot at 9 am sharp. The driver, Ravi ji was a nice, helpful person. As he drove, he kept sharing important historical information about the area and other things that are known only to locals. The entire drive had scenic views with tall deodar trees standing proud and spreading a cool ambience throughout. We reached the Shanan Hydro Electricity Project on river Uhl at around 11 am. The project was started by the British India government and is oldest in India. There is a simple fountain that throws out chilled water of the river as per the pressure of the water flowing underground. After spending a good half an hour there, we drove towards the village of Badagaon in the region of Chota Bhangal. A mesmerizing drive flanked by the Dhauladhar range, pine and deodar forests with colourful wildflowers accentuated by the occasional Rhododendron trees. After reaching the farthest point by car, we got down to soak in the natural splendour surrounding us. Beyond that point is the start of the famous Rajgundha trek, but unfortunately we were not ready to take that up so we returned to the Barot valley.
At the non-descript simple Barot Bhojnalaya, we devoured a simple meal of rice, himachali rajma and pan-fried trout. The fish in the valley is also a contribution of the Britishers to the valley. Now, it is a popular part of diet, a tourist attraction, and a business venture. There is trout breeding firm operated by the Himachal Pradesh Fisheries Department.
As we had heard a lot about the many famous waterfalls in Barot, we checked with many locals and finally found our way to Polling village. While we did not reach any waterfall, we reached an old iron bridge from which offered a scenic view.
Our next stop was Lapas waterfall. The route to this is extremely treacherous, totally kutcha but somehow, we braved it in the vehicle and reached the final point and after that it was another 1 hour walk downhill. We could hear the waterfall and even the villagers were encouraging but huge black clouds loomed over, and the drops started falling. We didn't want to get stuck there so we left and then rains started pouring in.
Even after reaching our homestay the rain did not stop and we decided to stay in and enjoy the wonderful view from our room balcony.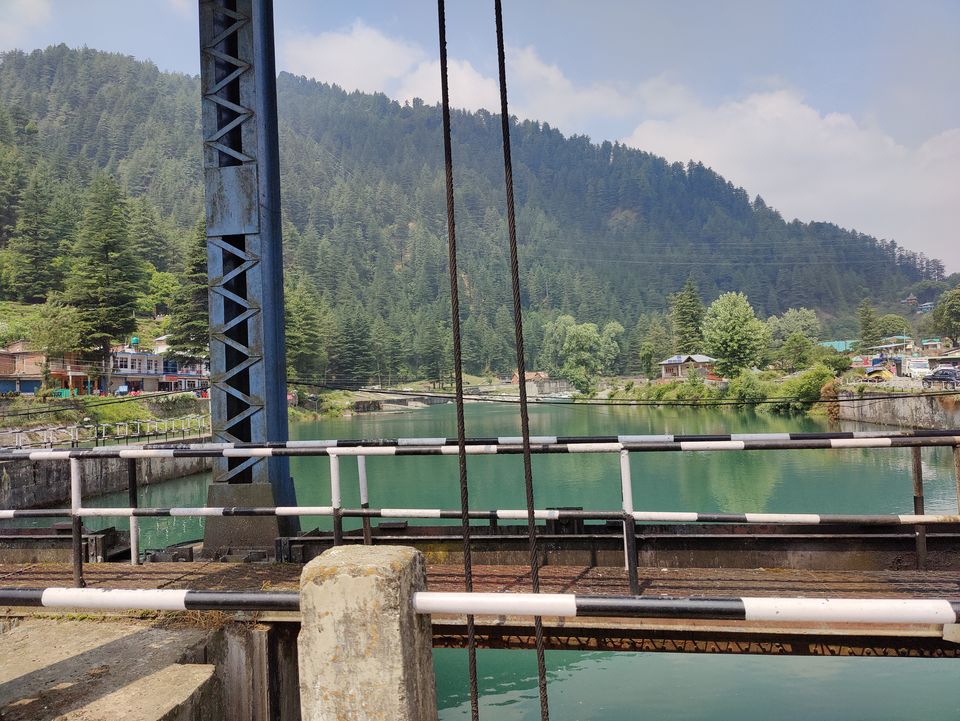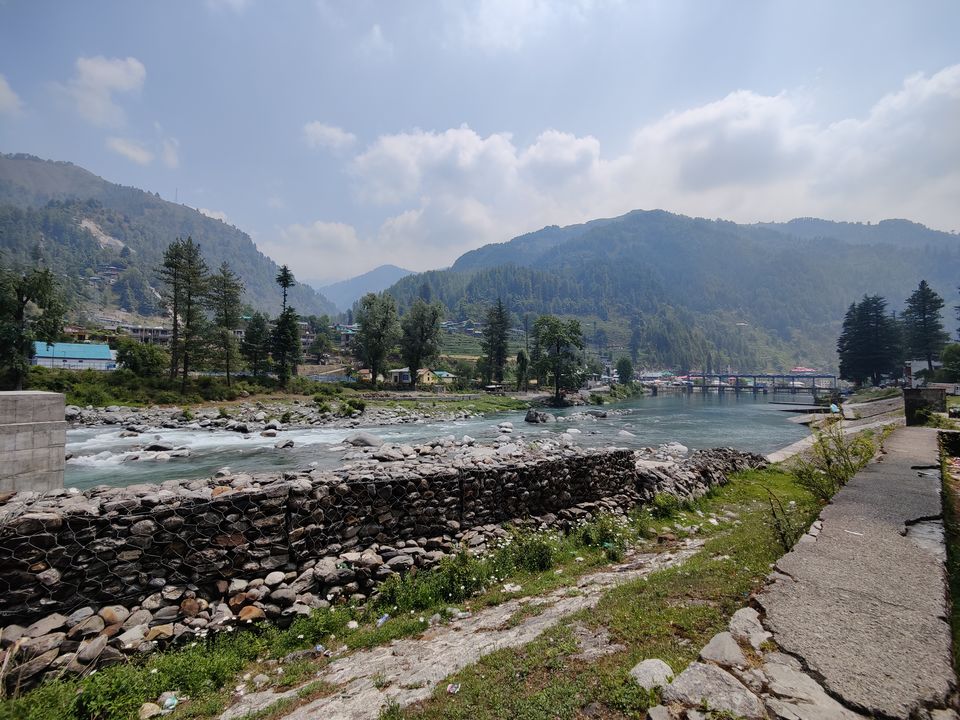 Day 5
Our last day in Bir was kept for doing nothing, just checking around the local stuff. A walk of 2.5 kms took us to Nyingyang Monastery. Located near the landing site, the monastery is beautiful and peaceful. Post Covid all the monasteries are closed for public, but one can definitely walk around in the gardens, sit on the benches and spend some quiet time.
It was too hot and after all that walk, we needed something cool to drink. As we left the monastery and walked towards the main market, we spotted a small café. The Garden Café is literally in the garden. It has seating on the ground floor, but we chose the first floor for a better view and the cool breeze. The are was covered with green chik curtains that made the area pleasant. A big glass of lemon soda and a bowl of masala fries infused us with energy. The next two hours was spent in checking out Bir local markets, buying some souvenirs and once more visiting the landing site to revisit our experience.
Finally, we decided to have lunch at another famous and old place in Bir called Nyingma café. Had heard a lot about its mutton momos and that's what we had with a traditional Tibetan main course accompanied by bread.
After a delicious lunch, we went back to our homestay to collect our luggage and bid goodbye to the lovely town.