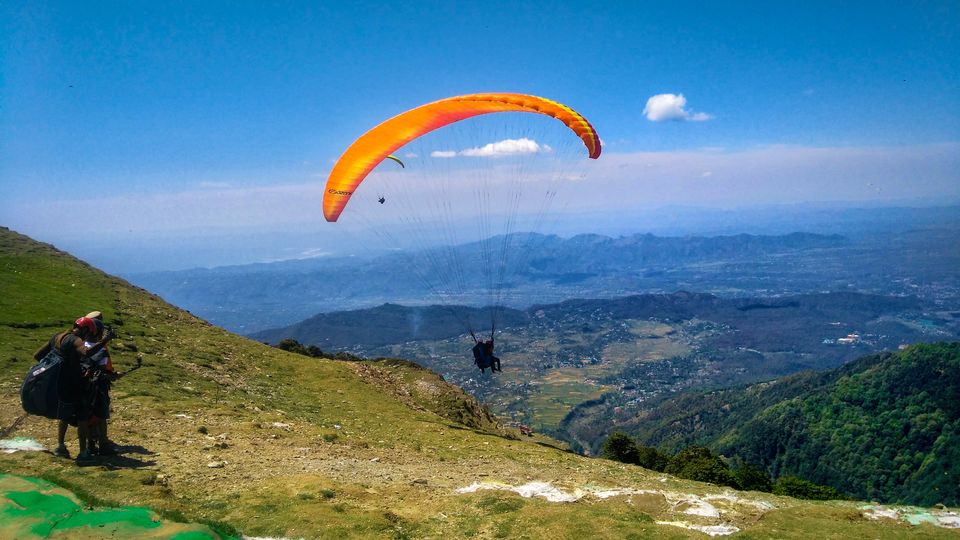 "Majestic view of a small village underneath, chilly wind whistling past the ears, adrenaline which was pumping through your veins a while back, finally settling down, and your mind experiencing a new found peace. Your problems which seemed so big a minute ago, feel tiny now. You realize that you are a very small part of this big beautiful universe, and this realization, this feeling, somehow, sheds weight from your shoulders. For those 15-20 minutes, you feel alive. You feel in the moment."
This sums up the whole paragliding experience. Dreamy, right?

But only for some people.
For some it escalates quickly from, "Aur ye me aasmaan is unchaiyon me, har taraf kohra hi kohra" to "bhai, 100-200 zyada le le, bas land karwa de."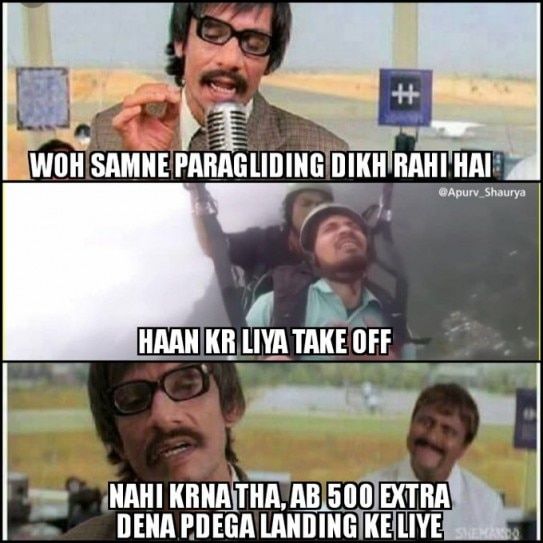 However, when you talk about paragliding, it becomes mandatory to talk about Bir-Billing. After all, it is known as the Paragliding Capital of India.

Bir and Billing
Located in the Joginder Nagar valley, Bir and Billing are two different places. Although the names are often taken together, which leads some people to believe that it is a single village, but that's not the case. Bir (pronounced 'Beed' locally) is the main village and Billing is just the site from where the paragliding starts. Billing is located 14 km north of Bir, and is primarily famous for paragliding launch site and some camping activities. Bir is where the real action lies.
*How to reach - There are no direct flights or trains to Bir. The nearest airport is Kangra airport in Dharamshala. The nearest railway station to Bir is Ahju Railway Station, however, it is a narrow guage railway station. The nearest major railway station is Pathankot railway station, from where you can take a taxi or a bus to Bir.
Bir has really good road connectivity, so I would recommend taking a bus/volvo or driving to the place in your own vehicle. That's what we did.
*Distance from Delhi - 518 kilometers. It will take you approximately 12 hours (including breaks for breakfast and lunch) to reach Bir from Delhi.
Day 1 - Delhi to Bir
4 friends, one car and a distance of 518 kilometers. A twelve hours long journey. Phew… it seemed tiring. And it kind of was. But believe me, it was made much less tiring by the beautiful scenery once the hilly region started.
We left for Bir early in the morning, around 6 A.M. We took just two stops, both to eat something. By the time we reached Bir, we were greeted with some light shower. The weather got really pleasant after that. Picturesque scenes, light rain and some soothing songs by The Local Train. What a feeling!
We reached Chaugan, in Bir, around 6 in the evening. Then began the search for a place to stay. Now, if you want to maintain a tight budget, don't go for hotels. I would recommend that you find yourself a homestay in Chaugan. The place is a haven for nice and cozy homestays. Go for them. You will find plenty, in fact, one around every corner. Yeah, they are that common.

Where to stay?

* To help you people, here are some of my recommendations –
1. Colonel's Resort – This was one of the places we checked out while searching for a place. Although we really liked the place, we realized that it won't fit in our budget. If you want to stay in a hotel, and budget is not an issue for you, this place is highly recommended.
2. Ayush Homestay, Chaugan – This was the place we stayed at while we were in Bir. The homestay is owned by a very hospitable family, is neat and clean and quite reasonable as well.
3. Zostel and Hosteller – If one doesn't have any problems with sharing rooms, or if one wants to have the true backpacker experience, one can also go for Zostel and Hosteller. Both are well known chains of hostels and are known to provide a good experience.
We stayed at Ayush Homestay for the trip. The rooms were neat and clean. We were able to bargain the rent down from Rs.1000 to Rs.800. That means Rs.200 per person. Quite affordable, right? That's one of the benefits of traveling in the off-season.
Day 2 – Paragliding in Bir and Exploring Barot Valley
We all slept soundly and woke up fresh for the second day. Because we reached the place in the evening, we were unable to explore the surroundings of our home-stay. So, in the morning, we decided to take a stroll, which ended with us getting chased by local dogs.
Yup, that happened.
No, we didn't do anything to get the dogs riled up.
I guess, they just wanted to protect their territory from another group of dogs.
After we got ready, we decided to head to the Tibetan Market for breakfast. The Tibetan Market is the main market nearby. It is kind of a one stop place for all your needs in Bir.
After relishing delicious Maggi and Aaloo parathas, we decided to take up the activity we traveled this far for, the main reason anybody travels to Bir - Paragliding.
*Fun Fact – One of the sites to have hosted the Paragliding World Cup is…<drumrolls>….Bir itself. It is a cross country flying competition for para-glider pilots. Read more about it here.
So, after inquiring with different operators, we established that all of them have this unity thing going which means they all have the same rate. We were told that the paragliding along with the video will cost Rs. 2000 and there was no point of bargaining as the rate was fixed. This package of Rs. 2000 includes the transportation to Billing, paragliding with video, and then the transportation from the landing site to the booking office.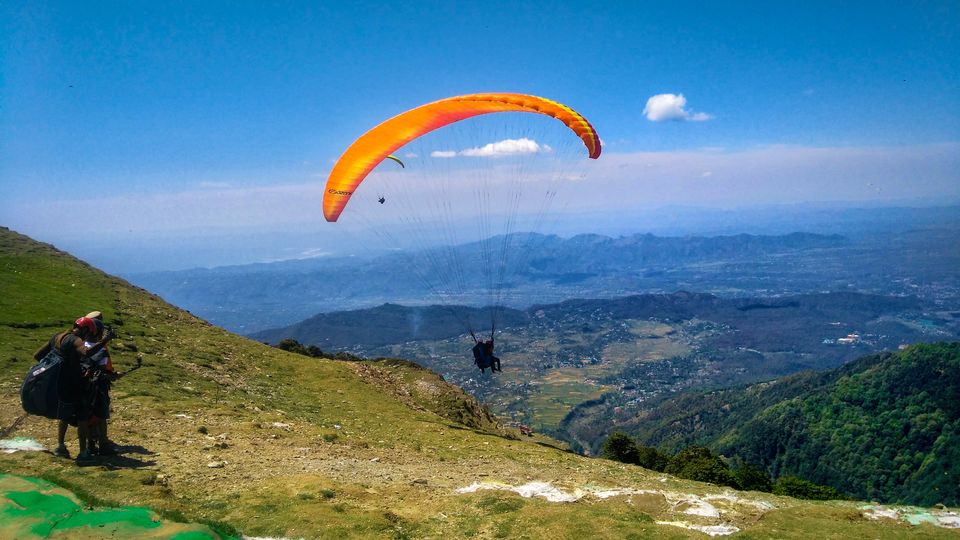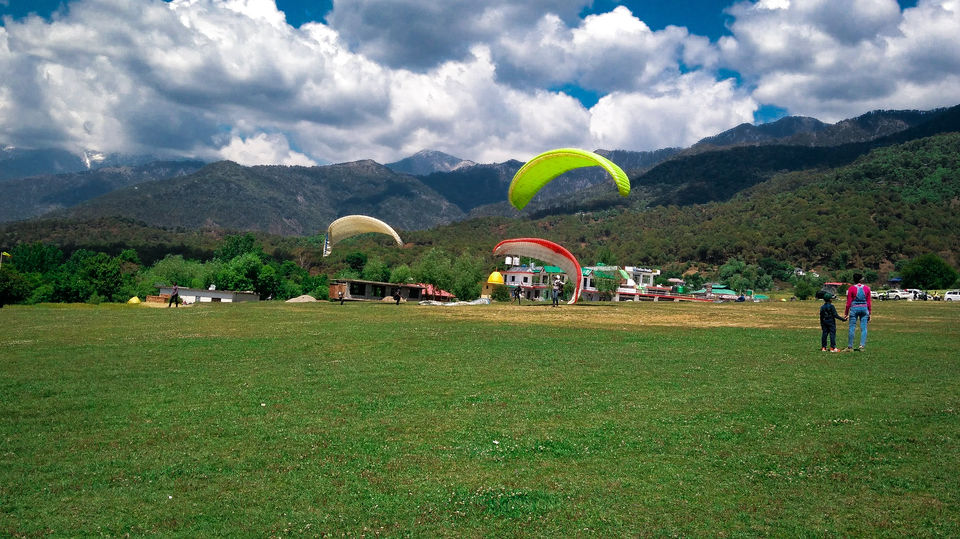 From Bir to Barot
After getting done with our paragliding, we were planning what to do next. After some suggestions from the locals, we decided to visit the Barot Valley. Barot Valley is a two-hour drive… no… let me correct myself, two hour very scenic drive from Bir. Uhl river flows through Barot and the place is known for trout fishing. Apart from that, one can enjoy camping activities in Barot.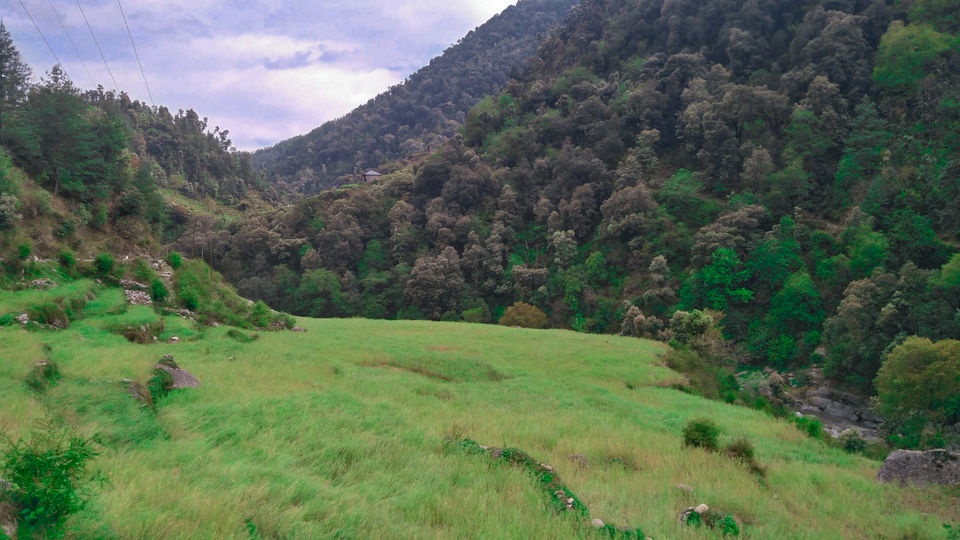 However, since we traveled in the off-season, the camps in the area were not being maintained properly. Everyone was kind of slacking, probably because that was the season of rest, so after exploring Barot for a bit, we decided to head back to Bir.
Day 3- Exploring Bir and the Highlight of the trip
This was our last day on this trip. We really wanted to go on a short trek and explore Bir. So, a few google searches later, we headed out for the day.
The first place we visited was Palpung Sherabling Monastery. A place shrouded in tranquility surrounded by lush greenery and scenic view of mountains. Honestly, one of the quaintest monasteries I have visited.
After the visit to the monastery, we headed towards the place which was going to be the highlight of our trip, we just didn't know it back then.
Yup, you read it right. The highlight of our trip wasn't paragliding, but this activity.
One of the main reasons that it became the highlight of our trip was that it was offbeat. Much wasn't known about this place. We didn't plan on doing it when we came to Bir. We just wanted to trek, a few google searches later (which didn't reveal much about the place), we came to know about this hidden gem.
The Tattapani (Tattani) Trek
The Tattani trek, also called the Tattapani trek is a hidden gem. We didn't expect it to be much fun, but oh boy! We were proved wrong and how. This definitely needs to be on your to-do list when you visit Bir.
It is a perfect trek for beginners. It takes only one and a half hour (one side) to complete this trek. But the main thing is - there is a hot water bath, thanks to geothermal energy, at the end of the trek.

*Okay, so first things first:
• You need your own vehicle to get here.
• Before embarking on the journey to this place, make sure your vehicle is in a good health and the tires are properly inflated, because the final stretch of this journey is an uphill dirt road which is going to test your car and your driving skills.
• Make sure to follow the google maps correctly because even some locals looked confused when we asked for the directions to this place.
Just imagine, you and your friends, trekking amidst mountains covered with lush green forest. Talk about feels man!
Watch this vlog of ours to know about the place, the do's and don'ts, and the overall experience of the trek. I am sure it would prove helpful.
After completing the trek, we returned to Bir. We were very tired and damn hungry as well, because we skipped lunch. As it was also our last night there, we decided to treat ourselves by having dinner at the best restaurant Bir has to offer.

Thanks to recommendations from a few people, we went to check out Garden Café in Chaugan. Hands down, one of the best places to eat in Bir. Good ambience, good crowd, a self-service methodology at work, and above all – very delicious food. French Toast with seasonal fruits is a personal recommendation. Must try.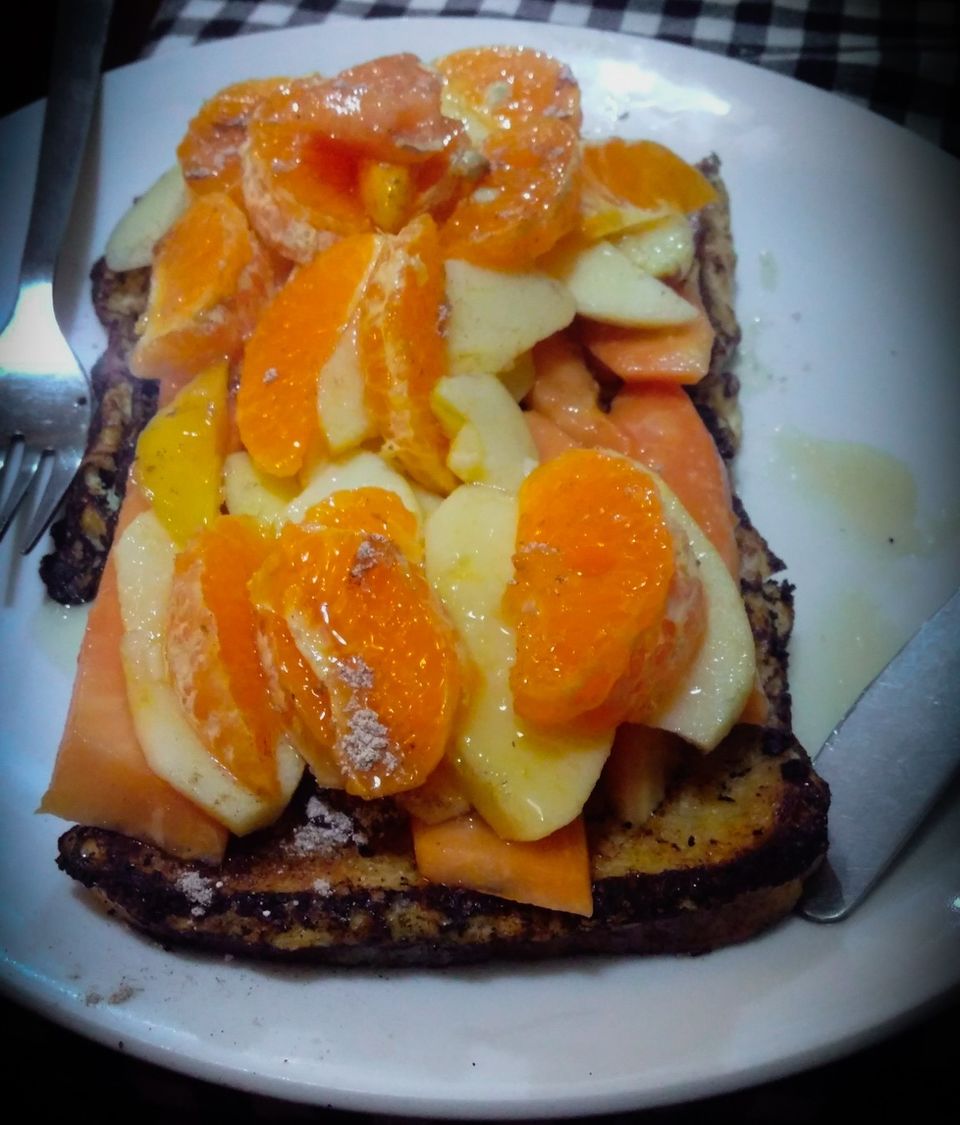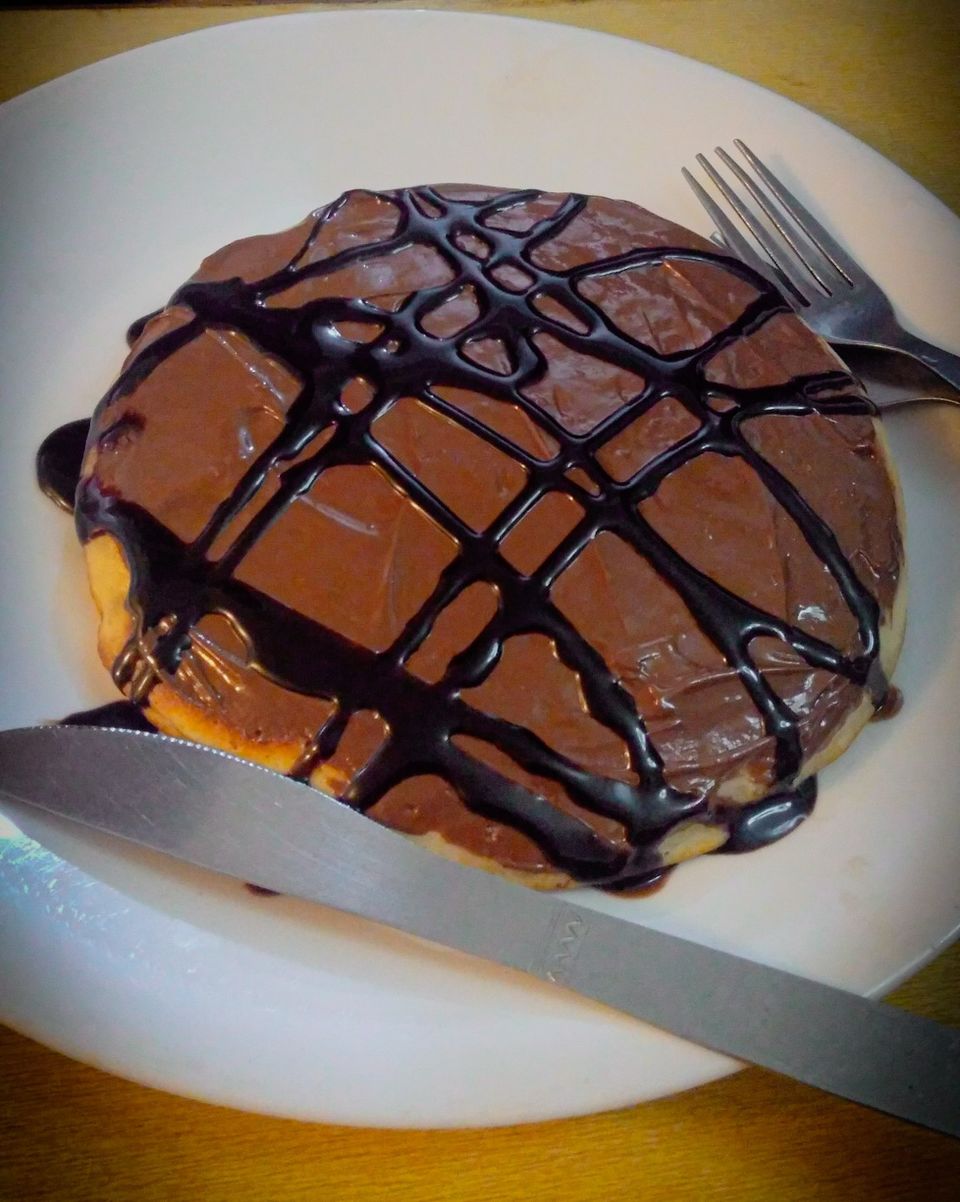 Another place that I would recommend is the Cloud Door Café. Located among green fields, it is a quaint little café with a very unique menu, which has been designed keeping in mind the taste of foreign tourist that frequent Bir. If you like experimenting with your palate or have no qualms about having a different experience than your regular stuff, you can totally check out the place.