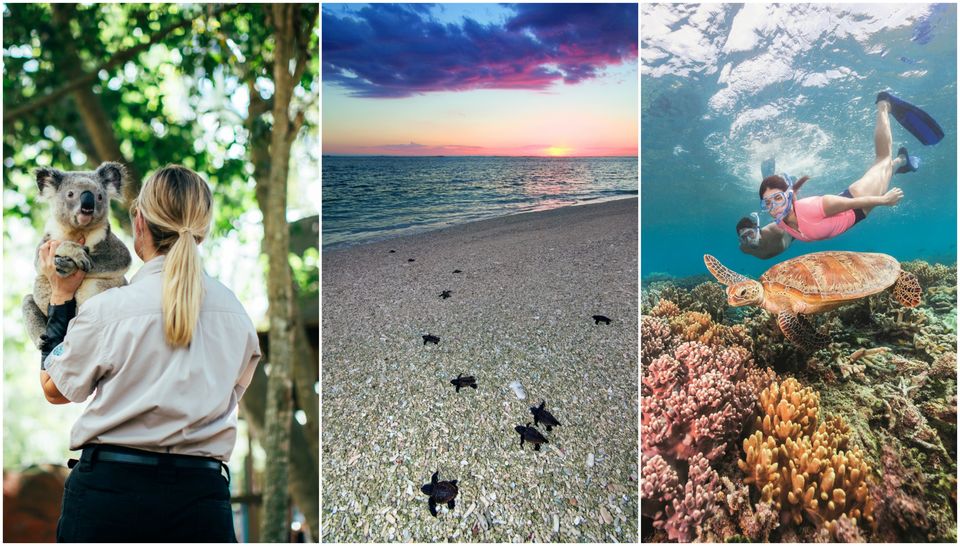 The land down under is all things exotic, and you will find most of those things in a place called Queensland. A plethora of unique attributes such as jungles, reefs, beaches, and nightlife, are concentrated in this single place. Queensland is what makes Australia, THE Australia! This tropical holiday haven is home to the iconic Great Barrier Reef, natural lakes, lush rainforests and cuddly koalas. You name it, and Queensland's got it!

It's a place like no other, and I'll tell you why. Here are eight magical things that you can do in Queensland and why you should book a package to Queensland with SOTC:
1. Cuddle A Koala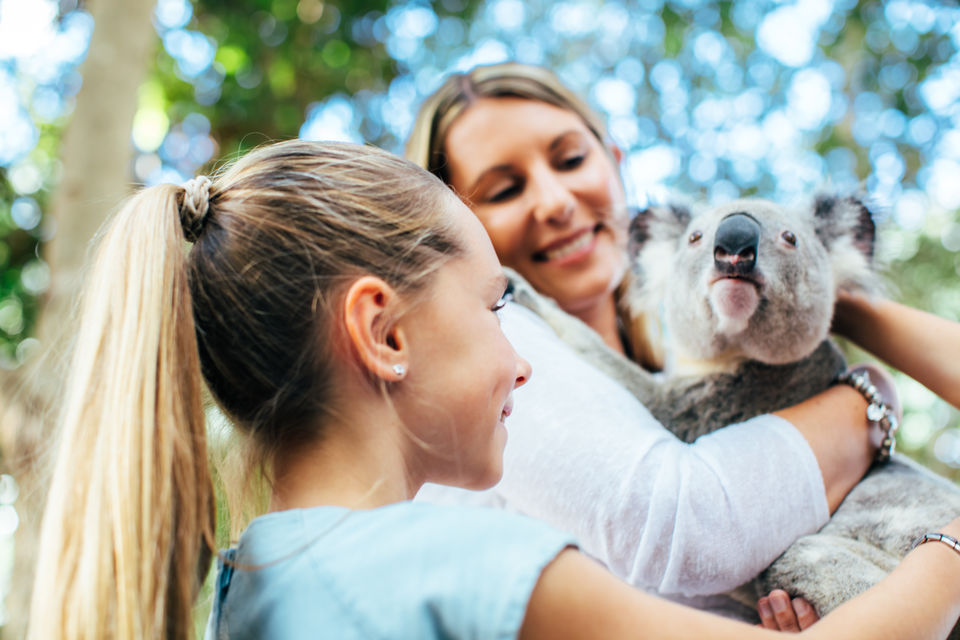 Queensland is one of only two states where you can actually hold a Koala. The state offers a great range of zoos and wildlife establishments where you can actually go and snuggle a Koala. You can even get a picture clicked with one. Several places such as Dreamworld, Currumbin Wildlife Sanctuary, Lone Pine Koala Sanctuary, Australia Zoo, and more, allow you to be cuddly with the furry creatures. Booking a ticket already, eh?
2. Snorkel The Great Barrier Reef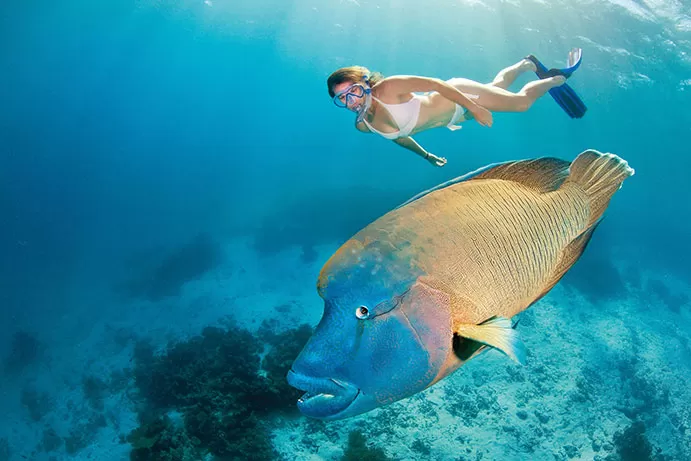 If the iconic Great Barrier Reef is on your bucket list, then this is exactly the way you should tick it off! Strap on a mask, put on your swimmers, slide your fins, and jump inside the blue waters to witness the surreal coral and marine life by the reef. The Southern Great Barrier Reef is home to several accessible fringing reefs for the families and inquisitive rookies. Just a minute's swim away from the beach and you will be transported to a whole new world underwater where you can get up close and personal with eels, rays, and all kinds of brightly coloured fish. It's a great way to start your journey towards discovering the wonders of marine life.
3. Slide Your Worries Away Via Sand Tobogganing
You won't expect the Tangalooma Desert area to be a part of Queensland. Situated in the heart of Moreton Island, it is an ideal spot for adventure junkies, as the sport of sand tobogganing is the epitome of craziness. Run up to the top of the sandy dunes of the island and slide down with the speed sometimes reaching 40km per hour. The adrenaline rush is exhilarating and the range of sand dunes make tobogganing and boarding an ideal adventure sport amidst nature.
4. Explore World's Oldest Rainforest
Spot crocodiles, indulge in a natural spa, consume local produce (chocolate pudding, kale ice-cream!), take an adventure night-walk, and a thousand other things – Daintree is a mystical and bountiful rainforest in Queensland. Despite Australia being one of the driest continents, Queensland is blessed with Daintree where you can head for a getaway from the daily drudgeries of life; it's actually a living museum of natural evolution right in front of your eyes. Disconnect from the world and enjoy this marvel that's 100+ million years old.
5. Rent An Entire Tropical Island In Under $2,500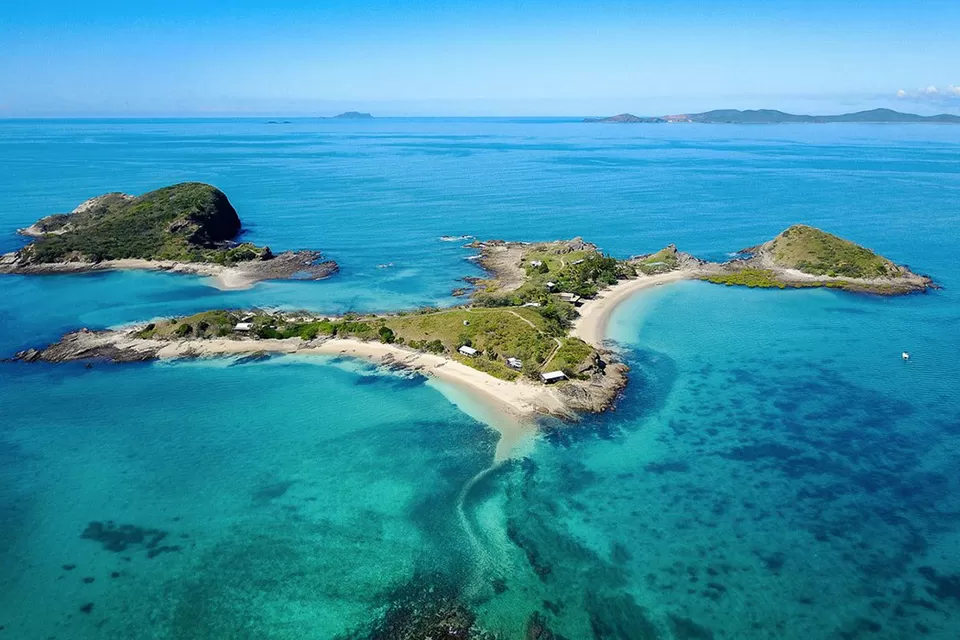 Dreaming of a destination wedding? Then check out this outlandish deal that allows you to rent an entire island on the Southern Great Barrier Reef for a great amount as compared to what you might end up spending on lavish wedding ceremonies in India. The Pumpkin Island is also ideal for private parties or family holiday getaways. In fact if you split the $2,220 amongst 10 of your closest buddies, the share comes down to $222 which makes it an amazing spot for a bachelor party as well! Walk barefoot on your very own island or just relax on the hammocks around the island with your bae, this is your private paradise for a day.
6. Surf Your Worries Away
Sunshine Coast and Gold Coast are two great places to put on your surfing suits and hit the waves! There are several schools where you can avail private lessons, group lessons or children's programmes. Since you are on a holiday, you can opt for short-term basic courses but if you take a liking toward it (highly likely) you can get yourself admitted to hone your skills all the way up to high performance competitive surfing. Take a journey of discovery – learn about the ocean and yourself in Queensland.
7. Take An Exclusive Island Getaway
All along the 7,000km coastline of Queensland's and the Great Barrier Reef are scattered vacation paradises for your family, friends, and lover. These are the several unadulterated islands that need to be seen to be believed. Green Island and Fitzroy Island from Cairns are ideal for one-nighters, Lizard Island for luxury, Hamilton Island and Daydream Island in the Whitsundays, and Lady Elliot Island from Gold Coast for the witnessing the turtle. Brisbane or Hervey Bay are also a must-visit. So prep your beach umbrella, set up camp and just relax.
From pre-historic gargantuan creatures to the largest living mammals, Queensland boasts ample space to accommodate them all. Whale watching is an experience of a lifetime and Hervey Bay is the Australian capital to indulge in that. Watch the majestic Humpback Whales on their migration break amidst the calm waters of the area between June and October every year. You can actually swim with them at the Sunshine Coast to get to know them up close and personal. You can also avail whale watching tours that operate to see the Humpback Whales from Gold Coast, Brisbane, Sunshine Coast and Hervey Bay. Phew, only in Queensland!
If you wish to experience all of the above in the upcoming summer vacations, just fill up this form and SOTC will plan it for you. The package includes flights, hotels, meals and sightseeing.
If you have also been to this beautiful city, do share your unique experiences on Tripoto with 25-million travellers across the globe. Cheers!
In association with Tourism & Events Queensland.
Frequent Searches Leading To This Page:-
things to do in Australia gold coast, Australia tour package from Delhi, magical things in the world, magical things are happening in this world, magical things and where to find them, magical things terraria