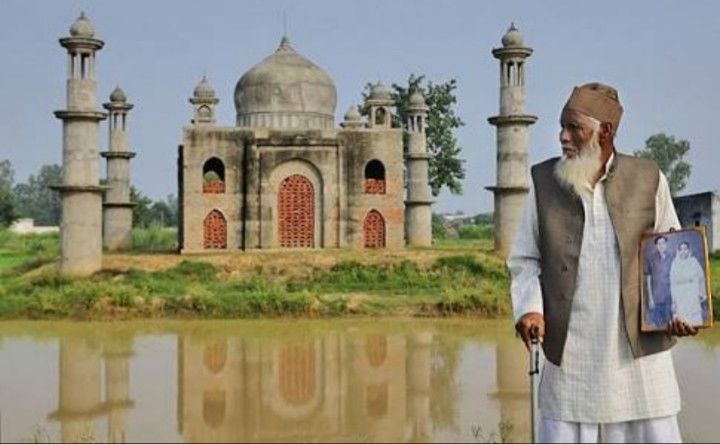 "True Love Doesn't Mean Being Inseparable; It Means Being Separated And Still Nothing Changes"
To the World obsessed with the Taj Mahal, here's something far more interesting. The love between a childless couple called Faizul Hasan Quadri and Tajammuli Begum of Kaser Kalan Village, 50 KMs from Bulandshahr of western Uttar Pradesh.
Faizul Hasan Quadri married Tajammuli Begum in 1953. and she was his Soulmate and he loved here dearly till her last breath. 58 years after their marriage, in the year 2011, Tajammuli died of throat cancer. Since the couple were childless, they often used to discuss that after their death, there would be no one to even mention them in this world. It was then, Faizul Hasan promised his wife that he would construct a Taj Mahal in their field in honor of her love. He showed his wife through the window and said that he would construct a Taj Mahal and also reserved a place beside his wife so that he too be buried beside her. He even went to the extent of paying the requisite fee to the Waqf Board.
Love is not just for the rich and the royal. Pyar sirf ameeron ke jaagir nahi. Faizul and Tajammuli are the icons of true love of the common man, and this Mini Taj Mahal is testimony to it. Emperor Shahjahan could proclaim his love in such a grandeur because of the immense wealth he had, but Faizul Hasan constructed this Taj Mahal with the limited resources he had, by selling off some land, Gold and Silver and his own savings. Interestingly, though many, including the Government had offered him financial help, he declined stating that he wanted to built the mausoleum of his love with his own money, rather, he requested the Government that they finance a school in his village for the benefit of the girls.
To all the travel freaks out there, lets go and visit this icon of true love hidden in this obscure corner of Bulandshahr in Uttar Pradesh.
"When you can do the common things in life, in a uncommon way, you will command the attention of the World" - George Washington Carver.