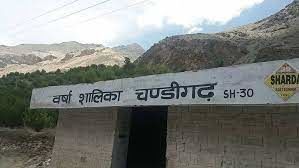 Chandigarh is a city in northern India that is known for its beauty. Its well-kept neighbourhoods are also a big draw for tourists. Sector 13 is the name of a Chandigarh village in the Spiti Valley. The story of how this village got its name, Chandigarh, is very interesting.
The village of Chandigarh Sector-13 is about 33 km away from the Lahaul-Spiti sub-division of Kaza. It is also a place where tourists like to go.
People say that when the border dispute with China got worse in the 1980s, the people of Kaurik village in Spiti, which was right next to the border, had to leave. People say that when former Prime Minister Indira Gandhi went to the border at that time, she told 33 families from this village that they would move to Chandigarh, which is the capital of Punjab and Haryana. However, this promise could not be kept because of some problems.
Families from Kaurik village were moved right away by the army, which gave them land 33 km from the border and called it Chandigarh.
People say that Le Corbusier, who built Chandigarh, didn't even build Sector-13 because he thought 13 points were terrible. Instead, he built Sector-14 right after Sector-12. As a form of protest, the villagers changed the name of their village from Chandigarh to Chandigarh Sector-13.
Even for tourists, this village sign is still the main thing to see. The older people in the village say that their civilization and culture would have ended if the elders had moved to Chandigarh at that time. Even though the rest of the world laughs when they hear this, we are proud of our history, culture, and values.
The name of this village was also written down as "Chandigarh" in the records of the government. Later, the people in the village gave it the name Chandigarh Sector-13, even though there is no Sector-13 in Chandigarh.