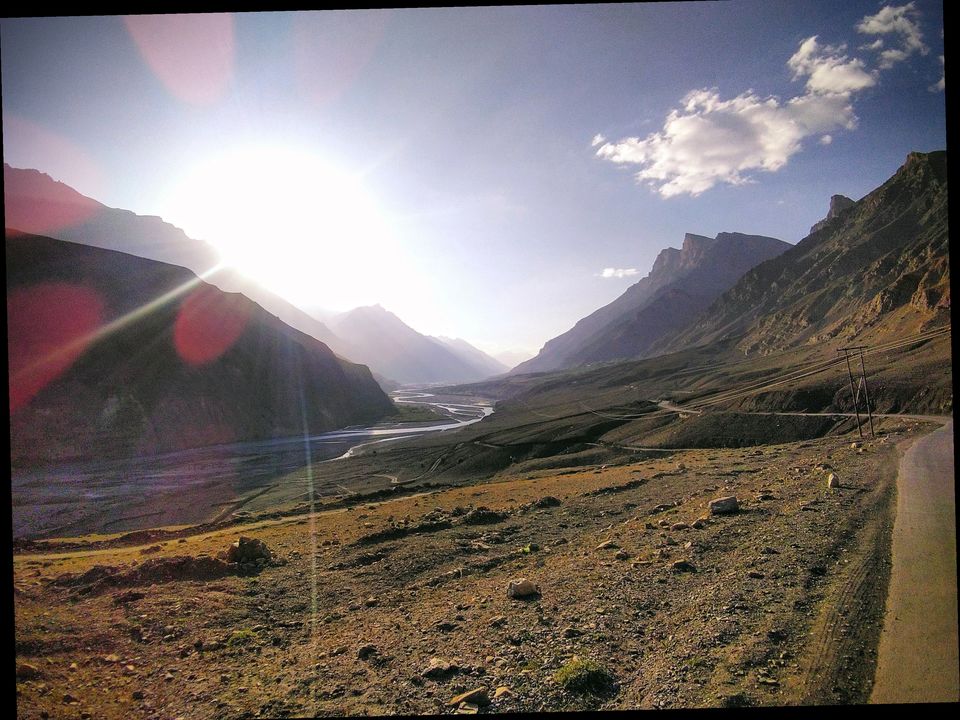 After I've ridden my bike to few places in mountains, I wanted to go further. Riding not only gave me immense pleasure, it also taught me how to trust on myself and not stick to something I've been doing all along as everywhere is different terrain with different difficulties. After so many days of delay due to what I was thinking as bad omens, I finally started my ride to do the much awaited Spiti circuit solo.
Spiti circuit goes as Chandigarh - Shimla - Chitkul - Kalpa – Nako – Tabo - Kaza - Manali - Chandigarh.
It lengths about 1500kms starting and ending at Chandigarh. I had to start my journey from Delhi and I finally having kept faith in myself left for the ride in the dawn of 2nd June at around 04.30am to beat the city traffic. As I didn't want to waste a day in Chandigarh, I headed directly to Shimla. Delhi to Shimla is roughly around 310km and I made it there at around 3pm with sufficient breaks because I hadn't slept all night long and kept overthinking about if I should do this thrilling also a bit dangerous ride or not. With all honesty my first day wasn't that good because I kept thinking was what if something goes wrong, Should I have really gone for this ride all alone? As I was very much aware with the terrain and road conditions of Spiti, especially the rough patch between kaza to manali.
Nevertheless I reached Shimla, checked into my hostel and slept as my body demanded badly. Took a small tour through the town, came back, had dinner and slept again.
Tomorrow is a big day, I thought.
Whenever I ride, I try to leave the place as early as possible for two reasons mainly; first one is to beat the normal traffic and second one to reach the destination on time as I don't find myself very confident riding alone after sunset in the mountains amid jungle for very obvious reasons. Since I was still suffering from little sleep deprivation of last night I started at 9 in the morning, had the petrol tank full and started my journey for Reckong Peo. Even on 2nd day while riding my mind wasn't stable and I, at one point even thought of going back and not to do this while I was having a chai at dhaba in the highway. Somehow though I recollected my mind and rode further. Now my whole journey was unplanned except to the destinations for each day.
The ride from Shimla to Reckong peo (also known as peo), the HQ of Kinnaur Valley, is around 260km and I made it there at 5 in the evening, booked a reasonable hotel for myself in Rs. 500/- and went ahead to Kalpa. Kalpa is barely 10kms from there, roughly half an hour ride and is one of the most beautiful village of entire Kinnaur Valley. Famous for its apple orchard and also for the suicide point (A touristic destination, not an actual place to commit suicide).
It is even better to have a night stay in Kalpa instead of peo as it doesn't have much to offer as compared to Kalpa. I didn't know it back then and already booked a stay in peo.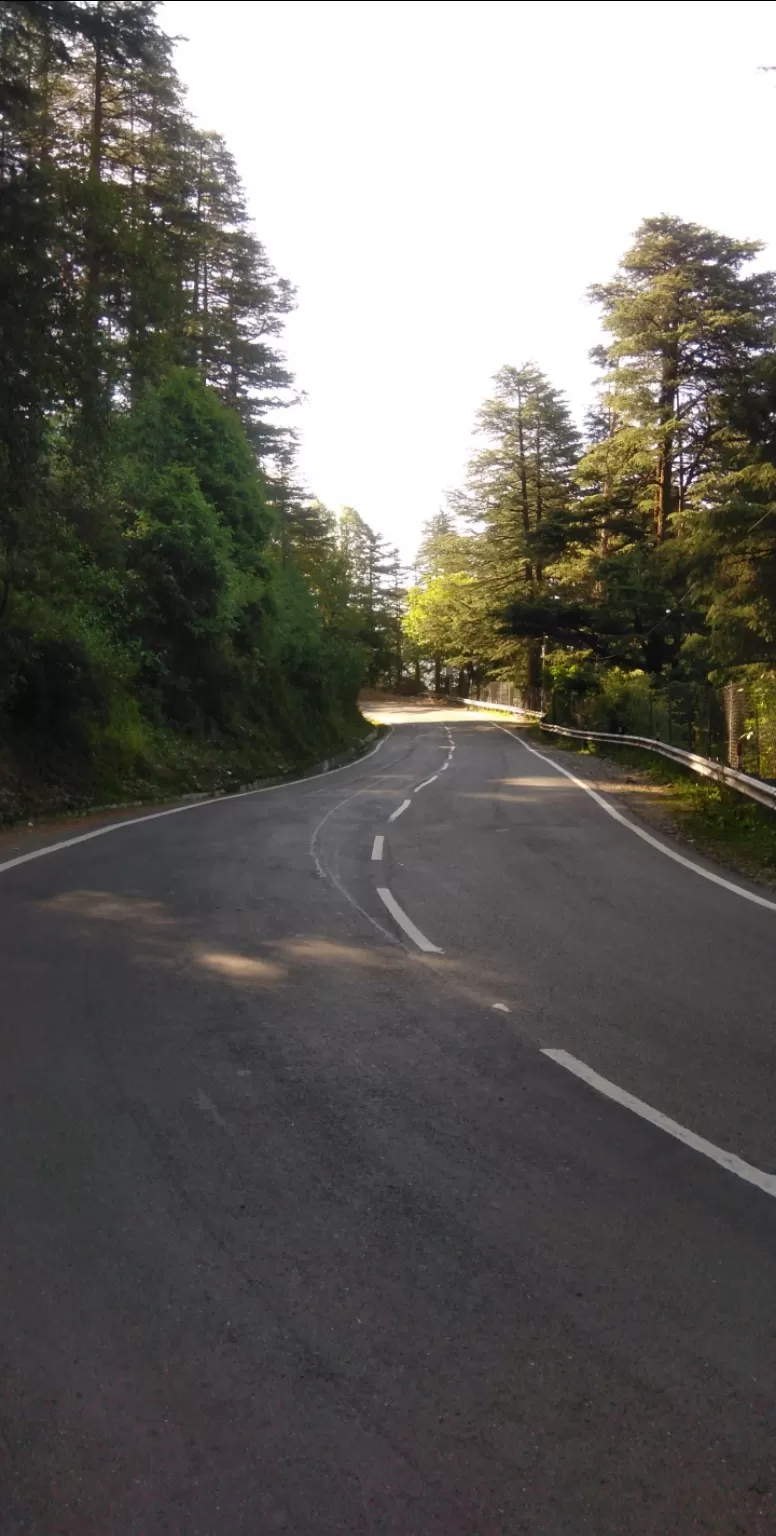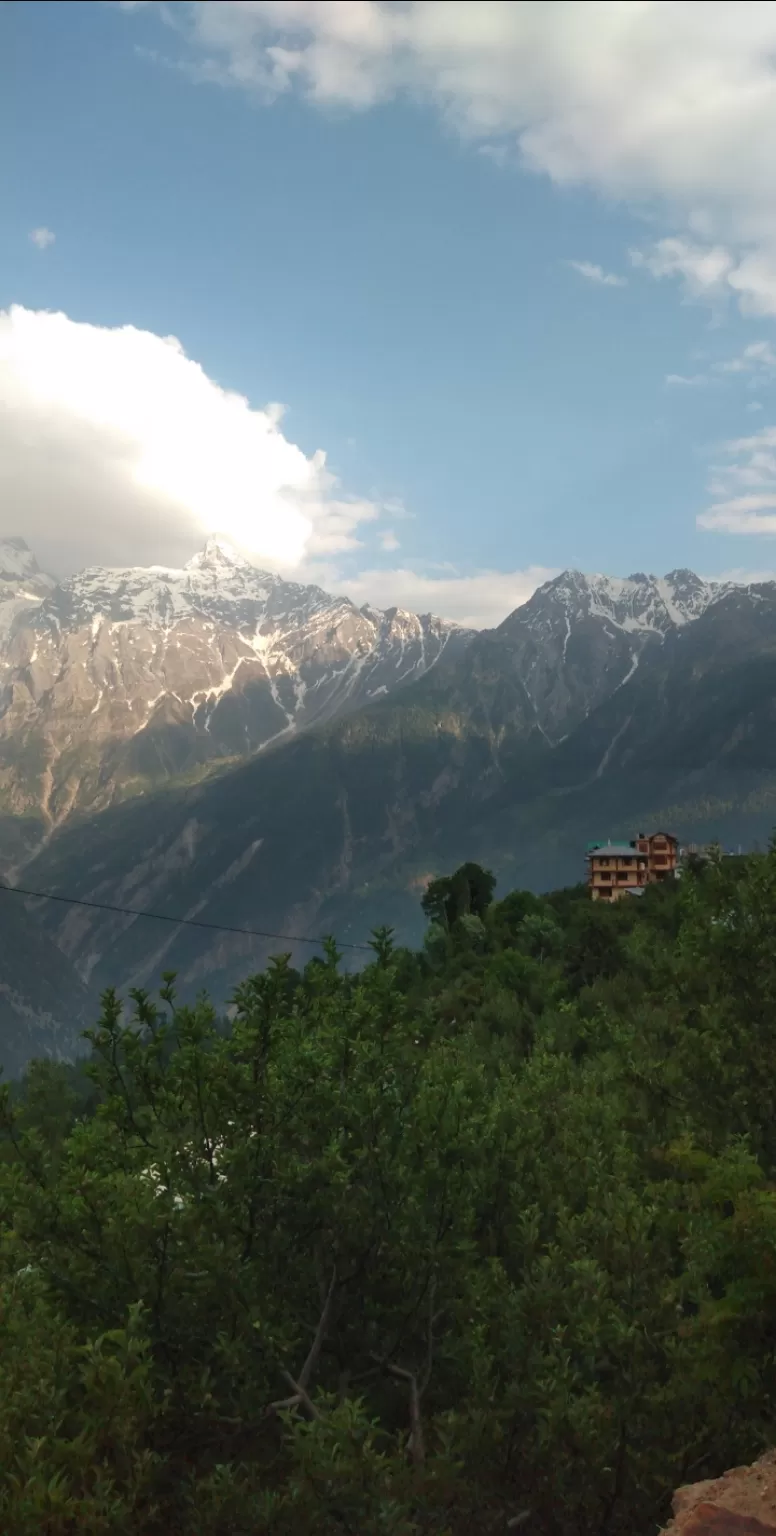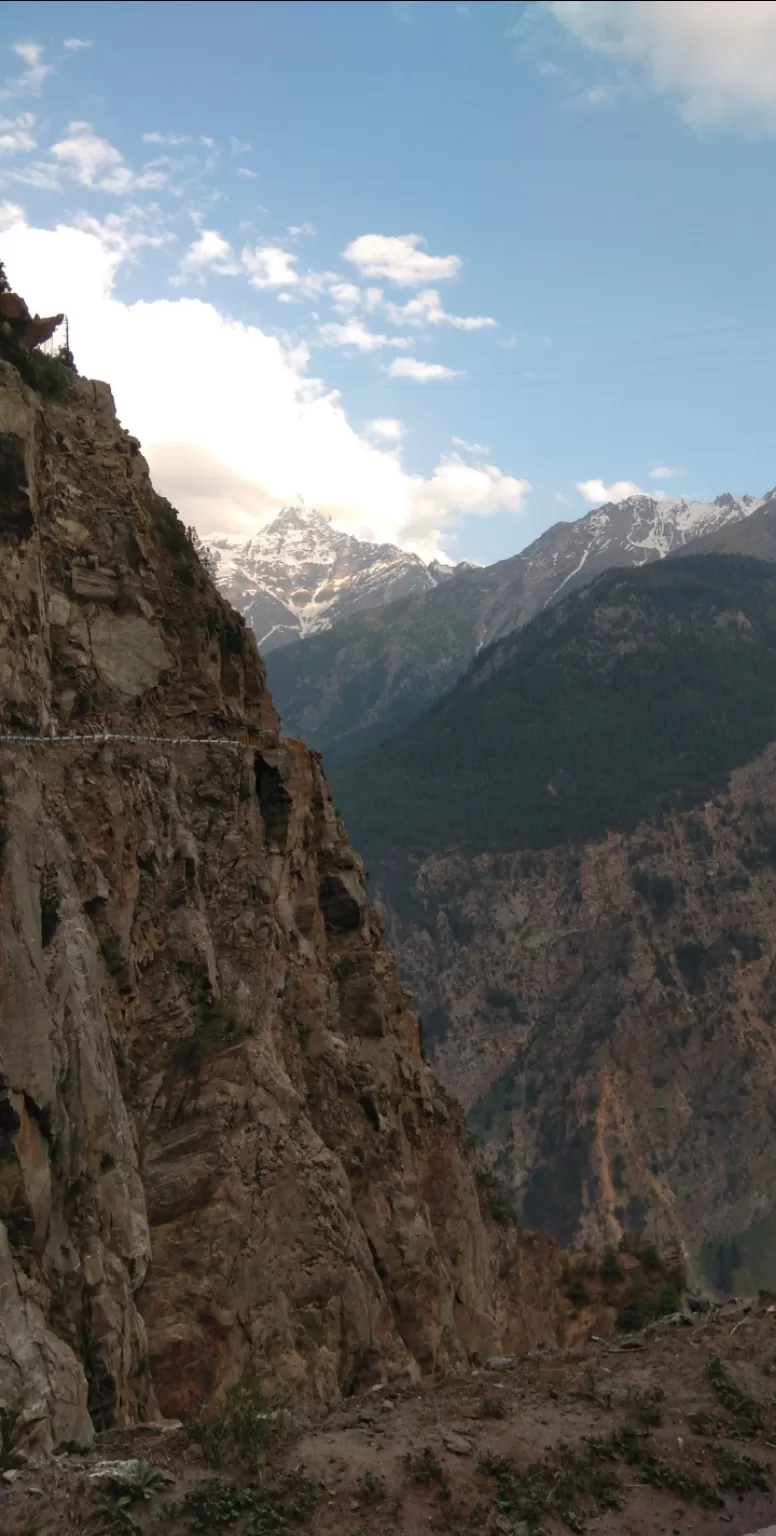 I was supposed to be in Kaza by day 3 via small tour of Chitkul and if that wasn't possible then at least reach to Nako village. But I couldn't make to either of my plans.
While going to chitkul from peo, we've to go back on the same highway that we took to reach peo from shimla; I kept wandering in the city itself for about 1 hour thanks to google maps. Later on with the help of some locals I finally found my way out of peo to chitkul. Even though chitkul is only 55km from peo, it'll take around 3 hours to reach there considering the road condition. I finally reached chitkul at 01.30pm and thought of leaving at first but later got so attaché to the beauty of nature that I ended up staying there overnight.
Chitkul is small village on Indo-China border, situated along Baspa river. It gives a pleasant feeling of sitting beside the river, watching the snow clad peaks far off and let yourself get over all kind of worries and anxiety. Till now I was free of those anxiety too which was stopping me from starting the ride. Now I was just enjoying the scenery of chitkul not thinking about anything, not even of spiti.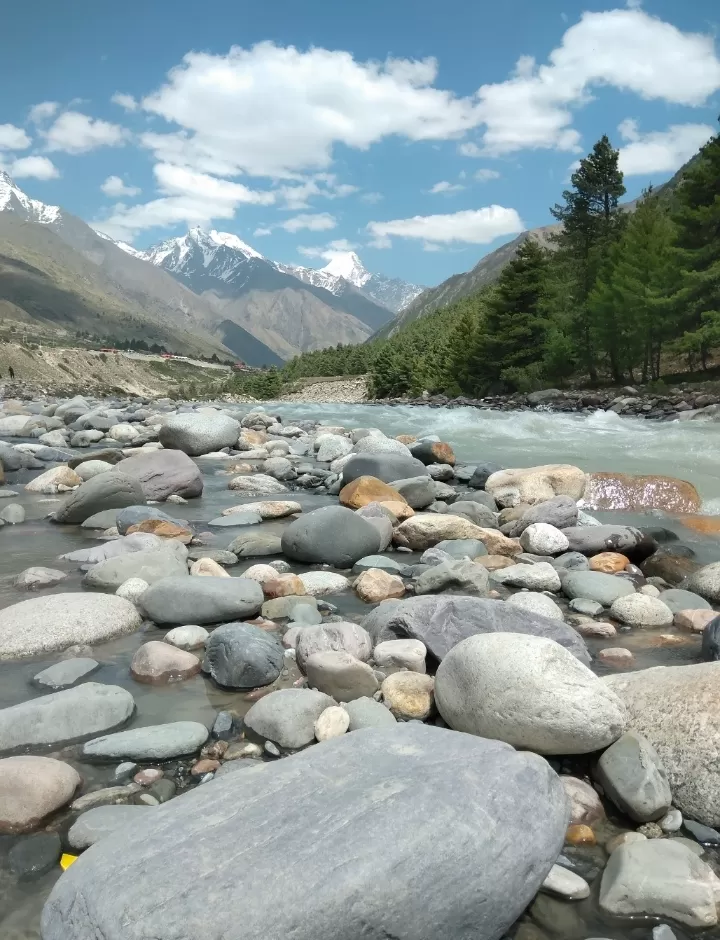 The day was finally here. Today's destination was Kaza, the main town of Spiti Valley.
Let me set a little background of why this was so important for me , I've never thought that someday I would be making a trip to such far destination (even though I have travelled beyond the country border solo before, this was different) that too solo on my own bike. Even though I've been to so many places alone, this was still giving me chills. And now Spiti wasn't just a destination for me it was an experience that I thought would give me lessons about myself in the form of my limits, my skills, my courage and my inner self. I've delayed this trip for so many days just because I thought I weren't mentally prepared to do it or something wrong can go there and now I was about to be there in few hours. The road till now was very enjoyable and very clean with brilliant views. The journey I knew wasn't going to be easy anyhow.
So I started from chitkul at 6 in the morning, ate breakfast a little ahead and took off for further ride. Keep track of your fuel while being here because from chitkul to kaza there is only one petrol pump and the one available in kaza sometimes go off due to any reason, so always have some extra fuel in case anything goes wrong. The ride is about 210km from here and it is full of high mountain roads, a scenic ride but not always easy. There comes a 17km patch of off road just ahead of Nako village called "Maling Nala" and it is one of the most dangerous roads to drive on, so be safe. Nothing comes before your own safety.
The last 200km will take you around 9-11 hours, so leave early and take your time. Don't ride or drive in any kind of rush.
Now there was no going back from here for me as I left for Kaza, taking a lot of pictures and videos enroute. My mobile holder broke while on the way to chitkul so I couldn't make any videos while riding and had to take more than usual breaks to capture the beauty. You realize how remote Kaza is only when you drive all the way to there, it's about 100km from Nako, which itself is at staggering altitude. But finally it was here and I couldn't do anything but wonder at the beauty of it. It is a cold dessert and seems like a land out of Mars with some small houses in it and a river flowing nearby with high mountains and clear sky, which glitters in all its beauty at night, making way for possible sighting of Milky-Way. It was more like a dream for me.
Being remote location lodging can be a little costly here than other places but you are not going to repent over that while being here. I took an evening tour of local market, searched through all the eateries, cafes, bookshops, ate a heavy dinner finally after 4 days and slept for a while in the anticipation of next day.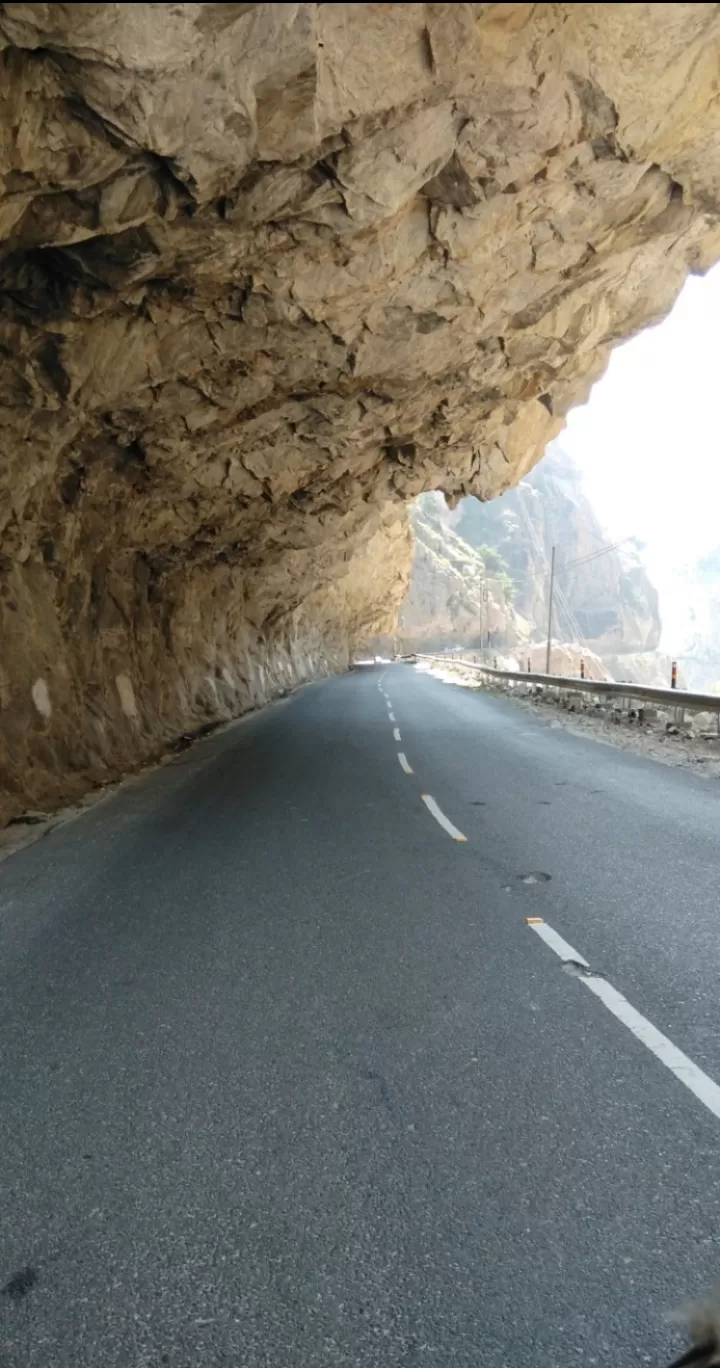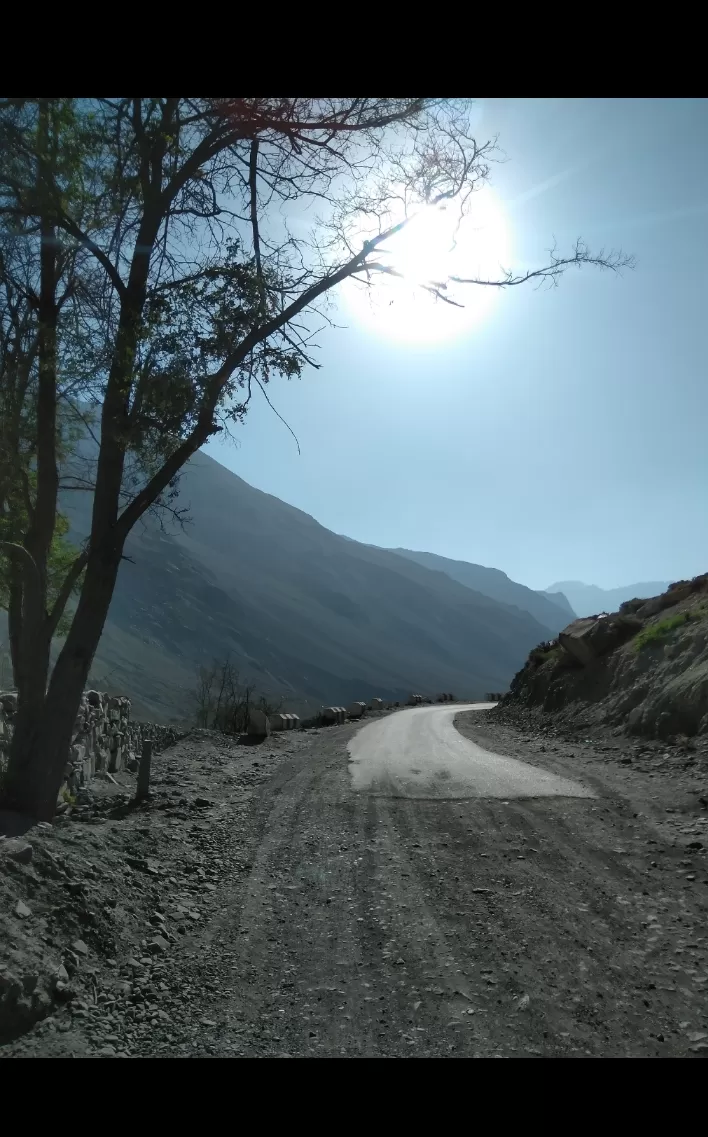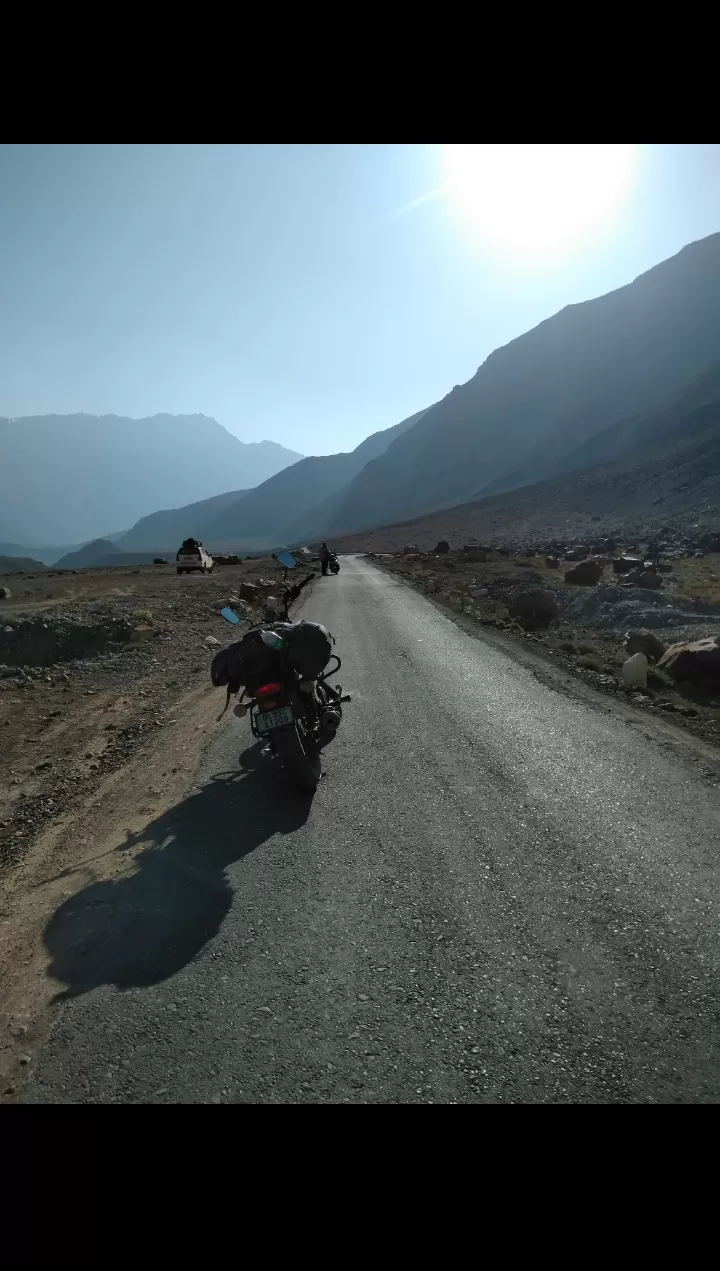 Be here in Kaza as long as your time allows you to. I didn't have enough of it so I went for other local places to visit here. My most awaited destination was Key monastery, just 16km away from me now. So I went there first rested my body and my mind there for few hours then went ahead for Chicham Bridge (Asia's highest bridge), Kibber Village, Hikkim: where world's highest post office is situtated and then to world's highest village, Komic that is connected with motorable roads at 4587m or at around 15,000ft and finally to Langza Village where famous Buddha statue is there and is also well known place for astrophotography.
All these places are situated near to each other and you can decide to give them time as per your own choice.
Reaching all those places wasn't only about travelling or boasting of at what altitude I've ridden my bike. This time, it was also a measure of my courage for me as to how far I could go on my own. What would happen if I cross my limits this time? And if at any given time you seem to ask yourself this same question then without further doubting your capabilities just dive right in to find out what will happen as there are wonders lie ahead in order for you to find them and transform yourself.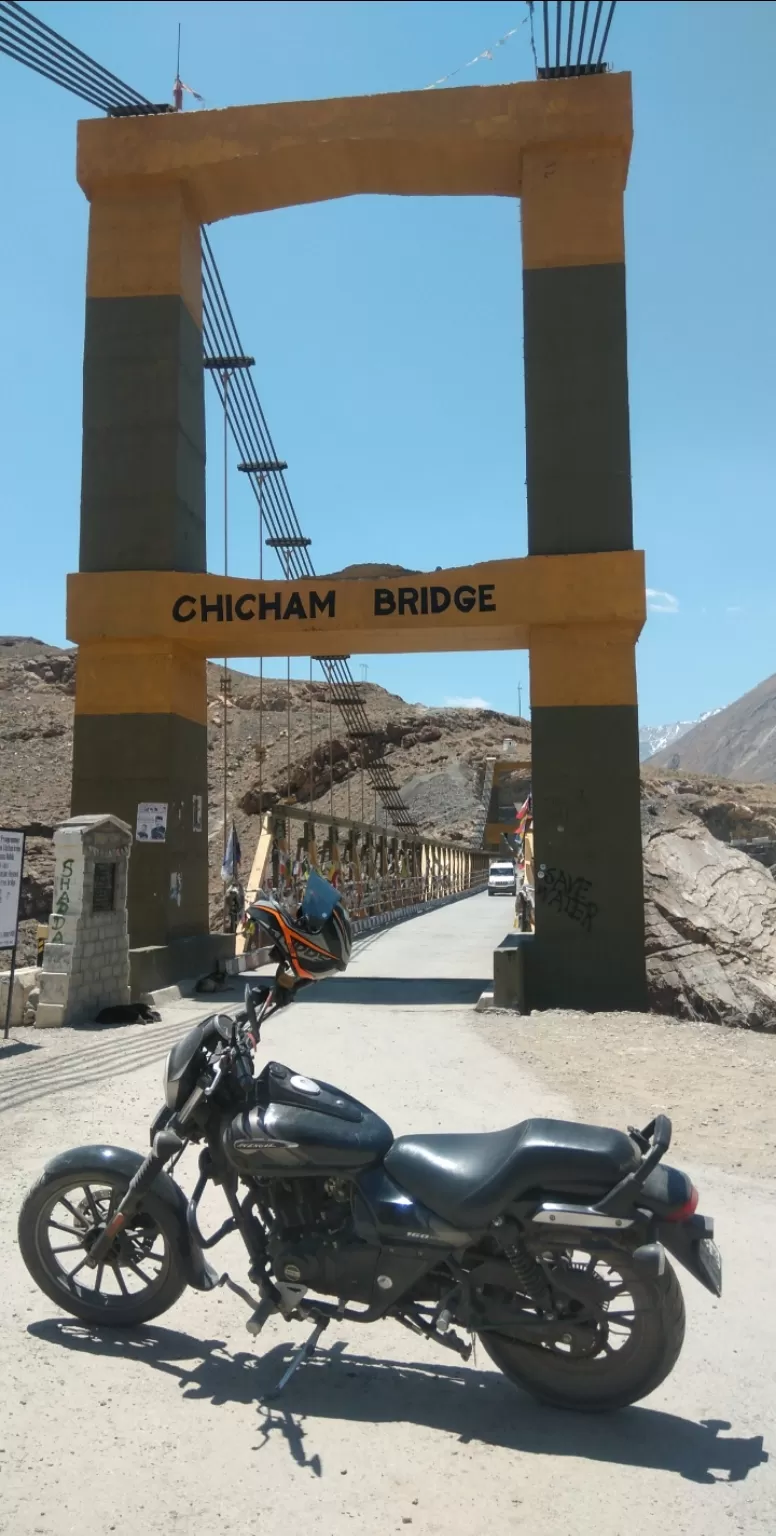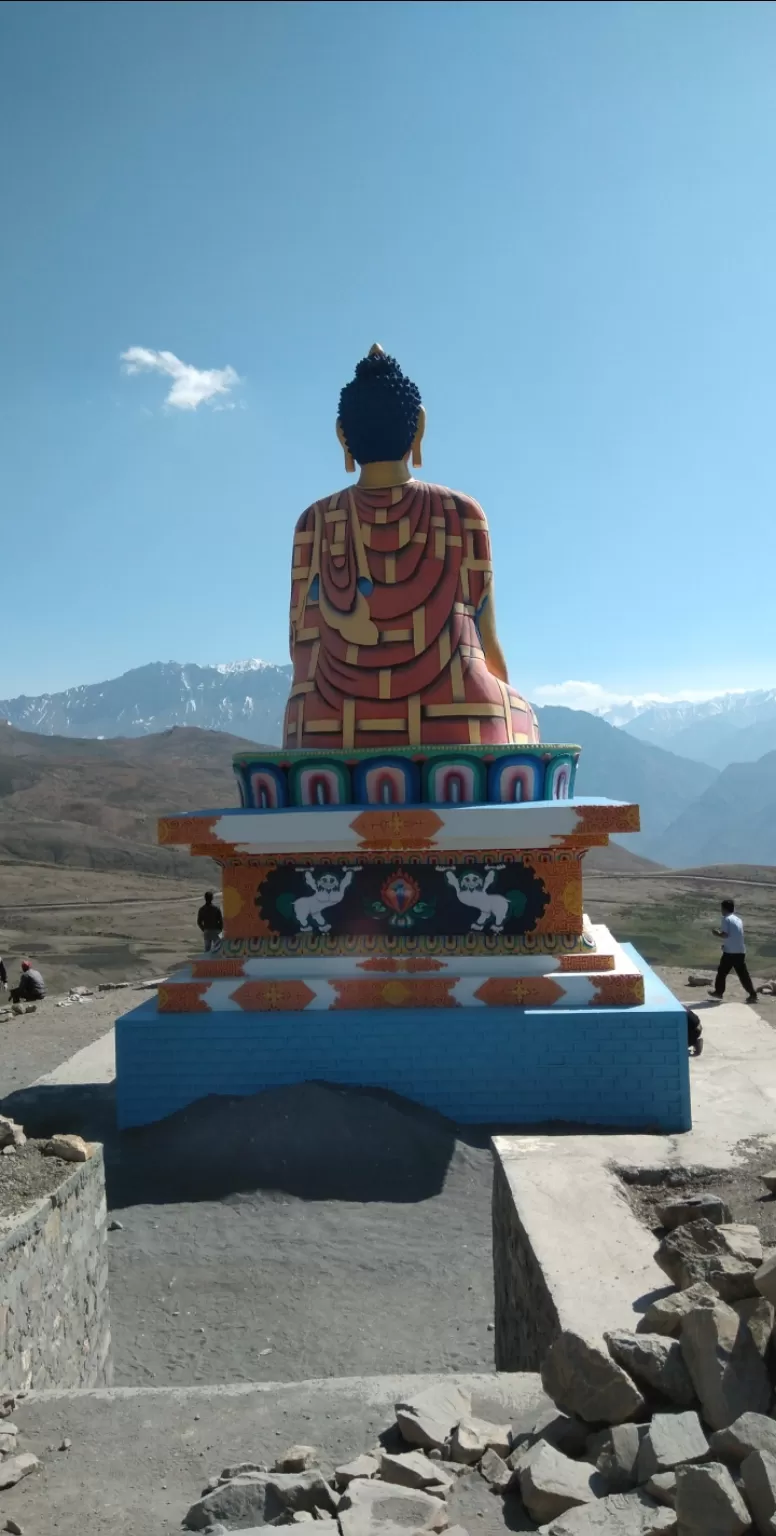 I chose to make a way back home as I was little short of time and a little tight on budget. Today I had to ride 187km to Manali via Kunzum Pass; the highest motorable pass of himachal Pradesh.
As far as I have read, today's ride was going to be the most difficult ride of this whole trip and all for the right reasons. Even though the distance was less there was no roads whatsoever for 78km between losar and gramphu in Lahaul valley. That is the off-road patch that will test your riding/driving skills at its best. You'll remember it for the rest of your life when you come out of it and definitely going to take break after it ends. While starting from kaza, google maps said the journey is of around 5 hours till Manali but the patch is so rough and dangerous that it alone took me 6 hour to complete. with nothing but rocks, stones and dirt carved road which sometimes along with the water crossings make it more tougher to cross and steep gorge right beside it with no safety barriers makes it one of the most dangerous roads of india. This road is open only for 3-4 months in a year rest all the time it is closed due to snowfall. The road leading to kunzum pass is very steep and full of hairpin turns and disaster lies here just few inches away but this comes with the gift of out of the world views that will be spreading in front of your eyes as you lead ahead slowly and steady.
The whole ride took me around 11 hours to complete and severe neck cramp due to all the off roading but in the end it was all worth it.
When you'll complete this ride for the first time, you will realize how big achievement it is for you as this is more about journey and less about destination. More than the journey of Spiti it'll be the journey of your inner self telling you how much more is there to achieve beyond the daily life of work and stress. More than about reaching Kaza, I was happy that I did it alone and took command of my mind rather than my mind taking command of my actions. It made me realize that whatever I can think of I can achieve it, if only I convince myself to start for it and try out with the all the courage I have in me because then and only then I'll realize that I have much more courage in me than I know of.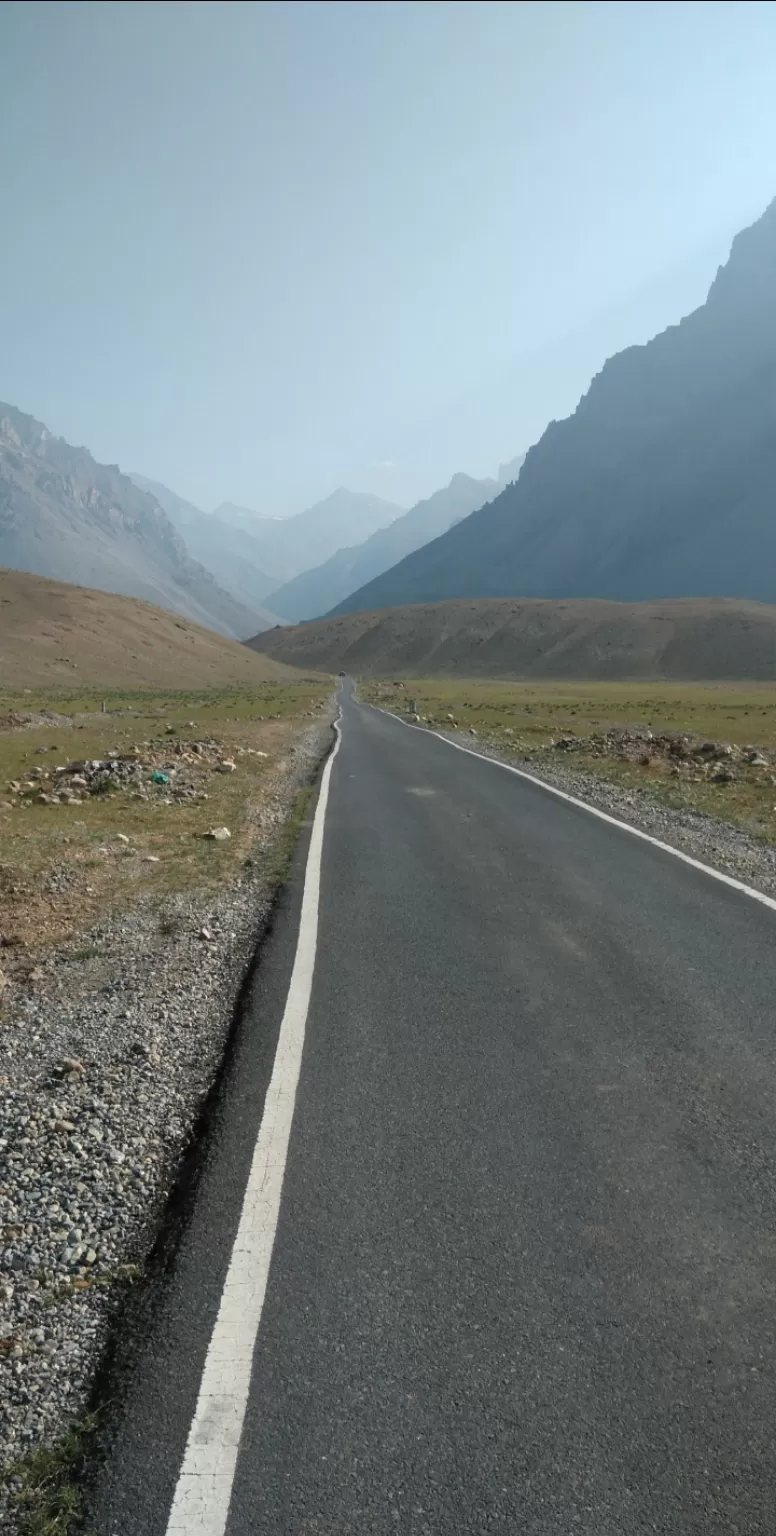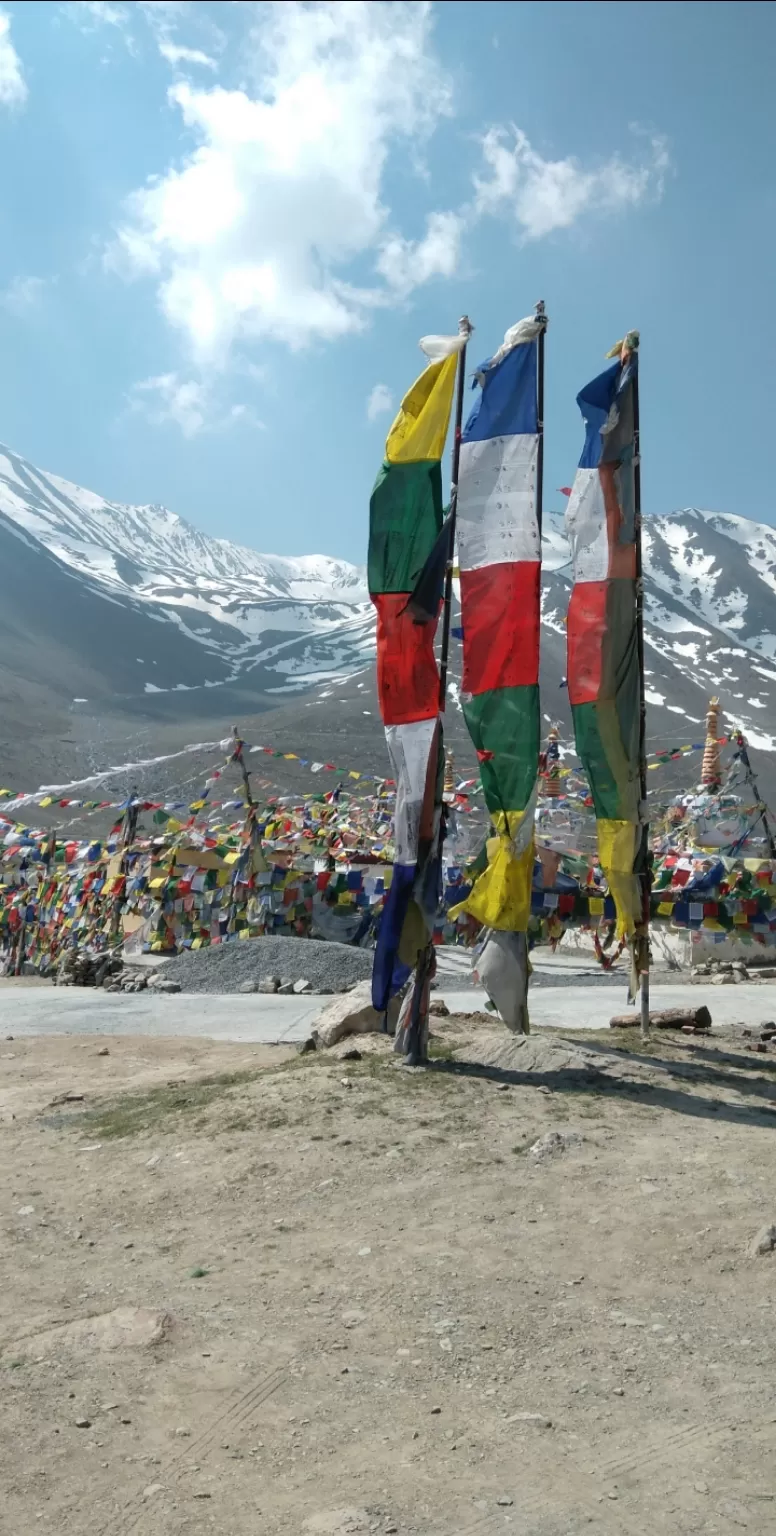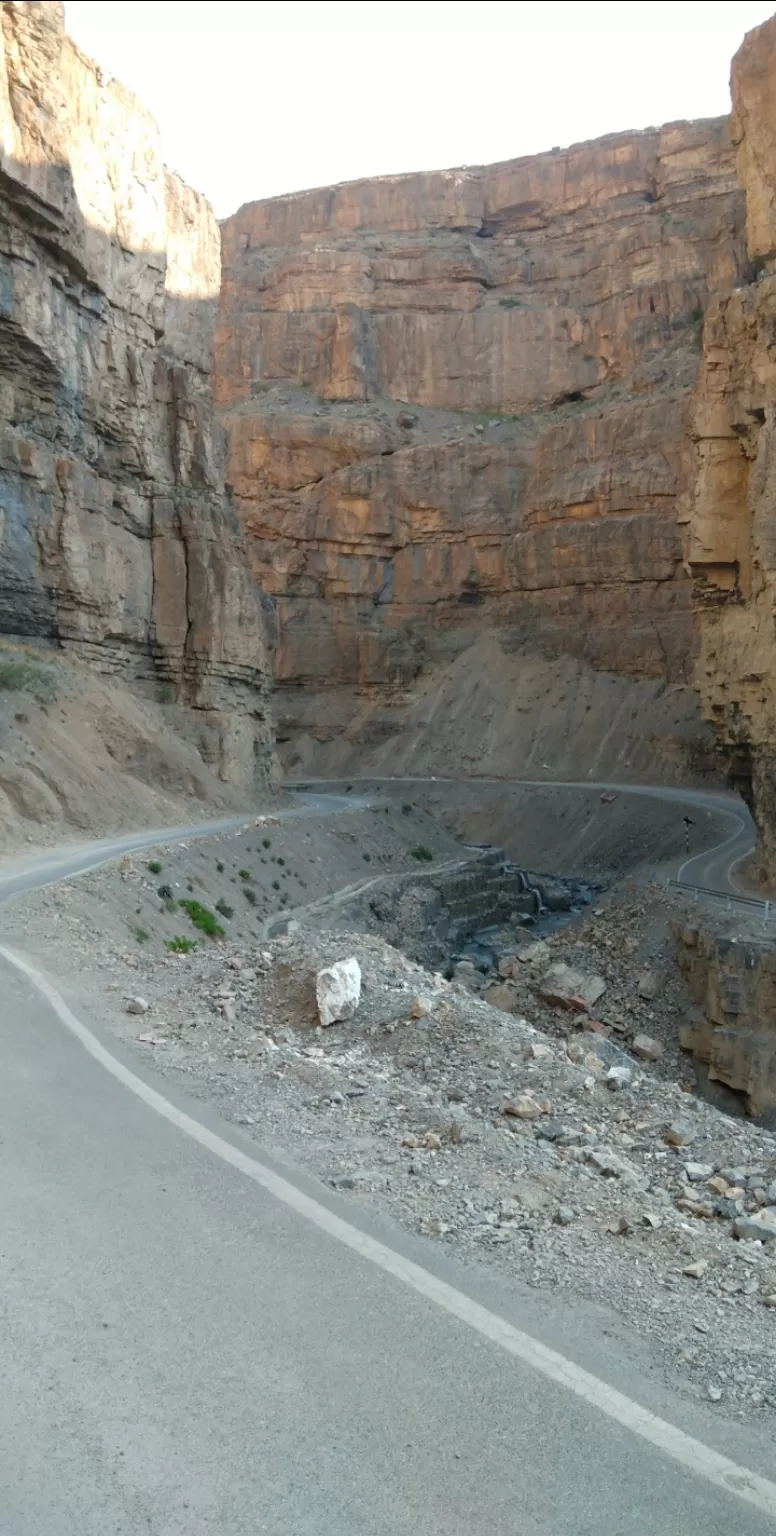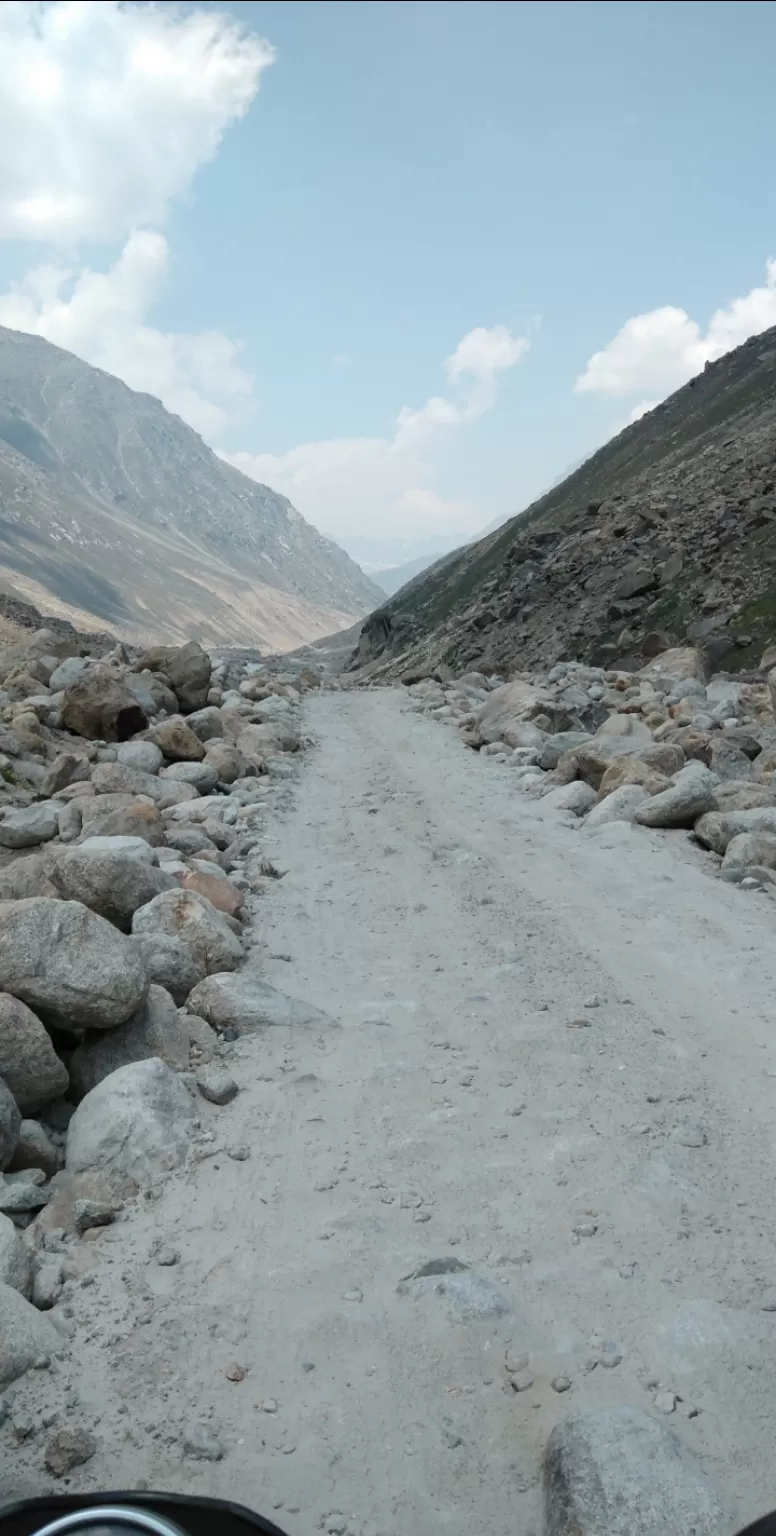 When I made my way back to manali, I wanted to stay there for few days but left only after a day of visiting nearby sites and market. Manali is a chill place to stay in for few days amid nature and not too far off population and it also present beautiful nearby villages that will soak you into its beauty and calmness. Mountains for me are more like meditation places where I don't have to sit in a mat with closed eyes for hours, it just gives me relief while being there and doing normal chores. Though everyone has their own different perspective with mountains, they somehow fill me with positivity, hope, and truthfulness about myself.
While riding back to Chandigarh, marking this as the end of the Spiti ride, at first I thought the day will be an easy ride with normal roads but it turned out to be difficult due to complete different scenario. What happened was while 2 days back I was riding in Kaza in 2°c, which rose up in Manali to 19°c in day time and now just 100km ahead of Manali the temperature was staggering 41°c and my body couldn't take the sudden change in temperature and I had to take 4 breaks just in 150km and had to continue my ride further with small water breaks.
Ending the article I want to share the map of ride that I planned in case you need help with that.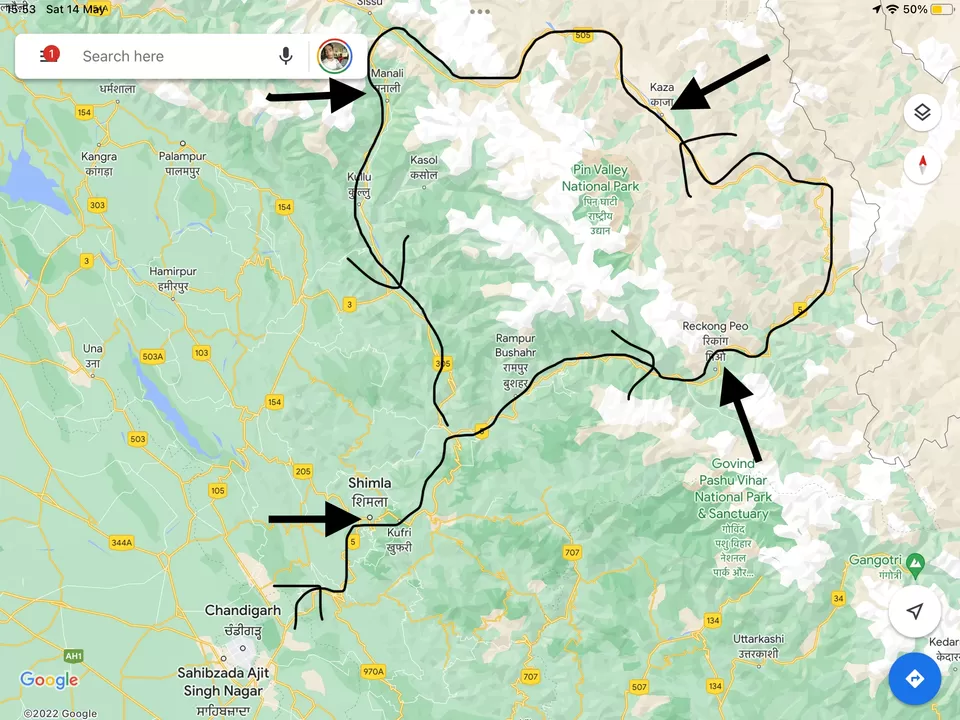 Though one can argue here as I didn't explore whole of Spiti has to offer and has left few places as Gue monastery, Kibber wildlife sanctuary and few others but I would say that wasn't the only ride that I made to Spiti, I'm definitely coming back here again.
Travel more, travel safe!!!