Known by some as the best waterfall in Thailand, the Khun Korn Waterfall is located 30 kilometers outside of the city of Chiang Rai, Thailand, in Khun Korn Forest Park. Although there is an abundance of natural wonders and beautiful waterfalls throughout the country, this is one of the ones you should not miss. The Khun Korn Waterfall is the tallest in Chiang Rai and is 70 meters in height. Considered worthy of a half-day trip, the hike is approximately 1.4 kilometers from the car park where you reach the point of complete serenity and natural wonder that is Chiang Rai's tallest waterfall.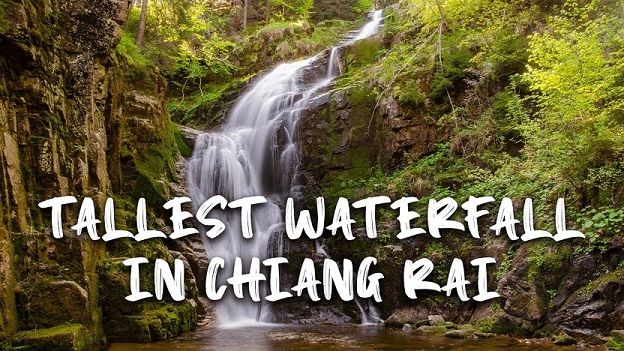 Directions & How To Get There:
The Nam Tok Khun Kon Forest Park can be easily reached, to get there go south of the city on Highway 1211, after about 18 kilometers turn right and then take route 1208 for a further 12 kilometers. Alternatively take highway 1 from Chiang Rai for 15 kilometers, turn right, and continue on to route 1208 passing Wat Run Khun Temple for 18 kilometers.
Opening Times & Entrance Fees:
Opening hours are 8.00 am to 5.00 pm. Entry to the Khun Korn Waterfall is free.
Exploring The Khun Korn Waterfall
Along with your walk, you will have ample chances to photograph the tropical forest and its butterflies and flowers. Huge bamboo trees fill the scenery, and the path to the falls is easy to find. Many hikers say that the walk itself is worth making the trip, and the waterfall at the end only adds to the overall ambiance of the adventure.
Once you have reached the top of the steps you will feel the fine spray from the waterfall. Down to the base of the falls, you may get completely soaked. Since the climate is always warm the spray may be just what you need for your return trip! There is a waist-high pool at the foot of the falls, and you can enjoy sitting in it to cool off if the fine spray didn't do the trick.
Although you may not be able to hear anything but the falls, you can explore the immediate area and find private places to sit and relax. For instance, if you go underneath the falls, there is a little rocky cave. Along your way to the park, you will find a variety of dining options. Enjoy an hour or two at the waterfall and then reward yourself with a nice lunch or afternoon snack.