From a small city-state to an exotic, sought-after travel destination, Singapore's transformation has been quite spectacular. Today it stands as the epitome of modernism and technological advancement. But that's just the tip of the iceberg. The balance between modernity and traditional values is perhaps one of the most striking features of Singapore. Here, you will find a heady mix of various cultures and cuisines, and attractions ranging from historic temples and colonial buildings to ultra-luxurious shopping malls and mega theme parks.
Watch Naveen Kasturia and Veer Rajwant Singh create memories on the glitzy streets of Singapore in this cool web series:
And to top it all, there's also a creative side to Singapore that is not explored very often. If you're a culture fanatic, looking to explore the vibrancy and uniqueness of this island state, then these beautiful boutique hotels are the perfect place to start.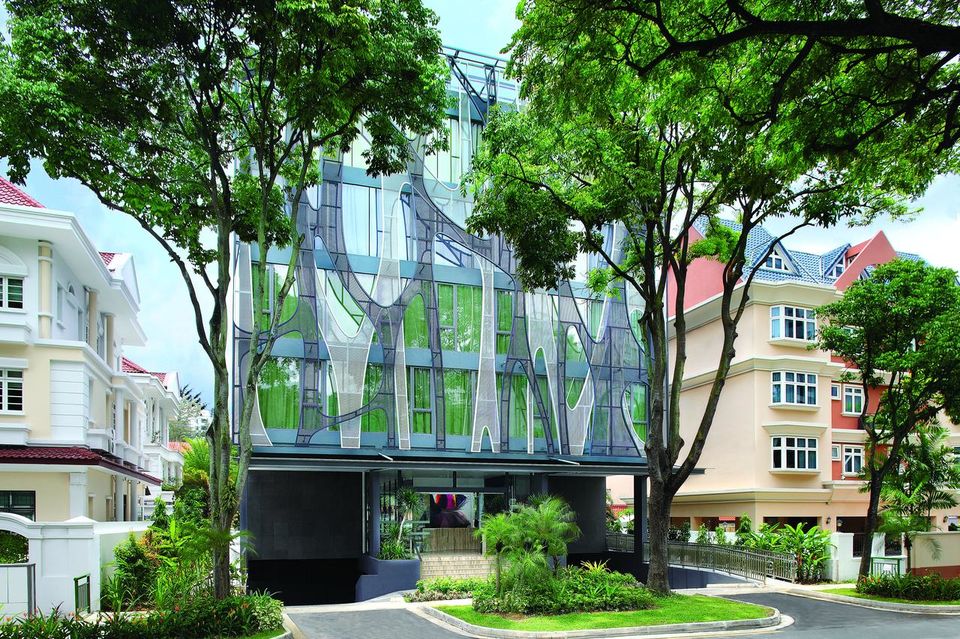 Where:
145A, Moulmein Rd, Singapore

An urban oasis for the culture-loving, sophisticated traveller, The Forest by WANGZ is located in the heart of Singapore. The property's architecture is inspired by natural landscapes and sculptural forms. This place is perfect for art lovers as it showcases specifically commissioned artworks, which keep changing periodically. Great care has been taken to incorporate art into almost every element – from the animated platforms in the common areas to the bold designer furniture and vibrant sculptures in every apartment, you are quite literally surrounded by art.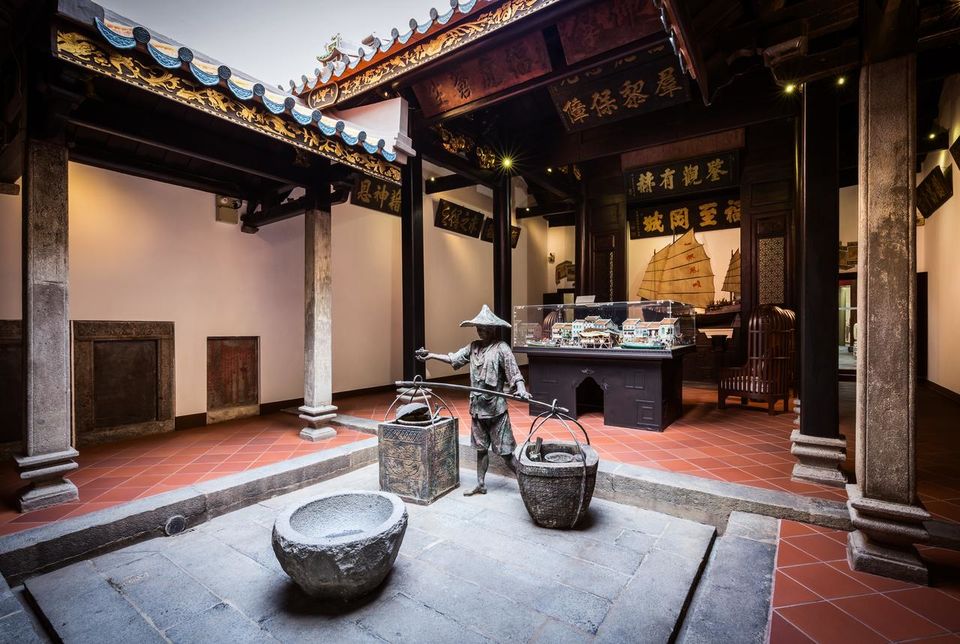 Where:
76 Telok Ayer Street, Singapore

AMOY is a history-lover's paradise. The hotel's design tells the story of Singapore's trading past. It is inspired by the people of ZhengZhou, who came by sea from China in the 1820s to settle in Singapore.
Located in Far East Square, AMOY has 37 differentiated, shophouse-style rooms that give guests a cozy stay. The hotel prides itself on its personalised service, so much so that they claim to know every customer by name. The hotel's entrance, which also has a museum, is inspired from one of the oldest temples in Singapore. Here you also get to experience the charm of a heritage conservation project, brimming with cafes, restaurants and pushcarts with tons of food options.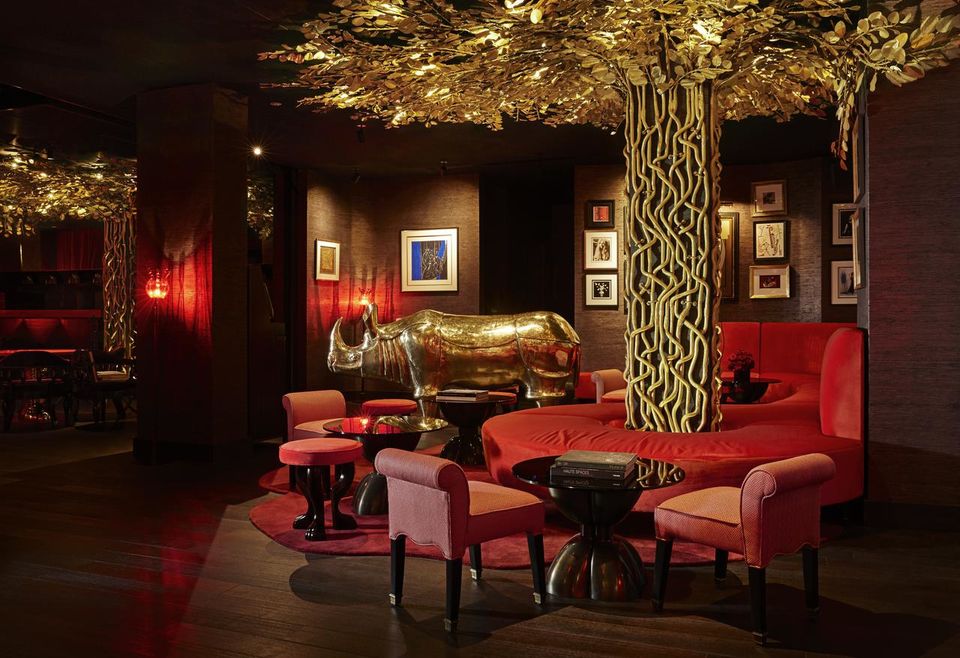 Where:
39 Syed Alwi Road, Singapore

Designed by Jacques Garcia, a French designer, Hotel Vagabond is a new boutique hotel in Singapore's Little India. This is another place that has a strong emphasis on the arts.
The lobby space is alluring with dark lighting, bold decorations and red velvet drapes. You will notice iconic installations like a life-sized golden elephant, a brass rhinoceros by sculptor Franck Le Ray, and a ceiling canopy of gold leaves. Even the lift has a quirky video art installation that ties the eclectic ambience together. The 41 rooms are similar in style with a maximalist approach. Every wall is decorated with pictures and richly hand-painted screens. The hotel also has a Vagabond Salon, which showcases performing artists while you sip on cocktails and order burgers.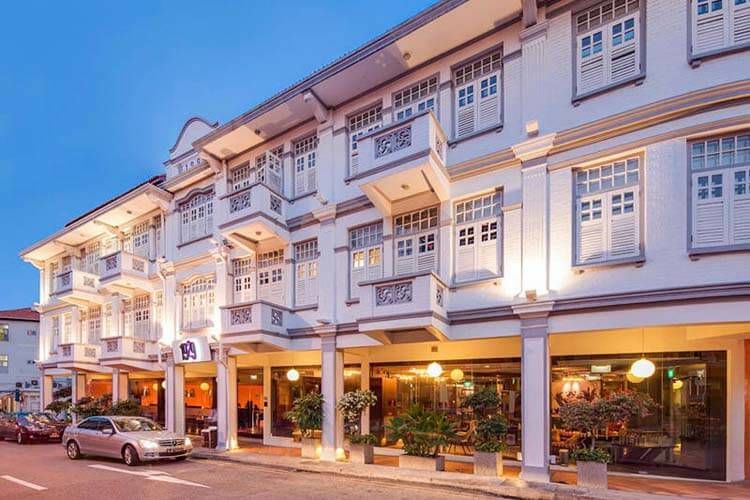 Where:
50 Keong Saik Rd, Singapore

Hotel 1929 is a heritage building that has been turned into a boutique hotel. While the architecture itself tells the story of yesteryears, the hotel has made an effort to preserve some of the special elements of the heritage structure.
You can take a dive into Singapore's rich history as you pass through the hotel's corridors, which showcase black and white photographs of the country's past. The guest rooms, however offer a stark contrast to the historical construction in their interior decoration. They are hip and stylish with a splash of colours that brighten up each space.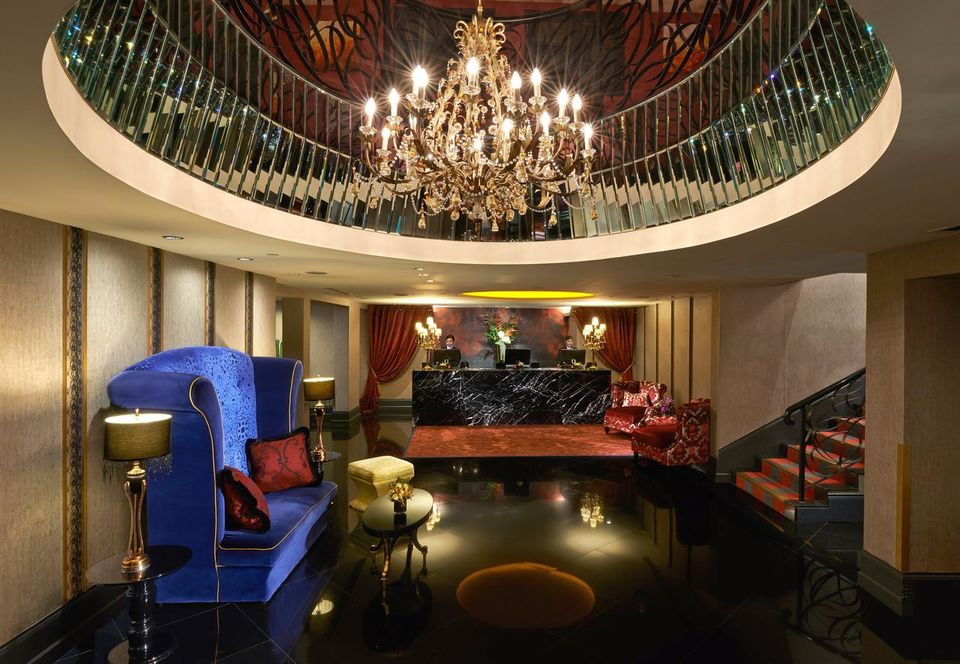 Where:
33 Erskine Rd, Singapore

Known for its iconic location near Club Street along Erskine Road, The Scarlet Hotel is considered the first luxury boutique hotel of Singapore. It is considered a very highly recommended property if you're looking for a unique stay. The hotel has been restored from what were once a row of Chinese merchants' houses dating back to the 1860s and an Art Deco building from the 1920s. Today, it is one of the coolest places to stay in Singapore.
The interiors are in bold, rich colours and each room is uniquely designed to give a special experience. There's a rooftop bar and a private outdoor jacuzzi that add to the true-blue boutique experience.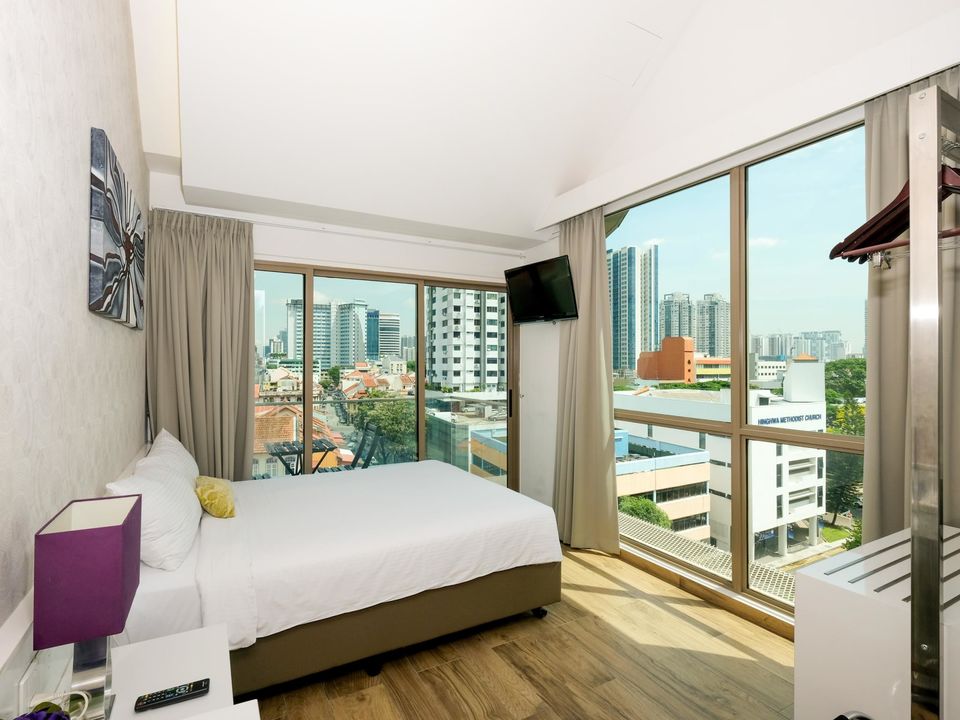 Where:
8 Townshend Road, Singapore

Located at the heart of Townshend Road, J8 Hotel is unique because of its 20th-century architecture. Originally built in the early 1900s, the hotel's building used to be lined with shops and workers' quarters. The hotel's current state is a result of the restoration efforts of the old areas in Singapore. As a result the old architecture has been preserved and then intertwined with newer elements to create a modern yet classical experience. The location makes it all the more alluring. You not only get to stay at an iconic site but also explore Singapore rich culture around.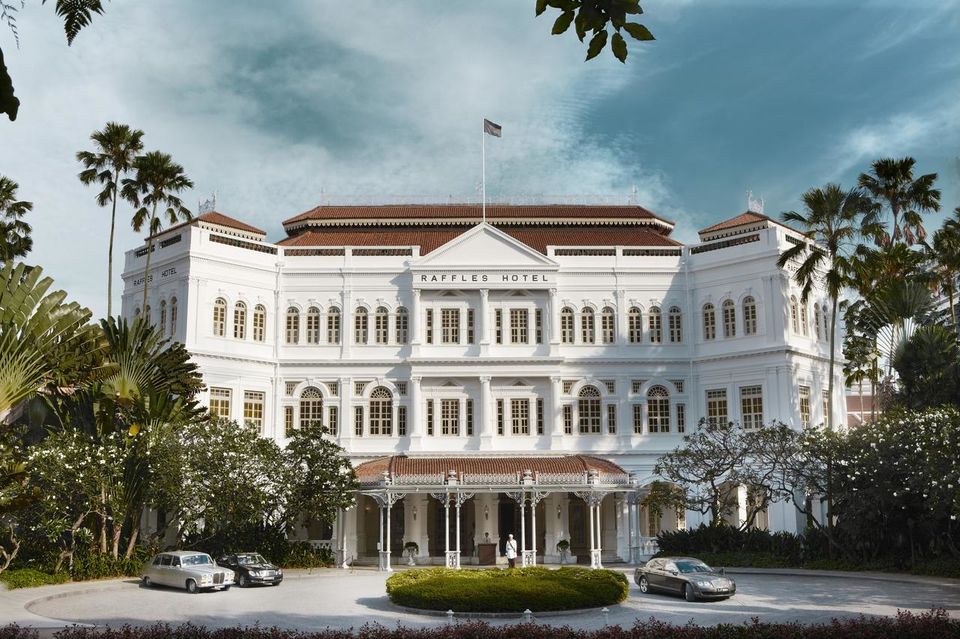 Where:
1 Beach Road, Singapore

Raffles Hotel is a place for the true history enthusiasts. Named after the founder of modern Singapore, Stamford Raffles, the Raffles Hotel has been an inspiration for historians and literary luminaries across the world. From Rudyard Kipling and Joseph Conrad to Charlie Chaplin and Murakami, Raffles has inspired many.
It is a colonial style building, which was established by two Armenian brothers in 1887. For over 125 years, the hotel has been associated with class and luxury. What started as a 10-bedroom colonial bungalow and has now grown to house 100 exquisite suites.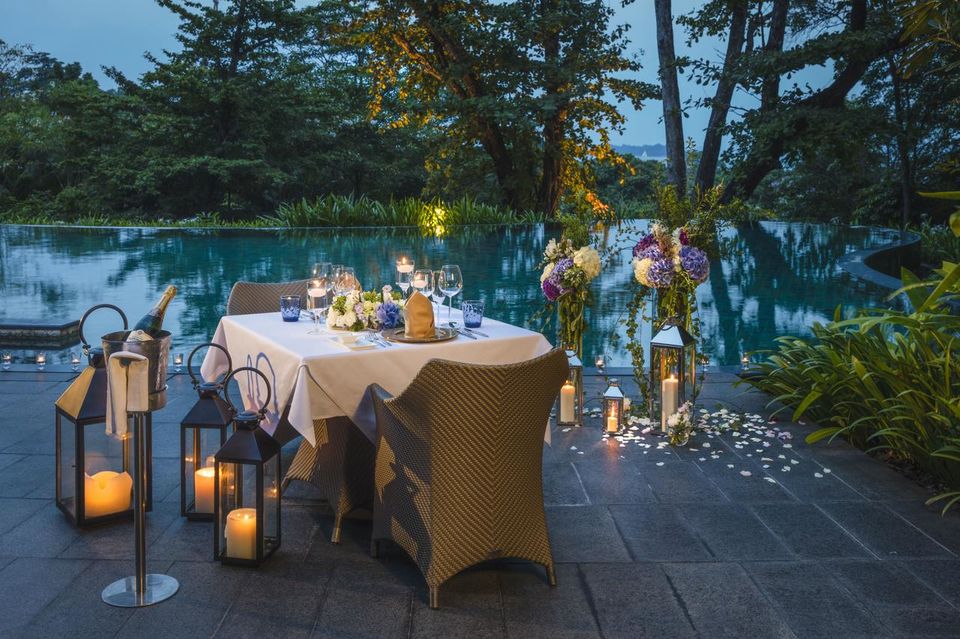 Where:
1 The Knolls, Sentosa Island, Singapore
The Capella's artwork catch your attention from the private driveway, which is adorned with a masterpiece of a sculpture by Bernar Venet. It was specifically commissioned for the hotel to form the Chinese symbol for the heart.
Once you enter the hotel, you will be greeted by an outstanding collection of paintings in the reception area. Besides the permanent collection, The Capella also holds pop-up exhibitions of artworks from collectors and galleries. The buildings are a mixture of colonial architecture with modern art with their curved walls. They are set along a vibrant rainforest with the South China Sea visible in the backdrop. Now if that isn't an art story, what is?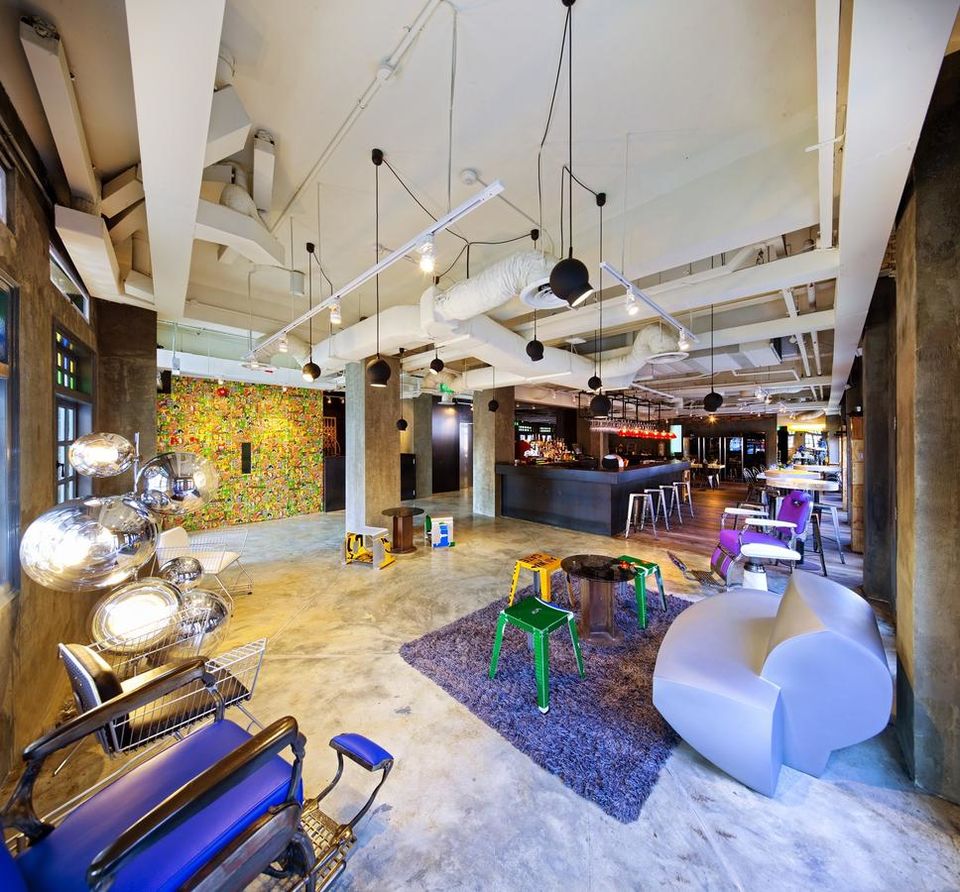 Where:
2 Dickson Road, Singapore

With 29 unique rooms in Little India, Wanderlust is the result of four Singaporean creative firms coming together to put together a hotel. The place is an eclectic combination of vintage accents and industrial design to create an effortlessly chic look. Each of the four design teams were given separate floors of this former 1920's schoolhouse to work on.
While the second floor is decorated in a single neon colour, the third floor has a black and white theme with stencilled art installations. The top floor is perhaps the funkiest and looks like something right out of a psychedelic video or art film. The rooms are whimsical if you want to know what each one looks like, you will have to stay at the hotel 29 times to experience them all.
What aspect of Singapore's culture will you like to explore the most? Share your stories on Tripoto and don't forget to watch 'On My Own in Singapore' on Tripoto's Youtube channel.
In association with Singapore Tourism.
Frequent searches leading to this page:
places to visit in Singapore for couples, Singapore tourism package from India, things to do in Singapore on a budget, places to visit in Singapore for couples, best places to visit in Singapore, Singapore family tour package with airfare, things to do in Singapore for couples