COLOGNE CARNIVAL PHOTO STORY
New road and new experience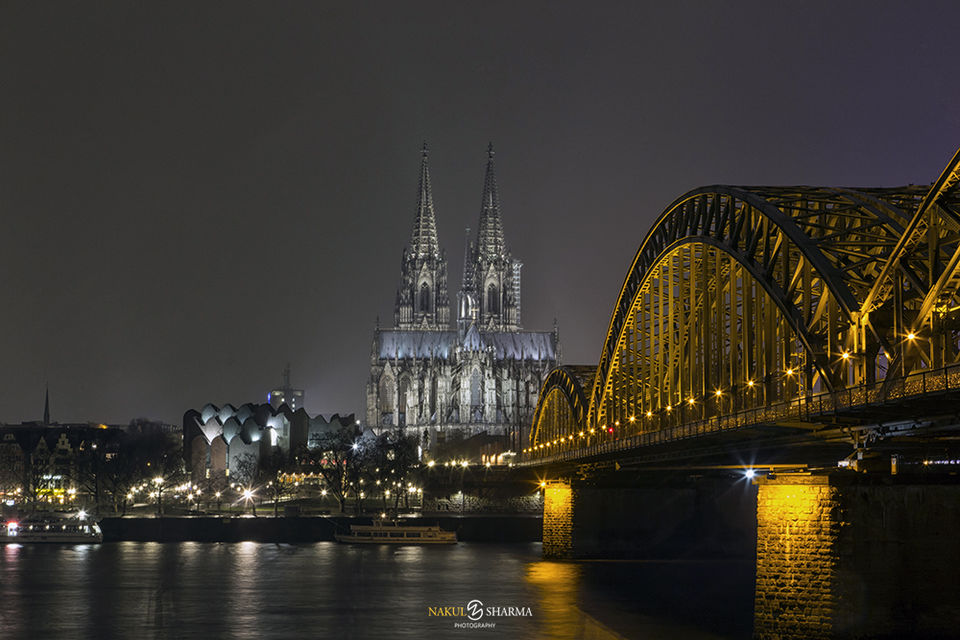 I have never ever dreamed in my life that one day my traveling and Photography take me to such an amazing journey and destination.
It all started in 2009 when I had started traveling in India professionally and since 2014 doing my solo personal world tour. Recently I made a trip to Iceland and did a photo story on Northern lights. This was the first time that an Indian guy did a professional northern Lights story in Iceland. When I came back I posted my story on Tripoto: where I usually post my all travelogues and Experiences.
My Iceland had got the real attention of TRIPOTO Admin and they gave me the opportunity of lifetime. The opportunity that I had been waiting since many years (one Sponsored trip).
In association with Germany tourism INDIA, I was sent to Cologne (Germany) to capture the carnival and make a photo story out of that. I have never ever been to carnival before that so it had told myself that it would be new experience and new story. I had been waiting since long time to do the photography assignment in overseas and this was the right one for me. So I cancelled my entire professional project and went off to COLOGNE to live the Carnival.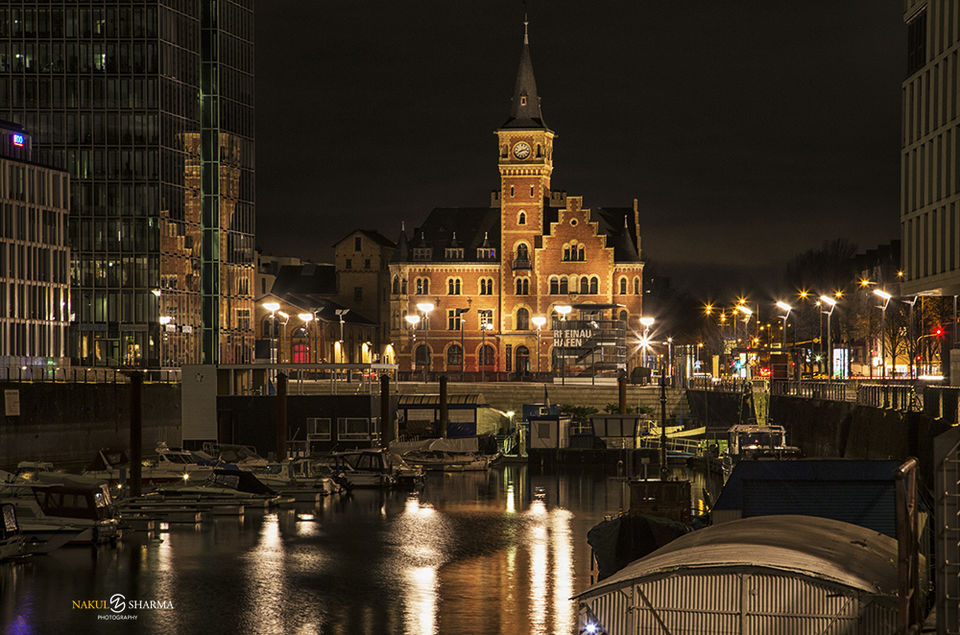 Cologne – I must say it's a beautiful city, amazing architecture and peaceful city. I reached in the evening and straight went outside with my camera and tripod without wasting the time. I was excited and motivated but moreover with the feeling that Tripoto and Germany tourism trusted on my work and passion so I need to deliver that best to THEM. I walked 6 kms that night exploring the city by myself with my camera and heavy backpack. It was great; city was so beautiful with lights and peace, met the people disguised in fancy dresses already for the big event next day. The whole ambience crazy and party wise and everyone were celebrating in their own ways, pouring beers, loud music, fancy dresses etc.….
COLOGNE CARNIVAL - Carnival has been celebrated in the City of Cologne since time immemorial. However, after the French Revolutionary troops left Cologne in 1814 and the Prussians took over, it was high time to "organize" the street carnival which, the new authority felt, was getting out of hand. Thus, in 1823 the "Festordnendes Komitee" was founded, the predecessor of todays Festival Committee.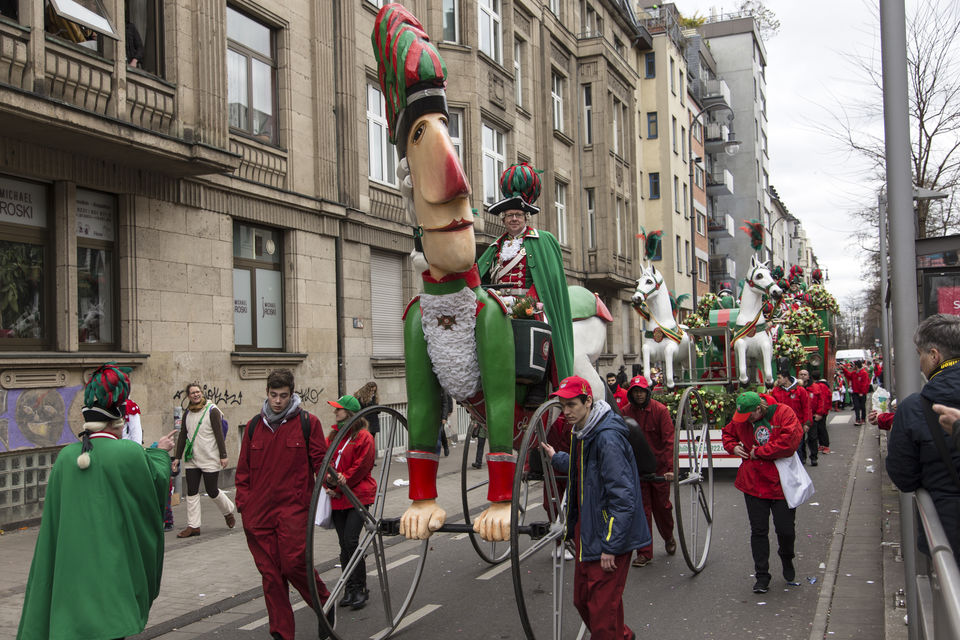 ROSE MONDAY- it's the main event of the Carnival in Cologne. But the highlight of the street carnival is Rose Monday with the march of "Cologne's Dreigestirn" or Triumvirate - the Prince, the Peasant and the Maiden - in the kilometre-long Rosenmontag procession going through the city.
I was told that it had started at 10am and 7kms walk along the chariots with the crowd. So I started by day at early morning prepared my all gears and equipment to shoot this adventure and new experience of my life. I have never ever done anything like this before, being as a travel and landscape photographer it was completely new kind of photography for me or very fast photography where everyone was moving and couldn't control the subject and the movements.
I was informed by the local guy that during this carnival the committee would start arrangement 2 months before and would distribute 1.5 tons of SWEET in one DAY. I was shocked by the quantity of the sweets and chocolates they threw from the chariots and distribute to the people. It was amazing experience and unimaginable also.
It is a colourful spectacle with sweets ("Kamelle"), little bouquets of flowers ("Strüßjer"), pecks ("Bützje") and over one million of spectators in fancy dress. All day the city echoes to the sounds of the Carnival battle cry: "Kölle Alaaf", which means, "Long lives Cologne!".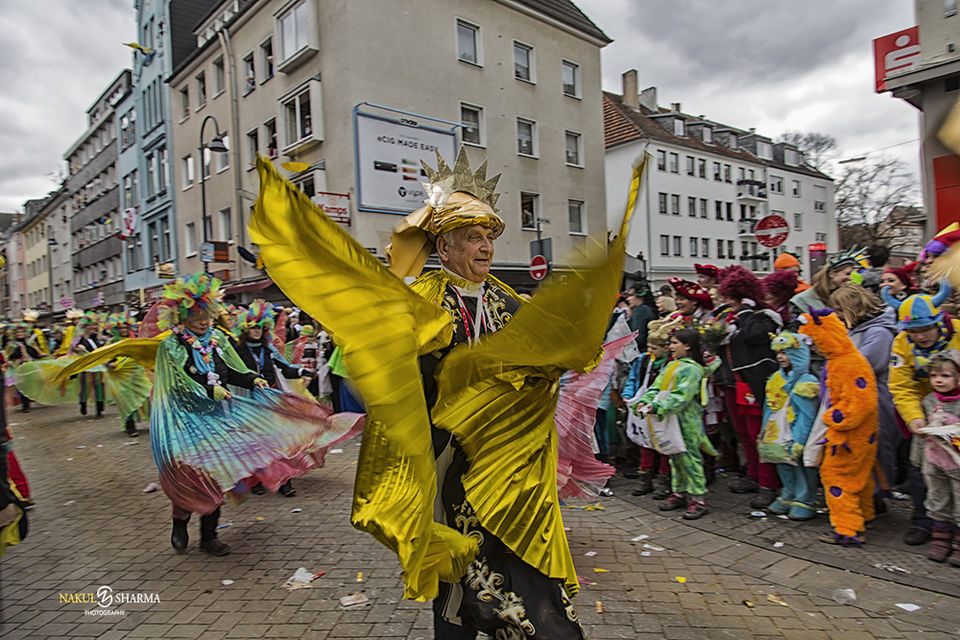 MY HOPEFUL MONDAY
The only word I learned on that day was " kamelle" means sweet .it was really hectic and hard day as photographer. The biggest challenge of this carnival for me is to find the best spots for the clicks and with 1 million crowds on the street you could imagine how crazy it was. After walking 3 hours continuously I had started feeling hungry and exhausted and at some point I had thought of giving up and would return back to my apartment and relax. It was so hard to move and run sometime along the carnival to get the clear shoots, pushed the people and find the spot and being in front of the row to get the clear view. I felt like I was in the war where I had to loose or win.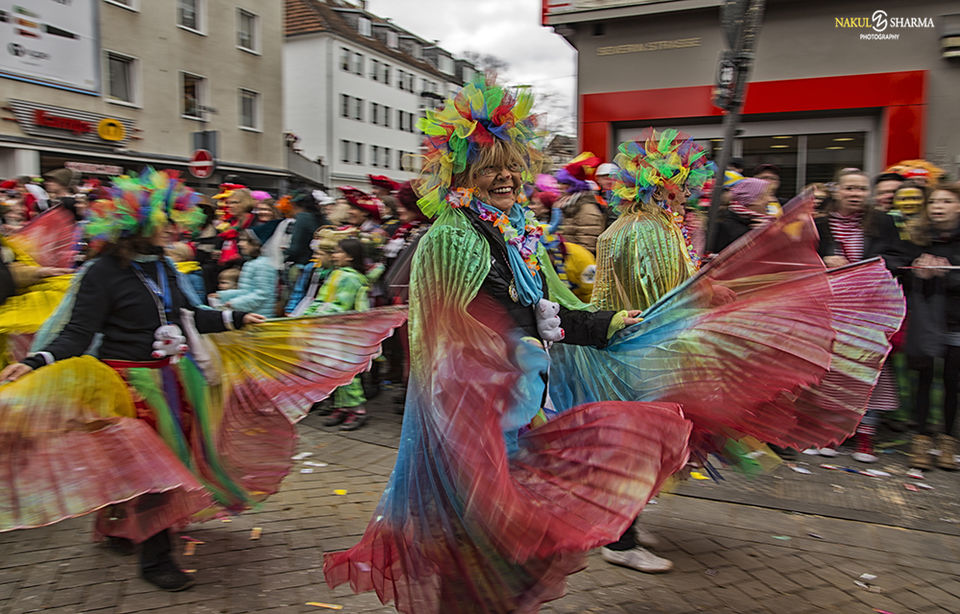 I told myself that I had promised some people to deliver the best and it was my first International Photography assignment so I couldn't let this go like this without any result. I hoped again and walked along the moving carnival with my heavy backpack of 8kgs to cover it up till to the end of the line. I was happy to finish it up till to the end and get some shoots also and moreover I was happy that I could keep my promise now and deliver the best to the People.
I was happy that I bring one more new experience and new world closer to the people through my photos.
Lesson of the Day- I learned one thing from that hard day.
JUST HOLD YOURSELF WHENEVER YOU ARE HAVING THE HARD TIME: THAT'S THE PART OF THE DEAL
Evening: the celebrations continue in halls, restaurants and pubs.
Carnival Tuesday - In the afternoon, parades in Cologne's suburbs with Carnival groups and societies in fancy dress. After the midday parades in Cologne suburbs the party goes on until at midnight, amid great weeping and wailing, the "Nubbel" (a life-size straw figure) is ceremonially burnt. I clicked more photos of the carnival on Tuesday and celebrated, this carnival is more quite and less crowded with kids and families. The local lady standing next to me told me. We brought kids here to give the sweets to others so that they learn to give not always keep. I was touched and surprised my this theme. I spent my whole afternoon clicking photos of kids and the carnival.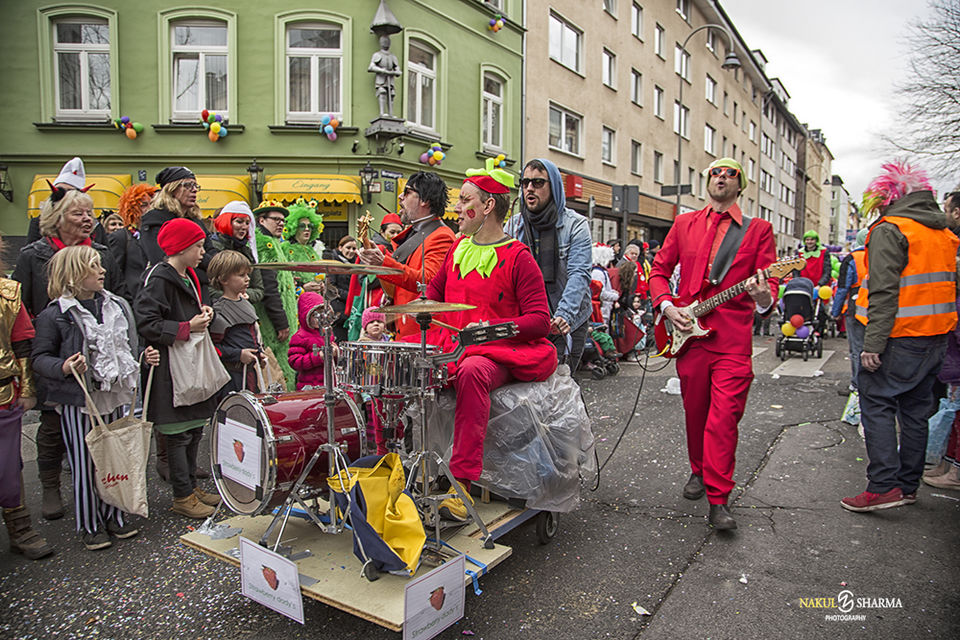 I had the great time in this city with so many new experiences and learning. Last evening in the city, I went outside to shoot the famous bridge of cologne and church.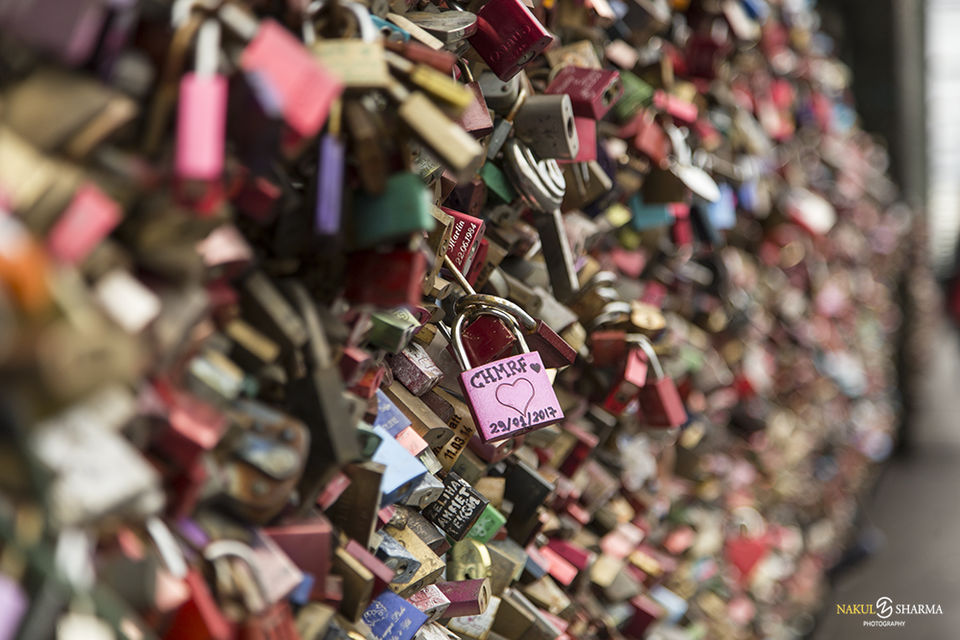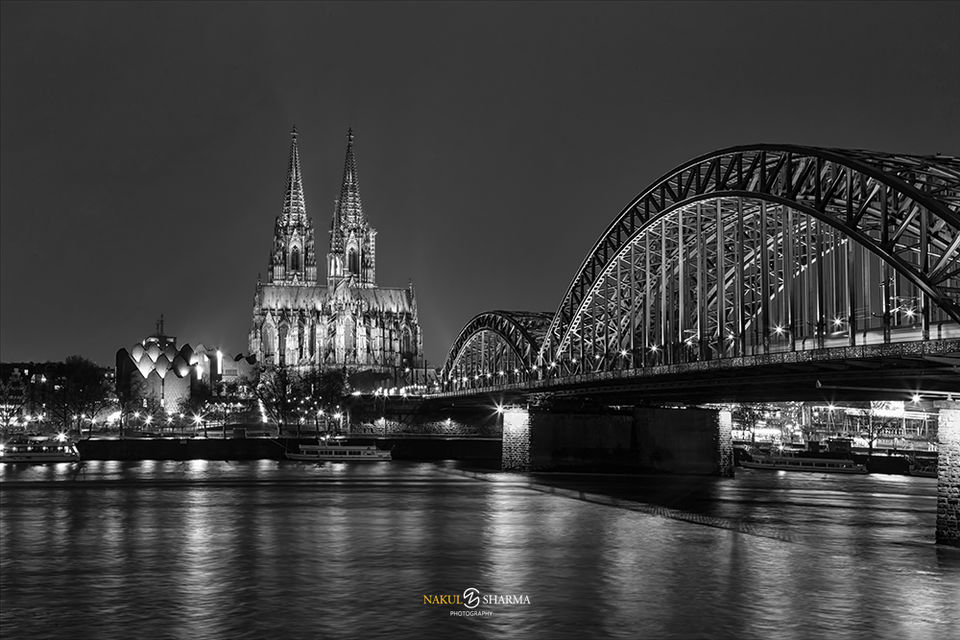 Results were outstanding.
I would like to thank to TRIPOTO and GERMANY TOURISM INDIA for letting me this opportunity to live one more new experience of my life and to discover one more new country.
NAKUL SHARMA (www.nakulphotography.com)