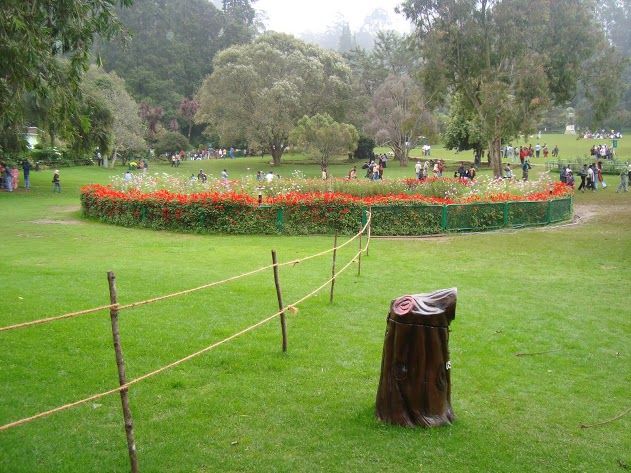 There was a lot of appetite for reaching Ooty, and there was no job to find the hotel because of earlier booking. Then thought of stomach pooja again work dujya. The hotel appeared walking in the city, Charring Cross, then entered the restaurant for lunch. The experience of eating was such that there was less taste in more money. Now we had to go to the Hotel Delight in Tiger Hill resort. It is situated on a much higher elevation than the city, so to see the great views. But there was nothing to say about the road, the hair was in place at the turn while defeating the hair pin band. There is no restaurant here, but on request, food becomes available. This hotel is great for money. After resting for some time, it should start now, then it will leave. According to the plan, to go to Coonoor by a toy-train, both of them left the car and walked on foot. But the station's reach revealed that the train had gone. Then go to the tourist office and look at Ooty's other attractions and find out about the Botanical Gardens. One interesting thing is that there is a board about auto rental, which no auto driver follows.
It covers 22 hecto-acres of land, in which 650 species of trees are engaged. This place is very attractive, which has different kinds of plants and also has a map of India made up of them. If you are seen entering, then on the attractive guns kept. If you come in once, you do not feel like going out. Some pictures are going on as soon as you enter.

The Wax World, which got out of here, lifted the loot of Ooty's cargo road too, and together with tea tea at the Espresso Coffee House. Wake World's Gate Pay

The experience of going here was just right, art works do not look like the original. Tell yourself what you see-

There was a daily garden nearby, but due to the off-season there was no significance, it was evening so much, enjoying the natural scenes of Ooty and leaving the hotel, and seeing the view, a 6-mile high climb, Taking drops of light rain in the rain has passed. Until the arrival of the hotel, there is a glimpse of the hotel which has been bathing in the middle of the rains that is raining heavily -

We requested to eat in the hotel at the same place and took a meal in my room, but by then the cold had increased so much that I thought it was impossible to work without a room heater and we also asked for a heater. The next day, there was a plan to go to Coonoor and Ooty Lake the next day, the story became much longer, so now we discuss about Coonoor in the next part.