With all its novelty and excitement, Ba Na Hills is the fairy tale land of Vietnam. An hour away from the city of Da Nang lies this magical hill station 1400 metres above sea level. It was founded by French colonists in 1919, that explains the French illusion that the European-styled buildings here continue to create.
Here are some of the top things to see while you are in the Ba Na Hills
Golden Bridge
The newest addition to this exotic hill station is this one of a kind Golden Bridge. Giant stone hands support the bridge, appearing to be lifting it high in the sky, a golden ribbon laced with purple chrysanthemum. A sight to behold, this is where you can enjoy the endless and enchanting mountainscape of Ba Na.
French Village
Built with stone and wood, and complemented by the evening mist, the castle-style buildings and cobblestone streets ensure you live the European experience in this Asian country. The European look and feel is authentic and enchanting mainly due to French colonisation and also because of the remarkable and detailed architecture.
Guests at hotels of the French Village are escorted to the main lobby by a Cable Car.

Cable Car
The best way (and the only way) to reach the French Village is through the cable car. It currently holds the world record for being the longest non-stop single track cable car at 5801 metres in length. With a height difference of more than 4,230 feet between its upper and lower station, the view from the cable car is surreal and mesmerising.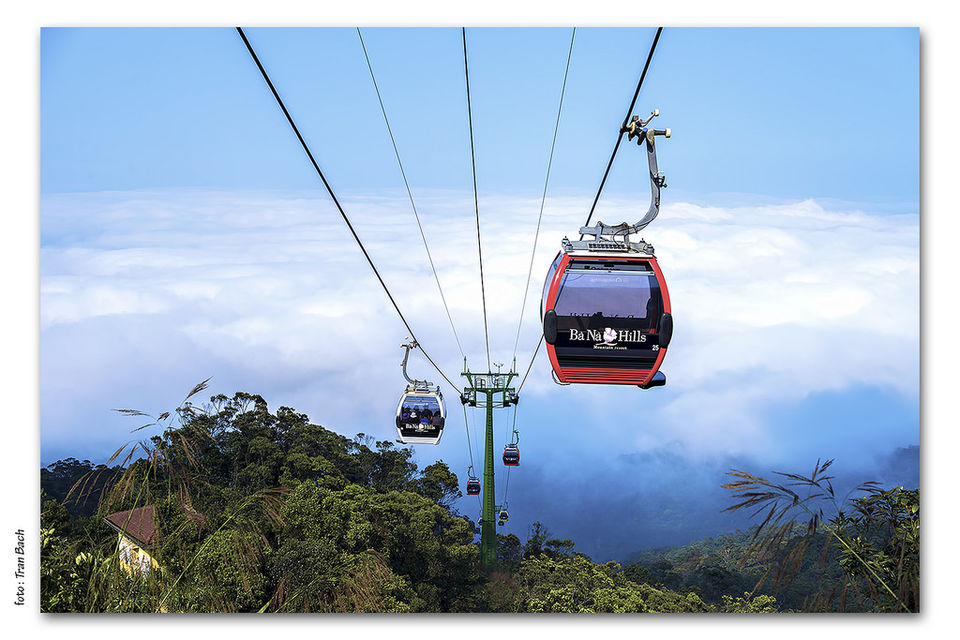 Wax Museum
Your trip to Ba Na Hills is incomplete without visiting the famous Wax Museum which is said to be as creepy as it is interesting. It has a plethora of celebrity statues including famous sportsperson, politicians, actors and members of the Royal Family of Britain.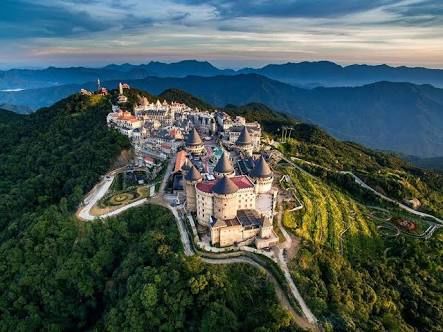 The Drop Tower
Built on the lines of famous Jules Verne novel Journey To The Centre Of The Earth, this is one terrific ride to take in Ba Na Hills, and probably the scariest and most thrilling of all. While you are enjoying the scenic views of the mountains from the pod, you are dropped 95 feet down in a cave, without a warning.
Alpine Coaster
Enjoy the stunning beauty of the Vietnamese landscape riding on the Alpine Coaster at a speed of 4okmph (or less, the brakes are adjustable). Schedule your tour accordingly and ensure that you take this ride before dusk, that's only when you get to experience the natural charm, in the daytime!
When to go?
Spring (February to April) and autumn (August to October) are the best seasons to visit Vietnam, when the temperature is pleasant and rainfall low.
How to get there?
Ba Na Hills is 36 kilometres west of the city of Da Nang. You can book the day tour to Ba Na Hills, or choose to spend a couple of days in lavish French resorts.
Tourists can book these tours via Van phong Da Nang (93 Nguyen Van Linh street, Hai Chau district, Da Nang City) or call at +84 511374 9888.

Regular direct and connecting flights are available from New Delhi to Da Nang. Vietnam visa on arrival (when travelling by air) is currently extended to citizens of various countries including India.
Costs:
Flights from New Delhi to Da Nang cost somewhere around ₹25000.
The Da Nang to Ba Na Hills tour costs between ₹7000 - ₹9000 for a day, given your preferences of activities, locations and restaurants.
Entry to the Fantasy Park and Wax Museum cost VND 300000/ticket, i.e ₹900 approximately.
Where to stay?
If you wish to spend more than a day here, you can book your stay at one of these amazing French resorts here.
Where to eat?
Kavkaz Vista Restaurant: A Russian restaurant serving delectable Russian cuisine – grilled lamb with unique seasonings being their specialty. And not to mention some amazing vodka!
Hoi An: Popular for authentic local cuisine, this restaurant serves rice dishes, noodles and other Vietnamese cuisine and is a must visit.
Have you been to a wonderland like this before? Share your travel stories with us, here.
For the coolest travel videos, check out our YouTube channel.