Hoi An is an ancient town, with lanterns glowing the old town streets that host old heritage buildings. And the hundreds of floating lamps on the river on full moon days is a surreal experience etched in my memory. My Son (pronounced as Mi Saw) is a proof of war aftermath. A walk through leftovers from the American carpet bombings of the Champa kingdom architecture, of what would have been comparable to Angkor Thom temple structures!
My long narrative (Please scroll down for important points)
We left Phong Nha at 430 am. We had booked our tickets on Queen bus which is supposed to be the best of Vietnam. It was comfortable, if at all you manage to get a seat. They do not pre-assign seats, so we did our usual gig. One of us stood in the line to enter while the other dropped off bags into the luggage compartment. This worked in our favor, because the people who entered last ended up on the floor! And they did pay the same amount as the rest of us.
We were moved to another bus at 9 am, this came as a surprise, we weren't told about a change of bus! We again did the usual gig to get a seat on the new bus. And sadly this time more people were left with no seats as the bus already had a few passengers. A lot of folks ended up on the floor of the bus for the next 4 hours. The bus reached Hoi An at 1 pm. We checked into a cozy little room in Coconut Garden, welcomed by Ni, our host for the next 3 days.
Tailored suits, is a trademark of Hoi An, and recommended only if you are good with identifying fabric quality. When we checked with Ni about where we could get good quality tailored suits, she said that she would take us to her sister's boutique. And exactly at the same time, I was reading the paragraph in lonely planet 'your hotel will claim to know a cousin or sister etc, as they get commission...!' Had a good laugh about it and let the idea (of getting a tailored suit) pass. We had also heard from other travelers (ladies), that there were a lot of shopping options at Hoi An.
Our first task however was to replace my friends stolen mobile. We rented out a motorbike for all 3 days from the host and headed out to the electronics area. Even for mobile there were tons of options/shops, from seconds to fakes (our guess) and brand new ones. We checked a few shops and checked if the stolen mobile had reached this market yet! ;). Finally, to play it safe, we bought a new one from a showroom, as it was a big purchase!
And we also replaced the Selfie stick which went with the stolen mobile. It was at thrice the cost of what we had bought at the Hanoi market. We had quite a bit of challenge finding vegetarian food (as it was our first day here). It was not as easy as SaPa or Hanoi. After checking several restaurants we finally found some vegetarian food and had a late lunch.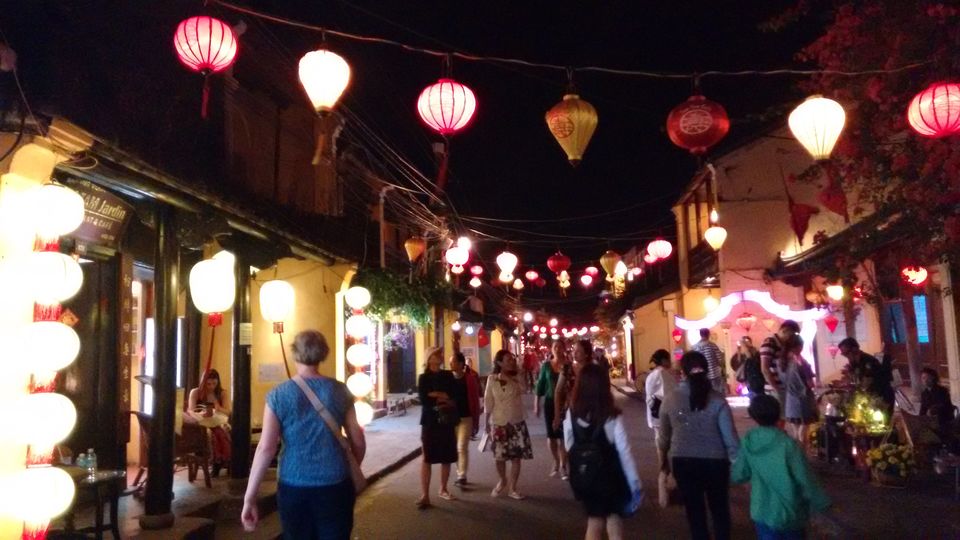 We then rode around aimlessly in the town and settled for a walk in the old quarter and spotted a street with carts and a lot of people. It was the night market, so we decided to enter the Phan Chau Trinh Sreet. We parked the motorbike in what appeared to be a parking lot. A man came with a small paper cut in hand and insisted that we do not lock the motorbike. He asked to keep the side lock open. It was weird and the paranoid in me was immediately awake and told him that we will lock it. He shook his hand indicating a No. We were not sure whether it was safe and if it was a norm here.
Finally after seeing others do the same, we took a chance and gave him the vehicle. But then we followed him and saw where it was parked, he saw us too. Assuming that the bike was safe now, we went into the beautiful old quarter night market . It had wooden framed barricades to stop vehicles from entering the old town. Light yellow buildings with Chocolate brown tiled roofs, silk lanterns hanging in the center of the road and glowing in multiple shops too was a lively sight. And so, this was the lantern town!
After walking a little distance, I saw a really old lovely couple seated on a bench and silently staring into the crowd. This was another happy scene after the lantern street welcome, I tried clicking their photos. But they realized I was clicking and got upset! It could have been a perfect postcard scene. But then I had to stop since they did not appreciate it. Now, how do we not pry and get superb natural pictures of happy people. If you ask their permission and then click, it becomes staged then I might as well try model photography! Anyways not all moments can be captured. I sure could not have captured the silence and the happy energy their presence had.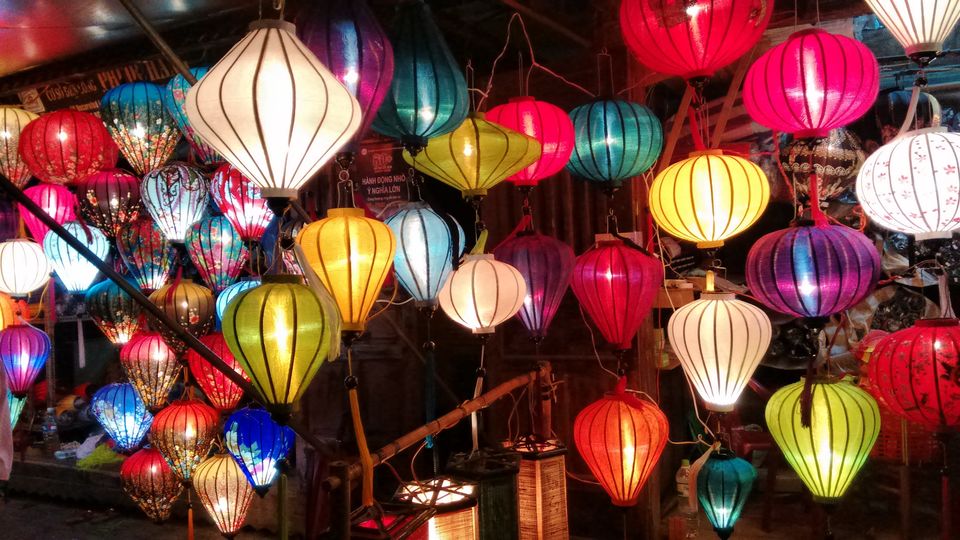 We walked about staring at the colorful lanterns, wading our way through people. There were many locals sitting and snacking at make shift stalls with the usual toy like table and chairs. Most popular were the Sinh To (pronounced Sinh Toh) and Che vendors. Che means dessert, and there are tons of varieties of Che made out of cooked pulses and jellies or fruits served on Ice.
There are so many that you can try a different one, every day of your trip. This Vietnamese delicacy is not found in other countries and is a must try. I watched one lady make mouth-watering Che (desserts) and Sinh To (Vietnamese Milk shakes) but couldn't get myself to have it cause I already sensed falling ill. Later, I went to a fancy restaurant and had a Sinh To to quench my 'Sinh to' desire. And I anyway fell ill the next day (food poisoning) in spite of not having the road side Che. So, lesson learnt, it doesn't pay to be extra careful and it doesn't mean that if you pay more you get better quality food!
After walking for a little while, we reached a very crowded area. Inquisitive, we walked towards the crowd on a bridge over the river. The river was lit with hundreds of floating colorful candle lanterns. It was a spectacular, dreamy romantic view of the water, lit with twinkling lights in various colored boxes. And the scene on the bridge, although super crowded was super lively too. Vendors were trying to sell lit colored paper lanterns 'Wish, you wish, buy candle, only 10000 dongs!'
My friend bought a candle and sent it down the river to the bright moon. After spending some dreamy time at the river front, staring at the water and the lanterns, we left to catch some dinner before calling it a day.
Back at the hostel it was deli belly time for my friend and she recovered by the next morning (so I thought). The next day, we went to My Son with a not so helpful map. My Son is about 40 kilometers from Hoi An and it was supposed to be a straight winding road and easy to find. We started asking a locals for the direction to get to the main highway, and first of all it was an effort to get the pronunciation right May Sown?, Mi Sawn?, My Son?, and then to find someone who knew the way. Each time we had to ask multiple people and we got a different answer (pointing directions).
Finally when we got to the right road, we did not ask for directions for almost 12 kilometers. And then when we asked for the direction, realized that we were headed in some other direction. We then rode in the direction shown by hand signals. The way was rather deserted without many vehicles and village inhabitants in pockets.
Normally we are a good combination, I would plan out the day and she was good with directions when on the road. But her weaker self (from the food poisoning) and my direction-ally challenged mind was a formula to get lost. Well, we got lost a lot of times during the trip and I always had an excuse like this one !
However, the joy of loosing way and ending up in a more beautiful rugged deserted place can only be known to a patient traveler. Kilometers of ride into sparsely populated village roads and then getting into farm lands onto undone mud roads with ducks floating around in what looked like a duck sanctuary, priceless! Many little ducks went Quack quack quack and we rode through the mud trail wroom wroom wrooooom!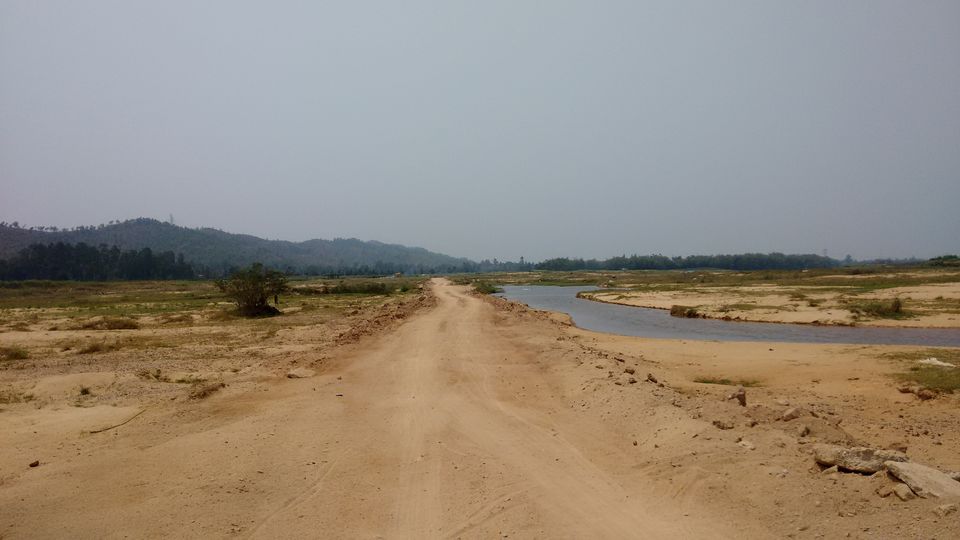 After this little adventurous stretch we were back on a highway and this time we reached My Son by checking with locals every 3 to 4 kilometers. Well all this, because we did not have a local SIM or data on the phone. Maps.me is a good offline GPS app that we learnt of, later at the end of Vietnam and used it effectively for other countries by trading the fun of losing way.
My Son entrance fee was 150000 dong and parking was 5000 dong. At the parking lot few local men started shouting out Balika Vadhu (a Hindi TV series that I had never seen in my lifetime) when they looked at us. This had become common now in Vietnam for us. Balika Vadu a Hindi TV series is very famous here (a dubbed version of it). And they were thrilled that they could identify Indians and instead of asking if we were Indians, their first comment was 'Balika Vadhu?! Very beautiful'.
I don't know if they meant that the lead lady in Balika Vadhu was beautiful, or my friend and me, or probably all of us!! The guy even went on to ask if I was married or had a boy friend. We got out of there as soon as possible, as if we were surrounded by paparazzi (just one guy) and caught the free buggy ride to the entrance of My son structures.
The temple structures are grouped into groups: A through H and K. And within each group they have numbers assigned to the structures. When I read about this, I was wondering why they would assign alphabets and numbers to structures. When I saw the ruins I realized the reason for numbering them rather than assigning historical names to it. All the structures were built between fourth and fourteenth century. The buggy dropped us off at the far end, near the Group B structures. We worked our way down from BCD and then Group E, F G and H as seen in the map.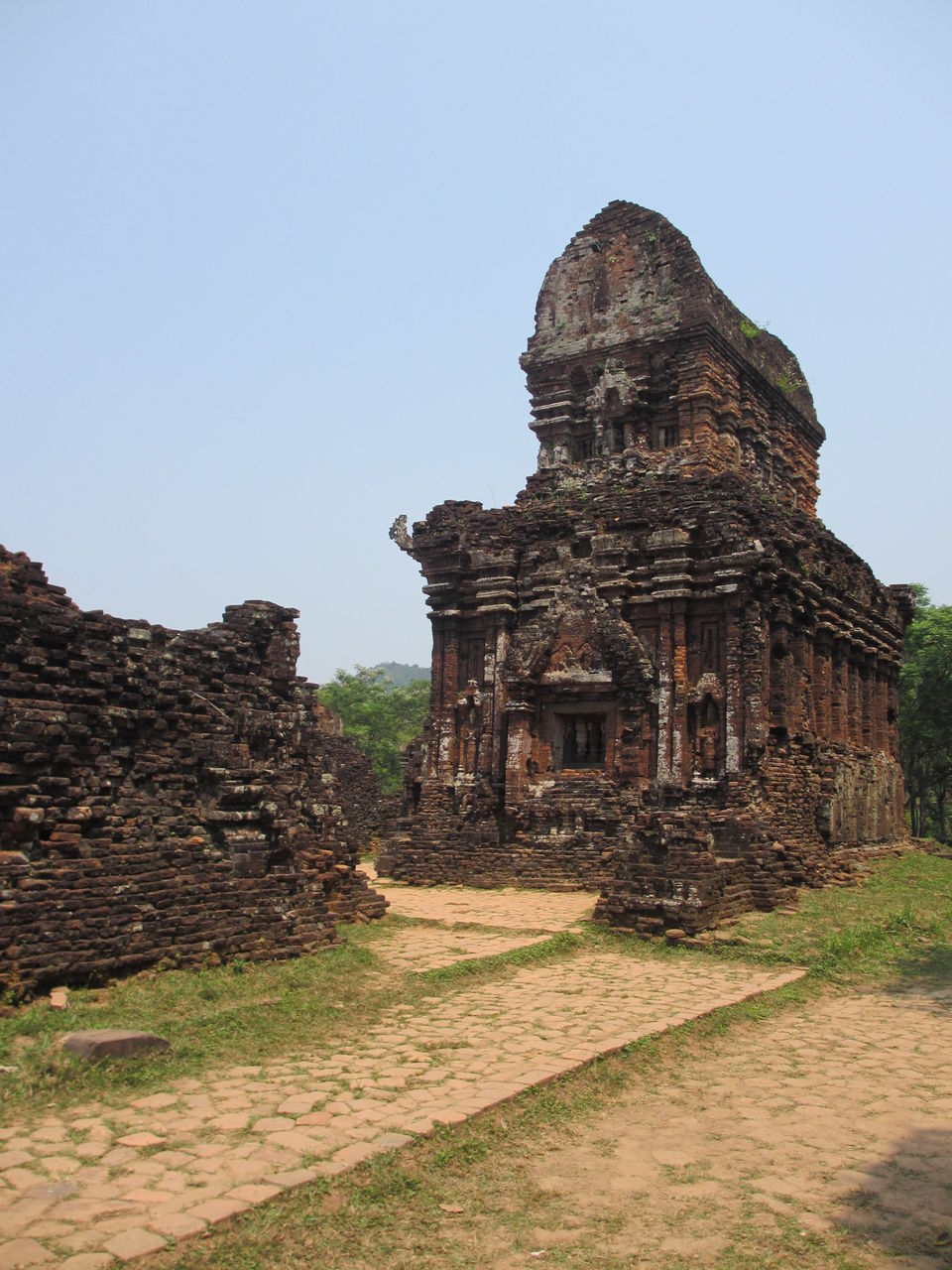 Group B, C and D are clustered together and have structures (still standing). Group C has a temple which had a human form of Shiva statue, which is moved to Da nang museum (that is what the information board at this group said). The temple has a boat-shaped roof which was typical of Cham architecture after the 11th century. Group G temples are a little away on a higher elevation atop a hill which is called the temple mountain and is compared to the Khmer (Cambodia) architecture.
Group G has a typical temple complex structure with a Gopura, main sanctuary with 3 door design, mandapa, tower store and tower stela. This is not in a great form but one can at least picture its past grandeur. One cannot say the same about Group E, F and A. What remains in those are just a pile of bricks, from the targeted American bombing. We overheard a guide saying that it was purely intended to destroy the Cham architecture and not just because it was used as a base during war.
While it felt good, looking at the beautiful architecture in the remains, it was disheartening to see the ruins resulting out of hatred. It was a walk in a graveyard of culture and heritage. My son is a reminder of how majestic the Cham architecture was and a proof of the scars a war can leave on culture and heritage for generations to come, not to discount the human lives of course. With these thoughts, we walked back through the dense forested land hearing to the sound of a distant stream.
To cool off the summer heat we had an ice-cream and headed back home for the rest of the day as my friend (I realized later) was still unwell. I had lunch on the way back, my friend decided to have fruits after getting back to the hotel. I ate seafood fried rice and by the time we reached the hotel, food poisoning hit me too. So much for my forgotten unwritten rule, to not to have seafood when traveling!
So now, it was two of us in the illness squad. I consumed almost 4 liters of water through the night as I did not want to be stranded ill indoors. I recovered in a day. However my friend had a more severe food poisoning. In fact in Ho Chi Minh (our next stop) we looked for a hospital as she was throwing up most of her meals. She started with a self prescribed antibiotic course and the weakness lasted for almost a week.
Each day my friend would assume she was well. Or I guess she had taken the 'think positive' to the next level - i.e. to act positive too. So on day 3, we planned for the local beaches Cua Dai (pronounced Cow Dai) beach and then An Bang beach. Cua dai beach was fairly simple to reach compared to my son and was closer as well. So we left at leisure and followed the sign boards to Cua dai beach. Well, we had the special skill to lose way in spite of the sign board! We went towards something that said Cua dai but it wasn't the beach!
Well, I loved getting lost in a new place because I always end up seeing more beautiful things. And the idea of not fretting over lost time or purpose, makes the journey enjoyable. We rode over a superb bridge with no traffic, sea on both the sides, fighting the strong winds face on! We headed back and restarted from the last junction that said 3 km to the beach.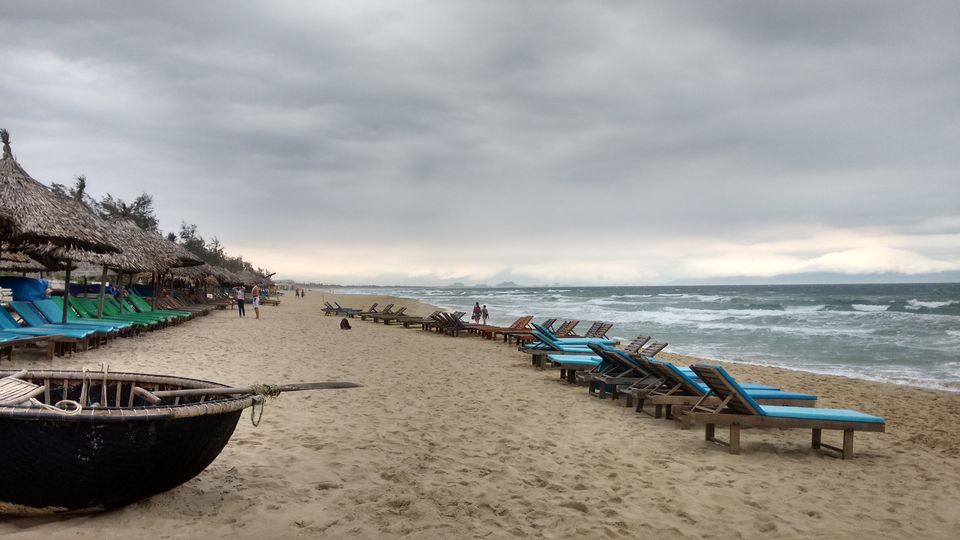 The end of Cua dai beach is similar to Mumbai marine drive (not as good though). An bang beach is close to Cua dai beach and is better of the two. For us it was a cold windy day, so we could not stay for long. We looked for a lunch place at the An bang beach, and were checking menu and prices. And the hotel staff came out eliciting new customers (us) and called out Balika Vadhu!!! Here we go again!
We went in and ordered for Vegetarian fried rice which wasn't on the menu and they charged us double of their seafood rates, stating that veggies cost more! We felt conned but it was too late, we should have checked on the rates before placing the order! So this was a lesson for us.
Our next stop was Da Nang to catch the flight out to Ho Chi Minh. Hotels were offering to arrange for taxis which was way out of our budget. So we decided to check other options at the tourist information center. There are a lot of shuttles heading out to different locations. They had an hourly shuttle to Danang. The manager at the tourist center patiently answered all our questions and booked us tickets in the shuttle. Costed us 110000 dongs with a pickup close to our hotel as opposed to 550000 VND for a taxi.
Before leaving to Da Nang, we had a relaxed morning in Hoi An, talking to Ni (our host). She was selling souvenirs prior to opening up her house as a guesthouse. She traveled around Vietnam and checked other hotel operations as part of her preparation. Her husband knew only Vietnamese, so she handled all the operations and front ending including cooking. She was a one (wo)man army without any staff for help. Her husband had a primary job as an electrician, he helped her if he was home. She was a second example of a modest women entrepreneur (after Mao Sa Pa), doing a great job driven by family needs and passion.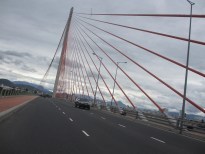 At Da nang we took a motorbike on rent and went around few places, listed in the important point section. Da nang was just a stop over, there wasn't much to see or do. I did finally have a hot-pot made for one person at a very affordable, read cheap rate (50000 dongs) ????
That was the highlight for me in Da Nang. The next day morning we left to Ho Chi Minh from Da nang airport.
Important Points
1. Easiest way to get around in Hoi An is with a motorbike. Cycling is also an option if you are into it. In our case, it was peak summer, and we preferred to rent a motorbike than a bicycle.
2. Motorbike rentals costs 120000 dongs a day For petrol, you can reserve a 15000 dongs a day, including the My Son visit. If you are staying local, petrol costs will be negligible.
3. For women solo travelers, you are safe in the old town area. If you stay anywhere outside that area, then you will end up getting a lot of attention from drunk local men. Although most shops have women vendors, would recommend not to be out after 10 pm if you are staying too far from the old quarter area. And surely have your own transportation (a car or motorbike)
4. Tourist center is on phau chau trinh road. Address : 47 phan chau trinh, Thanh pho hoi an, tinh quang Nam. Apart from information on Hoi An, they offer shuttle services to different locations. They have an hourly shuttle to Da Nang airport for 110000 dongs.
5. At Da Nang: Airport taxi will try to charge you for the car entry fee. Make it clear if the amount they quote is the final fare. We had a driver who showed us an old entry ticket and asked us to pay up an extra 10000 vnd for a drop from airport. This ticket amount needs to be paid when you enter the airport. He would have got it from his ride when he got in, the ticket time was some 4 hours prior to the current time plus the meter was rigged too. He fought with us and also followed us to the reception..however we did not give up and he left. So always check the ticket time, they charge all customers with an outdated entry ticket.
6. If you are referring to the lonely planet book note that it does not list song hang and dragon bridge. It's a good view to ride through.
7. Use Da Nang as a pass through only, as Hoi An is a better place to stay and roam around surrounding areas. If you have a flight at humanly hours then take the shuttle from Hoi An to the airport directly, instead of staying a night at Da Nang.
Places Visited
Hoi an old town lots of cafes, old architecture and food options -Walking Street- beautiful silk lanterns, cafes, shopping and eating options. Unforgettable sight of the river front with heritage buildings and floating candle lanterns on full moon days. -Cua dai Beach - can't get into the water. OK Beach. -An bang - You are not allowed to swim at this beach. Good to walk along the beach. -Night market
Places to see at Da nang: Han Riverfront, Song hang bridge, Dragon bridge, Beach Other places to see - Cau dai temple, Danang Cathedral, Phap lam Pagoda, Than binh beach
Local food to try
Cao Lau (pronounced as Chao Lau).
A hot pot: Its served in a vessel with a small stove, on your table and you cook the curry and add cooked noodles or veggies to it and then eat it hot out of a bowl. Slurrrp!! ????
Sinh To (pronounced Sinh Toh)
Che (followed by different words) - Che means deserts, there are tons of varieties in dessert made out of cooked pulses and jellies or fruits served on Ice. This is a Vietnamese delicacy that is a must try. There are so many that you can try a different one every day of your trip.
And of course the Vietnamese coffee is a given at all places in Vietnam ????
Gyan Gain
1. It does not mean that if you pay more, you get better quality (in terms of food). You can have food poisoning from eating at a good restaurant too. So just go ahead and eat the street food anyways. Ensure to choose the most popular and crowded joint so that the chances of falling in are lesser. Nevertheless, your tummy will react differently from the locals.
2. Women played a major role in Vietnam at work but still appeared to be managed by their man. Being an Independent women is not about education or how much money you earn, it's just about your attitude.
3. At work I hate it when I get lost between tasks and forget something important. There is no time to just stroll around on the net or at a mall because everything is time bound. When traveling I loved getting lost in a new place because; One, I always end up seeing something more beautiful. And two, the idea of not fretting over lost time or purpose, makes the journey enjoyable.
4. Always be alert, con artists are around all corners ???? (This is with reference to our experience at the beach side fancy restaurant at An Bang beach). So lesson learnt for us, was that if something is not listed on the menu, then always check for the price and then order.
--------------------------------------------------------------------------------------------------
Itinerary: Hoi An, Vietnam: 3 days 3 nights
Stayed at : Coconut Garden, 122 Nguyen Khoa, Cam Nam, Cam Nam, Hoi An, Vietnam
Short review : Located at a 10 minutes motorbike ride from the old town. It is an extremely clean home-stay, friendly hosts and very tasty breakfast (included in the room rent). Cost was 18$ for a double occupancy room per night.
Da Nang : 1 day 1 night
Stayed at: Quan Quan Hotel, 79 Nguyen Huu Tho, Da Nang, Vietnam
Short review: Budget hotel, close to the airport worth the 11.5$ per night for a double occupancy room. Da Nang was a stop over for transit flight to Ho Chi Minh city.
----------------------------------------------------------------------------------------------------
Loop: Laos -> Land Travel -> Sa Pa -> Ha Noi -> Ha Long Bay -> Phong Nha-Ke Bang -> Hoi An -> Ho Chi Minh Duration: 15 days. Refer to review of Vietnam to create your itinerary.

Country Loop: North Thailand -> Laos -> Vietnam -> Cambodia -> Myanmar -> Malaysia -> Philippines -> South Thailand