Vietnam is one of the upcoming backpacking destinations, and backpacking enthusiasts can tick-off this tropical paradise as Vietjet, a new-age airline from Vietnam, has officially commenced two new routes from New Delhi to Ho Chi Minh City and Hanoi. The country has a lot on offer for the curious backpacker keen on experiencing an interesting blend of culture, flavoursome food, cities caught up in the whirl of life and locales where alluring nature reigns supreme. The best part is that you can treat your senses to a lot at very little cost.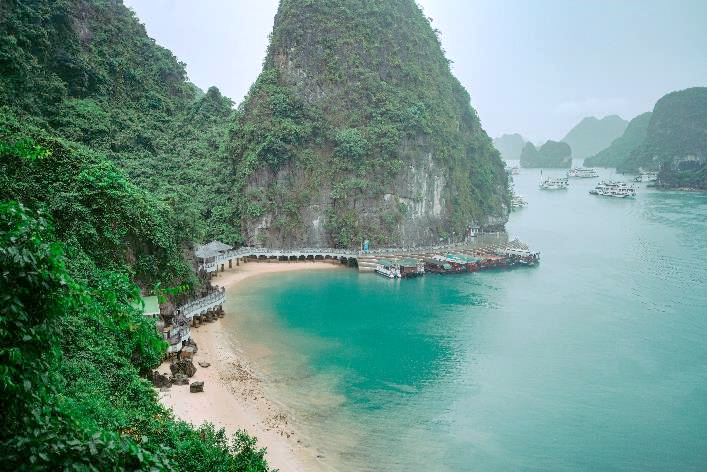 To sweeten your Vietnam vacay, VietJet has floated five million tickets from 16th to 22nd December 2019, all at a jaw-dropping fare from just Rs 9 (excluding taxes and fees). These tickets that will take you directly to either the capital city of Hanoi or the bustling Ho Chi Minh City will last from December 23, 2019 - July 31, 2020 (excluding national holidays)—just in time to experience the best of weather in this charming country.
The airline is also hosting a lucky draw campaign called 'Fly around Asia and hunt for the 1 kg golden aircraft' to give away hundreds of air tickets and a golden aircraft they weighs a kilo.
Book your ticket here. Download the Vietjet Air mobile app and join the contest here.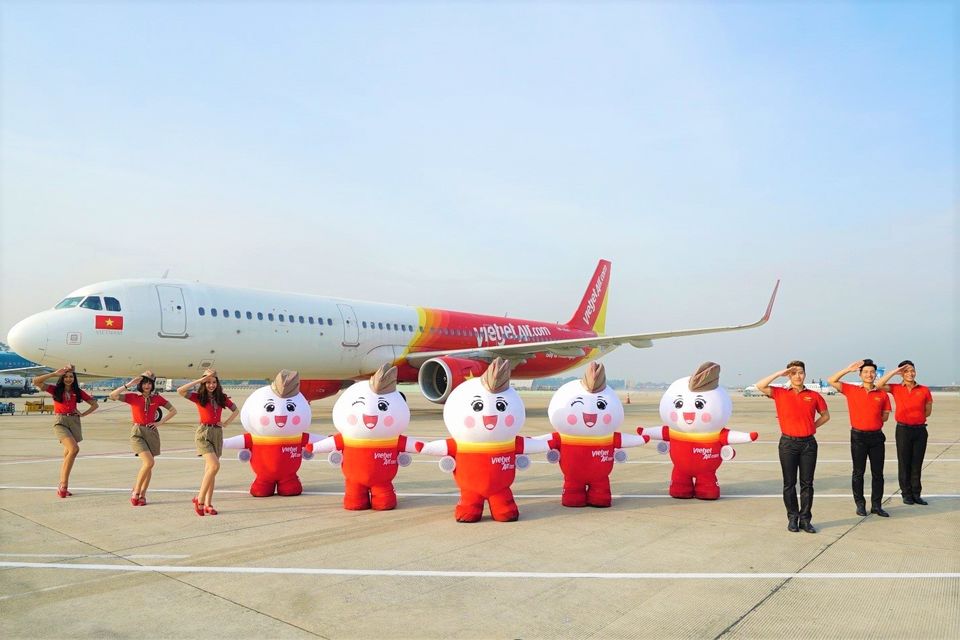 VietJet's flights are the first-ever non-stop flights that commenced last weekend. You'll be just in time to enjoy the warm tropical weather with blue skies in southern Vietnam.
Indians will now be able to create memorable flying experiences with an array of Vietjet's facilities, including comfortable seats, a choice of nine delectable hot meals served by friendly cabin crews, promotions, entertainment activities and many modern added-on services. Moreover, travellers will now be connected to the vast network of Vietjet and fly to destinations including Thailand, Japan, South Korea, Taiwan, Hong Kong, Indonesia (Bali), Myanmar, Malaysia, Singapore and Cambodia among others.
This is the perfect time to laze around on the beaches of Nha Trang, lose yourself in the sights and smells of Ho Chi Minh city and feel the cool and crisp sea breeze from the glittering coastline of Mekong River. For those who love some chills during the winter, you can head towards the mountainous north. Vietjet's range of exciting offers will make booking tickets and getting to the country seem like a breeze.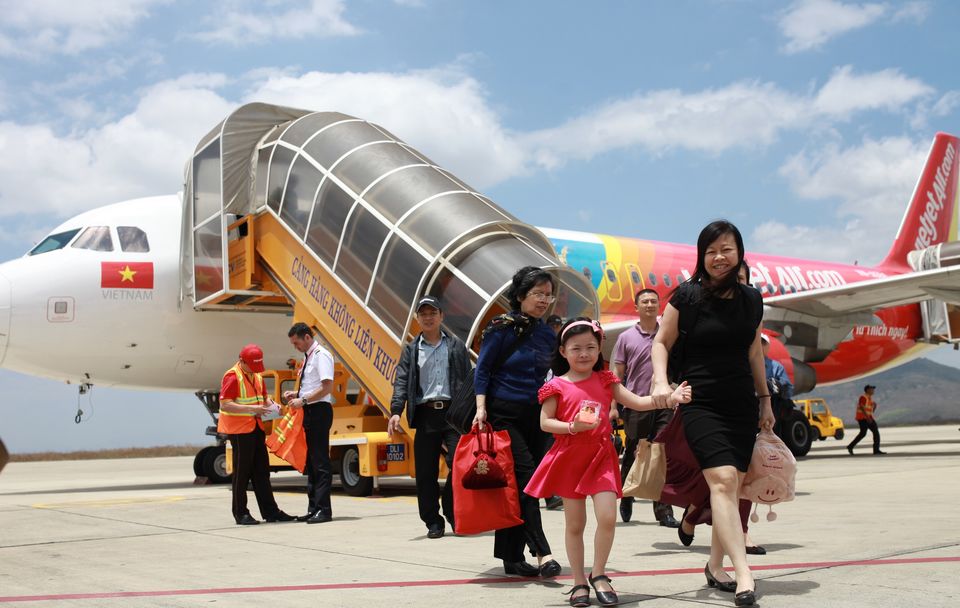 Visa
With tickets in hand, the next step is getting a visa. The easiest way to go about this is by applying for a visa on arrival online. Once you fill up your visa application and receive your visa approval letter by mail, all that remains to do is to carry the documents with you. Your visa will be waiting for you on arrival.
Getting around in Vietnam
Once you're there, you'll find no dearth of transport options to get around. There are unique motorcycle taxis puttering down the road, overnight buses that help cover long distances at nominal costs, a scenic railway route that spans across the country from Ho Chi Minh to Hanoi and motorbikes on rent, so you can take off with the glittering coastline for company.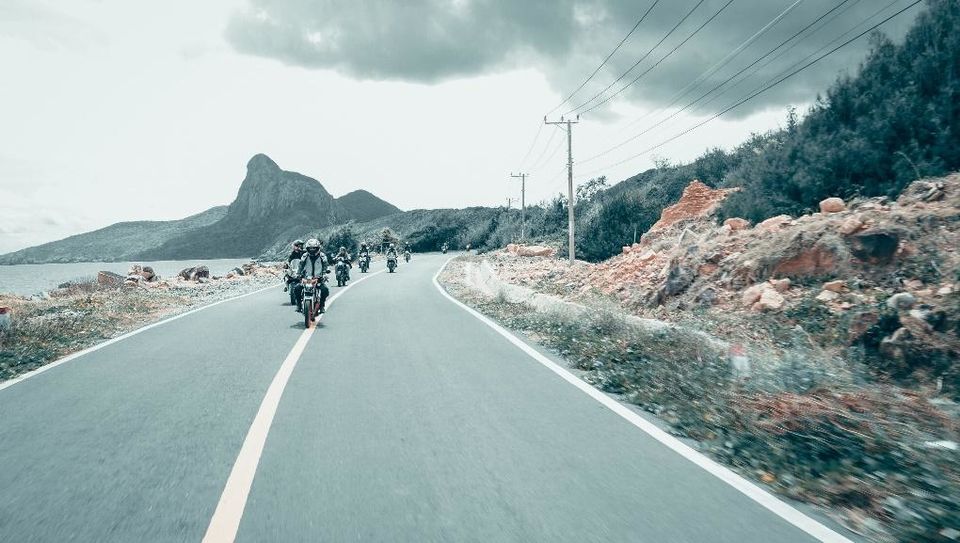 The transport fare is light on the pocket and will help you explore the city easily. You can get yourself a private cabin in VIP overnight buses at just Rs 574. If riding solo on a scooter is more your style, you can rent one at just Rs 310 a day.
Pick your backpacking route
The elongated shape of Vietnam gives you two fairly simple backpacking routes, north to south, starting with Hanoi and south to north, starting with Ho Chi Minh City. Vietjet is introducing direct flights from New Delhi to both these cities. If you're planning to get there in December, the preferred route should be north to south so that you start from the chilly weather in the northern mountains and make your way towards warmer climes in the south, sprinkled liberally with beaches and villages soaked in Vietnamese culture.
Unless you want a touch and go vacation, in which case you'll miss out on some major attractions, you should beg, steal or borrow three weeks to lose yourself in the alluring country.
Ho Chi Minh City
The cosmopolitan city is noisy, lively and stays awake until the wee hours of the morning. Formerly known as Saigon, the place has everything you seek—history, food and nightlife.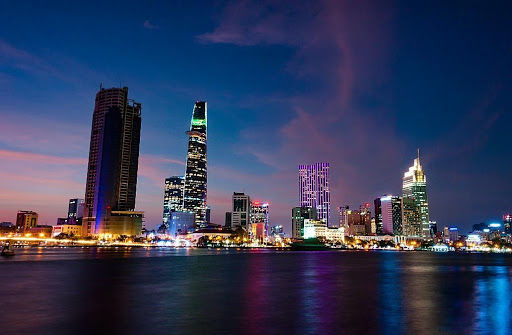 Visit the Cu Chi tunnels, an intricate underground network where Vietnamese soldiers hid to ambush the American forces. Visit the many food stalls here to gorge without regrets. A large piece of sea bass doused in a spicy sauce with a side of steamed rice will cost you only about Rs 400. Live up the night at their many bars or at the Saigon Skydeck high up on the 50th floor.
Hanoi
You can either kick-start your trip from the capital city of Hanoi or backtrack a little to spend some time in Sapa.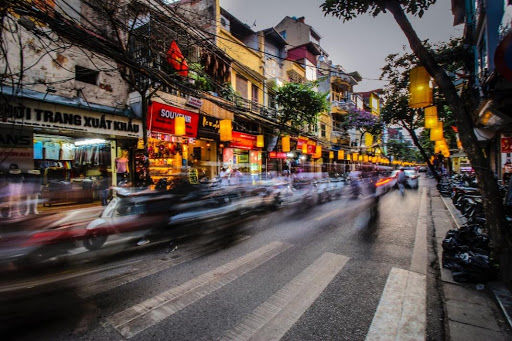 Hanoi is a whirlwind of vehicles, people, markets and plenty of history. Navigating through the busy streets of Hanoi does take some getting used to. Haunt some of the museums there for a glimpse into their communist history and variegated past.
The Old Quarter houses colonial French architecture that never fails to impress. Weave your way through the quarter full of temples, pagodas and markets. Sample some of their street food, especially, the bun cha, which is a succulent grilled pork noodle dish with a side of sweet and spicy sauce.
The Old Quarter comes alive in the evening with traditional games, street markets, food and music. Get a cup of the sweet Vietnamese coffee and pick up some souvenirs here. Join the locals for some revelry and end a good day with a perspiring glass of Bia Hoi (street beer) amidst newfound friends.
Sapa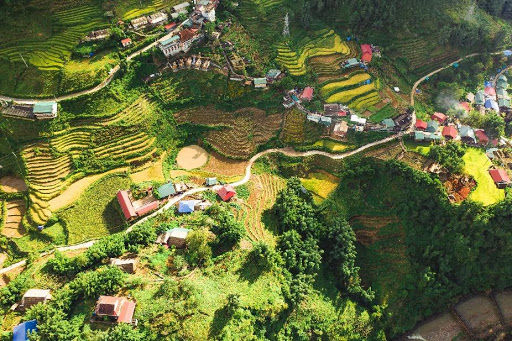 Sapa's lush green rice paddies and soaring mountains are shrouded by fluffy clouds. You can go off on treks in the mountains or live the local life in home-stays amidst the hill tribes, such as the Black Hmong, Thai and Phu La, to mention a few. Ambitious trekkers can hike up to Vietnam's highest mountain Fansipan or take a 6 km-long cable car which goes up to 1,500 metres. The rolling rice paddies under the cable car makes for mesmerising views. Make sure you pack warm clothes as it gets cold and misty in Sapa during winter.
Sapa is an overnight journey away from Hanoi.
Ninh Binh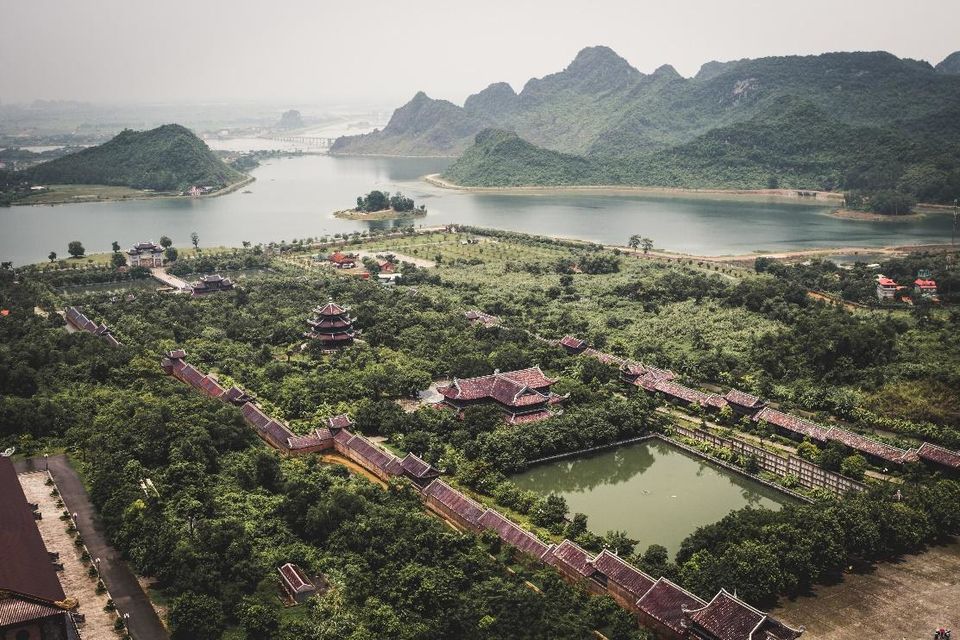 Zoom down the road towards Ninh Binh from Hanoi within two hours. The place is called 'Halong Bay on Land' because of its limestone monoliths that rise from the ground and harbour mysterious caves and tinkling rivers. There are ancient pagodas hidden behind dense greenery. Head to Trang An, a bewitching array of limestone mountains and caves which is accessible by water. The bobbing boat will take you through eight caves. Make sure to duck under the overhanging rock formations. The village of Tam Coc, with its mountains, rivers, rice fields, pagodas and caves leaves you with soothing serenity.
Phong Nha – Ke Bang National Park
You'll love cycling or riding on a bike through this beautiful riverside town with pleasing views and a relaxed atmosphere. Of course, the major attraction here is the biggest cave in the world – Hang Son Doong.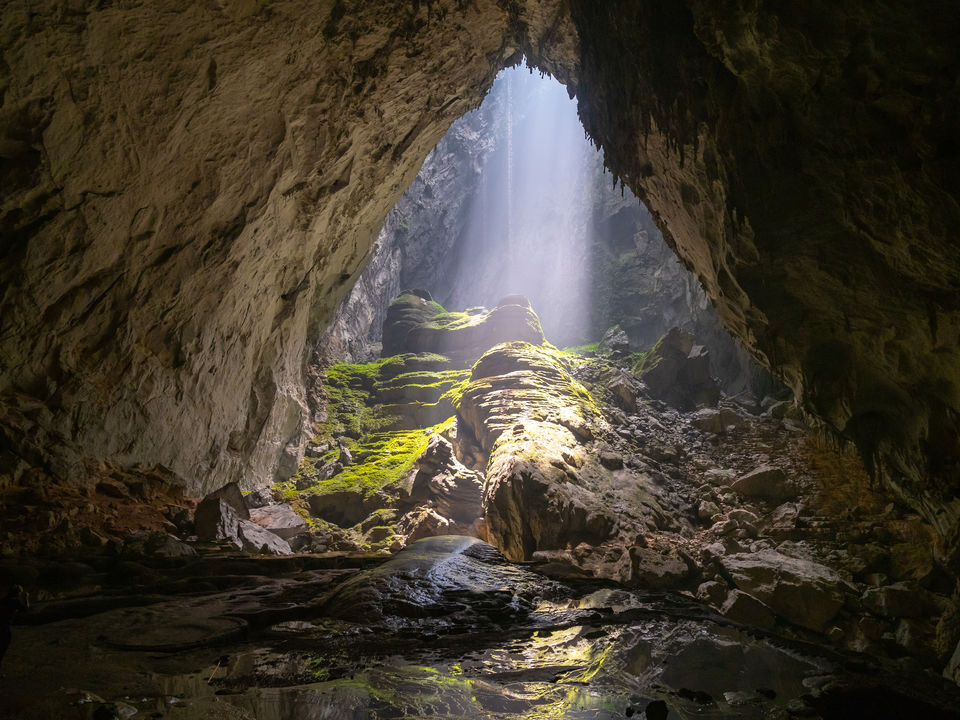 Discovered in 2010, the much-acclaimed cave has a two-year wait list and will set you back by Rs 21,000, so chances of visiting it are slim. However, the town has a wealth of over 500 caves out of which 30 are open to the public. Soak in the eerie silence of the dark caves and clamber over rocks to go deeper inside. The world's third-largest cave, Hang Son Doong, merits a visit and is sure to be an unforgettable experience.
Phong Nha is well connected to Dong Hoi which has direct VietJet flights from Ho Chi Minh city. If you're on a short trip, flying will cut down travel hours significantly.
Hue
Hue is the charming town of Vietnam which is located at the banks of the Perfume River.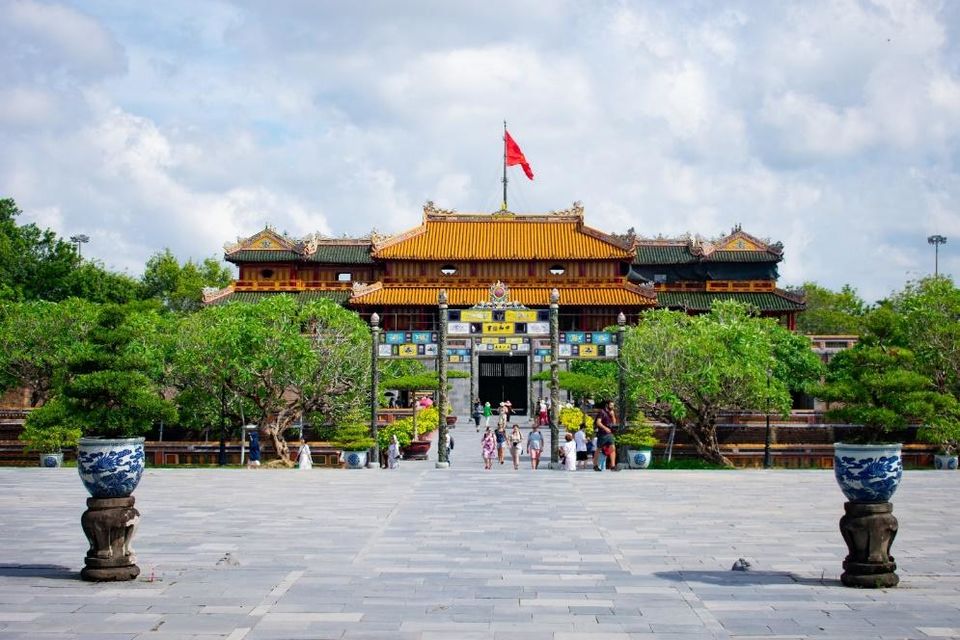 Imperial City, Hue, was the erstwhile capital of Vietnam. Steeped in history, the place now has the historical walled palace within the citadel and many imperial tombs where the bones of ancient rulers lie in eternal rest. The architecture is magnificent, ornate and is reminiscent of times past. Do try some of the tender mussels with rice here, one of the specialities. One can also explore Hue's Citadel whose thick stone walls tower above a moat fed by the Perfume River. Once consisting of temples, palaces, offices, gardens, residences and the Purple Forbidden City, one can explore the remains, from the Vietnam War, which still reflect the charm of the city.
Da Nang
The coastal city of central Vietnam boasting of sandy beaches and history as a French colonial port.
Da Nang's showstopper is the Golden Bridge, an architectural marvel at a height of 1,400 m, stretching across 150 m. The gilded bridge is seemingly supported by a giant hand, its fingers enclosing around the bridge that shines golden above verdant forests.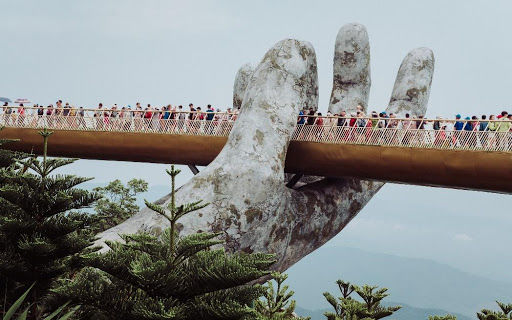 With a smattering of French colonial buildings, ancient pagodas, sandy beaches and dense national parks, there's no time to get bored here. What's more, is that there are VietJet flights between Hanoi and Da Nang for shorter itineraries.
Nha Trang
Nha Trang, with its shimmering coastline, sandy white beaches, beach bars and pubs, is where you can unwind at. Soak up some sun at the beaches here and head down to their lively pubs by the sea, for a night of booze-fuelled fun.
The coastal town has plenty to see with Buddhist temples, Gothic churches, gushing waterfalls and natural hot springs in abundance. Don't forget to sample the delectable seafood here.
Da Lat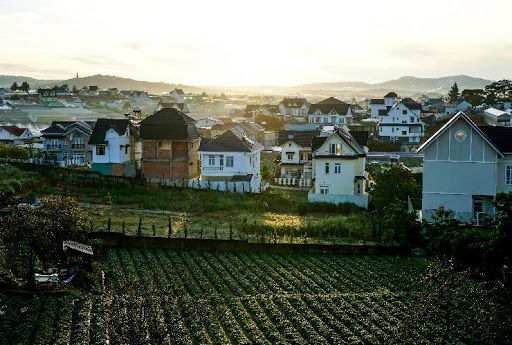 'La Petit Paris' or Da Lat city is full of French colonial imprints. The European architecture, the Eiffel tower replica, complete with horse-drawn carriages will sweep you away in its romance.
There are farms with fresh vegetables and fruits which find their way to your dining table. Evergreen forests are interspersed by gushing waterfalls where adrenaline junkies can go rappelling.
Handy tips
1) Get a local SIM card and get connected to the internet at around Rs 200.
2) Carry cash with you. There are ATMs around but it is better to have some with you at all times as most places take cash.
3) Make sure you have a price set before you use a local taxi. You can use Mai Linh and Vinasun to book cabs.
How light is Vietnam on the pocket?
Accommodation is very reasonable in Vietnam. You can easily get a dorm bed in a hostel for around Rs 700 or a private room for Rs 1,500 in most places, if you don't care for frills.
You can dig into all the street food you like without loosening your purse strings much. Street food costs about Rs 30-50 a plate and a meal at a restaurant will cost you about Rs 500.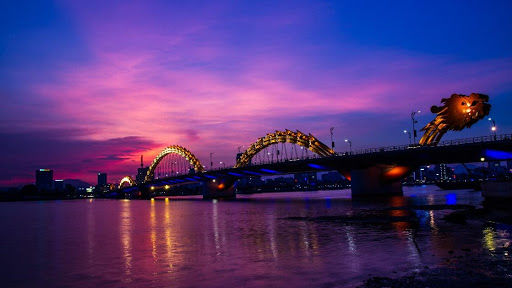 With everything set, it's time to don a non la (Vietnamese conical hat) and set off on an unforgettable journey.
Travelled to places and brought back stories galore? Narrate them here!
Get travel inspiration from us daily! Save our number and send a Whatsapp message on 9599147110 to begin!